|
Mother's Day is just around the corner, so I wanted to  put together a little gift guide that's inspired by things that either remind me of my mom or I know that she would love! Her present is in this guide, but mum's the word on what that is for now! If you'd rather make mom something in lieu of purchasing a gift, I'd suggest this Banana Pudding Crepe Cake, a DIY body scrub with her favorite essential oil scent, or a homemade teacup candle!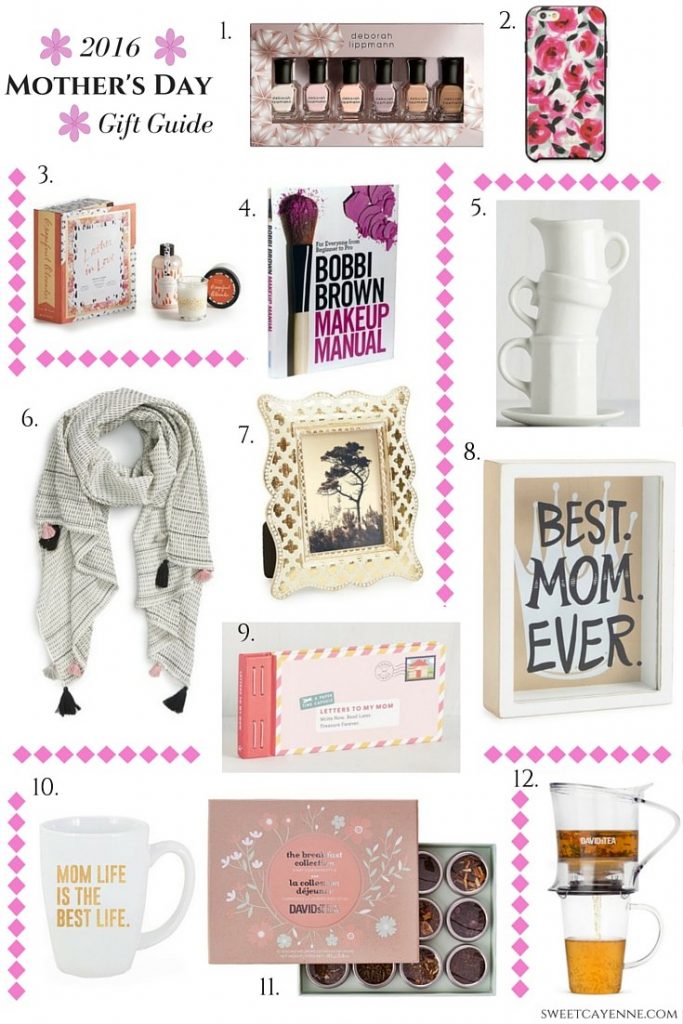 1.Nude Nail Polish Set – this collection of gorgeous nude hues is sophisticated and timeless. It features shades that are flattering on everyone and is versatile throughout the seasons.
2. IPhone Case – this super-chic phone case could not be any cuter, in my opinion! Let mom "Facebook" in style; and if she's super tech-savvy, maybe even Snapchat!
3. Bath Set – when I saw that this bath set had fragrance options of mango or grapefruit, I was sold! Those are my mom's favorite scents and happen to mine as well. This set includes everything mom needs for relaxing soak in the tub – bubble bath, a scented candle, and a luscious body soufflé!
4. Makeup Manual – from how to apply undereye corrector to highlighting basics, Bobbi Brown is known for her practical and approachable beauty advice that seeks to help every woman feel her best at any age. This is a book that mom and daughter can enjoy using together for years to come!
5. Ceramic Blooms Vase – it may look like a stack of cups, but it's actually a flower vase! I'm in love with the whimsical charm of this unique piece and think it would add a playful touch to the kitchen or home office. Fill it with fresh blooms to present to mom on her special day.
6. Tassel Scarf – I'm a tassel fanatic and mom has a scarf fettish, so this combines both of our loves into the perfect gift! The neutral colors of this oversized, lightweight scarf make it a versatile match for a number of outfits.
7. Picture Frame – if you're on a tight budget, a recent picture of you and mom is always something she will treasure and appreciate. This stylish frame is a steal at only $13 and is definitely Instagram worthy!
8. Best Mom Ever Shadow Box – this would make such a cute office accessory that allows mom to display her title proudly. It's a great reminder that she is loved and appreciated!
9. Letters to My Mom Bookend – if mom is very sentimental and you love to write, this is the perfect gift option. The book opens up to pages of fold-out letters with writing prompts on each page. Get ready for the tears to flow when you present her with this!
10. Mom Life Mug – let's face it, we all know "mom life" is a hard life with lots of up's, down's, and sacrifices. However, at the end of the day, we know our mom's wouldn't trade their life with us for the world. Let mom sip her java or tea in a vessel that proclaims how she really feels, even when the going gets tough!
11. David's Tea Breakfast Collection Sampler – if mom is a tea lover, then she will be delighted by this creative collection of high-quality loose-leaf teas. It's filled with fun flavors like "raspberry jam", "white nectarine", and" lemon pound cake". There is even a variety called "mother's little helper" – how perfect is that???
12. David's Tea Steeper – this unique steeper allows loose leaf tea to fully "bloom" with full exposure to the hot water. The coolest feature has to be the trap door on the bottom that "magically" opens up to let out tea when you place it on top of a mug!
0