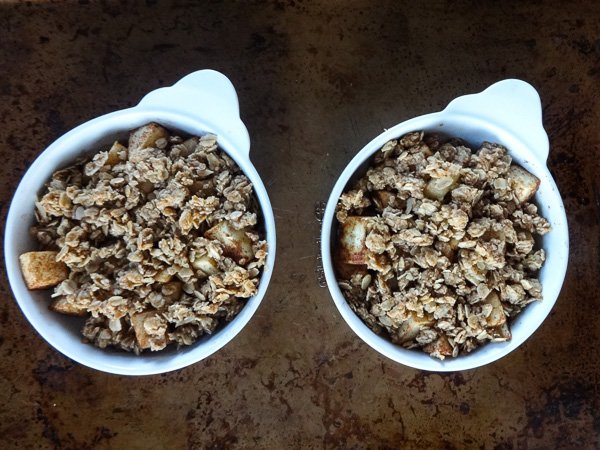 Do you ever feel so overwhelmed with the list of recipes you want to make but feel there will never be enough time to get around to ALL of them? That's how I've been feeling lately.  This is my first fall to faithfully follow food blogs (I've got like, 50 on my Bloglovin' feed - you can follow me through the link!) and I've come to realize there is a such thing as being over-inspired.  Everything looks so delicious! I've Pinned more than I ever have in my life! I'm constantly thinking about food and what I want to make next!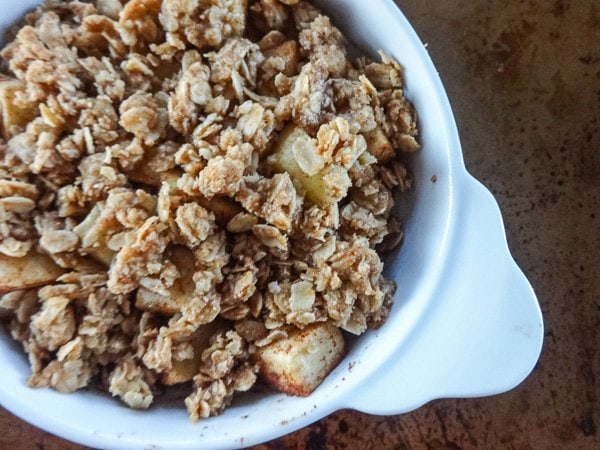 In addition to recipes I want to create for Sweet Cayenne, there's also a list of - oh about 100 - recipes I want to make from other bloggers.  Truth: I hope to blog about food for many years; there will plenty of time to try all the pumpkin recipes.  Truth: My husband and I can't possibly eat all of the goody goods on my "make soon" list. Truth: I can always make ½ a recipe or a smaller batch of something.  Truth: This will save ingredients, time, and calories for alllltheeeotherrrrgoodieeeesss.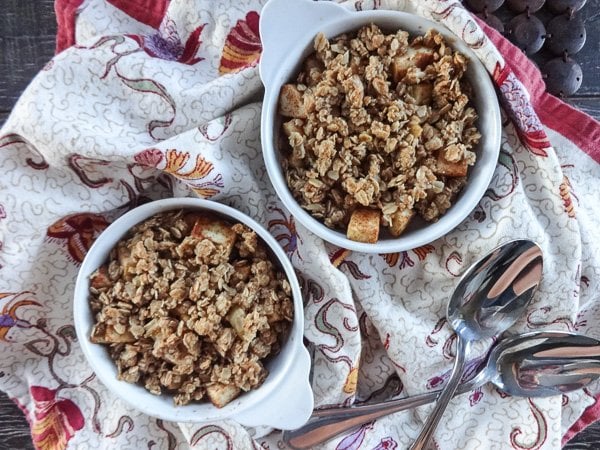 Today I'm taking my first swing at this whole "make a smaller recipe" concept and I'm pretty pleased with the results.  "Fall" is not "fall" in my book without an apple crisp, and I'm all for saving the pumpkin recipes for later in October. Apples need their time in the spotlight! This Apple Crisp for Two is perfect because Ryan and I can satisfy our crisp craving in one night and move on to the next recipe sooner rather than later. This is also a great option if you want to indulge in dessert one night but don't want the temptation of leftovers the rest of the week.  I'm talking to you single ladies, single guys, and couples without kids to eat everything!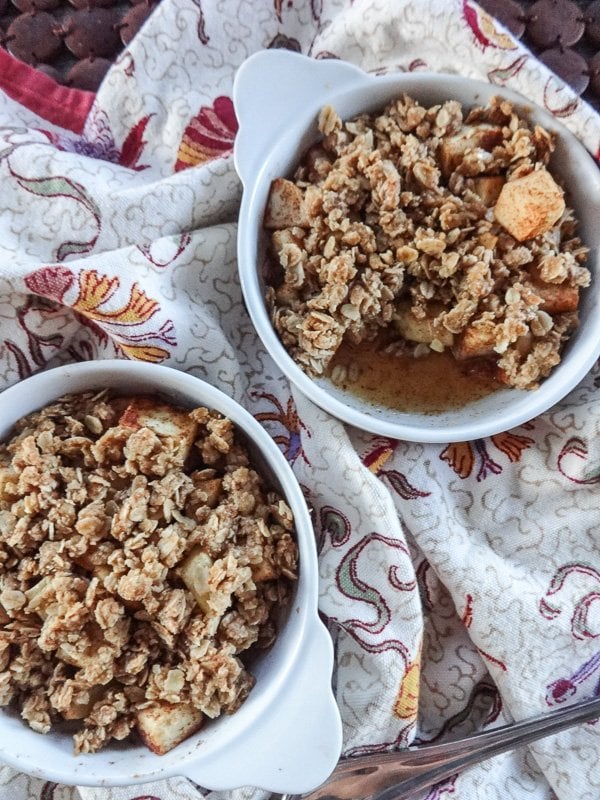 Now if I were a really good food blogger, I would have sacrificed one of these crisps to a scoop of ice cream for the sake of a more drool-worthy photo.  However, I'm a realist and realized that the ice cream would be melted by the time all is said and done and I wasn't ready to eat it at the time I took these photos.  So I added the ice cream later, after the sun had gone down, and photo-taking time was over.  You'll just have to imagine it on there and forgive me for not being more hard core. P.S. Aren't these little dishes cute? They were passed down to me from my Nana and I love them because you get the perfect ratio of apples to crisp topping!
Hungry for more? Be sure to follow the blog on Bloglovin and find Sweet Cayenne on Twitter, Facebook, Pinterest, and Instagram!
Apple Crisp for Two
Single serving apple crisp for two is the perfect solution for sweet teeth waiting to indulge in fall's bounty of baked goodies and desserts. You can have just one serving without worrying about the temptation of leftovers! Great for households of one or two!
Print
Rate
Ingredients
2

honeycrisp apples

peeled and diced into ½'' cubes

½

teaspoon

cinnamon

1

tablespoon

dark brown sugar

¼

cup

rolled oats

1

tablespoon

white whole wheat flour

⅛

teaspoon

cinnamon

⅛

teaspoon

nutmeg

2

tablespoons

dark brown sugar

Pinch

of salt

2

tablespoons

butter

cut into small cubes

2

teaspoons

maple syrup

Optional: vanilla ice cream for serving
Instructions
Preheat oven to 350. Spray two 6-8 ounce ramekins or small gratin dishes with cooking spray.

In a small bowl, combine the apples with ½ teaspoon of cinnamon and 1 tablespoon brown sugar. Toss to coat. Spoon evenly into prepared baking dishes.

Reusing your bowl, combine the oats, flour, cinnamon, nutmeg, salt, and brown sugar. Add the butter cubes, and use your fingers to work the butter into the dry mixture until the mixture resembles coarse, wet sand and the butter pieces are about the size of an oatmeal flake. Divide the crisp topping evenly over the apples and drizzle each dish with 1 teaspoon of maple syrup.

Bake for 35-45 minutes until the apples are tender and the juices bubbly. Serve with ice cream or whipped cream as desired.
Serving:
1
Crisp
|
Calories:
358
kcal
|
Carbohydrates:
63.7
g
|
Protein:
2.5
g
|
Fat:
12.7
g
|
Saturated Fat:
7.5
g
|
Cholesterol:
31
mg
|
Sodium:
85
mg
|
Potassium:
300
mg
|
Fiber:
7
g
|
Sugar:
45.3
g
|
Calcium:
21
mg
|
Iron:
2
mg