Cookie Butter stuffed Butterscotch cookies are the ultimate cookie eating experience. Be prepared to have your mind blown.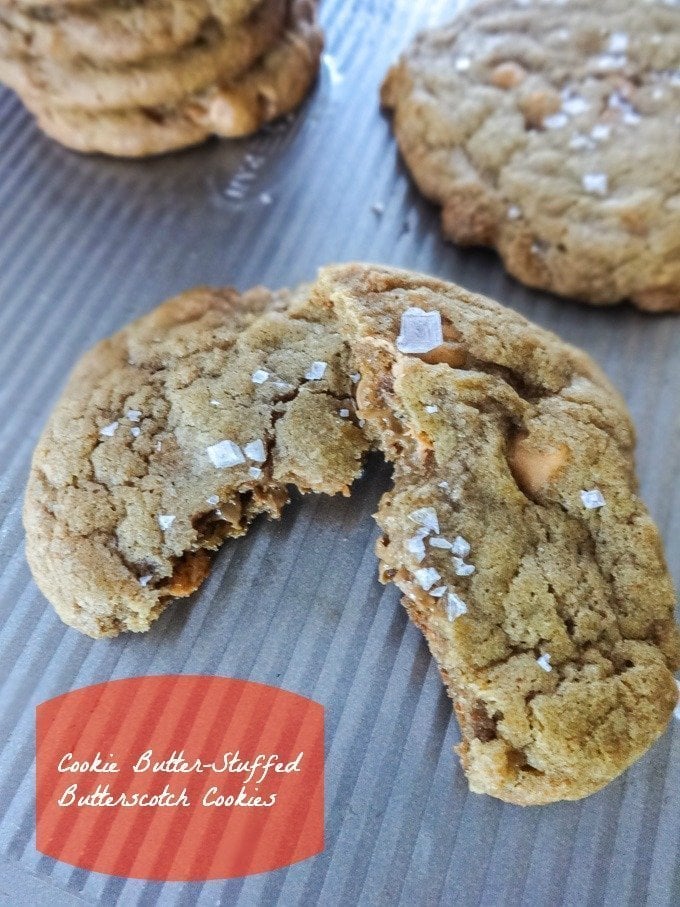 When it comes to eating a cookie, there are a few revelations I've over the past few years that have helped me to really enjoy them without feeling any guilt for eating a cookie. Let me just tell you about it (because, you know, I'm such a cookie-eating expert):
1. Only eat a cookie if it meets 100% of your expectations for what a cookie-eating experience should be like. If you take a bite and your experience is just sub-par, put the cookie down. Save your calories for a better cookie-eating experience. Example: I only like chocolate chip cookies made with semi-sweet or dark chocolate chips. They have to be chewy and baked that day. If I take a bite of a cookie made with milk chocolate chips and it's crumbly and dry, that's a bad cookie-eating experience for me. So I'm not going to finish the cookie (no offense to the milk chocolate lovers out there - it's just an example!)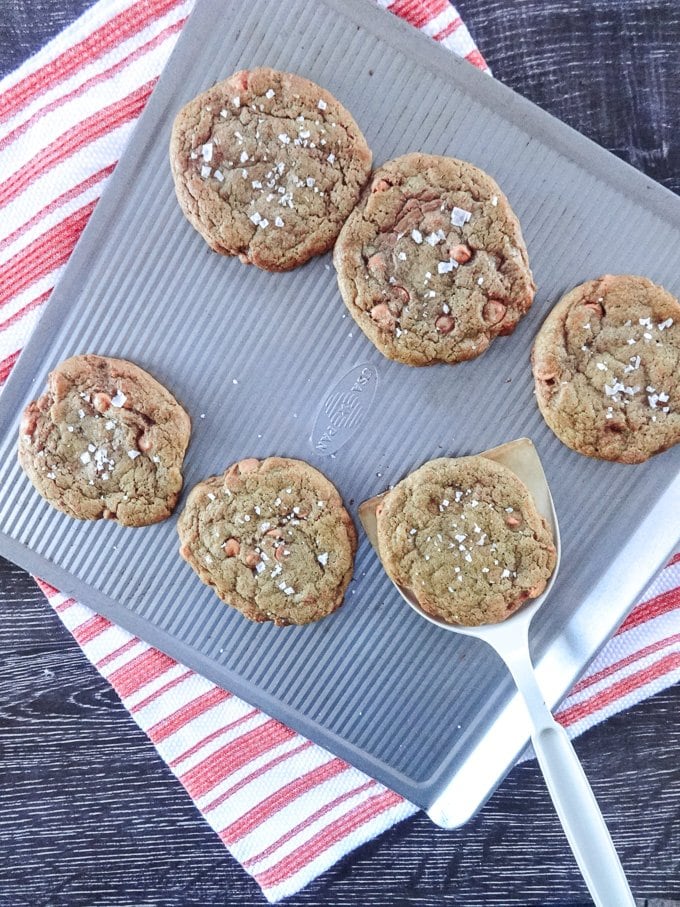 2. Don't eat a cookie as an excuse for being bored, tired, or stressed. You'll feel guilty about the fact that you ate it afterwards; which will probably lead to you eating another cookie because you've already blown your healthy eating efforts for the day. Cookies are meant to be enjoyed as a special treat. Maybe to celebrate something or to enjoy with someone you love over a good chat or while having a movie night.
3. My best cookie eating experiences have always occurred when cookies are warm and fresh out of the oven. So instead of baking an entire batch of cookie dough, I wrap my cookie dough in plastic wrap and store it in the fridge for up to 2 weeks (or freeze it). This way, I can bake enough cookies for me and whomever  I'm enjoying them with to only have one and not be tempted by other warm cookies that are fresh out of the oven. It's all about anticipating your barriers to success with "eating in moderation" people!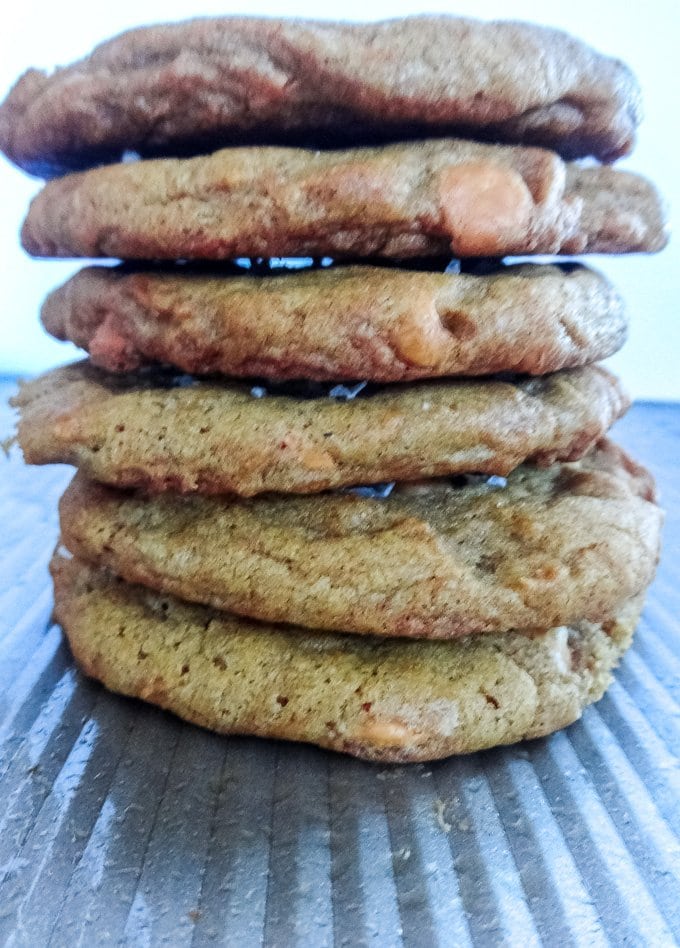 4. Cookie-eating experiences can be taken to a whole new level when the cookie dough is made with brown butter. Yes, since the dough is made with nutty, deliciously fragrant, liquid browned butter, you have to refrigerate it a while before it can be baked; which totally takes the instant gratification factor out of making cookies. But it's worth it. Cookie dough made with brown butter is life-changing.
5. Cookies that have a gooey, melty surprise waiting inside are, in my opinion, far superior to cookies that don't have surprises in the center.  I learned this when I first baked the mind-altering Nutella-Stuffed Brown Butter Chocolate Chip Cookie with Sea Salt. Just take my word for it - cookies need a surprise in the center.
6. The ultimate cookie-eating experience involves a glass of milk (or milk substitute) for dunking said cookies.
With all that said, the cookies I'm presenting to you today met all of the above criteria for an ultimate cookie-eating experience when I enjoyed one. They are my own special version of the Nutella-stuffed cookies I told you about. Brown butter in the dough - check. Warm out of the oven-check. Surprise inside - check. Secret: the surprise inside of these cookies is Cookie Butter. It's my current obsession - I think there should be a Cookie Butter version of all confectionary treats: cheesecake, brownies, ice cream, truffles.......let me work on that.
One more note: I chose butterscotch chips for these cookies because they  tastes amazing with Cookie Butter and their orange color looks fallish. Butterscotch, in my opinion, is very underrepresented in the baking world. We need more butterscotch in our lives. The cookies also have a bit of pumpkin in them and warm spices. So you should probably make them soon; while there is still a bit of Fall left to enjoy.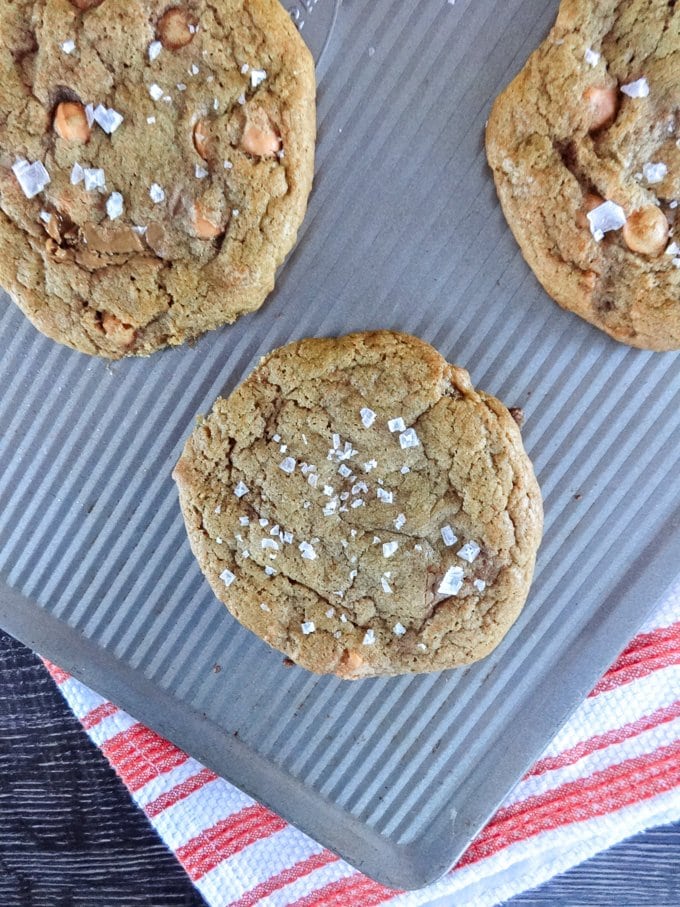 Hungry for more? Be sure to follow the blog on Bloglovin and find Sweet Cayenne on Twitter, Facebook, Pinterest, and Instagram!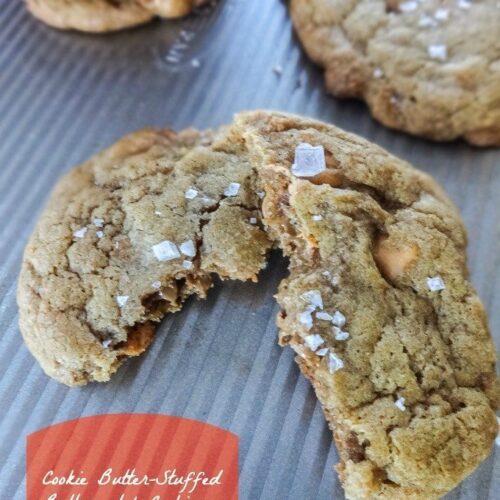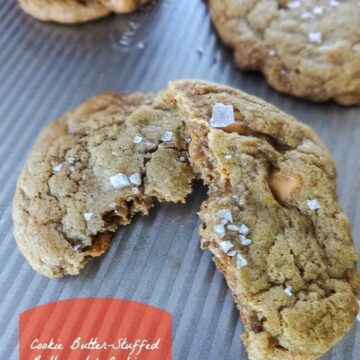 Cookie Butter-Stuffed Butterscotch Cookies
Butterscotch chip cookies are taken to the next level with the addition of nutty brown butter to the cookie dough and a dollop of cookie butter rolled into the center of each cookie. They are subtly spiced with a hint of cinnamon and pumpkin pie spice, making them a perfect addition to your favorite fall cookie collection!
Print
Pin
Rate
Ingredients
16

teaspoons

of cookie butter

divided (recommend Trader Joe's Speculoos Cookie Butter or Biscoff Cookie Spread)

½

cup

butter

1 ½

cup

all purpose flour

¾

teaspoon

baking soda

¼

teaspoon

salt

1 ½

teaspoons

cinnamon

1

teaspoon

pumpkin pie spice

½

cup

brown sugar

½

cup

granulated sugar

1

teaspoon

vanilla

1

egg white

¼

cup

pumpkin puree

1 ½

cup

all purpose flour

¾

teaspoon

baking soda

¼

teaspoon

salt

1 ½

teaspoons

cinnamon

1

teaspoon

pumpkin pie spice

1

cup

butterscotch chips

Sea salt flakes

such as Maldon or coarse ground sea salt
Instructions
Place a sheet of wax or parchment paper onto a tray or small cutting board that will fit inside your freezer. Drop 16 teaspoons of cookie butter onto the paper (make sure they are not touching). Place in the freezer until cookie dough is ready to bake, about 1 hour.

Melt the butter in a small saucepan over medium heat. Once the butter melts, continue to cook it, stirring often with a whisk, as it foams and starts to brown. It's important to stir often to prevent the milk solids in the butter from burning. Once the butter turns golden brown and has a deliciously nutty fragrance, remove heat and let cool for 10 minutes.

While your butter cools, sift together the flour, baking soda, salt, cinnamon and pumpkin pie spice in a medium-size bowl. Set aside.

In the bowl of a mixer fitted with the paddle attachment, combine the cooled brown butter, sugars, pumpkin puree, vanilla, and egg white. Mix until smooth, about 2 minutes.

Gradually mix in the dry ingredients, scraping down the sides of bowl as needed, until a dough forms. Fold in the butterscotch chips into the dough with a rubber spatula. Cover the bowl with plastic wrap and refrigerate for 45 minutes.

Preheat oven to 350. Using an ice cream scoop, scoop about 2 tablespoons of dough per cookie and place dough balls 2 inches apart on non-stick cookie sheets. Flatten the dough balls with your hand.

Remove the cookie butter from the freezer and place a mound of cookie butter in the center of each round of dough. Carefully pinch the cookie dough up and over the cookie butter to hide it inside the dough, rolling the dough into a ball once more and slightly flattening with your hand as you place it back onto the cookie sheet.

Bake cookies for 10-11 minutes or until the edges just start to become golden brown. Let cool on the pan for 5 minutes while you sprinkle the tops of each with a pinch of sea salt. Enjoy warm out of the oven or transfer to a wire rack to cool completely before storing in an airtight container.
Serving:
1
Cookie
|
Calories:
410
kcal
|
Carbohydrates:
37.2
g
|
Protein:
11.2
g
|
Fat:
25.3
g
|
Saturated Fat:
9.4
g
|
Cholesterol:
25
mg
|
Sodium:
256
mg
|
Potassium:
254
mg
|
Fiber:
2.5
g
|
Sugar:
19
g
|
Calcium:
31
mg
|
Iron:
4
mg