Have you ever been Glamping? Glamping is camping without too much to worry about. Forget the rustic overly stressful experience of finding a location to camp, setting up your own tent, and starting your own fire. Let someone else take care of that for you.
My husband and I celebrated our four year wedding anniversary this past August and it happened to fall smack-dab in the middle of my brother's wedding week! Needless to say, we were too busy to really celebrate; so we postponed it until September. We weren't looking to take a big trip; maybe just a one-night getaway to somewhere other than our hometown. That's when I remembered that a coworker had mentioned the Depot Lodge in a small town called Paint Bank, Virginia, where you could stay in an old caboose, an airstream trailer, OR a glamping tent!
I excitedly mentioned the idea to Matt; to which he replied, "I'm not staying in a glamping tent." BUT thankfully once I explained to him that this was not a substitute for regular camping - it was simply a substitute for a regular hotel room - and he slowly got on board. Once I showed him the pictures and read the reviews of the "campsite," he was sold.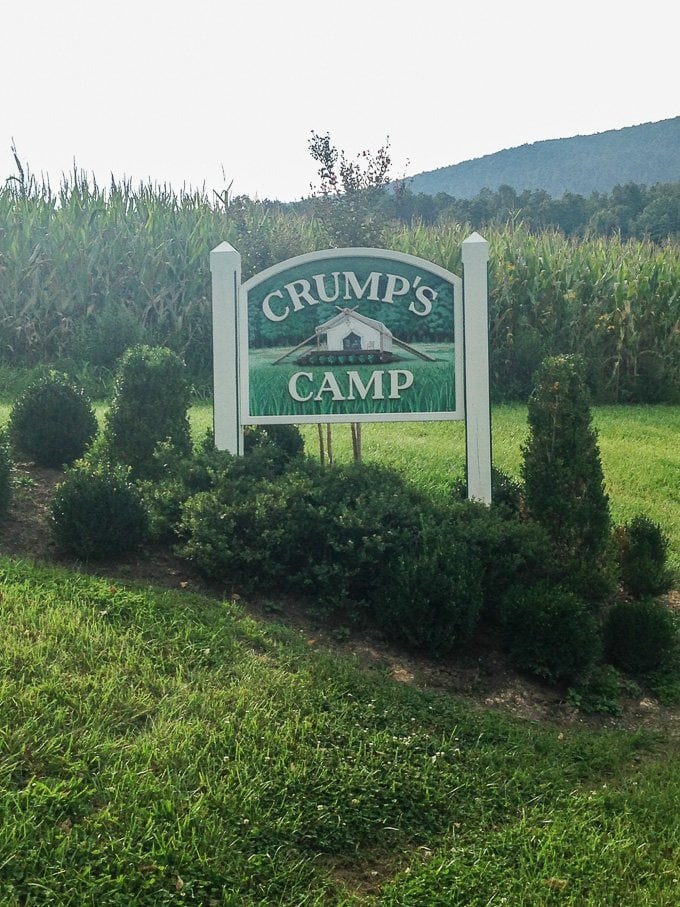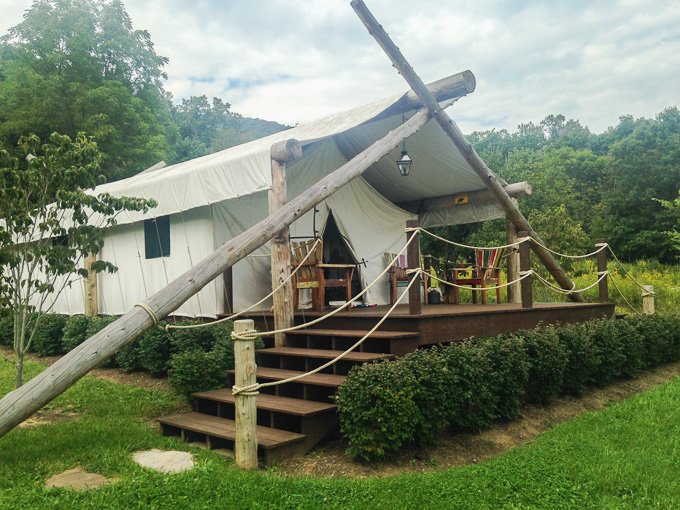 Upon our arrival in Paint Bank (where there is no cell phone service), we checked in at the general store and then proceeded to drive a couple more miles until we got to the "tent," called Crumps Camp. The driveway and tent are secluded and surrounded by fields, trees, and your own private pond! Besides the outside being absolutely gorgeous, the inside of the tent is equally as pretty!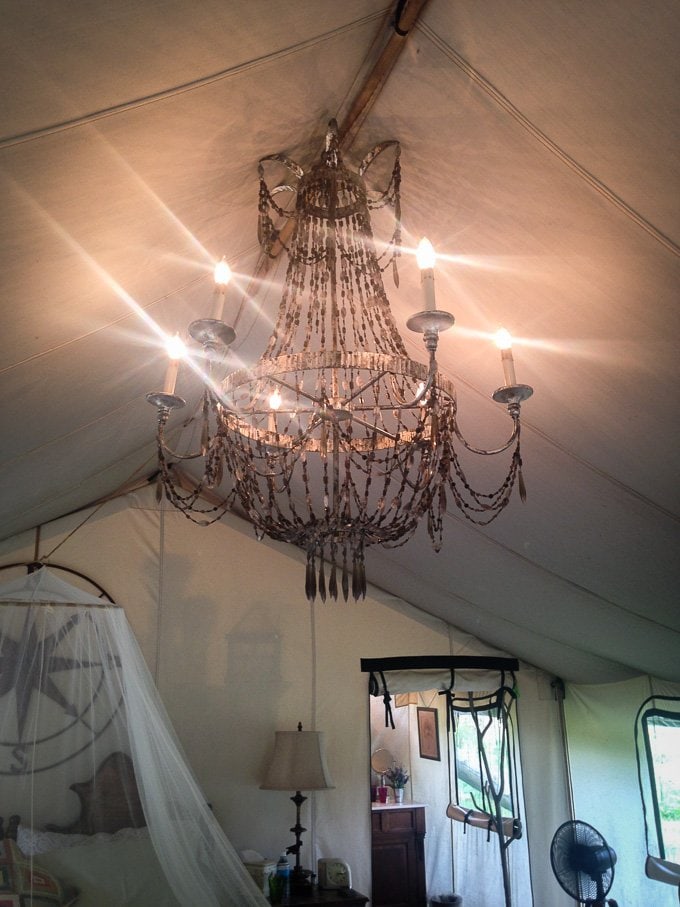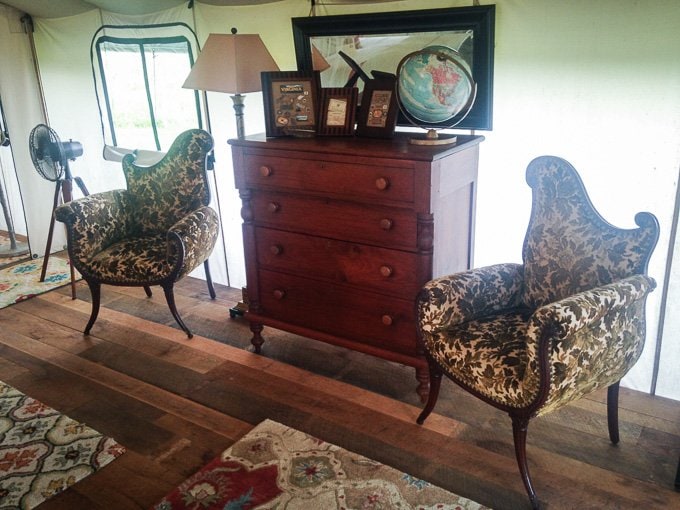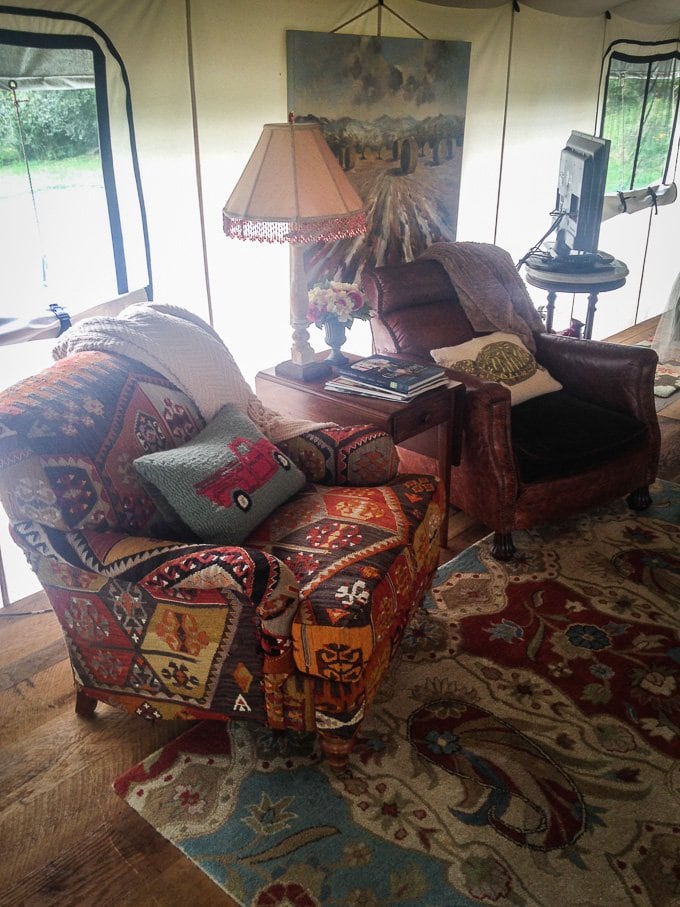 I immediately fell in love with the décor; even the bathroom was decorated beautifully and complete with an indoor and outdoor shower. Matt was stoked about the cooler of drinks they have ready for your arrival and the flatscreen TV - complete with satellite cable. I literally thought it was the prettiest place we had ever stayed in! And certainly the most serene and peaceful.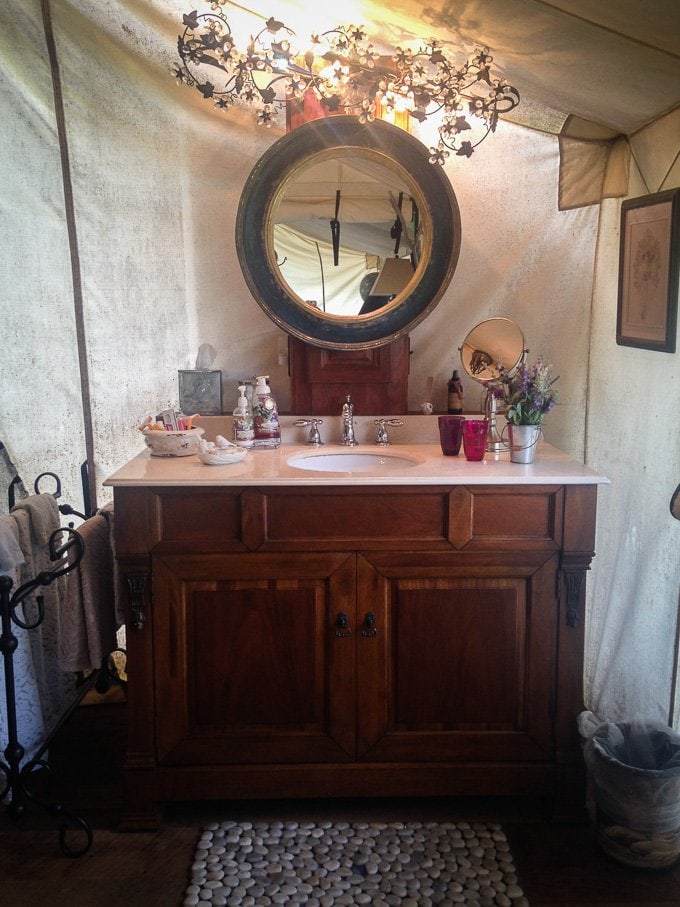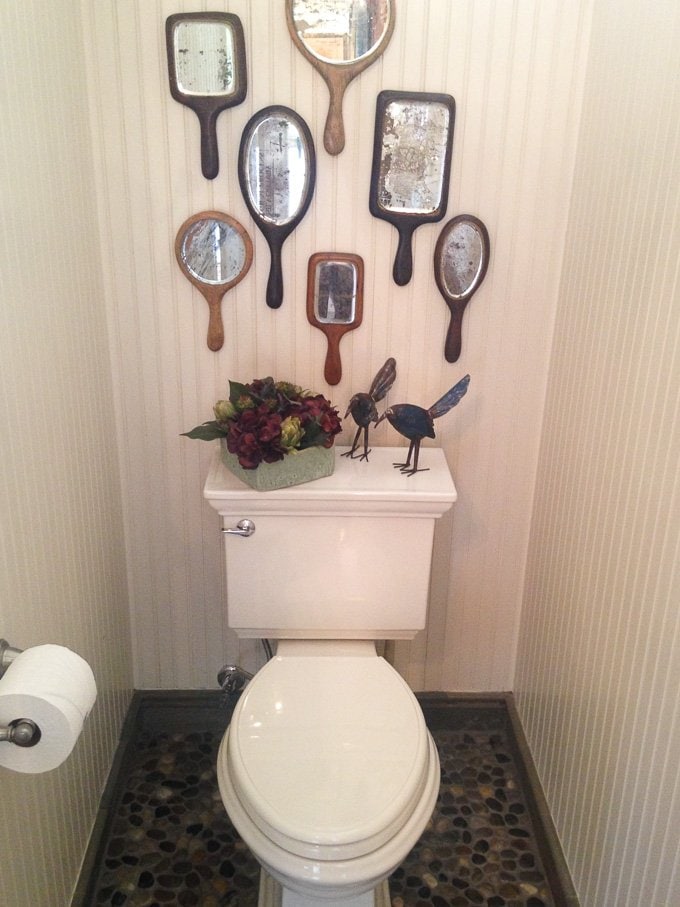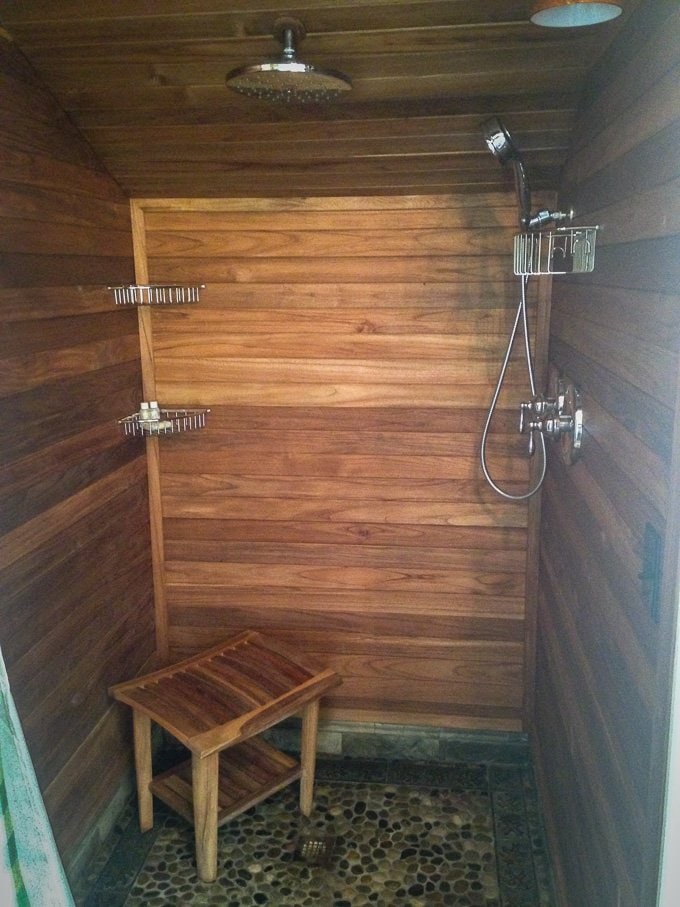 We actually liked the lack of cell phone service; although the tent is equipped with a landline that you can use if you absolutely must have contact with the outside world. We ate dinner at the Swinging Bridge Restaurant just down the road; which I believe is owned by the same people who own the lodge. And for breakfast, we were delivered a complimentary picnic complete with hot coffee at the time of our choosing!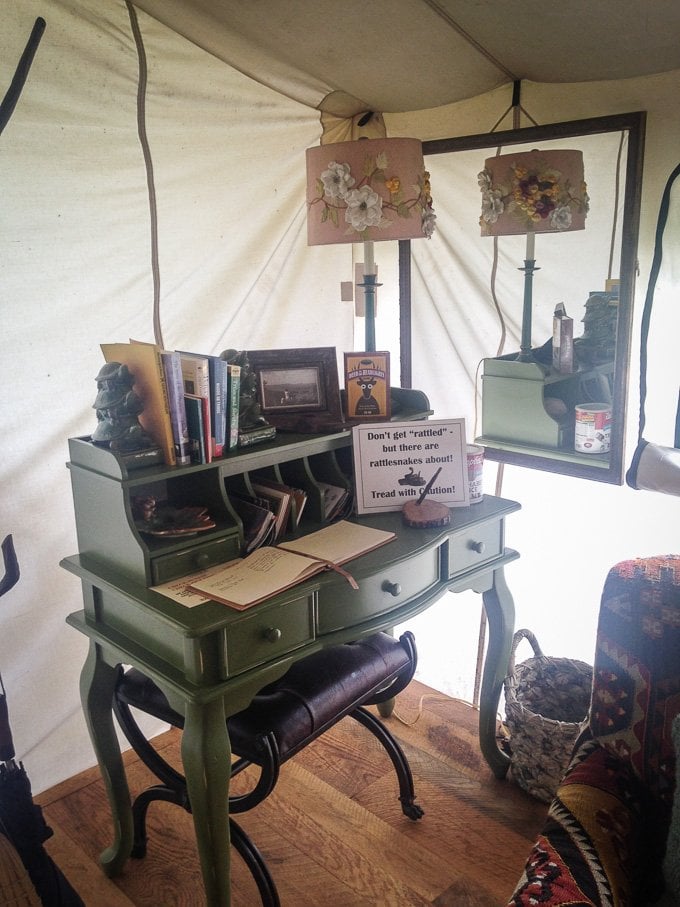 '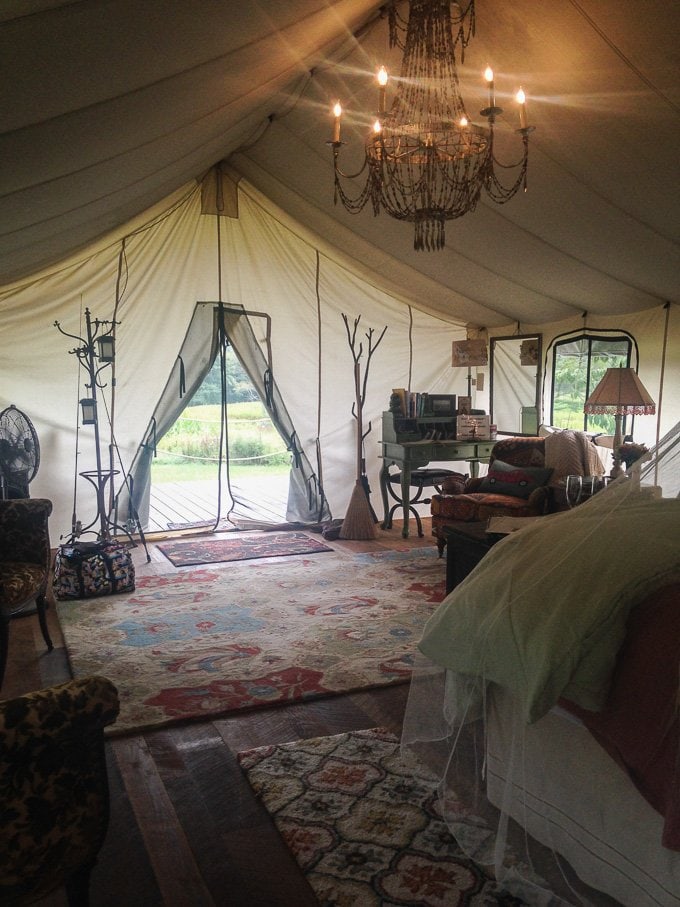 We enjoyed every minute of our stay; from the satellite television to sitting out by the pond and watching two deer wander around the tent. Although one of the best parts of the two days may have been when the waitress asked where we were staying and Matt couldn't make himself say the word "glamping" -  needless to say, I had to take over the conversation. Ha! Typical.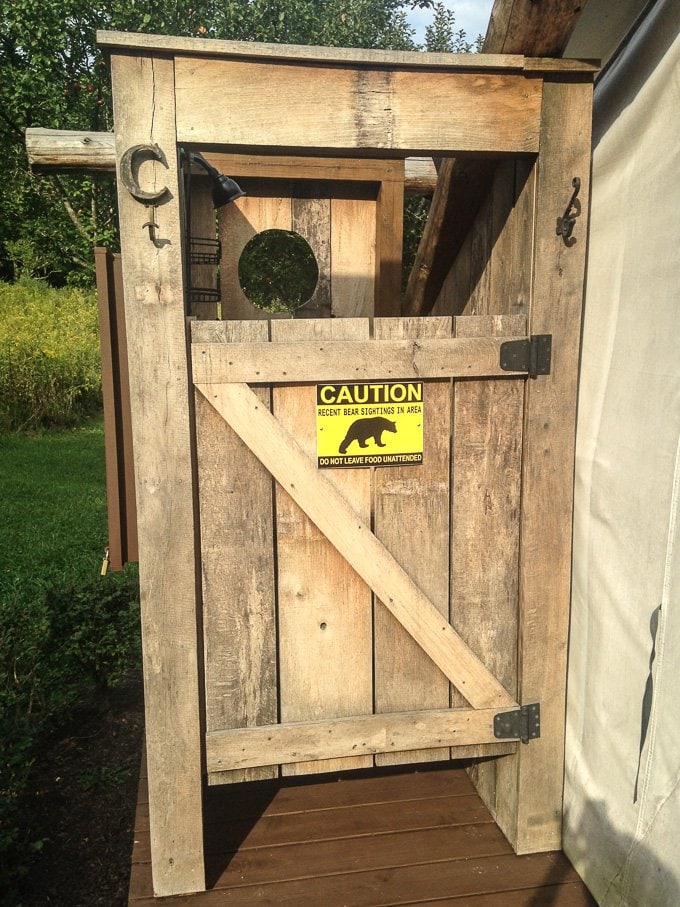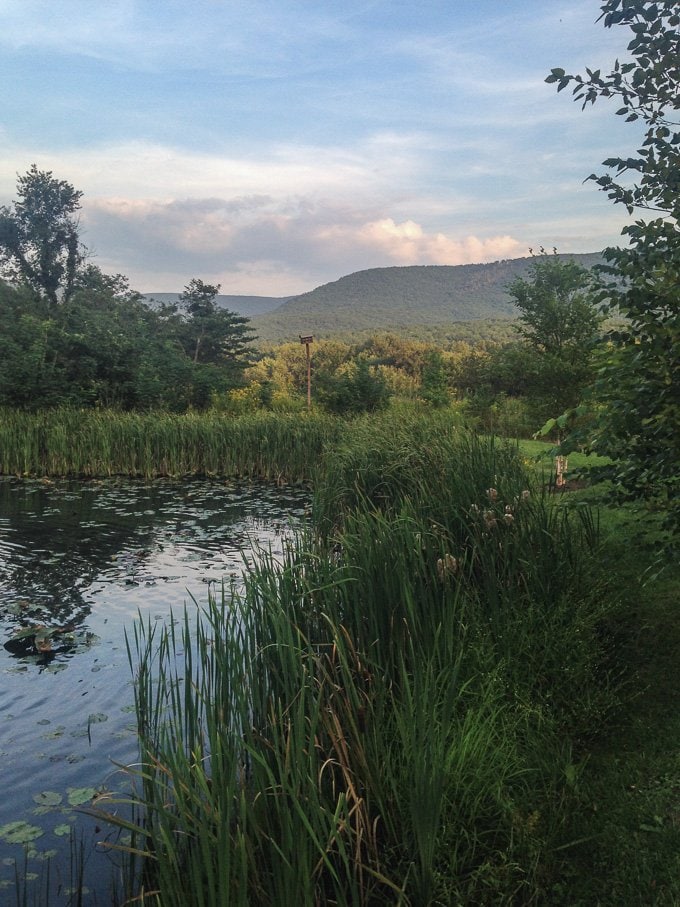 However, Matt will tell you himself how much he loved it even if he will only refer to it as "the tent." But don't just take my word for it - try it for yourself! There are several places to get your glamp on all over North America, and more seem to pop up every day. Below are a few resources to help you plan a "glamorized" camping adventure:
Have you ever been glamping before? Do you think you'd like this type of getaway? Let us know all about it in the comments section below!
Look at the Travel page to see other destinations and travel tips. You may also look at the recipes page if cooking is one of your interests. Primarily what we do around here is based around food and cooking.
If you like what you saw follow Sweet Cayenne on Facebook and Instagram. Get updates by signing up for the weekly newsletter.