Hello and happy Friday, everyone! Today marks the first day of a new series I will be doing on Friday - the Friday 5. I'm trying to develop more of a structured schedule for my blog posts in the new year. Recipe and food-related posts will be published on Tuesdays and Thursdays, and then the Friday 5 will be devoted to a curated collection of items within a wildcard topic. This will be my outlet to talk about home, travel, life, style, etc. My hope is that the Friday 5 will be fun, entertaining, helpful, and/or inspirational for you all - my dear readers and friends!
This first installment is all about GOALS I've set in 5 areas of my life for the year and some planning tools/strategies that I'm hoping will either 1) help me stay motivated and 2) keep me on track!
goals
Blogging - I've spent a lot of time over the past 2 weeks thinking about how to improve Sweet Cayenne and make it a more helpful resource for my readers. At the same time, I want to build an engaged, interactive community around the topics I write about and have a passion for. I love to hear feedback from you all, and I'm setting goals that will allow for more interaction and engagement between myself and my readers. Here are a few of the specifics:
Publish a step-by-step recipe video once per week (starting small so I don't get overwhelmed; see the first one in this quiche recipe).
A "day in the life" look at what I'm doing via Instagram stories with helpful tips, DIY's, etc.
A bi-weekly newsletter that has exclusive curated content that won't be anywhere else on the blog (think freebies like playlists, menus, guides, ebooks, plus personal stories, shoutouts to individual readers, and more).
Health - specifically, fitness and working out. When Ryan and I lived in MO and both of us were working at the university, I was SO spoiled in that I could head to his office at the athletic complex after work and we could work out together there. He would train me, develop workouts to target specific areas, and show me how to do the exercises properly. IT. WAS. AWESOME. But since he started working at his new job back in August, I've lost my workout partner and my motivation. I got very out of shape over the course of our move. As a result, I've had some spinal osteoarthritic pain return and it hasn't been fun. While I used to take prescription medication for this, I was able to avoid taking it for 4+ years when Ryan trained me and help strengthen the muscles in my back. It made a HUGE difference, so I have a great motivational starting point for getting back in shape while working on improving my back pain.
30-40 minute workouts via YouTub fitness channels Mon-Thur, yoga with Ryan 1-2x on the weekends (I'll be sharing the workouts I'm doing and loving in the newsletter, which will launch in February!).
Take daily fish oil supplements to help with the inflammation/pain in my back, plus aim to eat fatty fish 1-2x per week.
Invest in some at-home fitness equipment to build up my back muscles again - I'm craigslisting like crazy to find some free weights and a bar with weights/clips!
Relationships - as an introvert in a new town who is "starting over" for the 3rd time in 4 years, my motivation to get out and meet new people is slim to none. Really, it's pretty pathetic. I'm SUCH a homebody, and especially during the winter months, would stay inside and keep to myself in hibernation mode all season long!
Siblings - this year, I've made a goal to invest in my relationships with my siblings by visiting each one of them once. Two of them are in VA, one in NY at college, and one in SC at college. First, I'll be visiting my sister Lindsey in February to help her get ready for her and her husband's adopted son to arrive from Thailand!
Meeting people - Ryan and I have a goal to get into a community group that meets weekly once we find a church home. He and his coworkers also have a trivia team that meets up most weeks, so I plan to go twice per month to get to know them better.
Spiritual - Ryan and I currently in search of a church home. We are open to looking in Clarksville and Nashville, but would prefer to find something in Clarksville so we have a community group that is close to home. If you know of any great churches in this area, please let me know!
Quiet time + gratitude journaling - I got out of the habit of journaling about 5 years ago and really miss it. It takes so much time and intention to do this on top of taking time to study God's word and pray. My goal in the new year is to spend 5 days per week working through studies with The If Gathering and then making a point to journal for 5 minutes when I'm done reading.
Reading - two of the books I would love to read this to help grow my faith and strengthen my confidence in sharing with others are Tim Keller's The Reason for God and Every Good Endeavor. Have you read them? I'm also loving the podcast Theology for the Rest of Us. Christian theology is always something that's been very intimidating to me to try and explain in conversations, and I love the way that Kenny discusses tough questions in a way that is loving, concise, and scripture-based.
Education/Professional - when you are a registered dietitian, professional foodie, AND a blogger, the opportunity to gain new knowledge and skills is NEVER-ENDING. I could write for days on all of the things I want to learn and research. Here's is what I'll be focusing on:
Getting involved with the Nashville Academy of Nutrition and Dietetics and taking advantage of the educational opportunities they provide.
Working my way through the recipes and techniques explained in Cook's Illustrated The New Best Recipes and the Modernist Cuisine collection.
Learning more about recipe video production and lifestyle photography.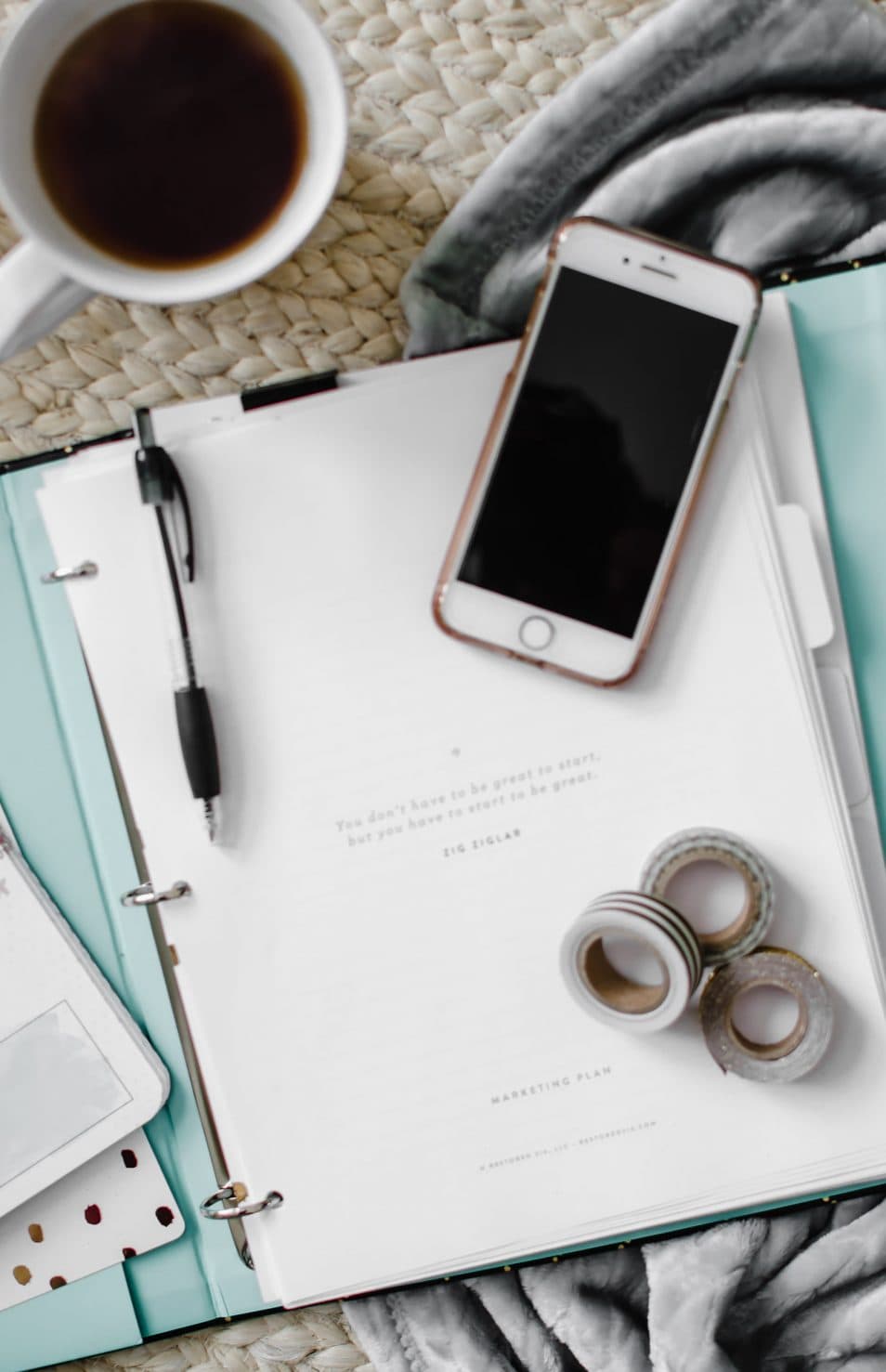 Now that I've shared my goals, let me tell you about the tools I'm using to help me stay on track:
Restored 316 business planner - this baby has it all, with sections to help you track business marketing, finances, weekly/monthly/yearly progress, and LOTS of room for plugging in appointments/to-do's and notes. I am LOVING using the planner and really enjoyed the fact that I can print it off in sections and organize it with a binder/dividers that suits my style.
Washi tape - the washi tapes in the photo above match my planner binder and dividers perfectly! I'm using to mark off chunks of days that I'm either traveling or working towards a deadline on a project. It's also fun to decorate notes pages with and make sections on a lined page.
Prayer/gratitude journal from May designs - this little notebook is so gorgeous and you can customize them in 100's of ways. These would make such a good gift idea as well!
Google calendar - Ryan and I have a shared calendar that will add anything we either are attending together or projects we are working on together. We also add any changes in our work schedule so that we both stay on the same page!
Whew! This was a long one - congrats and thank you if you made it all the way to the end! I'd LOVE to hear what your plans are for the new year. Comment below and tell me about your goals, planning strategies, or whatever is on your mind!
Shop the look from the photos!