Have you ever had a culinary adventure in your kitchen? To me, a culinary adventure involves making a recipe that intrigues you. Perhaps you may not know if you will like the finished product or not, but you can't help but give the recipe a try. It often involves using ingredients you've never bought before, learning a new cooking technique, or using a new cooking tool. These adventures happen a lot in my kitchen - partly because reading cookbooks and recipes is a hobby and relaxation method for me. My Pinterest boards are full of recipes that intrigue me. Some are healthy, some indulgent, but all are culinary adventures waiting to happen.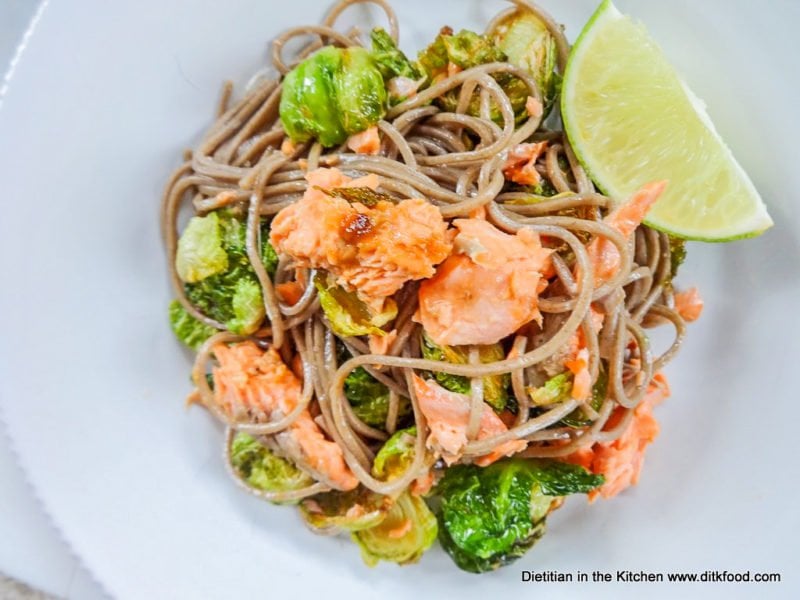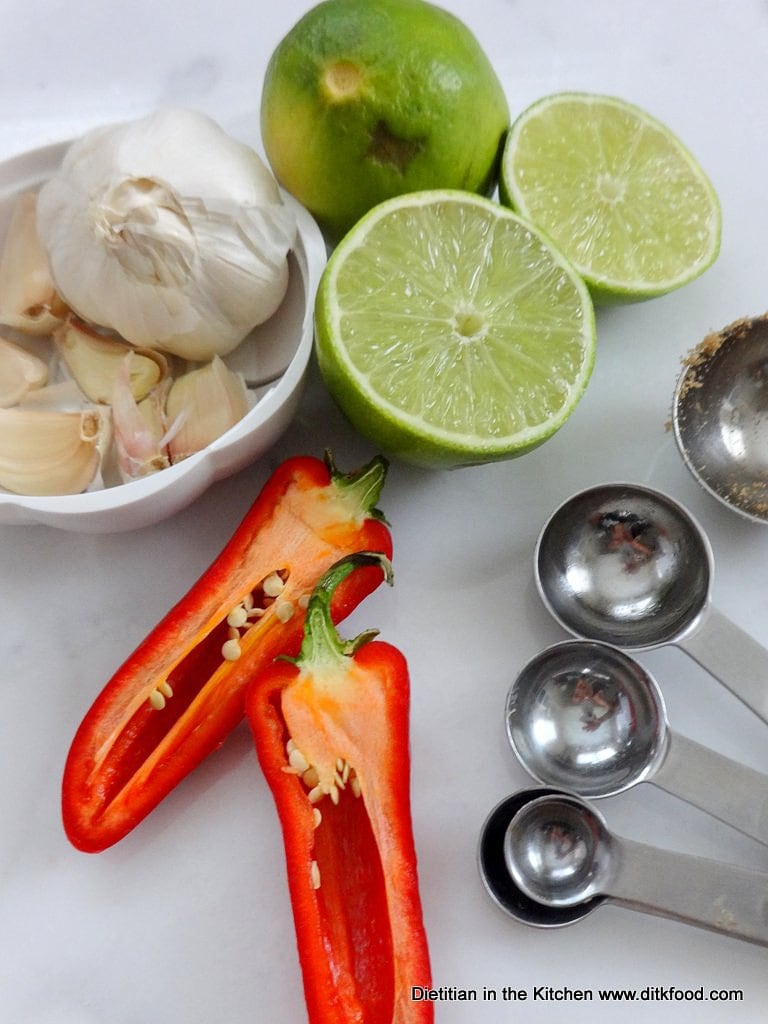 The recipe I'm sharing with you today was inspired by a recipe for Crispy Fried Brussels Sprouts with Chili Fish Sauce that had been calling my name saying "make me!" on my Pinterest page for several months now. I've been hesitant to make these Brussels Sprouts - mostly because I love sprouts so much that it felt wrong to fry them because they taste so good roasted or pan-sauteed. And the latter cooking methods are much healthier! But sometimes it's ok to have a kitchen adventure that involves paring something healthy with something indulgent. And that's how this fresh Miso-Glazed Salmon Soba Noodle Salad was born.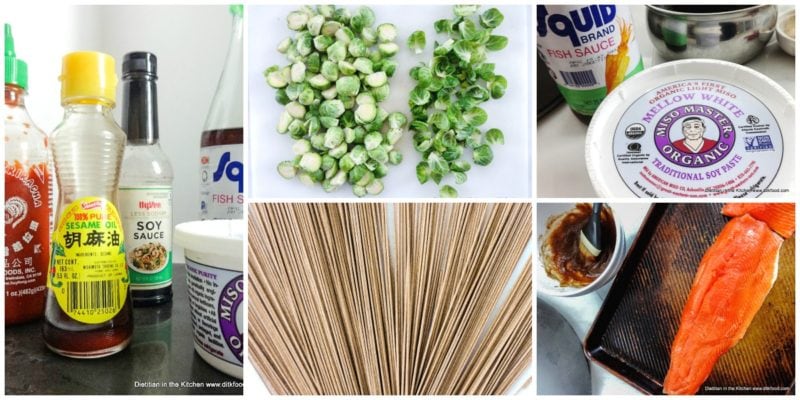 This salad pairs some very adventuresome ingredients and flavors with fresh wild-caught Alaskan Sockeye Salmon (which is in season now!) and nutty soba noodles. Soba noodles are a common noodle in Japanese cuisine that are made from buckwheat flour. I've been able to find them in local supermarkets in TX, NE and VA so you should be able to find them as well! If not, you could certainly try a whole wheat thin spaghetti noodle.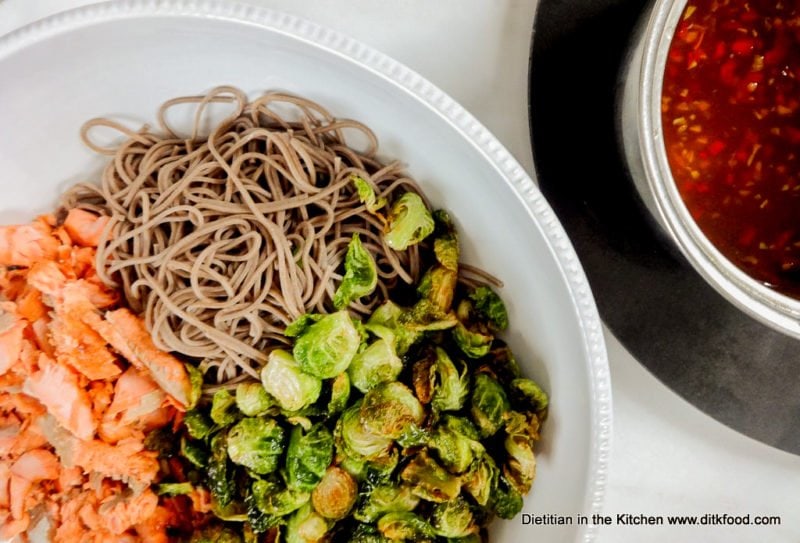 I'm sure there are those of you who will not be able to talk yourselves into frying Brussels sprouts; or maybe you simply don't have the time to take on such an endeavor. Not to worry - you can certainly roast them while you assemble your salmon glaze, fish sauce dressing, and cook your noodles. It will still be an adventure and the final product will still be delicious. Trust me - this salad is bursting with unique Asian umami (a fancy culinary term for savory) flavor that will make you taste buds sing and beg for more! Links to new ingredients are found in the recipe below and modifications can be found at the end of the recipe. Enjoy!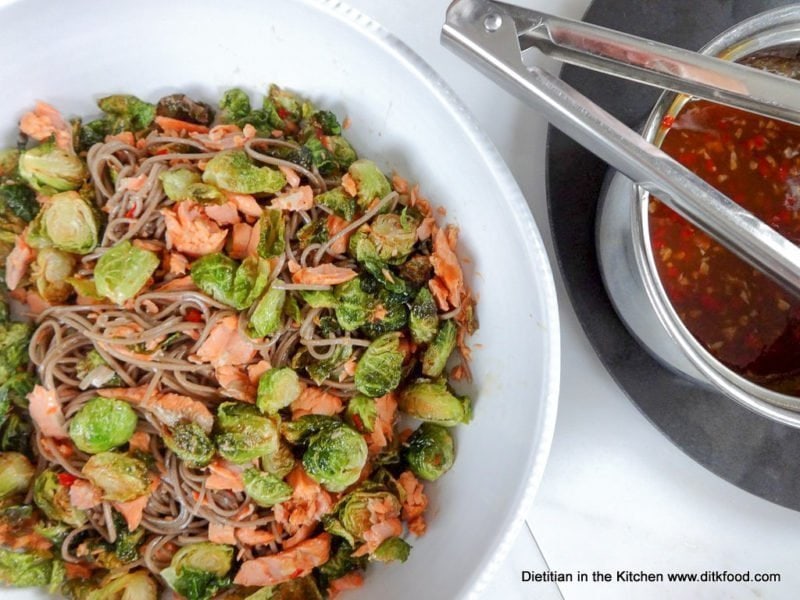 Hungry for more? Be sure to follow the blog on Bloglovin and find Dietitian in the Kitchen on Twitter, Facebook, Pinterest, and Instagram!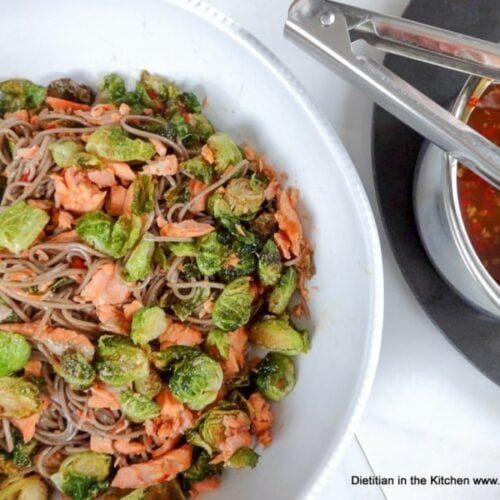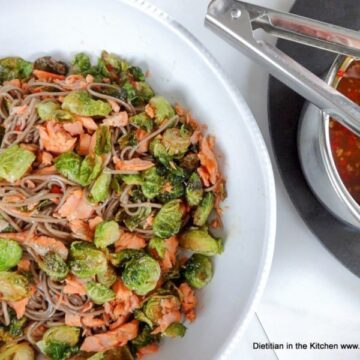 Miso-Glazed Salmon and Soba Salad with Crispy Brussels Sprouts
Sweet miso-glazed salmon and crispy Brussels sprouts are tossed with soba noodles and a chili fish dressing in this exciting Asian salad. Recipe for fried Brussels sprouts and chili fish dressing adapted from the White on Rice Couple food blog. Salmon and salad recipe are from Whitney Reist.
Print
Pin
Rate
Ingredients
For the soba noodles:
⅓

pound

soba noodles cooked according to package directions and rinsed under cold water
For Chili Fish Dressing:
1

cup

water

½

cup

fish sauce

2

tablespoons

honey

2

small fresh chiles

minced (I like Thai bird chiles, red chiles, jalapenos, or serranos)

3

medium cloves garlic

minced

Cornstarch slurry: tablespoon cornstarch + 1 tablespoon water combined and mixed with a fork until smooth

3

tablespoons

fresh lime juice with additional lime wedges for serving
For the salmon:
¾

pound

wild Alaskan Sockeye salmon

2

tablespoons

white miso paste

1

tablespoon

reduced sodium soy sauce

1

teaspoon

dark sesame oil

1

teaspoon

sriracha sauce

2

tablespoons

dark brown sugar
For the Brussels sprouts:
1

pound

brussels sprouts

trimmed and quartered

Oil for frying

recommend canola, grapeseed or peanut oil
Instructions
For the chili fish dressing:
In a small saucepan, combine the water, fish sauce, chiles, honey, and garlic. Bring to a boil. Once it boils, slowly stir in the cornstarch slurry. Slowly simmer and stir occasionally until the sauce thickens, 15-20 minutes. Once the sauce is thick and coats the back of a spoon, remove from heat, stir in the lime juice, and cool.
For the salmon:
While the chili fish dressing is cooking, make the salmon. Preheat your broiler on low or 450 degrees. Place a sheet of foil or parchment on a baking sheet and lightly coat with cooking spray. Place the salmon skin-side-down on the sheet and set aside.

Combine the miso paste, soy sauce, sesame oil, sriracha, and brown sugar in a small bowl. Brush or spread on top of the salmon and broil for 4 minutes. Remove salmon from oven, brush on another coat of glaze, and broil an additional 4 minutes or until fish flakes easily with a fork in the center. Keep a close eye on fish while broiling as Sockeye salmon is very thin and cooks quickly.

Cool cooked salmon slightly and then flake into small pieces with a fork to place in the salad.
For the Brussels sprouts:
Fill a large pot or dutch oven 2 inches high with cooking oil. Heat to 350-375 degrees or until a sprout sizzles when you drop it in.

Using a splatter guard or large lid in one hand and a slotted spoon with the other, carefully drop sprouts into the oil about 2 spoonfuls at a time. Be careful as they will pop once they hit the hot oil! Fry until golden and remove to a paper towel-lined plate. Continue to fry in batches till all the sprouts are cooked.
Assembly:
Place the soba noodles, flaked salmon and hot Brussels sprouts in a large bowel. Add about ½ of the chili fish dressing to start out with and toss all of the ingredients. Serve warm, at room temperature, or chilled with lime wedges, adding extra dressing as needed. This makes wonderful leftovers served cold!
Notes
Adapt this recipe to your needs - the salmon recipe is great by itself as is the recipe for the Brussels sprouts and chili fish dressing. As an alternative to frying the sprouts, you can roast them on a baking sheet with a little salt, pepper, and olive oil at 400 degrees for 25-30 minutes or until tender.
Serving:
1
Serving
|
Calories:
386
kcal
|
Carbohydrates:
57
g
|
Protein:
29.1
g
|
Fat:
7.6
g
|
Saturated Fat:
1.2
g
|
Cholesterol:
38
mg
|
Sodium:
3702
mg
|
Potassium:
1019
mg
|
Fiber:
4.8
g
|
Sugar:
17.5
g
|
Calcium:
112
mg
|
Iron:
4
mg
**Affiliate Association Disclosure**
Links to the products featured in this post are to my Dietitian in the Kitchen Amazon store. This is an affiliate program that I am a part of, and means I get a small percentage (4%) of any purchases made through my store. In the side bar, you will see a section titled "Whitney Recommends" which links to my current favorite kitchen items, cookbooks, blogging resources, and more! It's all part of my efforts to do what I love as a culinary dietitian, which includes paying for all of the food that I feature on this blog. Thank you for your support!