Do you ever decide to make or eat something just because it's National _______ Day? I do that sometimes.  In fact, sometimes I'll wait till it's National ______ Day to make a particular recipe just because it seems like a better excuse to make that food.  Like I really need to validate my reason for making something.  Sheesh!  But you have to admit, it does make enjoying a particular food a little more fun!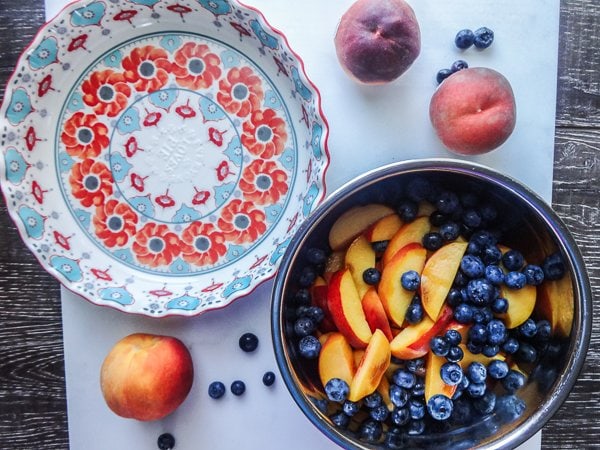 The fact that yesterday, August 24th, was National Peach Pie Day prompted my 2 hour endeavor to make a peach pie.  After working all day on a Saturday, mind you!  My resolve to do this was strengthened by the fact that peaches were on sale for $0.88 per pound (wha?!?) and I had yet to make a pie in the oh-so-pretty-I-can't-even pie dish I had gotten from Anthropologie earlier this summer.  Ya'll, the baking and cookware supply at this store will be the death of me.  Why does it all have to be so cute and whimsically charming?!? Gah!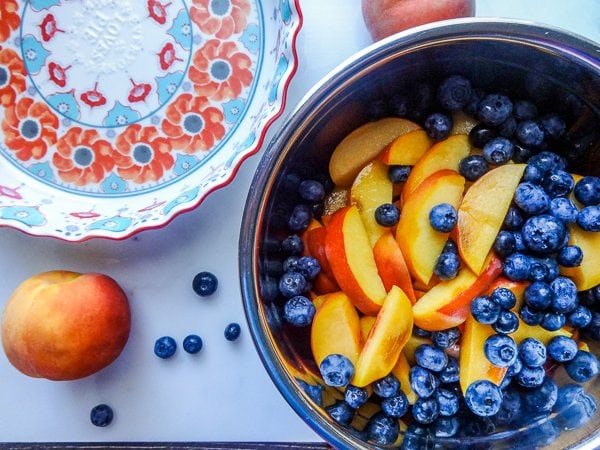 Anyway, back to this pie.  I knew from the moment I decided to make a Peach Pie that if Joy the Baker had a recipe for one, that's the one I would use.  You see, baking is a science and my pie-making skills are still in the newborn stage, so I wanted my recipe to come from someone with experience and whose recipes I had found success with in the past.  When it comes to baking, Joy is my girl!
What makes Joy such a phenomenal baking blogger is the unique way that she describes the process of putting her recipes together.  Her step-by-step photos are amazing and probably time-consuming on her end.  However, it always seems like Joy goes the extra mile to provide instructional photos, use clear-cut instructions, and write recipes in a way that builds confidence in the most novice of bakers and baker wannabe's.  Trust Joy! If you want to make this pie, I've provided her instructions in the recipe below, but feel free to check out her recipe with the link for step-by-step photos of the process.  I promise, if I can make this pie, so can you!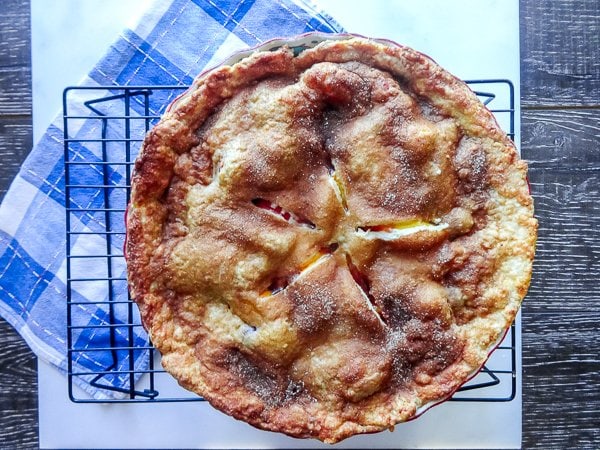 Just look at that golden cinnamon sugar crust!  And that pinkish purple peach and berry juice - don't even get me started! I found myself licking that stuff off the plate. Oh, yeah, and if you aren't convinced that you need to try this pie because National Peach Pie day has come and gone, don't worry - Labor Day picnics are just around the corner and this would be a perfect addition to yours!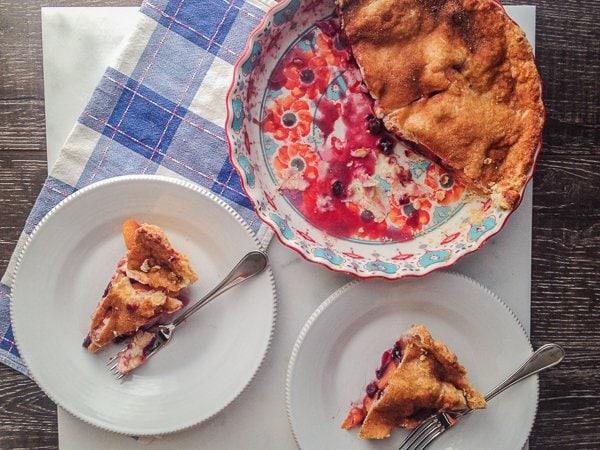 Hungry for more? Be sure to follow the blog on Bloglovin and find Sweet Cayenne on Twitter, Facebook, Pinterest, and Instagram!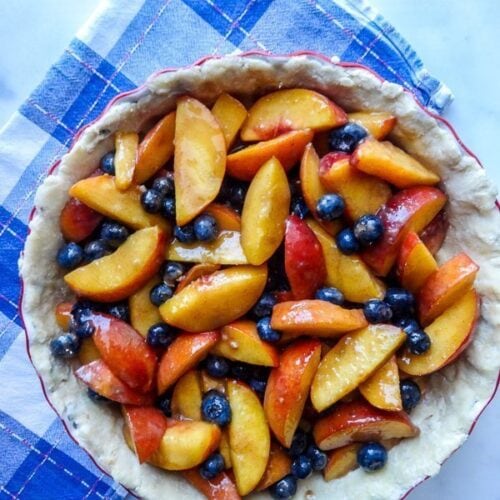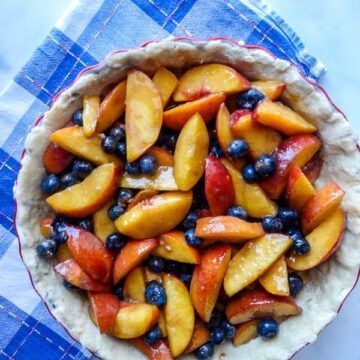 Peach Blueberry Pie
This Peach Blueberry Pie is perfect for end-of-summer cookouts and celebrations. Adapted just slightly from
Joy The Baker
Print
Pin
Rate
Ingredients
For the crust:
2 ½

cup

all-purpose flour

2

tablespoons

sugar

¾

teaspoon

salt

1

cup

2 sticks unsalted butter, cold, cut into cubes

5

tablespoons

plus 2 teaspoons ice cold water

1

teaspoon

apple cider vinegar
For the filling:
3

pounds

fresh

ripe peaches (I used 5 large peaches), washed and sliced into ½'' thick wedges

1

cup

fresh blueberries

½ to ⅔

cups

granulated sugar

depending on the sweetness of your peaches

1

teaspoon

ground cinnamon

½

teaspoon

freshly grated nutmeg

3

tablespoons

all-purpose flour

1

tablespoon

cornstarch

2

teaspoon

fresh lemon juice
Pie assembly:
1

egg

beaten with a splash of water for egg wash

1

tablespoons

sugar and ½ teaspoon ground cinnamon

for topping crust before baking
Instructions
For the crust:
In a medium bowl, whisk together flour, sugar, and salt. Add cold, cubed butter and, using your fingers, work the butter into the flour mixture. Quickly break the butter down into the flour mixture, some butter pieces will be the size of oat flakes, some will be the size of peas.

Stir together the ice cold water and vinegar. Create a well in the butter and flour mixture and pour in the water and vinegar mixture. Use a fork to bring to dough together. Try to moisten all of the flour bits.

On a lightly floured work surface, dump out the dough mixture. It will be moist and shaggy. Divide the dough in two and gently knead into two disks. Wrap each disk in plastic wrap and refrigerate for 1 hour.
For the filling:
In a medium bowl, combine peach slices, blueberries, and lemon juice.

In a small bowl, whisk together sugar, spices, flour, and cornstarch. Pour the sugar mixture over the fruit, and gently toss together with a wooden spoon. Place bowl of fruit in the fridge to rest while you roll the crust out.

Preheat oven to 400 degrees F. Place a rack in the center of the oven, and place a baking sheet on the lower rack, just below where you're going to place the pie so that it will catch any drippings.

Remove one of the pie dough disks from the fridge. On a lightly floured surface, roll dough out into about a 13-inch round. Roll the dough a few strokes, then use your fingers to move the emerging circle around the floured surface. This ensures that the dough isn't sticking to the work surface. The circle won't be perfect, that's ok. Try not to get any tears in the rolled out dough, but if you do, they can be patched together with extra dough.

When you roll the dough and you can see it start springing back, that means that the butter is warming and the crust shouldn't be rolled out anymore. Gently lift the 13-inch round from the floured surface and center in the 9-inch baking dish. Place in the fridge while you roll out the top crust.

Roll out the top crust just as you did the bottom crust, moving the dough across the floured surface every once in a while, and creating a roughly 13-inch circle.

Remove the bottom crust and fruit filling from the fridge. Gently pour the fruit filling into the pie dish.

Carefully remove the top crust from the work surface and drape over the fruit in the pie dish. With a small knife, trim the crust, leaving about ¾-inch overhang. With your fingers press the top and bottom crusts together and fold under. Use a fork or your fingers to crimp the edges of the dough. Cut five small slits in the top of the crust so the juices and steam can vent.

Brush lightly with beaten egg wash and sprinkle with cinnamon sugar mixture.

Place pie in the oven and bake at 400 degrees F for 15 minutes. Reduce the oven heat to 375 and bake for 40 to 50 more minutes. Remove from the oven when crust is browned and golden, and the juices are bubbling.

Remove from the oven and allow to cool for 2 hours before serving. Place covered in the fridge to store. Pie lasts up to 3 or 4 days.
Serving:
1
Slice
|
Calories:
211
kcal
|
Carbohydrates:
24.2
g
|
Protein:
2.4
g
|
Fat:
12
g
|
Saturated Fat:
7.4
g
|
Cholesterol:
41
mg
|
Sodium:
86
mg
|
Potassium:
35
mg
|
Fiber:
0.8
g
|
Sugar:
9.3
g
|
Calcium:
9
mg
|
Iron:
1
mg