If you are looking for an amazing basic bbq sauce recipe that highlights the flavor of summertime, then this Peach Bourbon BBQ Sauce recipe is perfect!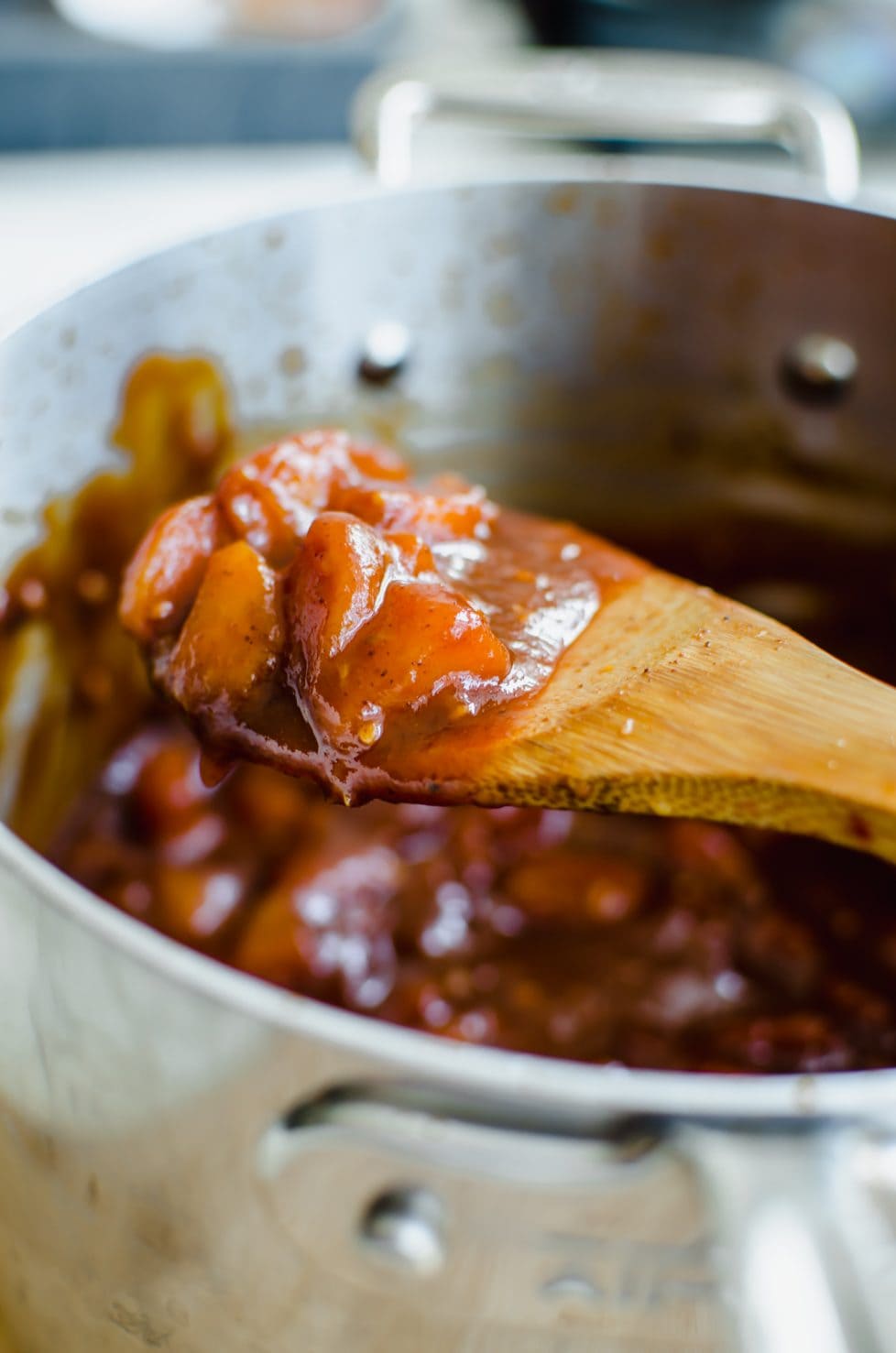 Jump to:
The easy Peach Bourbon BBQ Sauce I'm sharing with you today is a slightly modified version of the sauce that I posted WAYYYYY back in 2014. That sauce had been developed as a fun project while I was in my culinary school externship, and while I really enjoy the original version, I have tweaked and adjusted it a bit to suit my tastes as they have developed over the past few years. I also really wanted to update the recipe with a fresh batch of photos and a video to show you how simple it is to make!
Video
If you've been following me for a while, then you probably know how obsessed I am with peaches! They are, hands down, my all-time favorite fruit and in the summertime, I literally cannot buy enough of them. I would probably post a peach recipe every week through July and August if I didn't think you all would get tired of it!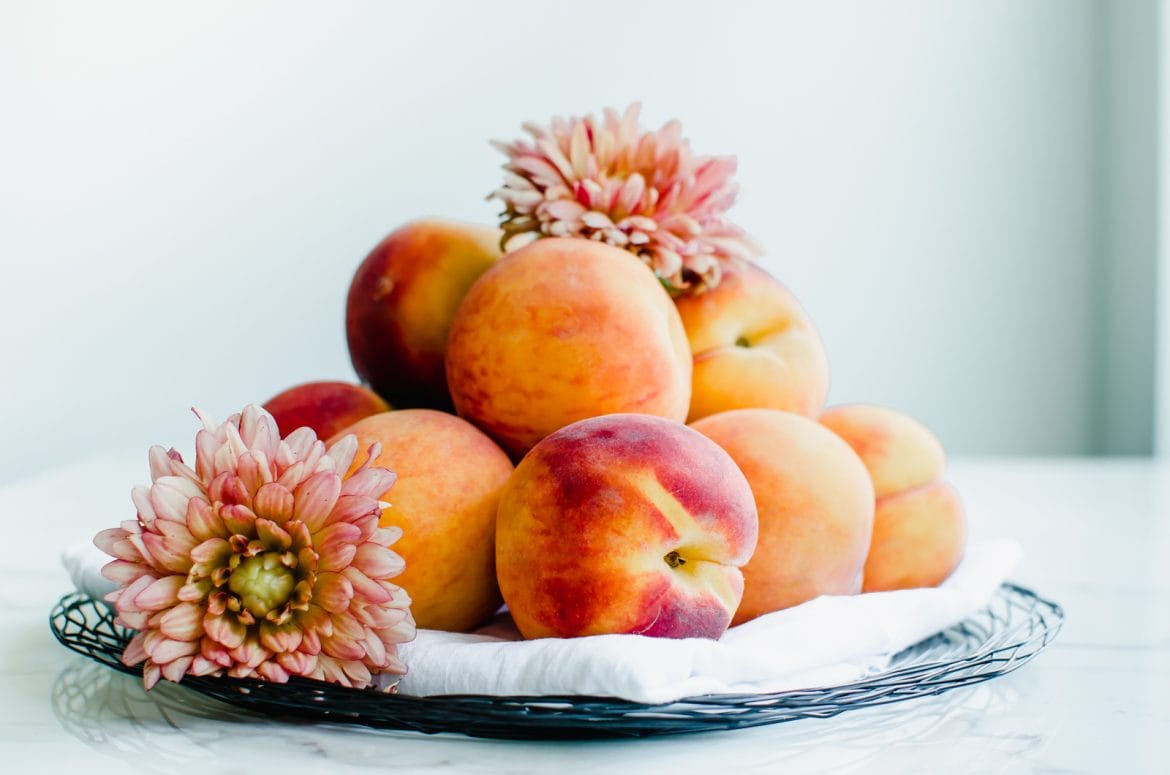 Making your own bbq sauce at home is a lot like learning to make your own homemade salad dressings and vinaigrette - once you get in the habit of it, you will likely never want store-bought again! It's so satisfying to add a little dash of this and that - whatever you have on hand in your fridge/freezer/pantry - and then mix it up into a "signature" creation of your very own. In addition to just being a fun creative outlet, making your own bbq sauce can be a great way to keep sodium and sugar in check in a condiment that is typically very high in both of those additives!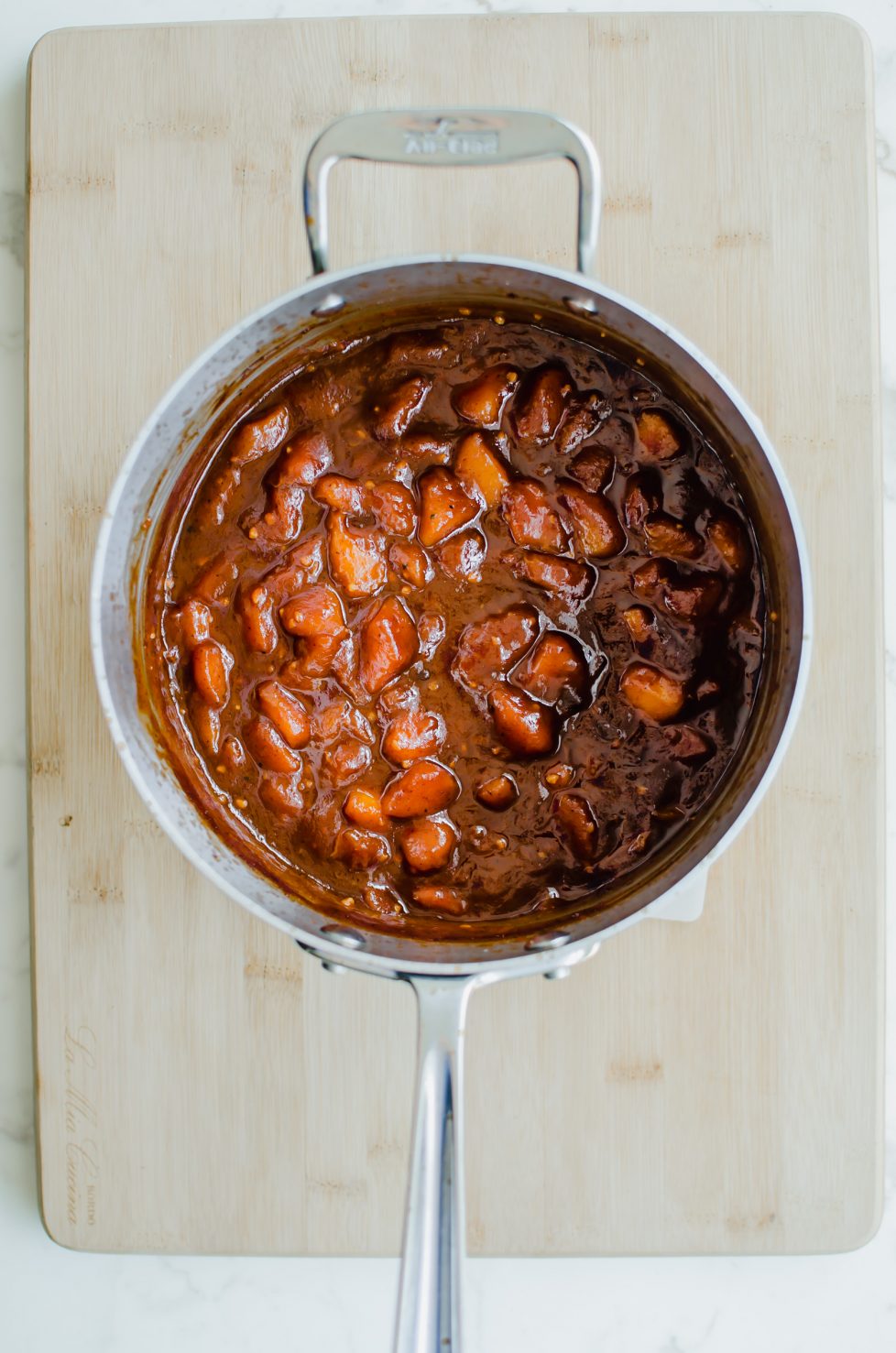 Modifications
If you'd like to modify this recipe OR just make your own homemade bbq sauce creation, start by making sure you've got the basics on hand:
Tomatoes/tomato products - most great barbecue sauces start with good tomato products, unless you are trying to make South Carolina mustard-based sauce or an Alabama mayo-based sauce! I've seen recipes that call for fresh tomatoes, canned tomatoes, and ketchup.
Sweetener - brown sugar, molasses, and honey are all amazing options for adding sweetness to a barbecue sauce. You could also experiment with agave, maple syrup, or even Stevia for certain dietary needs.
Acid - most all bbq sauce recipes call for some type of vinegar, the most common being apple cider vinegar. This is what lends the tangy/sour punch to bbq sauce and pairs so well with the rich smokiness of grilled meats.
Spices - spices are a great way to add smokiness or International flavor to a bbq sauce. Some of my favorites include smoked paprika, ancho chili powder, chipotle chili powder, and dry mustard powder. You can get crazy here though - curry powder, turmeric, jerk seasoning, ginger, and cinnamon could all add depth of flavor when added in small increments - be sure to taste as you go!
Aromatics - using garlic, onions, fresh ginger, or shallots can result in a really vibrant sauce with a deep, bold flavor. The aromatics lend so much flavor that their addition can sometimes allow you to cut back on salt and sugar.
Add-ins - this is where you can get creative! Add-ins such as root beer, spirits, beer, jams, coffee, and fresh fruit can make a bbq sauce unique and unforgettable - in a good way, of course! This is your chance to sneak in a flavor that someone "just can't put their finger on what that is" when they try your sauce and lend an element of "secret ingredient" to your recipe!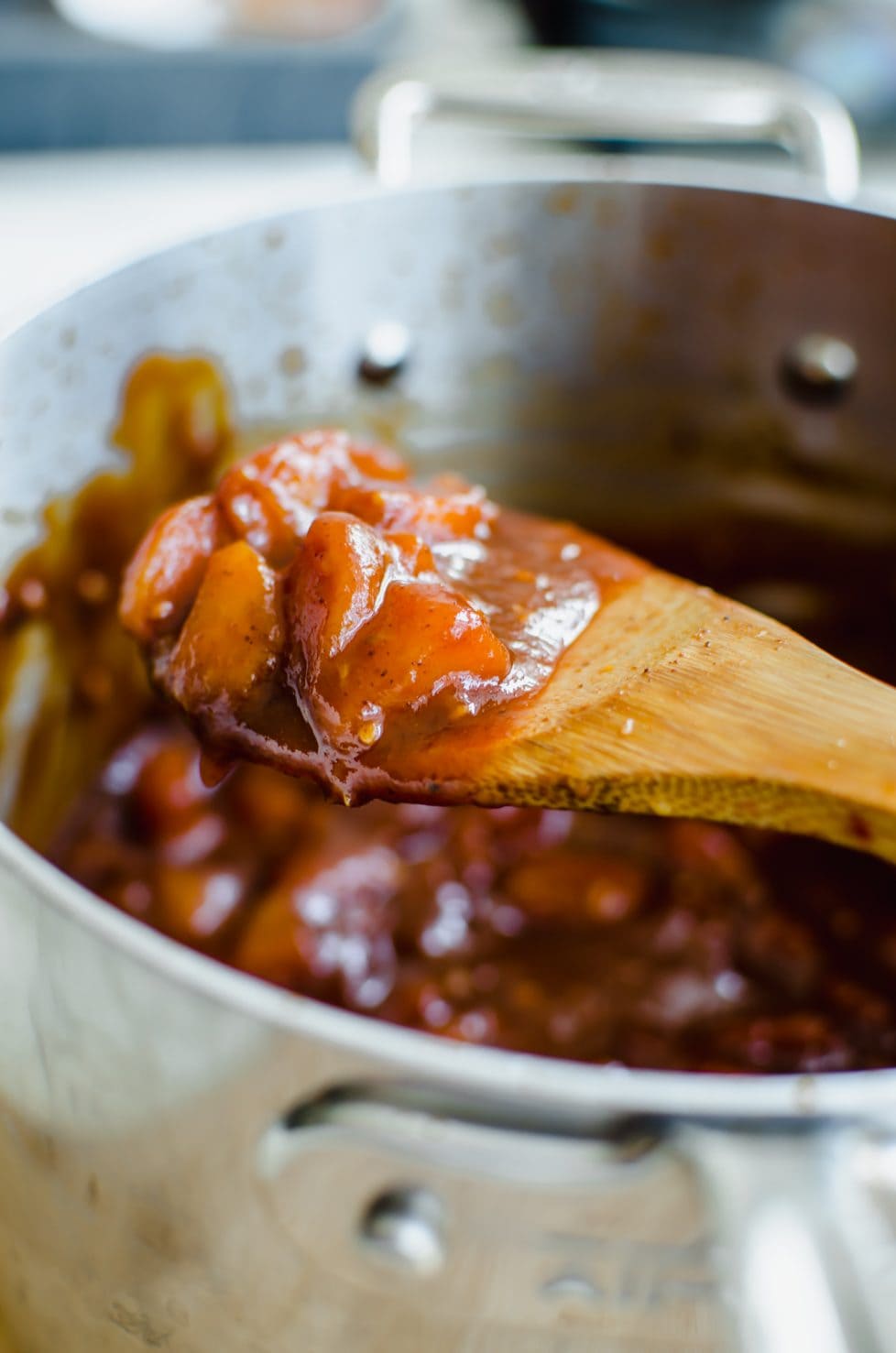 Serve With
There are so many ways to use this peach bourbon bbq sauce! Any type of peach sauce is great for pork or chicken, so my favorite way to use this sauce is on top of grilled pork tenderloin, pork chops, or grilled chicken! Here are a few more of my favorite recipes for using this sauce:
Canning BBQ Sauce
Canning homemade recipes in a safe way that prevents botulism is very important/serious endeavor that all has to do with the final pH of your recipe. This can get really tricky when you are using fresh tomatoes in your recipe, as different varieties have varying levels of acidity that can really throw the final pH of any recipe off when you start to make substitutions. The BEST way to ensure that homemade bbq sauce recipes are safe for at-home, water bath canning is to contact your local extension office and ask them for guidance on running a pH test of your final recipe.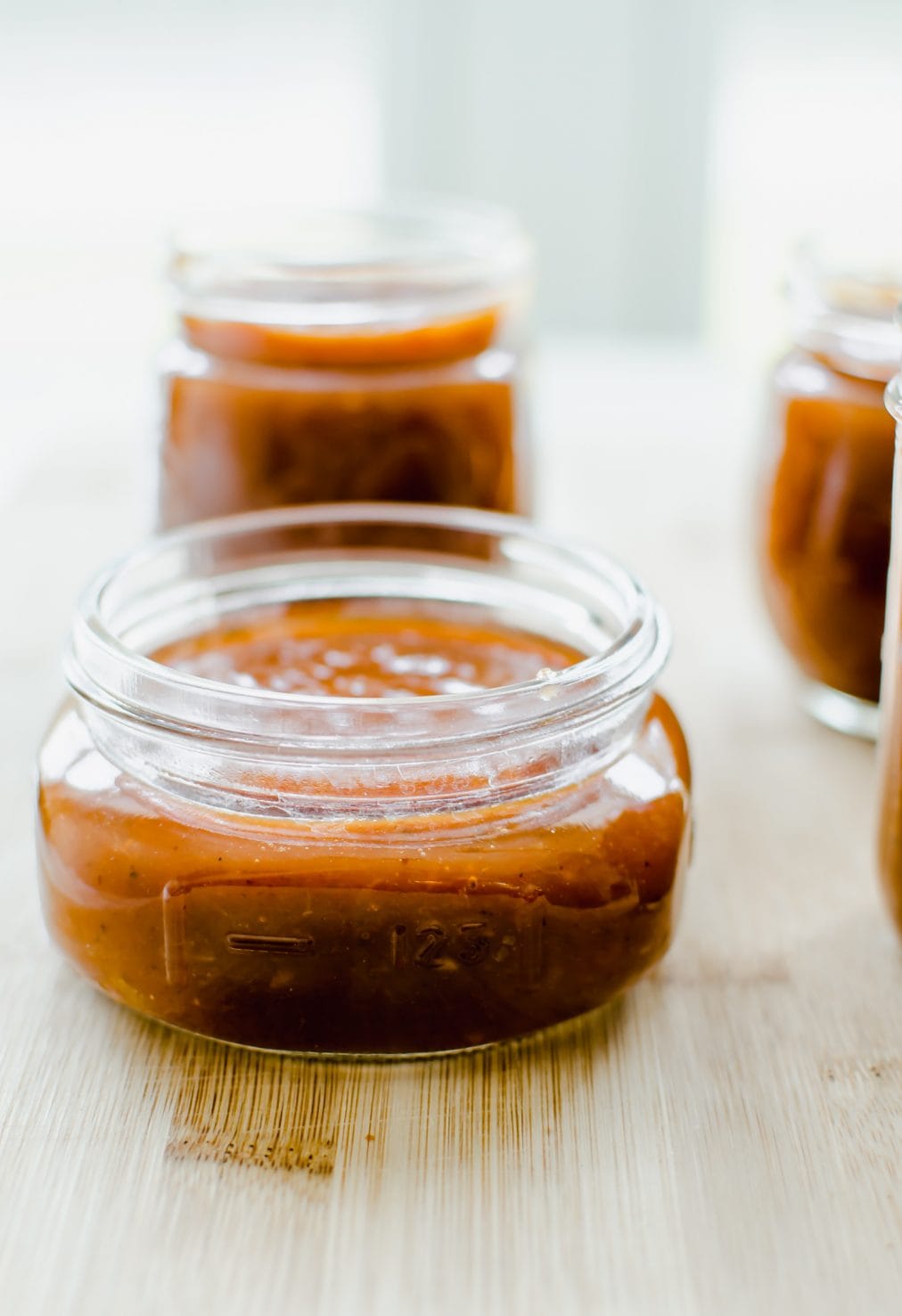 If you decide to give this Peach Bourbon BBQ Sauce a try, please let me know how it turns out for you.
Leave a comment and rate the recipe below. This will help me with the creation of future recipes!
I'd also love to feature your creation in my weekly newsletter, so you can upload a photo to Instagram with the tag @sweetcayenne5 to be featured! Quick and easy recipe videos are available on my YouTube channel, and lots of menu inspiration on my Pinterest boards.
Recipe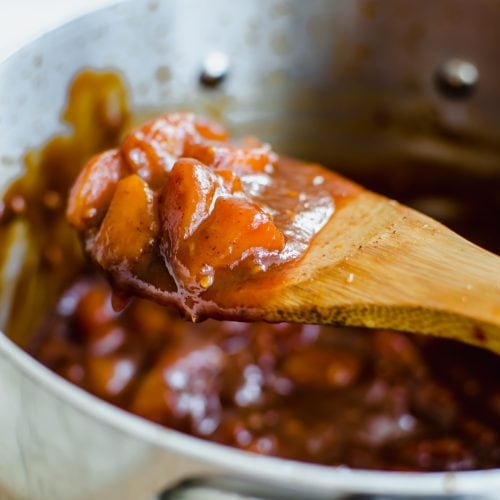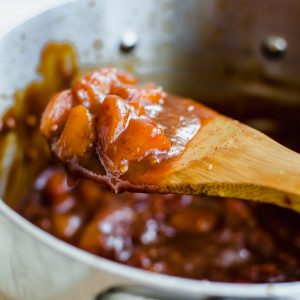 Peach Bourbon BBQ Sauce
If you are looking for an amazing basic bbq sauce recipe that highlights the flavor of summertime, then this Peach Bourbon BBQ Sauce recipe is perfect!
Print
Pin
Rate
Ingredients
1

teaspoon

neutral-flavored oil

such as canola

2

teaspoons

minced garlic

1 ½

teaspoon

ancho chili powder

2

teaspoons

smoked paprika

1

teaspoon

ground mustard

4

cups

fresh

diced peaches (about 6 medium peaches)

⅓

cup

bourbon

optional; can sub water if desired

1

cup

no-salt-added ketchup

3

tablespoons

apple cider vinegar

2

tablespoons

worcestershire sauce

⅓

cup

brown sugar

1

teaspoon

salt

½

teaspoon

black pepper

½

cup

water
Instructions
Place a

large saucepan

over medium heat. Add the oil and heat for 30 seconds. Add the garlic, chili powder, paprika, and mustard. Stir until fragrant, about 30 seconds.

Add the diced peaches and toss to combine with spices.

Add the bourbon and bring the mixture to a simmer, stirring frequently.

Add the ketchup, vinegar, worcestershire sauce, sugar, salt, and pepper. Stir to combine. Bring the mixture to a low boil over medium heat. Reduce to a simmer and cook, stirring frequently, until the peaches are jammy and tender, about 15 minutes. The mixture should reduce by about ⅓ and coat the back of your

spoon

when stirred.

Remove the sauce from heat and cool slightly. Use an immersion blender or regular blender to carefully puree the sauce until smooth. Add the water as needed to reach desired consistency - I like my finished sauce to be slightly thinner than store-bought bbq sauce and more the consistency of a creamy salad dressing.

Store the cooled sauce in the refrigerator for up to 1 month or freeze for later use.
Notes
Calories per serving is based on a 2 tablespoon serving size of this recipe as written.
Serving:
2
Tblspn
|
Calories:
30
kcal
|
Carbohydrates:
5.6
g
|
Protein:
0.5
g
|
Fat:
0.3
g
|
Sodium:
169
mg
|
Fiber:
0.4
g
|
Sugar:
5.2
g