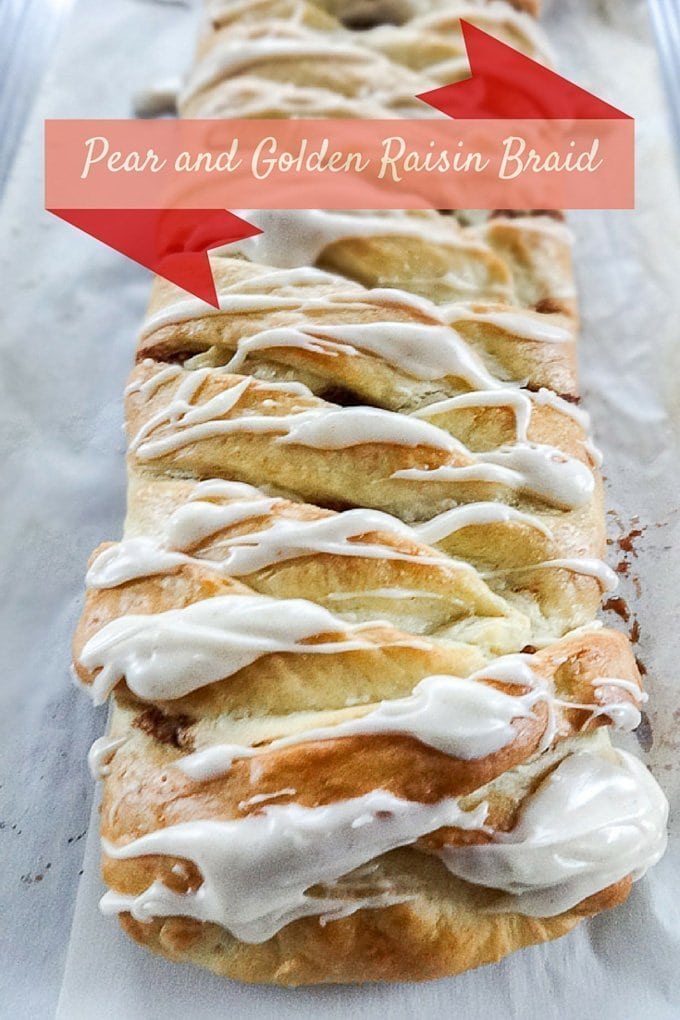 Ok so when I posted 12 Tips for Holiday Baking Success on Wednesday I totally did it with ulterior motives. *Guilty* I was hoping my baking pep talk would boost your kitchen confidence so much that you would join me in the delectable culinary adventure that is Pear and Golden Raisin Braided Bread. Say wha??? Yes, bread can be braided!  Look at us getting all fancy and such.
The holiday season is a perfect time for baking and cooking family favorite recipes that are tried and true and come out the same perfect way every time you make them. BUT it's also a great time to challenge your kitchen skills and try a recipe for a show-stopping dish that people can drool over, pepper you with endless compliments, and make you feel like a total boss in your kitchen (I totally felt that way when I made this recipe, and this one, and this one). Don't deny it - we all like to feel like a boss every now and then. Even the humblest and meekest and mildest of us.
So let's have an adventure, shall we? Today we are going to make a simple yeasted dough. The dough recipe is a tried and true tested recipe from Joy the Baker (a.k.a. total Baking Boss). We are going to fill said dough with a festive holiday filling of seasonal Anjou pears (my favorite pear for baking), juicy and plump golden raisins, and an ooey gooey cinnamon sugar spread.

First off for the filling - the cinnamon sugar spread. You want your butter to be 100% through and through at room temperature so that you can spread it onto the dough.  It will be paste-like and resemble the thickness of frosting once mixed with the cinnamon sugar. If you place your butter out at room temperature at the beginning of the first dough rising, it should be the perfect consistency by the time you need to mix it with the cinnamon sugar.
Now, the Anjou pear I used for my filling was not exactly as ripe as I needed it be. I needed it to be soft to the touch, just right for biting into, but not mushy. My pear was still pretty solid, but not rock hard. So I decided to soften it a bit by sautéing in a dab of butter for about 3-4 minutes until just tender. If your pear is soft to the touch, you can skip this step.  I chose an Anjou pear for this recipe because I like how they hold their shape in baking without being overly crunchy or too mushy once baked.
For the golden raisins, I chose to plump mine in a splash of bourbon, simply because I love the flavor that it imparts to the fruit. You could certainly use a different liquor, or apple juice, white grape juice, or water. It's nice to have choices!
Next, for our light, tender, fluffy dough that we are going to wrap all the juice fruit filling into. This dough is very simple to make. It's not sticky. Please don't be intimidated by it. Just take the following tips into consideration before you try it:
Your milk and melted butter must be warm to the touch. Not hot like water you would wash your dishes in. Warm as in the temperature of the milk you'd feed a baby. If your milk is too hot, it will kill the yeast and the dough will not rise.
You want to knead your dough to the point where it is smooth and elastic. You know it has reached the point of optimal elasticity when you can stretch a piece of dough out from the dough ball and it does not shrink back right away.
For fail-proof rising, I let my bread rise in a heated dryer. Yes, the dryer I use for laundry. Here's the set up: my dough takes 10 minutes to knead, so I run my dryer during the time it takes to knead the dough. That way it's nice and warm when I'm ready for it. I place the dough (covered of course) in the warm dryer where it is dark and draft-free, and it always rises like a dream (see this example).
Once our dough has risen has been neatly rolled out, we are going to fill it and braid it. See the step-by-step photos below!

Now that we have a beautiful, fruit-filled bread braid, we need to let it rest. The dough will be tired after all that stretching and braiding. Let your dough rest for about 30 minutes while the oven preheats and have a cup of coffee while you wait. You should be getting excited by now! After our 30 minute coffee break, we are going to lightly brush the braid with an egg white wash to make a lovely golden brown crust. Don't be too heavy with your brushing - you just want a light and even wash on the dough.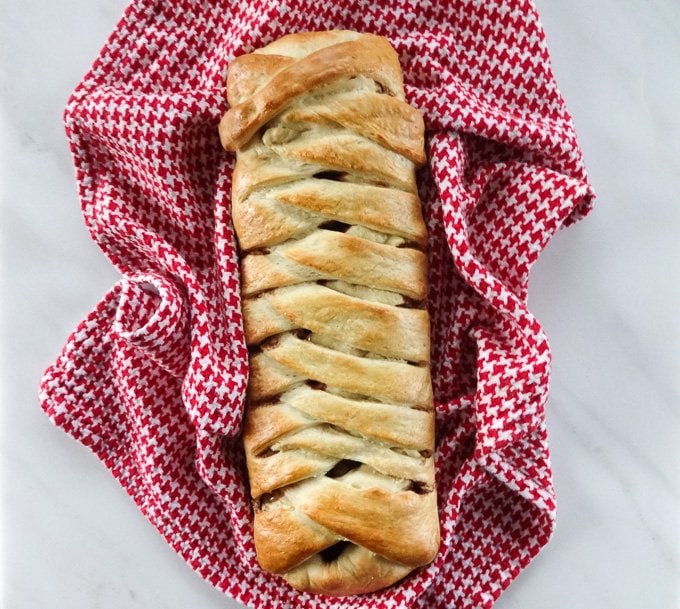 Look at that gorgeous golden crust! Now we could stop here, but since it's the holidays, let's just go for all-out decadence. How about a glaze? A pillow white powdered sugar glaze made with brown butter will take the status of this bread from delish to divine. Powdered sugar glaze is simple to make, and it's irresistible when you make it with nutty and fragrant browned butter.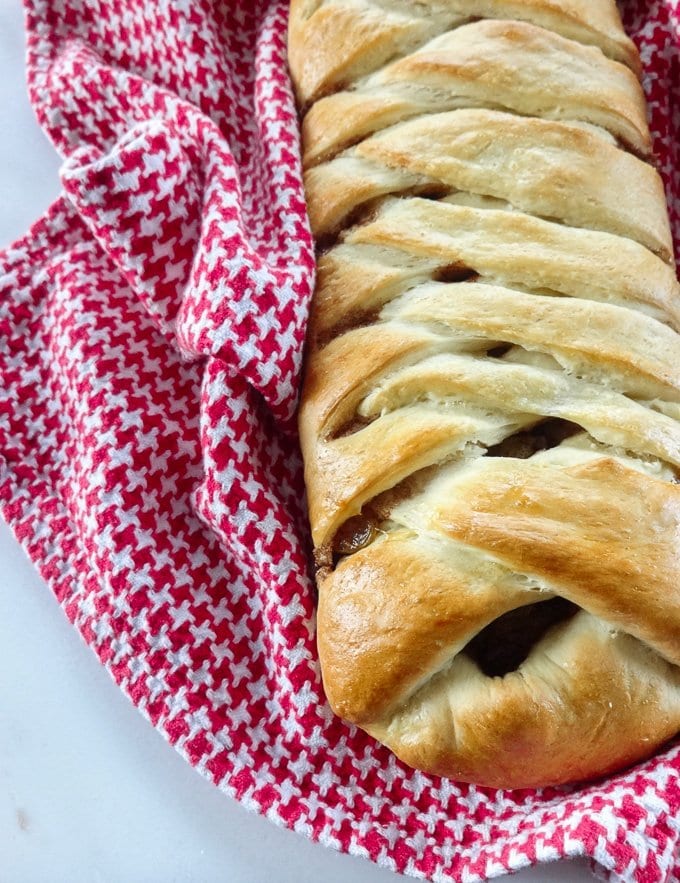 And there you have it! We just made a yeasted bread, filled it with festive fruit, braided it, and glazed it. Give yourself a pat on the back and treat yo'self to a slice with another cup of coffee. Or bask in the glory of being a total baking boss. If you started this braid at 7:30 am, it can totally be ready in time for an 11am brunch. Or a noon brunch. Or perhaps you'd like to wrap it up in cellophane as gift for your boss?
If you'd like to start this recipe the night before, make it through the steps where you braid the bread. Once you have your bread braid on a sheet pan, cover it with plastic and refrigerate it overnight. Let it sit out at room temperature under a clean tea towel for one hour prior to baking. Bake, cool, glaze, and enjoy!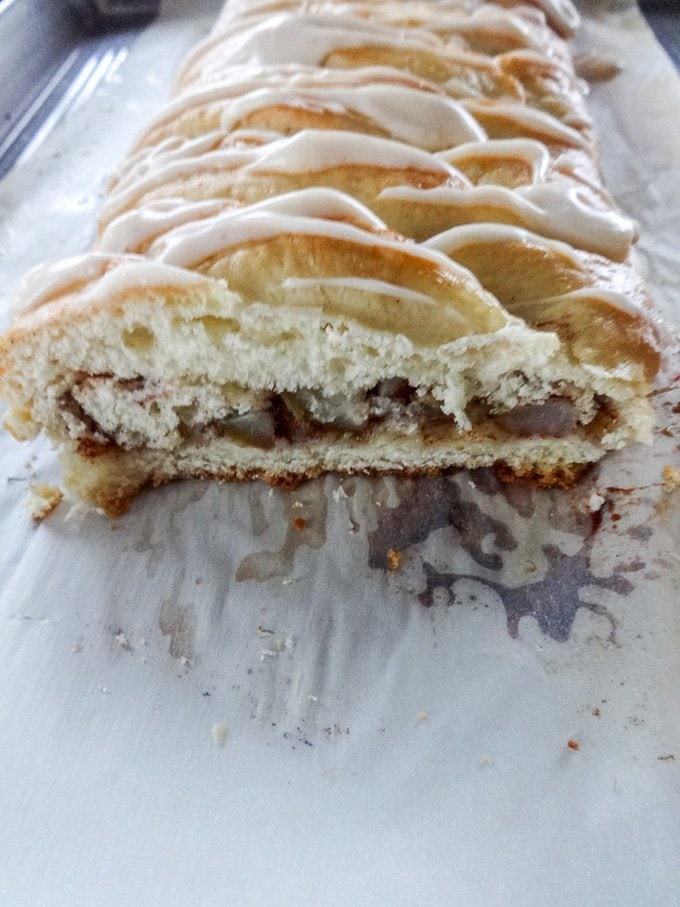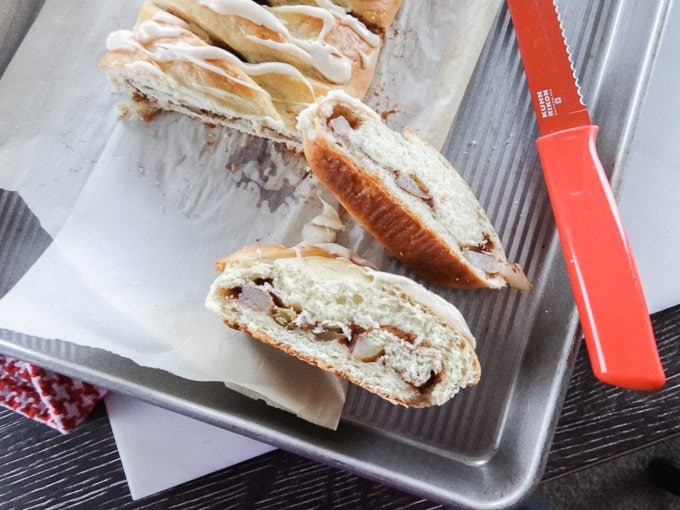 Hungry for more? Be sure to follow the blog on Bloglovin and find Sweet Cayenne on Twitter, Facebook, Pinterest, and Instagram!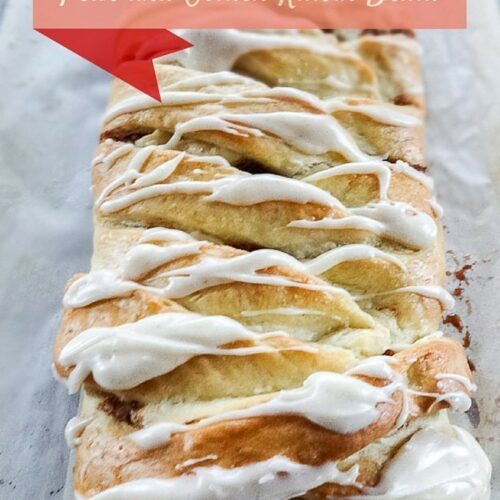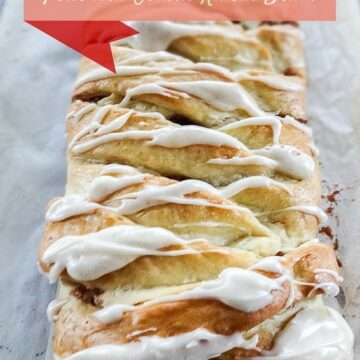 Pear and Golden Raisin Braided Bread
This beautiful braided bread is filled with a juice pears, golden raisins,and a cinnamon sugar spread. Nutty brown butter glaze adds a festive finishing touch. Perfect for a holiday brunch or as a homemade gift.
Print
Pin
Rate
Ingredients
For the dough:

¾

cup

whole milk

2

tablespoons

unsalted butter

1

large egg

yolk and white separated into 2 small bowls

2 ¼

teaspoons

or one packet active dry yeast

1

tablespoon

granulated sugar

2 ¼

cups

all-purpose flour

¼

teaspoon

salt

For the filling:

1

medium ripe Anjou pear

diced

⅓

cup

golden raisins

2

tablespoons

bourbon

water, or fruit juice

¼

cup

unsalted butter

at room temperature

¼

cup

granulated sugar

3

teaspoons

ground Saigon cinnamon

For the glaze:

2

tablespoons

butter

melted and browned

½

cup

powdered sugar

1-2

tablespoons

whole milk
Instructions
In a small saucepan, heat the milk and butter over medium heat until it is warm to the touch and the temperature registers 100 degrees. Do not let the milk scald or simmer.

In a medium-size bowl, combine the flour, yeast, sugar, and salt. Stir with a whisk to make sure it is well-incorporated. With a wooden spoon, stir in the milk mixture and the egg yolk into the flour mixture until just combined. Reserve the egg white for later. Use your hands to form the mixture into a shaggy ball of dough.

Transfer the dough to a lightly floured surface and knead for 10 minutes until a smooth ball forms. You can also knead with an electric mixer for 8 minutes and knead by hand for the last 2 minutes. Transfer the dough ball to a clean bowl coated with cooking spray. Cover and let rise in a warm area for 90 minutes or until doubled in size.

While the dough rises, prepare the filling. Saute the pear over medium heat in a small saucepan until it is just tender, about 3 minutes. Transfer to a small bowl to let cool completely.

In the same saucepan, combine the raisins and bourbon (or whatever liquid you choose). Bring to a simmer over medium heat, simmer two minutes, then remove from heat and cover the skillet with foil. Let it sit covered for 20 minutes to let the raisins soften. You can then transfer the raisins to the bowl of sliced pear.

In a small mixing bowl, combine the ¼ cup softened butter, granulated sugar, and cinnamon. Mix with an electric mixer or fork until a spreadable paste forms. Set aside.

Once your dough has doubled in size, punch it down and place on a 14 inch-long sheet of parchment paper. Using a rolling pin lightly dusted with flour, roll the dough out to a rectangle of 12 inches long and 9 inches wide. Transfer the sheet of parchment with the dough rectangle to a 15 ½ by 10 ½ standard jelly roll pan.

Using the picture above as a guide, spread the butter mixture down the center of the dough with an offset spatula. You want to leave about a 2 inch border along the sides of the butter and a 1 ½ inch border at the top and bottom of the dough. Sprinkle the pears and raisins evenly over the butter spread.

Using a pairing knife, cut 1 ½ inch strips on both sides of the filling from the top of the dough to the bottom. It's ok if the strips are not perfectly even. Starting at the top border of the dough, fold it up and over the filling. Working from right to left, fold the strips of dough up and over the filling in a braid-like fashion, tucking each strip of dough under the strip that you will fold over next. Work your way to the bottom of the dough, then fold the bottom up and over the filling and pinch the seams shut (use the pictures as your guide!). Cover the braid with a clean tea towel and let it rest on top of your oven while it preheats to 375 degrees.

After 30 minutes, uncover the braid and lightly brush it with your reserved egg white (be sure to add a splash of water to the egg white so it brushes on evenly. Bake the braid in a preheated 375 degree oven until it is golden brown, about 20 minutes.

Transfer the braid to a wire rack to cool completely.

Once the braid has cooled, make the glaze. Add the butter to a small saucepan. Melt over medium heat and continue to cook it until the melted butter turns golden brown and has a nutty fragrance. Be sure to stir the melted butter to scrape up any bits from the bottom of the pan as it cooks.

Stir the powdered sugar into the browned butter and add milk as needed until a smooth glaze forms. If your glaze cools down to much, you can put it back over low heat until it is a pourable consistency.

Drizzle the glaze over the braid and let it dry for about 10 minutes before slicing and serving.

Gift idea: place the braid on a piece of cardboard covered with red or green plastic wrap. Wrap in colorful cellophane and tie with a holiday bow.
Serving:
1
Serving
|
Calories:
156
kcal
|
Carbohydrates:
29
g
|
Protein:
4.7
g
|
Fat:
1.7
g
|
Saturated Fat:
0.7
g
|
Cholesterol:
19
mg
|
Sodium:
79
mg
|
Potassium:
121
mg
|
Fiber:
1.6
g
|
Sugar:
5.6
g
|
Calcium:
36
mg
|
Iron:
2
mg