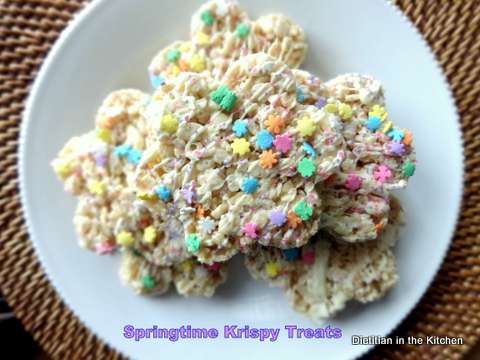 Well friends, the Easter season is in full swing and I'm relieved to say that I have not given in to the ultra-tempting Easter candy displays lurking on every grocery store end-cap these days.  My childhood favorite has always been the white chocolate Reese's Peanut Butter Egg.  If you haven't tried freezing them before eating you must do it right away!
Thankfully my cravings have centered around fresh spring salads and that deliciously simple banana ice cream I told you about last week.  However, I've still had thoughts of Easter cupcakes, sugar cookies and baked goodies swirling around my head and I decided to opt for a (somewhat) lighter alternative and make some springtime-inspired Rice Krispie Treats.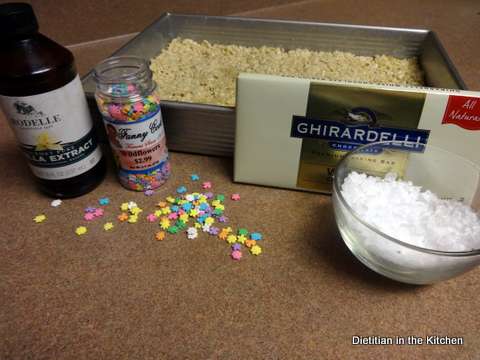 Rice Krispie Treats have always been a favorite of mine, and the salted caramel-covered version  at The Chocolate Monkey in Pigeon Forge, TN is on my top 25 list of the best things I have ever eaten.  If you are ever visit this gem you must try one.  And buy an extra for the next day.  They will freshly dip your Krispie Treat in hot caramel for you at your request.  It's divine.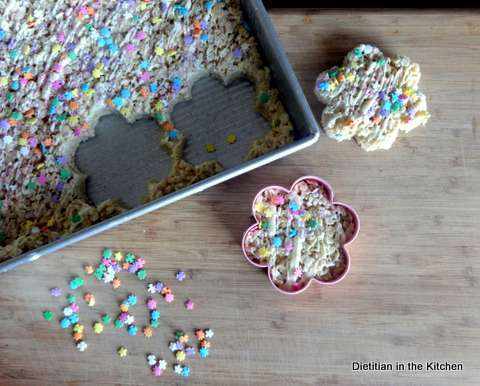 The treats I'm sharing with you today are not dipped in caramel, but are unlike the original Krispie Treats recipe with the addition of a few game-changing ingredients.  I'm talking browned butter, sea salt, and good-quality vanilla extract.  My search for a brown butter Rice Krispie Treat recipe began and ended with this one from Smitten Kitchen.  I added the vanilla and springtime decor to make them perfect for an easy Easter treat that you can easily whip up from ingredients you probably have on hand.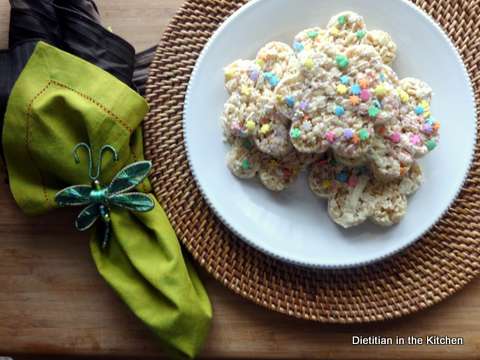 If  you'd like to use these in Easter baskets, feel free to get cutesy and insert a cake ball pop stick into the bottom of the treats, wrap them in clear or colored cellophane, and tie with spring-inspired ribbon.  They will be the perfect festive addition to your celebration and kids will love them!  I've included an example below: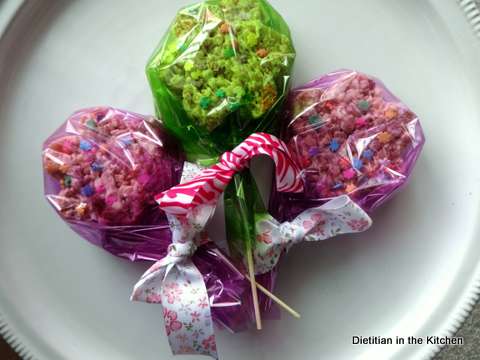 Here's the recipe - Happy Easter![gmc_recipe 311]