Let's sit down over ice cream or a nice iced something or other and chit chat! Today's topic: life-changing summery things we can't get enough of. Eats. Reads. Music. Movies. Summery shopping treasures. Sound fun? Let's do this!
Food | Kitchen
Kashi Peanut Butter GoLean Crunch + Mom's Best Honey Grahams Cereal Combo – I have been OBSESSED with this cereal combo all summer. Seriously, I eat some every day and just bought 4 boxes of each at a recent Kroger sale.
Skinny Cow Ice Cream Sandwiches – basically, my afternoon delight. Something to look forward to when it's just. too. hot. to do anything else.
Rotisserie Chicken + Lo Mein Kit from Sam's Club – the grocery store selection in Clarksville really just is the worst.  Sorry to complain. Sam's Club is literally my best option here, and I've discovered they have great produce. Every time I shop, I buy a chicken to shred up and add to this Lo Mein Kit for an easy dinner. We have it twice per month, and it has 6-7 servings when you add the chicken. LOVE.
Kodiak Cakes – This has been my go-to breakfast to make ahead and have ready throughout the week. Since I don't like yogurt, cottage cheese, smoothies, or eggs, getting a good amount of protein in at breakfast is a struggle, so this mix helps me get there! I know, I'm picky.
64-oz Insulated Water Bottle – I bought this during Prime Day to help me measure my H2O intake, knowing I wasn't drinking enough. IT HAS WORKED. I've been doing it for a week and have managed to drink at least 64 ounces every day!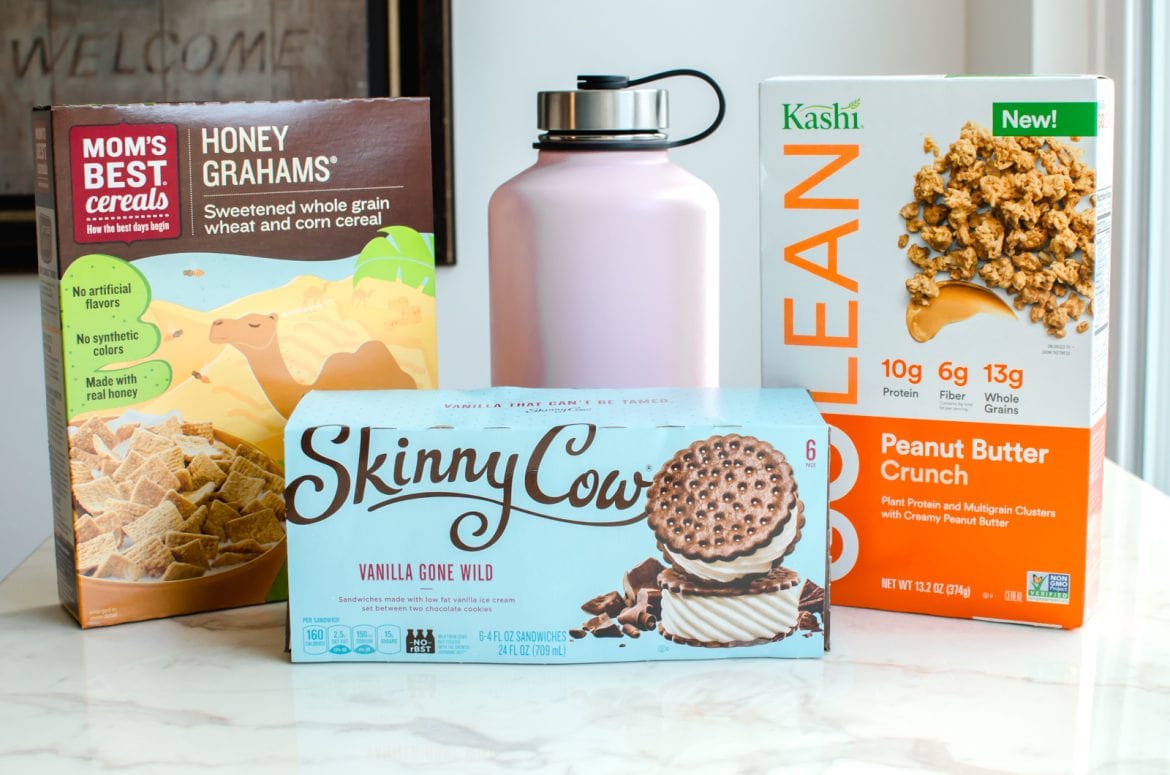 Watching | Reading
TV/Movies
The Last Defense (ABC)  and The Staircase (Netflix) – Ryan and I love true crime documentaries (who doesn't???), and both of these have satisfied our summer cravings for a good rainy day binge.
Girl Meets Farm  | Food Network – Molly Yeh has been a favorite blogger of mine for a few years now, and I was thrilled when I found out she would be premiering a show on FN. They needed a fresh face, and Molly is just SO charming and relatable.
Won't You Be My Neighbor | Movie – this was THE best movie I have seen all year. I cried. Ryan teared up. Most everyone in the theater was sobbing. If you want to be inspired/encouraged in a way that will change you for the better, GO SEE THIS!
Reading
Staying Stylish | Candace Cameron Bure – I've always loved fashion and reading about style, and this book sparked that love after a foggy period of my personal style changing. If you need clear-cut, practical inspiration for figuring out your style and how to build a wardrobe that works for you, READ THIS!
What Alice Forgot | Liane Moriarty – this is the 3rd LM book that I've read and really different from Big Little Lies and The Husband's Secret – not as riveting, but thoughtful and overall a good summery read.
Floret Farm's Cut Flower Farming – I've LOVED looking at the beautiful pictures in this book while gleaning lots of good information for starting a cut flower garden.
Crazy Rich Asians | Kevin Kwan – I started this book because I thought it might be fun to read before the movie came out (I'm desperate for a good rom-com!), and I have to say, it's awesome! Such a fun read. I'm hooked and plan to read the whole trilogy!
Beauty | Skincare
Jergens Natural Glow Wet Skin Moisturizer – I have been pale as all get out for most of the summer (which is ok) until I tried this stuff. You put it on in the shower while you are still wet, pat dry, and within a day have a nice, subtle glow. IT WORKS! And better yet, it does not stain clothes or sheets (trust me, I have all-white bedding). I also love how soft it makes your skin feel and how natural/healthy the color looks.
Loreal Lumi Glotion – I'm in love with this stuff right now. I wear it over tinted moisturizer and sunscreen for a glowy, fresh, no-makeup look and love how hydrated and dewy it makes my skin look (and feel). It's not greasy or shimmery at all, and a little bit goes a long way!
Sephora Favorites Sun Safety Kit – I ordered this sunscreen sample kit from Sephora early in the summer (it's now sold out) and it has been a life-saver! It was filled with trial size and full-size samples of sunscreens, tanner, lip products, and masks, including sunscreens you can apply over makeup! I have maybe used 1/3 of the samples and am excited that it will get me through the rest of the year. Now I'm always checking to see what Favorites kits they come out with because they are such a good way to sample new products!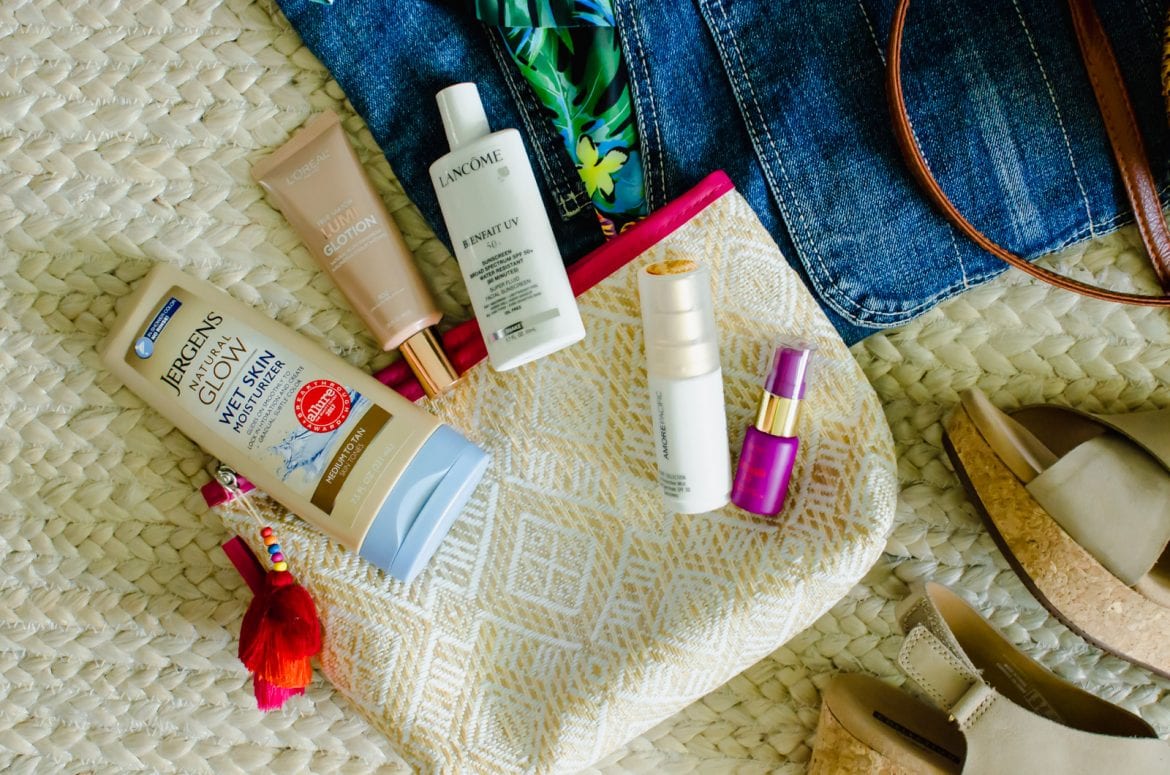 Fashion
Overall Shortalls | Old Navy – you've probably seen me wearing these in a lot of my pictures/Instagram stories. And I'm not sorry about it! These have been my go-to clothing item to throw on for running errands or looking cute/casual. I love them so much you can't beat the price point!
Rattan Basket Bag | Amazon Fashion – I've been wanting a basket-like bag since summer 2017, but couldn't seem to find one that met my requirements of less than $50, lined, and a bag that fully closed on top. Until I found this one! I get SO many compliments on this when I carry it, and can't believe it's on sale now for way less than I paid for it. GO GET THIS asap!
Ruffled Pineapple Print Swimsuit | Amazon Fashion – both of my sisters-in-law were sporting this suit when we visited in TX and couldn't believe how cute/flattering the suits looked! I immediately ordered one when we got back and it is the best swimsuit! I wore it all day the waterpark at Dollywood and got so many compliments – it's got great coverage on top and bottom and still looks really chic.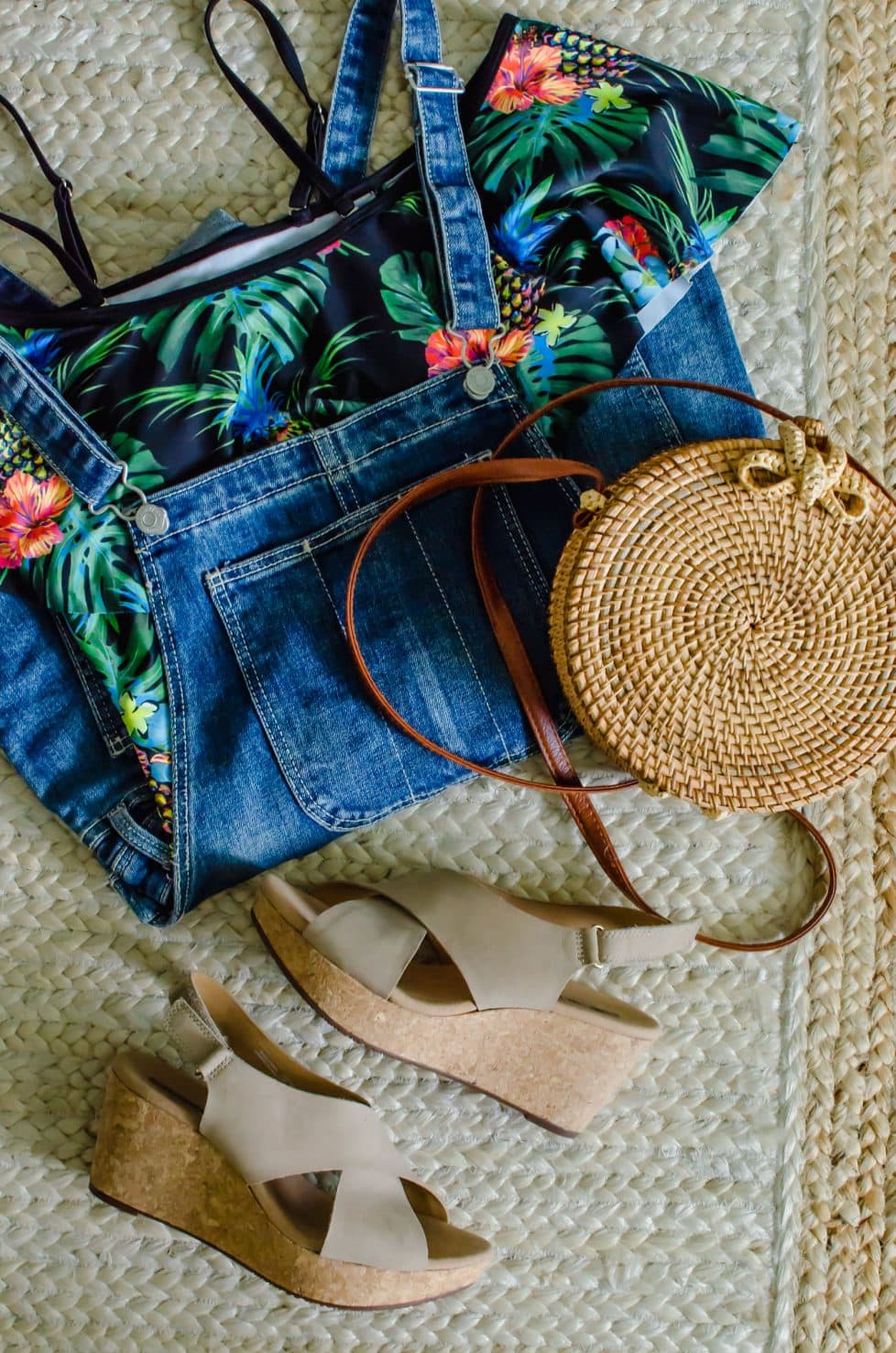 Clarks Wedges – when my mom wore these wedges all throughout our trip to Italy and never complained about all the walking we did, I knew I needed to buy some. This wedge is sleek, stylish, goes with everything, and above all, is COMFORTABLE. I wear the tan ones I ordered all the time now and plan to order some of their wedge booties for fall.
Shoes.com – speaking of shoes, have you ever shopped at shoes.com??? My mom introduced me to this site and it is now my go-to place for amazing bargains on shoes! The wedges I mentioned above typically run $80-90 but I scored a pair during a weekend promo on this site for $50! They have discounts all the time (currently 20% off your order) and free shipping, so go check them out!
That's it for my summer favorites – hope you enjoyed the post! If you have any life-changing summer favs that you just love and can't get enough of, I WANNA KNOW about them! So make my day and leave a comment below!