It's shark week! Wahoo! Let's celebrate and talk about seafood – first on the menu: sushi.
Ryan and I adore sushi. Its something we find ourselves craving on a regular basis, especially in the summer time! I was introduced to sushi during my sophomore year in college during a spring break trip to visit my Aunt Mel in Charlotte, NC. She was always up for a culinary adventure and knew about all the best restaurants. We went to a small but hip hole-in-the-wall called Sushi 101. Having never eaten raw fish or seaweed and only being familiar with "American" versions of Asian cuisine, I was very skeptical about the whole situation. But Aunt Mel was the perfect person to coach me through the unfamiliar but intriguingly beautiful waters of my first sushi dining experience. Our meal began with a simple and non-intimidating dish of steamed edemame.  Aunt Mel went on to order the most basic of sushi rolls, the California roll, and showed me how to meticulously prepare my little dish of soy sauce with a pea-sized dab of wasabi paste. Using chopsticks proved to be a challenge; and once I succeeded in picking up my first piece of sushi, she told me to eat it in one bite. I gave her a horrified look and proceeded to do as I was told.  I loved it.  I loved how much I loved it.  I was enraptured to have finally entered the hip world of sushi lovers!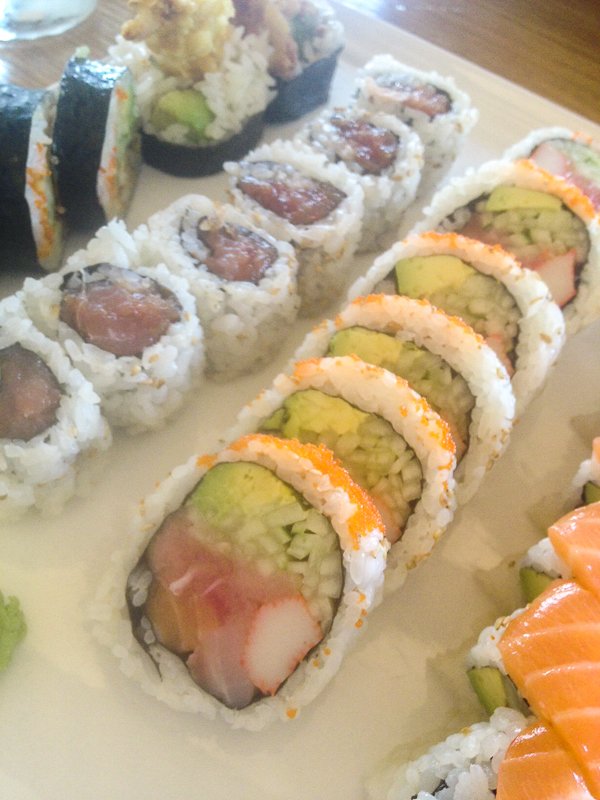 Since that enlightening culinary adventure, I've since tried sushi in more restaurants than I can count.  I've had a bit of experience making it in culinary school and during my culinary internship, and am always delighted by the way I'm able to express creativity through the calming experience of rolling sushi.
Although sushi can be a sublime dining experience, I've learned that it can sometimes be quite the calorie bomb as well.  This all depends on where you go and what you order. Don't get me wrong, the majority of ingredients used to make sushi are full of health benefits, from antioxidant-rich seaweed to omega-3 filled fresh fish and all of the fresh veggies rolled up in between.  But heavy rice-wrapped rolls, mayonnaise-based sauces, tempura-fried bits and sodium-laden accoutrements can quickly turn a beautifully healthy food into a nutrition concern.  Here are my top 5 tips for enjoying sushi the healthy way!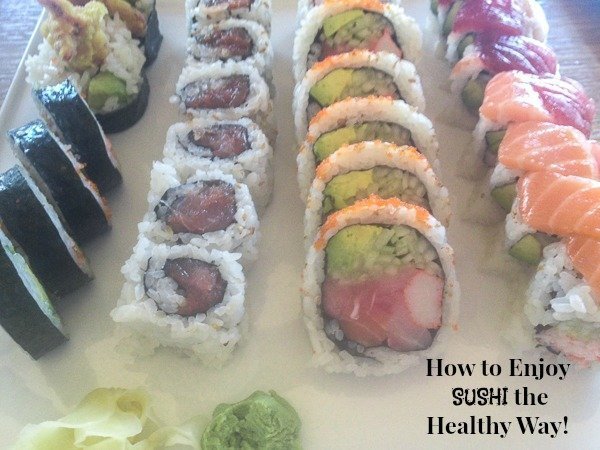 1.  Order an appetizer- curb your appetite with edemame and/or miso soup.  A cup of miso soup has about 35-50 calories and 1/2 cup of shelled edemame has about 100 calories.  Ordering either or both as an app can help you fill up a little on either water and fiber before your sushi is ready.  Order edemame without salt to keep sodium in check.
2.  Watch the rice – 1 sushi roll typically contains 3/4-1 cup of rice. Either ask your sushi chef for rolls with 1/2 the rice or limit your portion to 1 rice-based roll.  A typical maki/rice-covered roll can average at 230-260 calories per roll.  Sashimi (the best cuts of fish served solo without the rice) is a great way to enjoy more sushi without the added calories of rice.
3. Keep your rolls simple – avoid or limit the number of "special rolls" you order.  These often pack in extra calories in the form of mayonnaise or sugar-based sauces, the addition of cream cheese, or tempura fried-pieces of seafood.  Try ordering one special roll, some sashimi pieces, and one or two basic rolls, such as the yellowtail tuna roll, the salmon roll, or the California roll.
4.  Use your chopsticks and ask for low-sodium soy sauce – using chopsticks makes a sushi dinner an even more fun and authentic experience; plus it forces you to slow down and pace yourself through the meal if you are as clumsy using them as I am!  Most sushi restaurants will always provide low-sodium soy sauce; but even then, it's only a 25% reduction in sodium so it's good to watch how much you use!
5. Keep alcoholic beverages limited to one and sip on green tea instead.  If you choose to indulge in some sake with your meal, limit it to one ounce and sip on calorie-free,  antioxidant-rich green tea for the rest of your meal.
Here's a calorie summary of a typical sushi meal:
1 cup miso soup: 40 calories
1/4 cup edemame soy beans:  50 calories
4 pieces rainbow roll: 190 calories
4 pieces salmon roll: 130 calories
1 serving tuna sashimi: 120 calories
1 oz sake: 40 calories (optional)
Grand total: 570 calories
For more shark week celebration, check out my recipes for Sesame Hoisin Tuna Salad and Miso Glazed Salmon Soba Salad!
~Whitney
Hungry for more? Be sure to follow the blog on Bloglovin and find Sweet Cayenne on Twitter, Facebook, Pinterest, and Instagram!