This week, my Instagram, Pinterest, Bloglovin, and Facebook feeds have been chock full of pictures and posts about lunch.  The internet is definitely abuzz with inspiration and advice on what you should back for lunch, how you should pack your lunch, and why you should pack a lunch.  I guess all the lunch buzz starts with kids going back to school.  Since it's you are already likely packing a lunch for your kid, you might as well pack a lunch for yourself!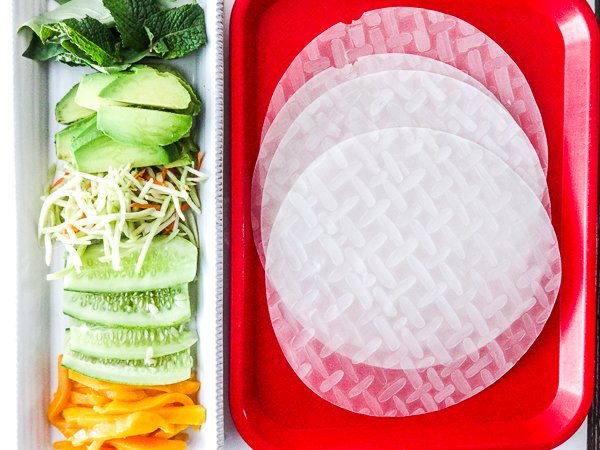 I don't have kids, but long ago established the habit of taking my lunch to work.  I'd treat myself to lunch out about once a month, but for the most part usually preferred what I would bring.  I think we all can agree that packing a lunch is a discipline and takes some thought and planning, but it's so much better for you in the long run.  You have more control over what you eat, portion sizes, and limiting lunch buying does wonders for your pocketbook.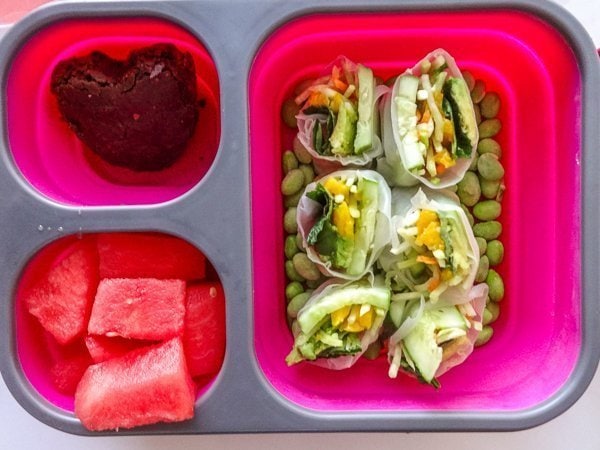 For me, the bottom line on packed lunches is that it needs to be something to look forward to.  My foodie way of thinking means that as soon as I polish off the last bite of breakfast, I start thinking about what I get to have for lunch.  It doesn't matter what the morning brings, - as long as I have a yummy lunch to daydream about, I can handle just about anything.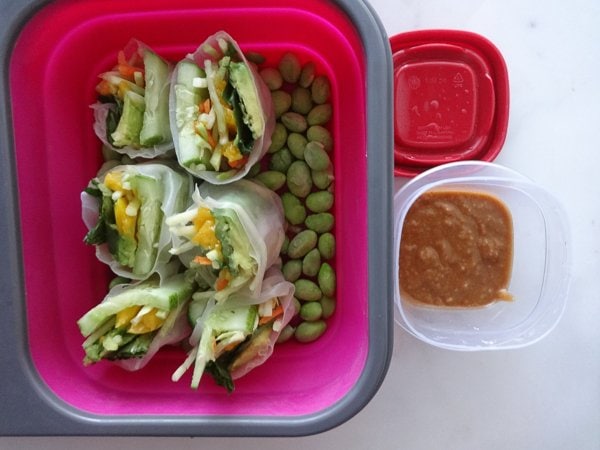 To me, the perfect lunch starts with a cute lunchbox.  I'm obsessed with compartmentalized bento-style lunchboxes, and never fail to get complements on the collapsible neon-colored ones I scored at TJ-Maxx a few years ago.  They even have a sauce compartment and a detachable "spork" (spoon-fork)!  Next, I've gotta have some color.  Lunch needs to be a party for my eyes as soon as I open the lid.  In Japan, they tend to take this very seriously.  Have you seen the cartoony characters they make for children's bento boxes??? Amazing.   Fresh, clean flavors are next. I don't want to have heavy or greasy that will leave me in a food coma after I'm done eating.  There's still half a day of work left!  And last but certainly not least, a bite of something sweet is a must.  This can be as simple as a square of dark chocolate or a 3-bite cookie.  That's the part I look forward to the most.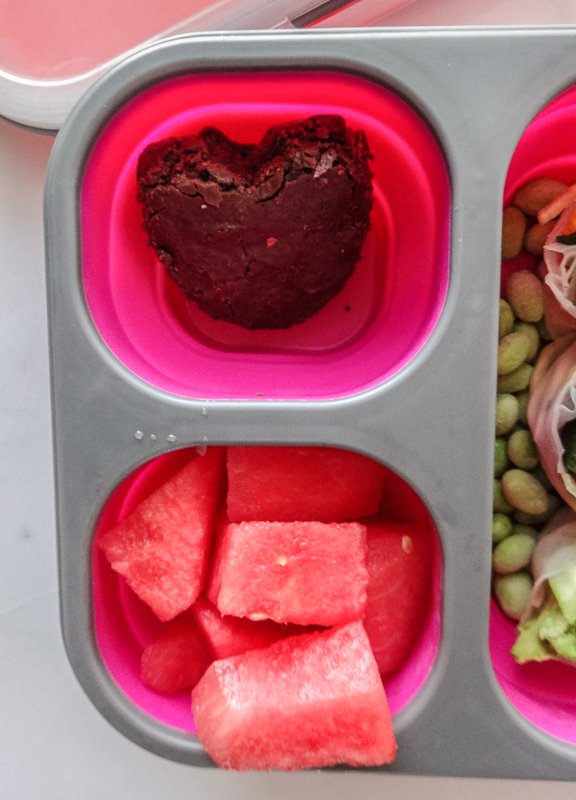 For today's Recipe Redux post, reduxers were challenged to make healthy "bars and bites" for lunch boxes.   I've made a bento box-inspired lunch with bite sized spring rolls planted in edemame "grass", sweet watermelon cubes and a heart-shaped dark chocolate brownie.  I love spring rolls because they are such a convenient way to wrap up leftover fruits, veggies, and herbs. Peanut dipping sauce is must, and this one is homemade! I don't know about you, but that's a lunch I'm going to look forward to!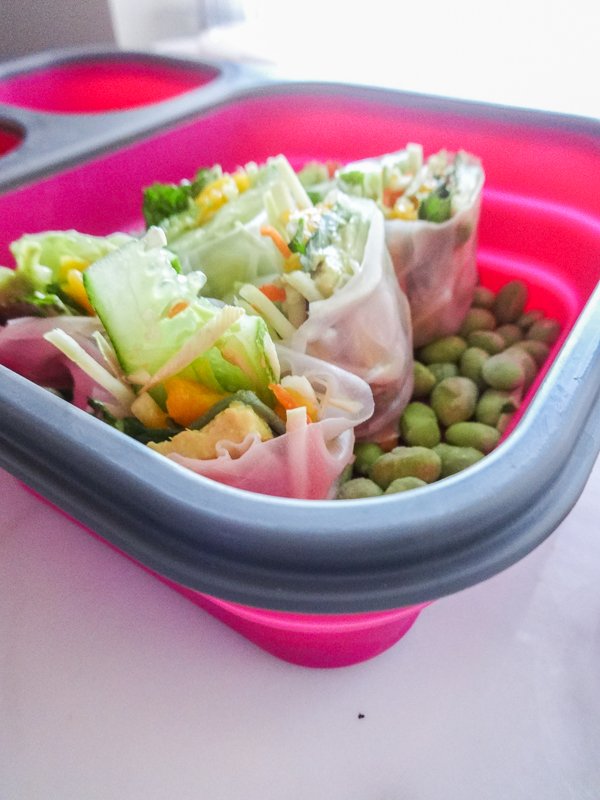 For more lunch inspiration, here's a few links I'm loving!
Annie's Eats on Instagram - Annie is posting a bento-box inspired lunch every week day on her feed, and I adore all of the great ideas she has come up with!
Choosing a Bento Box - great links to the most awesome lunch boxes that will make you too cool for school!
The Art of Packing a Bento Box - tips and tricks to get your lunch making creative juices flowing!
Hungry for more? Be sure to follow the blog on Bloglovin and finSweet Cayenne on Twitter, Facebook, Pinterest, and Instagram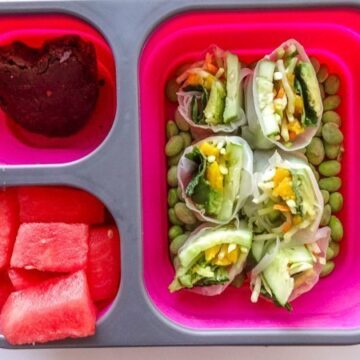 Sushi Spring Roll Bites + Bento Box Love & Links
A Sushi spring roll served up meal prep style in a bento box.
Print
Pin
Rate
Ingredients
This is a "use however much you need to make as many servings as you want" type of recipe....measurements are not exact

except for the peanut sauce.

Spring Roll Rice Wrappers

usually found in the produce section near the tofu

Broccoli slaw

Sliced mango

Sliced cucumber

Sliced avocado

Fresh mint and basil leaves
For the peanut dipping sauce:
1

clove

garlic or 1 teaspoon bottled minced garlic

½

inch

square piece of fresh ginger or 1 teaspoon bottled minced ginger

¼

cup

creamy natural peanut butter

2

teaspoons

honey

1

tablespoon

reduced sodium soy sauce

2

teaspoons

hoisin sauce

1

tablespoon

seasoned rice vinegar

2

teaspoons

sriracha sauce

2

teaspoons

dark sesame oil

2

tablespoons

water
Instructions
Peanut sauce:
Combine all ingredients for dipping sauce in a blender or food processor and process till smooth. Makes about ½ cup. Store in an airtight container in the fridge for up to 1 week. Serve at room temperature.
Spring roll assembly:
Fill a shallow pan with warm water. Have all of your filling ingredients washed, chopped and laid out near the place you will assemble the rolls.

Dip a rice wrapper in the warm water for about 45-60 seconds until it is soft and pliable. Place it on a cutting board. Fill the center with desired fruits, veggies, herbs, or protein and roll up burrito- style. Cut into thirds and serve immediately with peanut sauce or chilled for up to 6 hours.
Notes
**Spring rolls can be stored in the fridge between layers of damp paper towels for up to 6 hours before serving. Any longer and you run the risk of the veggies becoming soggy and the rice paper becoming too gummy.
Serving:
1
Roll
|
Calories:
186
kcal
|
Carbohydrates:
29.6
g
|
Protein:
3.7
g
|
Fat:
6.6
g
|
Saturated Fat:
1.4
g
|
Sodium:
20
mg
|
Potassium:
328
mg
|
Fiber:
3.3
g
|
Sugar:
7
g
|
Calcium:
26
mg
|
Iron:
2
mg
[inlinkz_linkup id=430744 mode=1]