Today I wanted to take some time to share a bit about my past 2 weeks of travel - I'm glad to be back in the swing of things at home but already miss my family!  I always love reading about other blogger's travel experiences, restaurant and sightseeing recommendations, and tips for travel so I hope you all will enjoy today's post (a little different from my usual recipes!).
Ryan and I started our first week of travel with my family in Christiansburg, VA.  On our first full day there, we did one of the most fun things my family has done together in a while - spend the day on Claytor Lake with a pontoon rental!  Tubing on the back of the boat was hilarious entertainment for everyone - my family is full of show-offs.   We kept the food simple - 2 flavors of chicken sausage and 2 flavors of brats cooked on a portable grill and served on fluffy buns with sriracha sauce, grainy mustard, and ketchup.  Fresh cherries, watermelon, chips, and homemade brownies rounded out the meal - it was a delicious and filling outdoor feast!

Our next day in VA happened to be the 4th of July, which was special for me since I haven't spent the holiday with my family since 2009!  I was so happy Ryan had time off from work so he could spend it with us....and take his first traditional "flag on the front porch" family photo with us.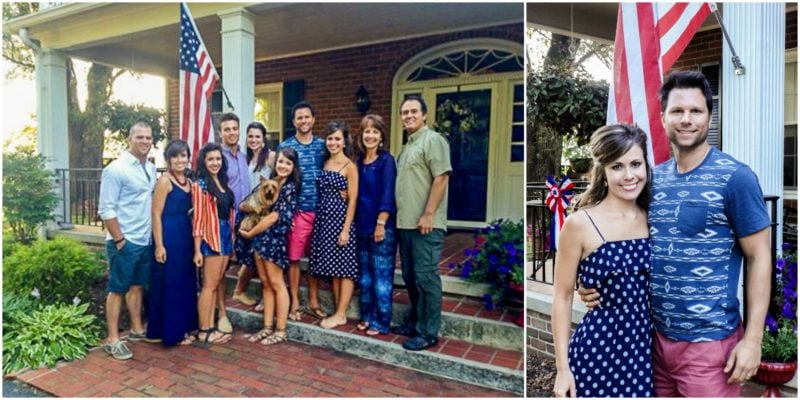 I decided to make fresh fruit-filled mini hand pies to go with vanilla ice cream for our Independence Day dessert - they were a huge hit and it was fun to have an audience to show off my trusty (and handsome!) sous chef to.  Ryan is the ultimate kitchen sidekick.  For our hand pies, we used this crust recipe from Joy the Baker, cut the pie dough into circles with a Mason jar ring, and filled them with various fruits.  I used ½ cup each of fresh blueberries, plums, nectarines, and strawberries.  I mixed each of the fruits with 1 teaspoon AP flour and 1 teaspoon granulated sugar.  Next, we filled each circle with 1 T of the fruit, topped with another pie crust circle, crimped the edges with a ford, brushed the top with egg wash, cut a slit in the top of each pie, and sprinkled each with cinnamon sugar.  They were baked on a parchment-lined baking sheet at 400 degrees for 18-20 minutes until golden brown.  So amazing. And cute.  You should try them sometime!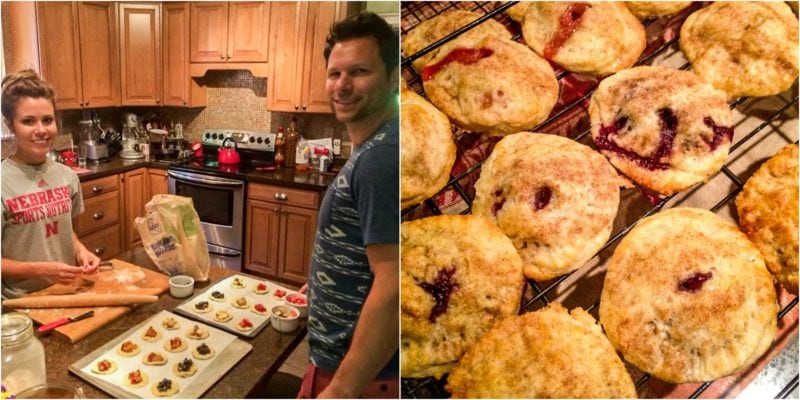 After a fun-filled weekend of game playing, golfing for the boys, and girl-time with mom and sisters, Ryan flew back to NE Saturday night.  I stayed behind so I could attend my Poppy's funeral in MS the following week.  We started our road trip to MS with our first stop at the Chocolate Monkey in TN.  If you ever find yourself traveling through the Smokey Mountains, you must stop at one of their 6 locations.  This is a family favorite; so much so that my dad calls ahead with our off-the-menu family order 15 minutes before we arrive.  They know us well - hot caramel covered Rice Krispy Treats.   I hope they have these in heaven....

On to our favorite food stops in Oxford, MS (from left to right):
Shipley Do-Nuts - my family loves donuts.  Like crazy.  I've been to Shipley's in TX before and was thrilled to find one in Oxford.  Their donuts have a pillowy soft interior and there are a ton of flavor varieties - come early for the best choices! My favorites are the Apple Fritter and Blueberry Cake. All in moderation, right?
Ajax Diner- Southern comfort food doesn't get much better than this.  In fact, it was so good we ate here 2 days in a row.  Top recommendations include the Tamale Pie, Fried Catfish, Fried Eggplant, and Turnip Greens.  Leave room for dessert - homemade pies are the cherry on top of a perfect, home-cooked Southern meal.
Boure' -  Southern Creole goodness.  Try the Tomato Pie - a savory crust layered with fresh tomatoes, Parmesan cheese, and fresh herbs.  The jalapeno-peach dip is amazing.  If you get dessert, the Bananas Foster Bread Pudding is delish!

The photos below were taken after our Poppy's funeral - he was buried in his hometown of Jefferson, MS - a town where the people are as sweet and Southern as can be.  We took the photos in front of the old general store that Poppy's family owned back in the 1930's.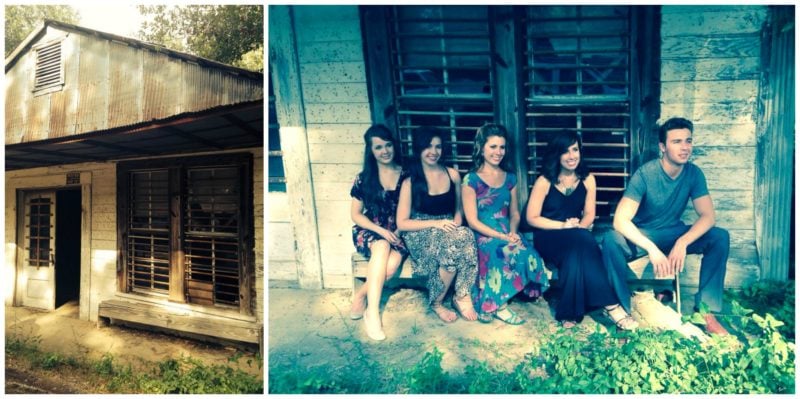 We finished our time in Oxford with pictures on the old bridge at Ole Miss, then the girls purchased matching Ole Miss t-shirts for our souvenirs.  We were sad to say goodbye to Poppy, but cherished reliving memories we made when he and Nana lived in Oxford.  There is something so comforting about the charm and hospitality of towns in the Old South.  If you are ever traveling in MS, Oxford is a must-stop!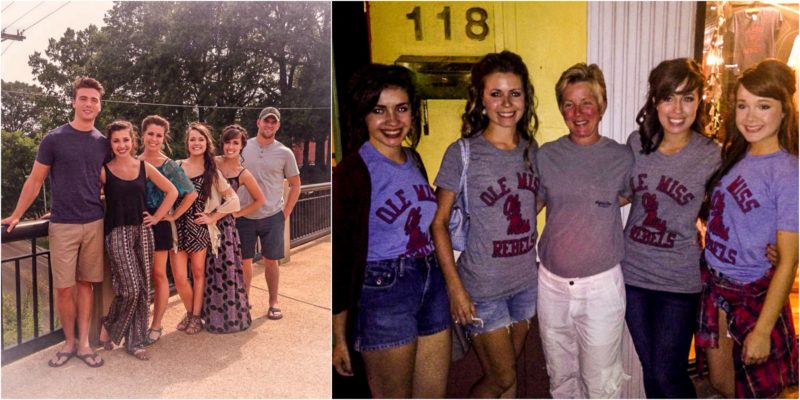 And that was my trip - what are your summer travel plans?
Happy trails!
Whitney
Hungry for more? Be sure to follow the blog on Bloglovin and find Dietitian in the Kitchen on Twitter, Facebook, Pinterest, and Instagram!