Happy Halloween everyone!
This season has been really fun for me as a newly-married lady - Ryan LOVES Halloween and we've had a blast making some of our own traditions.  Some of his favorite Halloween traditions include.....
Carving pumpkins.....this year we decided to use a drill.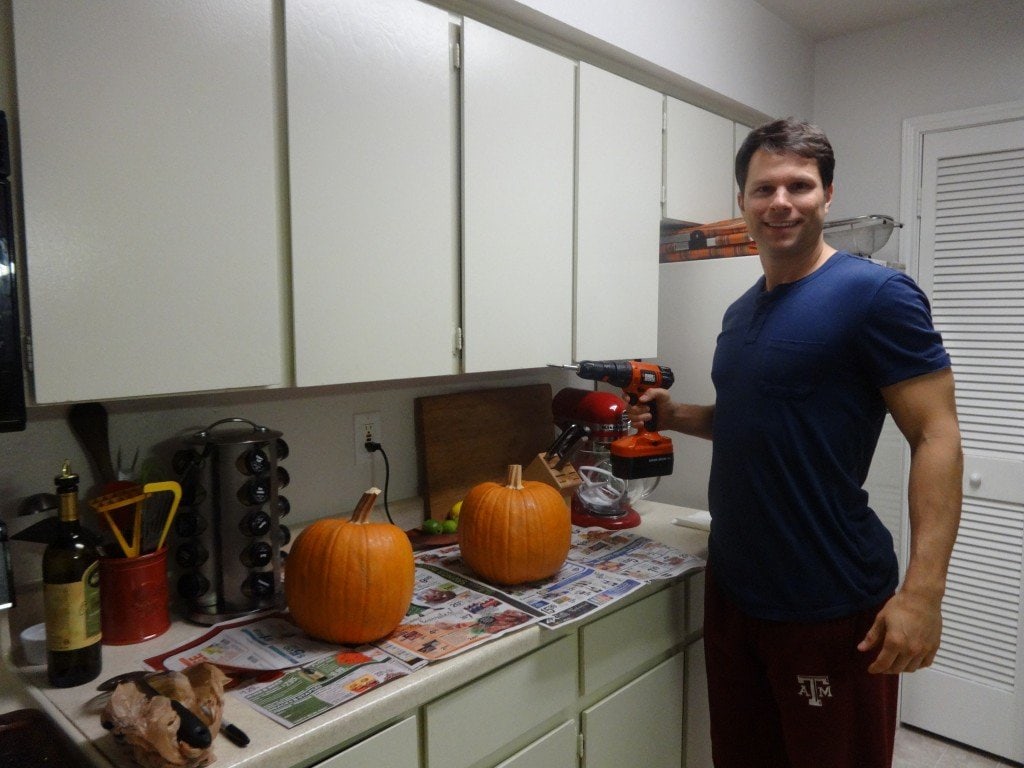 And this was our final product - ooooo it glows!
He also like to watch scary movies....and then turn off all the lights and try to scare me:
However, his MOST favorite thing to do is eat all of the goodies I make around this time of year.  This particular year has especially been a treat because I've made a point of trying out a bunch of new recipes on Saturdays when the football marathons are on.  Don't get me wrong - I like football. BUT when your husband plans to watch the 12:30, 3:00pm and 7:00 pm (that's like 9 HOURS) every Saturday, it gets kind of old.  And you need a project to work on.
So over the course of 3 weekends, I made 3 different recipes each from 2 special ingredients: apple cider and pumpkin puree.
I don't know about you, but it seems like whenever I buy a big 32 oz can of pumpkin puree or a ½ gallon of apple cider, I can't ever seem to finish them.  Most recipes only call for 1 cup of puree or ¼-1 cup of cider.  Not to worry though! You won't have any leftovers once you try these recipes : )
Apple Cider Recipe #1
Warm Butternut Squash Salad with Cider Vinaigrette - Ina Garten - this one's colorful, comforting, and full of lots of healthy goodies.
Apple Cider Recipe # 2:
Apple Butter - this fat-free but oh-so-yummy condiment can be as sweet or tart as you like, and mixing up the apple types you use will produce new, interesting notes of flavor each time you make it!
Apple Cider Recipe #3:
Cider-Glazed Chicken Cutlets - I don't have a photo for this one, but I've made it MANY times and can assure you it will knock your socks off, especially if you reduce the sauce enough before coating the chicken in it. Light, healthy and DELICIOUS.
Pumpkin Recipe #1:
Healthy Vegan Pumpkin, Oat, and Chocolate Chip Bars - these are a must-try.  They make a perfect snack or breakfast on-the-go.
Pumpkin Recipe #2:
Pumpkin Cinnamon Rolls with Maple Cream Cheese Frosting - These are NOT healthy.  I made them for a weekend indulgence...and we enjoyed them over the course of a week.  But you could totally make them for a brunch and not have to deal with leftovers.  These WILL be on my table Thanksgiving morning when I watch the Macy's Thanksgiving Day Parade.
Pumpkin Recipe #3
Brown-Butter Pumpkin Cupcakes with Salted Caramel Frosting - These are not healthy either.  But I made them for a church get-together and only had one.  Trust me, no one will complain if you make these for them.  I made a few edits to this recipe to make it my own, but I'm going to keep those a secret, for now.
Had to decorate them for Halloween to put a smile on Ryan's face...
So there you go! Are you hungry yet?
Like these and share the love with friends : )