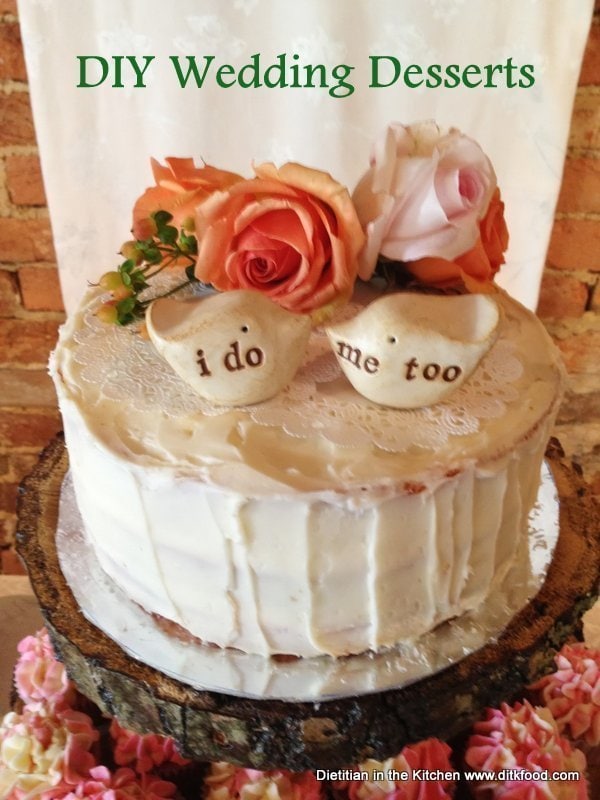 Today begins the first of 4 wedding series posts I will be doing each Thursday for the month of May.  Wedding season is in full swing now, and having just celebrated my first anniversary this past Sunday, I wanted to share some inspirational tools and tips for brides-to-be and the lovely people who may be helping them plan for their special day!
Today's post is all about desserts - the do-it-yourself (DIY) kind!  If the size of your guest list is manageable (I'd say around 100-150 people, making your own desserts for the reception can be a huge money-saver.  As much as we all love wedding cakes, you have to admit that the cost of them can be a hard pill to swallow.  And if you have champagne taste on a beer budget like I did,  your dream wedding cake will probably be way out of your price range.  So why not consider making your own desserts?  Or having a few friends (who like to bake) make treats that fall under a dessert theme of your choosing?  Not only will this save you big $$, you get the chance to have more personalization and customization with your sweet treats.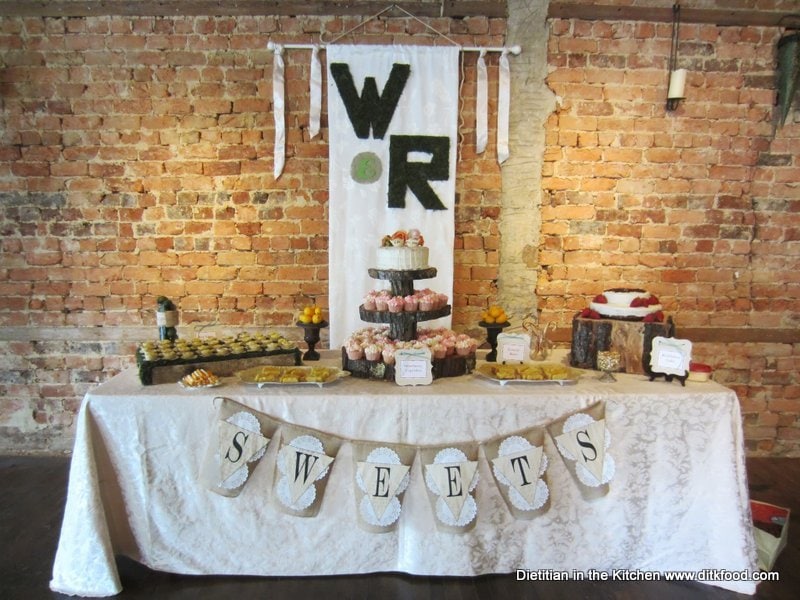 Homemade desserts, when presented in a creative and chic way, provide a unique charm to reception.  And to be honest, they often taste much better than their bakery counterparts.  If you are worried about not having time to make desserts during a busy wedding-week, consider items that can be made ahead and freeze well.  Here are some examples of the make-ahead desserts that I made for my own wedding:
Cakes/Cupcakes:
I love the idea of a traditional wedding cake, the cake topper and the groom's cake.  So for my wedding dessert table (meant to serve 125 people), I made a standard round 3-layer strawberry cake that I could put a topper on and display.  My groom's cake was a simple 2-layer red velvet cake; we served to guests along with homemade strawberry cupcakes.  We made the cake layers and cupcakes 2 weeks before the wedding, wrapped them tightly and stored in tupperware containers in the freezer.  Cakes and cupcakes thaw quickly, so frosting and decorating them on the Thursday before a Saturday wedding was simple and fun - with minimal clean up!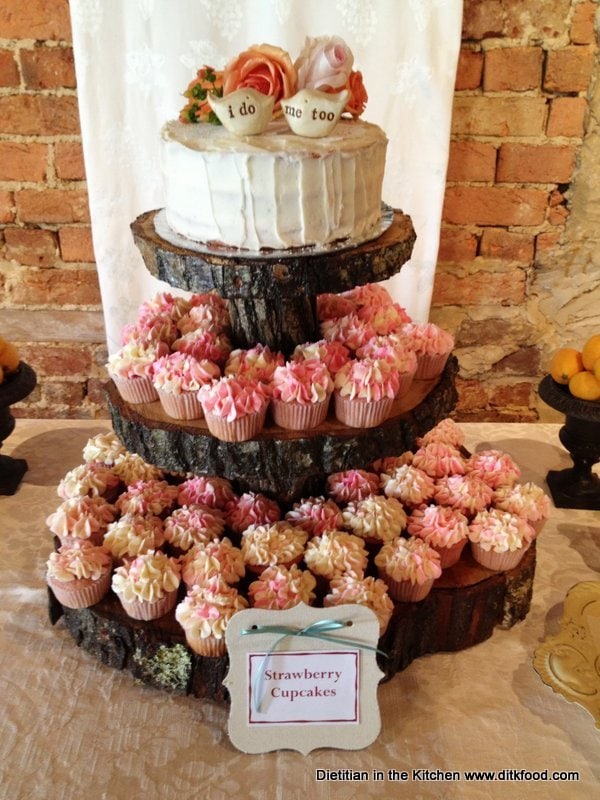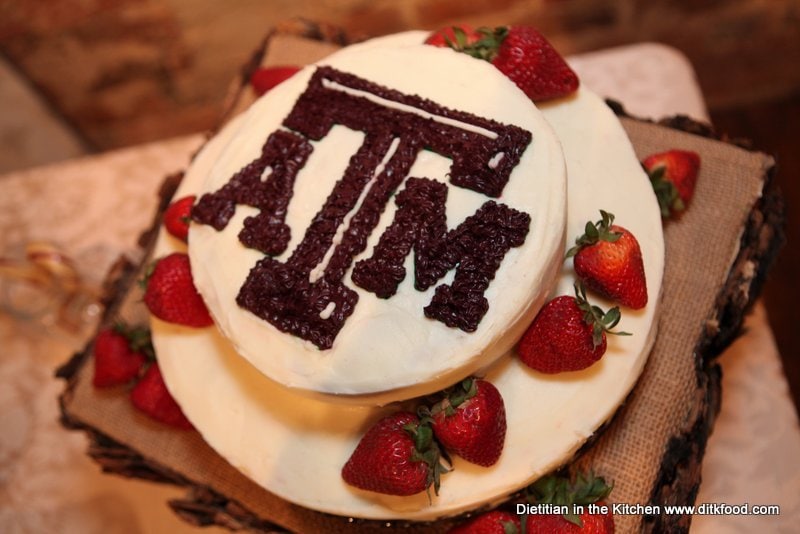 Bars and Brownies:
Bars and brownies are easy to make and freeze like a dream.  I chose to make lemon bars for my spring-themed wedding, and made them a month ahead of time.  I placed parchment paper in the bottom of the 9x13 inch pan that I baked them in, so that the whole bar could be lifted out of the pan easily, wrapped in several layers of plastic wrap, and frozen until the day of the wedding when all we had to do was cut them, dust with a little powdered sugar, and place them on top of cute little doilies we ordered on Etsy.  You could use this same process for pretty much any type of bar or brownie.  I think Hello Dollies, Pecan Bars, or some type of jam/oat crumble bar would be charming.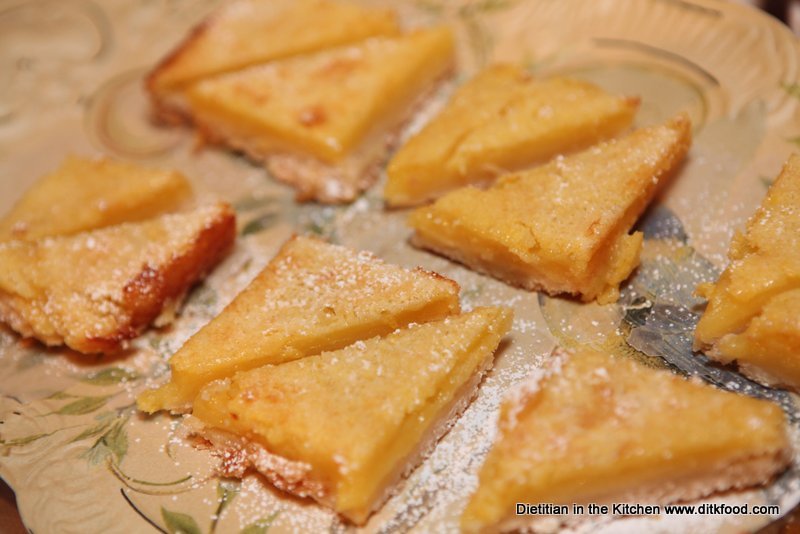 Tarts:
Tart shells baked in a mini-muffin pan are easy to freeze, thaw in a matter of hours, and can be filled with all sorts of delicious concoctions.  I filled simple butter tart shells with a lime curd the day of my wedding, and had made the curd 3 days prior.  You could consider lemon, lime or grapefruit curds, which require few ingredients and are simple to make.  Or maybe consider a rich chocolate pudding filling with a berry on top to garnish.  These bite-sized treats look great on fun platters as well!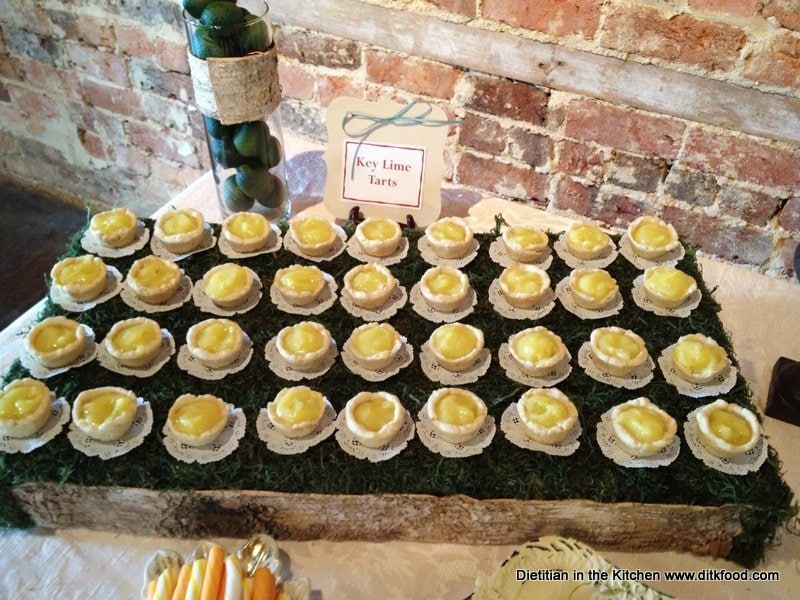 Cheesecake Bar:
I'm a huge fan of cheesecake, and love that you can make it in all sorts of flavors to suit your every whim these days.  Cheesecakes can be made, decorated, and frozen up to 3 months before your special day.  You simply wrap the cheesecake inside the pan it was baked in in several layers of plastic and freeze.  Thaw 24 hours before you need to serve it, and simply place it on a cake plate or platter before un-molding it from the pan.  I love the idea of a cheesecake bar where simple vanilla cheesecakes are served to guests who can then add their own toppings.  My favorites would be hot fudge, salted caramel, and raspberry sauce!
For more DIY wedding dessert table ideas, check out my Pinterest Wedding page!
Have your own wedding DIY tips?  Please feel free to comment and share!
Happy Planning,
Whitney @ The Dietitian in the Kitchen