Today I'm so excited to share this Pigeon Forge and Gatlinburg travel diary with you! This destination has been a favorite for my family since my siblings and I were all little. We've made many trips to the great Smoky Mountains over the years, and this past trip was one of my very favorites. Some of our preferences for what to see and do have changed as we've grown into adults, but coming here never fails to make us all feel like kids again!

Where We Stayed:
My family has always enjoyed renting a mountain cabin when we come to the Smokies; but as the size of our family has increased, so has our need for a larger cabin! My dad found the perfect fit this year with the Cedar Point Cabin of Mountain Laurel Chalets. This 5-bedroom beauty sleeps ten+ people with 3 king-size beds, 2 queens, and several comfy couches. There's so many fun amenities here that many mornings we just wanted to stay at the cabin and relax! I'm talking a sauna, hot tub, access to three club pools, a pool table/game room, and breathtaking views of the Smoky Mountains. It was an amazing place to stay and one that any member of my family would highly recommend!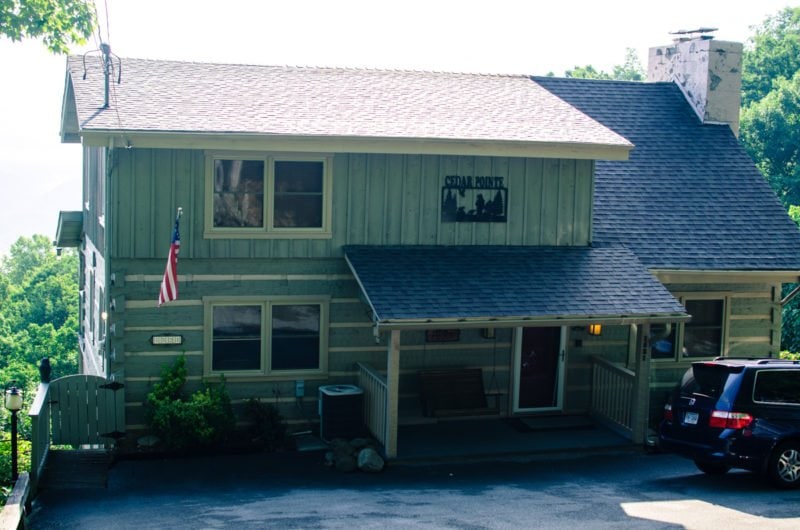 Two things I must mention that we enjoyed so much while relaxing in our cabin: binge-watching Stranger Things and playing board games. It's rare and almost impossible to find a show/movie that all 10 of us will enjoy watching; however, Stranger Things fit the bill perfectly and we were all pretty obsessed with the series after the first episode. Our favorite board games are currently Ticket to Ride and Catan - both are unusual, challenging, and great to play over and over again.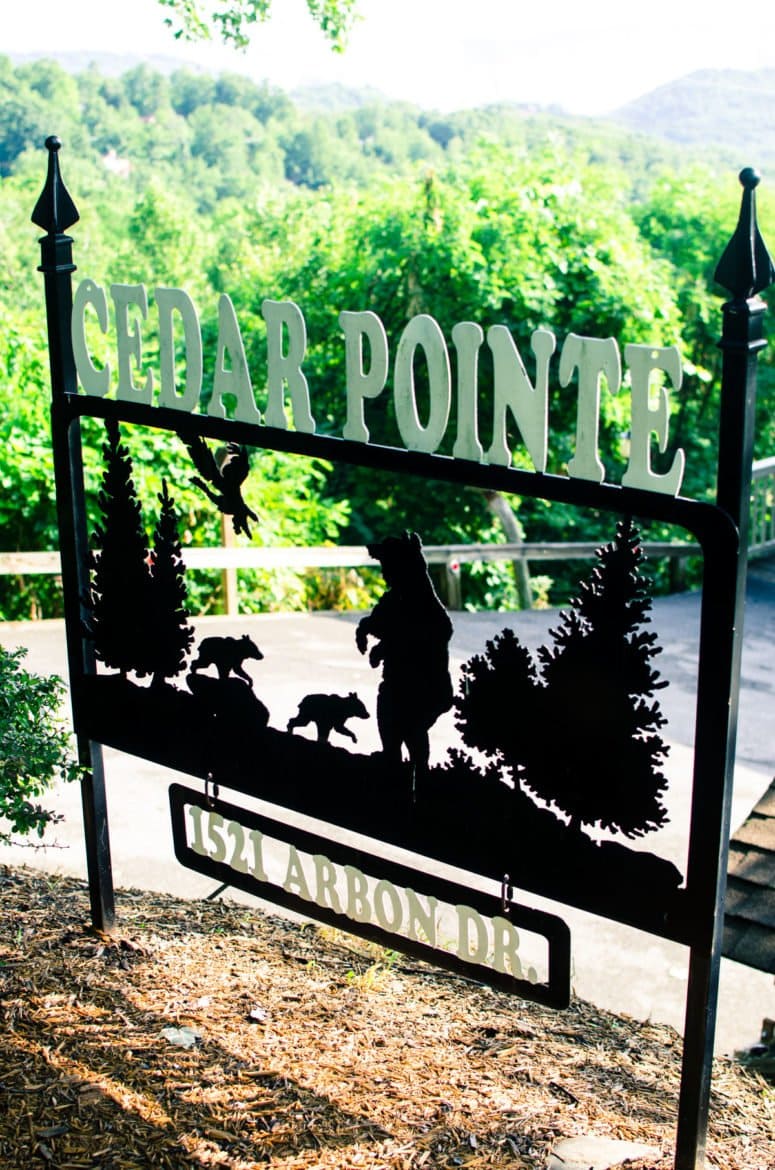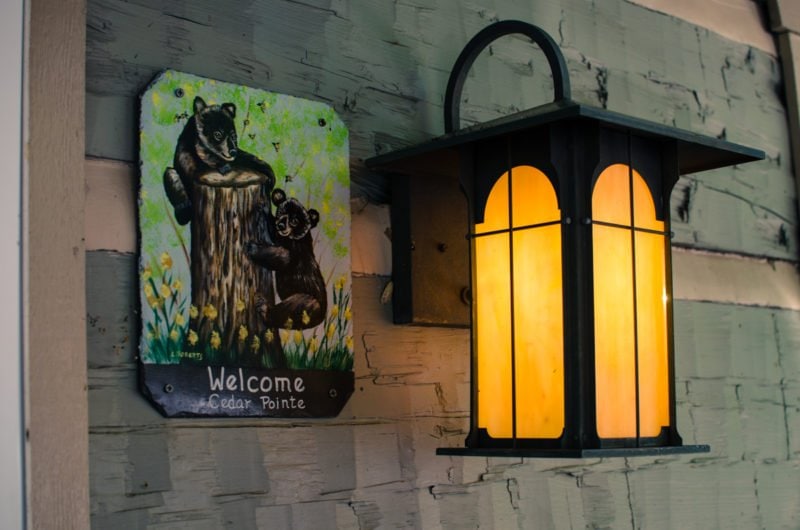 What to Do:
Hiking + Creek-side Picnic - You can't come to the Smoky Mountains and leave without exploring them a bit! There is so much to see, and the Smoky Mountain National Park does a great job of showcasing the beauty of nature and making it easy for people of all ages to find a way to enjoy it at their own pace. We opted for a relaxed hike on the Laurel Falls Trail ; a 2.6 mile paved path that boasts views of an 80-foot waterfall. It's relatively easy and great for families with kids. It gets crowded quickly, so try to go before 9am if possible. Picnic areas are available all over; so we packed a portable grill, brats, chicken sausages, buns, and our favorite condiments to have for lunch near the creek. Each picnic station is equipped with a paved area, table, charcoal grill, and beautiful mountain scenery. Be aware that it's very common to see bears here (we have before); and never leave food out/unattended!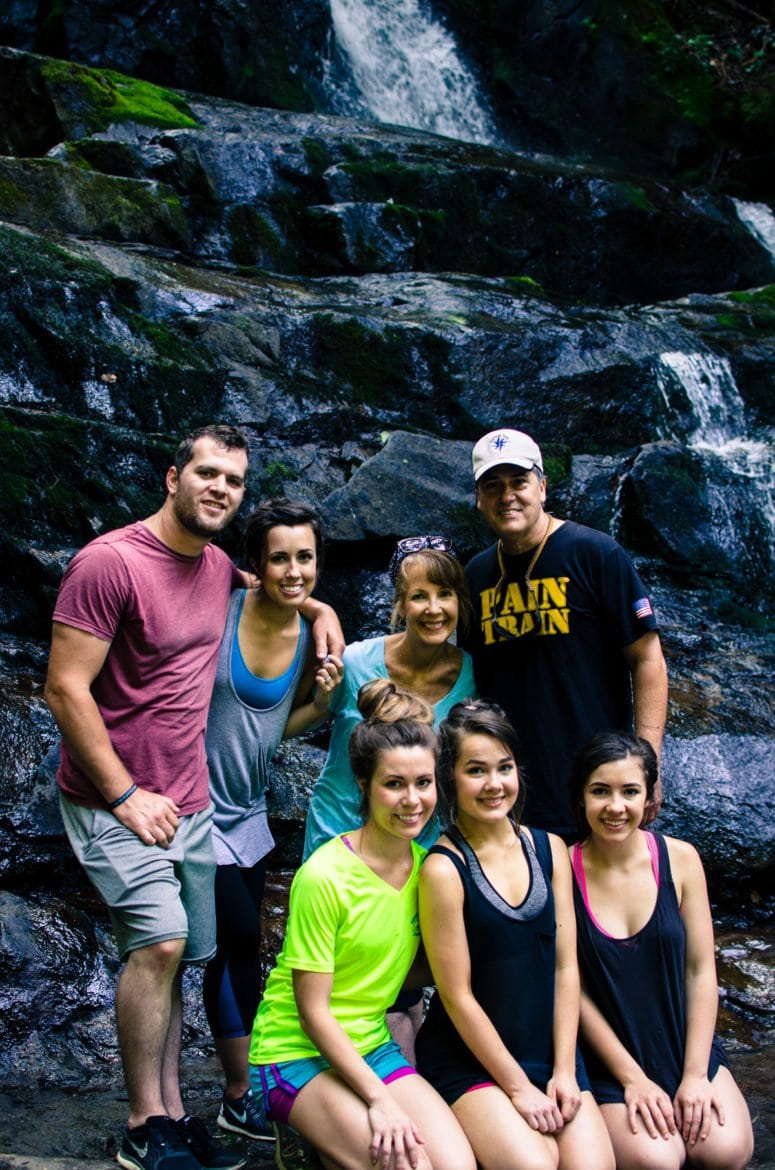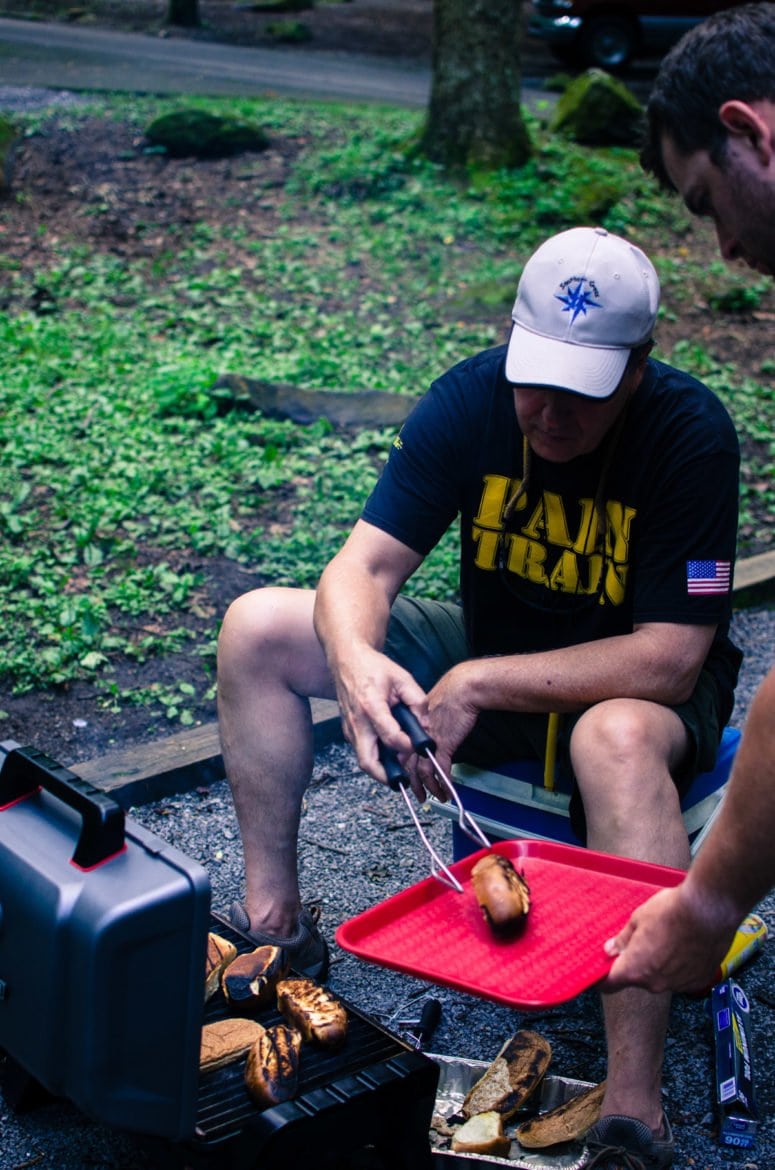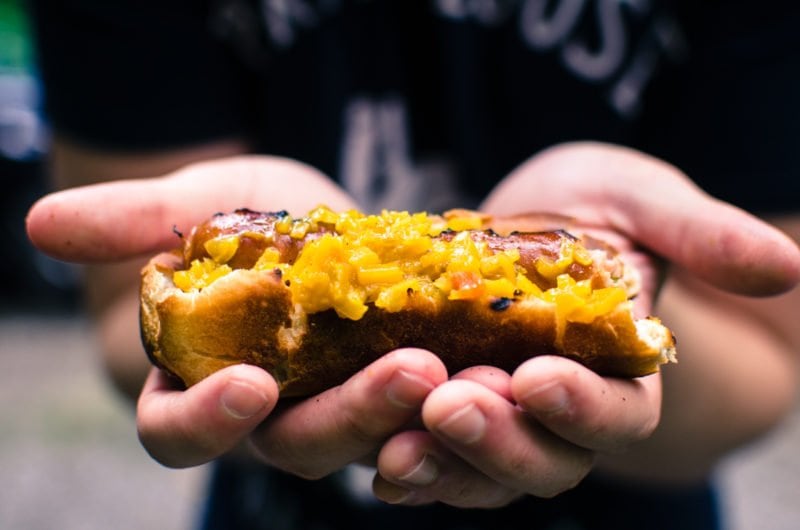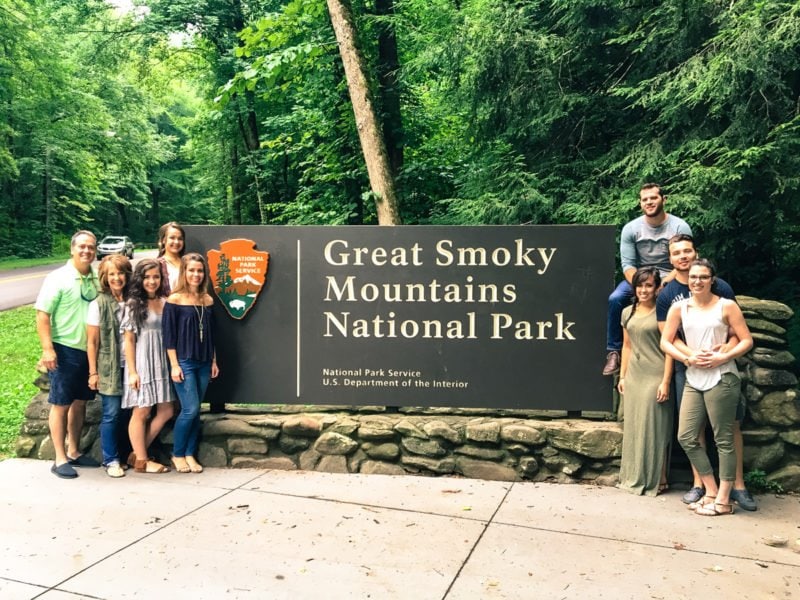 Shopping at Tanger Outlets - someone tell me how you can take a trip to Pigeon Forge with six women and not do a little shopping??? It would be VERY difficult! Tanger Outlets is a good option because there's a little something for everyone here - I actually think the guys in our group made just as many purchases (if not more) than the gals did! Nike, Lucky Denim, J. Crew, and Forever 21 were big winners with us, and of course there's the dreamy Le Creuset outlet that set my (and every other foodie's) hear a-flutter! Be sure to check out the main Tanger Outlet site for extra deals/coupons you can use to save even more.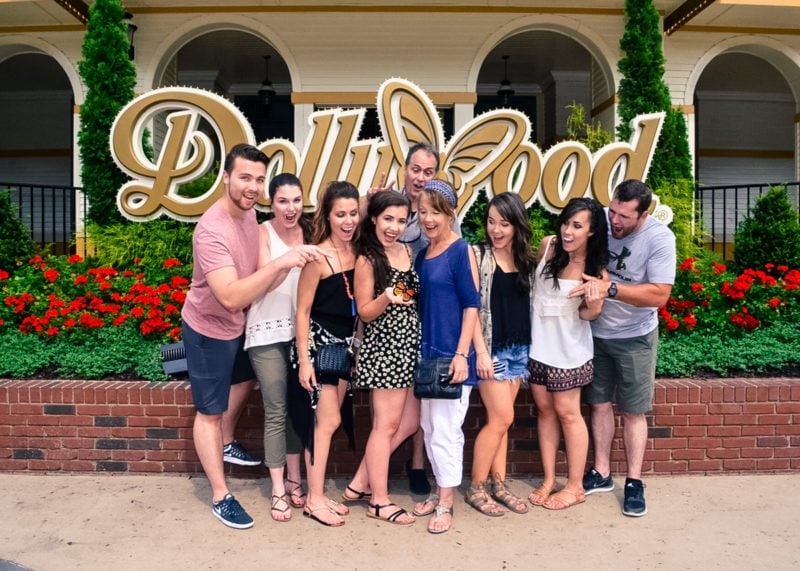 Dollywood - I can't remember a trip to the Pigeon Forge area that we haven't made a stop at Dollywood! Even if theme parks aren't your thing, re-consider a visit here - it's the most beautiful, clean, and dare I say "relaxing" theme park I've been to! There are several fun shows to watch when you need a break and want to cool off; lots of family rides, and great food! That's should mean a lot coming from me - I typically hate theme park food. However, there are some pretty tasty treats at Dollywood that we look forward to getting when we come.
My personal favorites are the hot cinnamon bread from the Grist Mill - it's freshly baked all day long and is dripping with gooey butter-cinnamon-sugar deliciousness! The fact that it's served with a side of apple butter or cream cheese frosting makes it even more irresistible! Other must-try's include the fresh kettle corn, pork rinds, turkey legs, and kettle chips!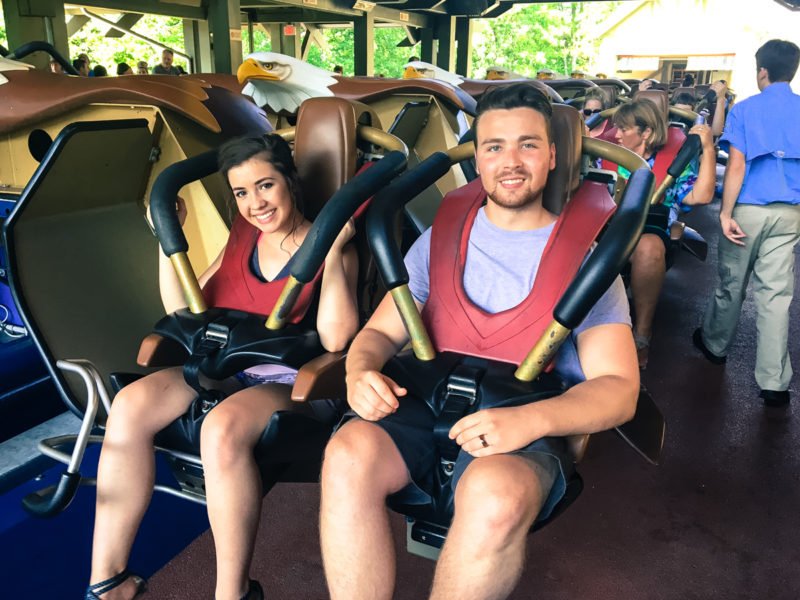 My family loves the rides at Dollywood - the Mountain Slidewinder, Tennessee Tornado coaster, and Wild Eagle coaster are favorites that we took multiple turns on. If you find yourself at Dollywood once the sun has set, you MUST ride the Wild Eagle coaster in the dark - preferably around 9:30 pm when the fireworks show has started. This was something we ended up doing and thought was an amazing experience that takes the ride to a whole new level - I actually felt a little scared riding it in the dark!
Bonus tip for Dollywood admission - we took advantage of the Dollywood rule that purchasing tickets at the admissions counter after 3pm gets you in for free the next day. We went at 3pm on Tuesday and stayed until park closing at 10 for the fireworks. The next day, we got there 30 minutes before opening, packed in lots of rides + shows, then left around 3pm at the hottest part of the day. A group of us (myself included) came back after dinner at 7pm to get in some twilight coaster rides and another round of cinnamon bread!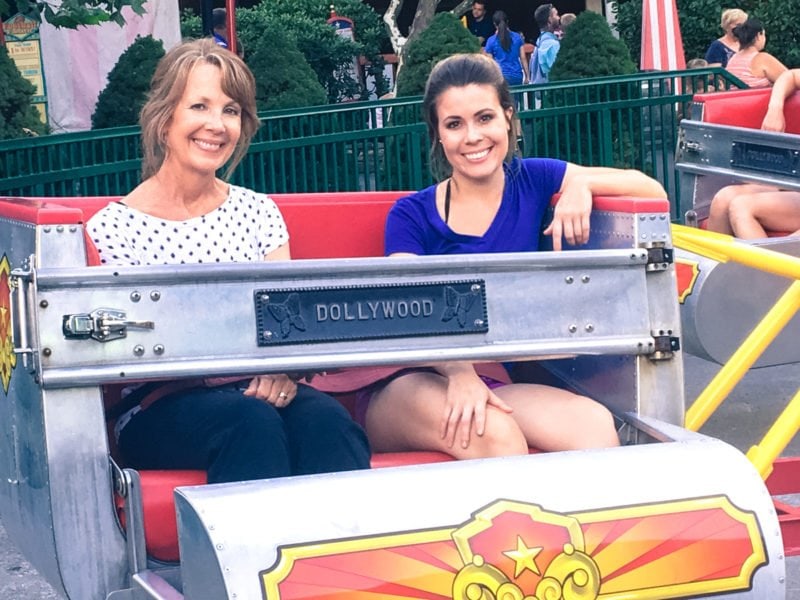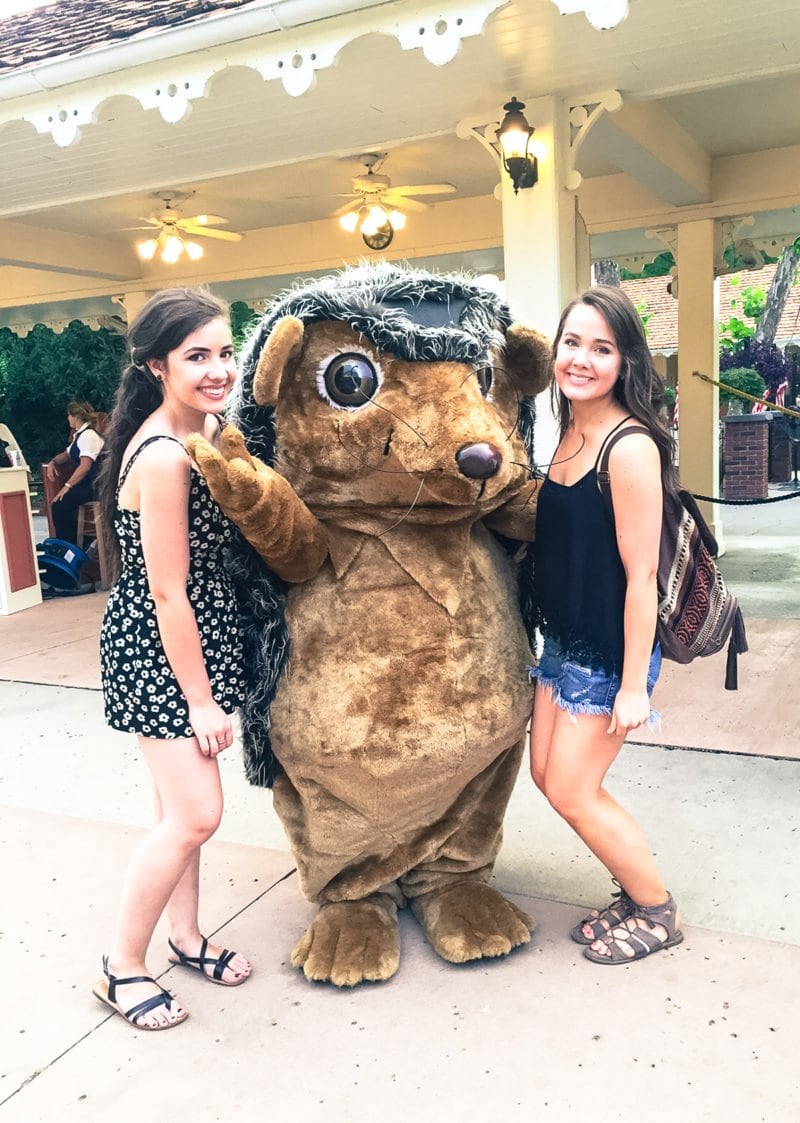 Family Go-Kart Race at Adventure Raceway - this and a visit to Krispy Kreme for hot doughnuts are hands-down my dad's favorite things to do in Pigeon Forge. Those two activities are always his top requests we come here, and I have to say I'm pretty fond of them myself! We have always made Adventure Raceway our go-kart supplier-of-choice, and were delighted that they were running a $5 per ride special at the time of our visit! Racing the karts brings out the competitive nature of all my family members (spouses included!) and makes for some pretty funny Snapchats.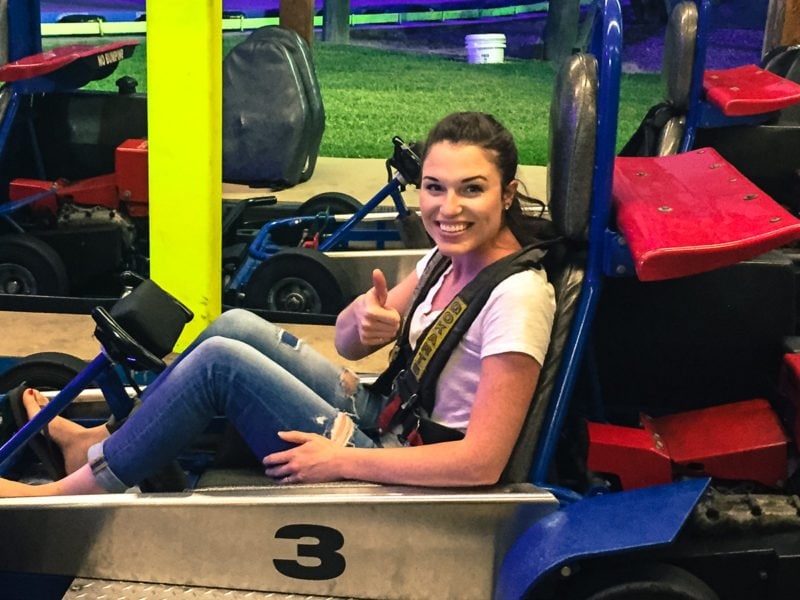 The Escape Game - this was a new adventure for us this trip to Pigeon Forge and was highly recommended by friends as a great thing to do with teens/adult groups. It's basically an "obstacle course" that you complete with your team to "escape" from various rooms and scenarios. There are four different games to choose from that leave it up to you to either catch a gold thief, stop an artwork heist, prevent a terrorist attack, or break out of prison. Prison Break is the hardest of the games and the one we chose to complete.
Only 20% of participants actually "break out of prison" during the game, but with our group of 9 people, we managed to do it with a little time to spare! They give you an hour to work your way through puzzles, obstacles, and solve mysteries. I'd recommend doing it with a party of 4-6 people to ensure that there's plenty for everyone to do. Our group of 9 seemed a little large at times during the game, but it was still a fun adventure!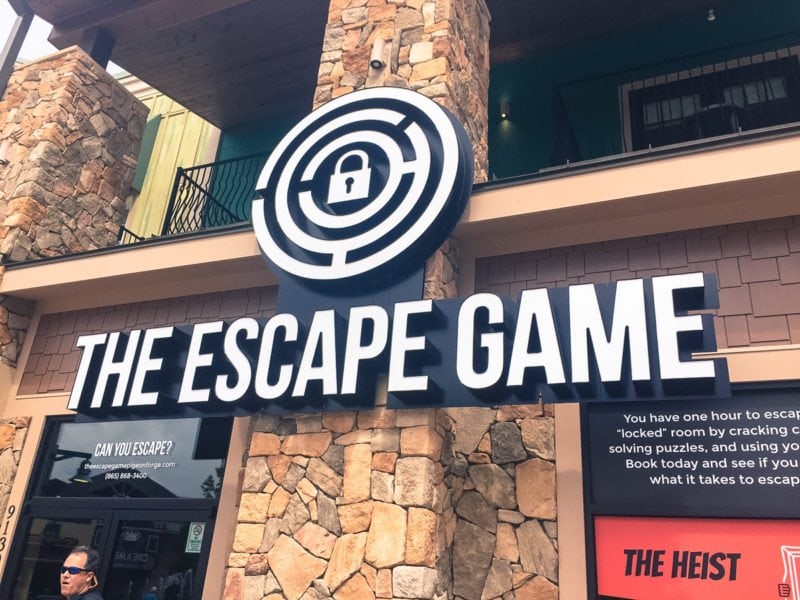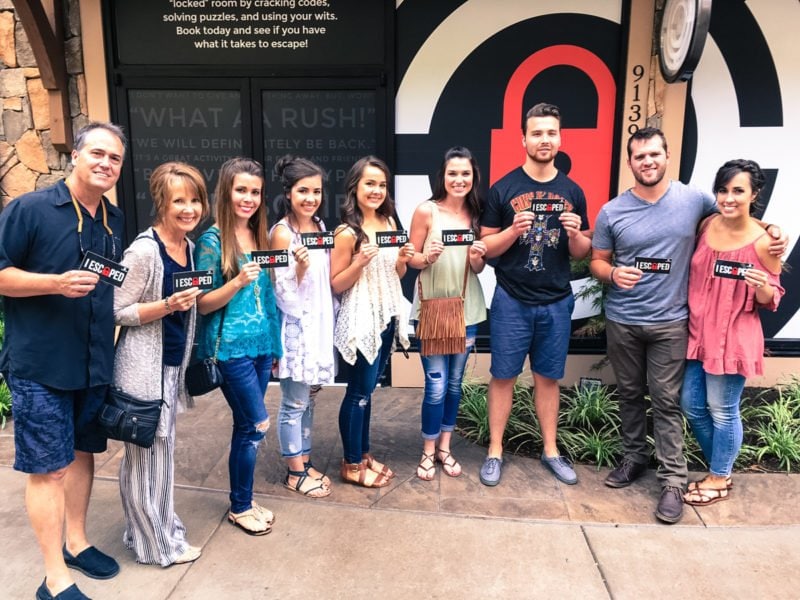 Take a stroll through downtown Gatlinburg and take in all the sights and smells - you'll be tempted with shops selling fresh fudge, donuts, caramel apples, taffy, and so many other delicious treats. Come hungry and then walk it all off while you take in the many interesting sights that make up this strip of Gatlinburg. There's plenty of fun people-watching here and silly photo opps to take advantage of.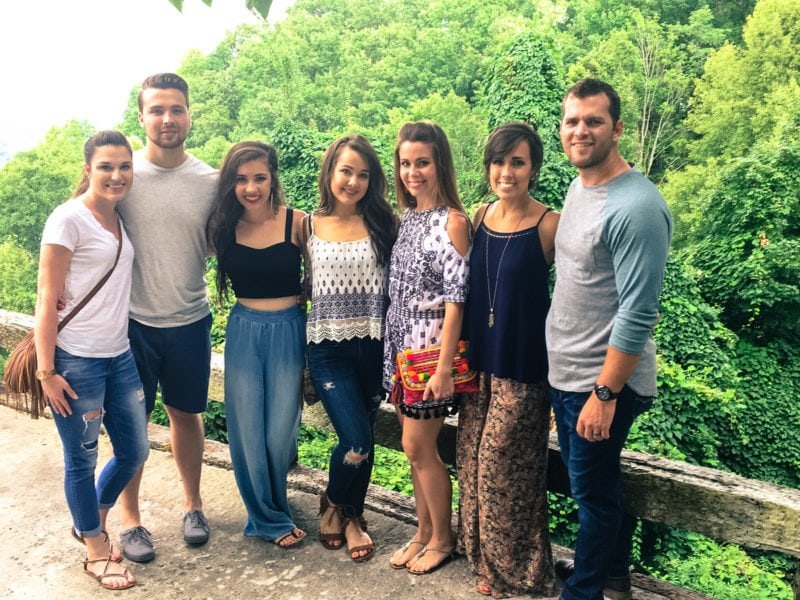 Eats and Treats:
Best Italian Cafe and Pizzeria - this little gem is tucked away from the main Gatlinburg strip and has the best garlic knots I have ever tasted! The pizzas are New York-style, are huge, and loaded with fresh toppings. It's a great stop for large groups and very reasonably-priced.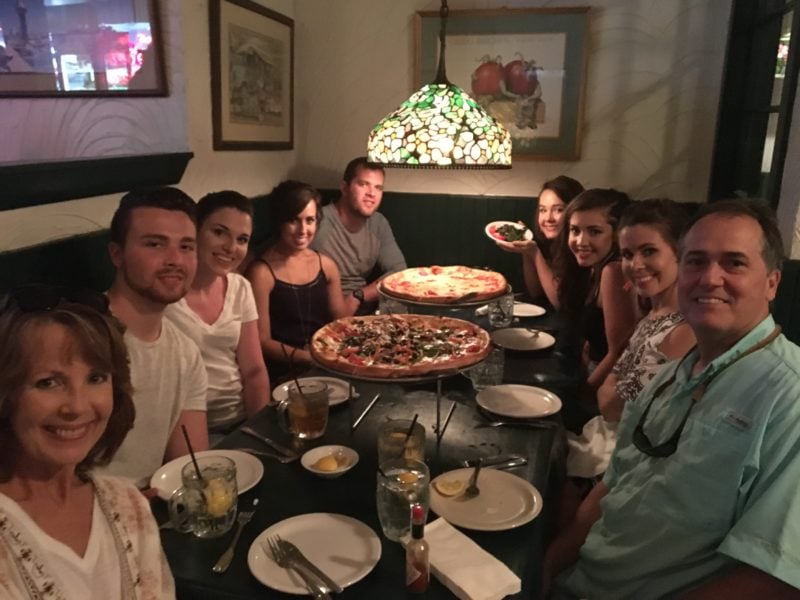 Huck Finn's Catfish - given our Southern heritage and love of homestyle cooking' it makes complete sense that we would search for a fish fry for one of our meals in Pigeon Forge! We have always been a fan of Huck Finn's and everyone goes crazy over the all-you-can-eat white beans, cole slaw, pickles, and hushpuppies that are included with your meal. The cornmeal-breaded catfish is a favorite for everyone as well!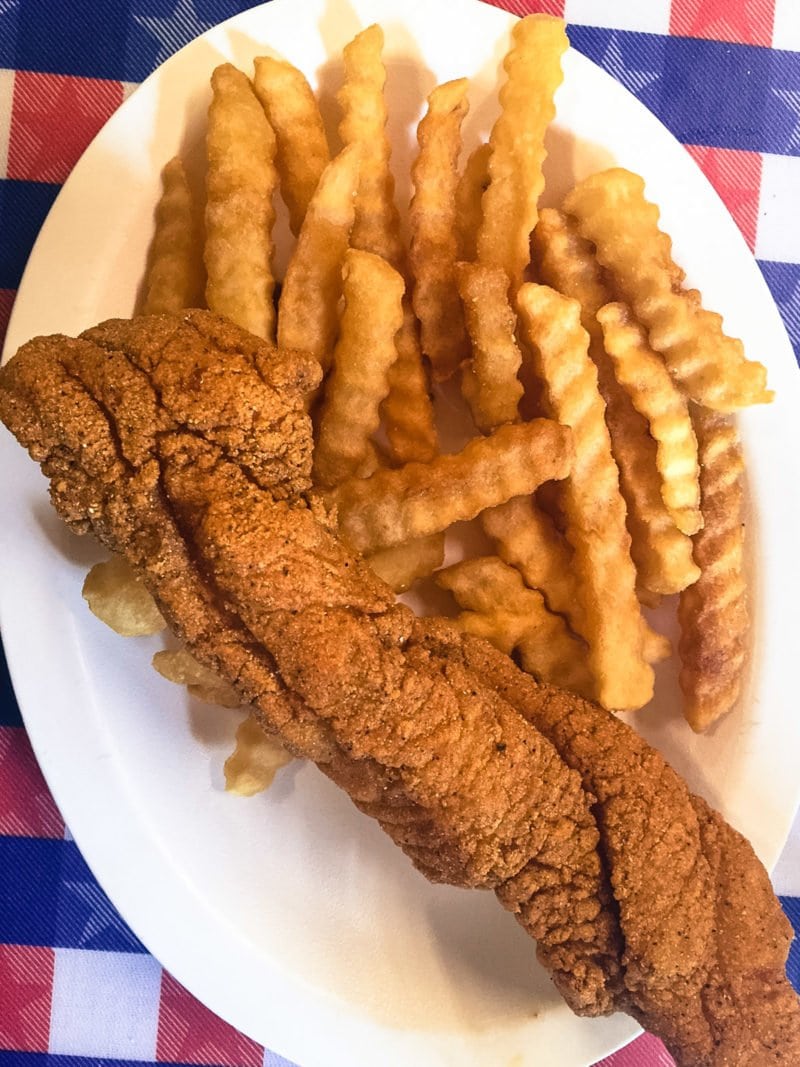 We found another new favorite during this trip at the Old Mill Pottery House Cafe. Here you can enjoy your fill of freshly baked sourdough bread and indulge in good Southern comfort food. I ordered the grilled pimento cheese BLT with a fried green tomato and loved it! After dinner, we all enjoyed oohing and ahhing over the craftsmanship displayed at Pigeon River Pottery. All the girls managed to find something unique with shabby-chic style at Sassafras Boutique. We wrapped up our time in the square with Don't stop into The Creamery and enjoyed some of the best ice cream we have ever eaten with amazing hot fudge and freshly baked cornmeal waffle cones. We will definitely be returning here on our next visit!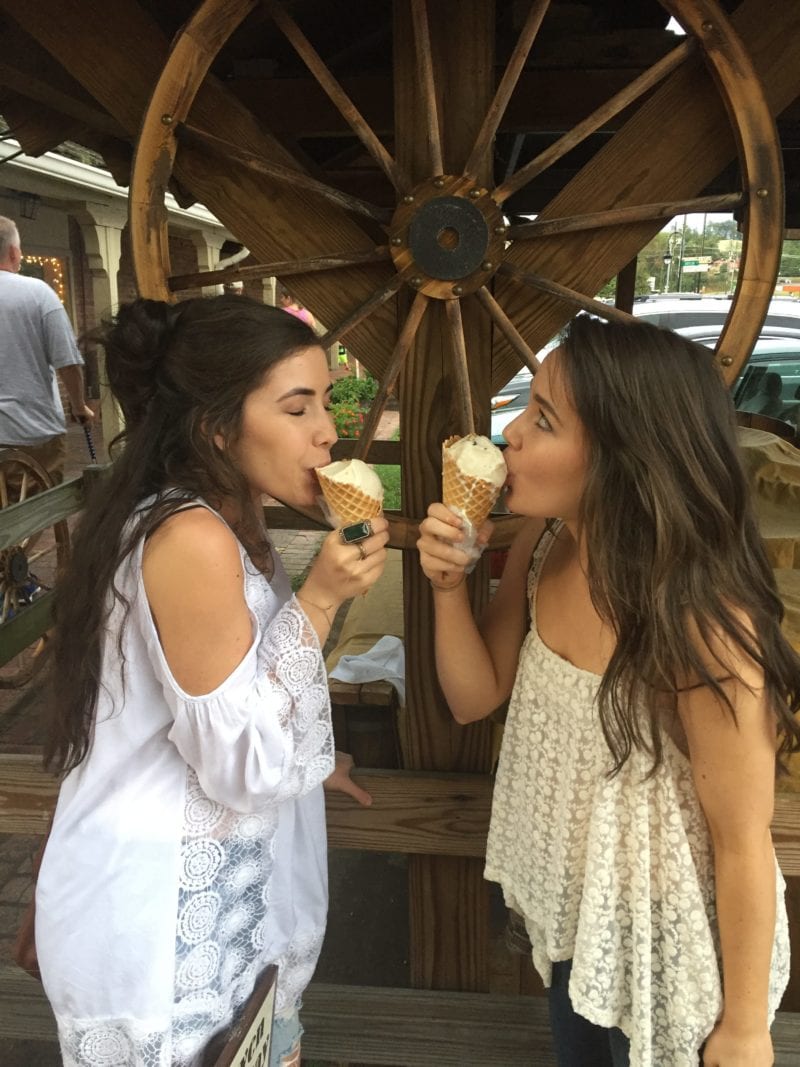 The Chocolate Monkey in Pigeon Forge and Gatlinburg - I've saved the best for last in this post because this would certainly win the vote for favorite dessert! We visited twice and would highly recommend the caramel-covered Rice Krispie Treats (ask for a freshly dipped one in hot caramel), ice cream, and caramel-drenched apples. Take home some of the most delicious fudge for a souvenir if you visit here!
Well that about wraps it up for this trip - we are so thankful for all the great family time that was had and really enjoyed this destination because there was something for everyone. Let me know if you have any fun Pigeon Forge/Gatlinburg recommendations in the comments below!