This fresh and festive grazing board recipe features ingredients to create the ultimate St. Patrick's Day party platter!
Jump to:
You know what I recently realized? There are no St. Patrick's Day recipes on this blog! It's rare that I make or eat any food specificially to celebrate St. Patrick's Day. I don't know why - probably because I'm more likely to focus on making Valentines and Easter recipes! But I've let you down when it comes to St. Patrick's Day - but that's ALL going to change this week! So I hope you are ready, excited, and in search of a good option to celebrate all things Irish!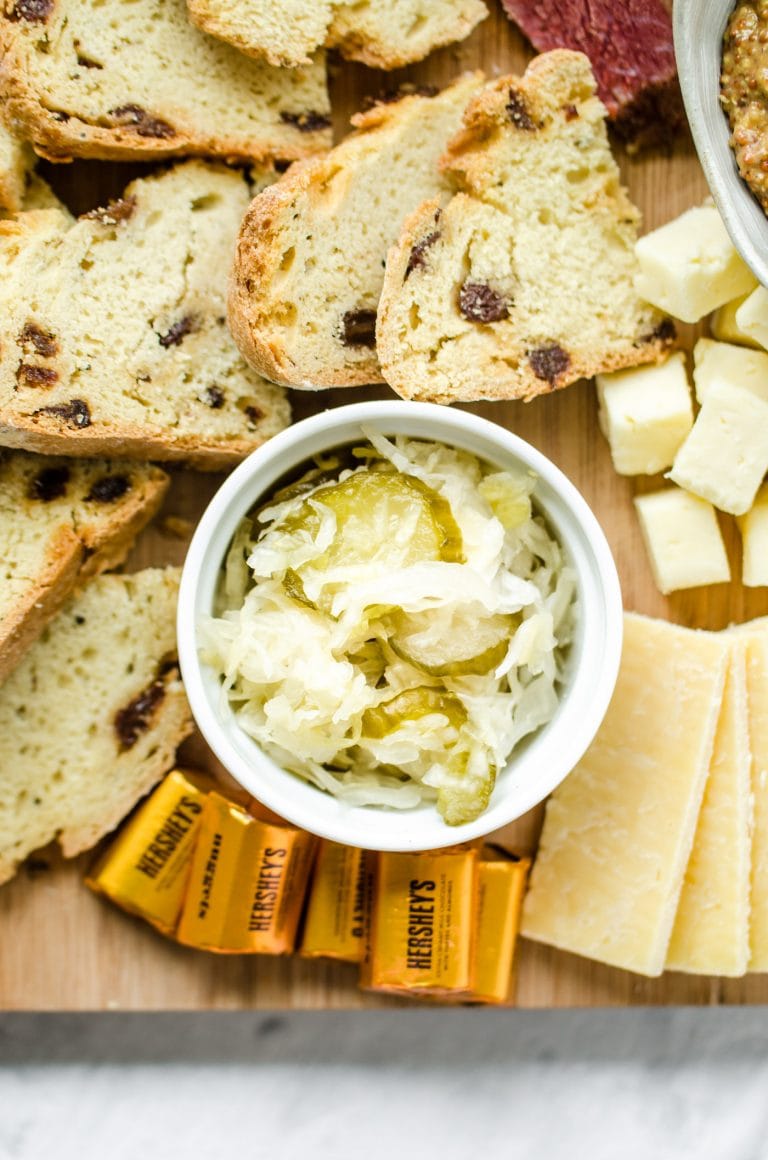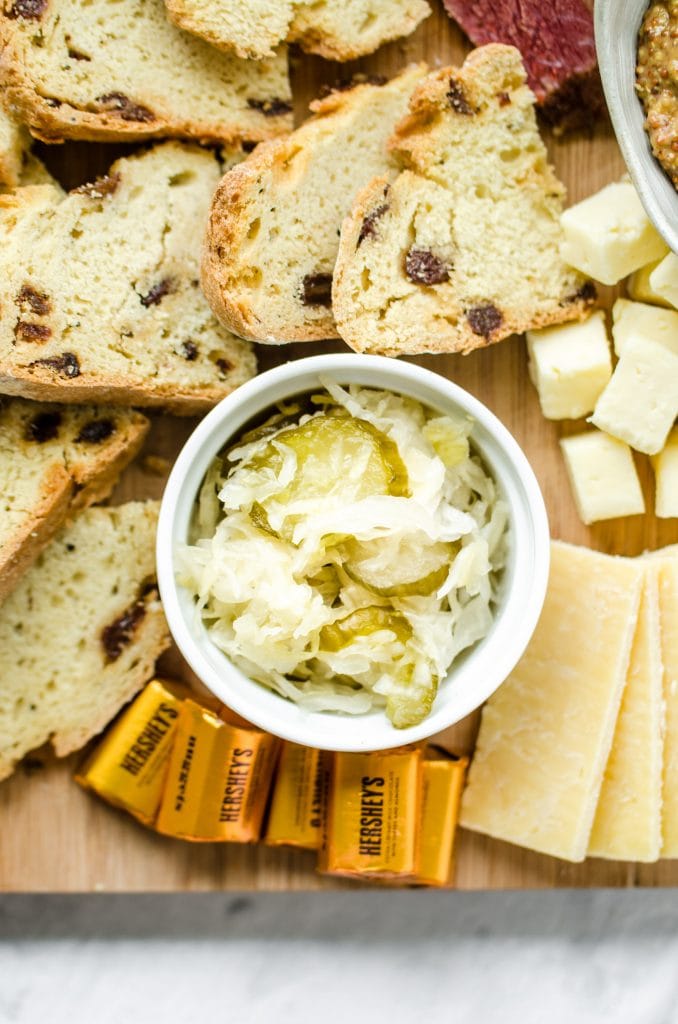 When I think of St. Patrick's Day celebrations, friends gathering in a casual, relaxed setting to laugh and just have some fun is what first comes to mind. Food that is unfussy, comforting, rustic, and maybe even quirky is typically involved. A grazing board seemed like the perfect fit, because you can choose tasty Irish-themed foods and serve them in a way that people can help themselves and make their own customized little plate. Take what you want and leave what you don't - basically, have it your way!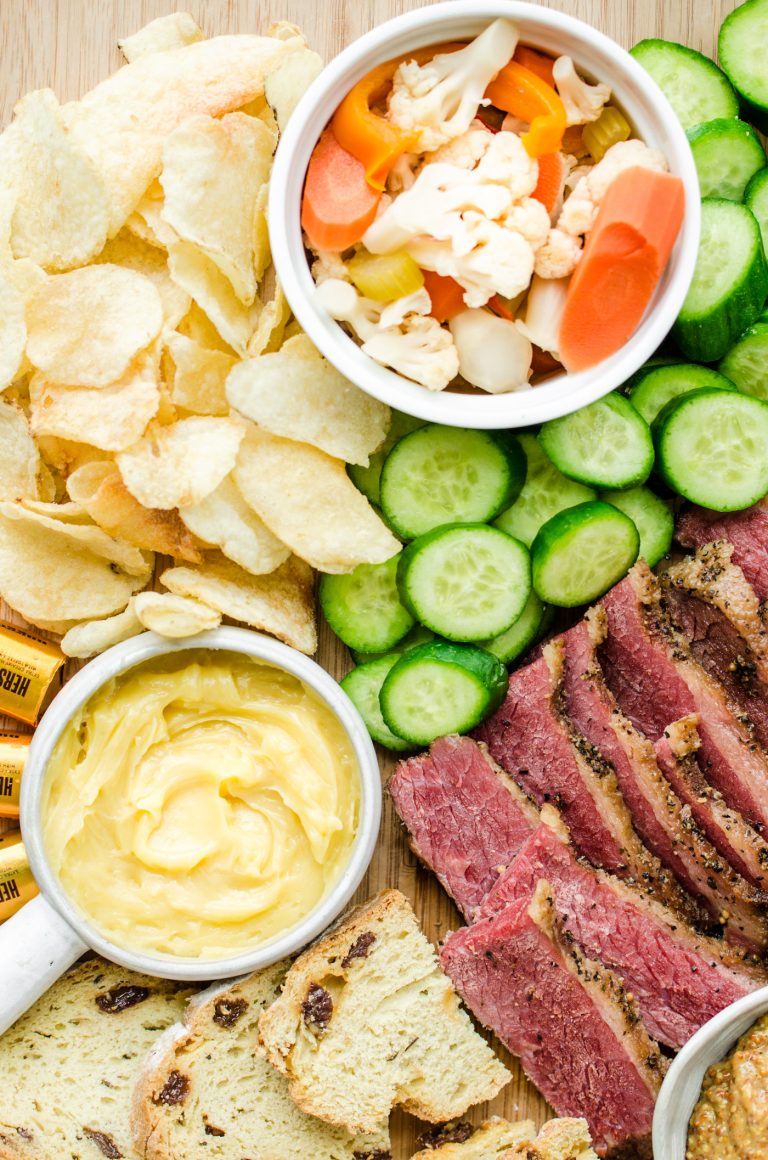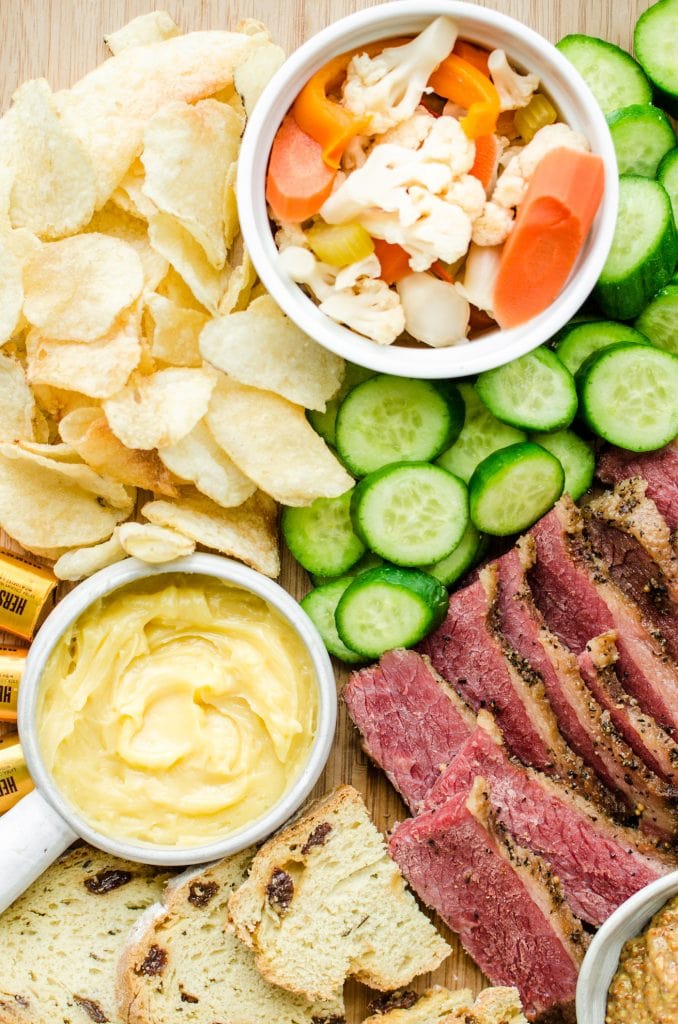 What is a grazing board?
A "grazing board" is simply a fancy name for a party platter. Marth Stewart has made it a thing on her website, and trendy food sites are adopting the name for whimsically-styled and decadent-looking spreads of, well, finger foods. Stuff you eat with your hands. Personally, I think the term sounds a bit stuffy - but hey, I love all things Martha so I'll jump on the bandwagon!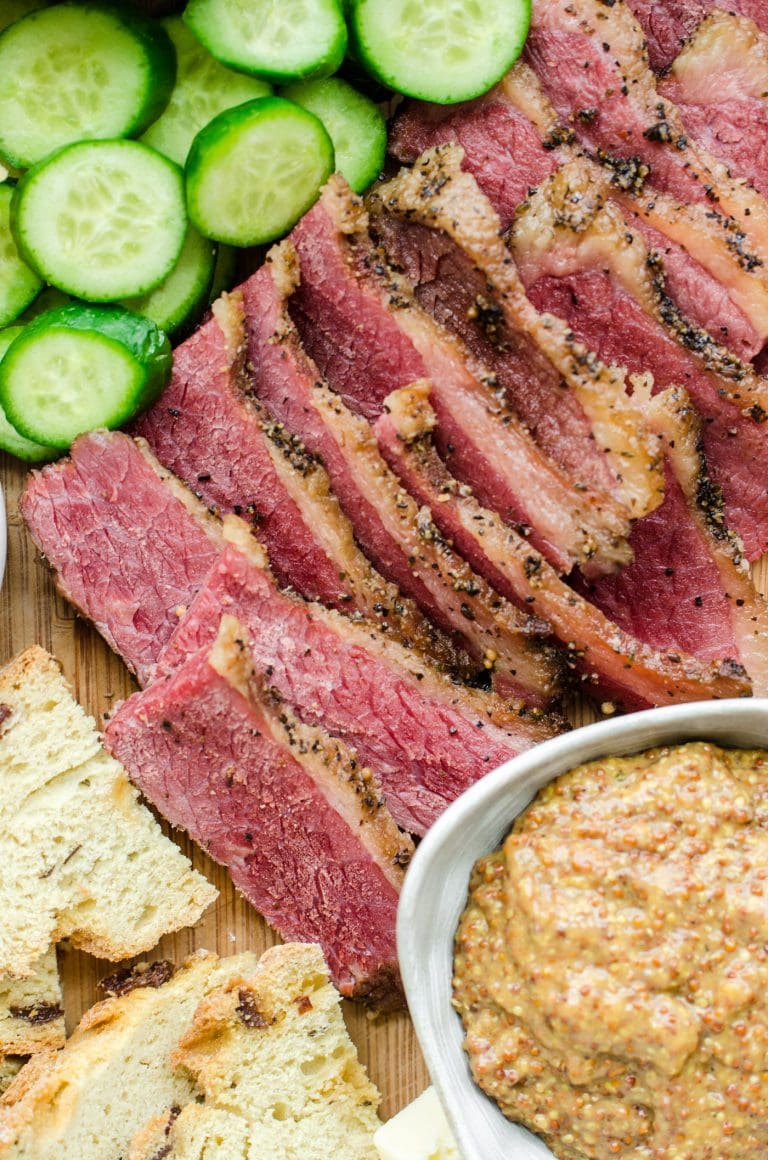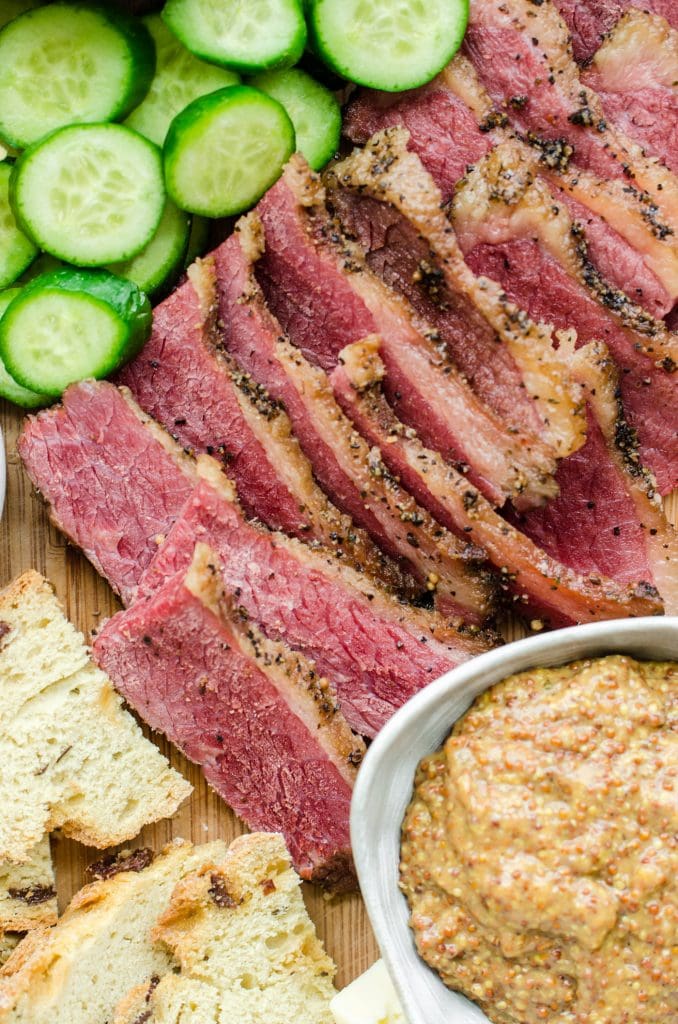 Grazing boards are made up of a creative collection of foods that you style on a board or platter in an eye-catching way that looks decadent and inviting. People can "nibble" on the elements of the board at a slower pace that encourages conversation, mingling, and discovering new combinations of flavors and textures as they sample all the ingredients. It's all very casual, and I've found that when I serve something like this, good conversation always ensues. Someone says "oooo have you tried this cheese with that spread?" or "wow, I didn't know grapes taste so good with prosciutto!" Sounds fun, right?!?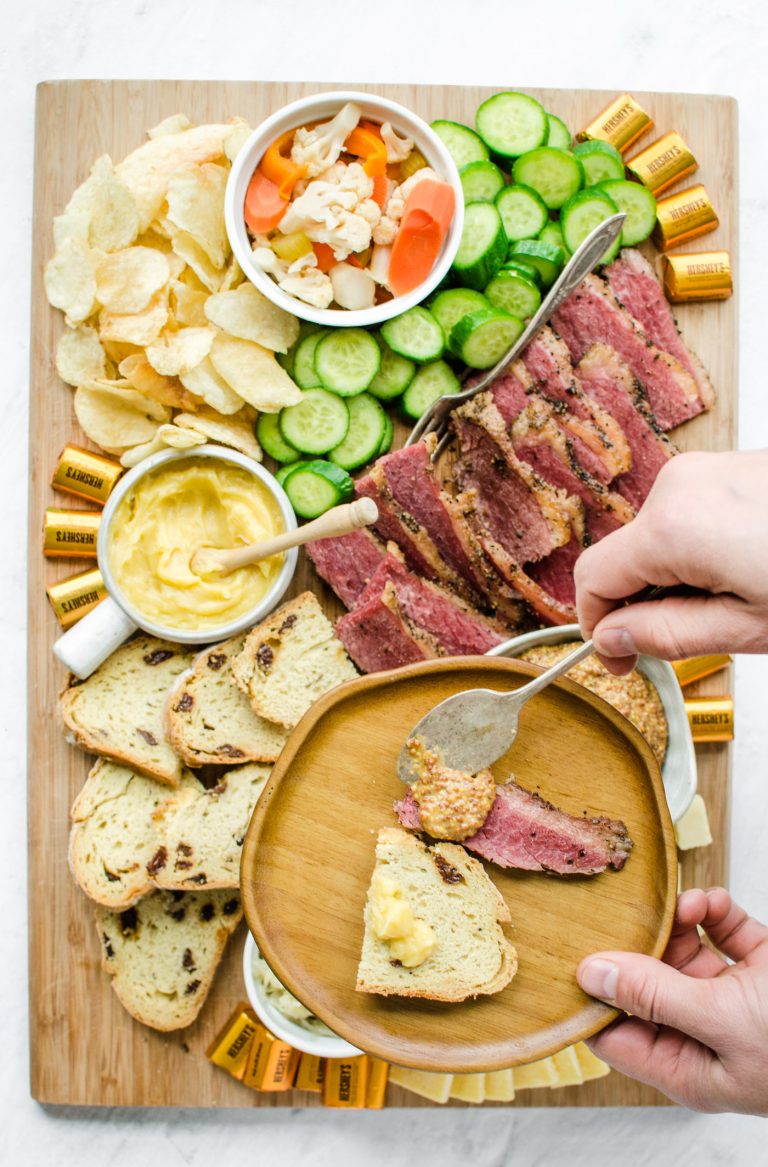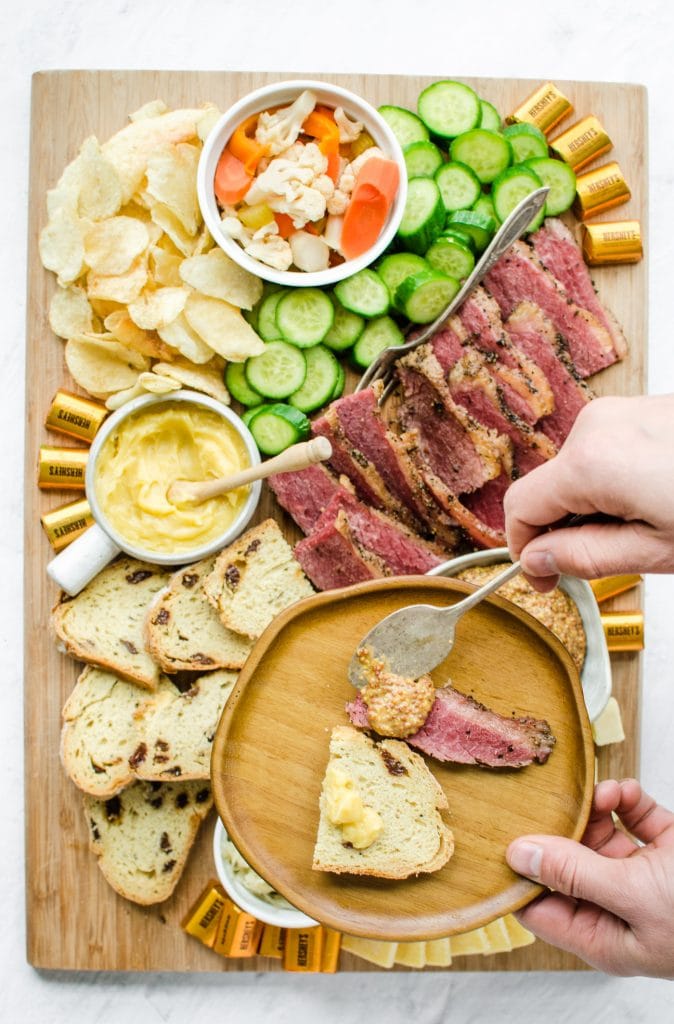 Tips
Have at least one item from each category of spicy, sour/bitter, sweet, salty, and umami (savory). Or two of each category if you plan to serve more than 4 people. This will ensure your board has a balance of flavors that people can get creative pairing together and discover their own new favorite combinations. Here is a basic example of this from my St. Patrick's Day board:

Spicy = grainy mustard
Sour/bitter = pickled vegetables
Sweet = honey butter
Salty = potato chips
Umami/savory = corned beef brisket

Vary the texture, shape, and size of the ingredients on your board for interest. This is easier to do with the cheeses and produce items, as you can choose a hard cheese, semi-soft, and soft, and then mix up the textures and shape of the fruit and veggies.
Use items that need to be served in a bowl to anchor - as you can see in the photos, the honey butter, mustard, pickled veggies, and sauerkraut are in little bowls or vessels that make them easier to serve. Place little bowls and vessels on your board first, then style the other items around them.
Mini utensils work best - little tongs, small forks, and mini spatulas are best for serving items on your board. This way, they won't detract from the look of the food or flop around everywhere as guests serve themselves. Alternativaly, you could also place the serving utensils on a platter next to your board. Below are some of my favorite mini serving pieces:
When it comes to boards....a wooden cutting board, sealed marble or granite board, serving tray, pieces of black slate, or anys serving platter will all work here! And if your board/platter is not big enough for all of your food, just place two boards or platters next to each other. Check out some of the boards/trays I'm swooning over below: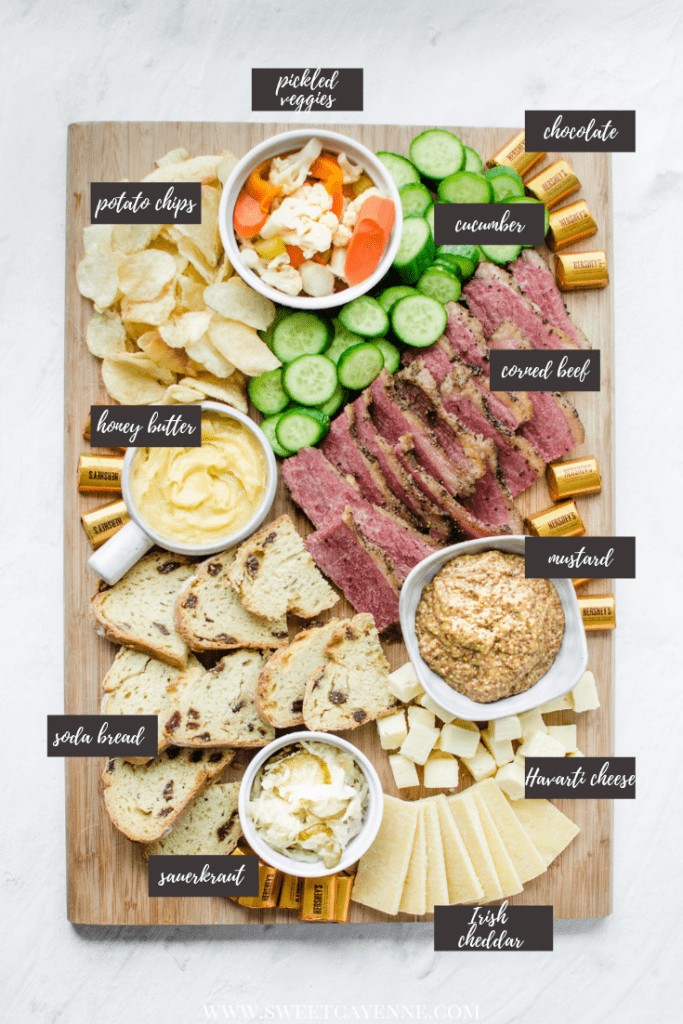 Ingredients
Below is a detailed description of the exact brands and types of ingredients I chose for this St. Patrick's Day-themed board:
Potato chips - I chose these because potatoes are a popular food in Ireland! Salt and vinegar chips taste so good with corned beef brisket. Buy any kettle cooked version - Kettle, Mrs. Vickie's, Private Selection, and Lay's kettle-cooked salt and vinegar chips are all good brands.
Pickled veggies - the pickled cauliflower and carrots on my board were veggies Ryan canned over the summertime. But any pickled veggies you like will work here - pickled asparagus and okra would also be delicious!
Chocolate - you have to have gold chocolate nuggests on a St. Patrick's Day board! The Hershey's milk chocolate nuggets with toffee and almond are my fav.
Cucumber - I bought mini Persian cucumbers from Trader Joe's for this board because they are extra crunchy, seedless, and sweeter/less bitter than other cucumber varieties.
Corned beef - for the corned beef, you have several options. We purchase an uncured, uncooked corned beef brisket from Trader Joe's and smoked it (see instructions below). You could braise or slow cook a corned beef brisket, or just buy it cooked and thinly sliced from a great deli.
Mustard - any grainy, textured, slightly spicy mustard works well here. I used the Ingelhoffer original stone ground mustard from Walmart for my board.
Havarti cheese - a semi-soft cheese with a mild flavor that tastes delish with pickled, sour flavors and pairs well with dill.
Irish cheese - Kerrygold brand has several options for good Irish cheeses that you can find most anywhere. I bought the "Dubliner" version for my board.
Sauerkraut - Trader Joe's has amazing raw, fermented sauerkraut with bits of pickled Persian cucumber in it, which is what I bought for this board.
Irish soda bread - most grocery store bakeries will have Irish soda bread in March. I bought the "Blarney scone" soda bread at Trader Joes. Sprout's store has great soda bread, and Bob's Red Mill makes a great mix. And this homemade recipe from King Arthur looks wonderfule!
Honey butter - Kerrygold salted butter is a MUST for this, and it really is finger-licking good! Instructions for making it are in the recipe below.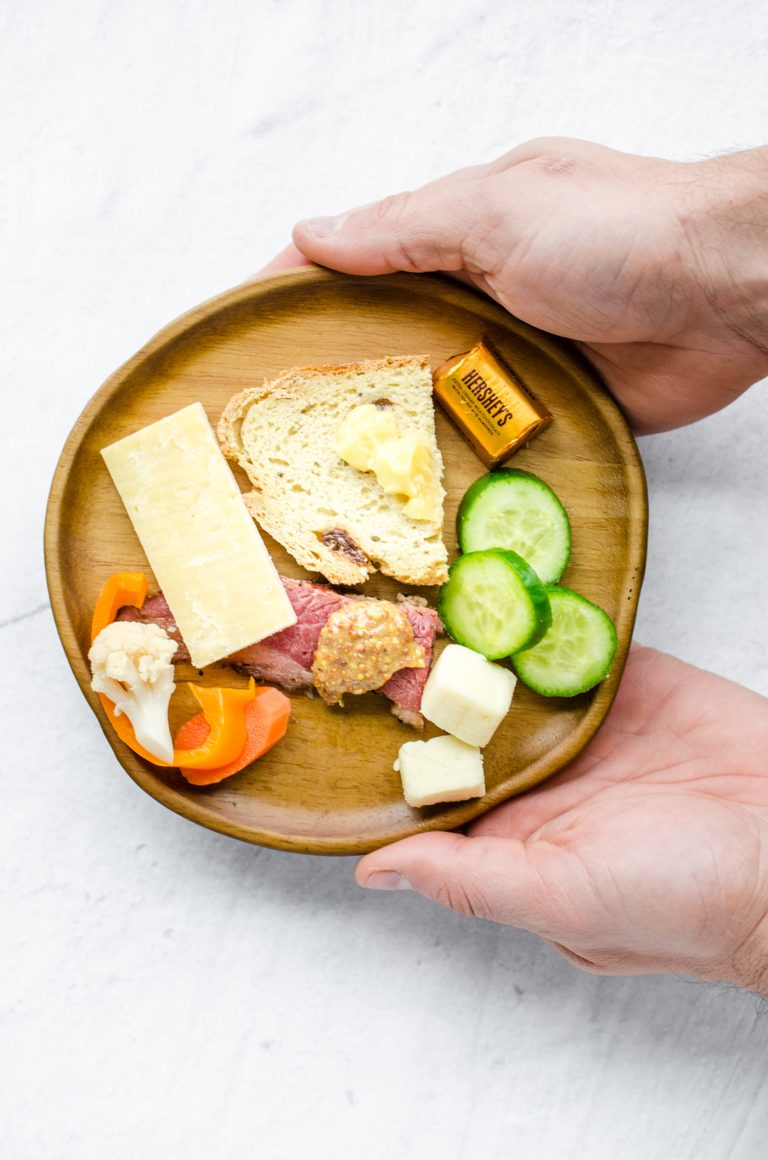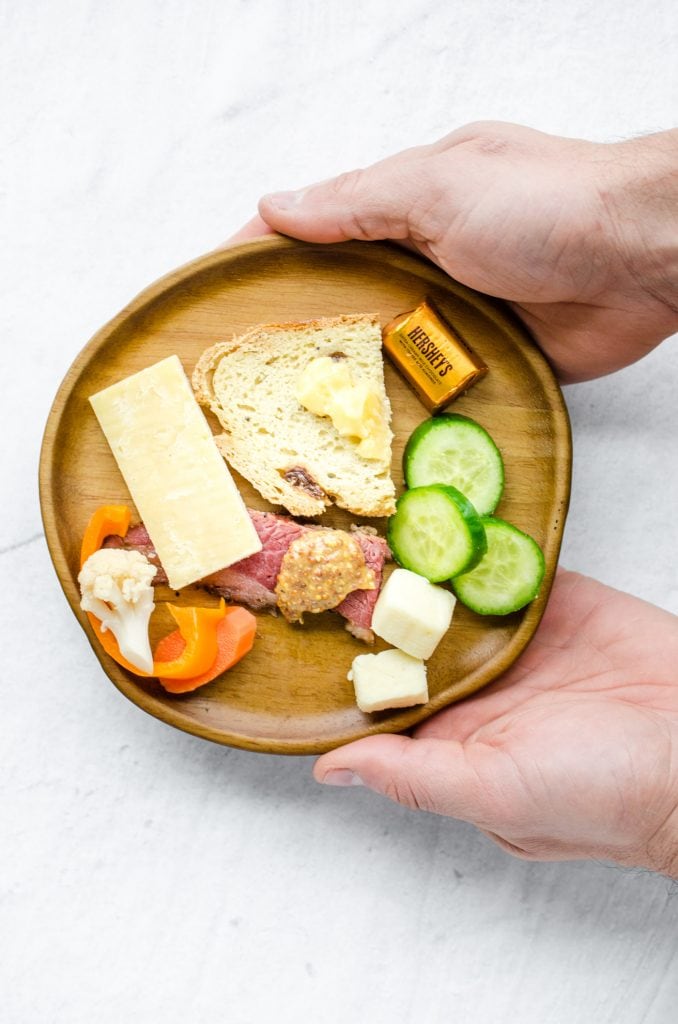 Similar recipes
Are you ready to make your own St. Patrick's Day grazing board? I'm so excited for you to try this recipe! Once you get the chance to make it, please let me know how it turns out for you!
Leave a comment and rate the recipe below. This will help me with the creation of future recipes!
I'd also love to feature your creation in my weekly newsletter, so you can upload a photo to Instagram with the tag @sweetcayenne5 to be featured! Quick and easy recipe videos are available on my YouTube channel, and lots of menu inspiration on my Pinterest boards.
Recipe
St. Patrick's Day Grazing Board
This fresh and festive grazing board recipe features ingredients to create the ultimate St. Patrick's Day party platter!
Print
Pin
Rate
Ingredients
Corned beef brisket, purchased uncooked then smoked OR purchased cooked and sliced

~ 2 ounces per person

Irish soda bread, thinly sliced (toast if you like)

~ 1 ounce per person

Salt and vinegar kettle-cooked potato chips

~ 1 ounce per person

2-3

types of cheeses (I recommend an Irish cheddar, havarti, and then a whiskey, stout-flavored cheese or pub cheese), sliced into cubes, wedges, or rectangles

~ 1 -2 ounces total per person

Pickled vegetables (cauliflower, carrots, and okra are all great options)

~ 1/3 cup per person

Sauerkraut | 1-2 tablespoons per person (raw and fermented, if possible)

~ 1-2 tablespoons per person

Grainy mustard (recommend Ingelhofer Whole Grain Mustard and Maille Old Style mustard)

3

ounces

Kerrygold salted Irish butter, softened to room temperature

⅓

cup

of honey

Persian cucumbers, thinly sliced

~ 1/3 cup per person

Hershey's Gold Nuggets chocolate (I like the milk chocolate with almonds and toffee)
Instructions
For smoking a corned beef brisket (optional):
1 day before smoking: remove the uncooked corned beef brisket from the package and place in a large pot. Cover with water and soak for 6 hours, changing the water every 2 hours. This will remove the salty cure and prevent the brisket from being too salty when cooked. Remove the brisket from water and pat dry. Place in a pan and cover with plastic wrap. Refrigerate overnight.

The day of smoking and serving: remove the brisket from the fridge and let it sit out at room temperature for 30 minutes. While it sits, preheat a smoker to 250℉.

Pat the brisket dry and sprinkle coarse Kosher salt and coarse black pepper on all sides (this will form a crust as it cooks). Place it on the smoker and cook until it reaches an internal temp of 202℉; this should take about 6 hours. During the last hour and a half of cooking, wrap the brisket tightly in foil, placing a splash of beer or apple juice in the bottom of the foil. Once the brisket reaches desired internal temperature, remove it from the smoker. Keep it wrapped in foil and let it rest for 20-30 minutes. While the brisket rests, prepare your board. Thinly slice the brisket against the grain and arrange as desired on a charcuterie board.
For the honey butter:
Whisk together the softened butter and honey until smooth. Serve immediately or refrigerate for up to 3 days. Bring to room temperature before serving.
Putting your board together:
Place the pickled veggies, sauerkraut, mustard, and honey in small serving vessels or bowls. Spread them out on your charcuterie board to make a frame or anchors to arrange the other ingredients around. I like to put my brisket and Irish soda bread in the center of the board, then arrange the other ingredients around them.
Serving:
1
Serving
|
Calories:
937
kcal
|
Carbohydrates:
64
g
|
Protein:
29.2
g
|
Fat:
64.3
g
|
Saturated Fat:
33.5
g
|
Cholesterol:
156
mg
|
Sodium:
1381
mg
|
Potassium:
741
mg
|
Fiber:
3
g
|
Sugar:
38.3
g
|
Calcium:
471
mg
|
Iron:
7
mg
Pin this, pretty please!