This fresh and festive St. Patrick's Day grazing board recipe features Irish-themed foods you can pair together in delicious ways to create an amazing snack board!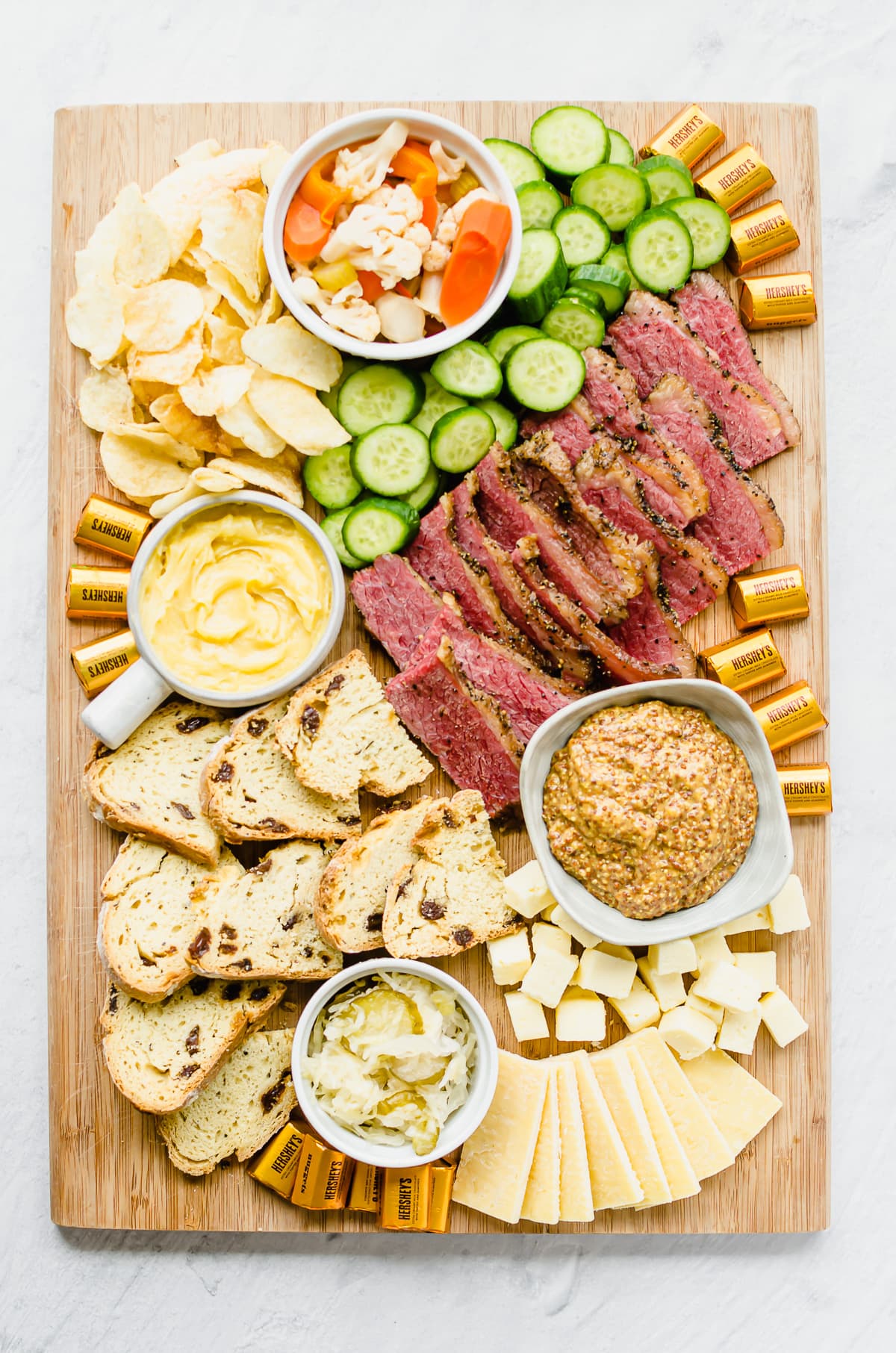 Jump to:
About the recipe
When I think of St. Patrick's Day celebrations, friends gathering in a casual, relaxed setting to laugh and just have some fun is what first comes to mind. Food that is unfussy, comforting, rustic, and maybe even quirky is typically involved.
An Irish-themed charcuterie or snack board seemed like the perfect fit because you can choose tasty Irish-themed foods and serve them in a way that people can help themselves and make their own customized little plate. Take what you want and leave what you don't - basically, have it your way!
So what is a grazing board, anyway?
A "grazing board" is simply a fancy name for a party platter. Marth Stewart has made it a thing on her website, and trendy food sites are adopting the name for whimsically-styled and decadent-looking spreads of, well, finger foods. Stuff you eat with your hands. Personally, I think the term sounds a bit stuffy - but hey, I love all things Martha so I'll jump on the bandwagon!
Grazing boards are made up of a creative collection of foods that you style on a board or platter in an eye-catching way that looks decadent and inviting. People can "nibble" on the elements of the board at a slower pace that encourages conversation, mingling, and discovering new combinations of flavors and textures as they sample all the ingredients.
It's all very casual, and I've found that when I serve something like this, good conversation always ensues. Someone says "oooo have you tried this cheese with that spread?" or "wow, I didn't know grapes taste so good with prosciutto!" Sounds fun, right?!?
Ingredients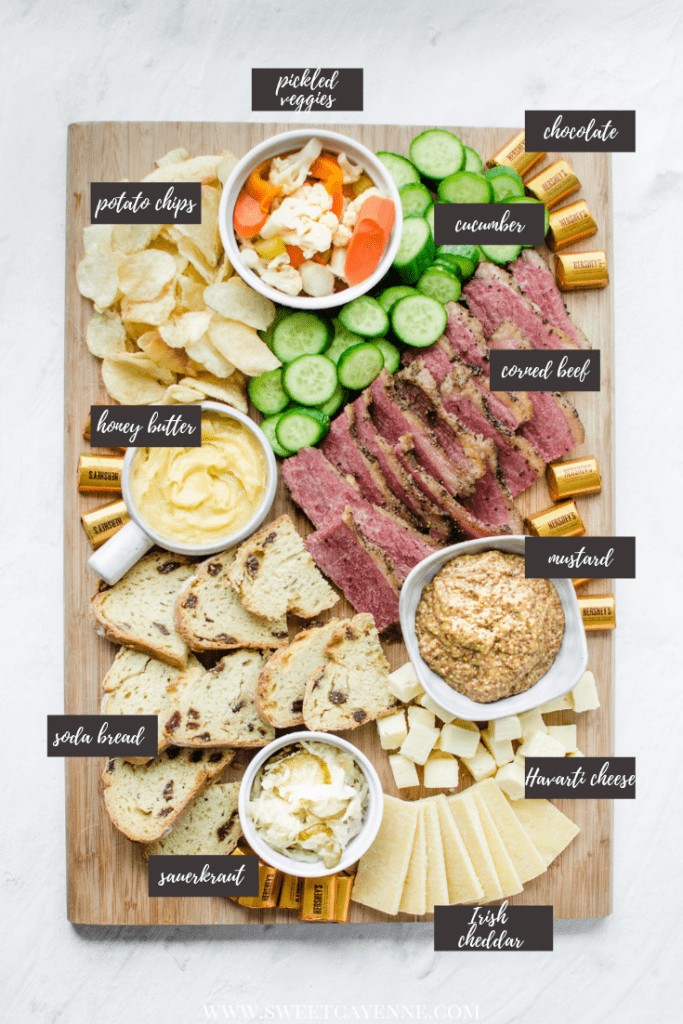 Below is a detailed description of the exact brands and types of ingredients I chose for this St. Patrick's Day-themed board:
Potato chips - I chose these because potatoes are a popular food in Ireland! Salt and vinegar chips taste so good with corned beef brisket. Buy any kettle-cooked version - Kettle, Mrs. Vickie's, Private Selection, and Lay's kettle-cooked salt and vinegar chips are all good brands.
Pickled veggies - the tangy acidity of pickled vegetables is a great compliment to the salty and sweet items on any snack board. Great options include pickles, gherkins, pickled okra, giardiniera blend vegetables, or any pickled food you like!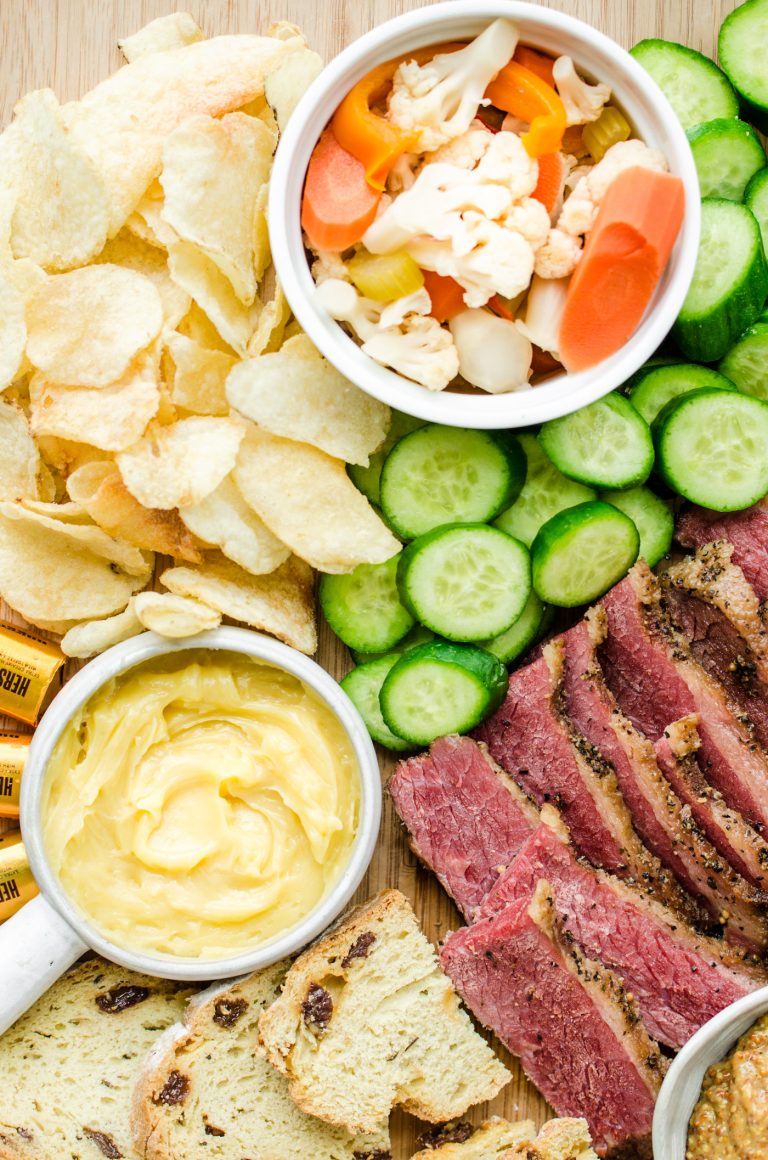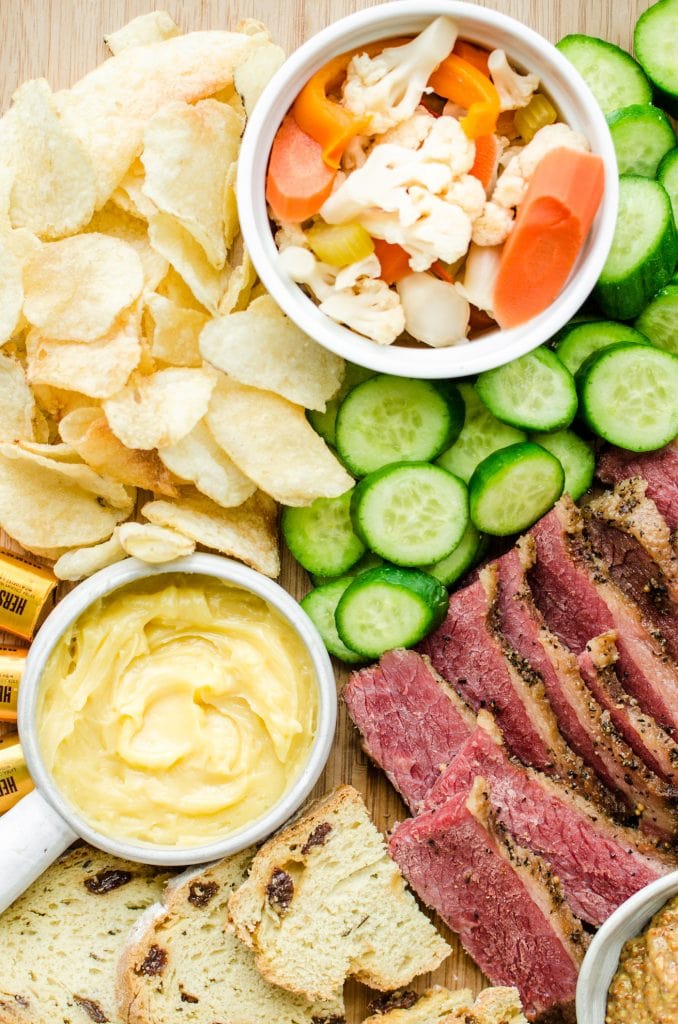 Chocolate - you have to have gold chocolate nuggets on a St. Patrick's Day board! The Hershey's milk chocolate nuggets with toffee and almond are my favorite. This Green St. Patrick's Candy Box assortment would be a great choice as well!
Cucumber - I bought mini Persian cucumbers from Trader Joe's for this board because they are extra crunchy, seedless, and sweeter/less bitter than other cucumber varieties. The addition of a fresh, green crunchy veggie is essential, and celery sticks or broccoli florets would also be great.
Corned beef - for the corned beef, you have several options. Every year, we purchase an uncooked corn beef brisket and smoke it with the instructions from the recipe below. You could braise or slow cook a corned beef brisket, or just buy it cooked and thinly sliced from a great deli.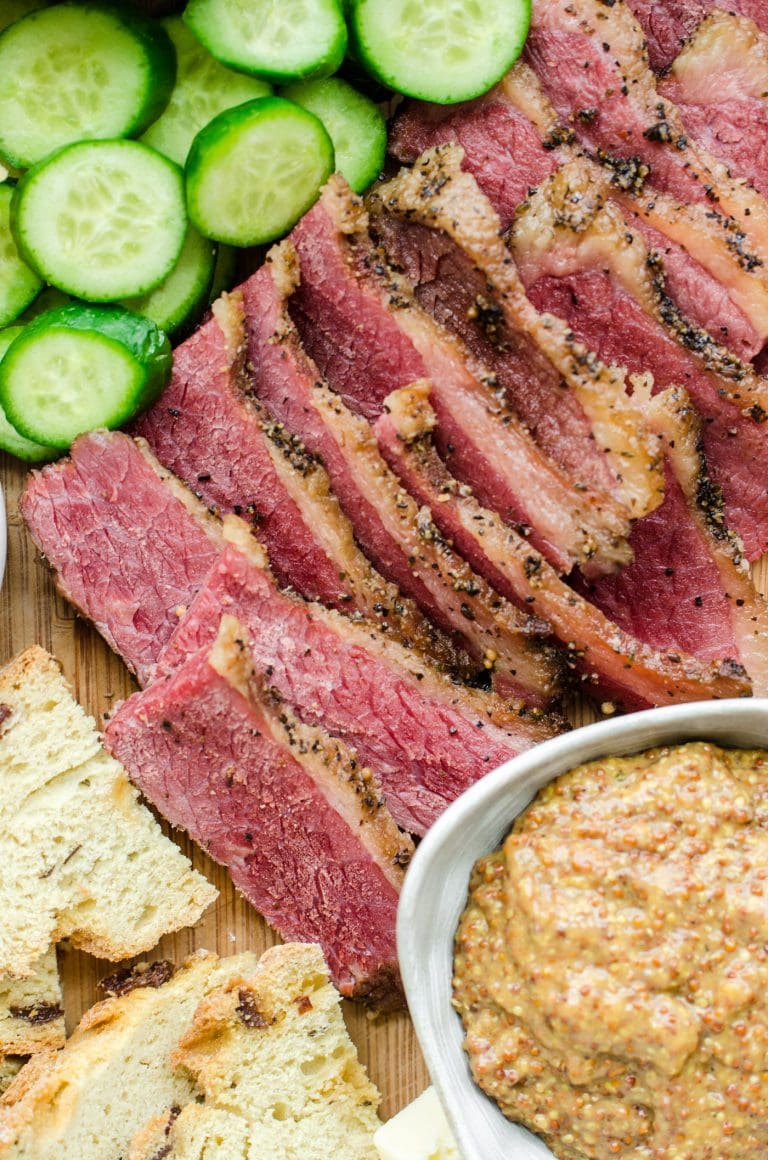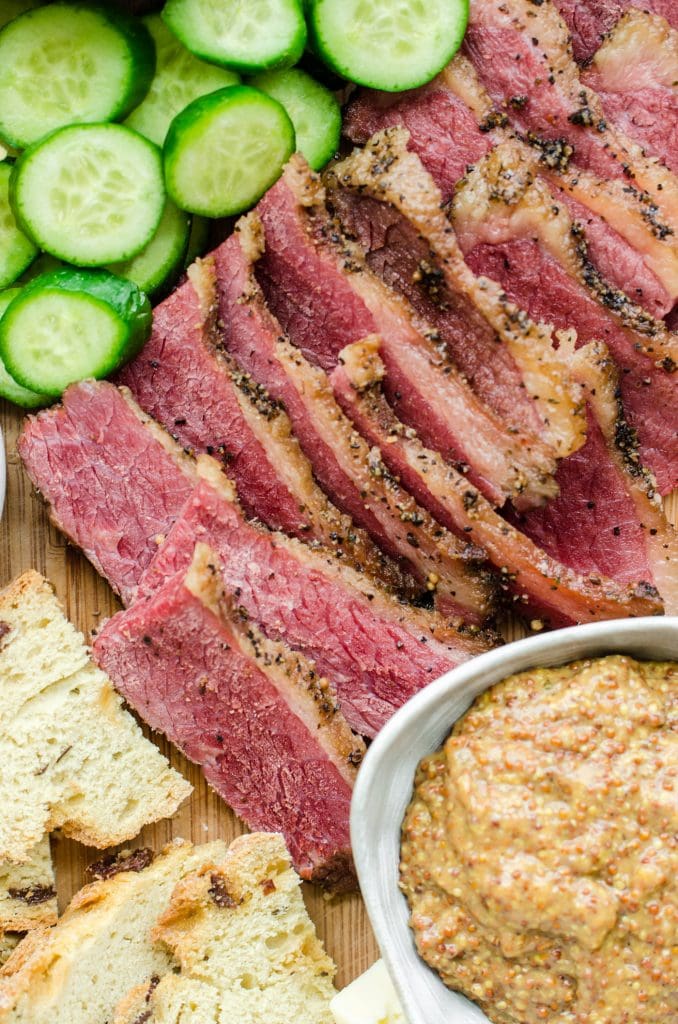 Mustard - any grainy, textured, slightly spicy mustard works well here. Ingelhoffer Original Stone Ground Mustard is my favorite and is always in my fridge.
Cheeses - Kerrygold brand has several options for good Irish cheeses that you can find almost anywhere. I bought the "Dubliner" version for my board. Havarti cheese - a semi-soft cheese with a mild flavor - tastes delicious with pickled foods and is always on my St. Patty's snack board.
Sauerkraut - Trader Joe's has amazing raw, fermented sauerkraut with bits of pickled Persian cucumber in it, which is what I bought for this board.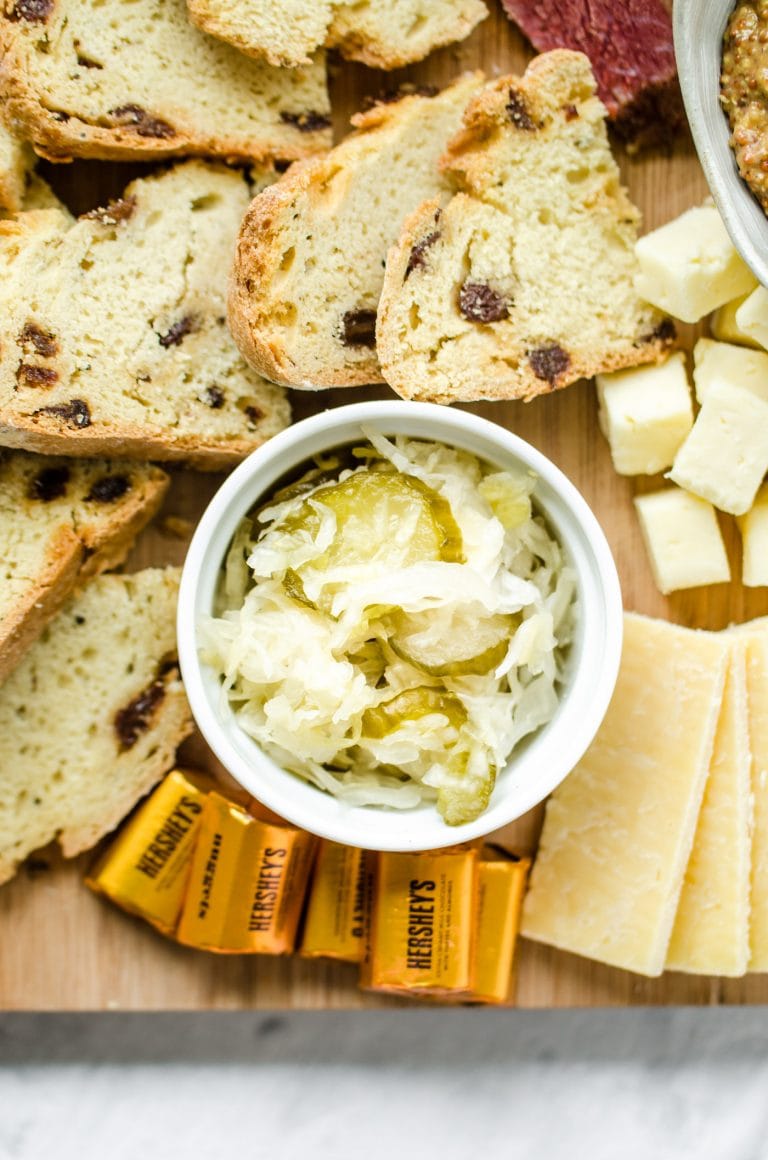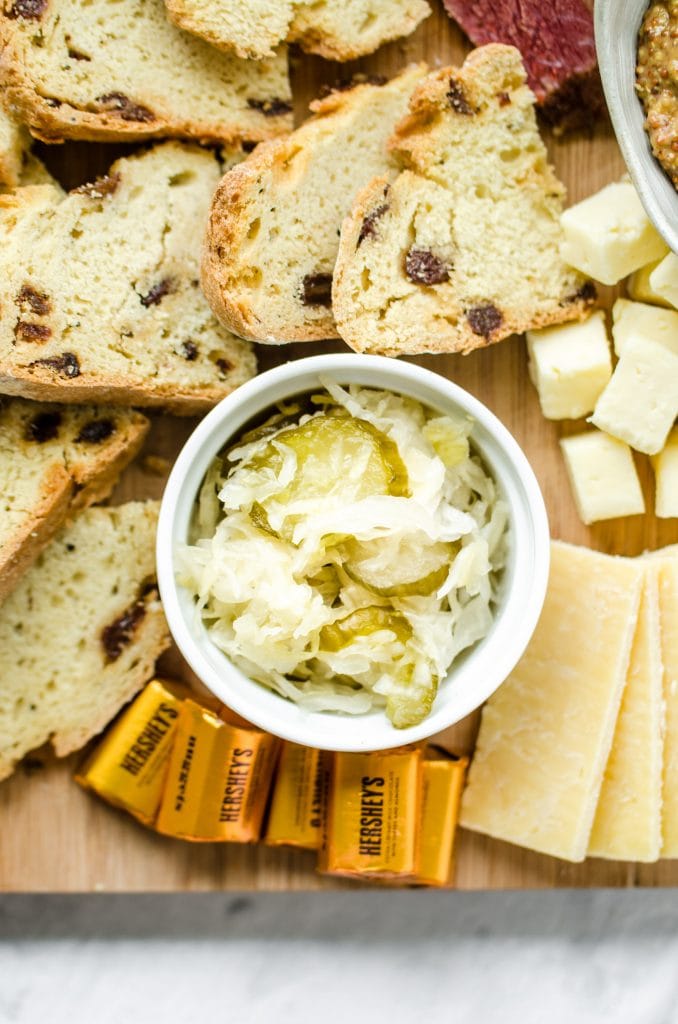 Irish soda bread - most grocery store bakeries will have Irish soda bread in March. I bought the "Blarney scone" soda bread at Trader Joe's. Sprout's store has great soda bread, and Bob's Red Mill makes a great mix. I've also made Grandma's Irish Soda Bread from Sally's Baking Addiction several times and it's delicious!
Honey butter - Kerrygold salted butter is a MUST for this, and it really is finger-licking good! Instructions for making it are in the recipe below.
Top Tips
Below are some of my best tips for making this St. Patrick's Day snack board, as well as some answers to commonly asked questions!
What foods are commonly eaten on St. Patrick's Day?
Delicious Irish-inspired foods that are often eaten on St. Patrick's Day include boiled corned beef and cabbage, Shepherd's Pie, Irish Soda Bread, Colcannon, and of course, Guinness is the drink of choice! In the United States, you'll find lots of green-themed foods, rainbow-inspired dishes, stout-laced stews and desserts, and chocolate.
What items can be made ahead for this snack board?
You can smoked the corned beef up to two days ahead of time for this Irish-themed party snack board. The honey butter can be made a few days ahead as well. All the other items do not require cooking, so they will take very little time to style on your board.
What do you serve at a St. Patrick's Day party?
In addition to this St. Patrick's Day charcuterie board, you might consider serving this fun Pot O' Gold Chocolate Stout Cake and this Easy Potato Leek Soup. The soup can be served straight from the slow cooker with a variety of toppings for people to choose from.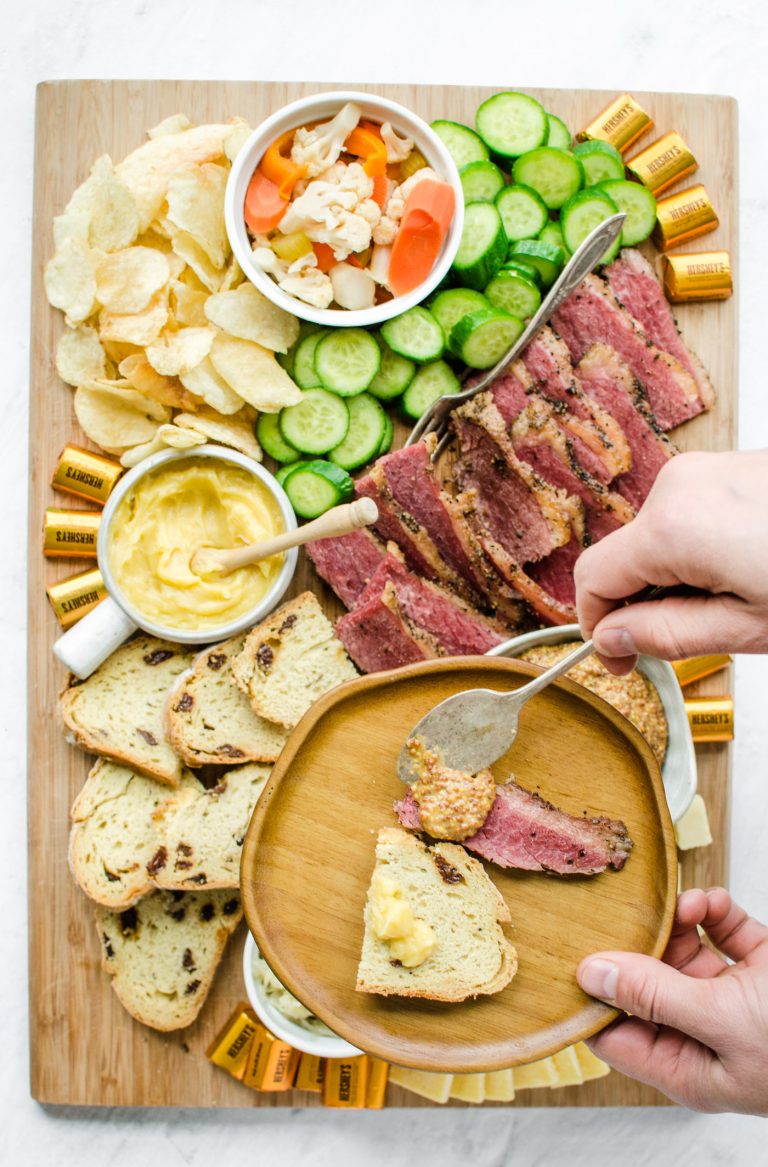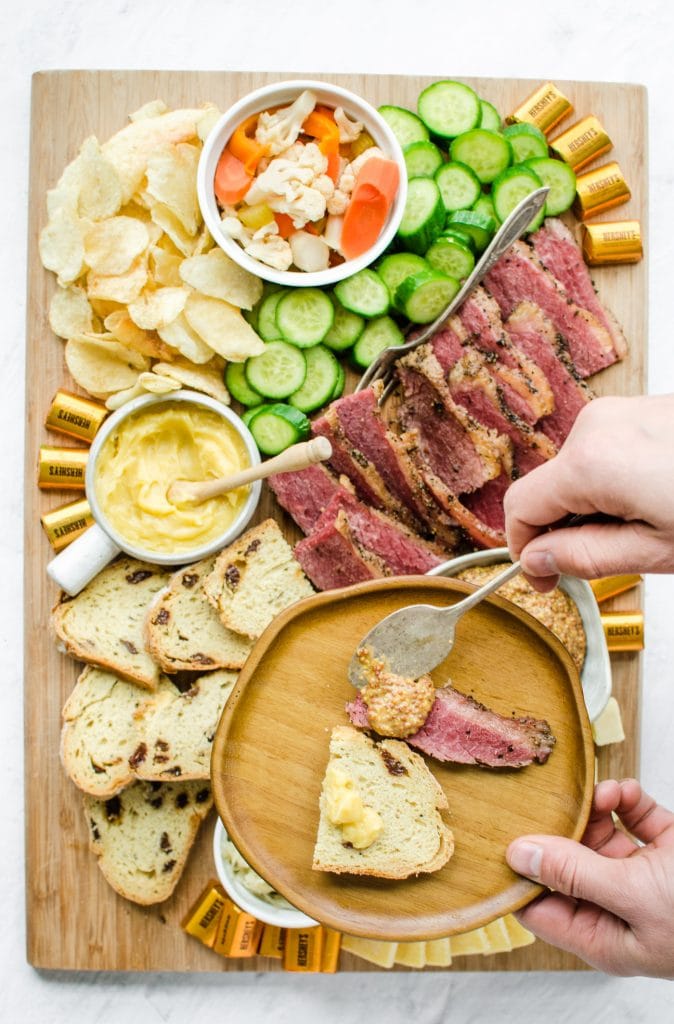 Similar recipes
Are you ready to make your own St. Patrick's Day grazing board? I'm so excited for you to try this recipe! Once you get the chance to make it, please let me know how it turns out for you!
Leave a comment and rate the recipe below. This will help me with the creation of future recipes!
I'd also love to feature your creation in my weekly newsletter, so you can upload a photo to Instagram with the tag @sweetcayenne5 to be featured! Quick and easy recipe videos are available on my YouTube channel, and lots of menu inspiration on my Pinterest boards.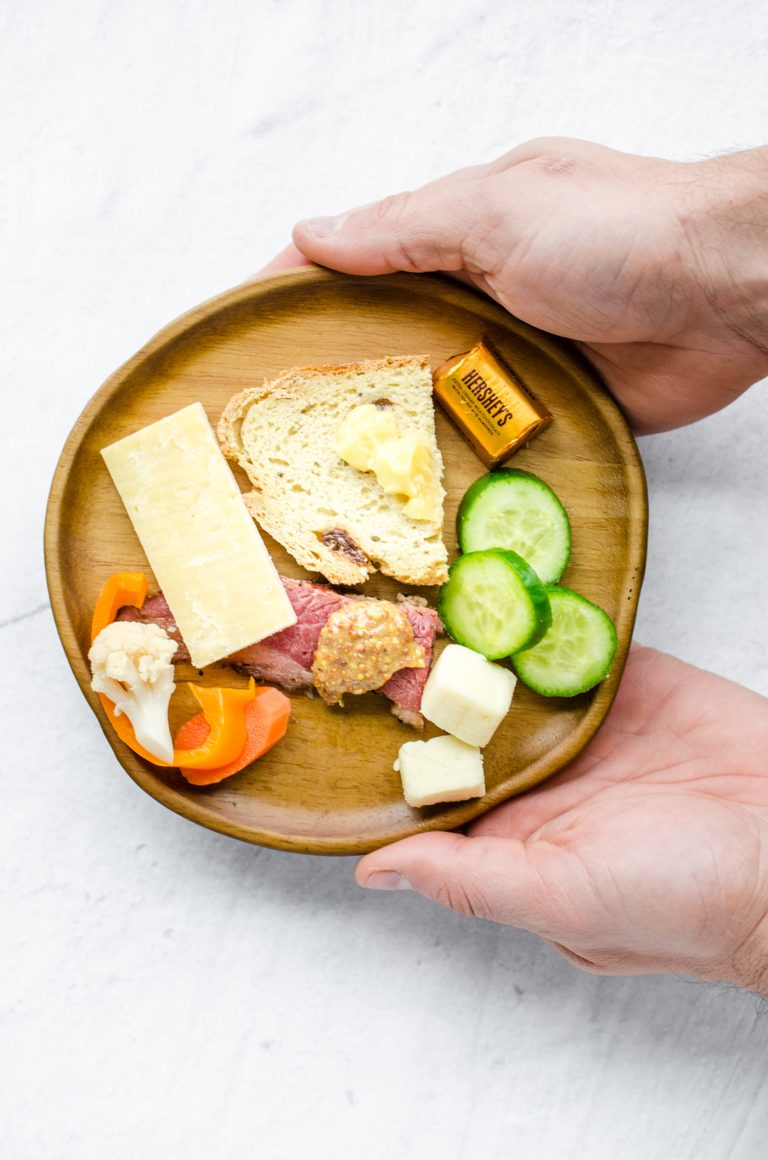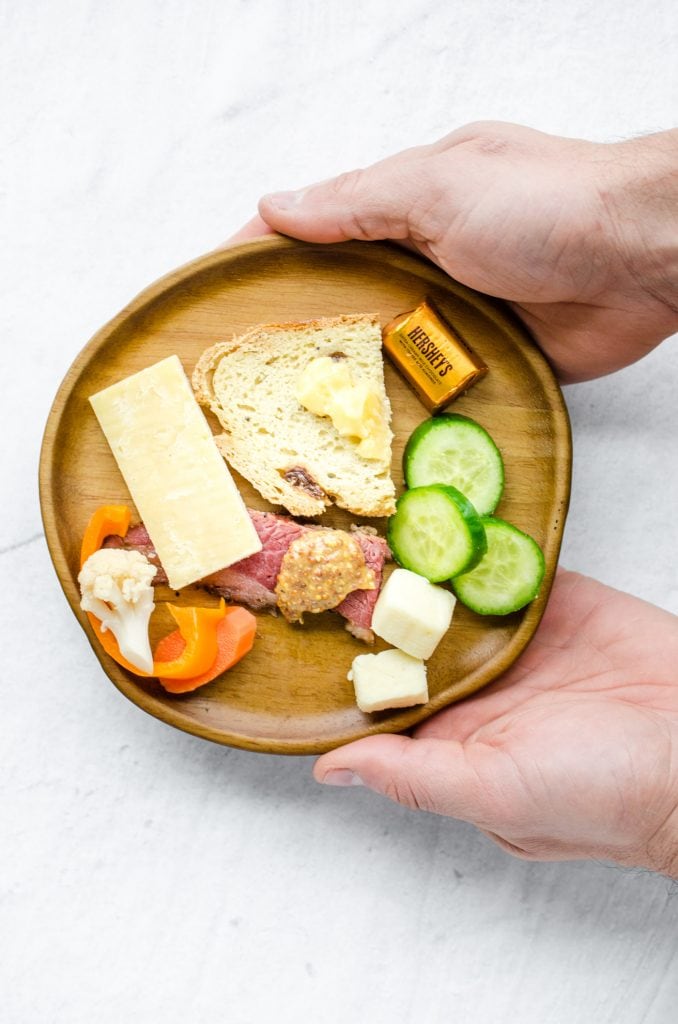 Recipe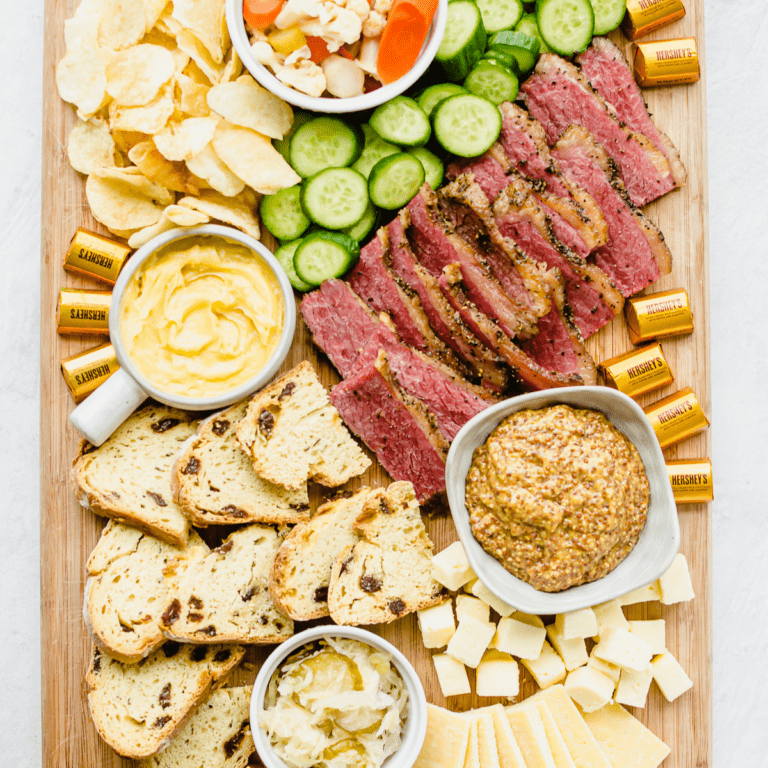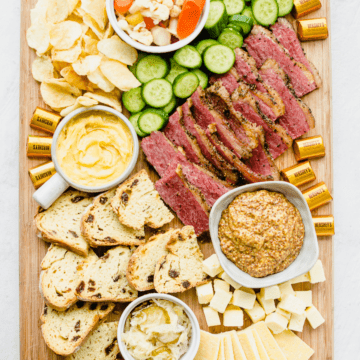 St. Patrick's Day Grazing Board
This fresh and festive grazing board recipe features ingredients to create the ultimate St. Patrick's Day party platter!
Print
Pin
Rate
Ingredients
1

(3-5 pound)

corned beef brisket, flat cut

(or substitute with corned beef purchased from a deli; plan for ~3 ounces per person)

4

ounces

Kerrygold salted Irish butter, softened to room temperature

⅓

cup

honey

1

loaf

Irish soda bread, thinly sliced and lightly toasted

1

bag

salt and vinegar kettle-cooked potato chips

1

block

havarti cheese

1

block

Irish cheddar cheese, such as Kerrygold

1

(16-ounce)

jar of pickled vegetables, such as okra, giardiniera blend, gherkins, etc.

1

(16-ounce)

jar of Sauerkraut (raw and fermented, if possible)

1

bottle

whole-grain mustard (recommend Ingelhofer Whole Grain Mustard and Maille Old Style mustard)

1

large

English cucumber, thinly sliced

1

bag

Hershey's Milk Chocolate Gold Nuggets with Almonds and Toffee
Instructions
Smoking the brisket (up to 2 days ahead)
1 day before smoking

Remove the brisket from packaging and discard the seasoning package. Rinse the brisket thoroughly under cold running water. Thoroughly pat dry with paper towels. Place on a wire rack inside of a pan. Let the brisket rest in the fridge, loosely covered or uncovered on a shelf by itself, overnight.

The day of smoking and serving

Trim off any excess fat or thin portions so that the brisket is an even thickness. Season all sides of the brisket with coarsely ground pepper. Let sit at room temperature for 30 minutes. While it sits, preheat a smoker to 250℉ and add wood chips.

Place the brisket it on the smoker and cook until it reaches an internal temp of 165°F, about 2-4 hours. Next, wrap the brisket tightly in foil, placing a splash of beer or apple juice in the bottom of the foil.

Continue smoking the brisket until it reaches an internal temperature of 203°F on an instant-read thermometer. Once the brisket reaches desired internal temperature, remove it from the smoker, wrap it in a towel, and let it rest inside of a cooler for an hour. During the resting time, prepare the ingredients for your board.

Slice the brisket thinly against the grain and serve. **See notes for reheating options.
For the honey butter:
Whisk together the softened butter and honey until smooth. Serve immediately or refrigerate for up to 3 days. Bring to room temperature before serving.
Putting your board together:
Toast the soda bread and slice the cucumber or any fresh veggies.

Place the pickled veggies, sauerkraut, mustard, and honey in small serving vessels or bowls. Spread them out on your charcuterie board to make a frame or anchors to arrange the other ingredients around.

I like to put my brisket and Irish soda bread in the center of the board, then arrange the other ingredients around them. Serve and enjoy!
Notes
**Making the brisket ahead and reheating: the brisket can be smoked up to 2 days ahead and reheated prior to serving. Once it is sliced thinly, cool and store in an airtight container in the refrigerator. To reheat, place brisket slices in a baking dish with a lid. Add a few splashes of beer or beef broth to the bottom of the pan. Heat, covered, at 325°F in the oven for 25-35 minutes or until heated thoroughly. Serve while hot. 
Serving:
1
Serving
|
Calories:
937
kcal
|
Carbohydrates:
64
g
|
Protein:
29.2
g
|
Fat:
64.3
g
|
Saturated Fat:
33.5
g
|
Cholesterol:
156
mg
|
Sodium:
1381
mg
|
Potassium:
741
mg
|
Fiber:
3
g
|
Sugar:
38.3
g
|
Calcium:
471
mg
|
Iron:
7
mg