This easy Instant Pot Chicken Posole Verde is a quick weeknight soup you can whip up and serve on a chilly night - you can also make it in the slow cooker!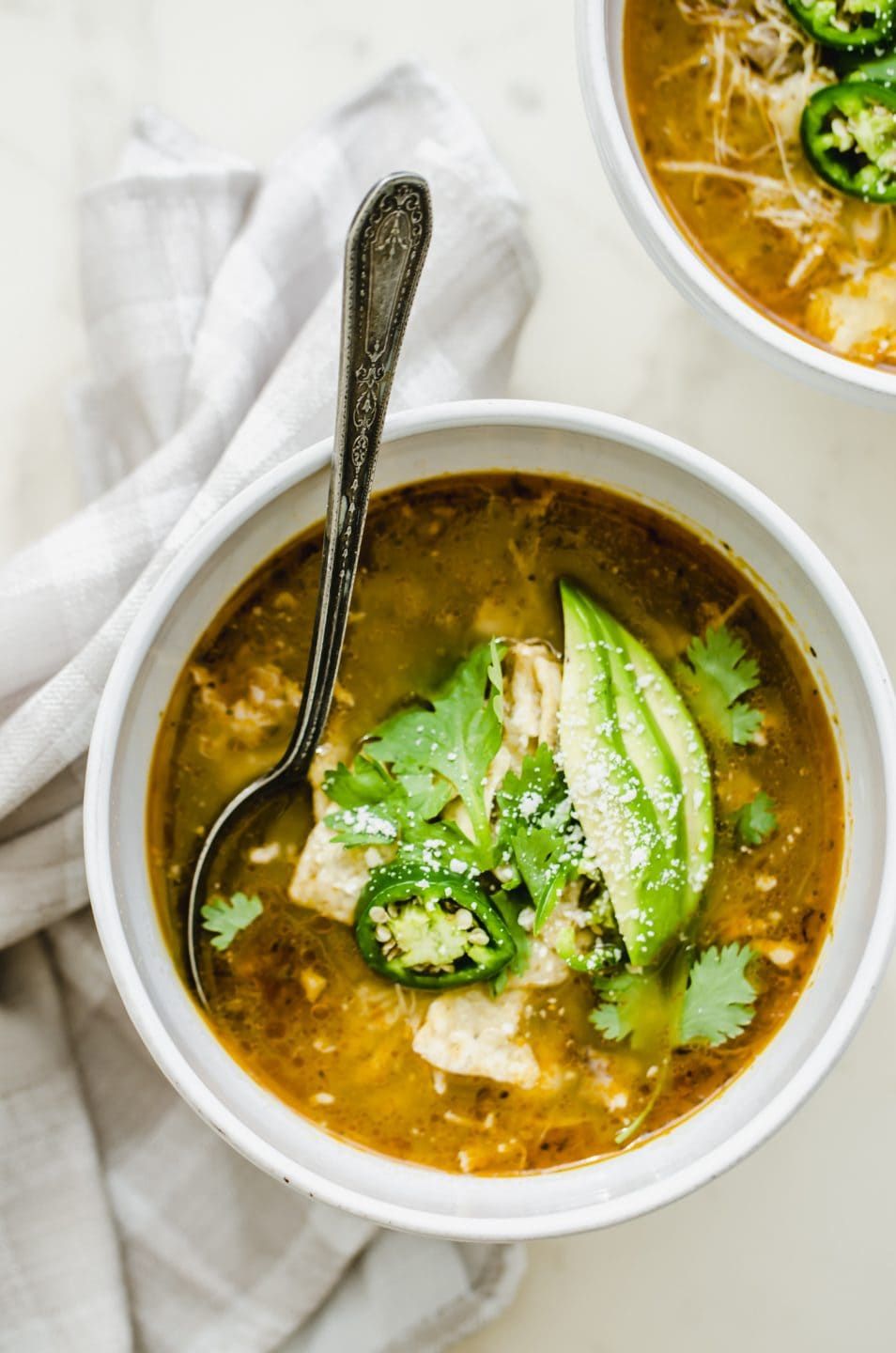 It's finally cool enough to deem it "soup season" in TN and I am clapping my hands with excitement! If you were to ask what my favorite thing to cook was, I would have to say soups and stews. There is something really special about the process of building layers of flavor, texture, color, and fragrance while making soup. It's so satisfying! And it's amazing to have soup leftovers. Even if I have to eat the same soup 4 times in the course of a week, I always look forward to it. It's easy, simple, nourishing, and I'm never made about a one-bowl meal that just needs heating to serve.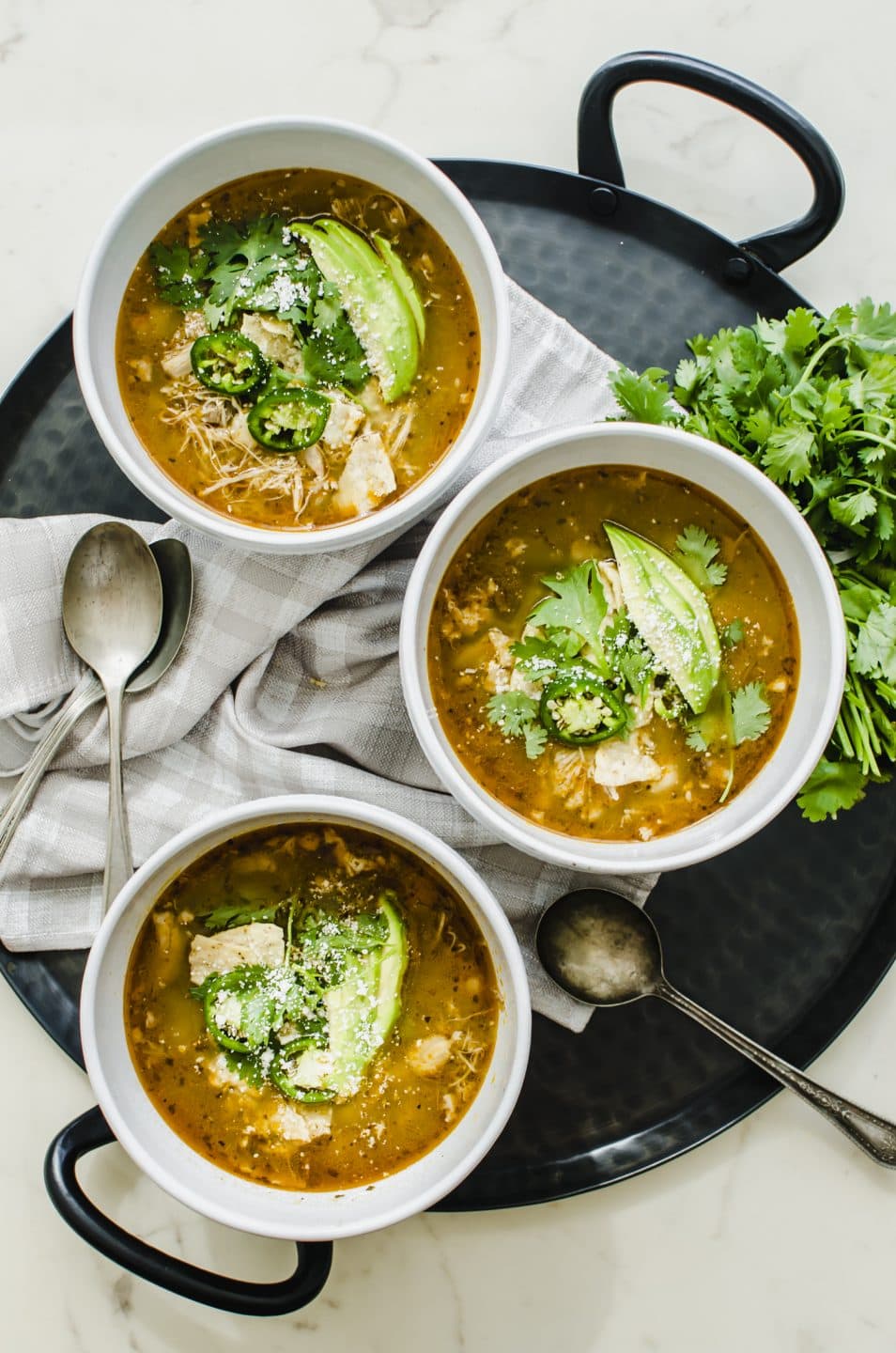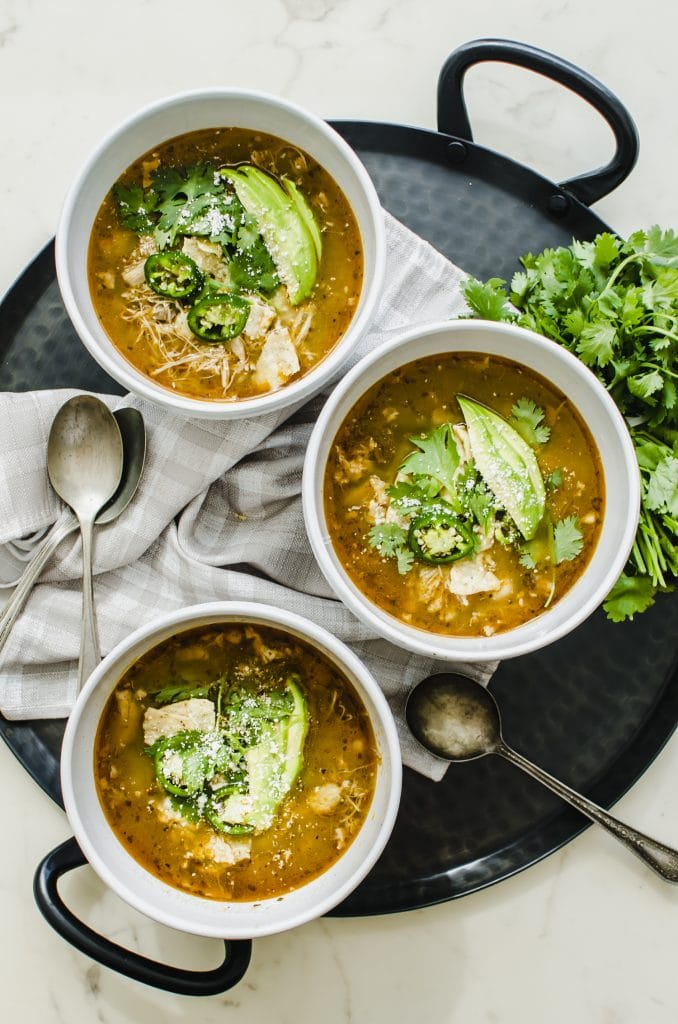 This week, I'm sharing an easy version of a Mexican Chicken Posole that can be made in an Instant Pot or Slow Cooker. It's perfect for a weeknight due to a few shortcut ingredients and can be loaded with fresh garnishes like avocado, lime juice, cotija cheese, or cilantro to make it colorful and fun. I'll be looking forward to making this all winter long, and hope you get a chance to try it!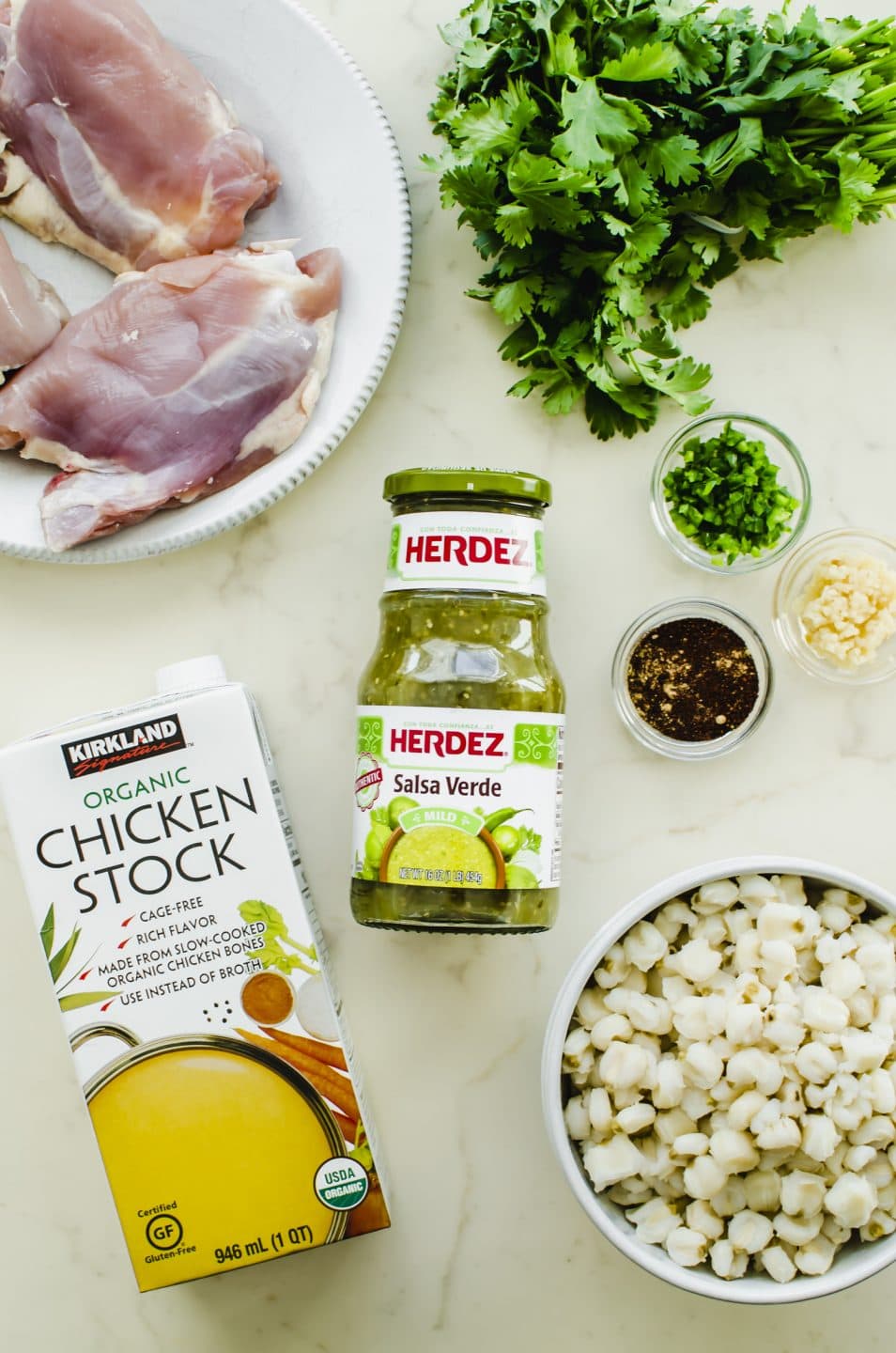 What is Posole Verde?
Mexican Posole Rojo (red) is a soup that is traditionally made from pork and hominy with a base of red chiles, such as ancho or guajillo. It's one of my favorite things to order at authentic Mexican restaurants when we visit family in Dallas, Tx. In Mexico and New Mexico, posole is a popular dish around the holidays and is often served on Christmas Eve or Christmas Day. The process of making posole often involves hours of simmering dried hominy kernels in broth. Variations of posole include making it with chicken instead of pork; or making a Posole Verde which is made with a base of green ingredients, such as tomatillos, poblanos, and jalapenos.  Posole is garnished with a wide array of fresh and healthy ingredients, like shredded cabbage, thinly sliced radish, fresh lime, diced onion, avocado, and cilantro. It is certainly a must-try if you love authentic Mexican food!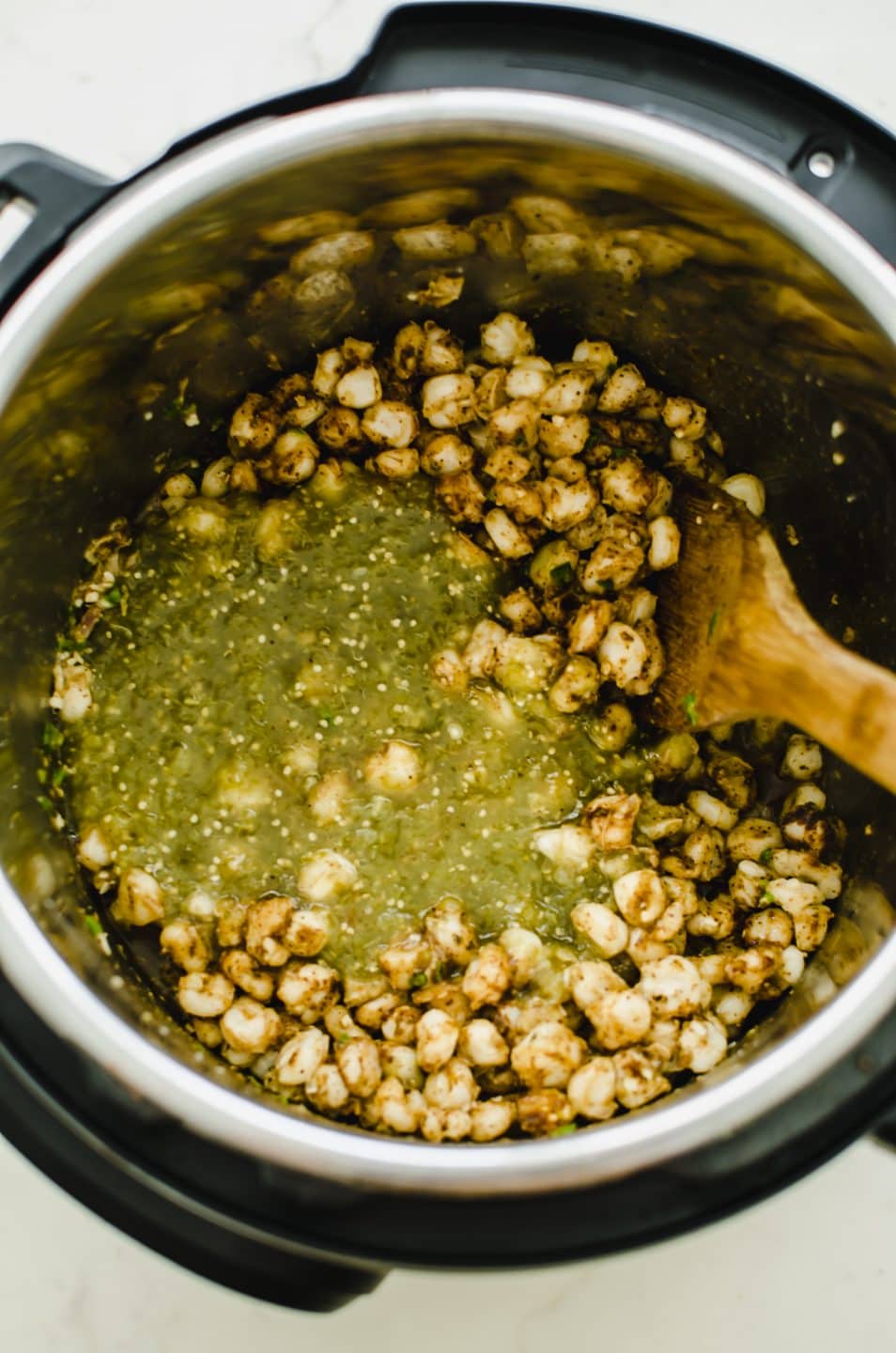 Ingredients
To streamline the process of making posole and make it suitable for an easy weeknight meal, we are using a few shortcut ingredients and recruiting the handy Instant Pot to do the cooking work for us. There are also instructions for making this in the slow cooker in the recipe at the bottom of this post!
Boneless skinless chicken thighs - I love the extra flavor that chicken thighs impart to soups and stews. Thighs are also friendlier to the budget and become really tender when cooked in an Instant Pot. You can also use chicken breasts easily in this recipe if you would prefer that!
Minced garlic and jalapeno - both of these aromatics add depth of flavor and freshness to the soup.
Ground ancho chile pepper, cumin, and oregano - ground ancho chile pepper is a short cut, as traditional posole calls for utilizing whole dried chiles that get rehydrated and blended into a puree. Cumin and Mexican oregano are also staple ingredients in Mexican soups. Regular oregano will be fine if you don't have Mexican oregano - although the latter will have more of a citrusy, grassy flavor.
Salsa verde - Posole Verde calls for fresh tomatillos and poblanos blended together to make a green base. The Herdez Salsa Verde is a shortcut ingredient that contains all the fresh veggies and chiles that you would find in a traditional Posole Verde.
Chicken stock - I always prefer to use a chicken stock over a chicken broth in my soups and stews, as it provides much more flavor and deeper, richer color. Buy unsalted chicken stock if you can find it so that you can control the amount of sodium in this soup more easily.
Hominy - canned white Mexican hominy has a toothy texture and makes Posole hearty and flavorful. It's made from a type of field corn kernels that are soaked in a lye or lime solution to soften the outer hulls.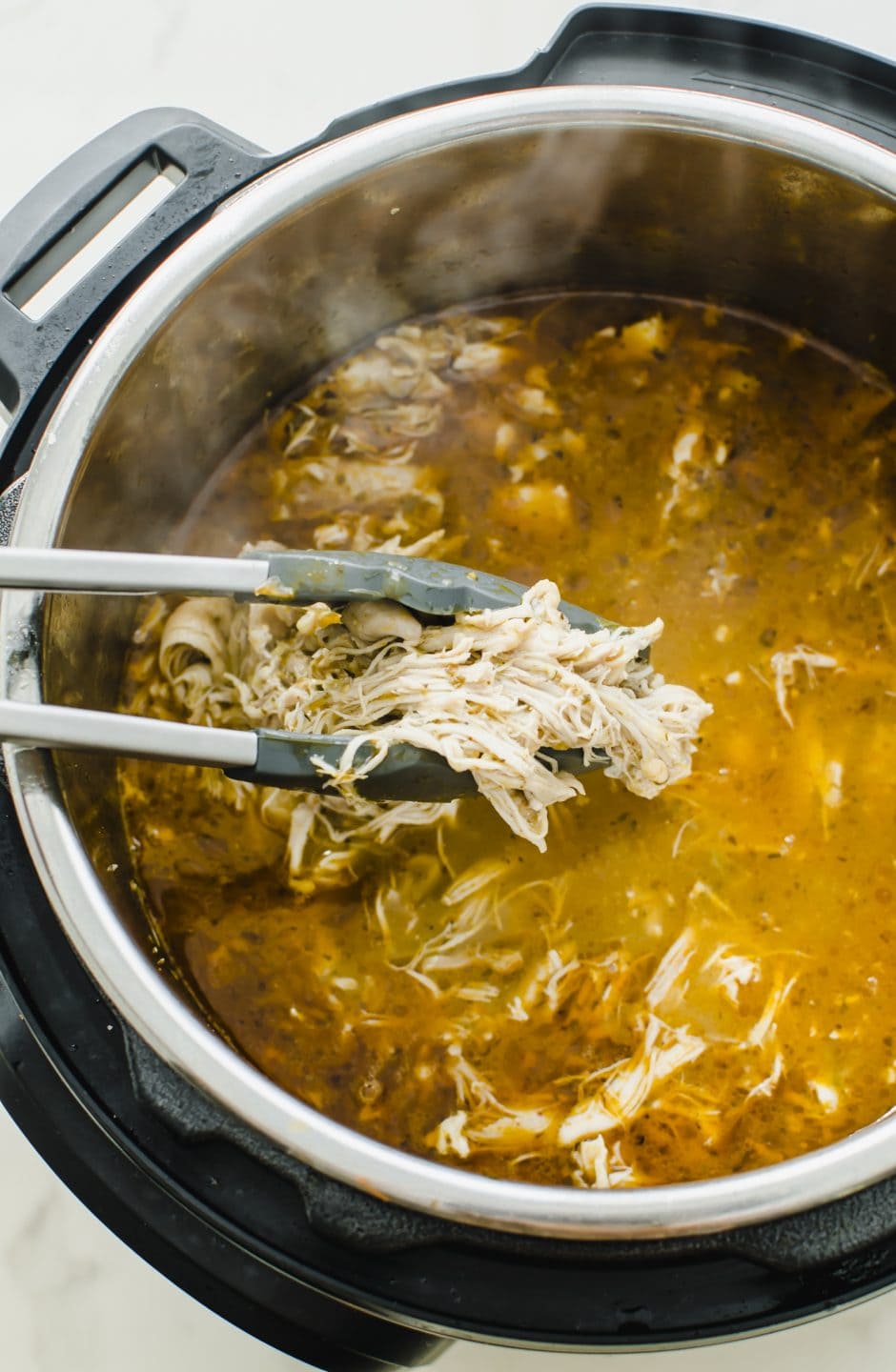 Instructions
Saute the chicken in the Instant Pot - the first step in making this version of Chicken Posole Verde is to brown the chicken thighs in a bit of oil in the bottom of an Instant Pot. This will give the chicken a better overall flavor and texture.
Toast the spices and aromatics in the pot - once the chicken is removed from the pot, you will want to add the garlic and jalapeno, stirring just until they are fragrant. Next, you will coat them in the ground ancho pepper, cumin, and oregano. The direct heat from the bottom of the pot will release oils from the spices and develop flavor in the base of the Posole.
Add the hominy and salsa - the hominy and salsa will be blended together with the spices and aromatics in the bottom of the pot, further concentrating the flavor as everything melds together.
Add the chicken stock and chicken thighs - lastly, you will add back the chicken thighs to the pot and the chicken stock, then it is time to pressure cook!
Cook on high pressure - the soup will cook for a total of 17 minutes under high pressure. However, you need to allow about 10 minutes on the front end for the pot to come to pressure and 10 minutes in the end for a natural pressure release. So all in all, 37 minutes of total time in the pot.
Shred the chicken into the soup - once the soup is done cooking, you will remove the chicken thighs, shred them with forks, then return the meat back to the pot.
Serve with fresh garnishes - you can choose any combination you like of shredded cabbage, sliced radishes, onion, cilantro, avocado, lime juice - or be like me and add an untraditional handful of crush tortilla chips and a sprinkling of Cotija cheese. You do you, and enjoy!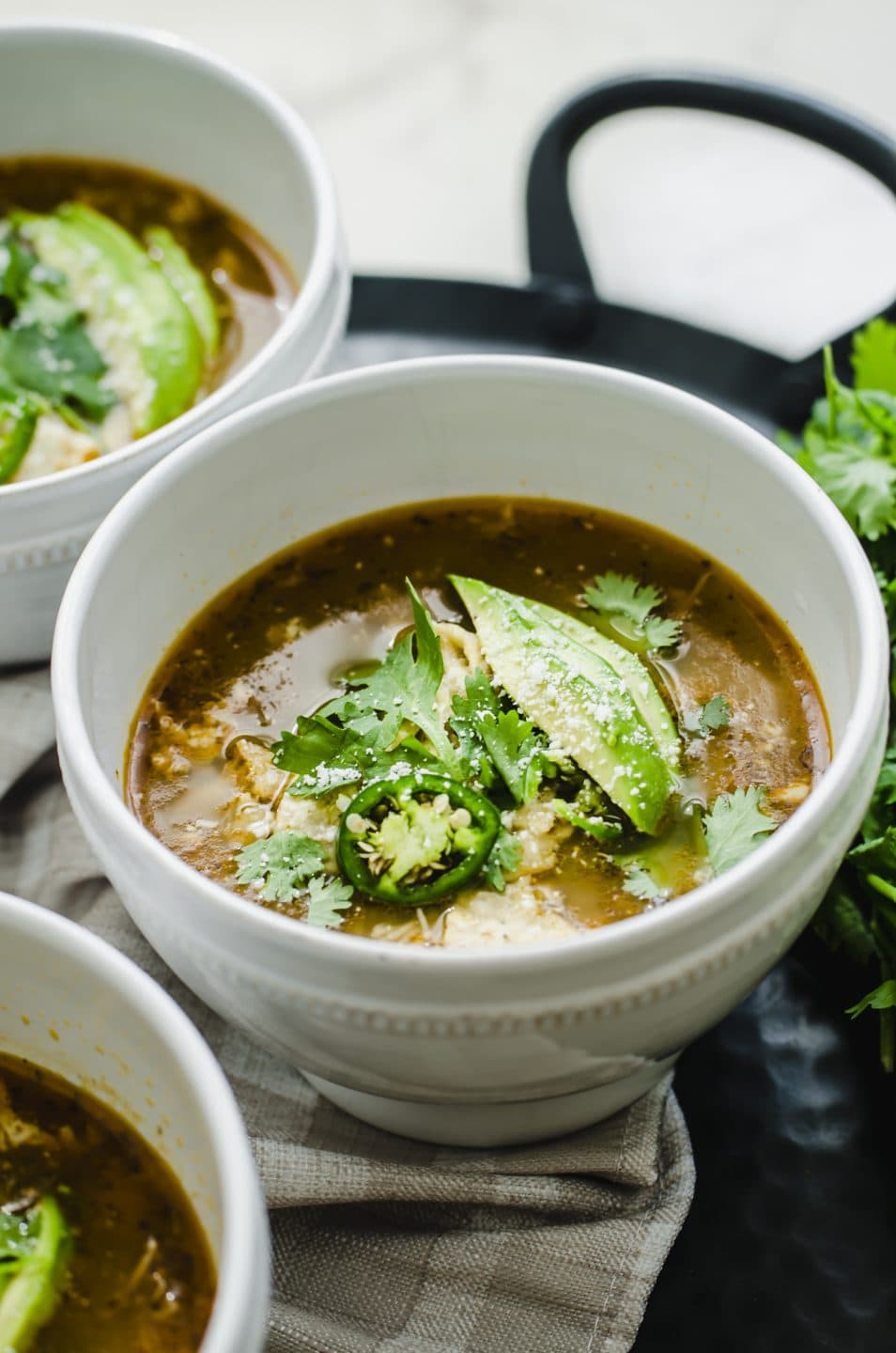 Are you ready to make this Instant Pot Chicken Posole Verde? I'm so excited for you to try this recipe. Once you get the chance to make it, please let me know how it turns out for you!
Leave a comment and rate the recipe below. This will help me with the creation of future recipes!
I'd also love to feature your creation in my weekly newsletter, so you can upload a photo to Instagram with the tag @sweetcayenne5 to be featured! Quick and easy recipe videos are available on my YouTube channel, and lots of menu inspiration on my Pinterest boards.
Recipe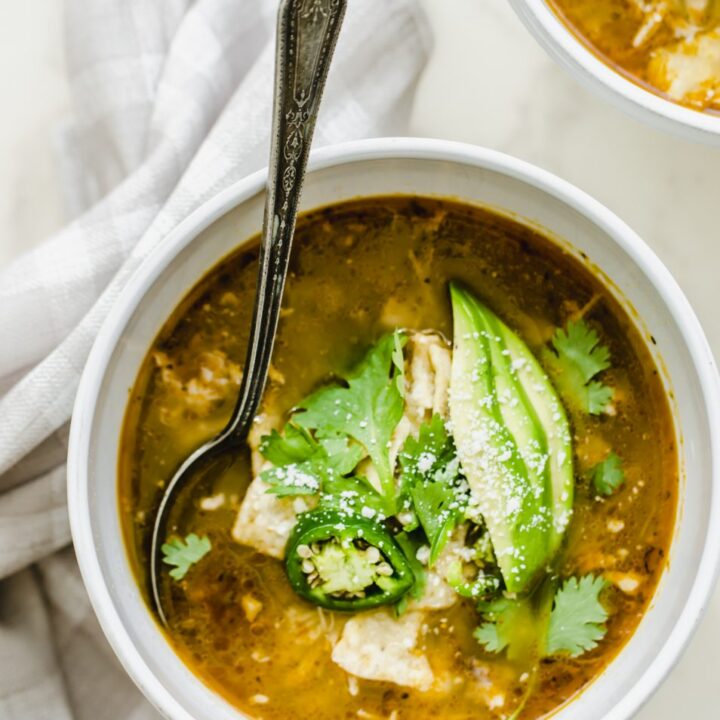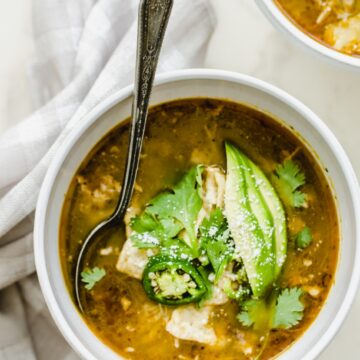 Instant Pot Chicken Posole Verde
A tasty recipe for chicken posole verde cooked using an Instant Pot.
Print
Pin
Rate
Ingredients
5

whole

boneless skinless chicken thighs (about 1.25 lbs, or substitute with 2 chicken breasts)

Salt and pepper

Oil

1

whole

jalapeno, seeded and finely minced

2

teaspoons

minced garlic

1

teaspoon

ground ancho chile pepper

1

teaspoon

oregano

1

teaspoon

cumin

1

(26-ounce)

can white hominy, drained

1

(16-ounce)

jar green salsa verde

4

cups

low-sodium chicken stock (6 cups for slow cooker)

Garnish options: lime wedges, cotija cheese, cilantro, avocado, crushed tortilla chips, thinly shredded cabbage, thinly-sliced radish or jalapeno.
Instructions
For the Instant Pot:
Set the Instant pot on "Saute" mode. Season both sides of the chicken thighs with salt and pepper. Add 1 tablespoon of oil to the bottom of the pot. Brown the chicken thighs for 2-3 minutes on each side; you may need to do this in 2 batches. Remove the chicken thighs from the pot and set aside on a plate.

Add the jalapeno and minced garlic to the pot. Stir until fragrant, about 30 seconds. Add the salsa verde, chile pepper, oregano, cumin, and hominy, stirring to coat the hominy. Add the chicken stock and return the chicken thighs to the pot.

Place the lid on the Instant Pot and set the vent to "sealing." Cook on manual high pressure for 17 minutes. Allow for a 10-minute natural pressure release, and then manually release the rest of the pressure.
For the slow cooker:
Follow the steps above for sauteeing all of the ingredients, except do this in the bottom of a skillet or heavy-bottomed pot. Next, add all ingredients (except the hominy) to the slow cooker. Cook on low for 6-8 hours or on high for 3-4 hours until the chicken is cooked through and easily shredded with a fork. Add the hominy during the last hour of cooking. Proceed with the recipe as written.
Finishing the soup:
Remove the chicken thighs from the pot and shred with two forks. Transfer the shredded chicken back into the pot.

Serve the soup garnished as desired with fresh lime juice, a sprinkling of Cotija cheese, sliced avocado, fresh cilantro, and crushed tortilla chips.

Leftover soup can be refrigerated for up to 5 days and reheated as needed, or frozen for up to 6 months.
Serving:
1
Serving
|
Calories:
282
kcal
|
Carbohydrates:
4.2
g
|
Protein:
32
g
|
Fat:
10.3
g
|
Saturated Fat:
2.3
g
|
Cholesterol:
84
mg
|
Sodium:
812
mg
|
Potassium:
354
mg
|
Fiber:
1.1
g
|
Sugar:
1.8
g
|
Calcium:
38
mg
|
Iron:
2
mg
Pin this, pretty please!