These golden and delicious Kentucky Hot Brown Sliders are the perfect way to use up leftover Thanksgiving turkey and are great to serve during holiday weekend football games! You are going to go crazy for the mini version of the classic Kentucky Hot Brown Sandwich.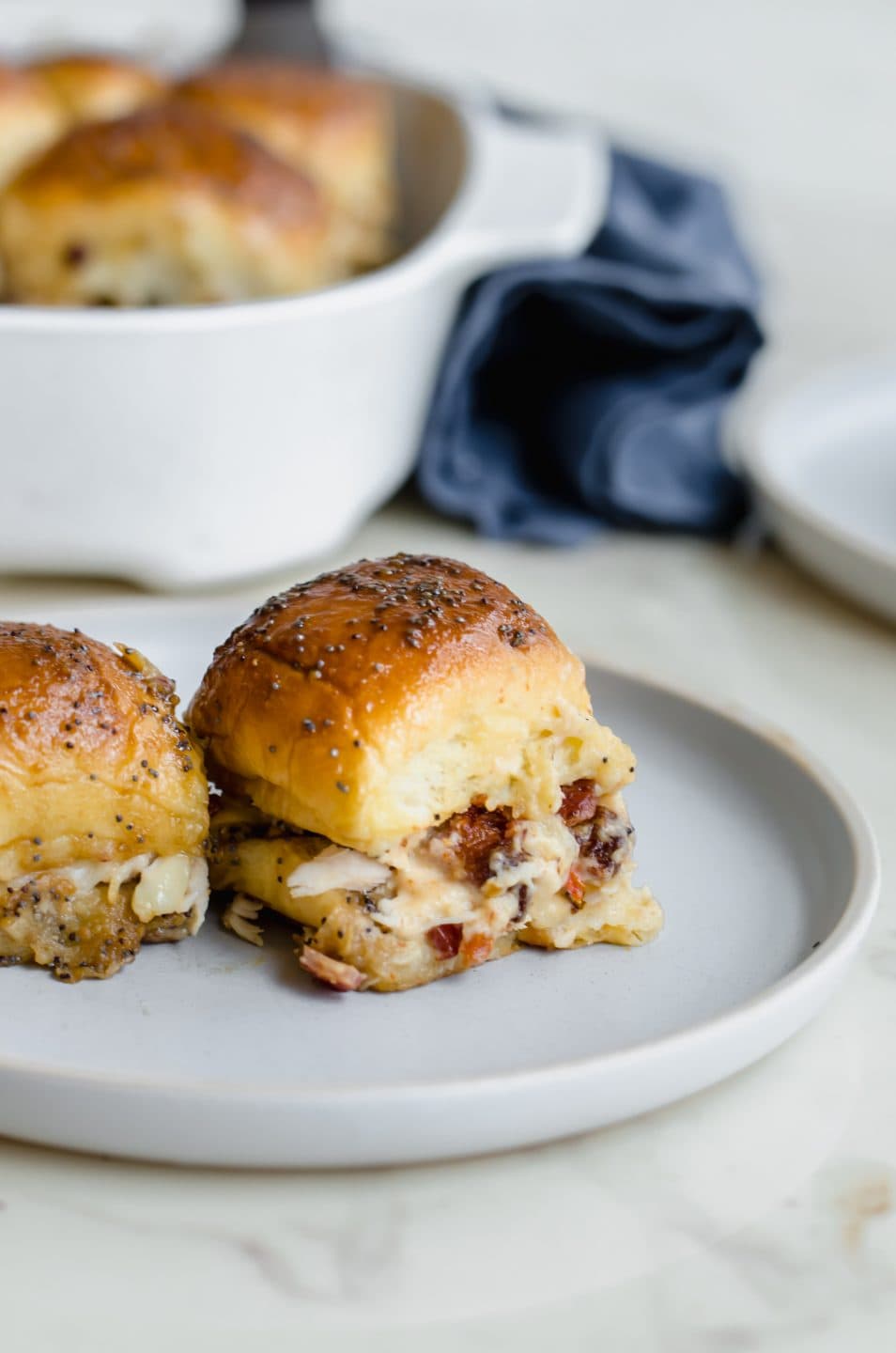 Jump to:
Kentucky Hot Brown Sliders = perfect little golden nuggets of buttery carbs, cheesy goodness, crispy bacon, and juicy turkey. If you are anticipating having a lot of leftover Thanksgiving turkey and want something super tasty and, basically amazing, to nosh on during holiday football watching.....MAKE THESE!
And don't judge me for putting a seemingly trashy recipe on my site. Trust me, I showed a lot of restraint when developing this recipe. I could have trashed it up A LOT more. But how could I call myself a dietitian then???
Let's just say there's a time and place for everything - and the holidays and football season are the perfect time to make these Kentucky Hot Brown Sliders.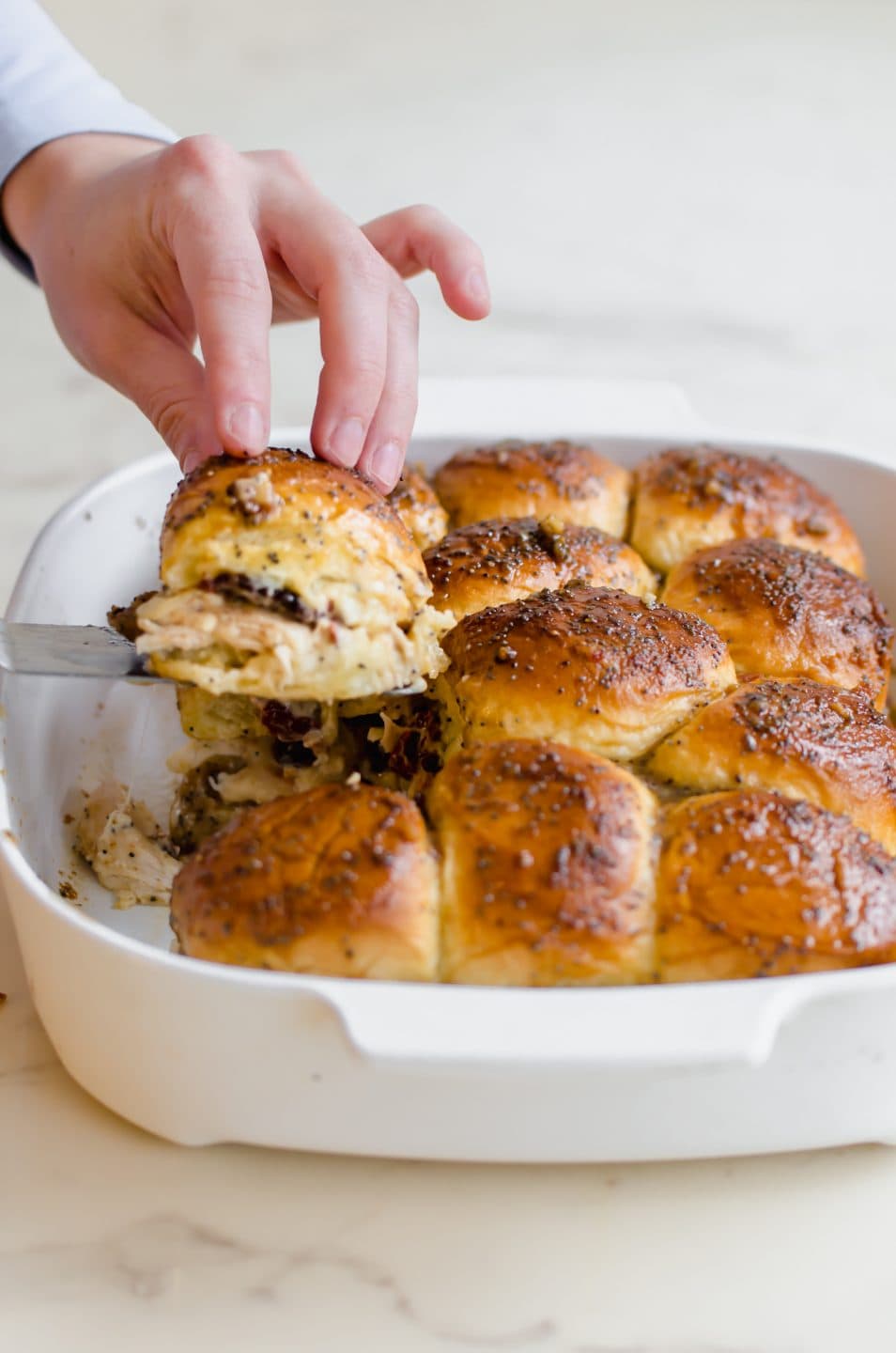 These sumptuously delicious sliders are meant to be SHARED with family and friends over a long Thanksgiving weekend - they are perfect for serving during board game-playing marathons, football watching, or after exhausting days of Christmas shopping. You definitely need to refuel after that!
I've taken a beloved and traditional recipe with Kentucky origins and modified it to make use of leftover Thanksgiving turkey. All the traditional Hot Brown fixins' are packaged in a less-messy slider situation. A little bit of everything, but not too much of anything. So what's in a Hot Brown, anyway? Well, let me tell you!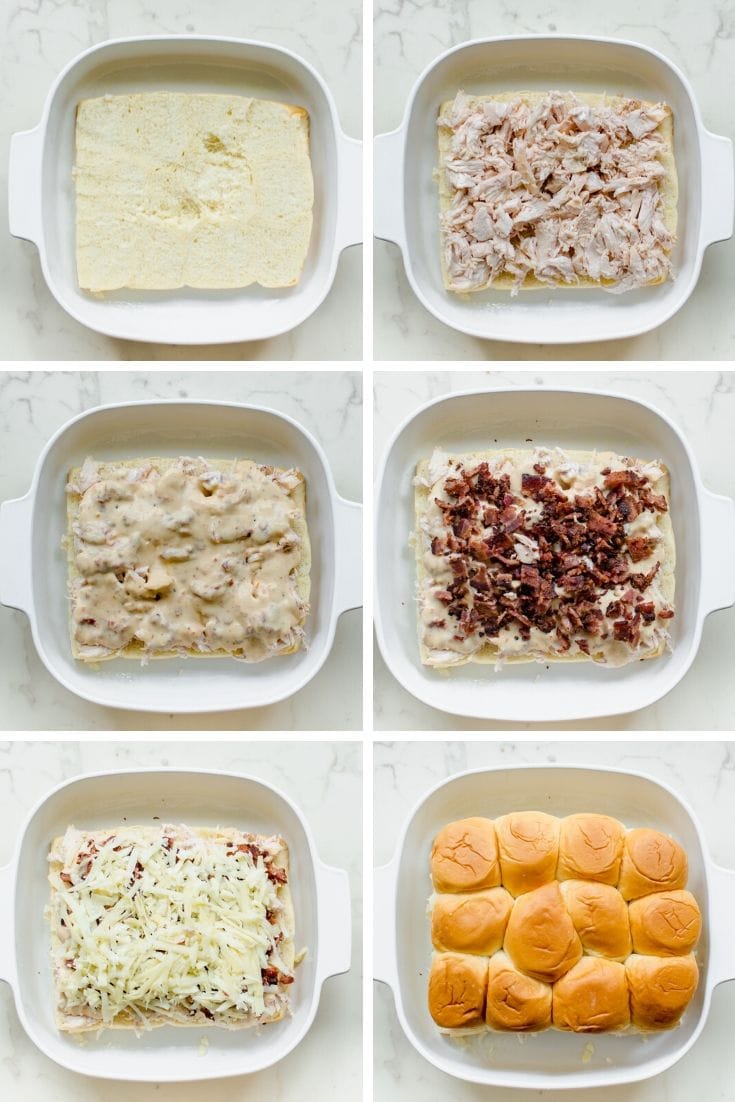 Ingredients
Bread - traditional hot browns use a thick-cut white bread situation - like Texas Toast. To make these easy to serve to a crowd, we are using slider rolls for this recipe. I like to buy the whole wheat kind when I can find them. Any version of the King's Hawaiian Rolls will be perfect for this.
Turkey - any juicy, savory, roasted turkey breast meat will be perfect for these sliders. You will want to shred or cut it into small pieces so that the sliders are easy to handle.
Bacon - this is a standard ingredient on a hot brown! Whether you choose to cut calories and fat by using turkey bacon, center-cut bacon, or any type of bacon, a little bit will go a long way in adding a bit of crunch and smokey flavor to these sliders.
Mornay sauce - this creamy, cheese-laced sauce is typically smothered on top of the turkey and toast for a hot brown and baked at a high temperature until it's brown and bubbling. We only need a little bit of Mornay sauce to dollop on top of each slider, and then a bit additional cheese is added for meltiness and flavor. I like to use Parmesan in the sauce, then a combo of shredded white cheddar and Gruyere on top.
Tomatoes - hot browns are usually finished with slices of fresh tomato. However, since these sliders are baked and fresh tomatoes aren't really in season right now, I'm folding in some sliced sun-dried tomatoes into the Mornay sauce. This keeps the sliders from being soggy as well, plus I love the concentrated tomato flavor that the sun-dried tomatoes add to the dish!
Ingredient amounts/instructions listed in the recipe below.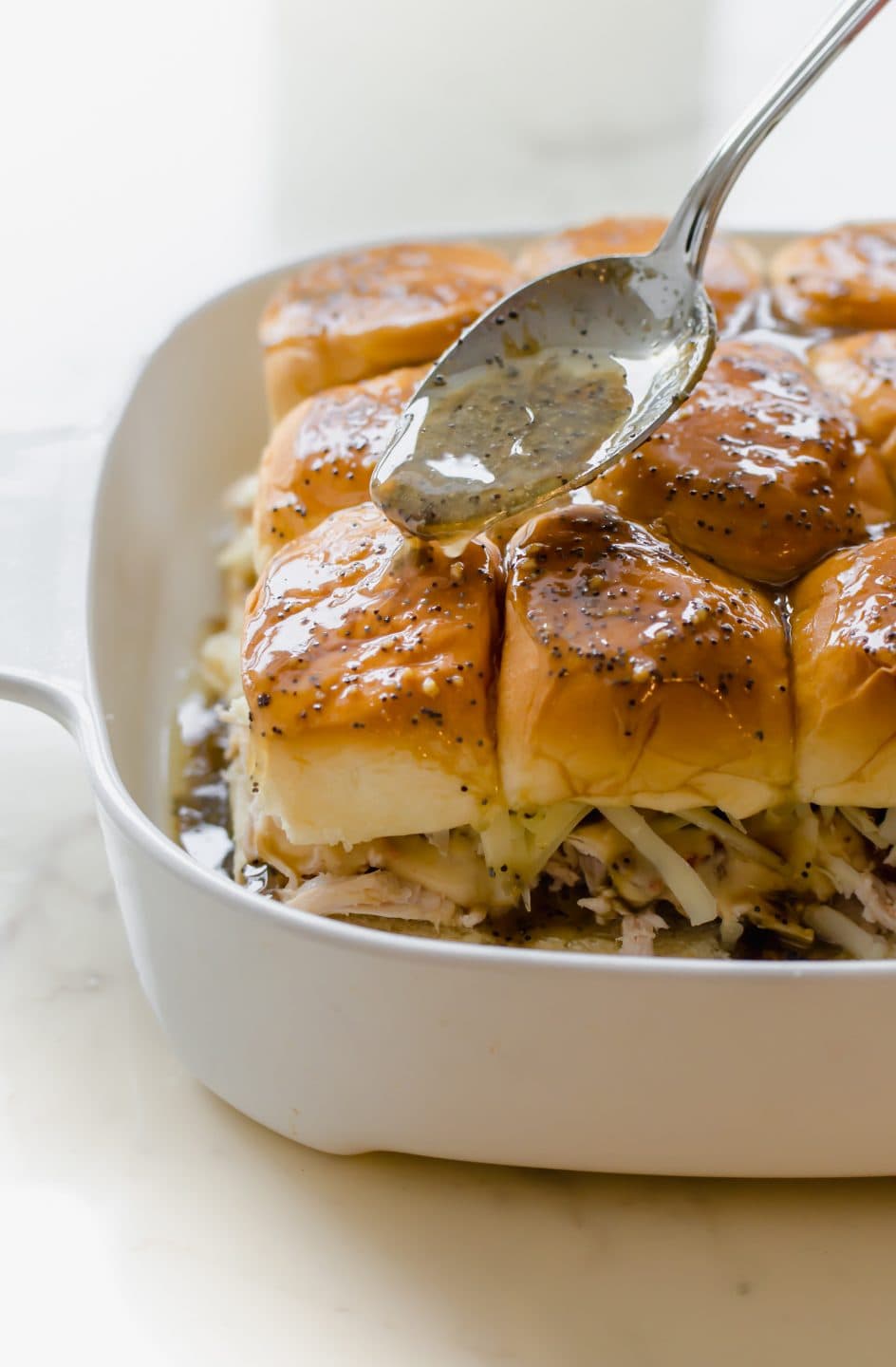 Instructions
Make a Mornay sauce - this creamy cheese sauce takes less than 10 minutes to make and is so easy to do on the stovetop! I like to use freshly-grated (finely grated also) Parmesan for this to intensify the flavor. Once the cheese sauce is made, you will fold in some drained and diced sun-dried tomatoes that were packed in oil. My mouth starts to water at this point!
Melt butter and seasonings together - a little bit of butter combined with a sprinkle of brown sugar, garlic powder, Worcestershire, Dijon mustard, and poppy seeds will get slathered on top of the slider rolls and form the most flavorful and delicious crust on the top.
Assemble the sliders - use the image above to help you assemble your sliders in the following order: bottom of rolls, turkey, Mornay sauce, bacon, cheese, tops of rolls, then the butter mixture on the very top.
Bake and enjoy! You will cover the baking dish with foil and bake for the first 20 minutes while everything heats through and melts together. Uncover for the final 10 minutes to make everything crisp and golden brown on top.
Complete instructions are found in the recipe below.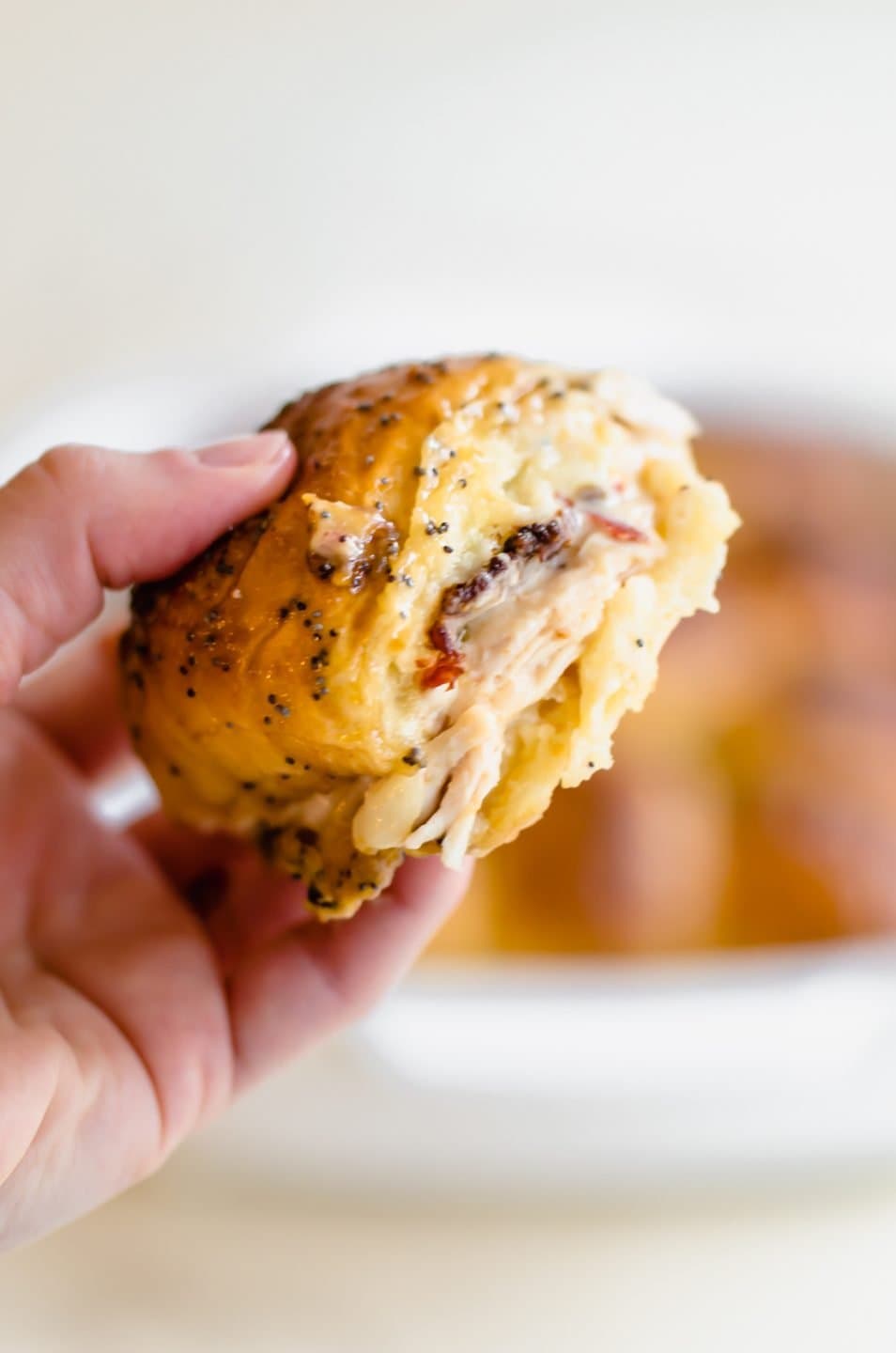 Serve with
Since these sliders are hearty and filling, I'd serve them with a fresh green salad or a fruit tray. This Simple Kale Salad, Festive Kale Salad, or a simple fruit tray would be perfect. If you are serving these to a crowd or for a party, I highly recommend this Party Crudite with Parmesan Herb Dipping Sauce for color and to get some veggies in!
Are you ready to make these Kentucky Hot Brown Sliders? I'm so excited for you to try this recipe. Once you get the chance to make it, please let me know how it turns out for you!
Leave a comment and rate the recipe below. This will help me with the creation of future recipes!
I'd also love to feature your creation in my weekly newsletter, so you can upload a photo to Instagram with the tag @sweetcayenne5 to be featured! Quick and easy recipe videos are available on my YouTube channel, and lots of menu inspiration on my Pinterest boards.
Recipe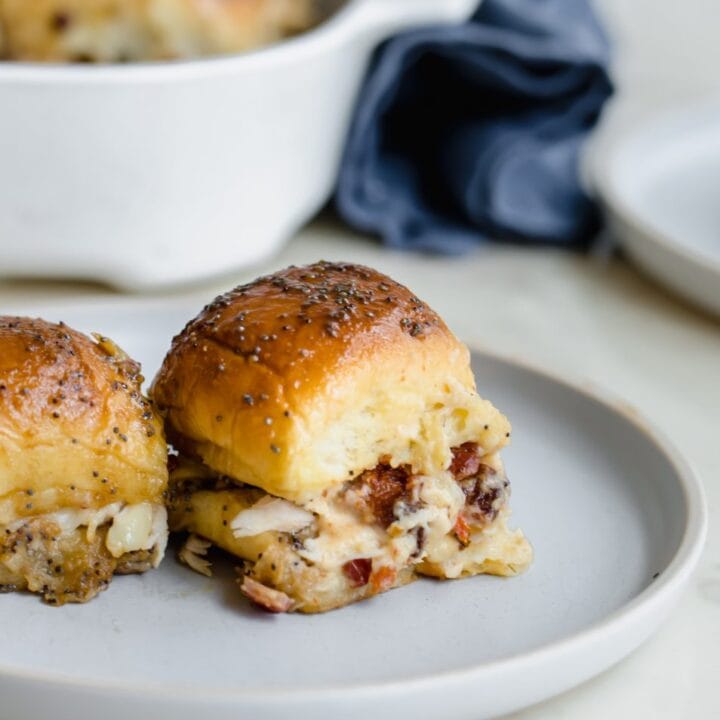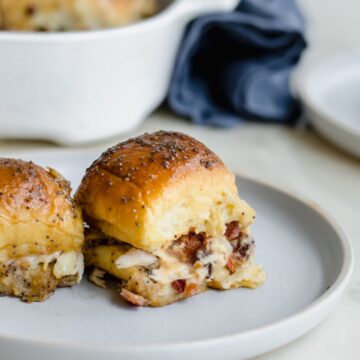 Kentucky Hot Brown Sliders
These golden and delicious Kentucky Hot Brown Sliders are the perfect way to use up leftover Thanksgiving turkey and are great to serve during holiday weekend football games!
Print
Pin
Rate
Ingredients
Mornay sauce:
1

tablespoon

butter

1

tablespoons

flour

1

cup

whole milk

½

cup

finely grated Parmesan cheese

⅓

cup

sun-dried tomatoes packed in oil, drained and finely chopped OR ¼ cup sundried tomato pesto

Salt and pepper to taste
Sliders:
12

slider rolls, sliced in half (I like to use Hawaiian rolls or whole wheat for a healthier option)

2

heaping cups

shredded cooked turkey breast

4

slices

center-cut bacon, cooked and finely chopped

⅓

cup

shredded white cheddar cheese

⅓

cup

shredded Gruyere cheese
Topping:
4

tablespoons

butter

2

tablespoons

brown sugar

2

teaspoons

Worcestershire sauce

2

teaspoons

Dijon mustard

¼

teaspoon

garlic powder

2

teaspoons

poppy seeds
Instructions
Preheat oven to 350℉. Grease a 9x9 or 8x10 inch baking dish with cooking spray.

In a small saucepan, melt the butter over medium-low heat. Whisk in the flour and cook for 2 minutes. Whisk in the milk. Bring to a simmer and cook over low heat, stirring constantly, until the mixture thickens enough to coat the back of a spoon, 6-8 minutes.

You will see the first few bubbles in the mixture when it is done, but do not let it start boiling. Remove from heat and stir in the Parmesan and sun-dried tomatoes or pesto. Season to taste with salt and pepper.

In a small, microwave-safe bowl, combine the butter, brown sugar, Worcestershire sauce, Dijon, and garlic powder. Microwave in 30-second increments until melted. Stir in the poppy seeds.

Place the bottom half of the rolls in the prepared baking dish. Top with the turkey, followed by the Mornay sauce evenly distributed on each mound of turkey, then the bacon, and finally the shredded cheeses. Place the top half of each roll on the cheese. Spoon the melted butter mixture evenly on top of each roll.

Cover the dish with foil and bake for 20 minutes. Uncover and bake an additional 10 minutes until the tops of the rolls are golden brown. Serve hot and enjoy!
Notes
Store leftover sliders in the refrigerator for up to 3 days. Reheat by placing on a baking sheet, then cover and bake for 10 minutes at 350℉. Uncover and bake an additional 6-8 minutes until heated through.
Serving:
1
slider
|
Calories:
265
kcal
|
Carbohydrates:
21.2
g
|
Protein:
17
g
|
Fat:
13.2
g
|
Saturated Fat:
6.1
g
|
Cholesterol:
45
mg
|
Sodium:
339
mg
|
Potassium:
161
mg
|
Fiber:
1.3
g
|
Sugar:
5.8
g
|
Calcium:
170
mg
|
Iron:
2
mg
Pin this, pretty please!