Today I'm bringing you this festive kale salad and tips on how to style a salad for a holiday party! While a salad may not be on the top of your list of things to include on your party menu, it WILL end up being a welcome option for many of your guests!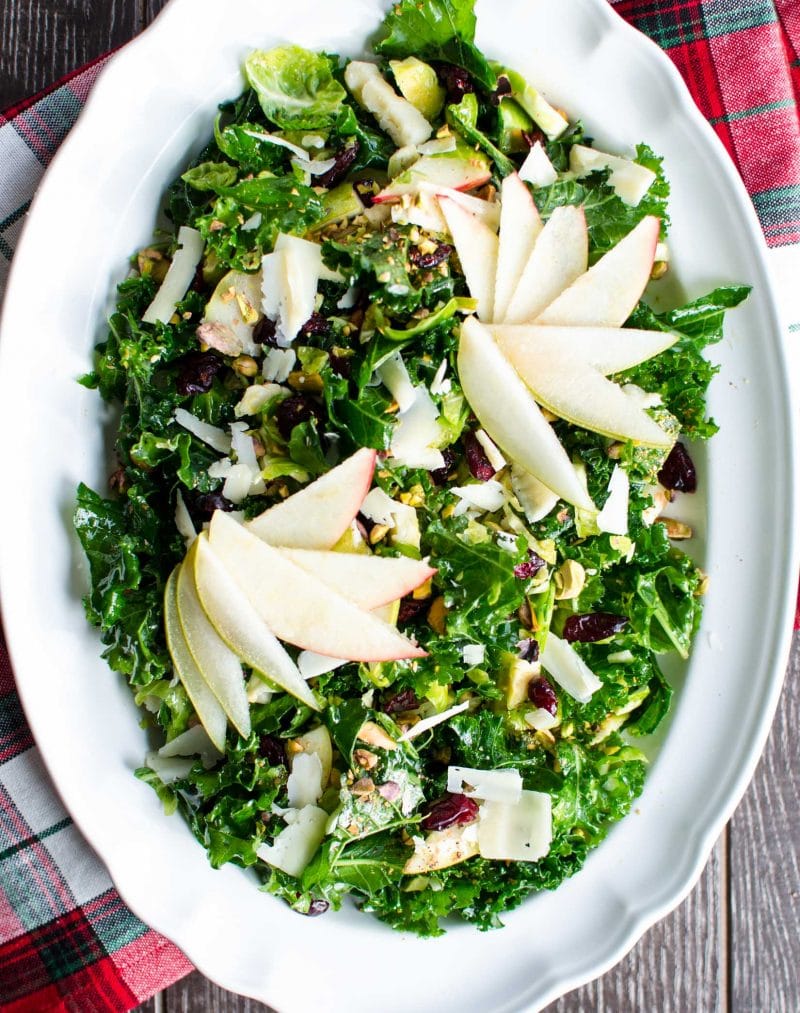 Over the past several years, I've attended parties + family gatherings where I've asked if I can bring something and the host has replied with "why don't you bring a salad?" I'm not sure if this is because I'm a registered dietitian and people think that's all I would eat at a party or if people just genuinely want a salad at their gathering.
At any rate, sometimes I haven't been too excited about a salad being my contribution to the food selection. Maybe because I feel like it's boring? Or I feel like people will roll their eyes at the dietitian bringing a salad to force everyone to eat their veggies? Or perhaps I just don't want to eat salad at a party because I eat it so much already and want something more "festive?"
I'm overthinking things. The good news is, you CAN take a salad to a party and make it look so attractive + festive that people WILL want to eat it. And you may find that it's one of the most popular items on the table! I've found over the course of my many salad contributions that it ends up being a very welcome option for most people in attendance. I think people just want something light and refreshing to balance out all of the heavier, more indulgent options, you know? And I get it. And it's fine if you have asked or will ask me to bring a salad to your party. Really and truly!
The key to pulling this off is to get in touch with your inner artist and dress the top of your salad in a way that looks beautiful and clues anyone into what they are eating. I like to accomplish this by adding bits of any ingredient that is in the salad to the very top of my plated salad and then using a few pieces for garnish in a creative way. The first picture below is my dressed and plated salad with all of the ingredients tossed + mixed together: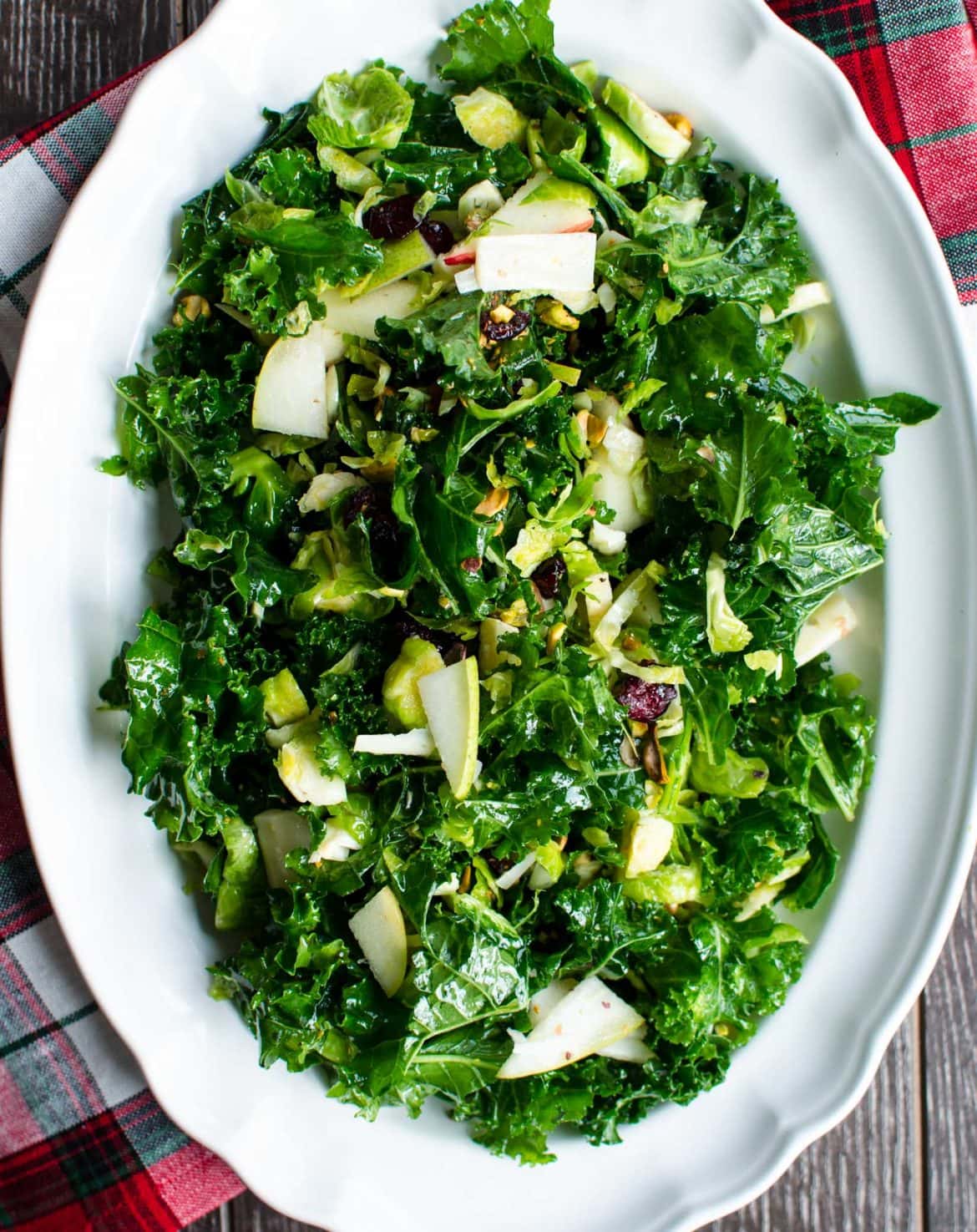 And in the images below, you can see that I added a bit of each ingredient (pistachios, dried cherries, shaved Parmesan, and thinly sliced apple) to the very top. This adds interest, pops of color, and lets people know what is in the salad!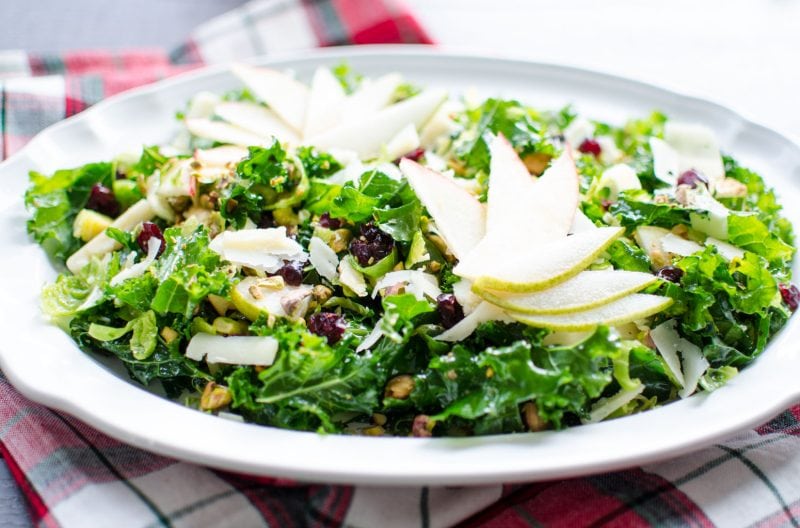 And here's another tip for a bonus freebie - any time you make a kale salad, promise me you will make it a massaged kale salad. This just involves massaging your dressing into the kale 1-2 hours before you plan to serve the salad. It is a
game
changer in terms of flavor and tenderness (massage the Brussels sprouts too if you include them) and will more than likely turn a kale salad-hater into a kale salad-lover!
If you are asked to bring a salad to a holiday gathering this season, try this one! If you do, I'd love to see a picture of your lovely creation - just upload to
Instagram
or
Twitter
with the tag @sweetcayenne5! Your picture may get showcased in my
newsletter
. Cooking videos are available on my
YouTube
channel. Be sure to rate this recipe 5 stars if you like it.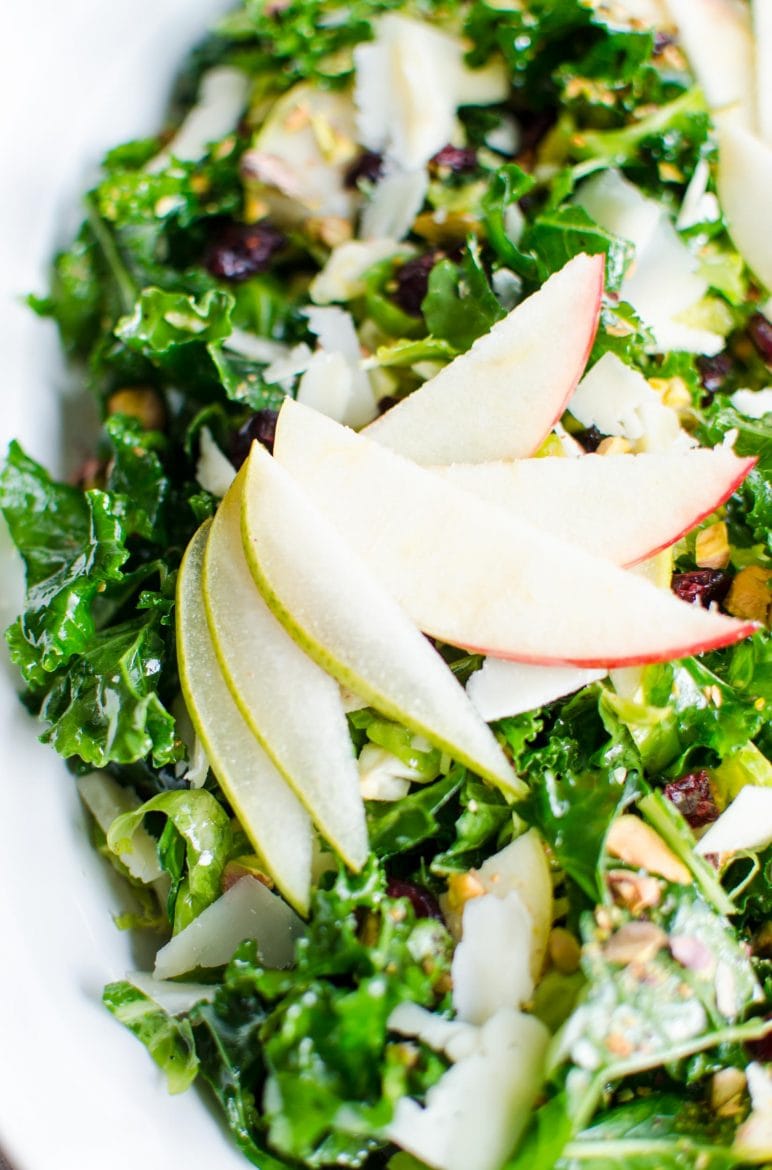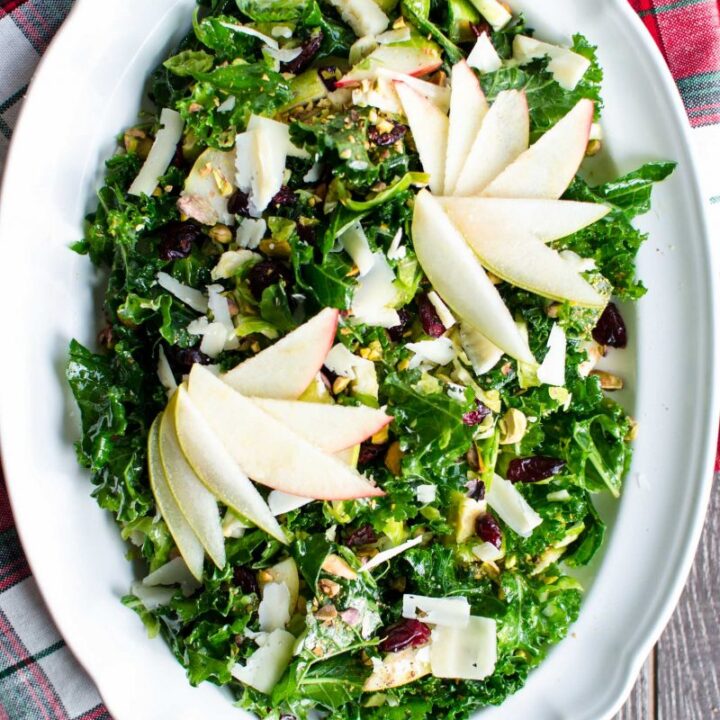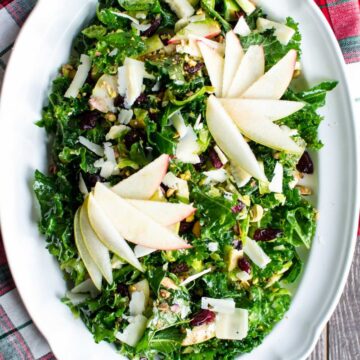 Festive Kale Salad with Apple Cider Vinaigrette
Today I'm bringing you this festive kale salad and tips on how to style a salad for a holiday party! This easy salad recipe will make a great addition to a holiday party.
Print
Pin
Rate
Ingredients
For the salad
1 (one-pound)

bag of fresh chopped kale leaves, about 10 cups

picked through and stems removed

1

pound

fresh brussels sprouts

shredded (I remove the ends, cut in half, and then shred into thin strips lengthwise with a knife)

¾

cup

dried cherries

plus an additional 2 tablespoons for garnish

½

cup

shelled pistachios

roughly chopped (use roasted sunflower seeds for a nut-free alternative), plus an additional 2 tablespoons for garnish

¾

cup

shaved Parmesan cheese

(Creamy Toscano Cheese Soaked in Syrah is also a wonderful option on this - find it at most cheese counters) plus an additional 2 tablespoons for garnish

1

large

Honeycrisp apple

sliced into very thin 1'' pieces (about 1 ½ cups), plus some thin wedges for garnish
For the vinaigrette:
½

cup

apple cider

½

cup

neutral-flavored oil

grapeseed, canola, safflower, walnut

2

tablespoons

fresh lemon juice

2

tablespoons

maple syrup

2

teaspoons

Dijon mustard

2

tablespoons

apple cider vinegar

½

teaspoon

salt

¼

teaspoon

pepper
Instructions
Making the vinaigrette:
Combine all ingredients in a Mason jar or container with a lid. Attach lid tightly and shake to combine. Refrigerate until ready to use.

Massaging the kale and sprouts:

Place kale leaves and shredded brussels sprouts in a large bowl. Add ½ cup of the vinaigrette. Use clean hands to gently massage the vinaigrette into the veggies for about two minutes. They will appear wet and shiny and the volume of the bowl will have reduced by ⅓. Refrigerate for at least two hours and up to six hours before adding the other ingredients and serving.
Salad assembly:
In the bowl with the kale and brussels sprouts, add the cherries, pistachios (or sunflower seeds) cheese, and apples. Add extra vinaigrette as needed to taste. Toss to combine. Place the salad on a large serving platter. Fluff the salad with clean hands to add height + volume. Gently sprinkle the reserved nuts, frui and cheese on top. Fan the apple wedges in a design of your choice. Serve immediately.
Notes
Leftover salad keeps well in the fridge for up to two days.
Serving:
1
Serving
|
Calories:
224
kcal
|
Carbohydrates:
24.6
g
|
Protein:
5.5
g
|
Fat:
13
g
|
Saturated Fat:
2.5
g
|
Cholesterol:
4
mg
|
Sodium:
252
mg
|
Potassium:
488
mg
|
Fiber:
3.7
g
|
Sugar:
13
g
|
Calcium:
137
mg
|
Iron:
2
mg