If you're looking for a refreshing, no-cook side dish to beat the heat, look no further than this cool and crisp Thai Cucumber Mango Salad! Dressed with a light vinaigrette with a hint of spice and plenty of fresh herbs, it will make your taste buds sing!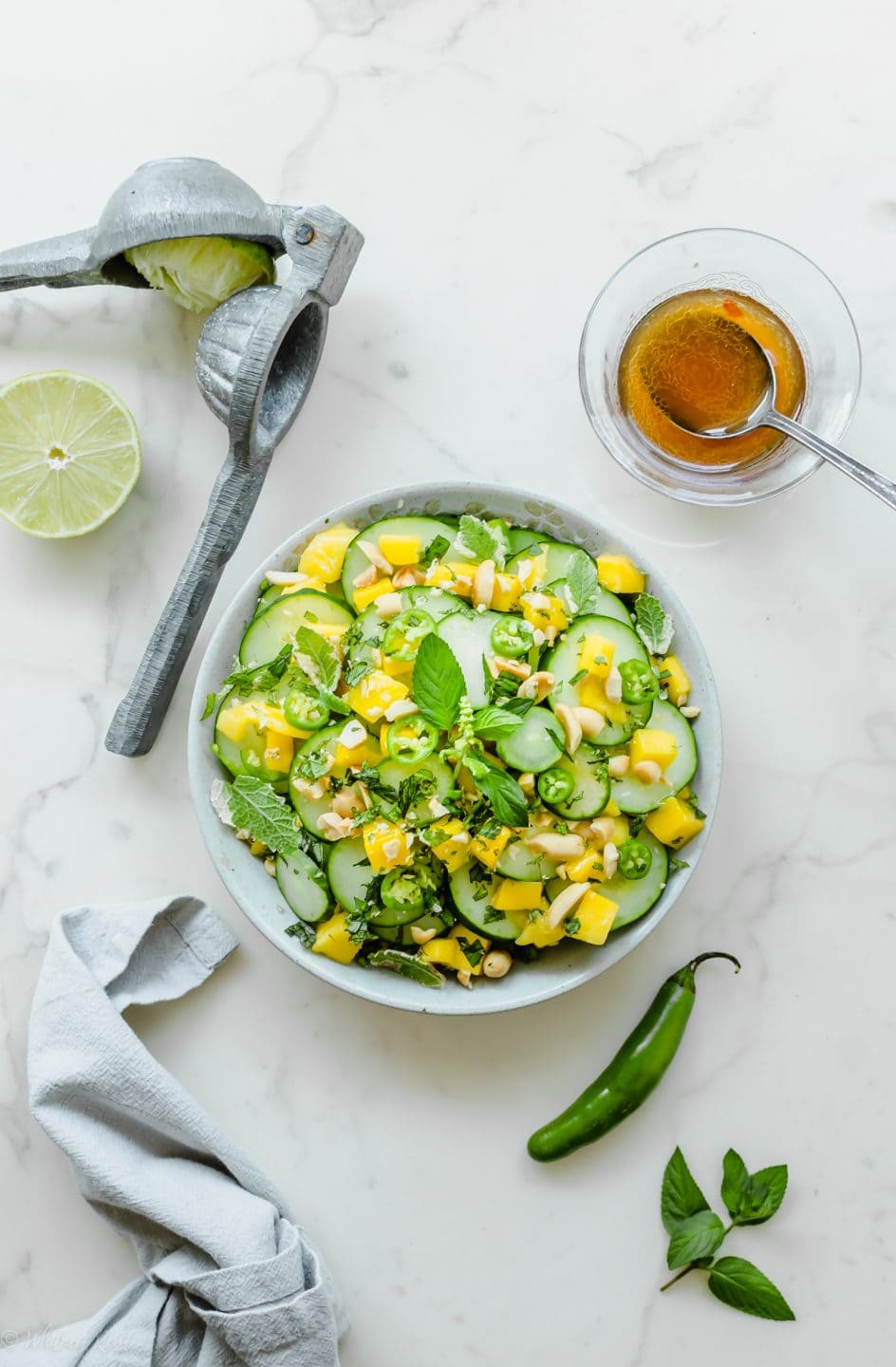 Welcome to week 4 of the Sweet Cayenne Veg Fest! Today I'm sharing #7 of 8 veggie-centered recipes that celebrate the flavor and bounty of produce in the late summer months. I have LOVED creating these recipes and have felt so inspired by the way that creating them has helped me use produce in some new ways. It also has been SO fun to photograph - gorgeous fruits and veggies are my favorite items to capture because you have to do so little to enhance their natural beauty! From Simple Roasted Okra to Oven-Fried Green Tomatoes , most of these recipes are Southern with a healthy twist and speak to my heritage. But today we are taking a trip to Thailand, and for good reason!
Thailand has a special place in the heart of my family. My dad has been leading mission teams on trips there for the past 15 years, and each of my siblings, my mom, Ryan, and I have had the privilege of going there with him and a team at some point. And not only that, the son of my sister and the first grandchild/nephew in our family and the son of my sister was adopted from Thailand! We love the people, culture, and flavors of Thailand so much. I just had to include a Thai-themed dish in my veggie series - also because cucumbers and mangoes are two of my favorite summer produce items!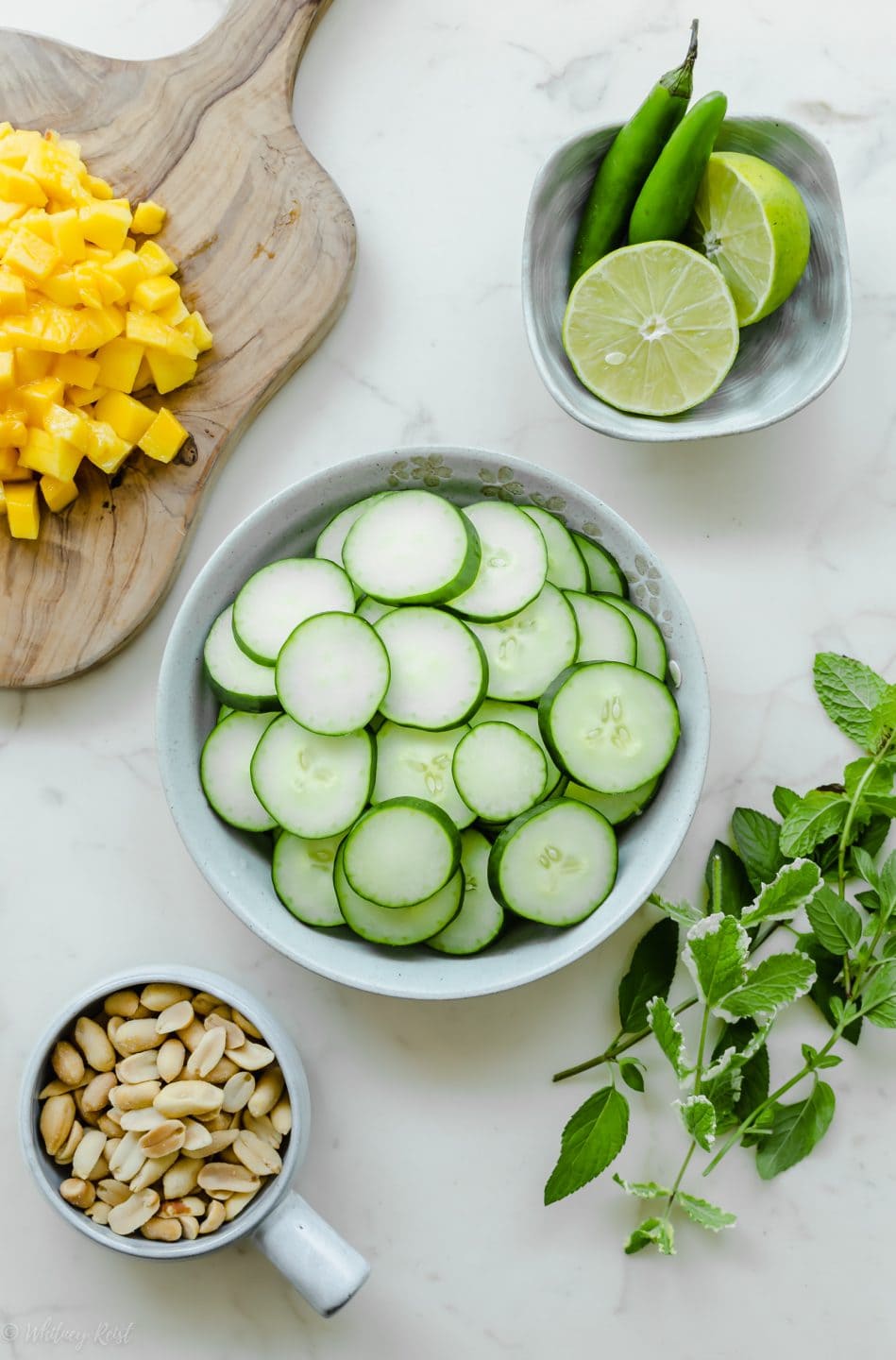 Ingredients + How to Make Thai Cucumber Mango Salad
English cucumber - I prefer to use English cucumbers in salads because the skin is less bitter than regular cucumbers and it's easy to eat the seeds. You'll want to slice the cucumbers into ¼'' thick rounds, which can be done with a chef's knife or a mandoline.
Mango - this fruit is woven throughout all kinds of Thai cuisine, and you see tons of fresh fruit stands in Thailand selling mango that has been cut in the most creative ways. I like to cut the ends off my mangoes so I have a stable base to stand them up on and use my knife to peel away the skin (see picture). Then I just cut the sides off the mangoes and dice them into cubes.
Mint - mint is also a common ingredient in Thai cuisine - especially in salads! I used a variety of mints in this salad, including sweet mint, spearmint, and pineapple mint.
Peanuts - peanuts provide saltiness and crunch to this refreshing salad. You see peanuts in a wide variety of traditional Thai dishes, from papaya salads to pad Thai. Substitute toasted sesame seeds for the peanuts in cases of nut allergies.
Lime juice - I love the sweet, mild acidity that lime juice gives to a salad. And you can never go wrong when pairing lime with sweet juicy mango!
Thai or serrano chile - if you can find Thai bird chiles, this is a great recipe to use one in. Just be prepared though, they are HOT! A serrano is a great substitute, which is what I used in this recipe. To tame the heat, remove the ribs and seeds from the pepper before slicing it. And always use gloves when working with chiles, being careful not to touch your face or eyes until you are finished and have washed your hands thoroughly.
Fish sauce, rice vinegar, sesame oil, honey, Thai chili sauce - all of these ingredients are commonly used in Thai dressings and sauces. And the good thing is, they are easy to find at any supermarket! Many Asian dishes call for these condiments, and each has a long shelf life. So you should have plenty of opportunities to use them up and not worry about them spoiling too soon.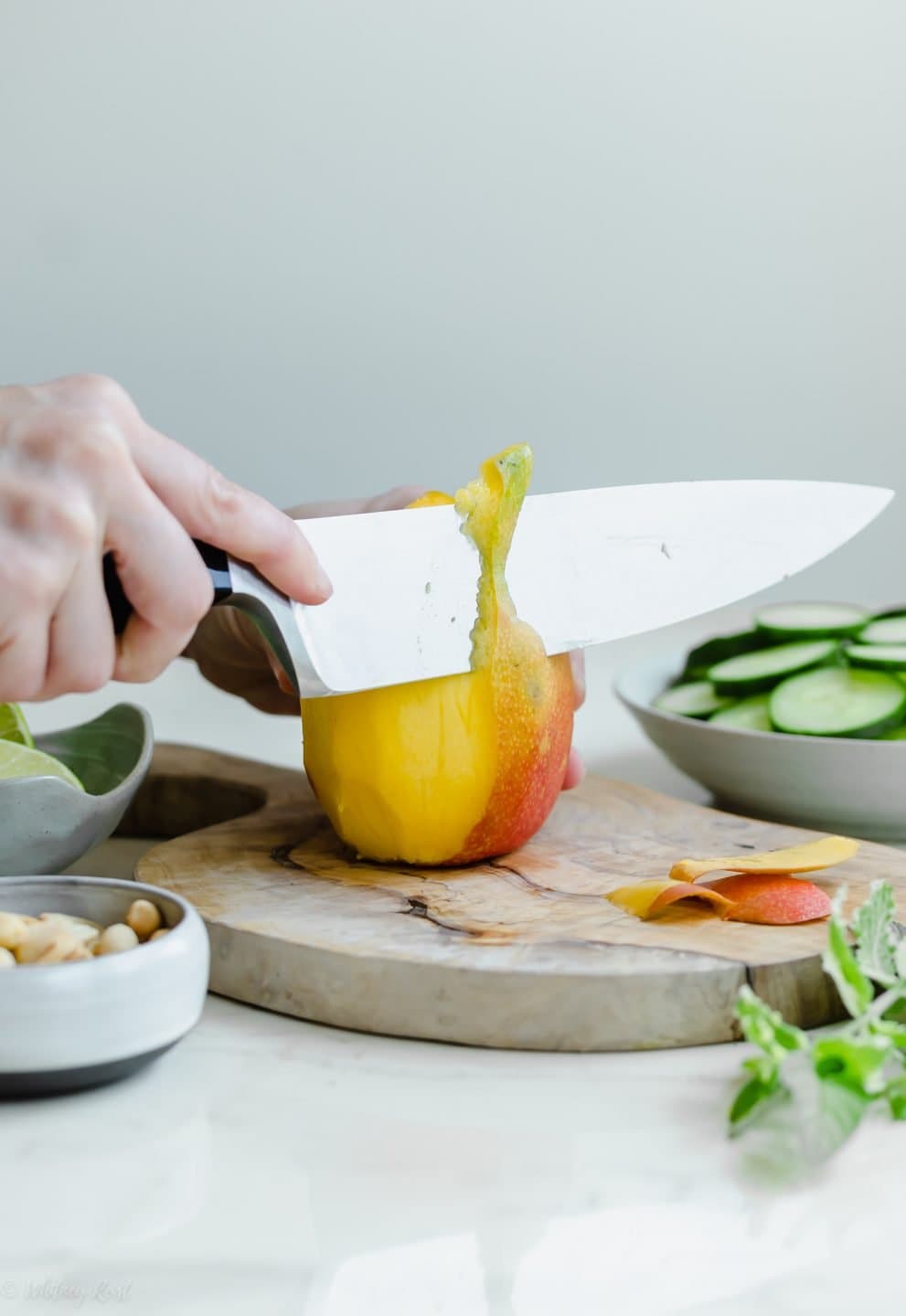 Ways to Use Thai Cucumber Mango Salad
When made as directed, this salad is gluten-free, vegan, heart-healthy, fiber-filled, and suitable for a wide variety of healthy eating patterns! To make it more kid-friendly, you may want to omit the Thai/serrano chili. You can replace the peanuts with toasted sesame seeds in the case of peanut allergies. And if you don't have all of the ingredients for the dressing, the Thai chili sauce and fresh lime juice should suffice as a more minimal way to dress the salad.
This salad is SO delicious when served as a side with pad Thai, grilled meats, rotisserie chicken, and curry dishes. And you know what? It tastes even better the next day when all of the flavors have melded together and developed. I love to pack it for lunch with leftover grilled or rotisserie chicken. Sometimes we serve it on noodles too when we need a little more heartiness or calories for a meal. There are so many delicious possibilities!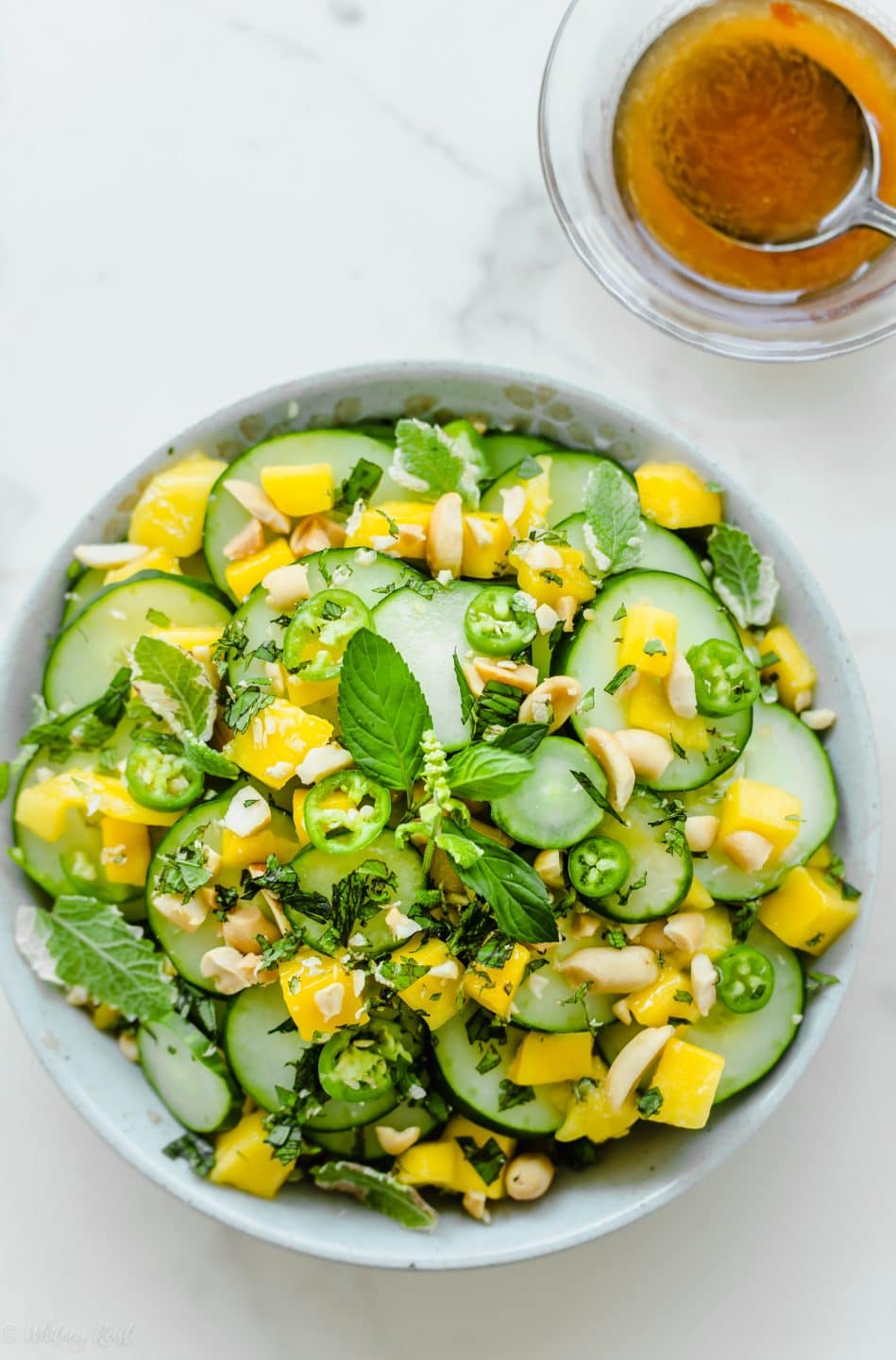 Are you ready to make this Thai Cucumber Mango Salad? I'm so excited for you to try this recipe. Once you get the chance to make it, please let me know how it turns out for you! Leave a comment and rate the recipe below. This will help me with the creation of future recipes! I'd also love to feature your creation in my monthly newsletter, so you can upload a photo to Instagram or Twitter with the tag @sweetcayenne5 to be featured!
Recipe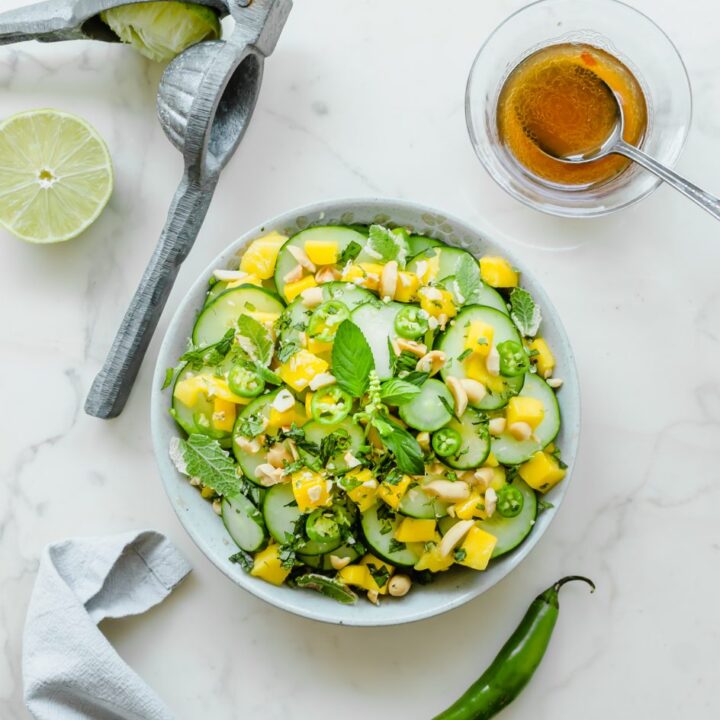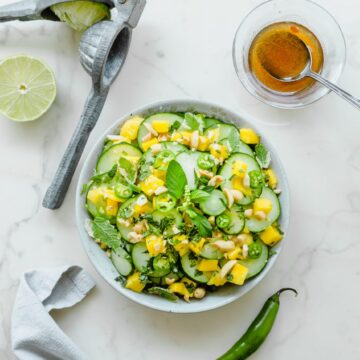 Thai Cucumber Mango Salad
A simple Thai cucumber mango salad. Refreshing and healthy. Gluten-Free | Vegetarian
Print
Pin
Rate
Ingredients
For the salad:
1

large

English cucumber, sliced into thin rounds

1

large

mango, peeled and diced,

2

tablespoons

finely-chopped peanuts

¼

cup

mint leaves, roughly chopped
For the dressing:
2

tablespoons

fresh lime juice

1

whole

serrano chile with ribs and seeds removed, minced

1

tablespoon

rice vinegar

1

tablespoon

sesame oil

1

tablespoon

fish sauce

1

tablespoon

honey

1

tablespoon

Asian chili sauce
Instructions
Place cucumber rounds into a medium-large shallow serving bowl or on a salad platter. Sprinkle the cubed mango on top, followed by the peanuts and mint.

Combine all ingredients for the dressing in a small bowl with a whisk. Drizzle the dressing evenly over the top of the plated salad. Serve immediately.

Leftovers can be stored in the fridge for up to 2 days. I love to eat the leftovers with cold, diced, grilled chicken!
Serving:
1
serving
|
Calories:
149
kcal
|
Carbohydrates:
23
g
|
Protein:
3
g
|
Fat:
6
g
|
Saturated Fat:
1
g
|
Sodium:
383
mg
|
Potassium:
332
mg
|
Fiber:
2.5
g
|
Sugar:
19
g
|
Calcium:
40
mg
|
Iron:
1
mg
Pin this, pretty please!