This easy recipe for Simple Roasted Okra is my favorite way to cook fresh okra. It's seasoned with a sweet and smoky paprika rub and finished with a splash of fresh lime juice! We picked up fresh okra at our local farmer's market for this recipe.
During a recent trip to our local farmer's market, Ryan and I bought a veggie that I'm honestly shocked to say I had never purchased or cooked before: okra. Seriously, how can I call myself a Southerner? I don't know how this happened. I LOVE okra and have grown up eating it - fried okra, pickled okra, and gumbo being my favorite okra dishes. But for whatever reason, I had never cooked it myself. Maybe it's because okra is only in season for a short period of the year? Or you can't readily purchase okra in the grocery store? Or perhaps because I never think to purchase frozen okra? I really can't say.
Anyhow, I have my friends at The Food Initiative to thank for inspiring me to buy some of their delicious fresh okra and try roasting it. They are the experts, after all! They advised that I try roasting the okra for my first attempt at cooking it, as sauteeing it might result in the "sliminess" that okra gets a bad wrap for. So roast it, I did! And boy was I happy with the results!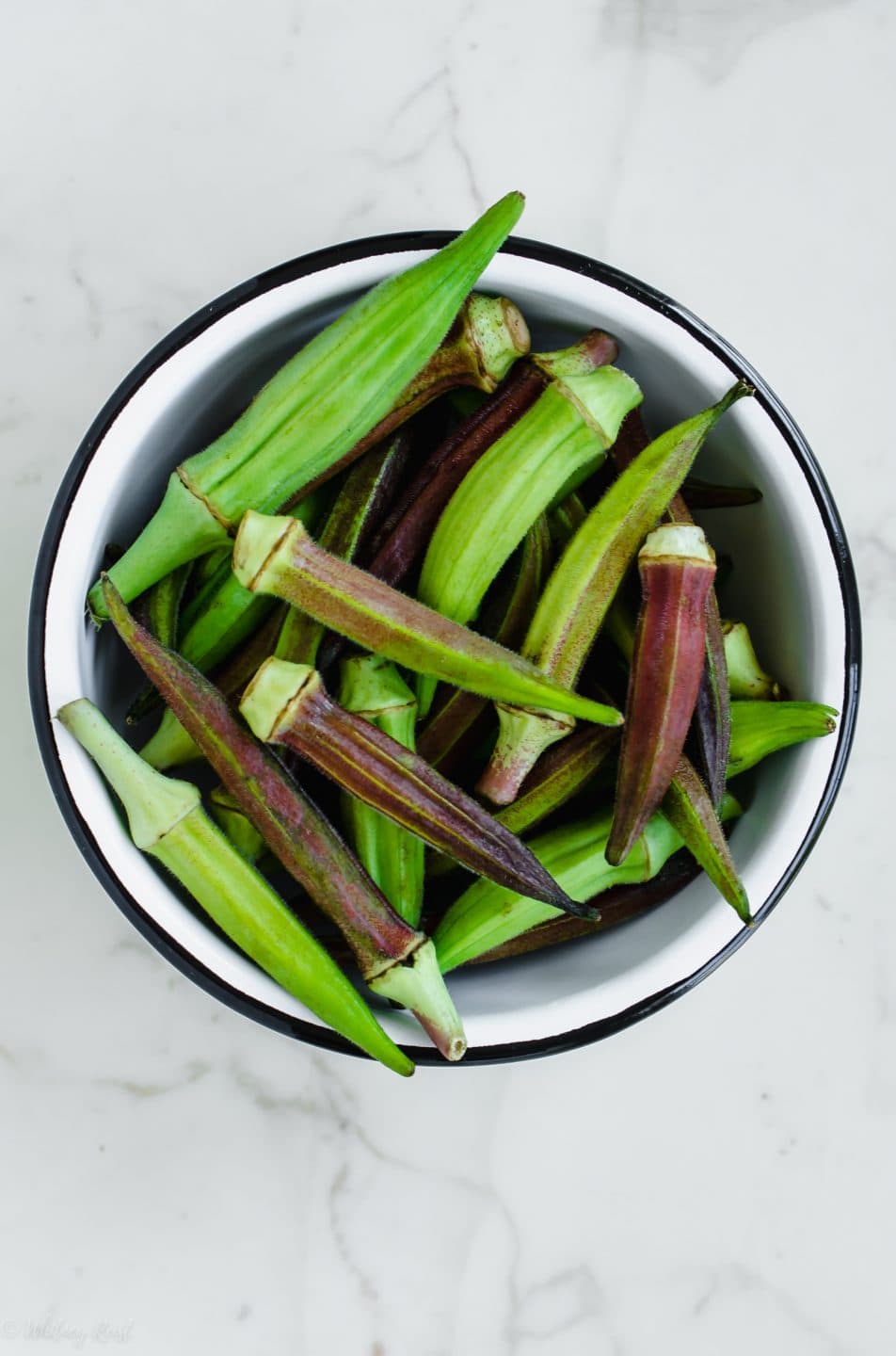 Working with Fresh Okra
Fresh okra is in season from July-September and grows most abundantly in the South where summers are hot and humid. Below are a few tips that I've gathered from talking to farmers about selecting, storing, and preparing fresh okra:
Selecting fresh okra - for maximum flavor and tenderness, you want to choose okra pods on the smaller side, about 3-4 inches in length. You want the pods to be firm and plump - avoid choosing pods that are soft and limp.
Storing fresh okra - once you get your fresh okra home, you will want to make sure it is completely dry before placing it in a paper bag for storage in the refrigerator. Any moisture may cause your okra to grow mold or become slimy. Plan to eat your fresh okra within 2-3 days of purchasing, or freeze it for later. The best way freeze okra is to blanch it in boiling water for 2 minutes, plunge in an ice water bath, and then dry thoroughly before freezing in an airtight container.
Preparing fresh okra - whether you plan to serve the okra chopped up raw in salads, sauteed in a summer succotash, grilled on skewers, or roasted in the oven, the key to preventing that infamous "slimy" texture is to dry it thoroughly with paper towels or a tea towel after washing it. Now don't get me wrong, some slime can be desireable for thickening purposes if you are making gumbo or a creole dish. But when eaten by itself, I'm sure most of us will prefer the non-slimy version of okra. Am I right?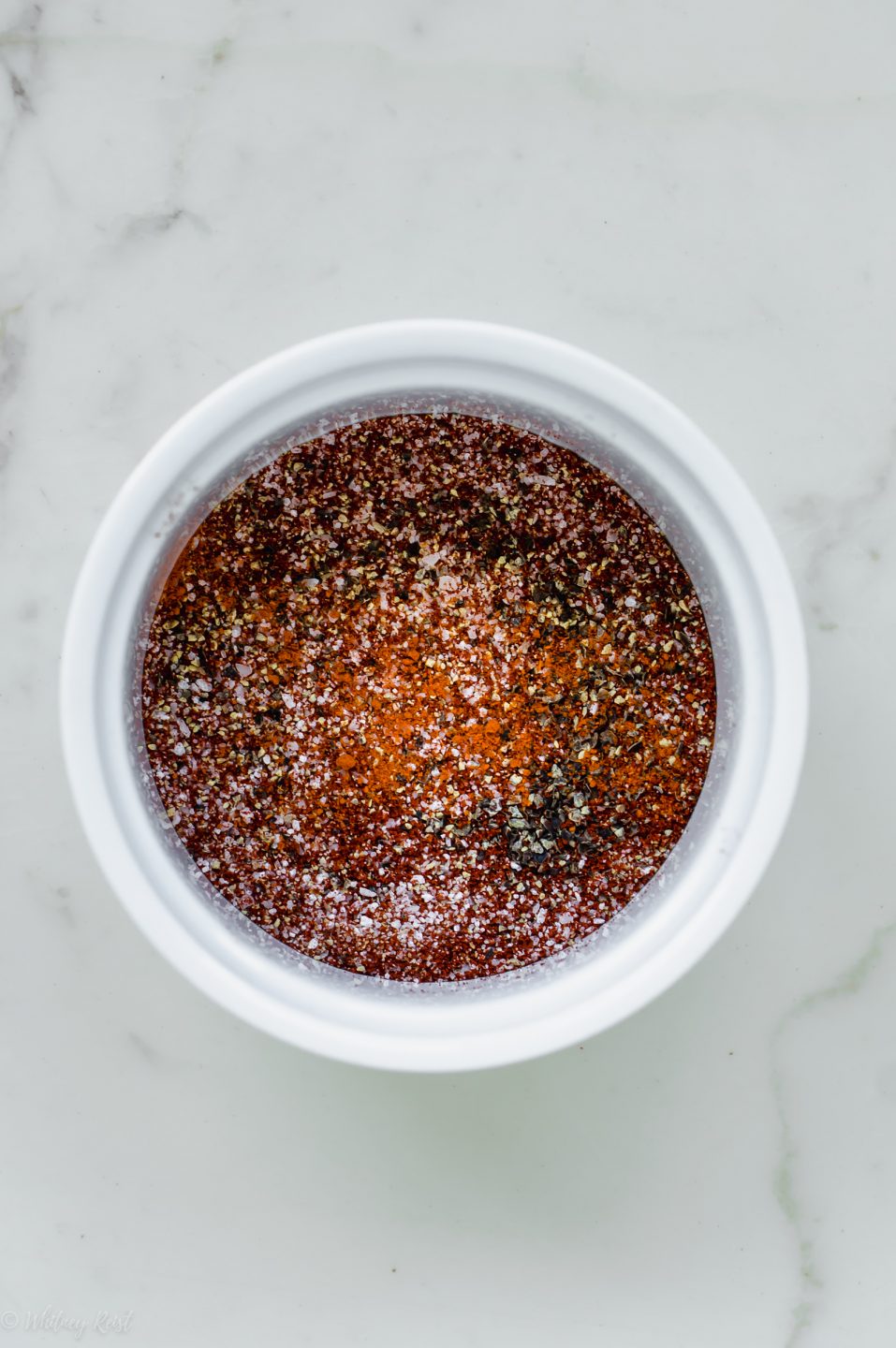 Simple Roasted Okra Ingredients
Fresh okra - small, 2-4 inch pods purchased preferably from your local farmer's market or grown in your own little garden!
Special spice blend - including smoked paprika for bold flavor and color, a little garlic powder, a pinch of cayenne for a mild amount of heat, a bit of brown sugar to balance the flavor, and salt and pepper of course!
Olive oil - my preferred oil for roasting vegetables. It's filled with heart-healthy fats and antioxidants!
Lime juice - a splash of fresh citrus really elevates the flavor of any roasted vegetable dish. In this case, I'm using lime juice as an unexpected touch - I love the way it pairs with the smoky paprika and cayenne!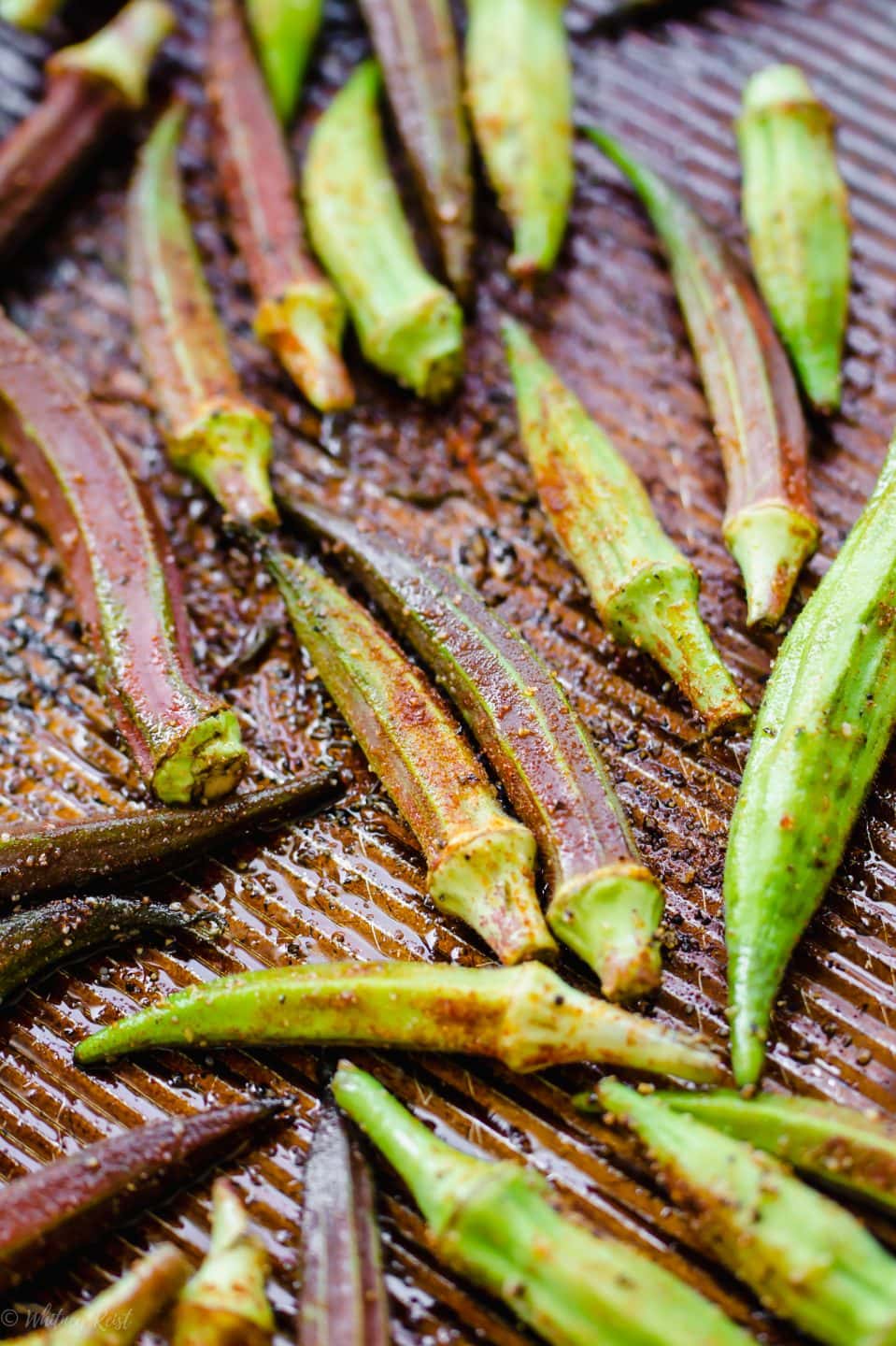 Flavor Variations for Simple Roasted Okra
Cavendar's Greek Seasoning + fresh tomatoes + feta crumbles - plan to add any all-purpose Greek seasoning blend to the okra before roasting. Once cooked, serve the okra with chopped fresh tomatoes and crumbled feta.
Creole Seasoning - okra is traditionally used in Creole or low country cuisine, so use your favorite Cajun seasoning before roasting the okra, then plan to serve it as a side with etouffee, or Cajun-grilled shrimp!
Simple salt and pepper - keep things short and simple if you like! Roasted okra with just salt and pepper is delicious and goes with anything.
Italian seasoning + shaved Parmesan + lemon juice - who doesn't love Parmesan roasted veggies? Add the seasoning and Parm prior to roasting, then finish the dish with a squeeze of fresh lemon juice.
And I'm sure you can think of more variations! If you are an okra-lover, I'd love to know what your favorite way to enjoy this fresh summer veggie is. Please leave a comment below, or upload a picture of your okra/okra dish and tag #sweetcayennevegfest so I can see and be inspired!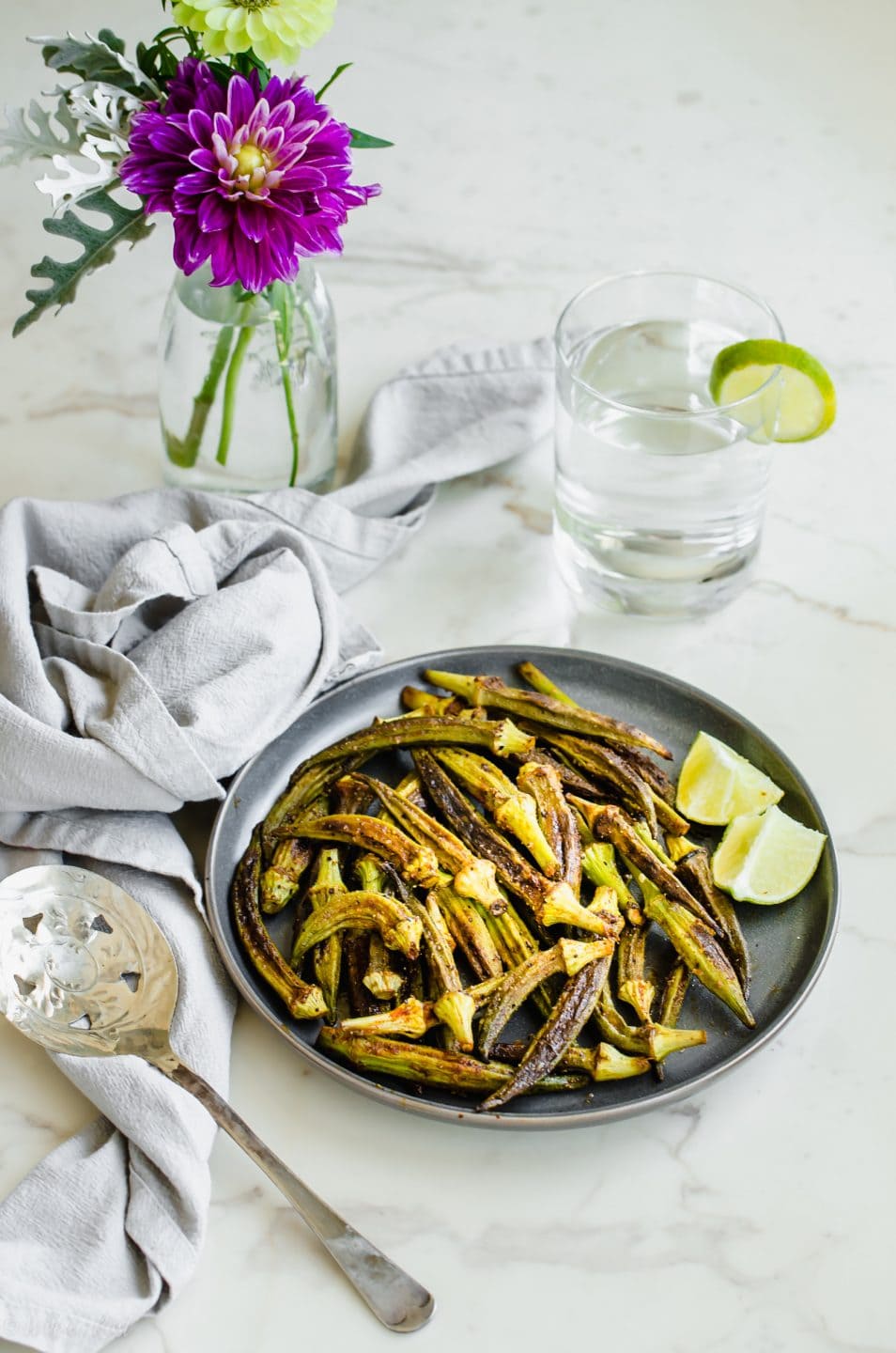 Are you ready to make this Simple Roasted Okra? I'm so excited for you to try this recipe. Once you get the chance to make it, please let me know how it turns out for you! Leave a comment and rate the recipe below. This will help me with the creation of future recipes! I'd also love to feature your creation in my monthly newsletter, so you can upload a photo to Instagram or Twitter with the tag @sweetcayenne5 to be featured!
Recipe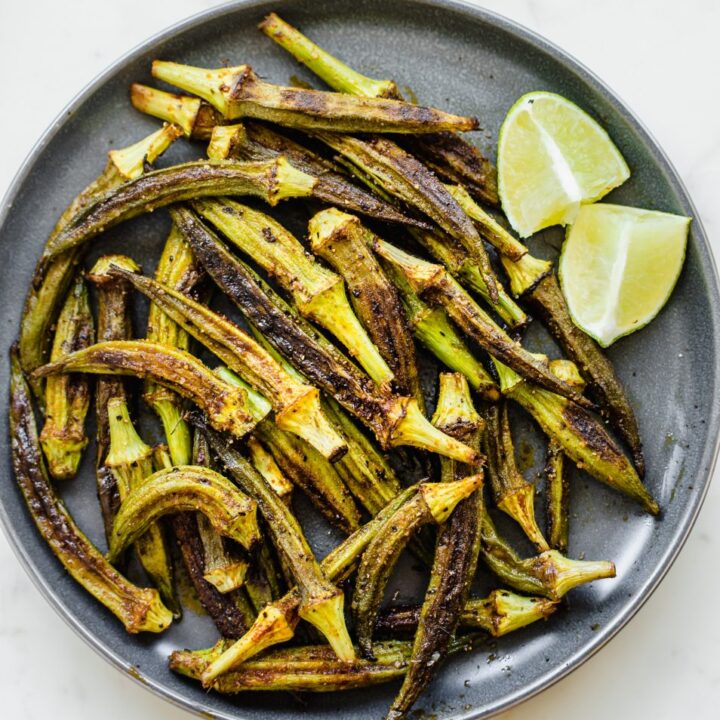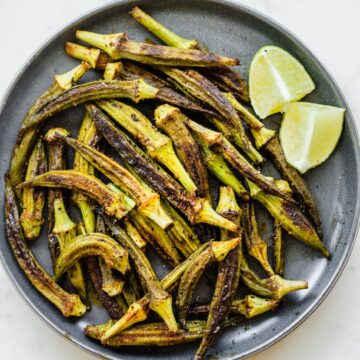 Simple Roasted Okra
Serves: 6-8 Gluten-Free | Vegetarian | Vegan
Print
Pin
Rate
Ingredients
1

pound

fresh whole okra, rinsed and dried thoroughly

½

teaspoon

smoked paprika

½

teaspoon

brown sugar

¼

teaspoon

dried garlic

½

teaspoon

salt

½

teaspoon

pepper

Pinch

of ground cayenne pepper

2

tablespoons

olive oil

Fresh lime wedges
Instructions
Preheat oven to 425℉.

Remove tops and tips of okra. Place the okra on a baking sheet.

Combine dried seasonings (paprika through cayenne pepper)in a small bowl.

Drizzle the okra with olive oil, then sprinkle on the dried seasonings. Toss to evenly coat. Roast for 12-15 minutes, stirring halfway, until the okra is tender and has a nice caramelization on the outside.

Use 1-2 lime wedges and squeeze the juice on the hot okra. Serve immediately.
Notes
Refrigerate leftovers for up to 3 days. Serve cold okra chopped up on salads!
**Nutrition information is an estimate based on the VeryWell Fit recipe analyzer. 
Serving:
1
serving
|
Calories:
62
kcal
|
Carbohydrates:
3.7
g
|
Protein:
2.5
g
|
Fat:
4.7
g
|
Saturated Fat:
0.7
g
|
Sodium:
214
mg
|
Potassium:
8
mg
|
Fiber:
1.7
g
|
Sugar:
1.1
g
|
Calcium:
18
mg
Pin this, pretty please!