This Pepperoni Pizza Pasta Salad is a hearty, flavorful, gluten-free pasta salad made with high-protein chickpea pasta, turkey pepperoni, all your favorite pizza toppings, and a zesty Italian vinaigrette. It's perfect for summer cookouts and picnics!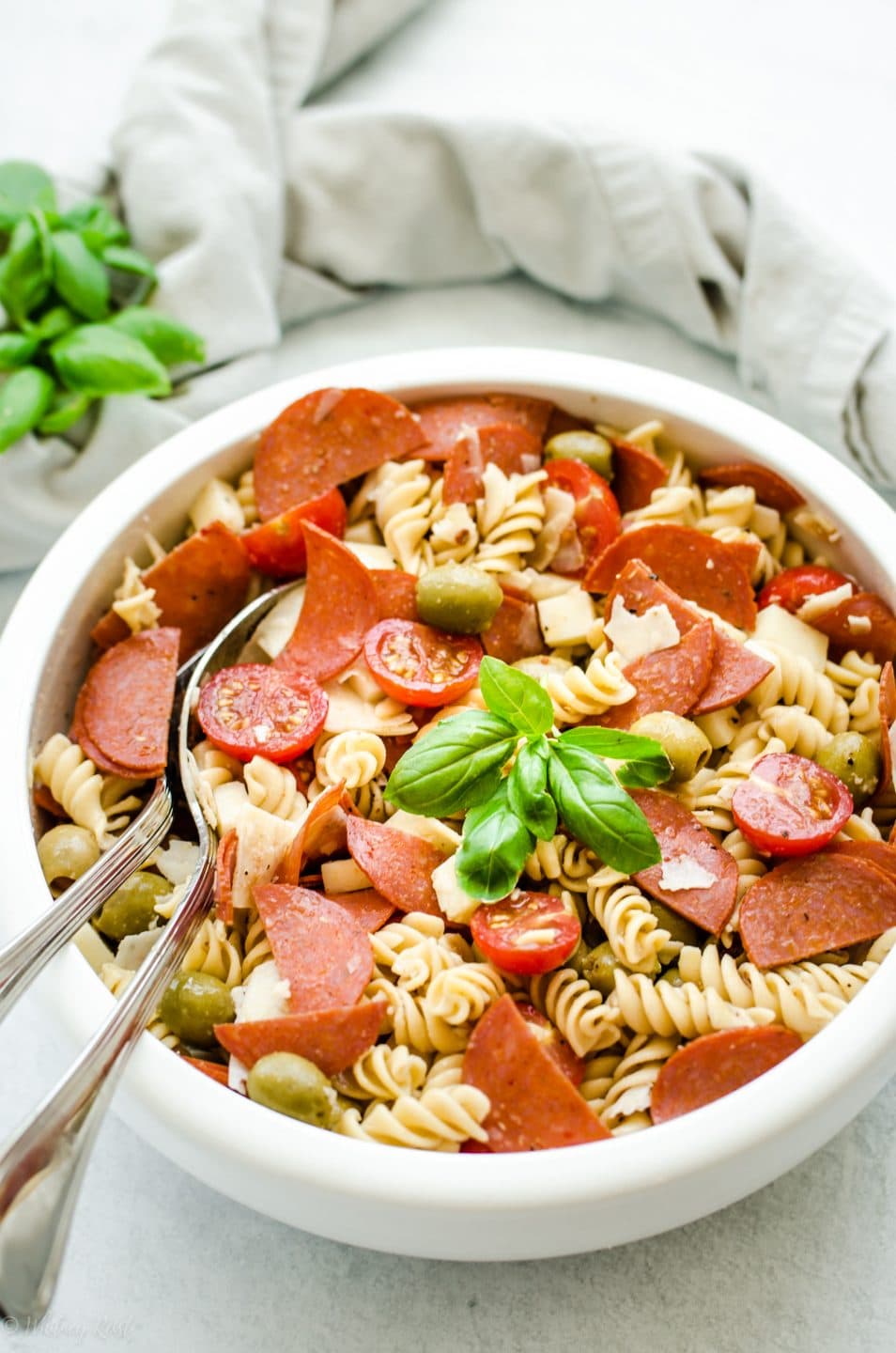 Jump to:
About the recipe
Hello there, you gorgeous, meal-prep pizza manifestation of my dreams. Pepperoni Pizza Pasta Salad is here to make you and your lunch box VERY happy!
You all know that my love for pizza runs strong and deep. If I could only eat one other (savory) food every day for the rest of my life, it would certainly be pizza. It's basically all of the food groups in a single dish. I never tire of it. And now, I've got a lunchbox-friendly, picnic-worthy, meal prep-friendly favorite coming at you - PEPPERONI PIZZA PASTA SALAD.
I've made this twice in the month of May - double batches, mind you - for lunches, and Ryan and I are living for it. Basically, when this is on the lunch menu, lunchtime cannot come fast enough for us! We love that it is a healthy pasta salad recipe that is high in protein, fiber, and color from all the delicious add-ins. Let me give you all of the delicious details...
Video
Ingredients
This pizza pasta salad recipe is Italian-inspired and uses some of my favorite pizza toppings. You can easily customize it for your own taste preferences!
Pasta - choose the shape and type that makes you happy! We love using chickpea pasta for its high fiber and protein content.
Part-skim mozzarella cheese or fresh mozzarella pearls
Parmesan cheese
Turkey pepperoni - try and find an uncured, nitrate and nitrite-free turkey pepperoni
Green olives
Grape tomatoes
Fresh basil
Olive oil and red wine vinaigrette
Italian seasoning blend, garlic powder, sugar, sugar, salt, pepper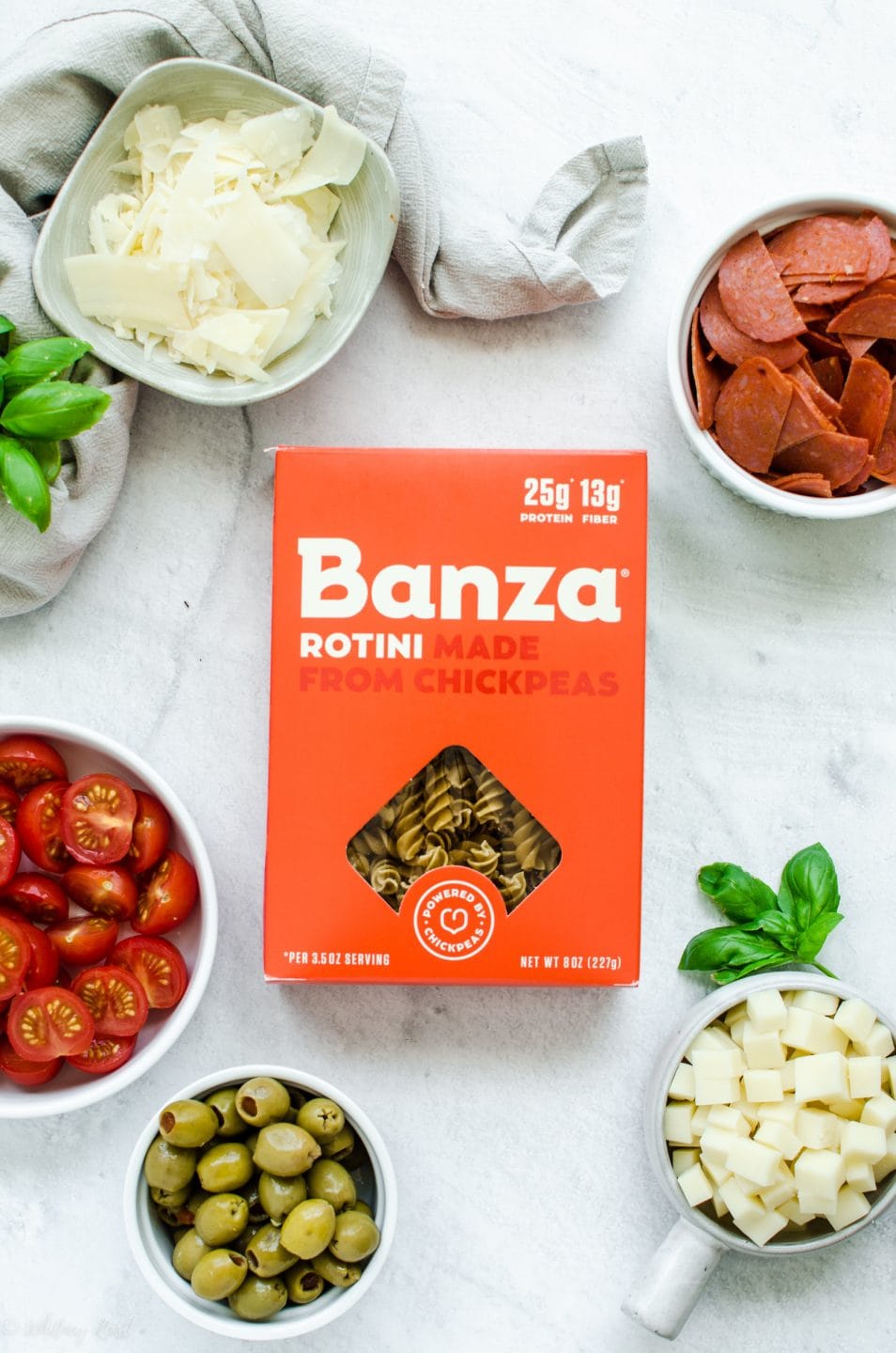 Instructions
Step 1: Cook your pasta - you will want to cook your pasta according to the package directions of the type that you choose.
Step 2: Prep your mix-ins - this is a great thing to do while the pasta is cooking. Slice, dice, and shred as needed. I use well-drained whole, pimento-stuffed green olives. Then I slice my pepperonis and grape tomatoes in half. The mozzarella is diced into ¼'' cubes, and the Parmesan is shaved coarsely. For the vinaigrette, just shake all the ingredients together in a jar like so...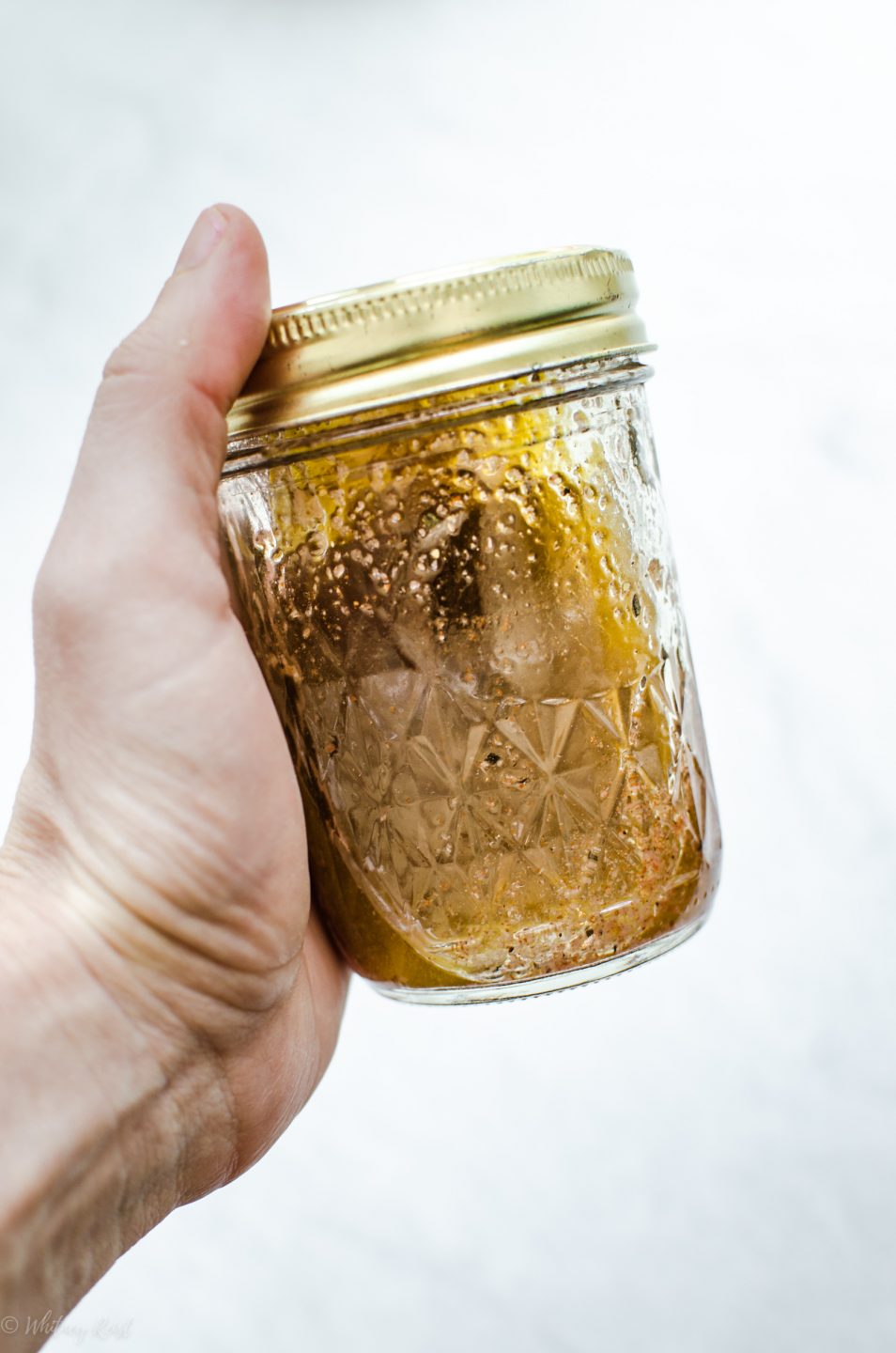 Step 3: Dress with vinaigrette - lightly toss the pasta and toppings in the vinaigrette BEFORE storage. The flavors will develop over time, and the pasta salad will taste even better on day 3 and 4! If you plan to add fresh basil, keep this aside and add right before serving, as the basil may turn black during refrigeration.
Step 4: Package in meal prep containers - I like to pre-portion the pasta salad in to-go or meal prep containers so it's easy to grab on the way out the door in the morning.
Step 5: Enjoy through the week - as I mentioned, as yummy as this tastes on day 1, it tastes even better on days 3 and 4 as the flavors meld together and the pasta marinates. So it is perfect for making a big batch to enjoy through the workweek.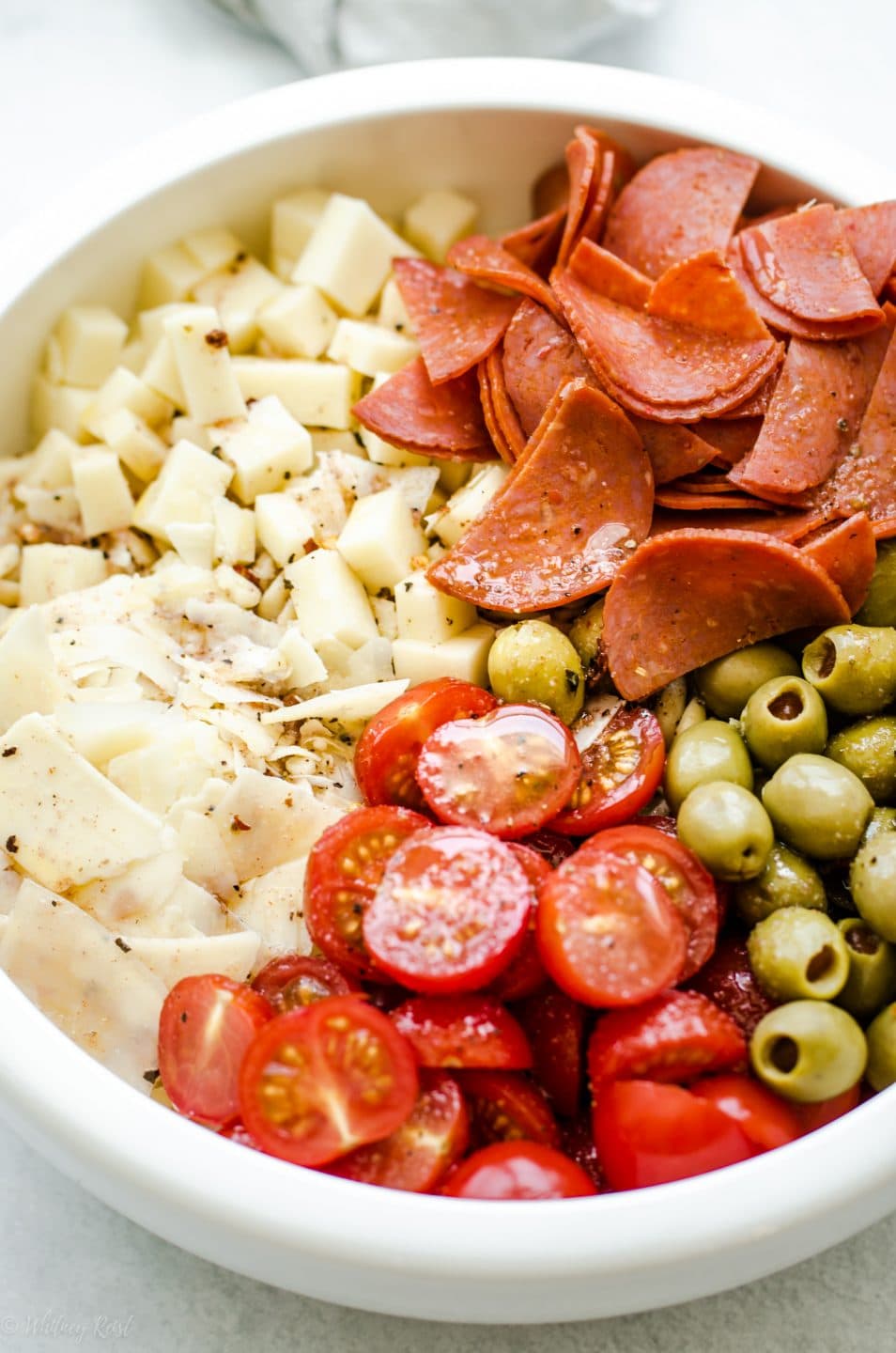 Serving suggestions
You can easily modify this recipe for your taste preferences, dietary needs, and to use what you have on hand.
GLUTEN-FREE - as written, this recipe is gluten-free. Just make sure products are certified gluten-free (such as pepperoni) by looking for that indication on the label.
VEGETARIAN/VEGAN - make it vegetarian by omitting the turkey pepperoni. Make it vegan by omitting the turkey pepperoni and cheese, substituting with a vegan or cashew cheese.
DAIRY-FREE - use your favorite vegan cheese shreds in place of the mozzarella and Parmesan. You could also add sprinkles of nutritional yeast.
VARY the VEGGIES - other add-ins that are delicious include thinly-sliced zucchini, marinated artichokes, jalapeno peppers, red onion, sliced bell pepper, chopped fresh baby spinach, baby kale leaves, or small broccoli florets.
I like to serve this pepperoni pizza pasta salad on a bed of lettuce with an extra drizzle of olive oil and balsamic vinegar on top!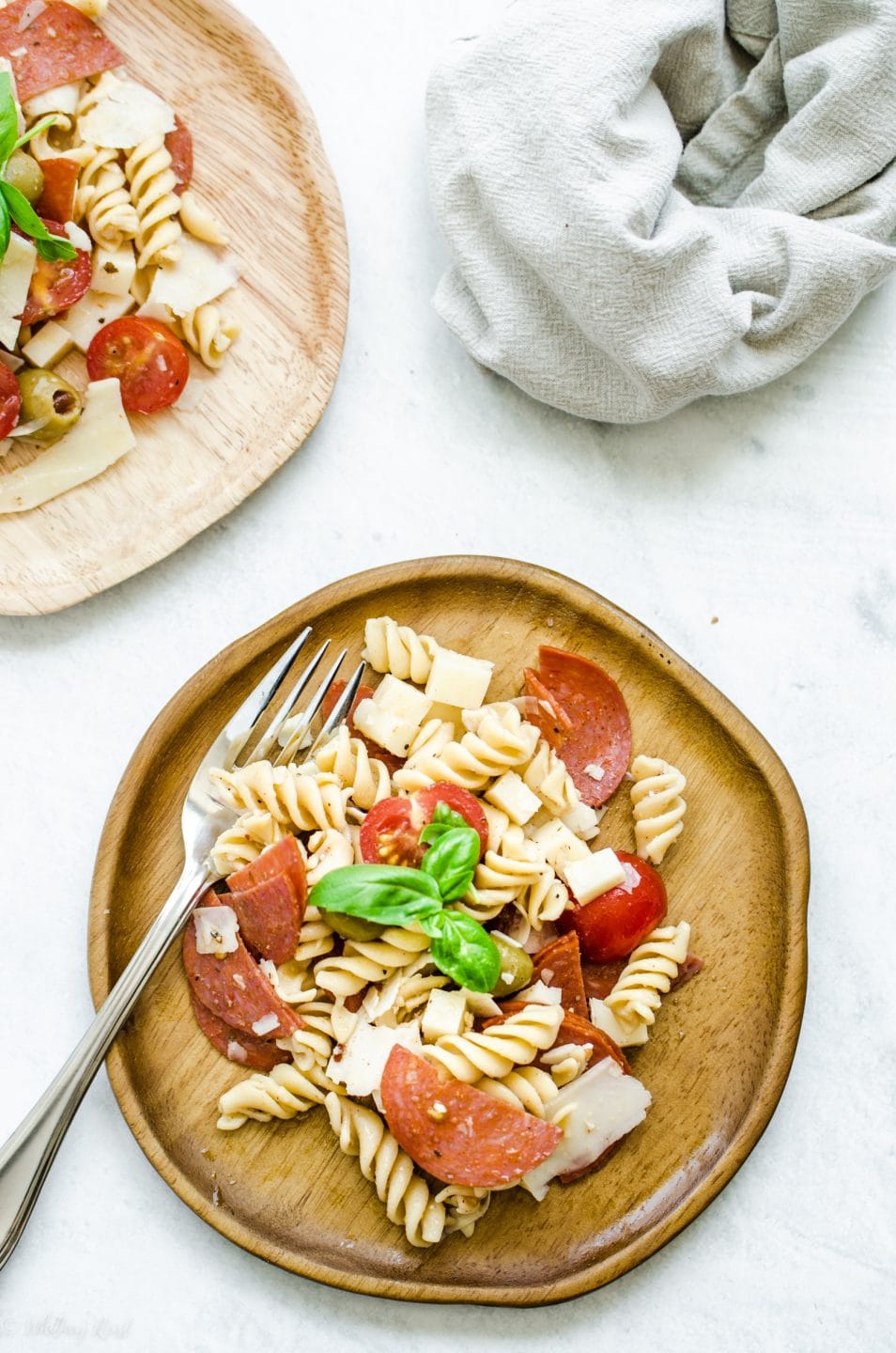 Top tips
Below are some of my best tips for making this pizza pasta salad, as well as some answers to commonly asked questions!
Do I have to use chickpea pasta for this recipe?
For this pasta salad, I'm using the super yummy, filling, and satisfying Banza chickpea pasta. This pasta is made with chickpea flour and pea protein, which means it's high in fiber, high in protein, and perfect for our gluten-free friends. And you know what else? It tastes amazing!
You can use any type of pasta for this pasta salad though. Larger shapes, like bowtie, rotini, or penne, will work best.
Why is my chickpea pasta mushy?
For Banza pasta, I find the texture is best on the lower end of the cooking time - about 6 minutes. Be careful not to overcook your pasta. Since it is marinated in dressing and stored for a few days, it will tenderize a bit over time. So lean towards a more "toothy" or al dente/firmer texture.
Do you rinse pasta for pasta salad?
If the pasta salad will be served cold, which in this case it is, you should rinse the pasta in cold water after draining to stop the cooking process. This will also allow for the pasta salad to chill more quickly once everything is mixed together.
How long will pasta salad last in the fridge?
This pizza pasta salad will keep well overnight in the fridge and for up to 5 days. It tastes better the longer it sits and marinades, so it's great for making ahead the night before you plan to serve it.
Similar Recipes
If you are in search of more hearty Italian salad recipes, be sure to check out my Summer Pasta Salad with Zucchini and this Italian Antipasto Chopped Kale Salad!
Are you ready to make this Pizza Pasta Salad? I'm so excited for you to try this recipe. Once you get the chance to make it, please let me know how it turns out for you!
Leave a comment and rate the recipe below. This will help me with the creation of future recipes!
I'd also love to feature your creation in my weekly newsletter, so you can upload a photo to Instagram with the tag @sweetcayenne5 to be featured! Quick and easy recipe videos are available on my YouTube channel, and lots of menu inspiration on my Pinterest boards.
Recipe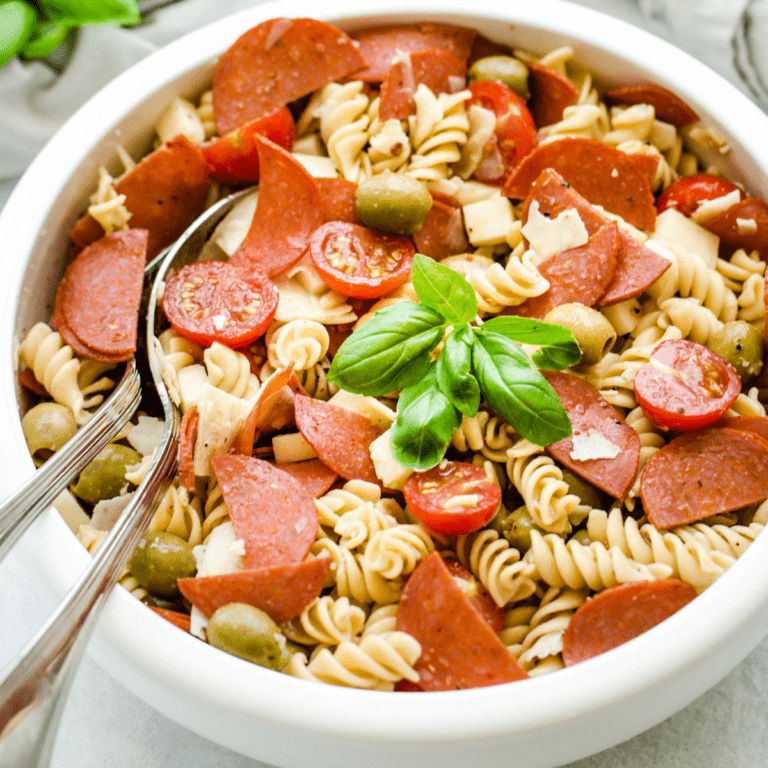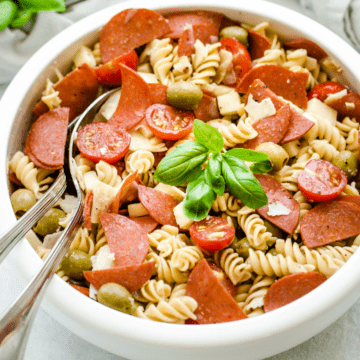 Pepperoni Pizza Pasta Salad
This Pepperoni Pizza Pasta Salad is a hearty and flavorful pasta salad made with chickpea pasta, turkey pepperoni, all your favorite pizza toppings, and a zesty Italian vinaigrette. It's perfect for summer cookouts and picnics!
Print
Pin
Rate
Ingredients
For the pasta salad:
8

ounces

(1 box) Banza rotini pasta, cooked for 6 minutes and drained, then rinsed with cold water to cool completely

4

ounces

part-skim mozzarella cheese, sliced into ¼'' cubes

½

cup

Parmesan cheese shavings

1

cup

turkey pepperoni, sliced in half

¾

cup

pitted green olives

¾

cup

marinated artichoke quarters

1

cup

cherry or grape tomatoes, halved

½

cup

of fresh basil, finely chopped (optional)
For the vinaigrette:
¼

cup

red wine vinegar

¼

cup

olive oil

1

teaspoon

Italian seasoning blend

¼

teaspoon

garlic powder

½

teaspoon

sugar

½

teaspoon

salt

½

teaspoon

pepper
Instructions
Cook the pasta according to package directions (I cooked mine for 6 minutes), then drain in a colander. Rinse the pasta with cool water until it is completely cool.

In a mason jar, combine the vinegar, oil, Italian seasoning, garlic powder, sugar, salt and pepper. Shake to combine.

In a large bowl, add the cooled pasta, mozzarella, Parmesan, pepperoni, olives, artichokes, tomatoes, and basil. Pour the vinaigrette on top and toss to combine. Serve at room temperature or chilled.

Pasta salad will keep in the fridge up to 5 days. I recommend adding fresh basil as needed for each serving, as it may darken in the fridge.
Serving:
1
cup
|
Calories:
357
kcal
|
Carbohydrates:
25.5
g
|
Protein:
23.9
g
|
Fat:
20.5
g
|
Saturated Fat:
5.7
g
|
Cholesterol:
42
mg
|
Sodium:
1087
mg
|
Potassium:
72
mg
|
Fiber:
6.4
g
|
Sugar:
4.5
g
|
Calcium:
120
mg
|
Iron:
5
mg