This BLT Panzanella Salad recipe puts a summery, Southern twist on the classic Tuscan bread salad with the addition of crispy salty bacon and zesty pickled cherry tomatoes!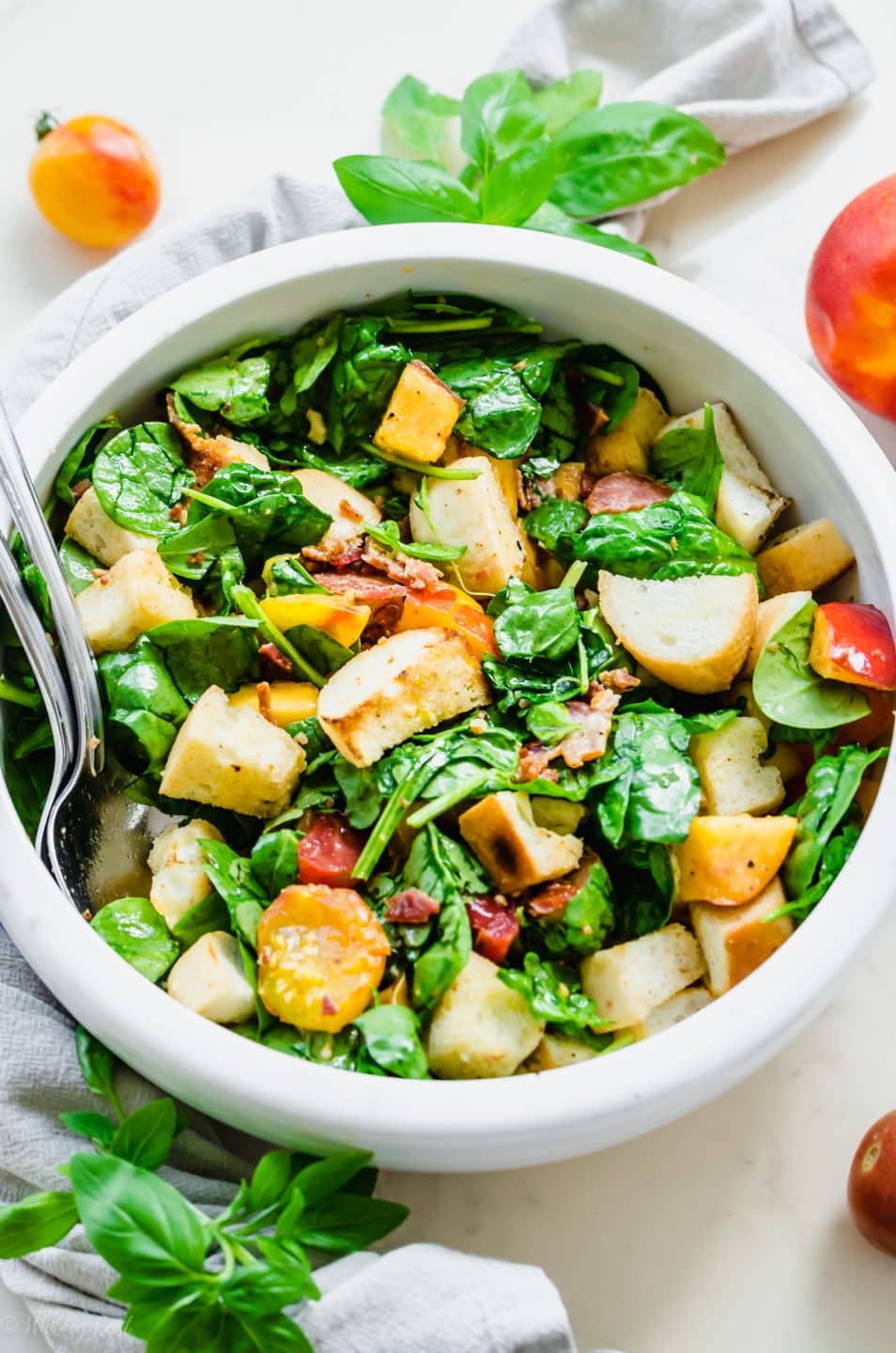 Time for recipe #2 of our new August series - the Sweet Cayenne VegFest! Whoop!
As you may already know, we are having a month-long celebration of summer produce here on Sweet Cayenne. EIGHT brand new recipes dedicated to my favorite produce items that I've either grown in my garden or enjoyed purchasing at local farmer's markets. I'd love if you joined in the fun - if you make any of the recipes in this series or have your own recipe to share that highlights summer produce, please tag it with the series hashtag #sweetcayennevegfest so that I and everyone following along can see it! This would also apply to pictures of anything you've grown in your home garden, so please share!
Today's recipe for BLT Panzanella Salad builds on the recipe for Easy Pickled Cherry Tomatoes that I posted earlier this week. If you wondered what a good way to serve those would be, this is it! Panzanella Salad is a traditional Tuscan bread salad made with unsalted, stale Italian bread, fresh summer tomatoes, and basil, along with other items. In this version, I'm giving it a Southern twist with a BLT theme that features bacon, baby spinach, the pickled cherry tomatoes, and a zippy vinaigrette made with the pickling brine. This salad is hearty enough to serve on its own as a complete meal and is delicious served with a bubbly Pelligrino water or an Aperol Spritz!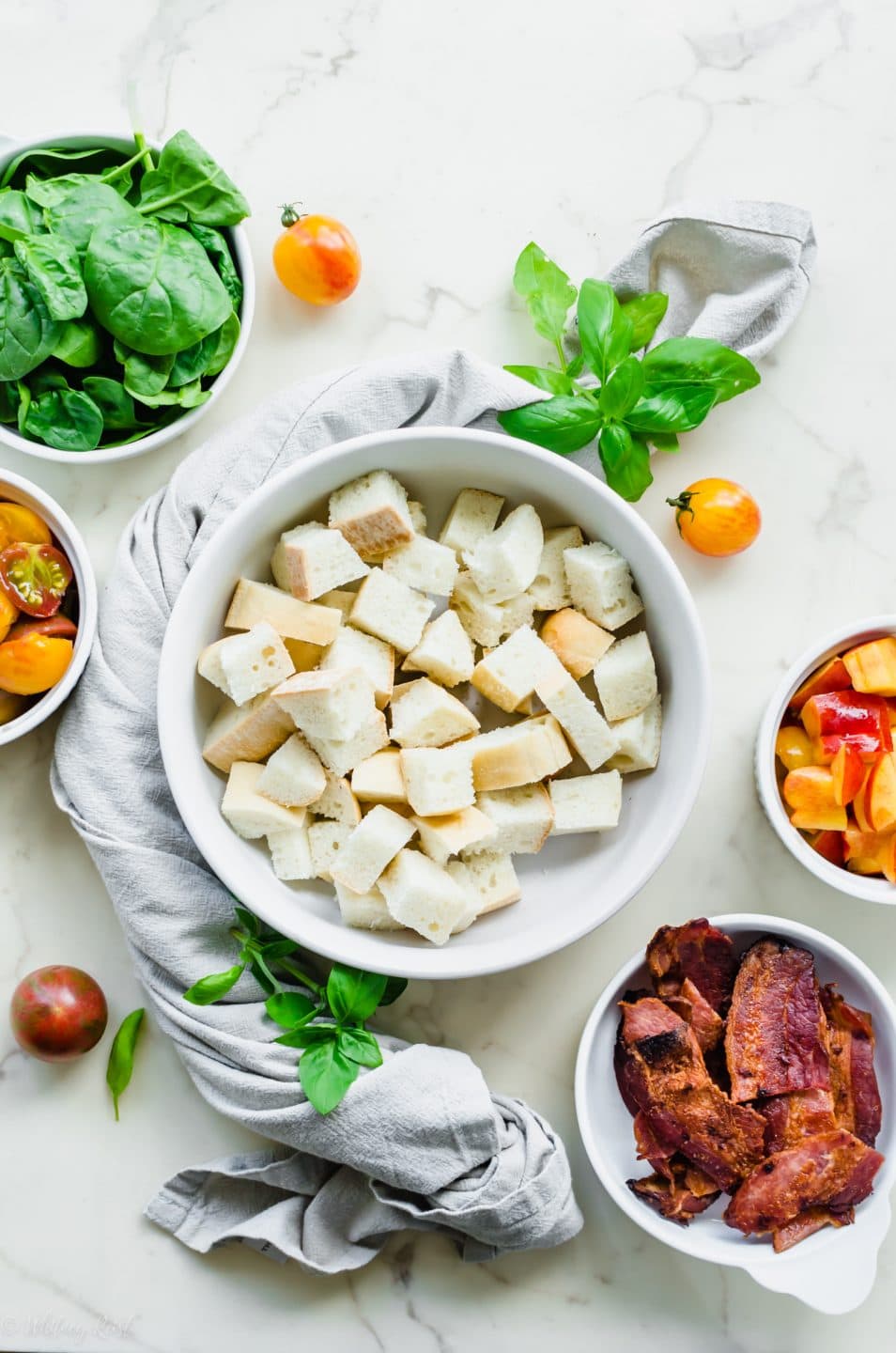 BLT Panzanella Salad Ingredients
Bread - traditional Panzanella calls for unsalted Tuscan bread that has become stale. The bread is typically rehydrated with a vinegar-based dressing and tomatoes. The closest thing I could get is Italian ciabatta bread from the local grocery. And instead of letting it get completely stale, I'm toasting it in the oven with olive oil for more flavor. I'm not a big fan of the texture of the softened bread in traditional Panzanella, so we are using crusty, crouton-like bread pieces that don't get moistened until the salad is tossed with the vinaigrette.
Tomatoes - for this version, you will need to make some Easy Pickled Cherry Tomatoes. They are super quick to make (allow for 2 days of pickling in the fridge) and provide a tangy, zesty flavor contrast to the salty bacon.
Greens - I chose to use baby spinach and fresh basil in my version of Panzanella because I knew the hearty spinach leaves would hold up to all the juiciness from the peaches and tomatoes.
Bacon - I love to use a good thick-cut, uncured, smoked bacon in a BLT. It's a good idea to splurge a bit on high-quality bacon because you only need a little for tons of delicious flavor.
Nectarines or Peaches - you all know how I feel about peaches and necatarines! I'm constantly looking for recipes to use my favorite fruit in while it's in season, and this salad is a delicious way to showcase fresh juicy stone fruit.
Vinaigrette - all of the ingredients get tossed together in a light vinaigrette that uses the tomato pickling brine as the base. I love to make use of ingredients that would typically be discarded when I can!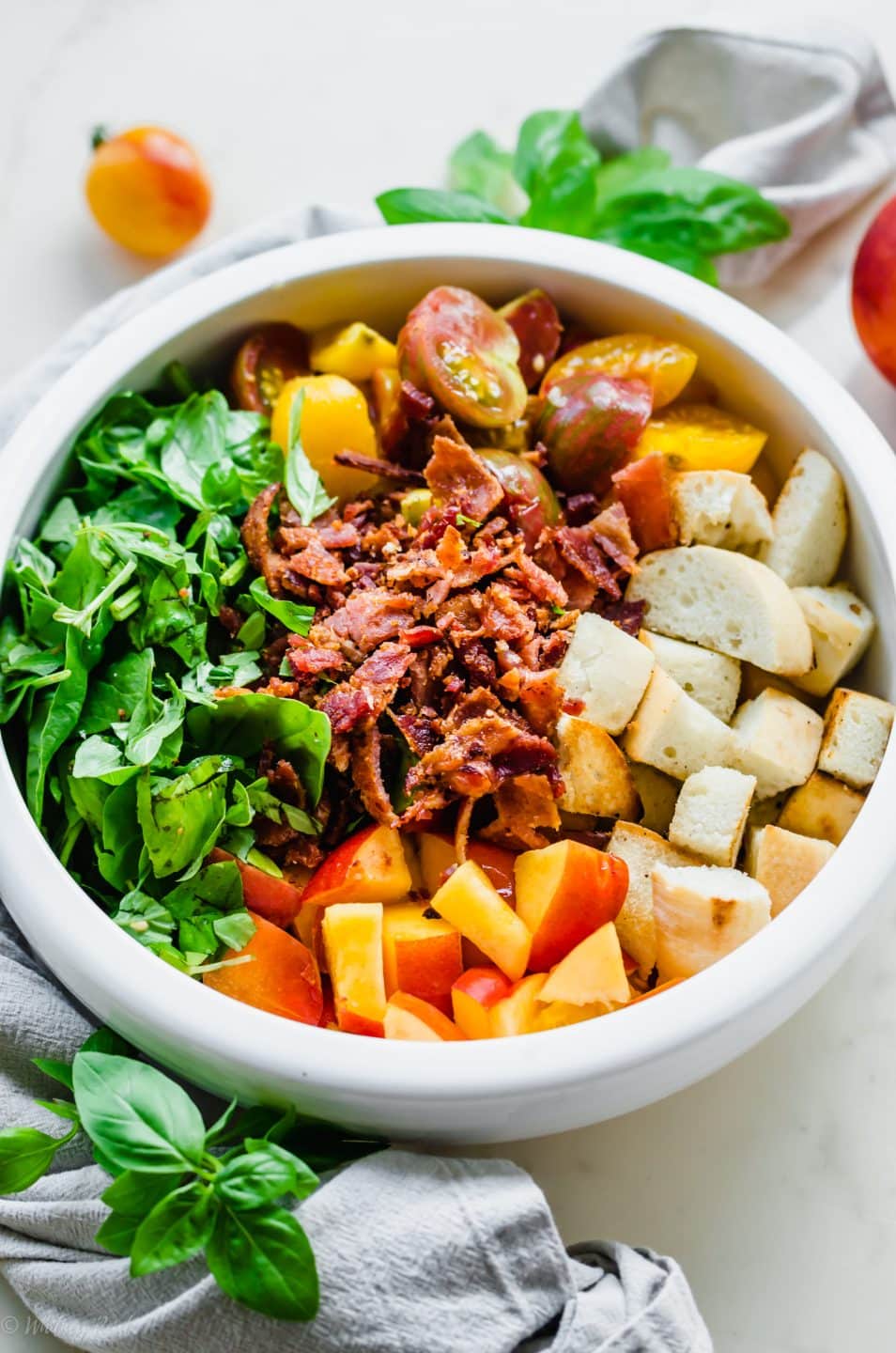 How to Make BLT Panzanella Salad
Cook the bacon - I find the easiest way to do this is a foil-lined baking sheet, and then I drain off the grease halfway through cooking.
Chop the produce - this is a great task to do while the bacon cooks!
Toast the bread - we'll be toasting the bread in a little of the reserved bacon grease, which will result in lots of flavor for our salad and crips, golden brown bread cubes.
Make the vinaigrette - all that will be involved with this step is shaking a few ingredients together in a Mason jar. Easy peasy!
Toss everything together - you will want to toss all of the ingredients for this salad together right before serving for the best texture.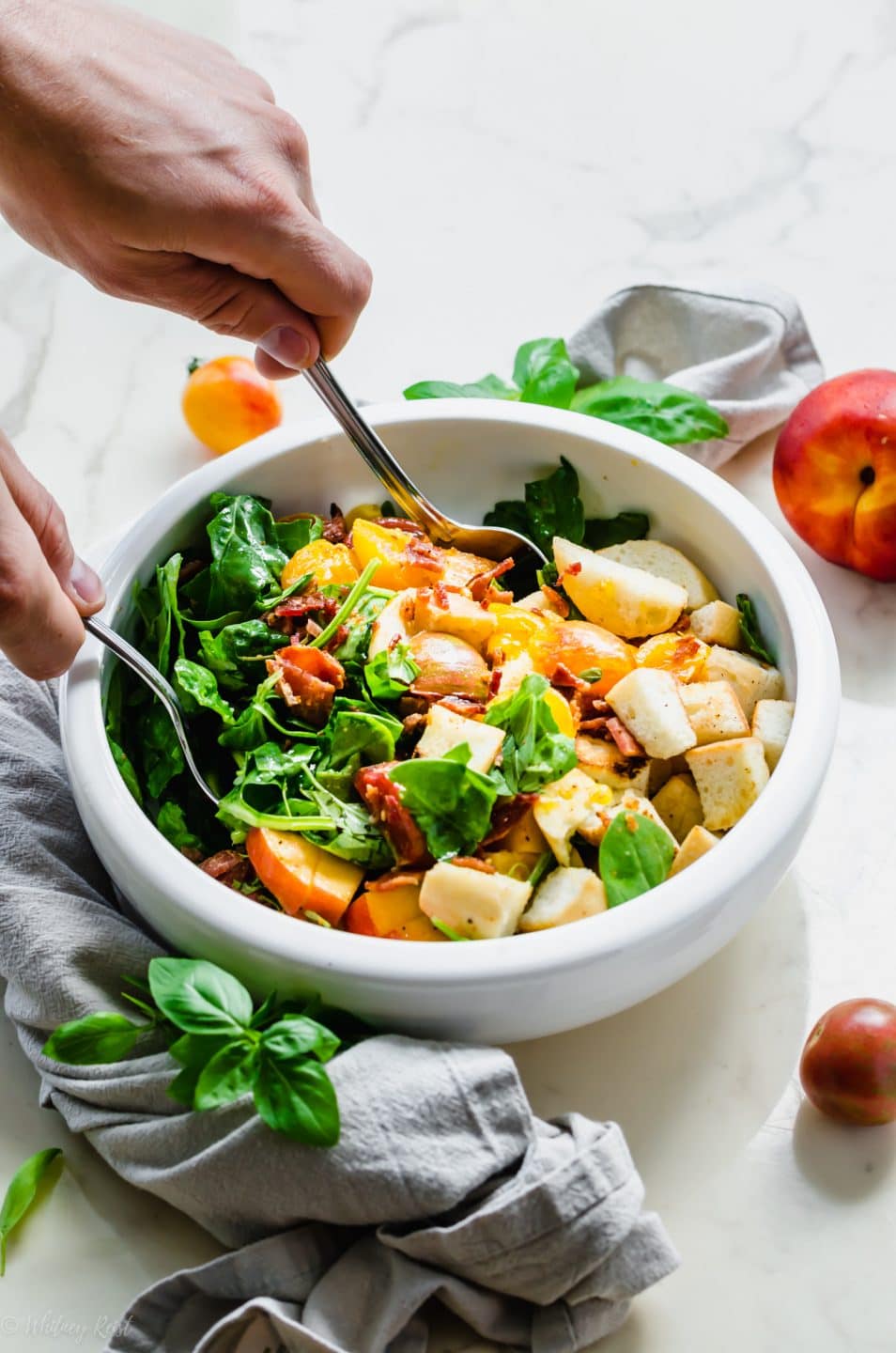 Variations and Modifications for BLT Panzanella Salad
Swap out the bacon - if you'd like to cut back slightly on the fat, feel free to use turkey or Canadian bacon in this recipe. Also, Italian meats like prosciutto, pancetta, soppressata, capicola, or salami would all be delicious!
Use a different type of crusty bread - the crustier and more rustic the bread, the better! A baguette, sourdough boule, or focaccia would all be amazing options.
Substitute other greens and veggies - feel free to use another hearty green for this salad in place of the spinach. Arugula or massaged kale would be great options. Also, if you don't have pickled cherry tomatoes, just use fresh tomatoes! Nectarines will sub for peaches perfectly, and I've used them in this salad before and loved it. Avocado in a Panzanella salad is never a mistake. And if you like onions (I just cannot), a little chopped red onion will be just the thing for you.
Use a pre-made dressing - if you don't have pickled cherry tomatoes on hand and/or want to save time, use any pre-made Italian or red wine vinaigrette instead. Keep things as simple as you need to!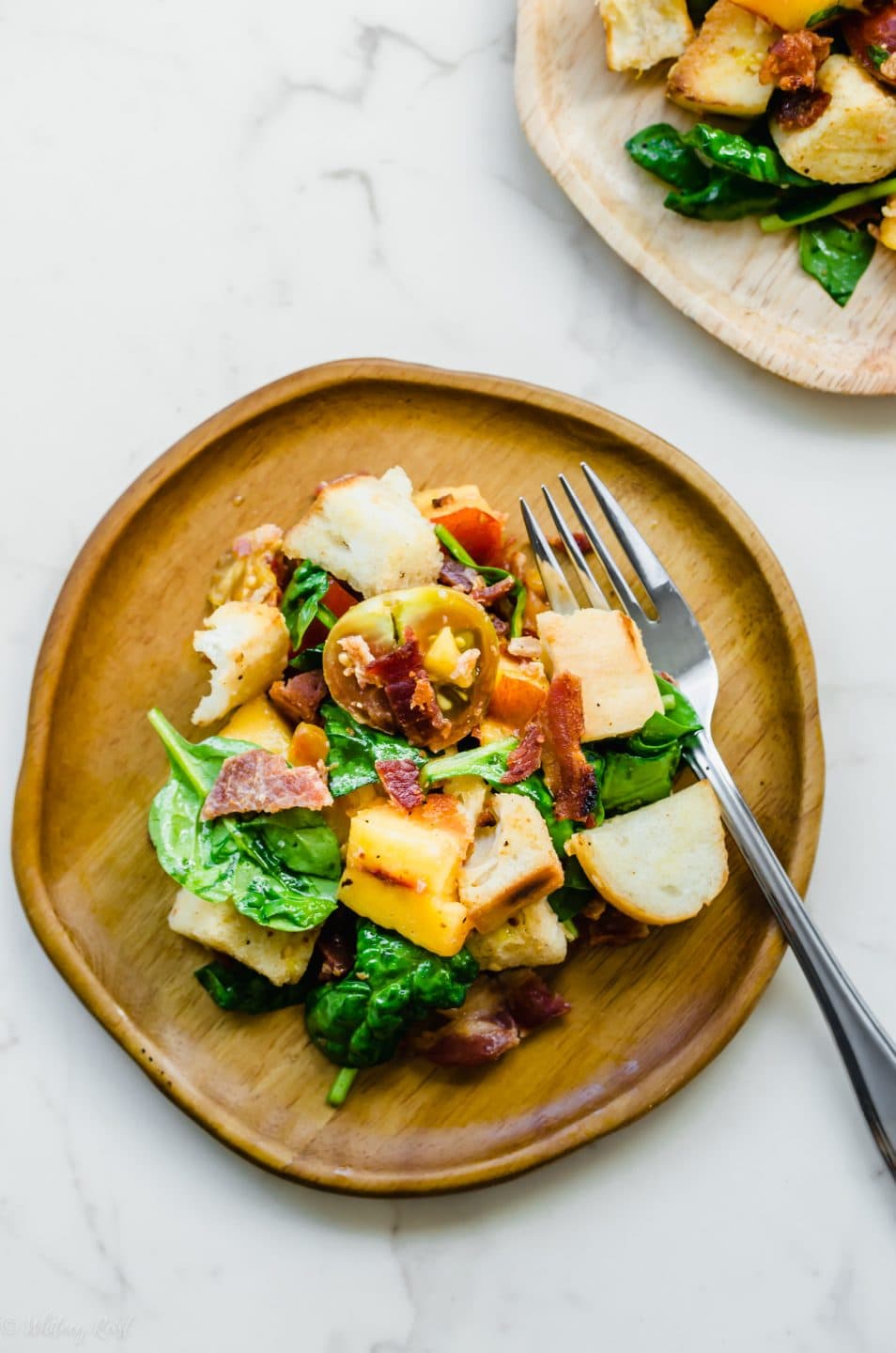 Are you ready to make this BLT Panzanella Salad? I'm so excited for you to try this recipe. Once you get the chance to make it, please let me know how it turns out for you! Leave a comment and rate the recipe below. This will help me with the creation of future recipes! I'd also love to feature your creation in my monthly newsletter, so you can upload a photo to Instagram or Twitter with the tag @sweetcayenne5 to be featured!
Recipe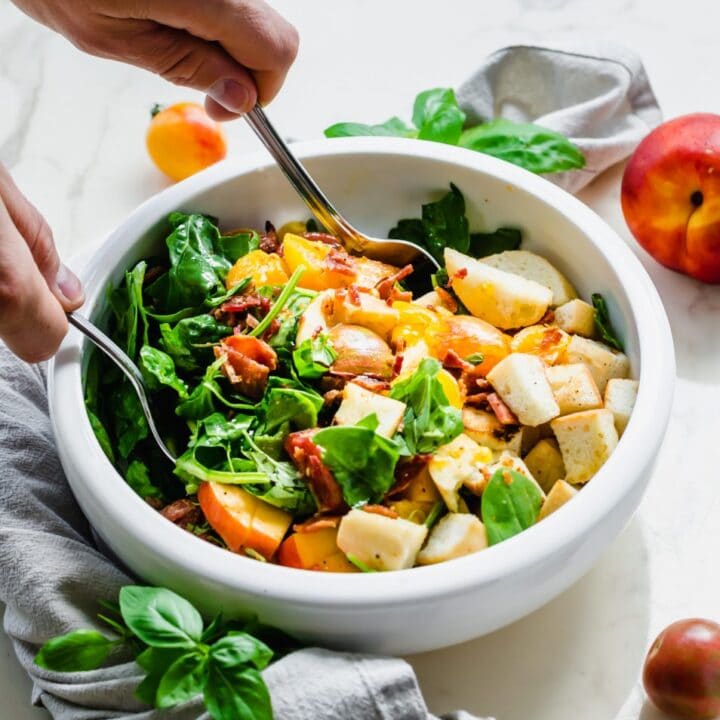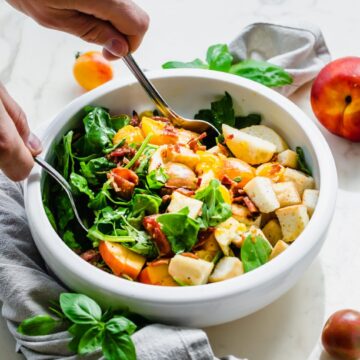 BLT Panzanella Salad with Pickled Cherry Tomatoes
This BLT Panzanella Salad recipe puts a summery, Southern twist on the classic Tuscan bread salad with the addition of crispy salty bacon and zesty pickled cherry tomatoes!
Print
Pin
Rate
Ingredients
For the salad:
8

slices

thick-cut bacon

4

cups

cubed ciabatta bread (focaccia or a baguette will also work)

4

cups

packed baby spinach

2

medium

peaches or nectarines, cut into 1'' cubes

⅓

cup

fresh basil leaves, cut chiffonade-style into thin strips
For the vinaigrette:
¼

cup

of the cherry tomato brine

1

teaspoon

Dijon mustard

2

tablespoons

olive oil

½

teaspoon

sugar

Salt and pepper to taste
Instructions
Cook bacon on a baking sheet at 375℉ for 15 minutes. Drain, reserving 1 tablespoon of the drippings, flip the slices, and continue to cook another 6-8 minutes until crisp. Place bacon strips on a paper towel to blot the grease. Cool slightly before roughly chopping into small pieces.

Place the bread cubes on the baking sheet you cooked the bacon on. Add the reserved bacon drippings, and toss to combine. Toast for 15 minutes, flipping halfway, until the bread is golden brown and toasted. After cooling slightly, transfer the bread cubes to a large serving bowl.

Add the bacon, spinach, tomatoes, and peaches to the bowl of bread.

Combine the cherry tomato brine, mustard, olive oil, and sugar in a small bowl with a whisk. Add salt and pepper to taste. Pour the dressing over the bread salad. Add the basil. Toss gently to combine all of the ingredients. Serve immediately.
Notes
*Nutrion information obtained via VeryWell Fit recipe analyzer and is a rough estimate. 
Serving:
2
cups
|
Calories:
199
kcal
|
Carbohydrates:
13.2
g
|
Protein:
7.7
g
|
Fat:
13
g
|
Saturated Fat:
3
g
|
Cholesterol:
15
mg
|
Sodium:
522
mg
|
Potassium:
357
mg
|
Fiber:
2.3
g
|
Sugar:
6.7
g
|
Calcium:
30
mg
Pin this, pretty please!