This easy recipe for pickled cherry tomatoes is the perfect way to make a quick refrigerator pickle out of fresh summer tomatoes when you need to use them up!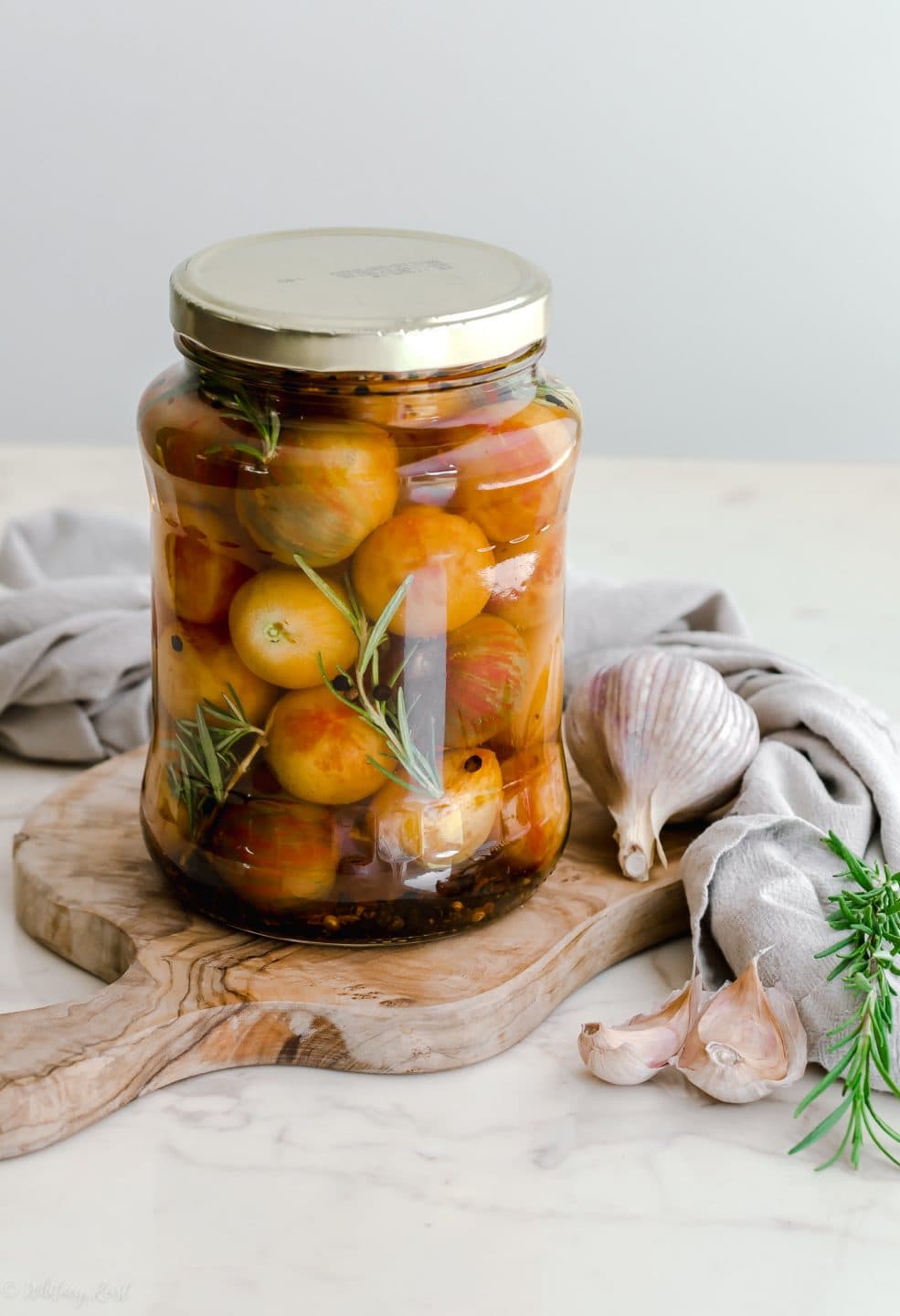 It's the last full month of summer (boo!) and I'm celebrating with a month-long series for my favorite season of the year - and it's called the Sweet Cayenne VegFest! Ryan and I are having so much fun harvesting all of the things we planted in our garden earlier in the year and visiting farmer's markets each weekend. Have you been growing anything? Or have you tried anything fun and new from your local farmer's market?
There is SO much beauty and bounty in the produce that is available in August, so I wanted to celebrate the season's best with some veggie-focused recipes that will showcase my favorite summer produce. I've got 8 brand spanking new recipes that I can't wait to share with you over the course of this month. First up, Easy Pickled Cherry Tomatoes! Ryan and I are knee-deep in the Artisan Bumble Bee Blend Cherry Tomatoes we grew from Botanical Interest seed. The plant is producing like it's in beast-mode, so I needed a quick, easy way to preserve them for a while. Let's get to it!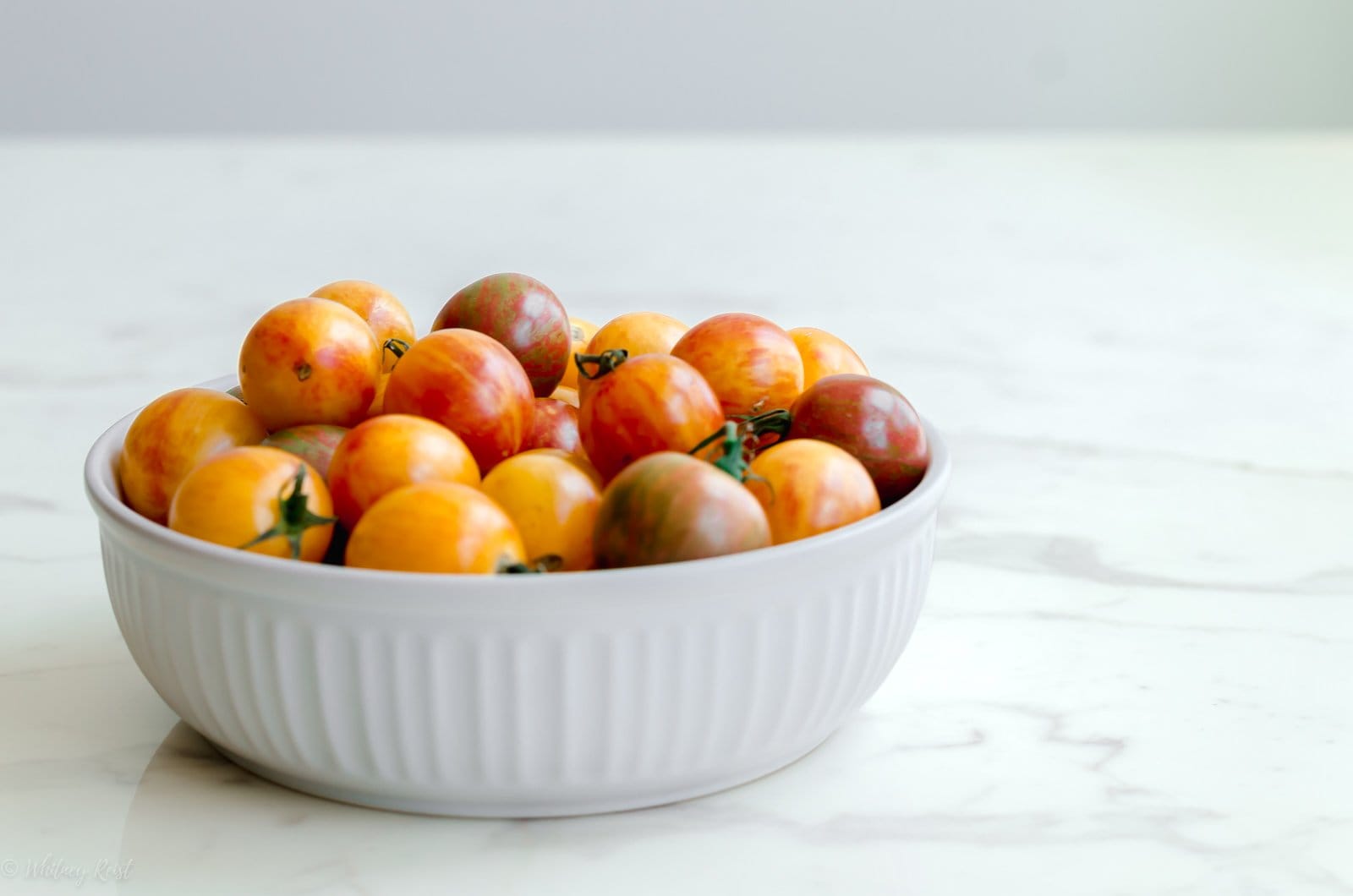 Ingredients for Pickled Cherry Tomatoes
Cherry or grape tomatoes - either variety or color will do! Our Bumble Bee Blend tomatoes are striated with tones of red, orange, yellow, and green, making for a lovely sight in a jar once they are pickled!
Fresh rosemary - these pickled tomatoes have an Italian flavor profile, and fresh rosemary is so yummy in the canning brine. Feel free to use a sprig or two of fresh oregano as well, if you have it! If you aren't a fan of rosemary, I'd suggest using 4-6 sprigs of fresh dill as a replacement.
Whole garlic cloves - a little goes a long way in the flavor department with garlic, so I sliced two cloves in half and place two halves in each jar.
Vinegars - a blend of rice and apple cider vinegar gets the pH and flavoring just right for this recipe.
Sugar - you need a little hint of sweetness to balance out the acidity of the vinegar and tomatoes in this recipe. Not enough to taste sweetness, but a bit for balance!
Salt - salt acts as a flavor additive and a preservative in this recipe. Coarse ground Kosher salt is my salt of choice for pickling.
Whole black peppercorns - most canning and preserving recipes utilize whole spices to keep the liquid nice and clean, and to tame the flavor of the final pickled product. I would advise against using crushed peppercorns or ground pepper for this reason.
Crushed red pepper flakes - just a hint of heat! Feel free to omit if you'd your tomatoes not have any heat to them.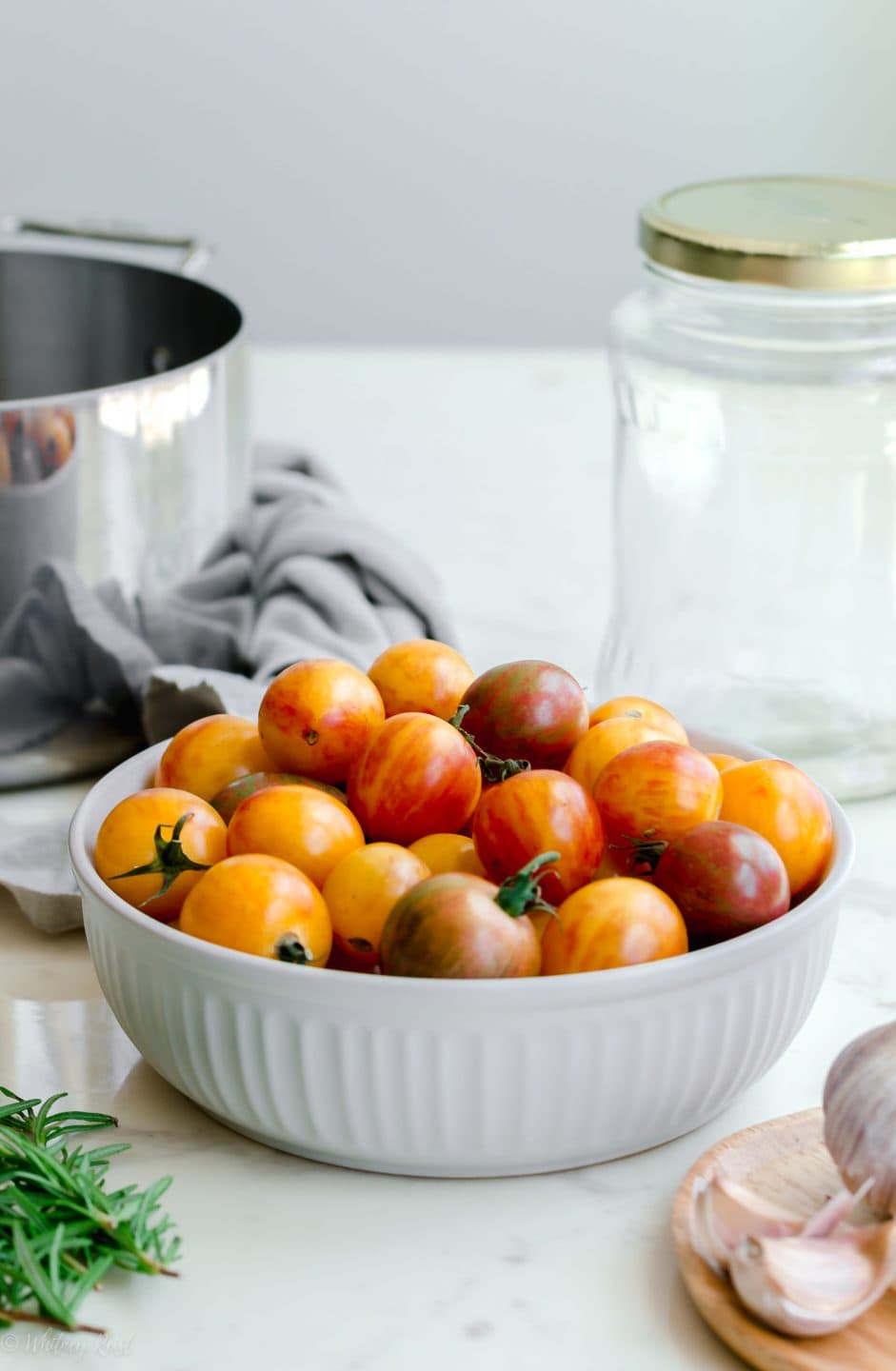 Uses for Easy Pickled Cherry Tomatoes
Your tomatoes will need to pickle for 2 days in the refrigerator before they are ready to eat. Once they are ready, try them in the following ways:
As an ingredient in your favorite summer salads
Mashed into a spread for sandwiches and wraps
Pureed into a salad dressing with some of the pickling liquid
As a colorful and tangy addition to a charcuterie or cheese board
On top of grilled chicken or steak
Alongside other pickled veggies for a BBQ dinner
And in the BLT Panzanella Salad picture below - I'll be sharing it later this week, so stay tuned!
If you want to get on the veggie eating train with me this month, tag your lovely dishes with my series hashtag #sweetcayennevegfest so I can see what you are making!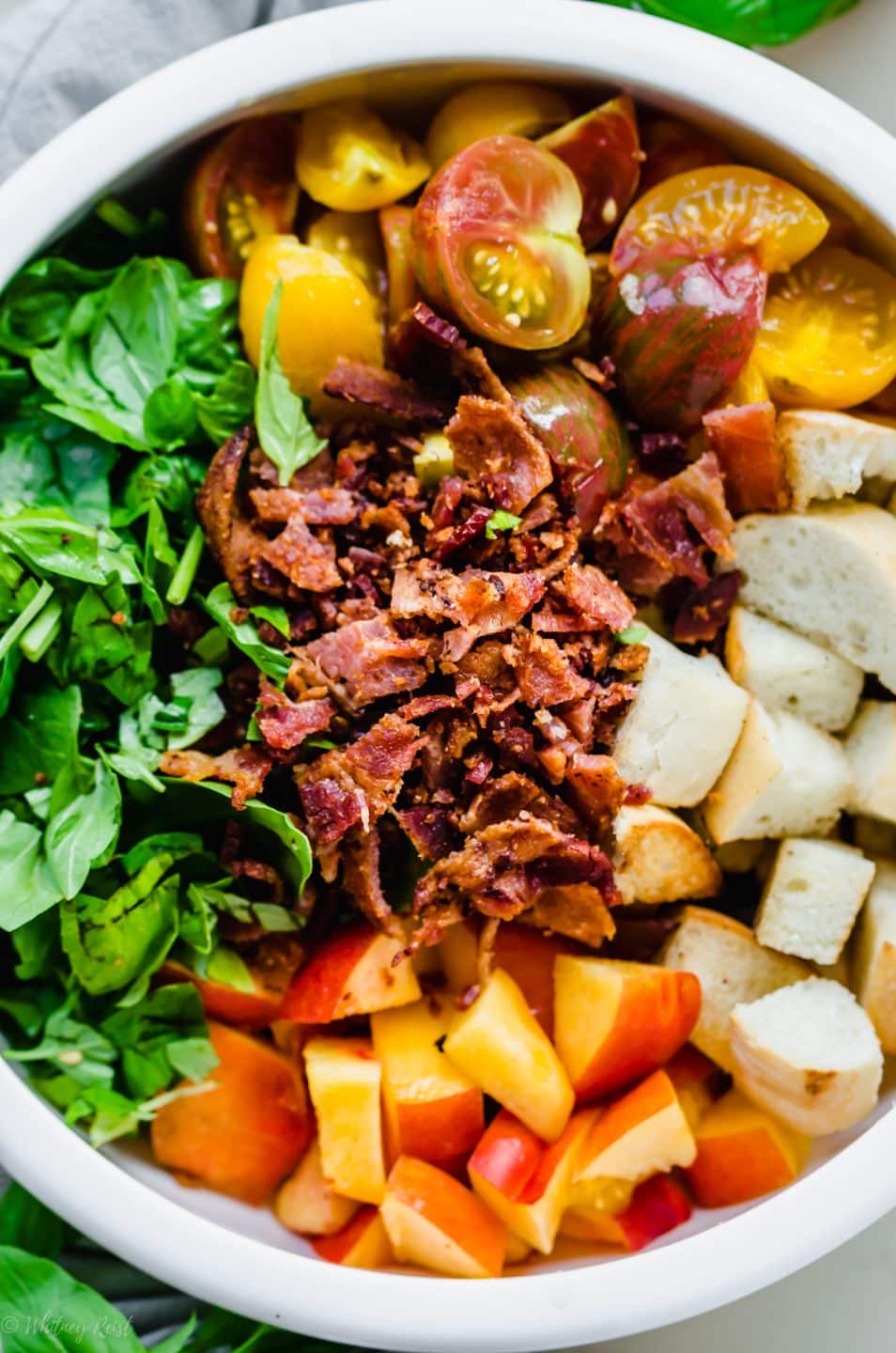 Are you ready to make these Easy Pickled Cherry Tomatoes? I'm so excited for you to try this recipe. Once you get the chance to make it, please let me know how it turns out for you! Leave a comment and rate the recipe below. This will help me with the creation of future recipes! I'd also love to feature your creation in my monthly newsletter, so you can upload a photo to Instagram or Twitter with the tag @sweetcayenne5 to be featured!
Recipe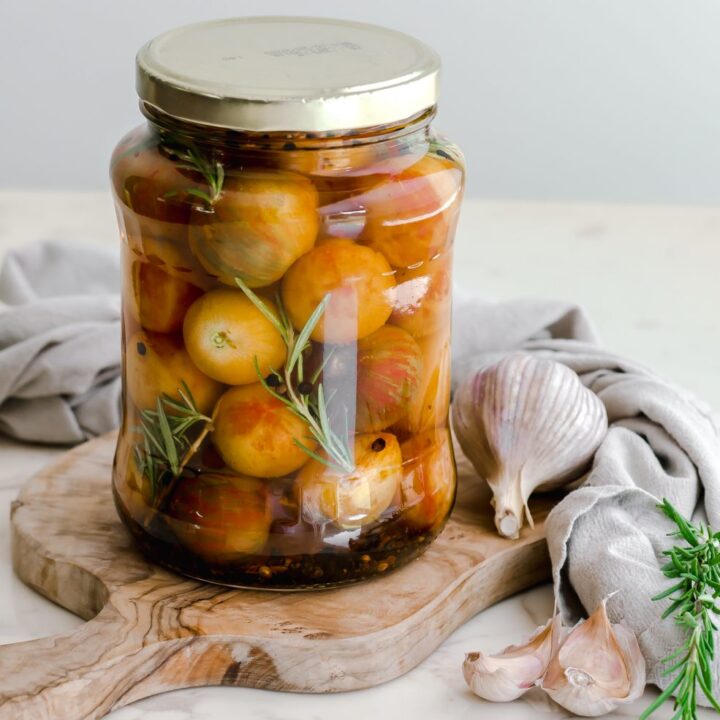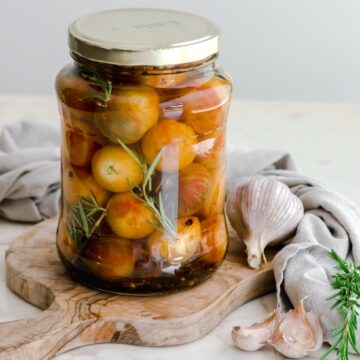 Ingredients
1

pound

multi-colored cherry tomatoes, stems removed

2

(3-inch)

fresh rosemary sprigs

2

cloves

of garlic, halved

1

cup

water

⅓

cup

rice vinegar

⅔

cup

apple cider vinegar

⅓

cup

granulated sugar

2

teaspoons

whole peppercorns

½

teaspoon

red pepper flakes

2

tablespoons

Kosher salt
Instructions
Use a toothpick or wooden skewer to poke a small hole through each tomato. This will help them become flavored by the pickling brine.

Set out two clean 16-ounce canning jars with lids. Divide the tomatoes, rosemary sprigs, and garlic cloves among the jars.

In a medium saucepan, combine the water, vinegars, sugar, peppercorns, red pepper flakes, and salt. Bring to a boil over medium-hight heat, stirring occasionally, until the sugar dissolves.

Remove the pot from heat and cool the brine for 10 minutes.

Pour the brine evenly over the tomatoes, rosemary, and garlic in the jar. Put a tight-fitting lid on each jar and place in the refrigerator. Let the tomatoes chill for 2 days before eating. Label and date the tomatoes, then store in the refrigerator up to 2 months.
Serving:
2
ounces
|
Calories:
55
kcal
|
Carbohydrates:
11.4
g
|
Protein:
0.6
g
|
Fat:
0.2
g
|
Sodium:
1749
mg
|
Potassium:
162
mg
|
Fiber:
0.9
g
|
Sugar:
9.9
g
|
Calcium:
13
mg
Pin this, pretty please!