This Southern-Style Pasta e Fagioli takes an Italian classic soup and merges it with the comfort food flavors of the South. I love to serve it on New Year's Day because it's filled with delicious collard greens and black-eyed peas!
As an Amazon Associate, I earn from qualifying purchases.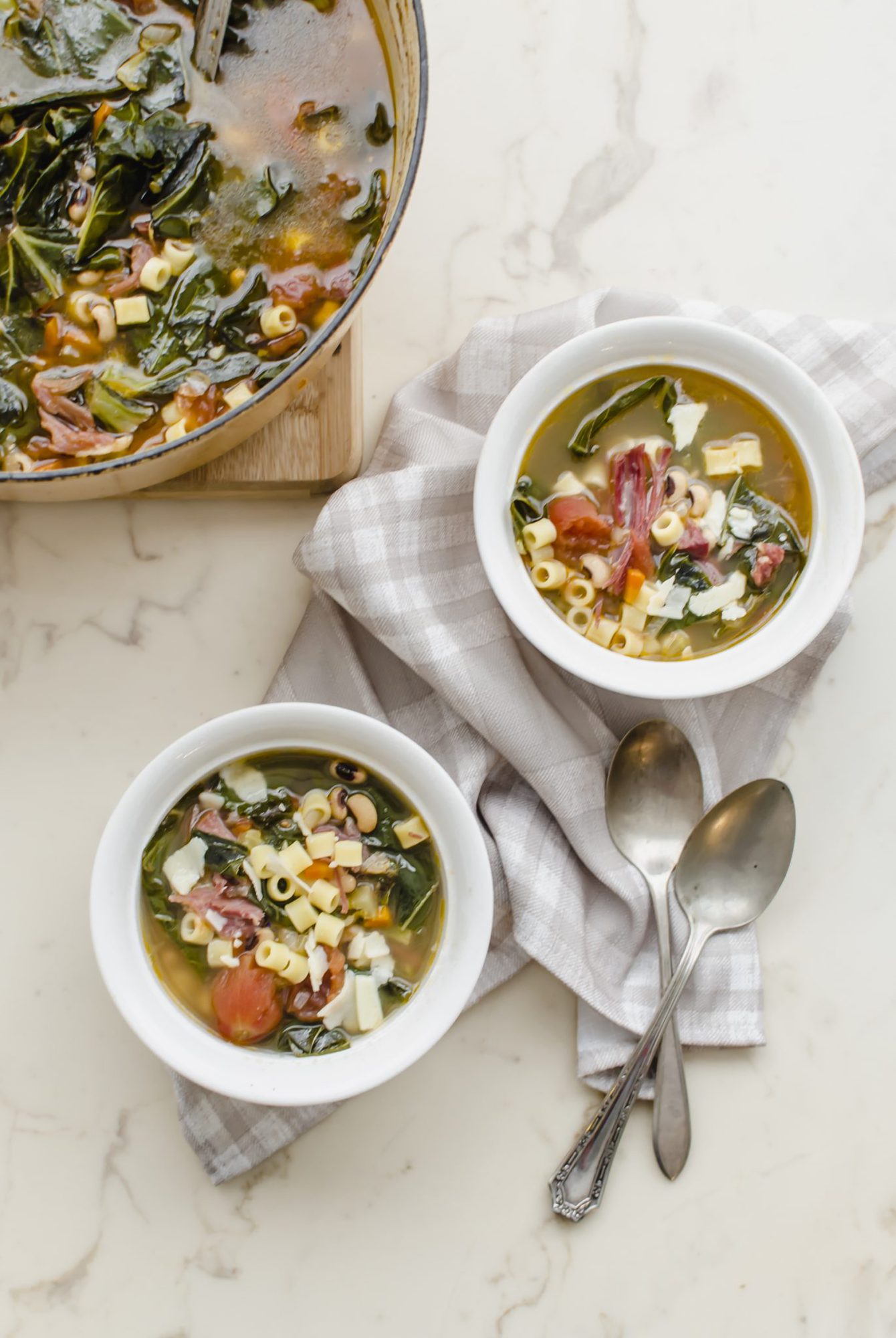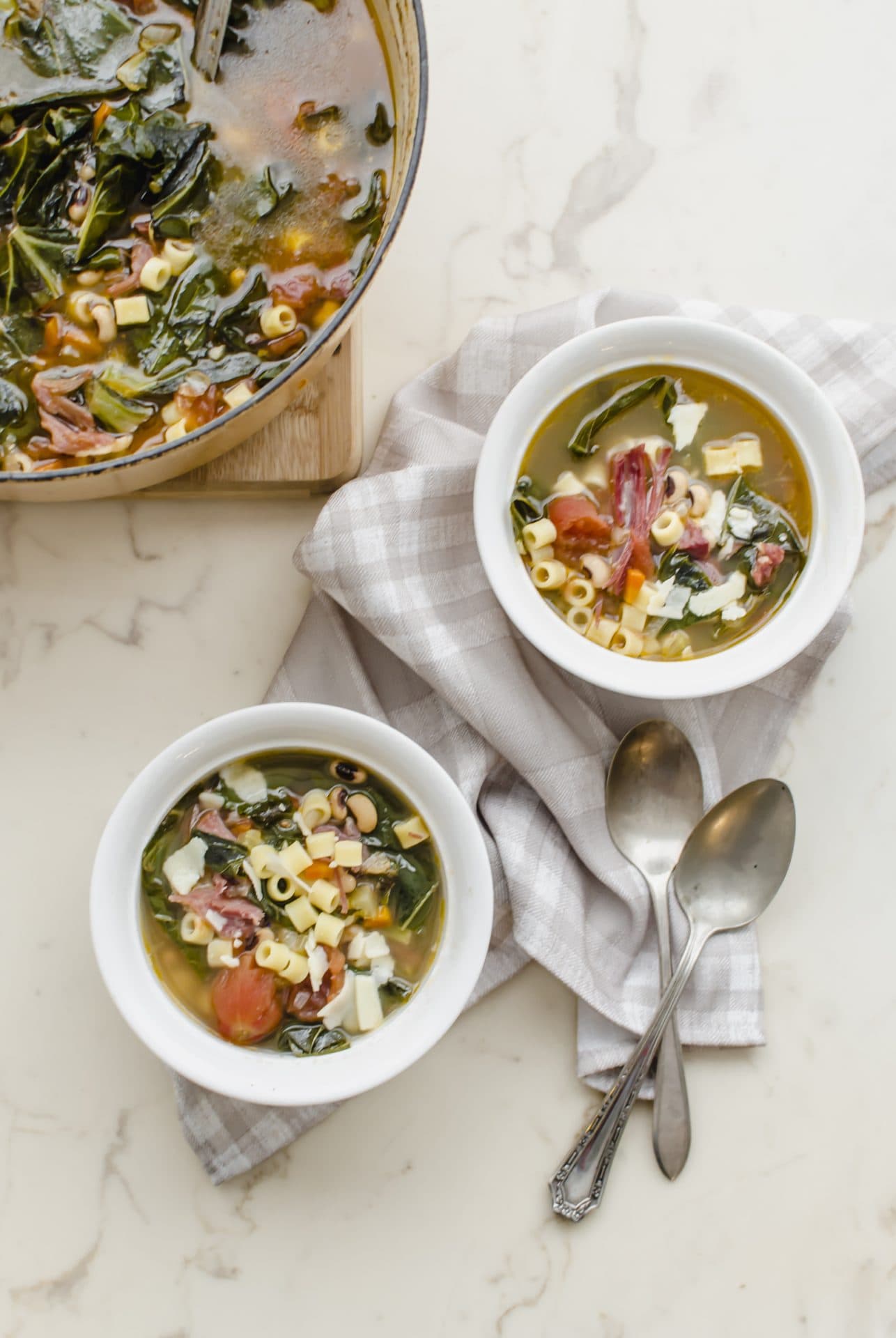 Let's have a little storytime.
Do any of you follow the tradition of eating black-eyed peas and greens on New Year's Day? As the stories go, serving these humble foods on the first day of the year can supposedly bring you good luck and even wealth in the coming year. There is much more symbolism behind these particular foods and eating them on January 1st. The meaning behind them can vary depending on who you talk to. I'm not going to get into all of that here. But as many of you know, I have deep Southern roots in my heritage, with my mom being raised in Mississippi and my dad in Alabama. You can be sure that we had "beans and greens" on New Year's for many years going back as far as I can remember. And let me tell you, as a kid, I HATED black-eyed peas.
Black-eyed peas were one of those foods that would keep me chained to the table for quite a while after everyone had finished eating. It was all in the name of the "clean plate" club; which my mom quickly left as more picky children came along. But as the oldest of 5, I was the first honorary member of the clean plate club, which meant there were a few years that I spent a lot of extra time at the dinner table. And here's the punch line: I hated peas so much that I tried to ingest them through my nose at one point. I figured if I could make them disappear with my nose, I wouldn't have to taste them. Thankfully, I didn't have to go to the ER, and this incident is likely why my mom left the clean plate club.
Needless to say, I've never looked forward to eating black-eyed peas on New Year's, or any time for that matter. But that all changed when I decided to put them in a soup with a bunch of things that I did like. I love Italian food, and pasta e Fagioli has been a favorite of mine for quite some time. With this Southern-style pasta e Fagioli, I've taken a few staple ingredients from my heritage and subbed them in for their Italian counterparts. Country ham for pancetta, turnip greens for kale, and black-eyed peas for cannellini beans.  What resulted is the perfect homey soup to serve on New Year's Day, in keeping with the tradition of many an American household. Let's make some soup!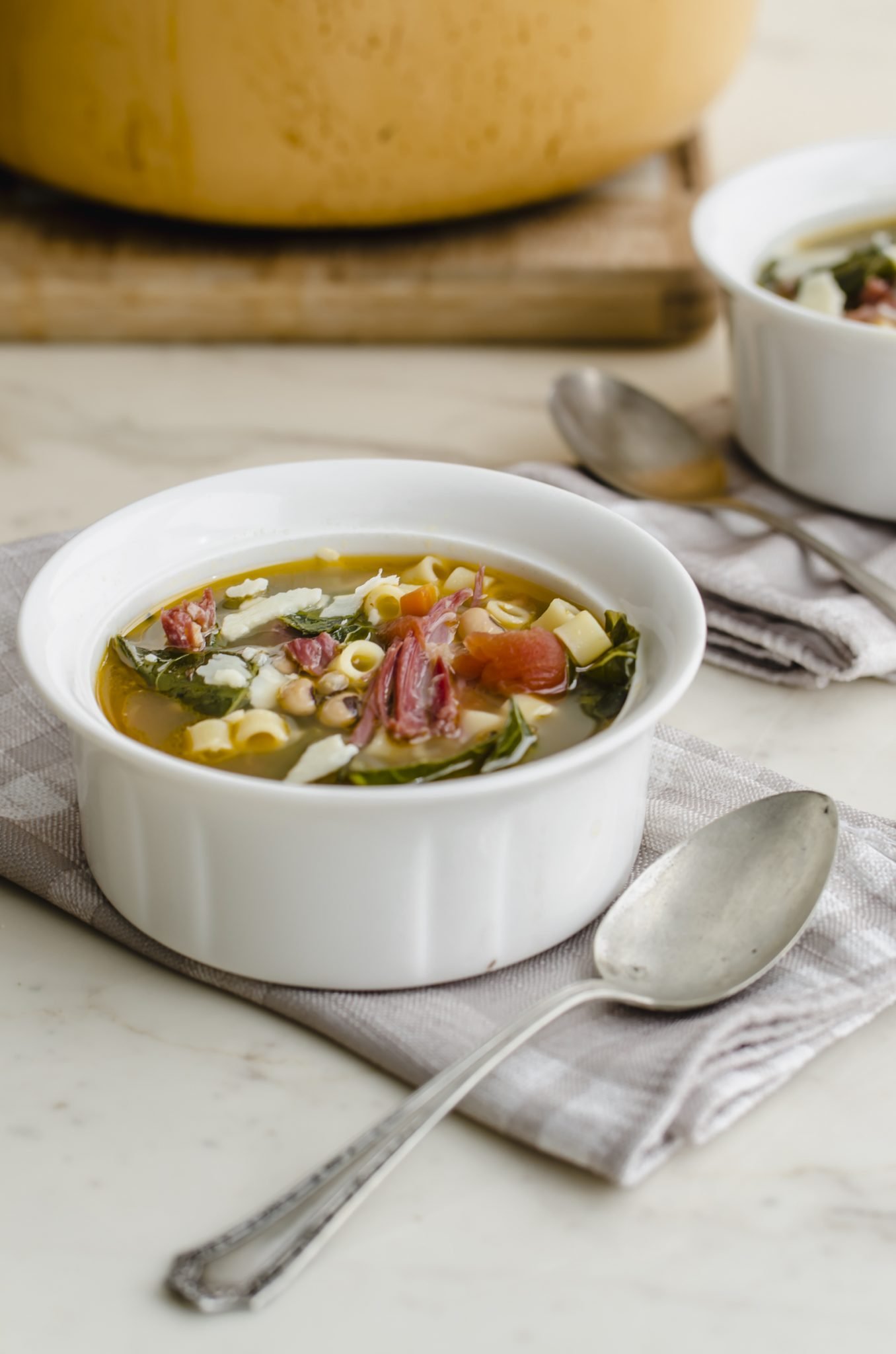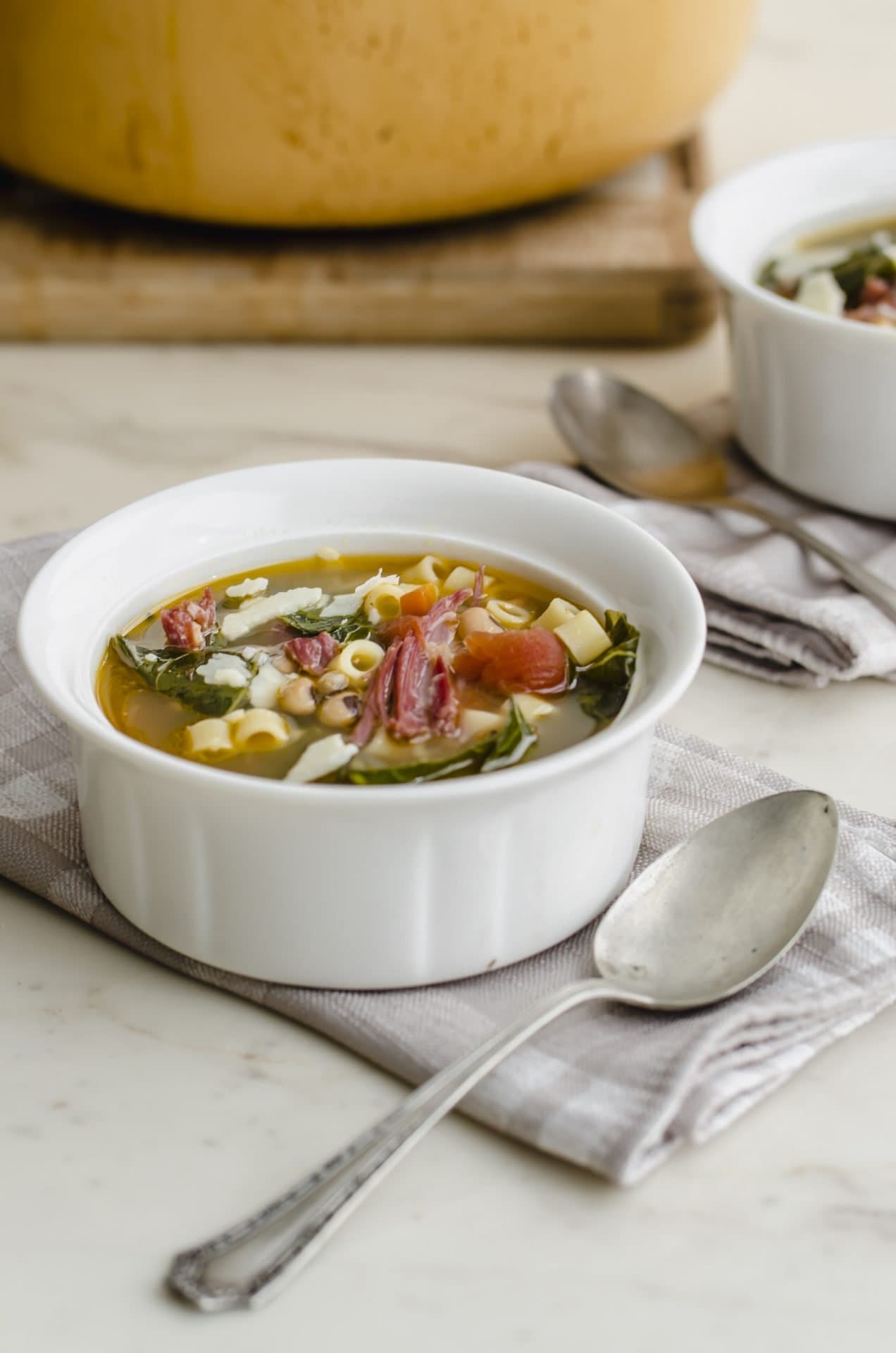 Ingredients for Southern-Style Pasta e Fagioli
Country ham hock - I'm using this to replace the pancetta in traditional Pasta e Fagioli. And if you're thinking that will make the soup too salty, keep reading onto the instructions. It won't!
Dried black-eyed peas - in keeping with New Year's tradition, of course! These replace the white cannellini or Great Northern beans in traditional Pasta e Fagioli.
Aromatics: carrot, celery, onion, garlic - a little bit of each but not too much of either.
Seasonings: crushed red pepper flake, bay leaves, Parmesan rind. I always have a few Parmesan cheese rinds wrapped up and stored in my freezer for adding in soups at such a time as this!
Whole canned San Marzano tomatoes - the best types of tomatoes for well, anything. Mild in acidity, rich in tomato flavor.
Collard greens - these replace the kale in traditional pasta e Fagioli. Their bitterness is hidden quite well amongst all of the other flavors in this soup.
Small pasta - ditalini pasta is what is traditionally used in this soup, and thankfully, I was able to find them! They look like small little tubes. If you can't find them, orzo is a great substitute.
Red wine or pepper vinegar - a splash of vinegar at the very end adds brightness and mutes any bitterness from the greens. Use red wine vinegar if you want to go the Italian route, pepper vinegar for the Southerner!
Complete ingredient list in the recipe below.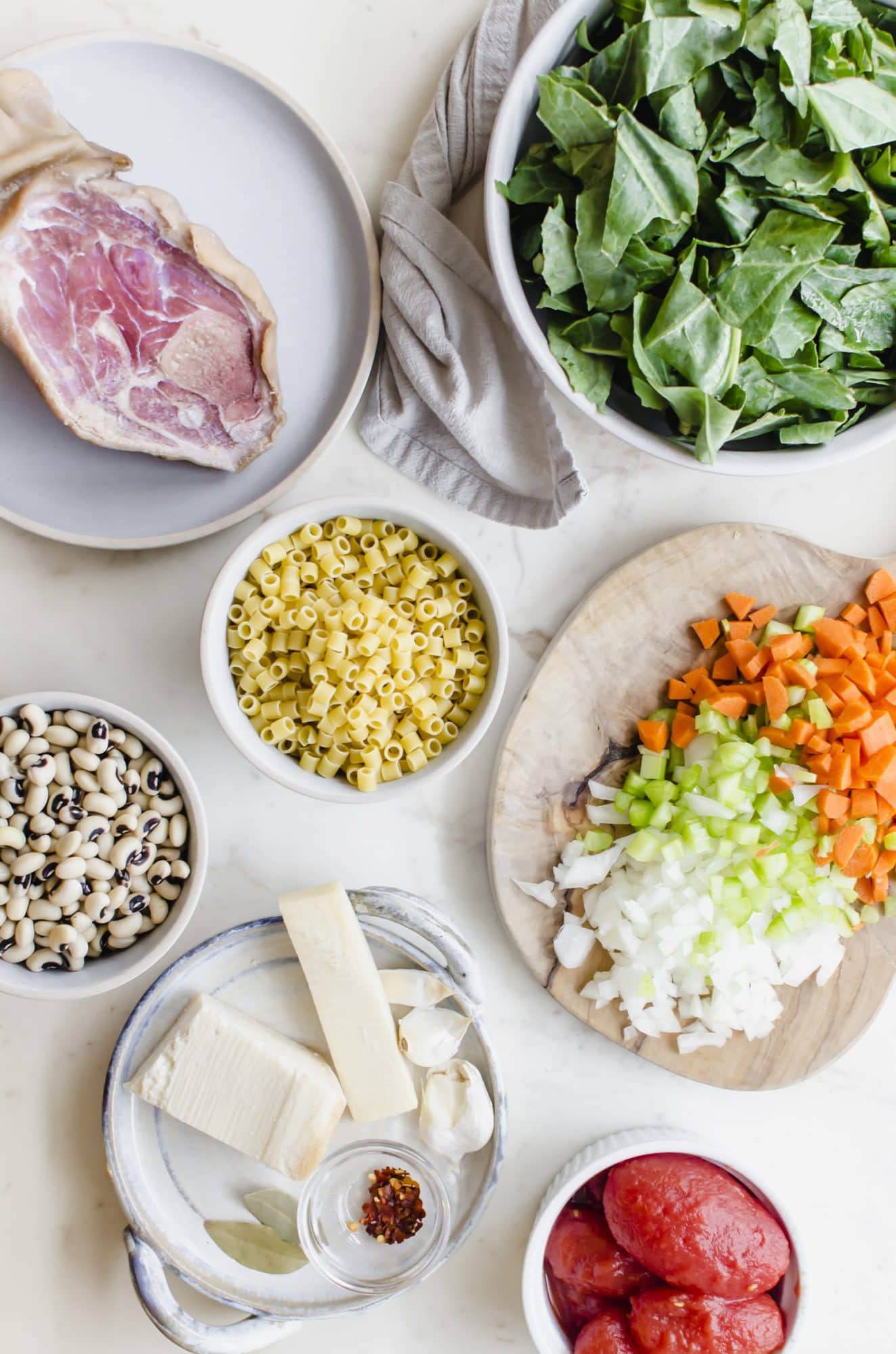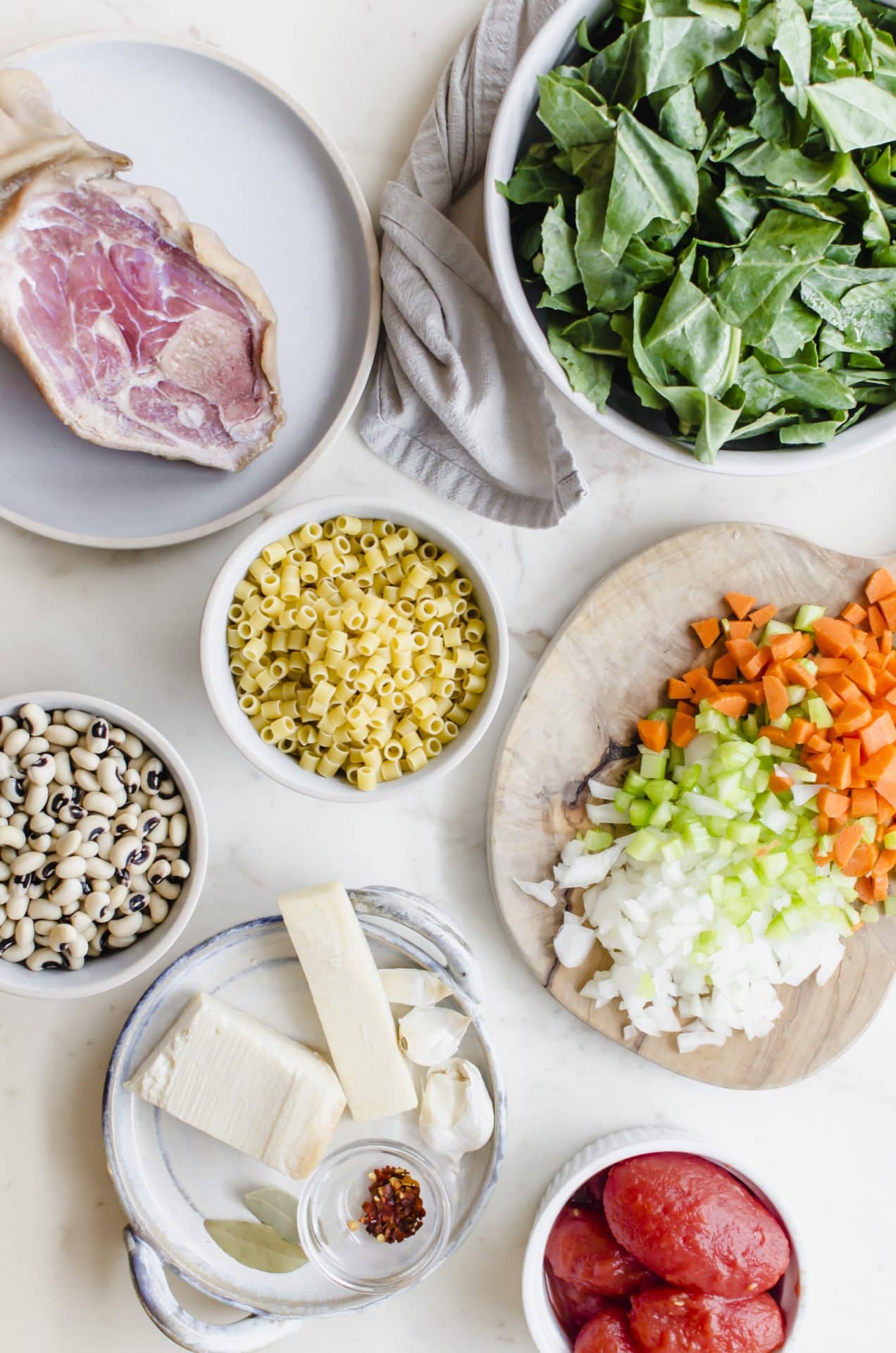 Tips for Making Southern-Style Pasta e Fagioli
Soak the ham and peas overnight - but soak them separately! Dried peas or beans can become tough if exposed to salt too early in the cooking process, so that's why separate soaking is necessary. Soaking the ham in water will remove some of the saltiness from it and ensure that the finished soup tastes just right. Soaking the peas overnight will make them creamy and tender once cooked. In the morning, simply drain both and keep them in the fridge until you are ready to make the soup.
Mis en place - before I ever start to cook any soup, I make sure that I have all the necessary ingredients chopped, measured out, and near my soup pot. That way each element is ready to go when the time comes and I'm not scrambling around. This makes soup-making much more enjoyable!
Cook the pasta separately - a recent podcast I listened to from Bon Appetit suggested the genius idea of cooking pasta for soup separately vs. in the soup liquid. This really is brilliant, as pasta cooked in a soup liquid often absorbs too much of the liquid and gets overcooked. Your soup and pasta will have much better textures if you cook them separately. If you plan to enjoy this soup over a few days, add the pasta as you need to reheat the soup to preserve its texture.
Don't salt until the very end, if you even need to. Using a country ham hock, Parmesan rind, and cooking the pasta in salted water provided all the flavor this soup needed, in my opinion. If you do need to salt, wait just until the very end, right before you ladle soup into the bowl.
Full recipe instructions are found below. 
Are you ready to make this Southern-Style Pasta e Fagoili? I'm so excited for you to try this recipe. Once you get the chance to make it, please let me know how it turns out for you! Leave a comment and rate the recipe below. This will help me with the creation of future recipes! I'd also love to feature your creation in my monthly newsletter, so you can upload a photo to Instagram or Twitter with the tag @sweetcayenne5 to be featured!
*PLEASE rate and comment on the recipe if you make it! This helps my SEO – THANKS!*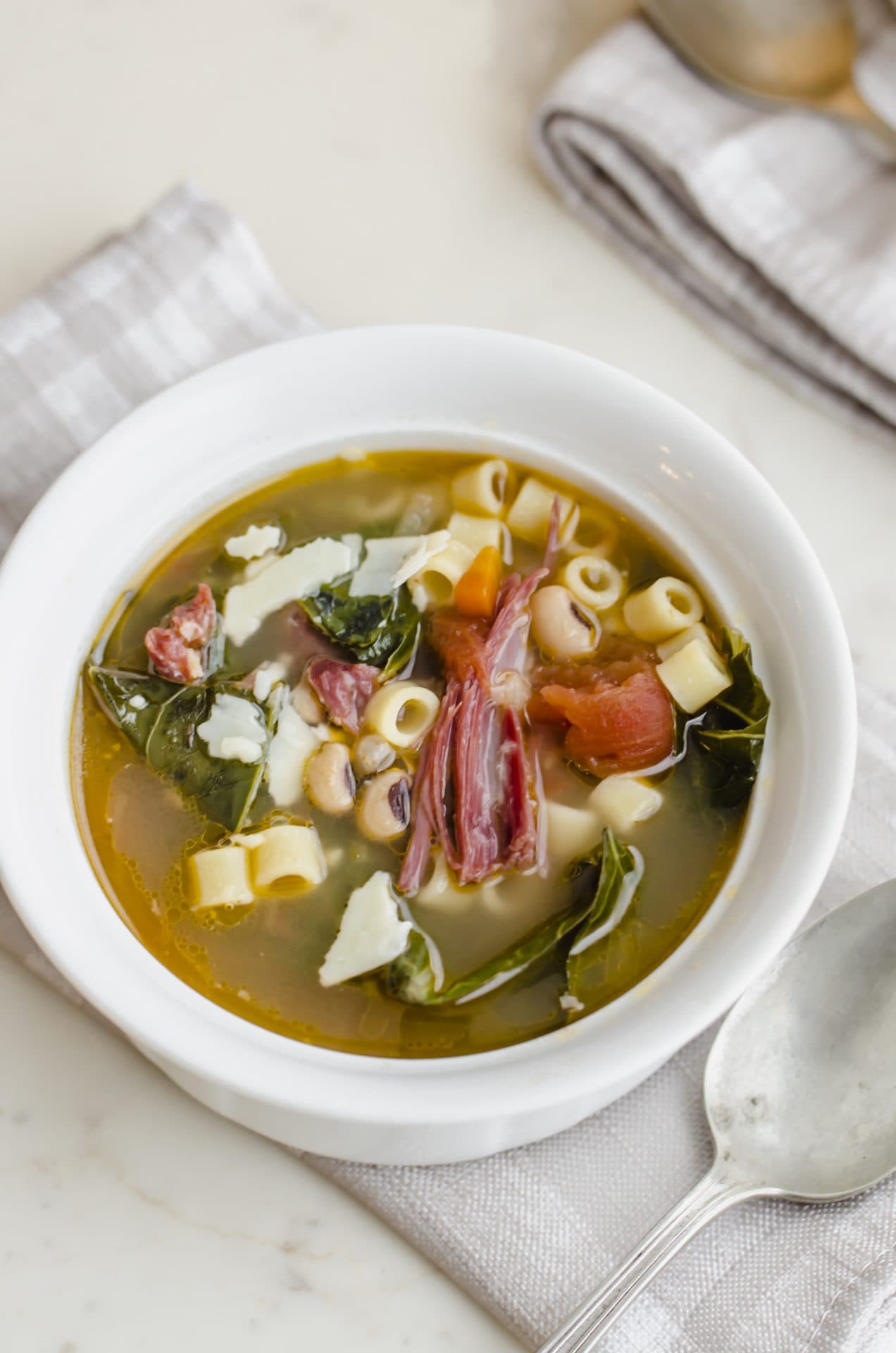 Recipe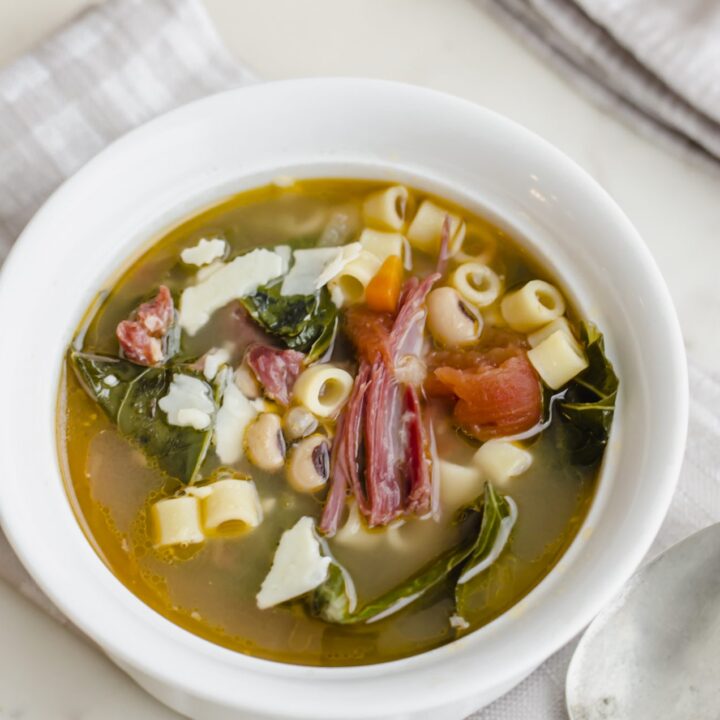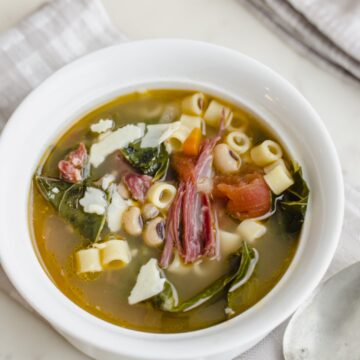 Southern-Style Pasta e Fagioli
This recipe is a twist on the Italian classic, Pata e Fagioli. Southern ingredients are used to replace traditional Italian ingredients.
Print
Pin
Rate
Ingredients
1

whole

country ham hock

1

cup

dried black-eyed peas

2

tablespoons

of olive oil, plus more for serving

1

medium

carrot, peeled and finely chopped

1

stalk

celery, finely chopped

¼

of an onion, finely chopped

3

cloves

of garlic, minced

½

teaspoon

crushed red pepper flakes

6

whole

canned San Marzano tomatoes

2

dried

bay leaves

1

Parmesan cheese rind

12

cups

of water (3 quarts)

6

cups

of fresh collard greens

8

ounces

small pasta, such as ditalini (gluten-free if needed)

3

tablespoons

red wine vinegar (or pepper vinegar)

For serving: olive oil, Parmesan, crusty bread
Instructions
Place the ham hock in a bowl and cover completely with water. Refrigerate overnight. Place the dried peas in a bowl and cover with water up to 2 inches above the peas. Cover and let sit on the counter overnight.

Drain the peas and ham hock. Let sit covered in the fridge until you are ready to make the soup.

Place a large, heavy-bottomed Dutch oven or stock pot over medium heat. Add 2 tablespoons of olive oil. Add in the carrot, celery and onion and saute until tender and translucent, about 8 minutes. Reduce heat as needed to keep the vegetables from browning. Add the garlic and red pepper flakes and stir until fragrant, about 30 seconds. Add the whole tomatoes and use a wooden spoon to break them up in the pot. Add the black-eyed peas, ham hock, bay leaf, Parmesan rinds, and water. Bring to a boil over medium-high heat then reduce heat to a simmer. Simmer for 1 ½-2 hours until the peas are tender. Remove the ham hock, Parmesan rind and bay leaves. Add in the collard greens. Bring to a boil and reduce heat to a simmer and cook for 10-15 minutes until greens are tender. Reduce the heat to the lowest setting until you are ready to serve the soup.

While the greens are simmering, bring a large pot of salted water to a bowl. Add the pasta and cook for 3 minutes less than the package calls for. During this process, remove the meat from the ham hock and cut into small pieces. Drain the pasta and add it to the soup along with the meat from the ham hock. Stir in the red wine vinegar (or pepper vinegar).

Ladle the soup into bowls and top as desired with drizzles of olive oil and freshly-grated Parmesan. Serve with hot crusty bread.
Notes
Store leftover soup in the refrigerator for up to 3 days. 
Serving:
1
Serving
|
Calories:
605
kcal
|
Carbohydrates:
60
g
|
Protein:
36.5
g
|
Fat:
25.1
g
|
Saturated Fat:
8.2
g
|
Cholesterol:
83
mg
|
Sodium:
150
mg
|
Potassium:
837
mg
|
Fiber:
9.7
g
|
Sugar:
6.1
g
|
Calcium:
181
mg
|
Iron:
4
mg
Pin this, pretty please!