This Lemony Chicken and Orzo Soup is an easy and refreshing take on a comforting bowl of chicken noodle soup that tastes like springtime!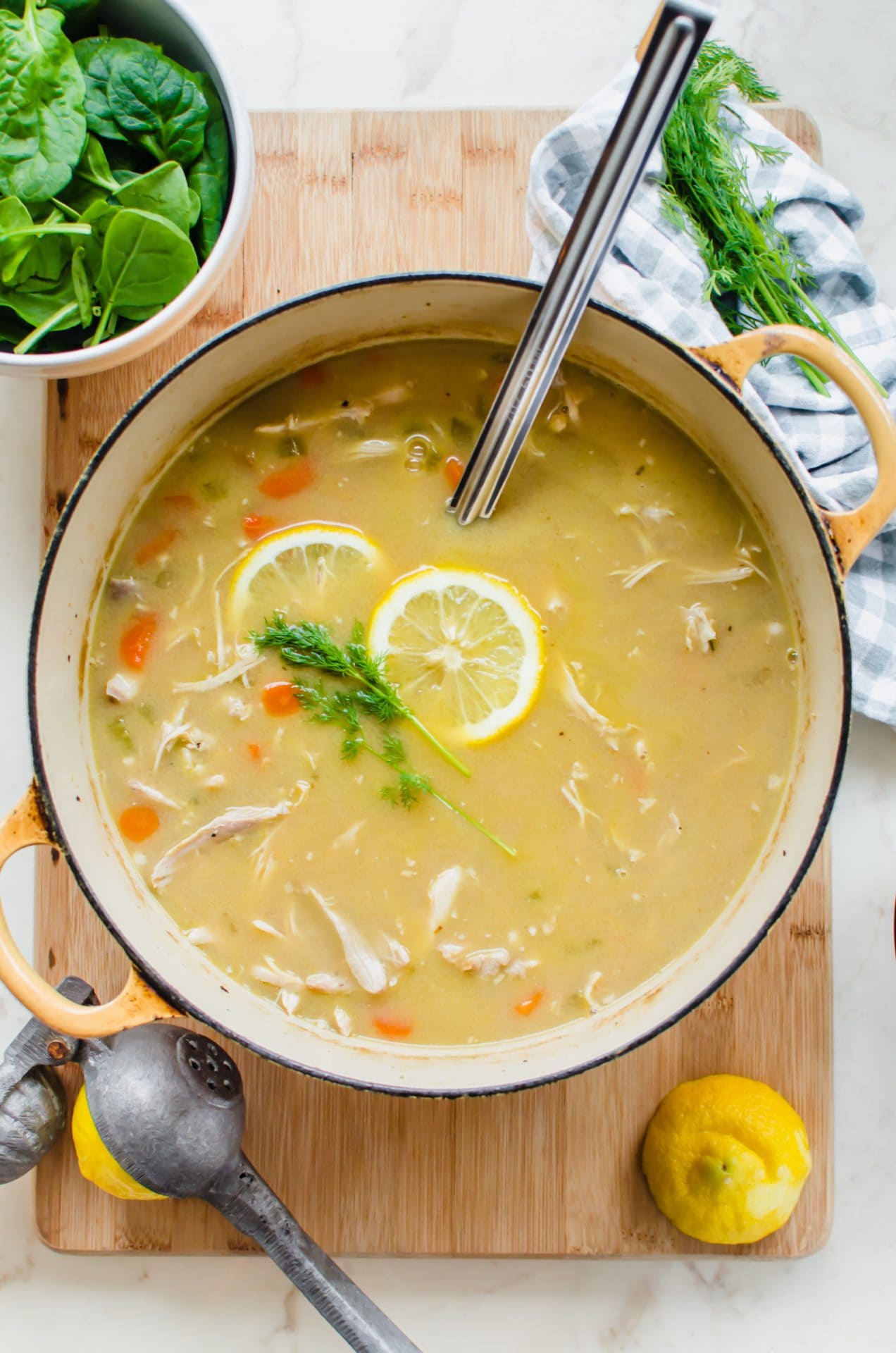 This Lemony Chicken and Orzo Soup is one of my all-time favorite soups. I've been making it for YEARS now and it was a client favorite back when I worked as a private chef. Inspired by the one on Panera Bread's menu, it's the perfect bowl of comfort for when you have a cold or are just caught up in the doldrums of winter weather. You may feel down and out or under the weather when you start eating it, but this soup's bright and cheery flavor, warmth, and a hearty dose of chicken, noodles, veggies, and herbs will surely make your taste buds sing. You will be feeling better in no time!
If someone you know is in need of cheering up, take them a Mason jar or two of this soup with some warm slices of Meyer Lemon Rosemary Bread or a fresh Lemon Poppyseed Muffin with Raspberry Glaze. I also love to serve this with my simple Everyday Springtime Salad. All of the fresh citrus flavor in these recipes makes for the perfect reminder that spring, flowers, and warmer weather are just around the corner!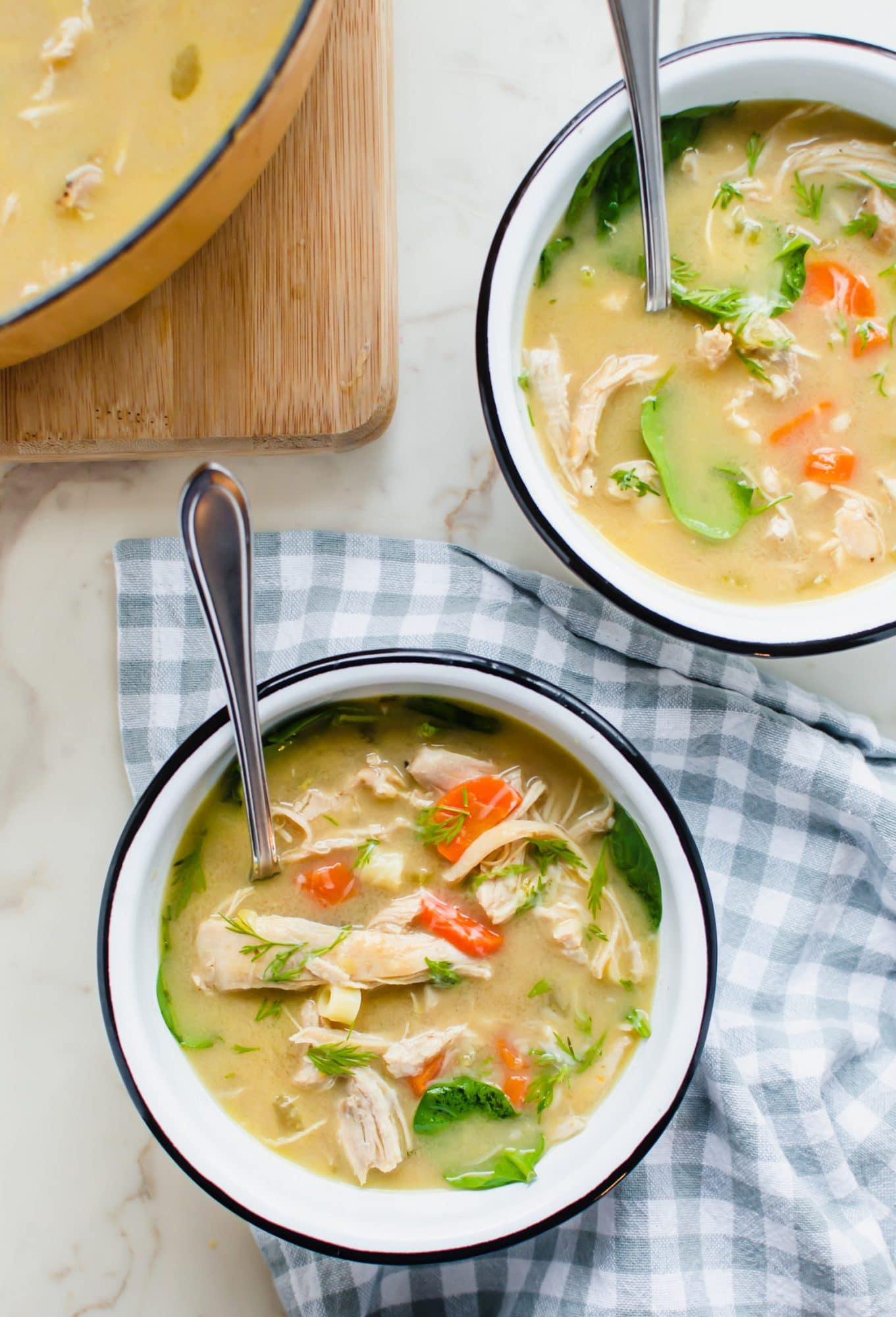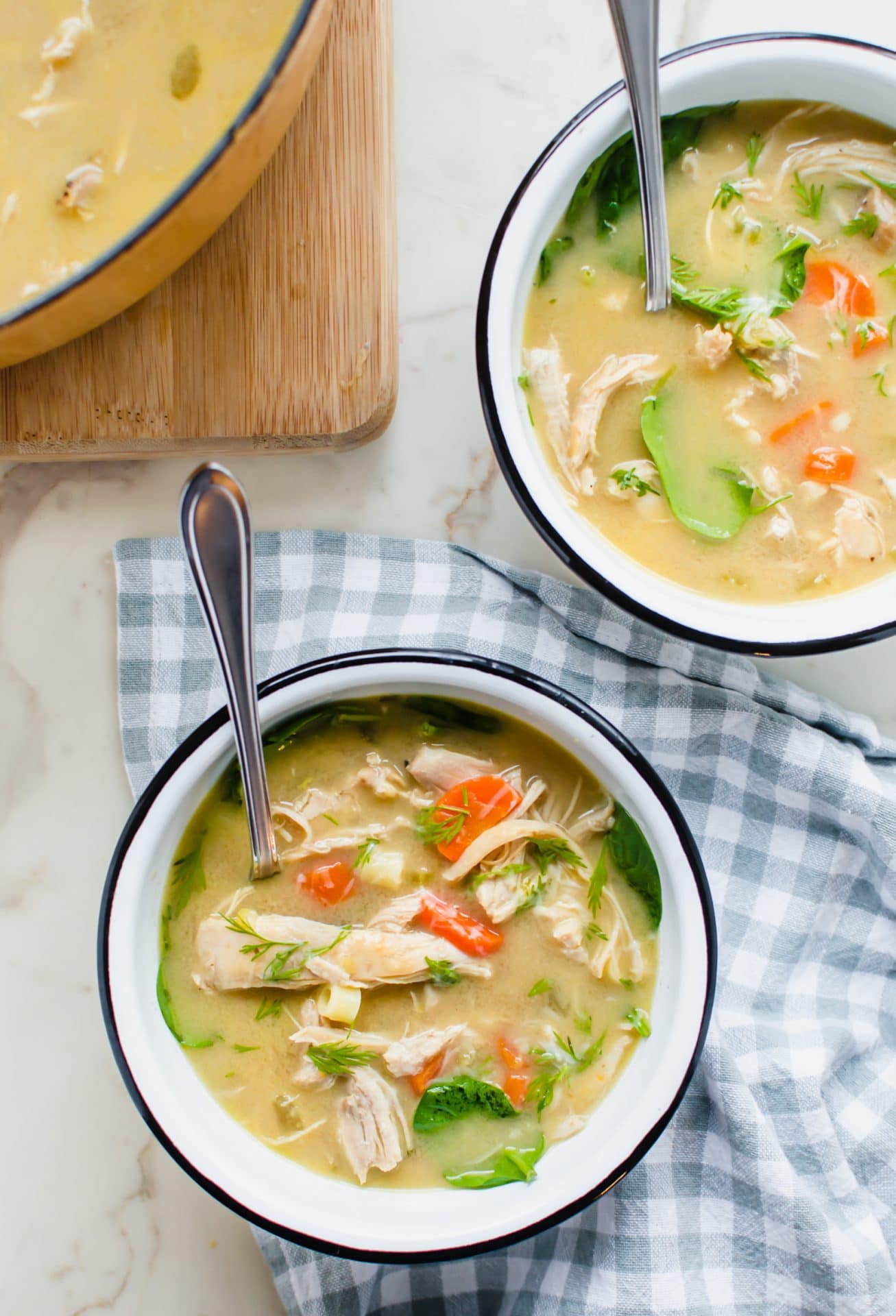 Ingredients for Lemony Chicken and Orzo Soup
Chicken - I love to use boneless skinless chicken thighs in this soup for tenderness and flavor, but chicken breasts will be fine as well. You can also substitute with cooked shredded chicken, like rotisserie chicken if you are running short on time.
Aromatic veggies - leeks, celery, carrot, and a hint of fresh garlic are my favorite veggies to use in a spring soup base.
Dijon mustard - a bit of tangy Dijon adds depth of flavor to any chicken noodle soup and pairs so well with chicken and lemon.
White wine - also an ingredient that will add depth of flavor to chicken soup, and help to deglaze the bottom of the soup pot.
Chicken stock or broth - I love to use the Sam's Choice Organic Chicken Bone Broth or Kitchen Basics Chicken Stock for the best flavor and color in soups. I like to buy the unsalted or low sodium option when I can so I can control how much salt is in the final soup.
Noodles - I traditionally use whole wheat orzo in this soup, but any small pasta shape will do! As you can see in these updated photos, I used ditalini, which are tiny tube-shaped noodles. Feel free to substitute with gluten-free pasta, rice or quinoa!
Lemon - fresh lemon juice and lemon zest are added at the end of cooking. This is my favorite way to make any premade or homemade chicken noodles soup taste better!
Baby spinach, Parmesan, and fresh dill - adding a handful of baby spinach to hot chicken soup is a good way to boost the nutritional value and add color! Freshly grated Parmesan and chopped dill will also add tons of flavor to chicken soup and minimize the need for added salt.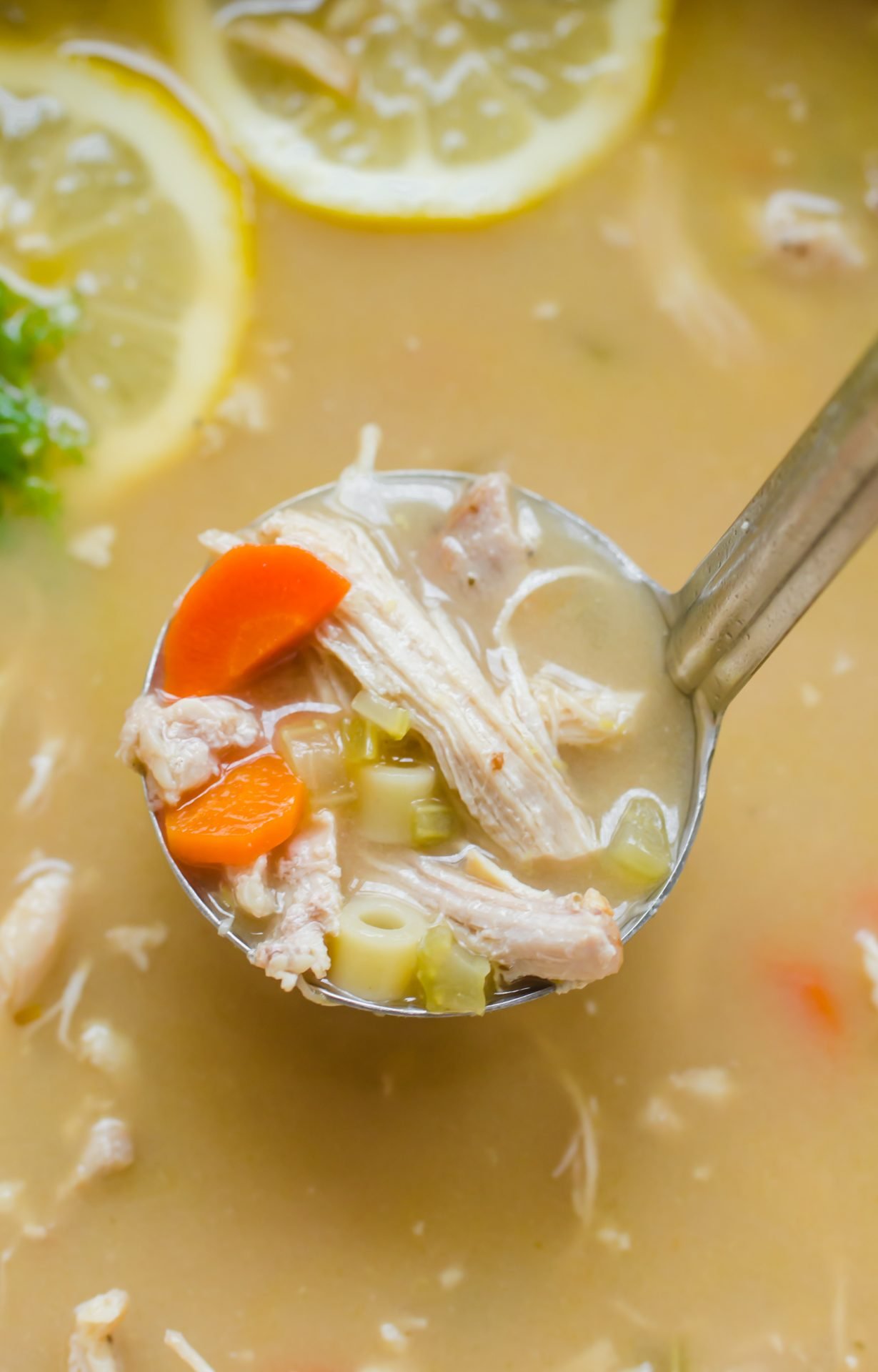 Tips for Making Delicious Chicken Soup from Scratch
Use boneless skinless chicken thighs or bone-in chicken breasts - these tend to have much for flavor and will lend a richness to your soup liquid. It is fine to add raw chicken to this soup, as the liquid will poach the chicken and cook it through as everything simmers together. If you plan to use cooked rotisserie chicken in this soup, simmer the bones or carcass of the chicken with the liquid and veggies for 20-30 minutes to add flavor and richness to the broth. Avoid adding any skin to the cooking liquid, as this can make the final soup greasy.
Aromatic vegetables like leeks, carrots, celery, and garlic will make your soup flavorful and fragrant. Avoid adding any salt to these veggies until after you saute them a bit to get them tender.
Adding acidic ingredients like white wine, Dijon mustard, fresh lemon juice to chicken soup will brighten the flavor of your soup and reduce the need to add extra salt.
If you plan to freeze this soup or enjoy it over a couple of days while reheating in the microwave, consider cooking the noodles separately and adding them as needed to the soup when it is reheated. Noodles are high in starch and will absorb liquid over time. The noodles can also become mushy if frozen in the soup or reheated too much. So if the texture of the noodles or lack of liquid in the reheated soup is a concern for you, just cook and store the noodles separately!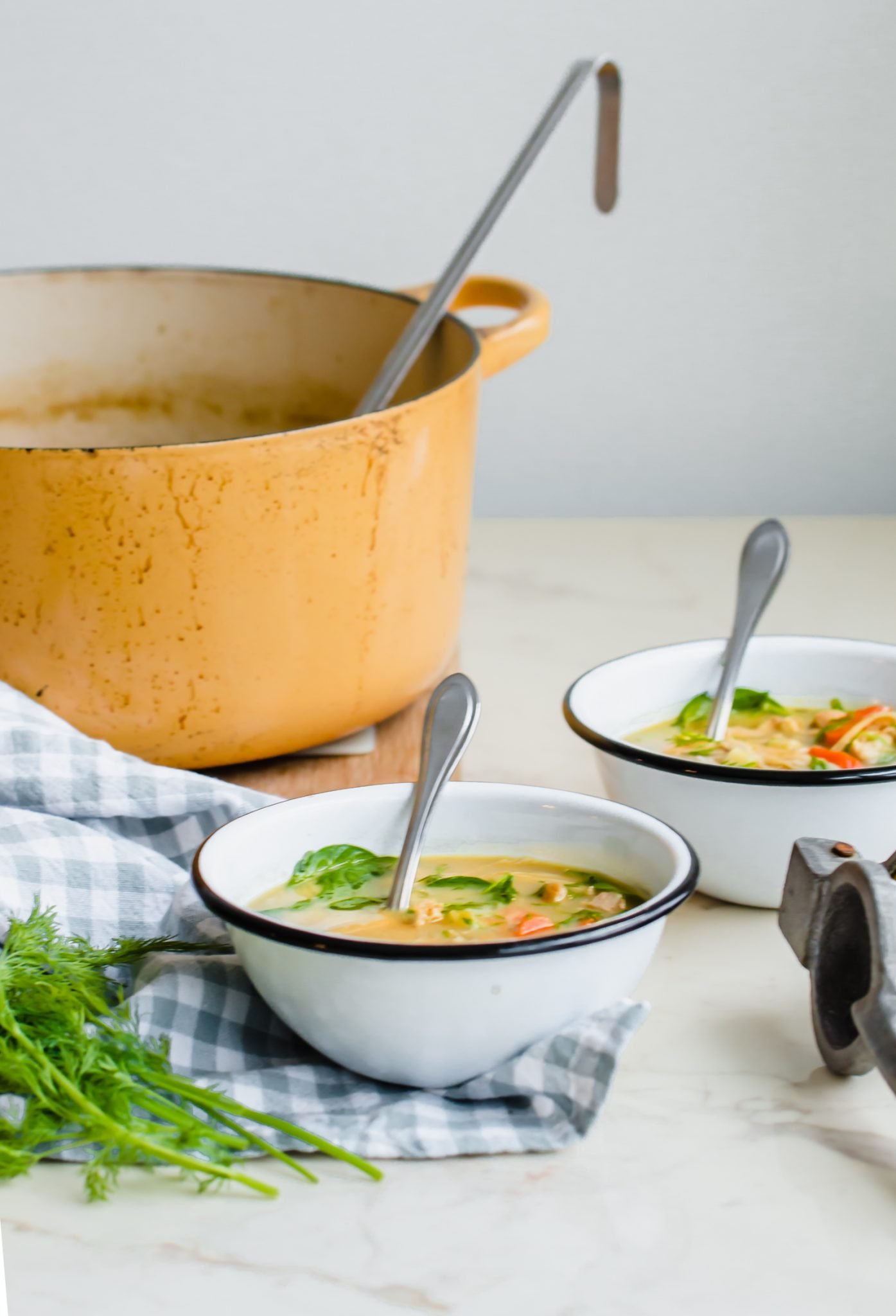 Favorite Soup Recipes
If you are looking for more homemade soup recipe inspiration, here are some of my favorites: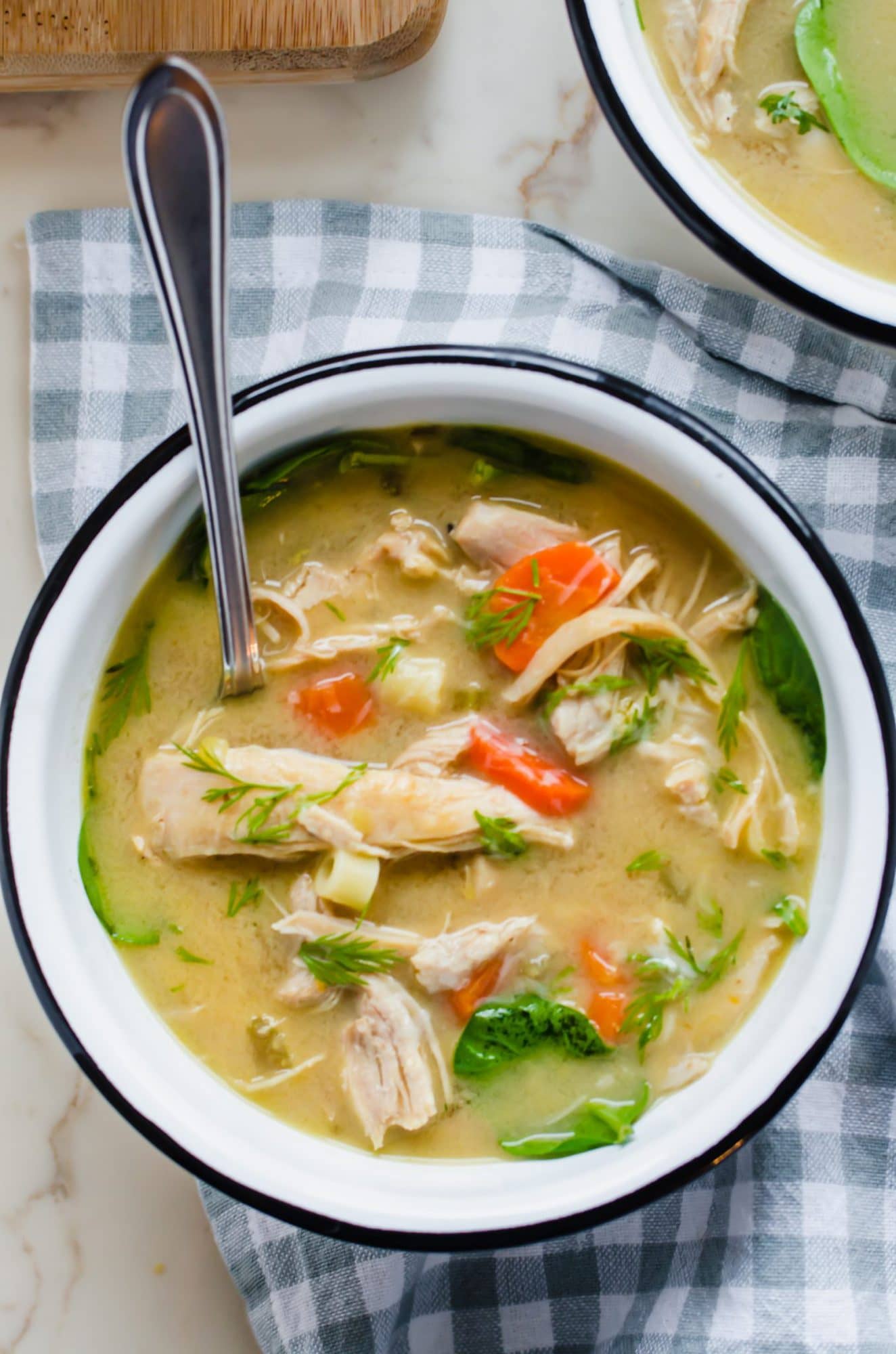 Are you ready to make this Lemony Chicken and Orzo Soup? I'm so excited for you to try this recipe. Once you get the chance to make it, please let me know how it turns out for you! Leave a comment and rate the recipe below. This will help me with the creation of future recipes! I'd also love to feature your creation in my monthly newsletter, so you can upload a photo to Instagram or Twitter with the tag @sweetcayenne5 to be featured!
Recipe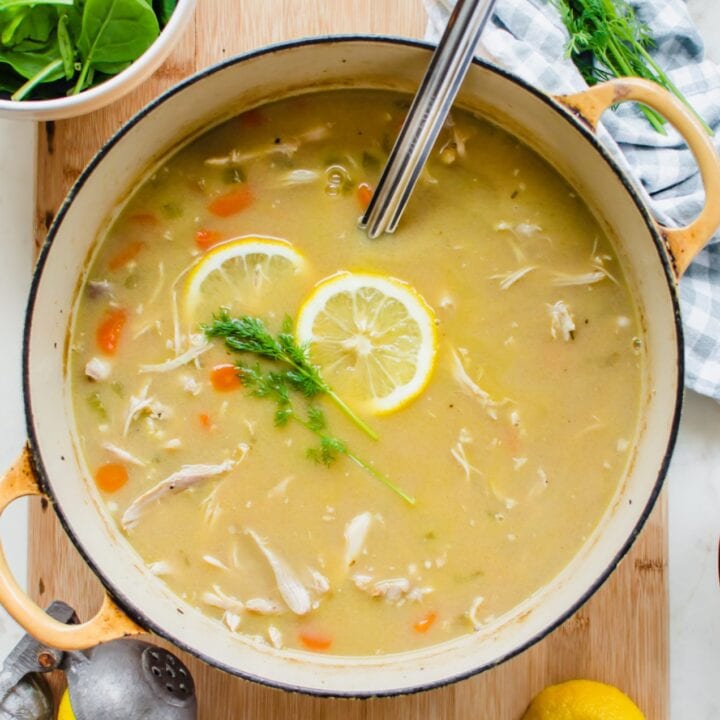 Lemony Chicken and Orzo Soup
Lemony Chicken and Orzo Soup is comforting and refreshing at the same time as it pairs the familiar warmth of chicken noodle soup with the bright flavors of lemon and fresh herbs. Its perfect to share over lunch with someone you love and is a great menu option for the winter-to-spring transition months.
Print
Pin
Rate
Ingredients
Olive oil

1

pound

boneless skinless chicken thighs

Salt and pepper

2

medium

leeks, washed and chopped, about 1 cup (only use white and light green part)

3

medium

carrots washed, peeled, and diced into ¼'' pieces

2

whole

celery stalks, diced into ¼'' pieces

2

cloves

garlic, minced

2

teaspoons

Dijon mustard

½

cup

white wine (optional; substitute with water)

8

cups

low-sodium chicken stock or broth (two 32-ounce cartons)

⅔

cup

whole wheat orzo pasta, or 1 cup other small pasta, such as Ditalini

⅓

cup

freshly-squeezed lemon juice, about 2 lemons

1

tablespoon

lemon zest

For serving, fresh baby spinach, fresh dill, and Parmesan cheese
Instructions
Heat about a tablespoon of oil in a large soup pot or Dutch oven over medium heat. Lightly season the chicken thighs with salt and pepper. Add to the heated pot, and brown on both sides, about 3 minutes per side. Transfer the chicken to a plate and set aside.

Add a bit more oil to the pot over medium-low heat. Add the leeks, carrots, and celery. Saute until translucent, about 5 minutes. Add the garlic and stir until fragrant, about 30 seconds. Add Dijon mustard and wine, scraping up any brown bits from the bottom of the pot with a wooden spoon. Add all of the chicken stock and stir to incorporate. Add back the chicken thighs.

Increase heat to high to bring mixture to a boil. Reduce to a simmer and cook for 20-25 minutes until the chicken is cooked through. Remove the chicken and shred with a fork, then return to the soup.

While you shred the chicken, return the soup to a low boil over medium-high heat. Stir in the past. Cook for 7-8 minutes until the pasta is just tender. Remove the pot from heat and add lemon juice and zest. Season to taste with salt and pepper.

Place a handful of fresh baby spinach into each soup bowl. Ladle the hot soup on top (this should wilt the spinach perfectly). Garnish with freshly chopped dill and shavings of Parmesan cheese.

Store leftover soup in the refrigerator for up to 4 days. Reheat soup on stovetop or in the microwave, adding fresh spinach, dill and Parmesan after the soup is reheated.
Serving:
1
Serving
|
Calories:
224
kcal
|
Carbohydrates:
13
g
|
Protein:
24.6
g
|
Fat:
6
g
|
Saturated Fat:
1.7
g
|
Cholesterol:
67
mg
|
Sodium:
642
mg
|
Potassium:
288
mg
|
Fiber:
1.7
g
|
Sugar:
3.5
g
|
Calcium:
45
mg
|
Iron:
2
mg
Pin this, pretty please!