This recipe for Lemon Poppy Seed Muffins with Fresh Raspberry Glaze is a whole grain muffin made extra moist with olive oil and whole milk yogurt.
Today I'm so excited to partner with my friends at Brown Cow, the makers of the original whole milk cream top yogurt, as part of their 29 Days of Kindness initiative. Thank you to Brown Cow Yogurt for sponsoring this post.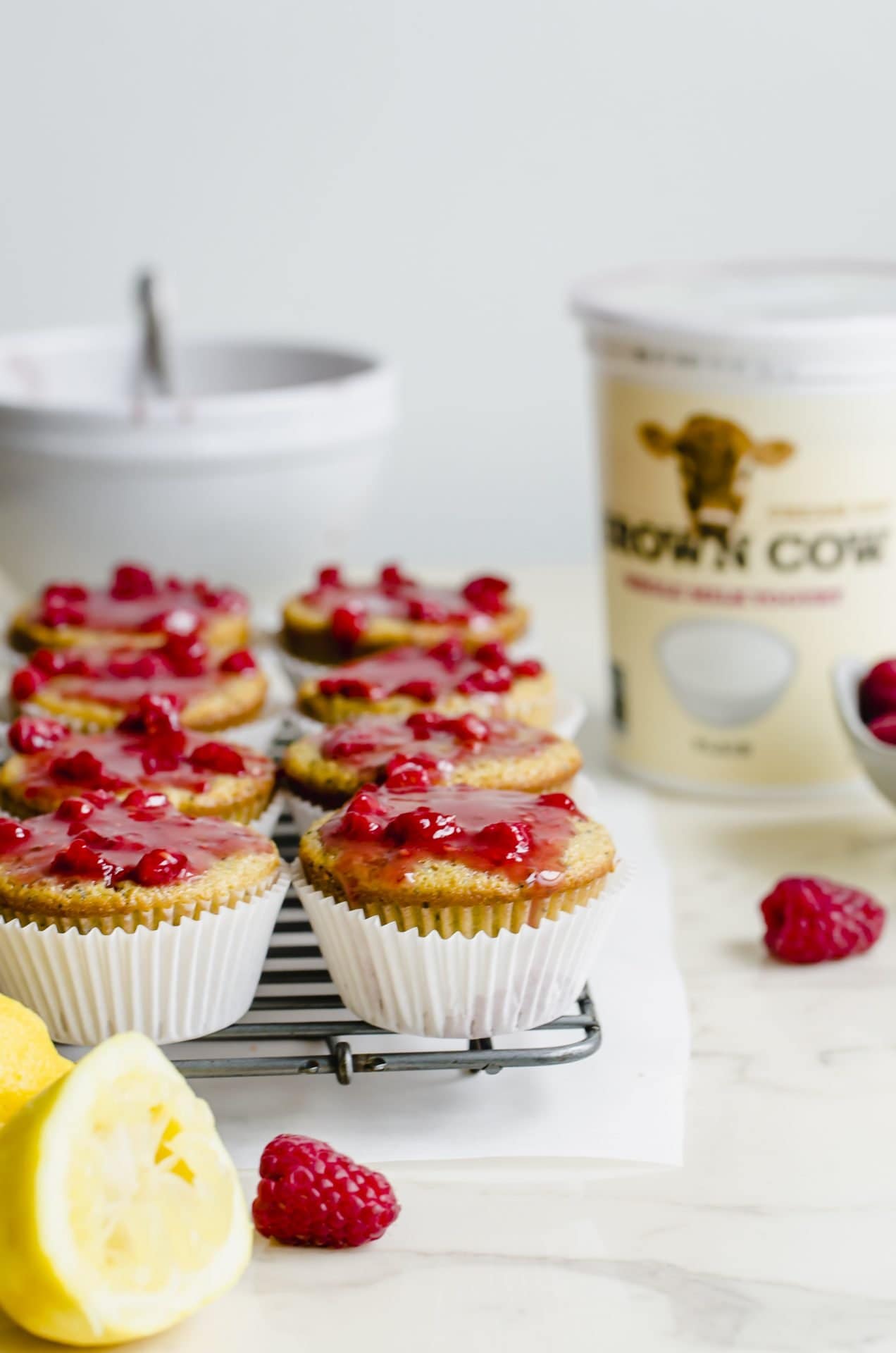 Citrus season is here, my friends! We are in the midst of abundance for bright, glistening, colorful and juicy oranges, lemons, grapefruits, tangerines, pomelos, and more - I could not be happier about it! There is nothing better than a zippy lemon bar, slice of key lime pie, grapefruit drink, or warm bowl of lemon chicken soup to lift your spirits and remind you that spring is just around the corner. 
Speaking of a lifted spirit, I am loving and totally being uplifted by the Random Acts of Kindness month that Brown Cow is hosting on their Instagram right now. Each day, their herd are sharing the loveliest ideas for showing kindness in unexpected ways that make your little corner of the world a better place to live in. From taking a delicious breakfast treat to your local emergency personnel, to making plans with a friend who could use a laugh, to buying coffee for the person in line behind you, there are so many simple ways to show kindness!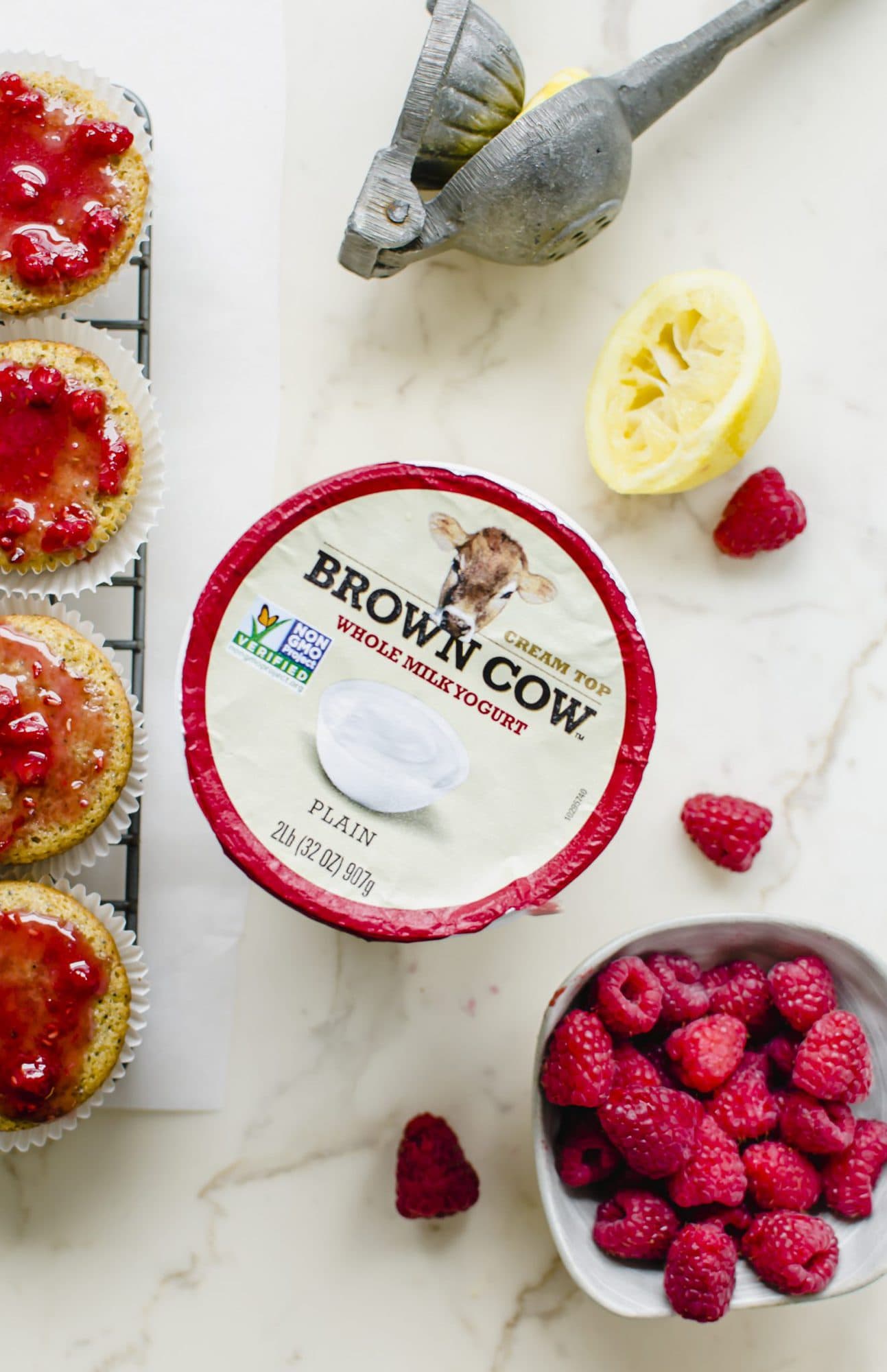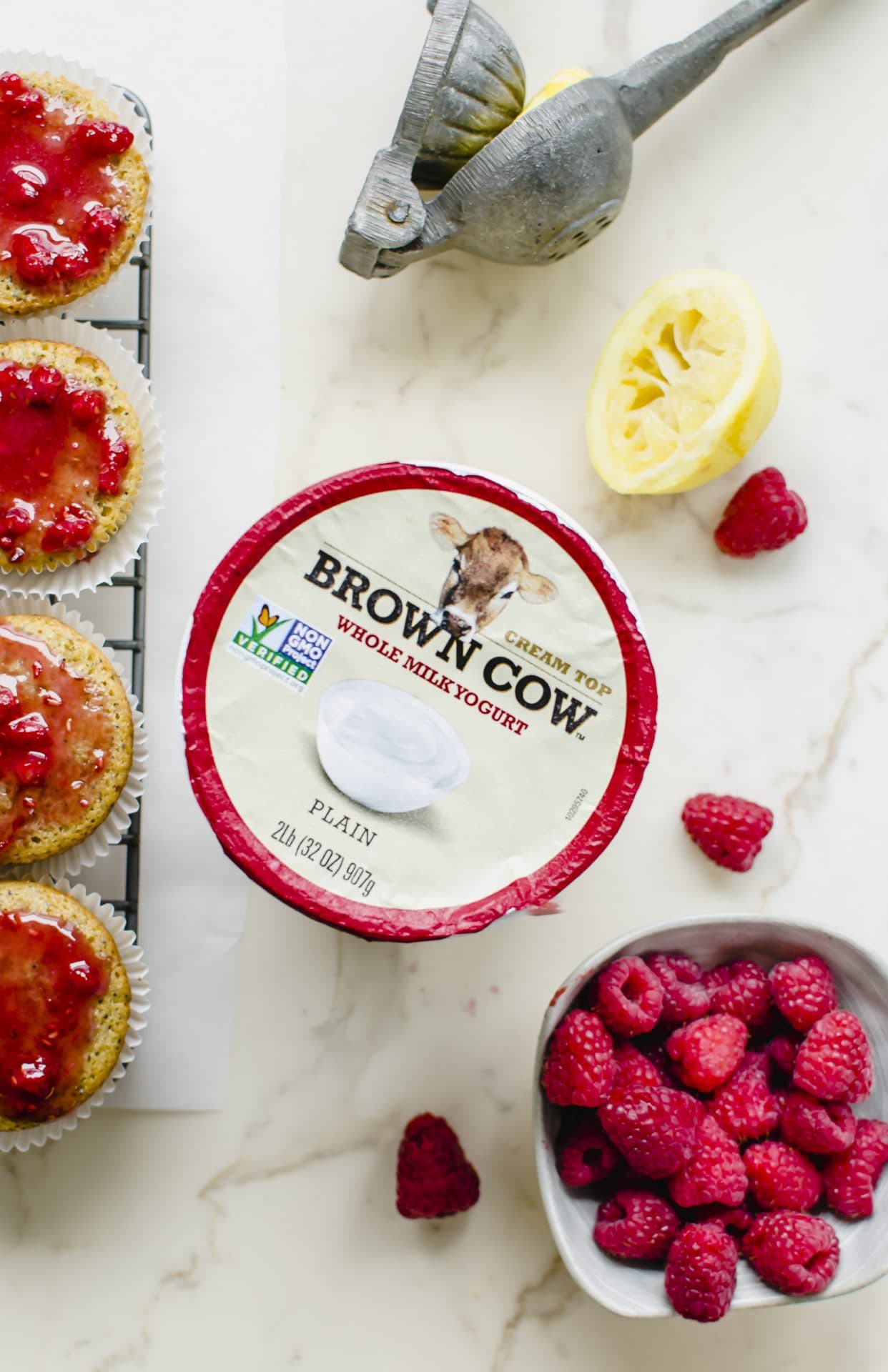 Living in a military town, I've got several girl pals whose husbands are often deployed on holidays or during special occasions. One of my favorite ways to show kindness to them is by making a little extra of whatever delicious recipe I'm cooking for the day and surprising them with food as a little treat. I'm ALWAYS in the kitchen cooking something, so this is an easy way for me to say thank you to them for their sacrifice and service. 
These Lemon Poppy Seed Muffins with cream top yogurt are a perfect "thank you" or kind way to say "just because" to whoever has been on your mind lately. The bright lemon flavor combined with a fresh raspberry glaze makes for a colorful treat that is extra moist and light from the inclusion of cream top yogurt in the batter. I think these muffins would pair wonderfully with any of Brown Cow's other ten delicious cream top yogurt flavors and a cup of coffee or tea! Are you ready to make some?!?

Ingredients for Lemon Poppy Seed Muffins with Raspberry Glaze
Wet ingredients

: Brown Cow Cream Top Plain Yogurt, olive oil, eggs, and freshly-squeezed lemon juice. The whole milk yogurt and olive oil make the muffins perfectly moist and while adding nutrients and flavor that compliment the tanginess of the lemon juice. Brown Cow is my favorite yogurt for baking and eating because it is the perfect thickness - not too thick or thin, and has a mildly acidic flavor. I love their maple and coffee flavor for breakfast, but the plain is wonderful for baking!

Dry ingredients

: white whole wheat flour, sugar, lemon zest, baking soda, baking powder, and salt. While this muffin recipe calls for less sugar than most, there's just enough sweetness to make them delicious! The lemon zest gets rubbed into the sugar with your fingers to release the oils from the zest and flavor the muffin batter. 

Glaze ingredients

: a bit of lemon juice and raspberry jam combine with powdered sugar to make a colorful glaze. Fold in chopped fresh raspberries for a lovely texture and fresh flavor.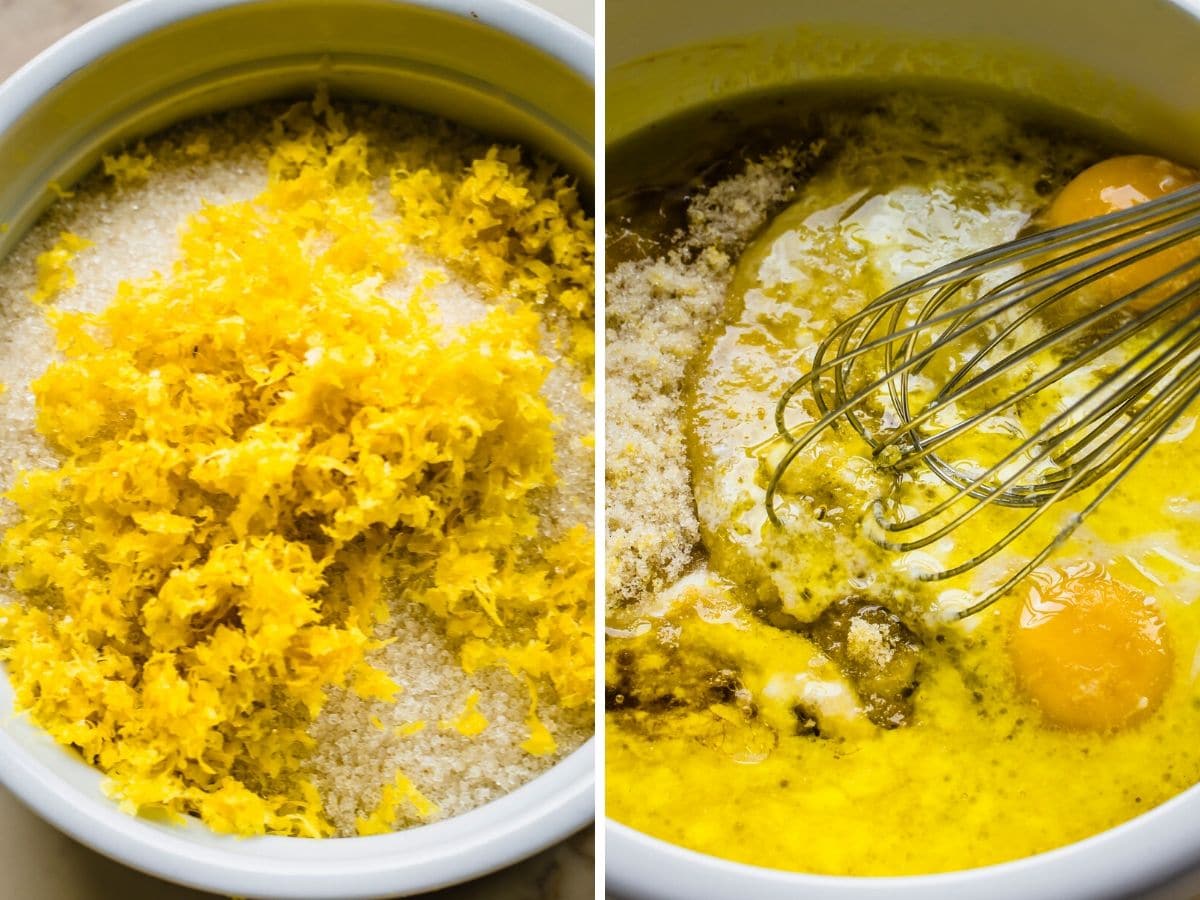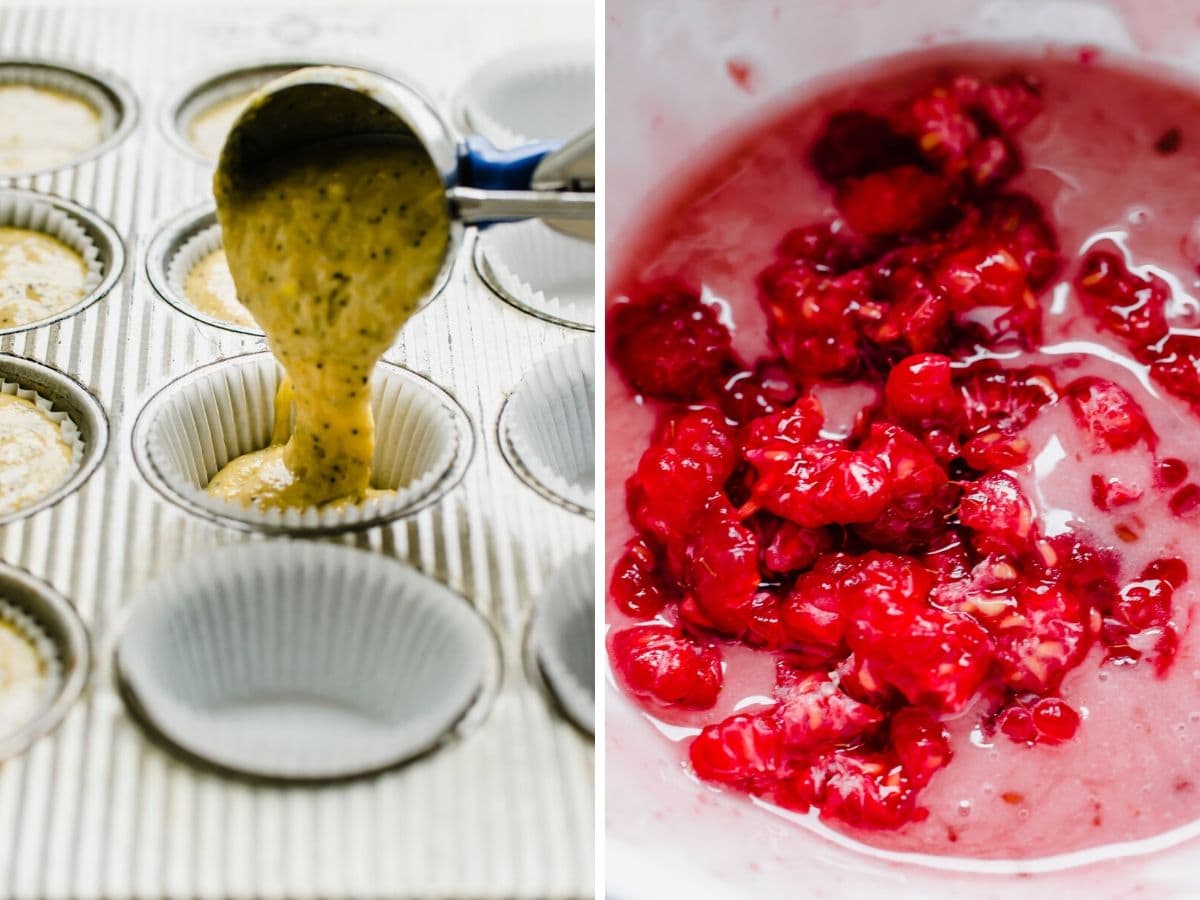 Other Citrus Recipes to Love 
Are you ready to make these Lemon Poppy Seed Muffins with Raspberry Glaze? I'm so excited for you to try this recipe. Once you get the chance to make it, please let me know how it turns out for you! Leave a comment and rate the recipe below. This will help me with the creation of future recipes! I'd also love to feature your creation in my monthly newsletter, so you can upload a photo to Instagram or Twitter with the tag @sweetcayenne5 to be featured!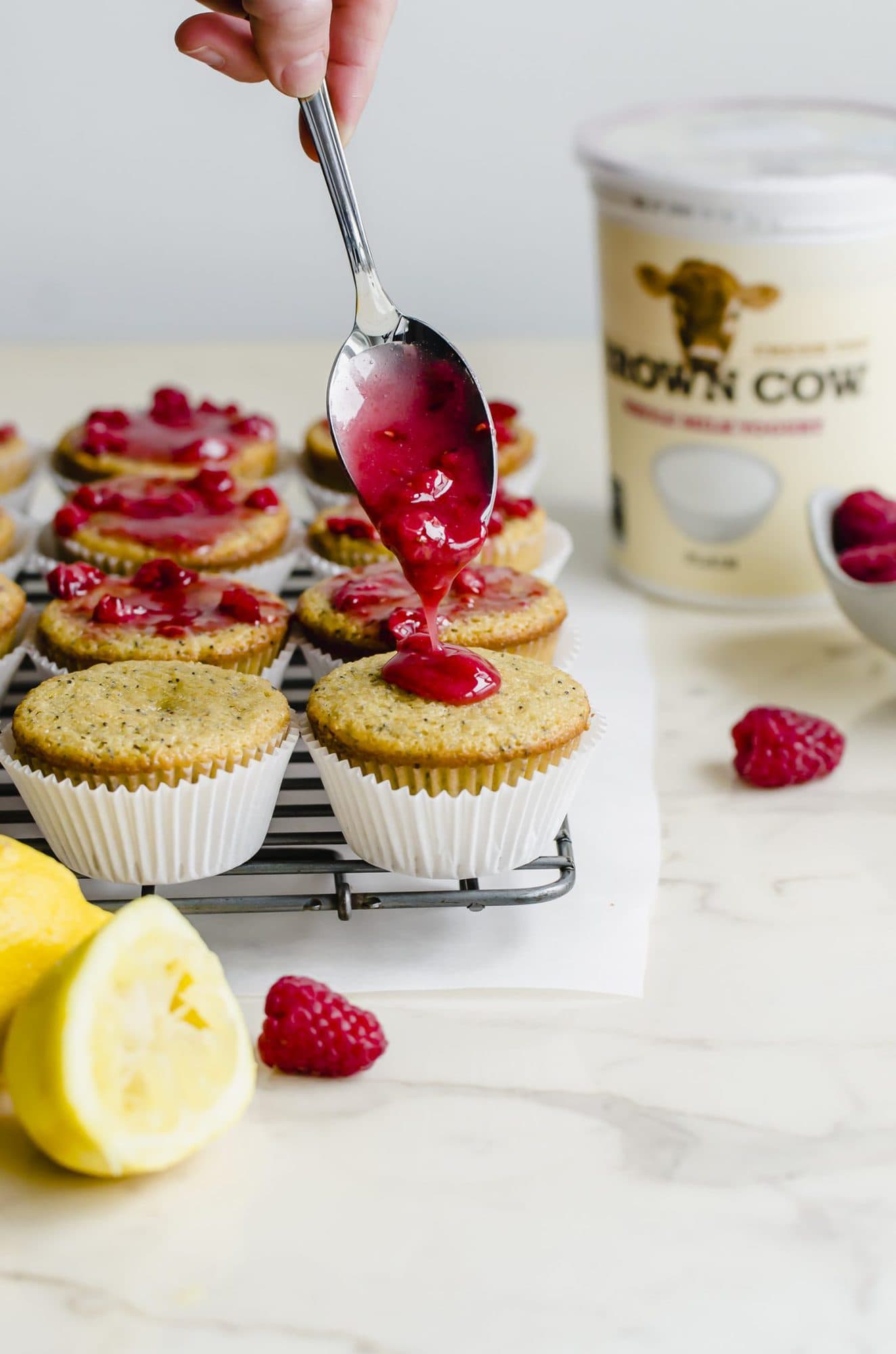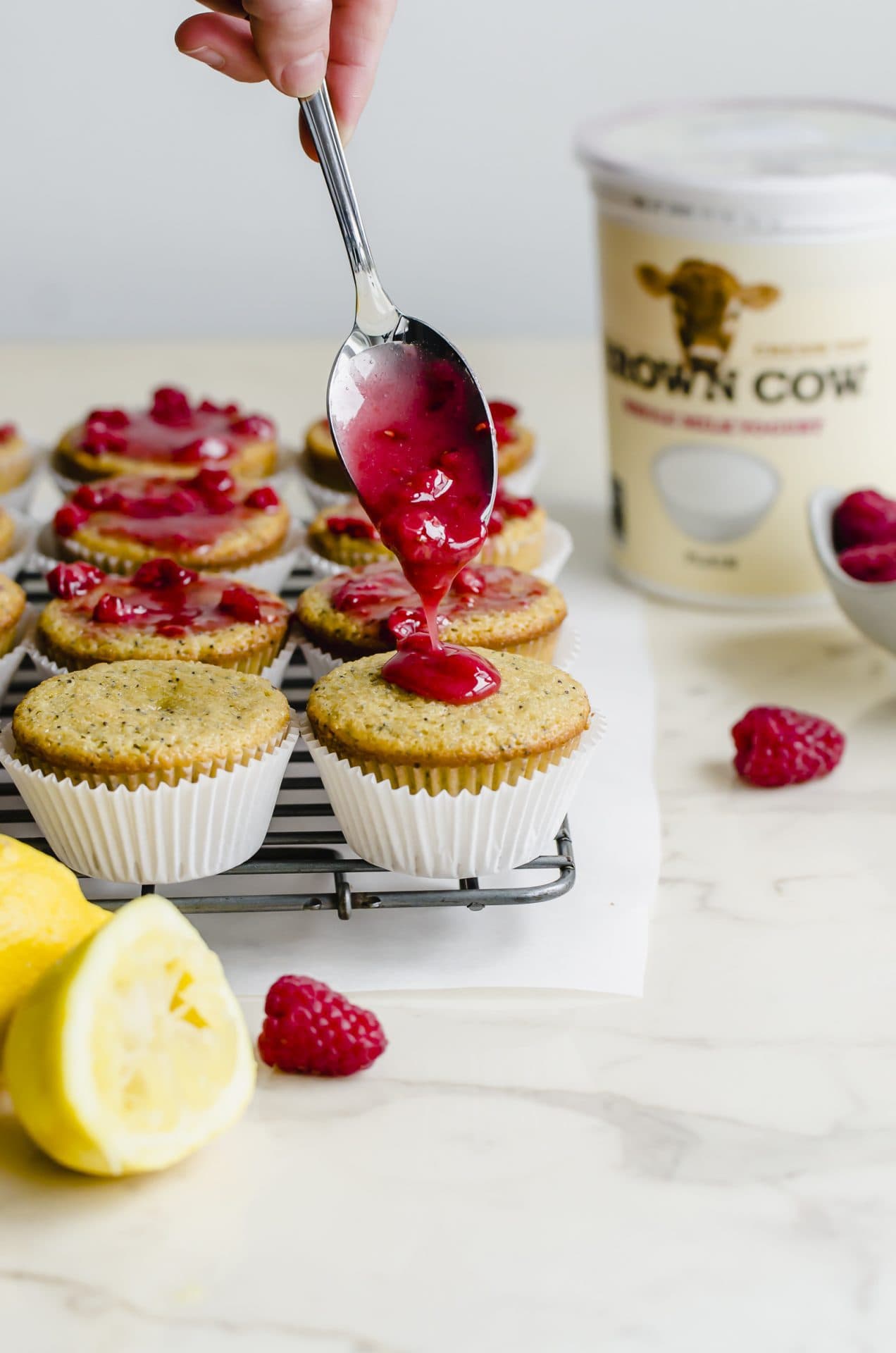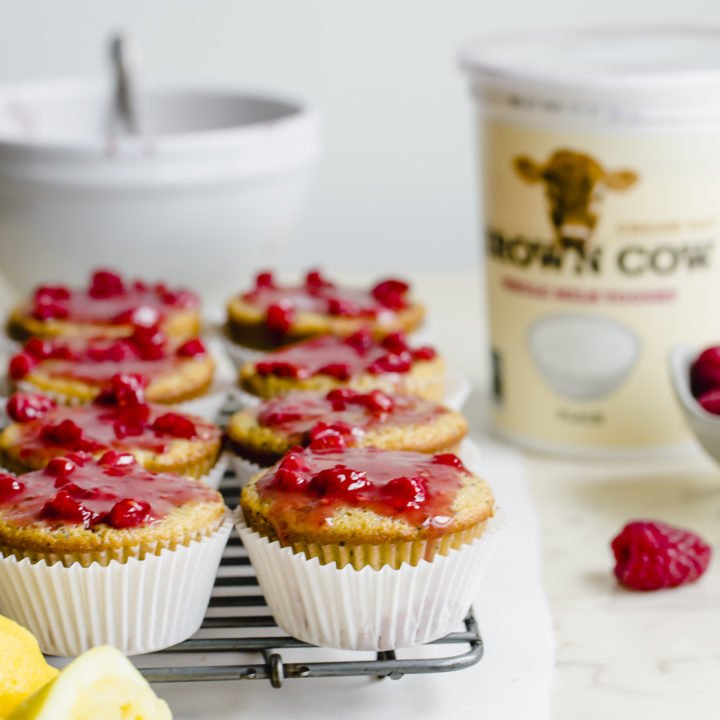 Lemon Poppy Seed Muffins with Fresh Raspberry Glaze
Print
Pin
Rate
Ingredients
Cooking spray

White paper baking cups

1 ¾

cups

white whole wheat flour, spooned into measuring cup and leveled with a knife

1 ½

teaspoons

baking powder

½

teaspoon

baking soda

1/2

teaspoon

kosher salt

1

tablespoon

poppy seeds

2

tablespoons

finely grated lemon zest

3/4

cup

natural cane sugar

2

large

eggs, at room temperature

1/3

cup

extra virgin olive oil

½

cup

Brown Cow Cream Top Yogurt, plain

1

teaspoon

vanilla extract

3

tablespoons

freshly-squeezed lemon juice

1

tablespoon

poppy seeds
Glaze:
1

tablespoon

all-fruit raspberry jam

1

tablespoon

fresh lemon juice

1/2

cup

powdered sugar

¼

cup

fresh raspberries, gently chopped
Instructions
Preheat your oven to 375℉. Line a muffin pan with paper liners and spray the insides with cooking spray.

In a medium bowl, whisk together the flour, baking powder, baking soda, salt, and poppyseed.

In a small bowl, combine the sugar and lemon zest by using your fingers to rub the zest into the sugar until the mixture is fragrant, about one minute. Set aside.

In a large bowl, whisk together the eggs, oil, cream top yogurt, vanilla and the sugar + zest mixture until completely smooth, about 2 minutes. Add the flour mixture and whisk lightly till almost combined. Use a rubber spatula to scrape the sides of the bowl and fold in any remaining flour. Be careful not to overmix!

Pour the batter into your prepared wells of the muffin tin until they are ¾ full. Bake for 14-18 minutes until a toothpick inserted into the middle of a muffin comes out clean.

Remove the muffins from the oven and set the pan on a wire rack for 5 minutes. Remove muffins from the pan and cool completely on a wire rack before glazing.

To glaze the cooled muffins, whisk together the jam and lemon juice until smooth. Add the powdered sugar and whisk until smooth. Fold in the raspberries. Spoon the glaze over cooled muffins. Serve and enjoy!

Store leftover muffins in an airtight container in the refrigerator for up to 3 days.
Pin this, pretty please!