This healthy banana bread with walnuts is my take on a recipe from Joanna Gaines' Magnolia Table cookbook. I'm exploring this book as part of the Sweet Cayenne Cookbook Club!
As an Amazon Associate, I earn from qualifying purchases.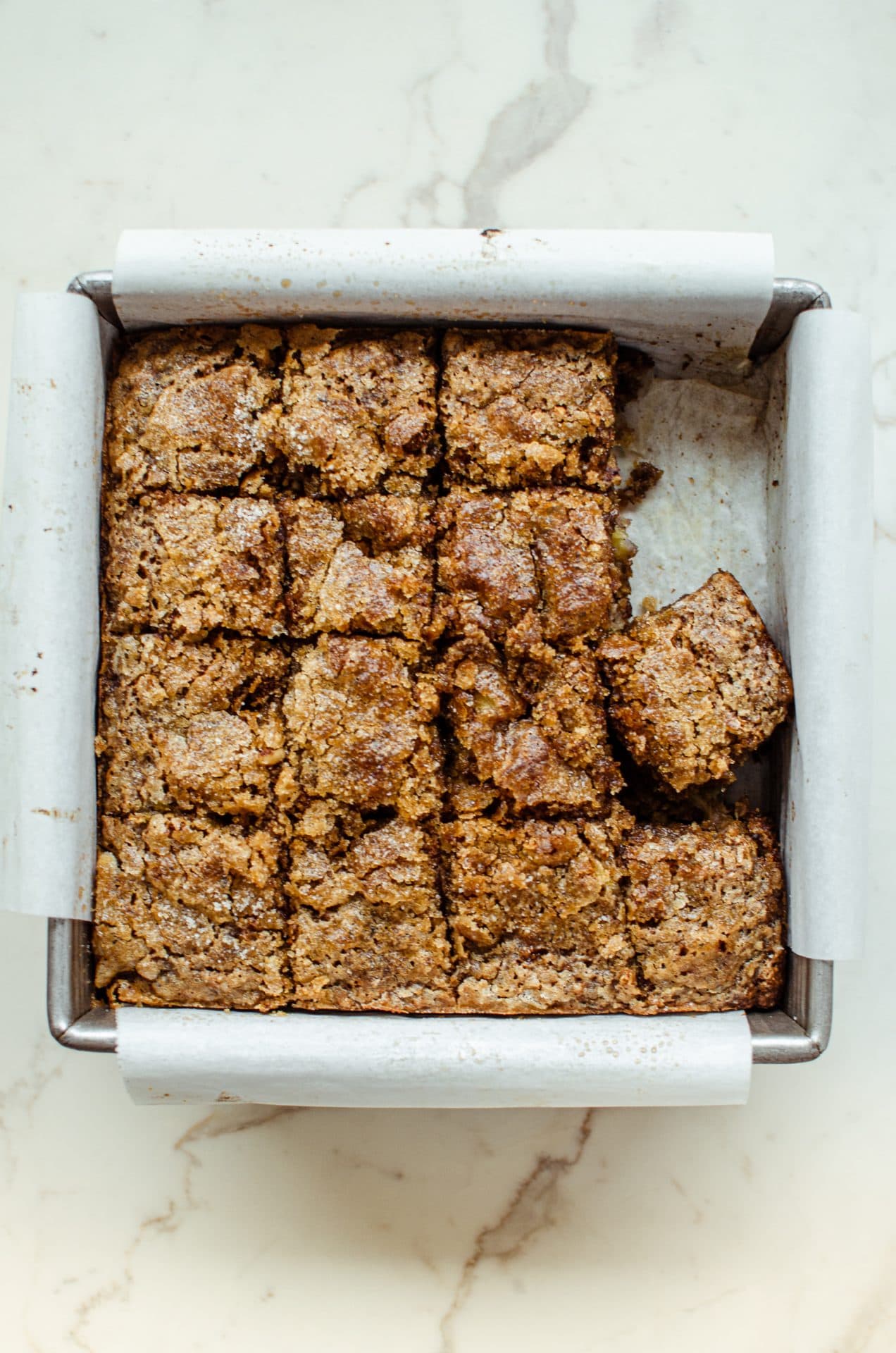 This past Christmas, I was delighted to be gifted with Joanna Gaines' cookbook, Magnolia Table. I had been eyeing it for a while and even checked it out of my local library, and was so excited to have a copy of my own. First of all, the photography is absolutely stunning, and just reading Joanna's stories and notes about each recipe has been so enjoyable. I've always been drawn to Joanna's laid-back style, fun-loving yet peaceful personality, and totally relate to her sweet tooth-induced need to always have something freshly baked in the kitchen! And I'm SUPER excited to announce officially on the blog that this cookbook is the first book to be explored in the new Sweet Cayenne Cookbook Club!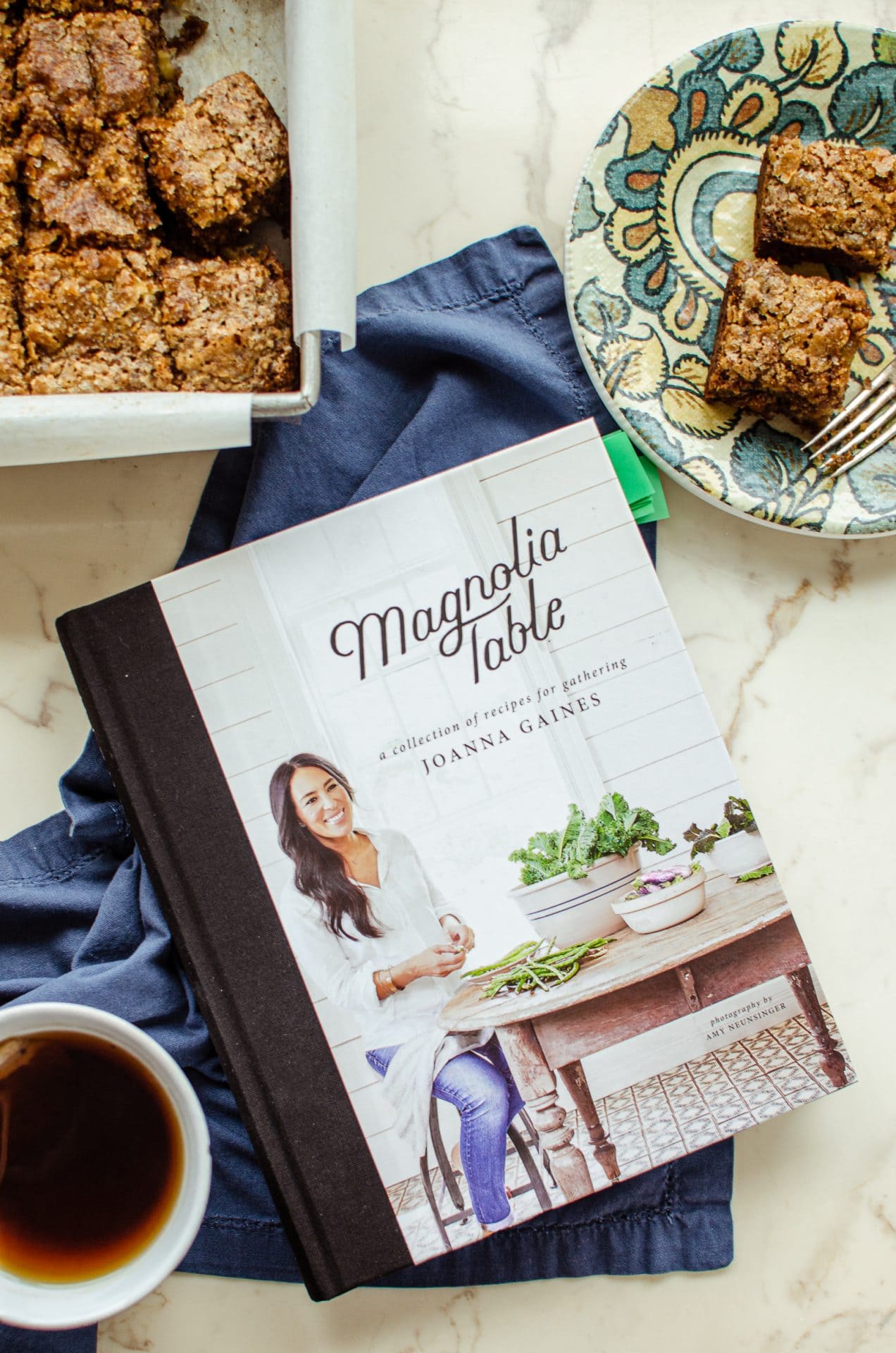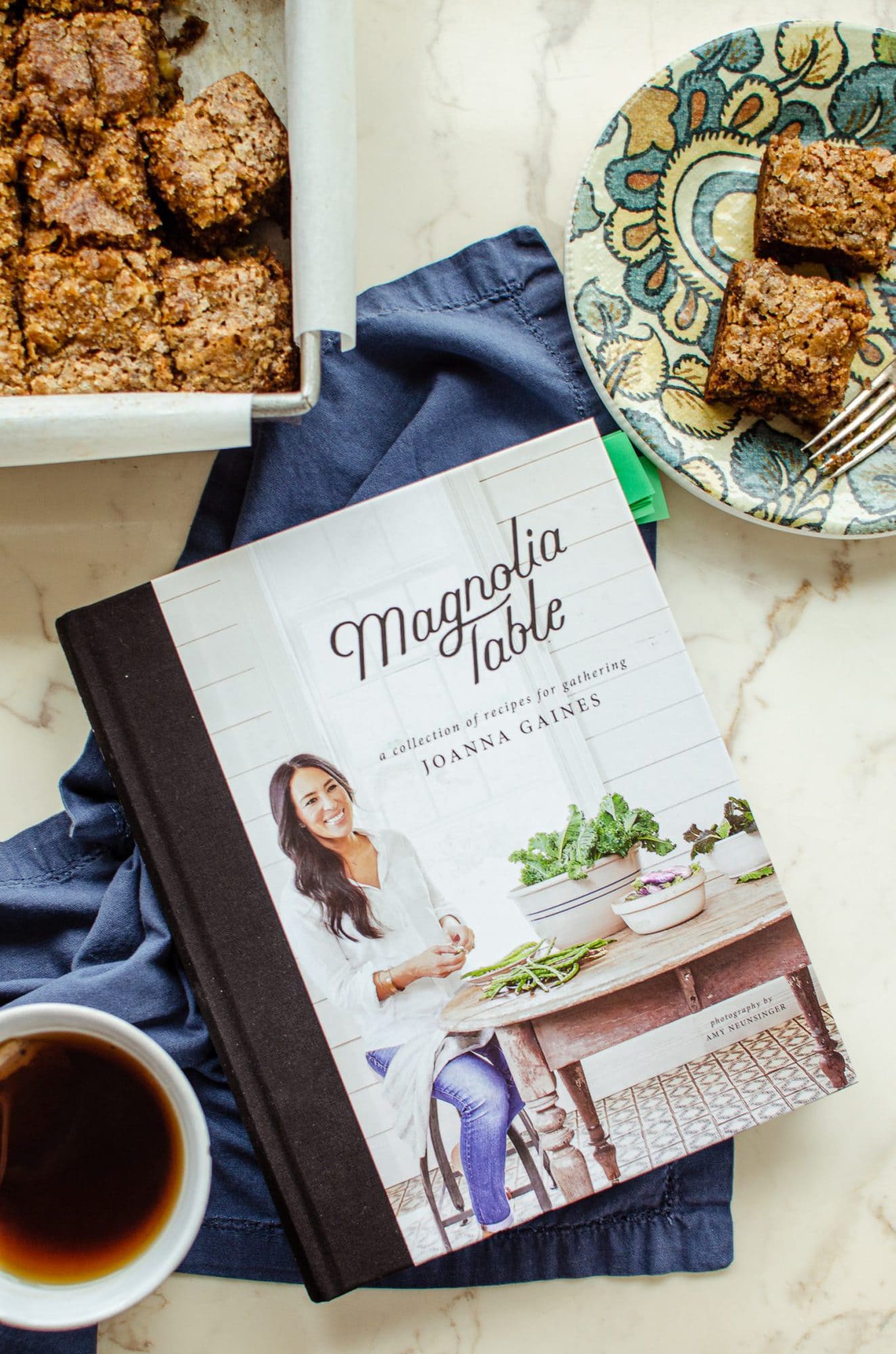 What is Cookbook Club?
The Sweet Cayenne Cookbook Club is a Facebook group branch of my blog's Facebook page. We explore a new cookbook every three months, with the intention to gain confidence in the kitchen, learn new cooking techniques, cook and eat more at home, and make time for sharing food with others. There is a new focus for each of the three months:
Month 1 – get the cookbook or rent it from your local library. Read through it, and pick a few recipes to add to your weekly menu. Start cooking recipes from the book.
Month 2 – plan and/or host a cookbook club dinner with your friends! This is your chance to discuss the book with others, make recipes from it, and build community!
Month 3 – the focus in the last month is on making your favorite recipes from the book again and modify them to fit any dietary needs, taste preferences, or nutrition goals that you may have. Share what you modified, what worked, and what didn't with everyone in the Cookbook Club group so we can learn and be inspired by each other!
If this sounds fun, interesting, or both to you, I'd LOVE to have you join the club. Just visit the group page, request to join, and I will add you!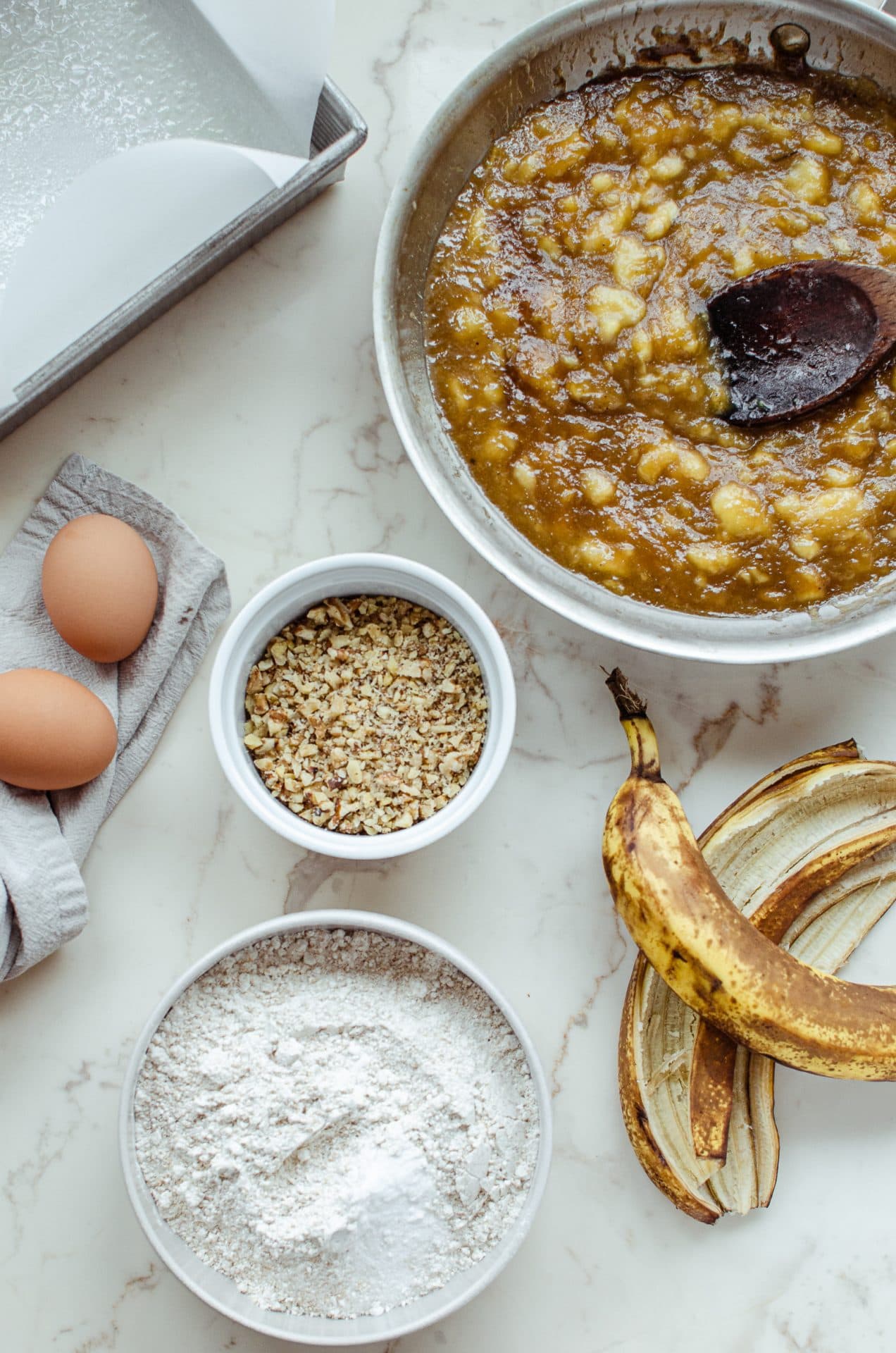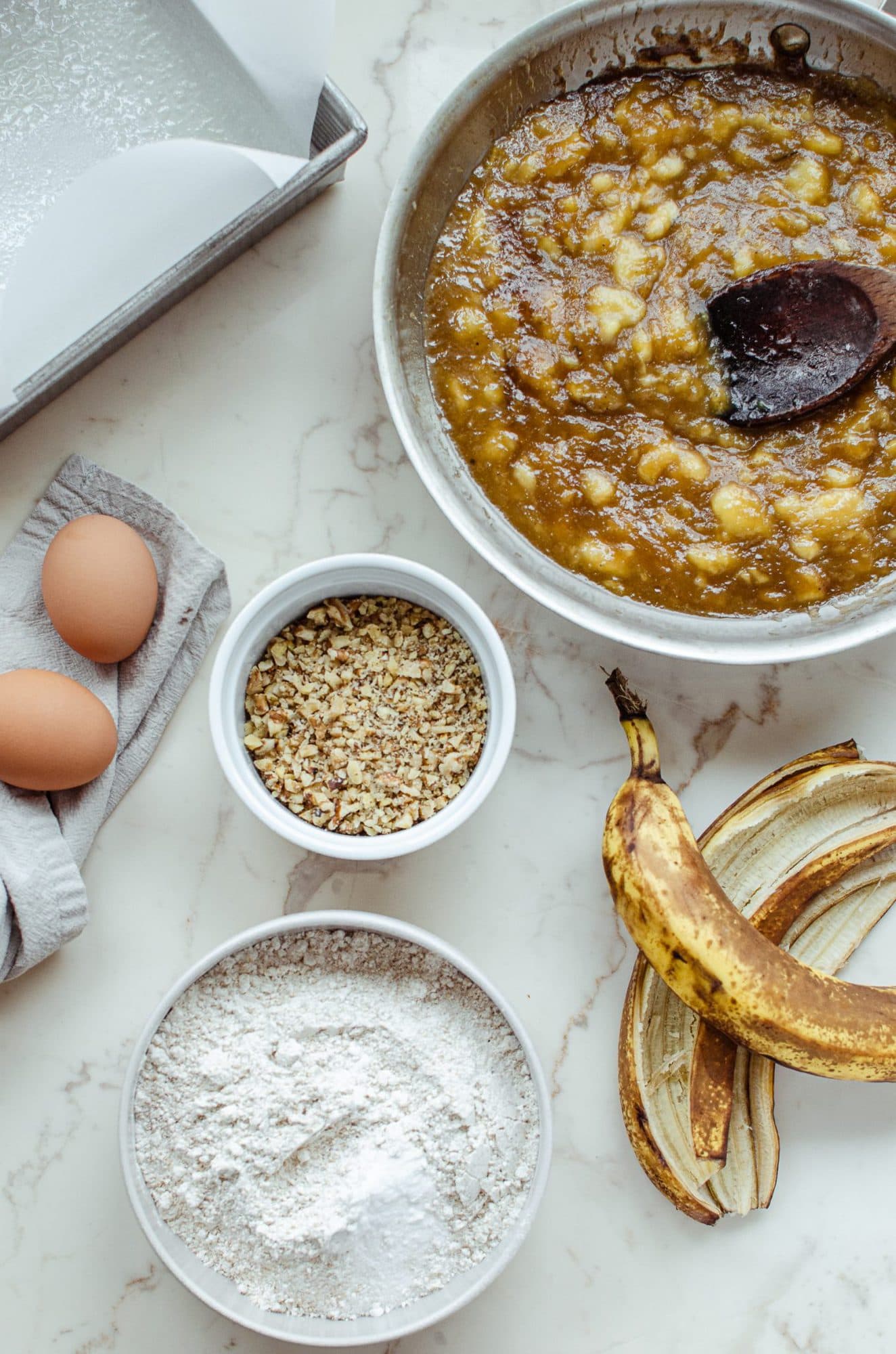 Ingredients for Healthy Banana Bread with Walnuts
Bananas – this recipe calls for more banana than the average banana bread recipe, which I love! 5 medium (or 4 large) very ripe bananas will do the trick – see the photo above to reference the ripeness of the bananas I used.
Wet ingredients – I'm using Earth Balance vegan butter sticks for this recipe, along with applesauce for moisture and cutting fat, eggs, vanilla extract, and optional rum extract for a bananas foster flavor that I love.
Dry ingredients – dark brown sugar for the batter, white whole wheat flour (I grind my own from whole wheat kernels), baking soda, and salt.
Mix-in's – Ryan and I are trying to incorporate more foods in our diet that have benefits for heart health, so I'm using toasted and chopped walnuts as a mix-in. Dark chocolate chips, toasted pecans, or unsweetened shredded coconut would also be delicious!
Toppings – a sprinkling of granulated sugar on top of the unbaked banana bread makes for the most incredible crunchy topping. This is by far my favorite thing about Joanna's original recipe!
How to Make Healthy Banana Bread with Walnuts
Step 1: Toast some walnuts and caramelize some bananas. These are two critical steps for developing a deep and intense flavor in banana bread. These techniques also help concentrate flavor in recipes where the sugar and fat have been reduced.
Step 2: Mix the wet ingredients, then add in the dry ingredients. Be careful not to overmix or your banana bread can turn out dense and tough.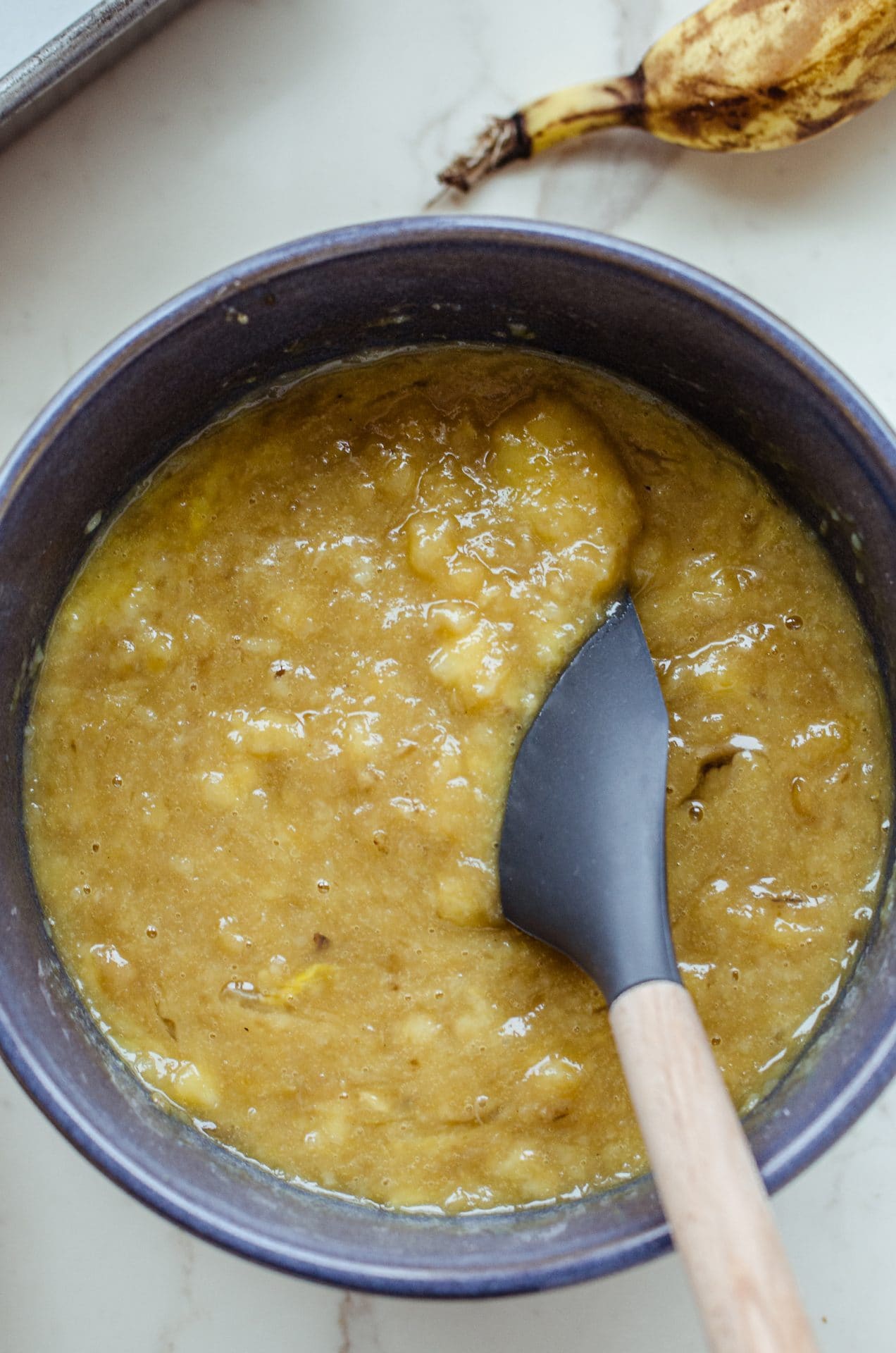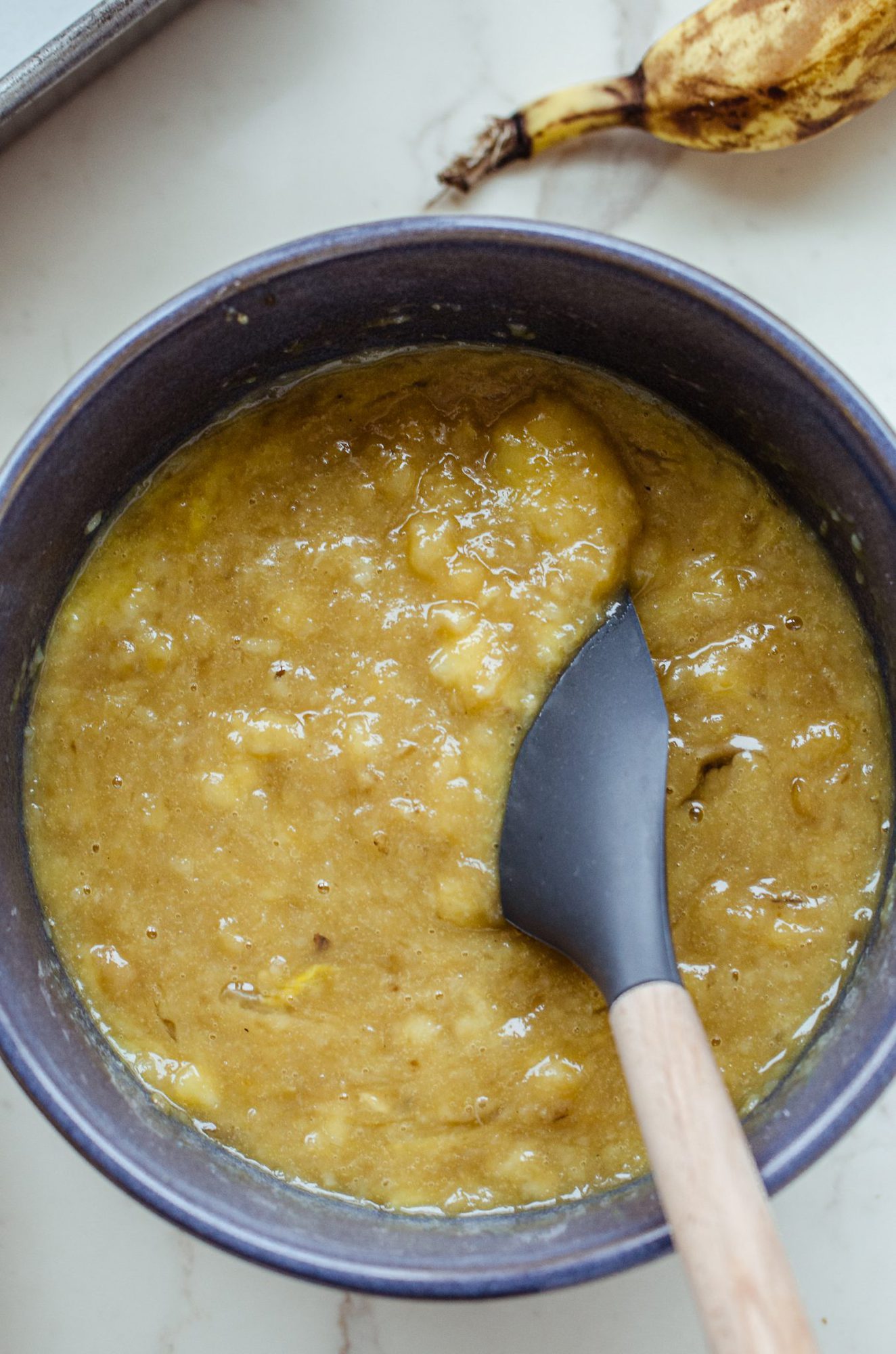 Step 3: Fold in the mix-ins. In this case, that's walnuts!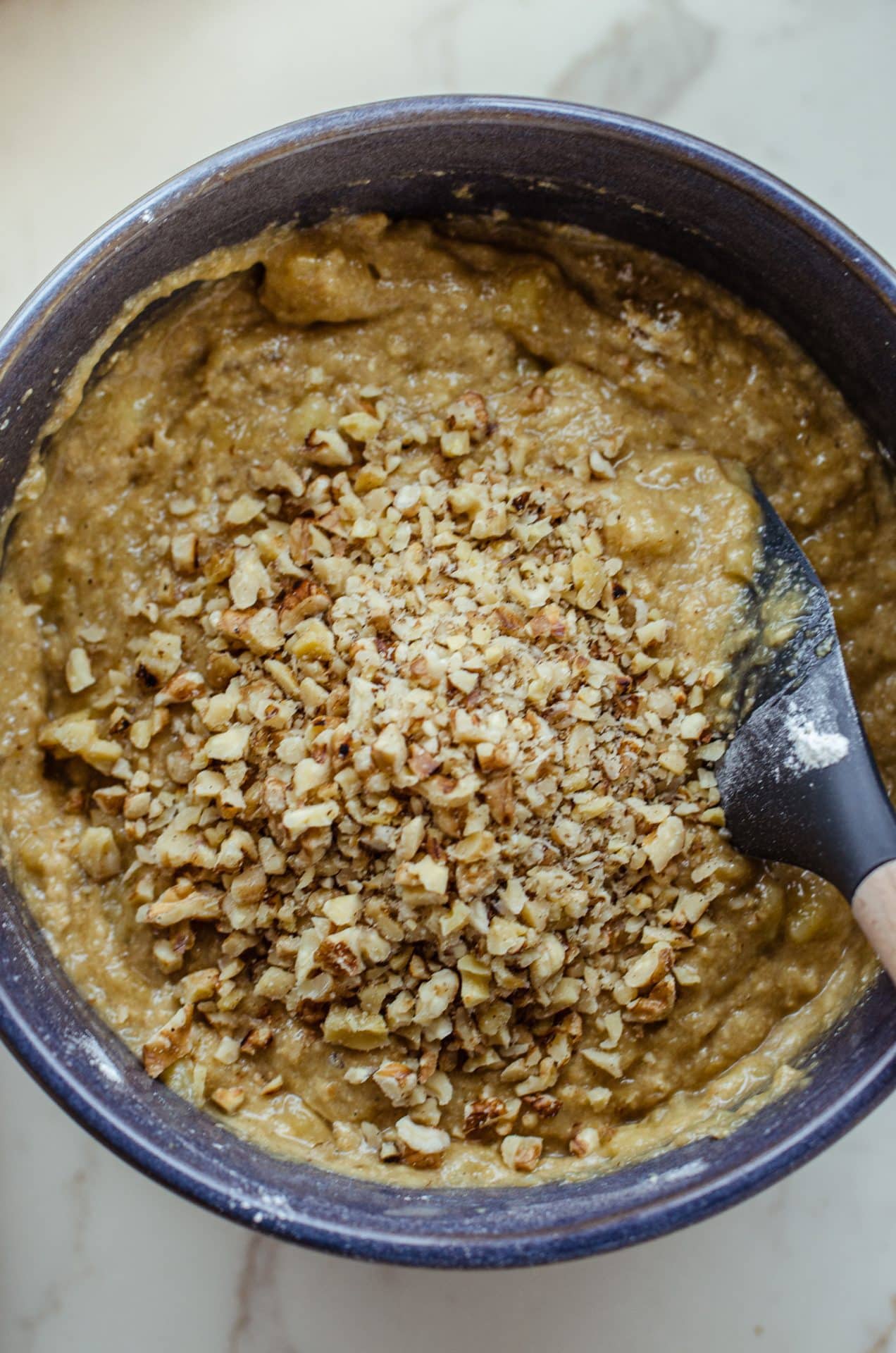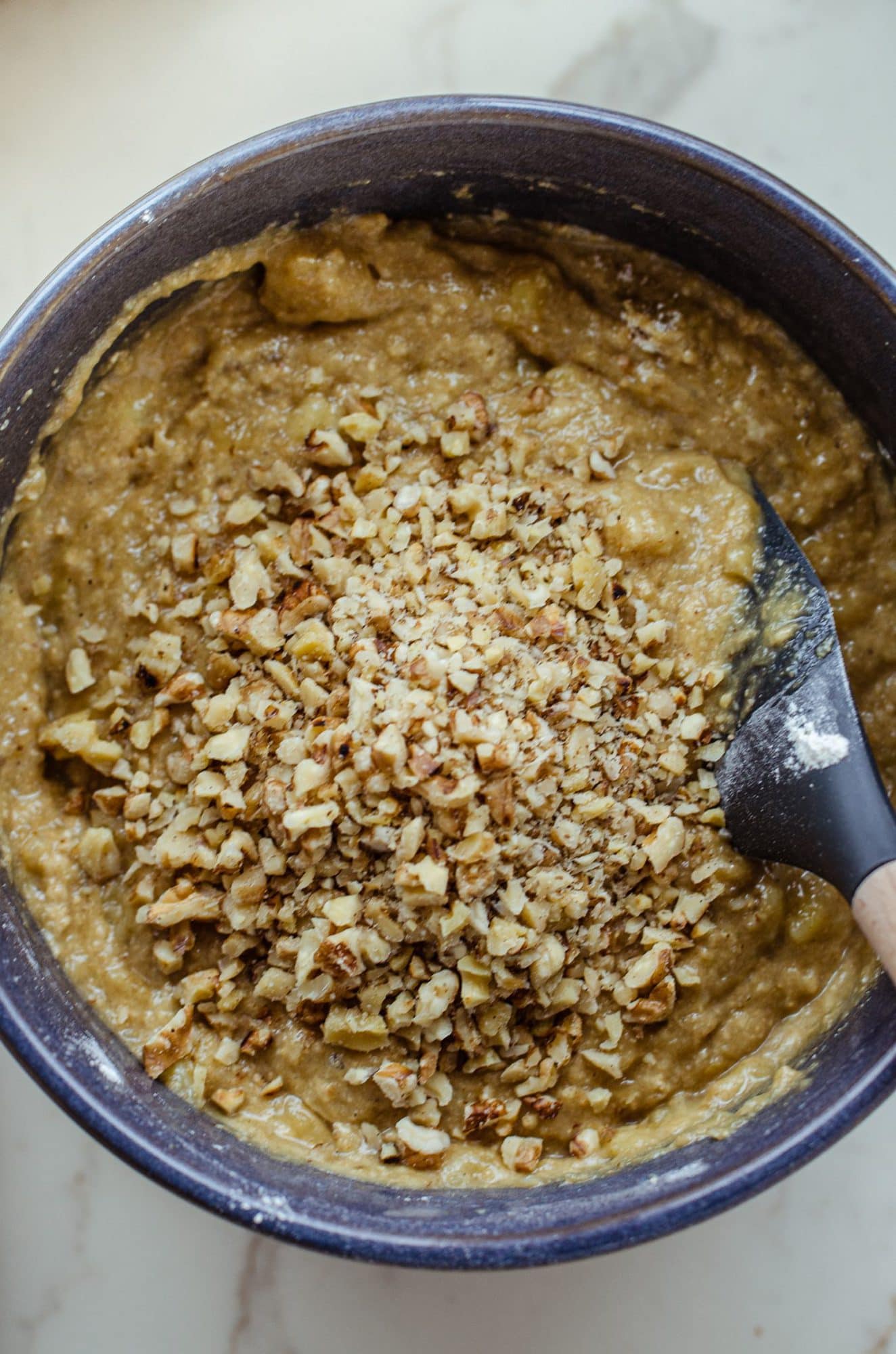 Step 4: Sprinkle on the sugar topping, then bake!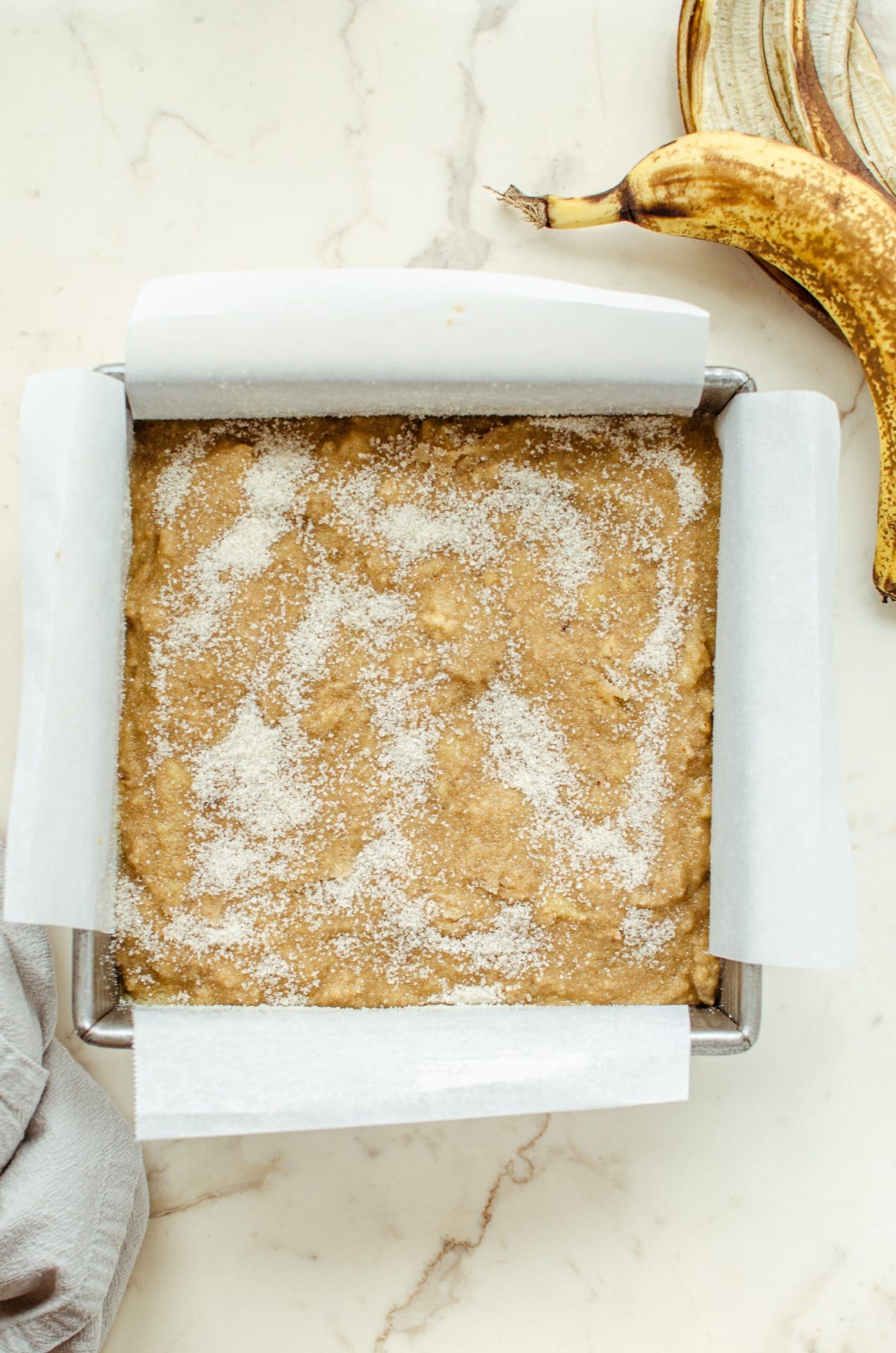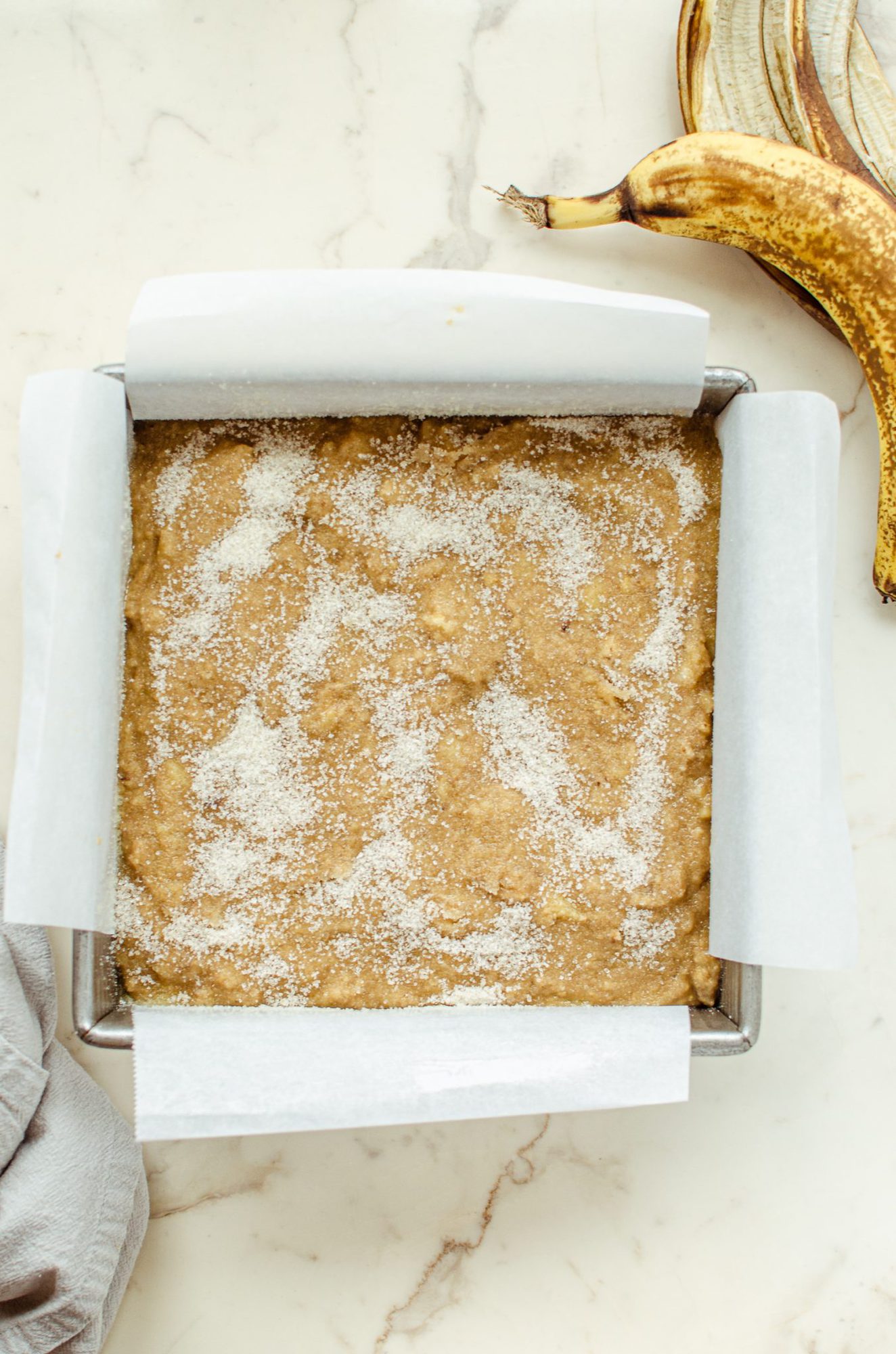 Step 5: Drool over baked crunchy sugar topping.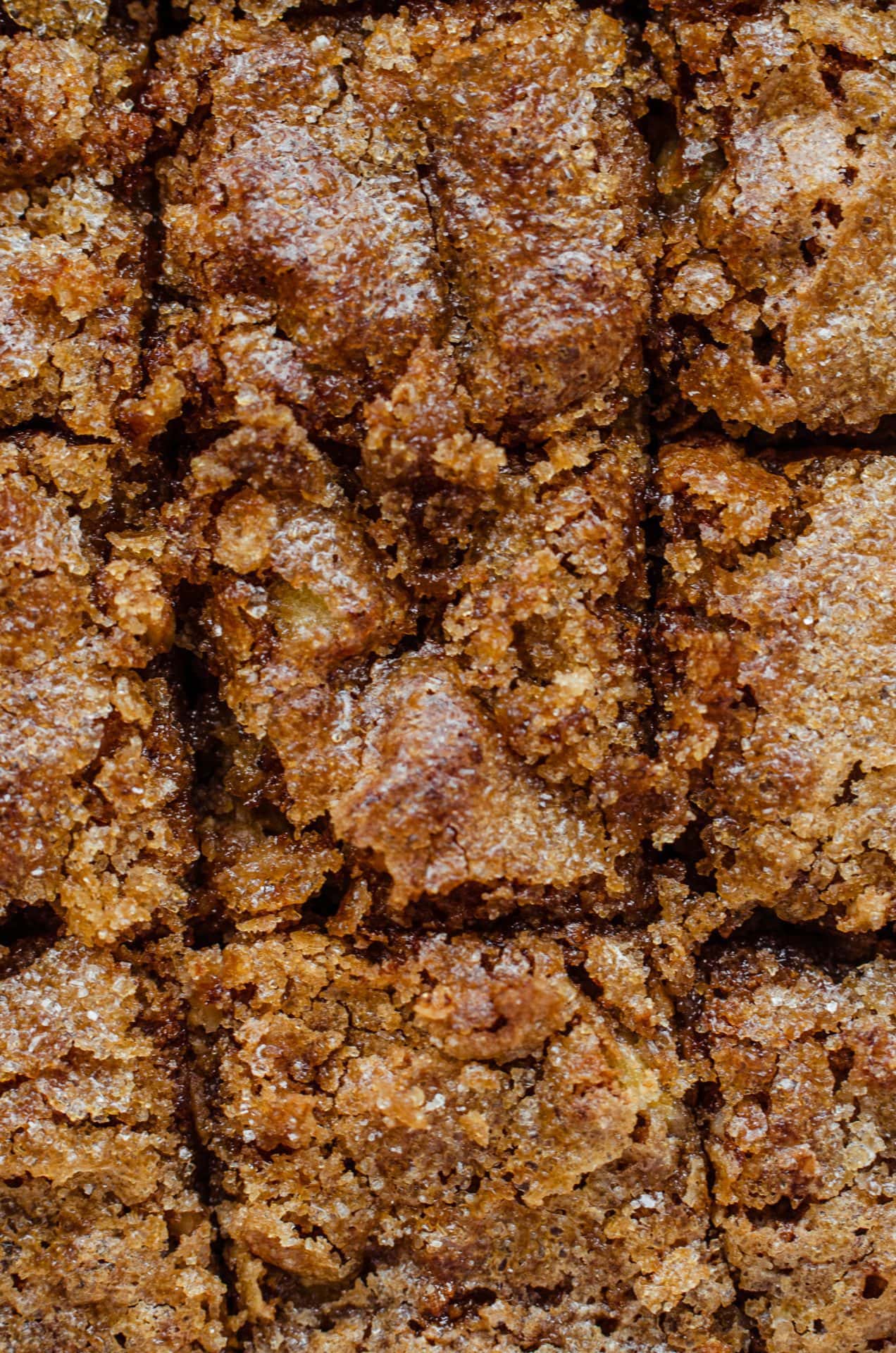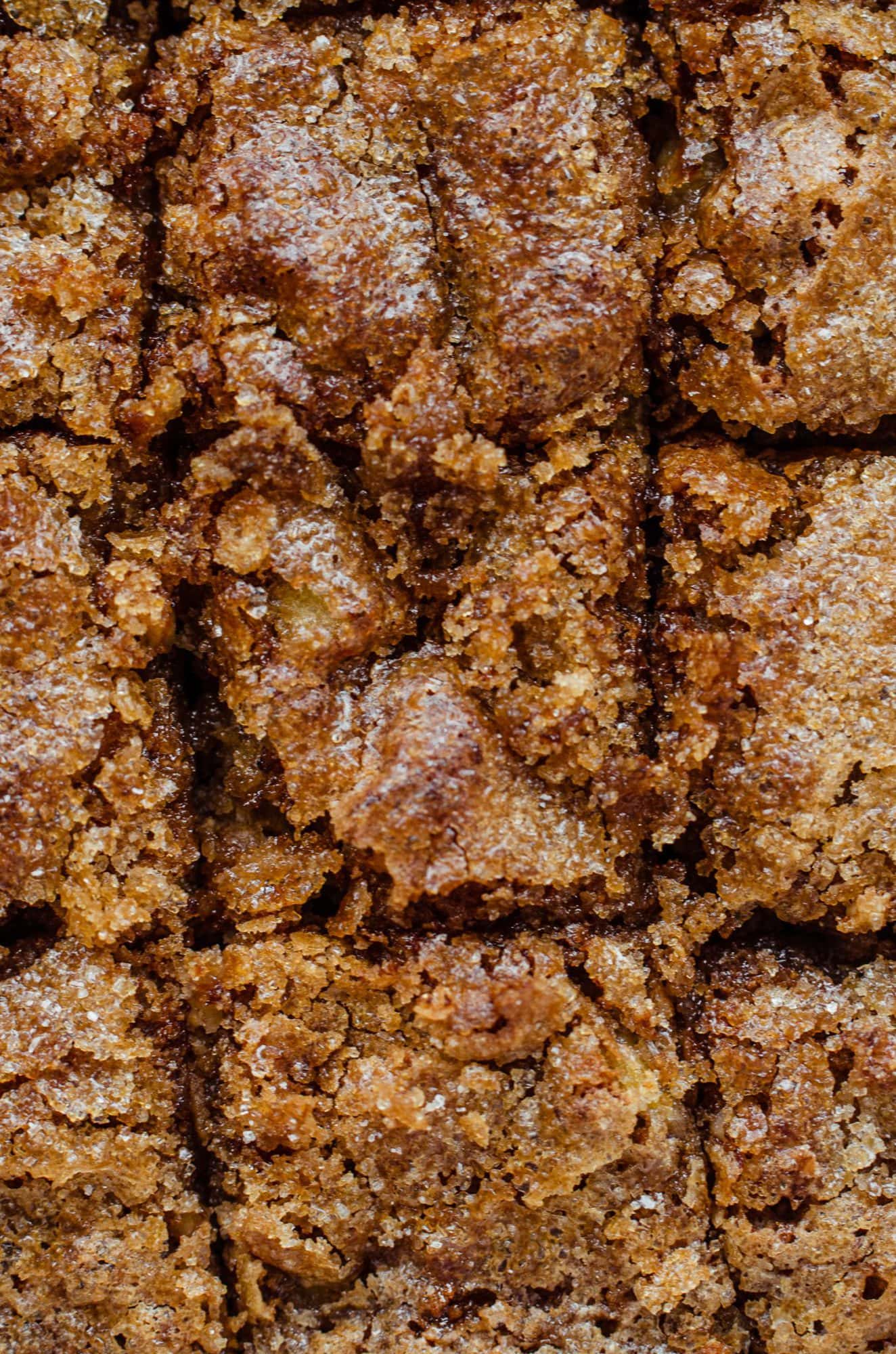 Healthy Banana Bread with Walnuts Recipe Modifications
To make this recipe fit in with our current nutrition and health goals, I made the following alterations to the original recipe:
Toasted the nuts and caramelized the bananas to concentrate flavor.
Reduced the added sugar in the batter by half.
Reduced the amount of fat by half and replaced regular butter with Earth Balance vegan butter sticks. Replaced half the fat called for in the recipe with unsweetened applesauce.
Replaced the all-purpose flour with freshly-ground white whole wheat flour for added fiber and protein.
Increased the written serving size from 8 squares to 12 for better portion control.
Are you ready to make this Healthy Banana Bread with Walnuts? I'm so excited for you to try this recipe. Once you get the chance to make it, please let me know how it turns out for you! Leave a comment and rate the recipe below. This will help me with the creation of future recipes! I'd also love to feature your creation in my monthly newsletter, so you can upload a photo to Instagram or Twitter with the tag @sweetcayenne5 to be featured!
*PLEASE rate and comment on the recipe if you make it! This helps others find the recipe in search engines!*
Healthy Banana Bread with Walnuts
This Healthy Banana Bread with Walnuts is adapted from the Magnolia Table Cookbook recipe "After School Banana Bread" as part of the Sweet Cayenne Cookbook Club.
Print
Pin
Ingredients
Cooking spray and parchment paper for the pan

4

tablespoons

of vegan butter (such as Earth Balance)

5

medium

very ripe bananas

½

cup

dark brown sugar

½

teaspoon

rum flavoring (optional)

1 ½

teaspoons

vanilla extract

2

large

eggs, lightly beaten

¼

cup

unsweetened applesauce

1 ¾

cups

white whole wheat flour

1

teaspoon

baking soda

½

teaspoon

kosher salt

½

cup

walnuts, lightly toasted and chopped (optional)

2

tablespoons

unbleached cane sugar
Instructions
Preheat oven to 350℉. Spray an 8x8-inch pan with cooking spray and line it with parchment paper so that there is a 1-inch overhang on both ends. Set aside.

Place the walnuts on a baking sheet. Toast in the oven for 7-8 minutes until fragrant. Set aside to cool.

Place a large skillet over medium heat. Add the butter. Once it is melted, add the bananas. Sautee the bananas for 5 minutes, reducing heat as necessary and breaking them up into small chunks with the back of a wooden spoon. Add the brown sugar and stir until melted and the mixture is dark and thick, about 2 minutes. Remove from heat and stir in the rum extract (if using) and the vanilla. Transfer the mixture to a large bowl to cool slightly.

While the banana mixture is cooling, chop the walnuts.

Add the eggs and applesauce to the banana mixture and whisk to combine. Add the flour, baking soda, and salt, whisking lightly until almost combined. Use a rubber spatula to fold in walnuts (if using), scraping the sides of bowl and folding in any residual flour. Transfer the mixture to the prepared baking pan. Sprinkle 2 tablespoons of sugar on top, covering the whole surface evenly.

Bake for 45-50 minutes or until toothpick inserted into the center of the bread comes out clean. Remove from oven and let cool a bit on a wire rack. Serve warm.

When the bread is completely cool, cover with foil and store at room temperature for up to 2 days. Longer storage will require refrigeration, which will soften the crunchy sugar topping.
Pin this, pretty please!