This no-knead Dutch Oven Rosemary Raisin Bread is inspired by one of my favorite breads in Italy - pan di ramerino. It has a crusty exterior, a hint of rosemary, and is laced with juicy sweet golden raisins and currants.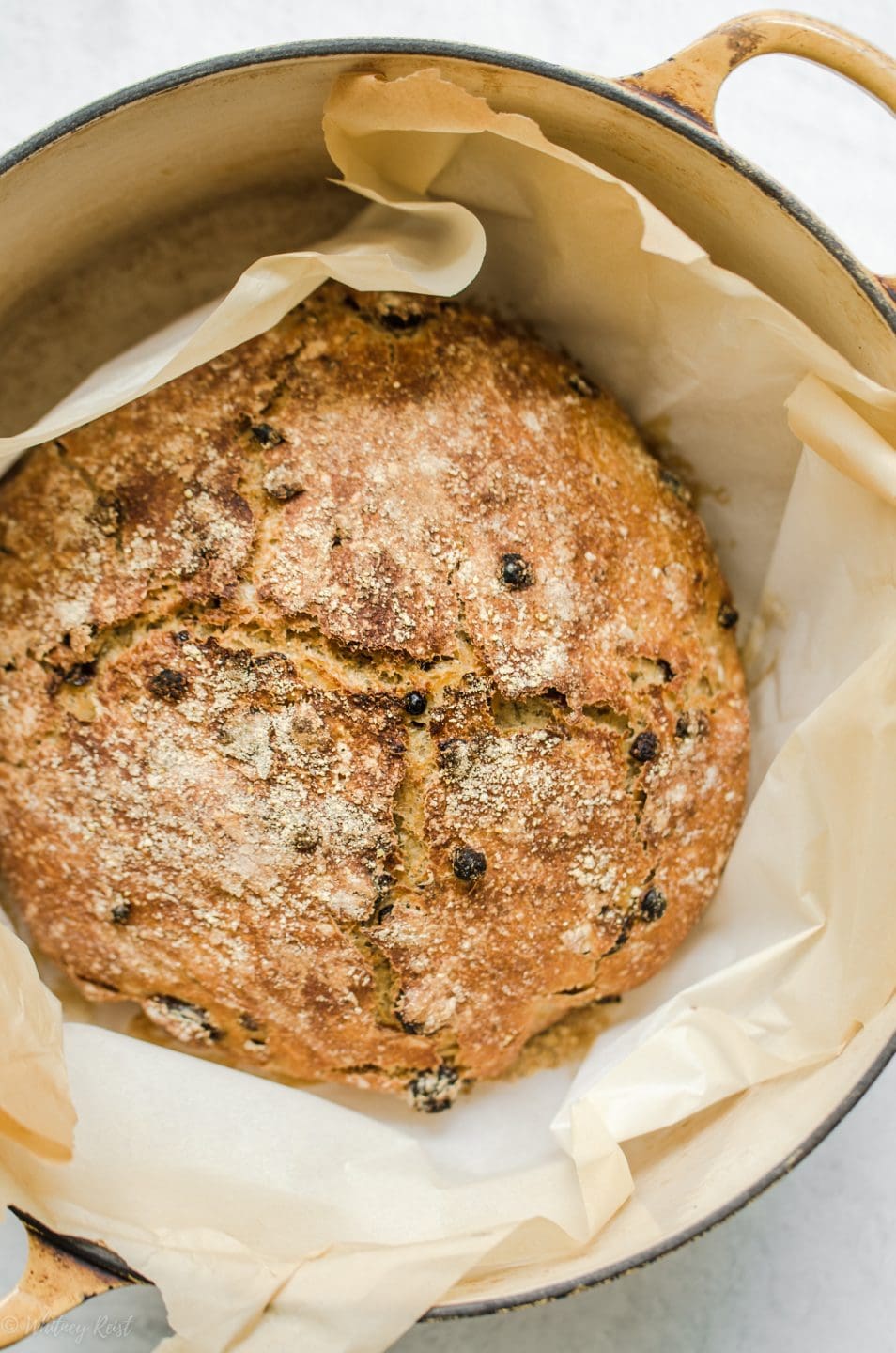 Jump to:
About the recipe
I discovered pan di ramerino - or rosemary raisin bread - as a tiny loaf form at the Mercato Centrale in Florence a few years ago. At first taste, it immediately reminded me of the Rosemary Raisin Crisps at Trader Joes, which happen to be my favorite cracker to serve with cheese.
The loaves quickly became my go-to bread of choice at the market, and I loved serving them with tomato bruschetta topping and thinly sliced prosciutto during my time there. I knew I had to recreate it once I returned home because it was just too delicious to do without!
As you all may know, I love baking bread in a Dutch oven. It's so much easier than you may think and produces the most gorgeous bakery-style loaf or boule.
Two of my favorite versions have already been published here on the blog - Meyer Lemon Rosemary Bread and the Chocolate Cherry Rye Boule. Have you tried either of those?
This new Rosemary Raisin Bread version is going to be my bread of choice all summer long for cheese boards and making my favorite Strawberry Tomato Bruschetta.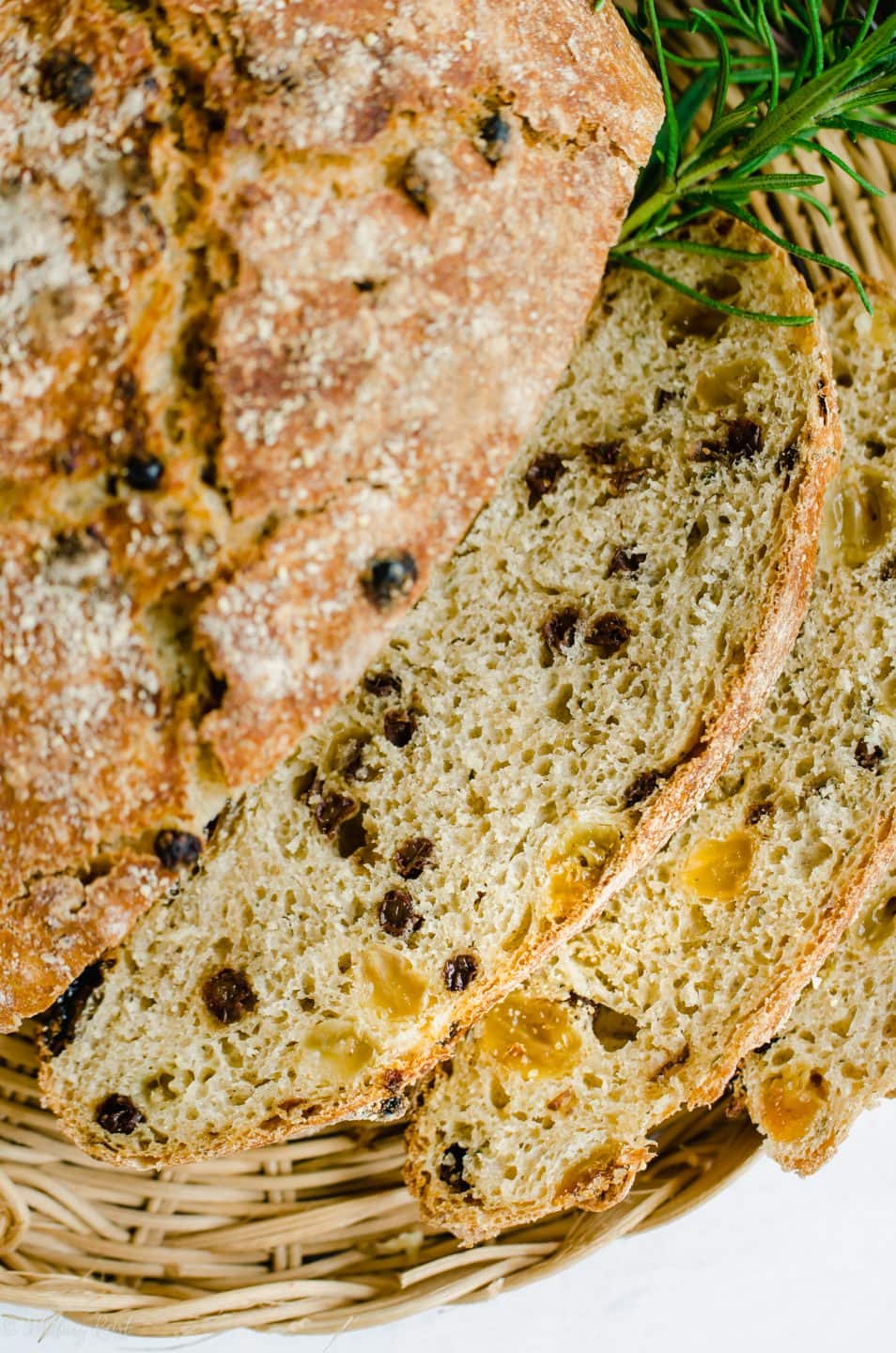 Ingredients
All-purpose flour - I use King Arthur brand in all my baking for the consistent quality and protein content. 
White whole wheat flour - while I would love to make the entire loaf with 100% whole wheat flour, it just doesn't rise as well and produces a much denser loaf, which is why I only use half whole wheat and half all-purpose flour. 
Active dry yeast - since this bread has such a long fermentation time, you only need a little bit of yeast. So don't be alarmed that the recipe only calls for ½ a teaspoon! Use active dry yeast, not quick rise or instant yeast.
Salt - used for flavor throughout the loaf. I use coarse ground Kosher salt.
Water - you want the water to room temperature or no warmer than lukewarm to avoid killing the yeast.
Fresh rosemary - fresh definitely tastes better than dried in a bread recipe. If rosemary isn't your thing, feel free to omit, although I will say that the rosemary flavor in this bread is very subtle.
Dried golden raisins and currants - as the bread rises, the raisins and currants will become hydrated in the dough, making them soft and tender.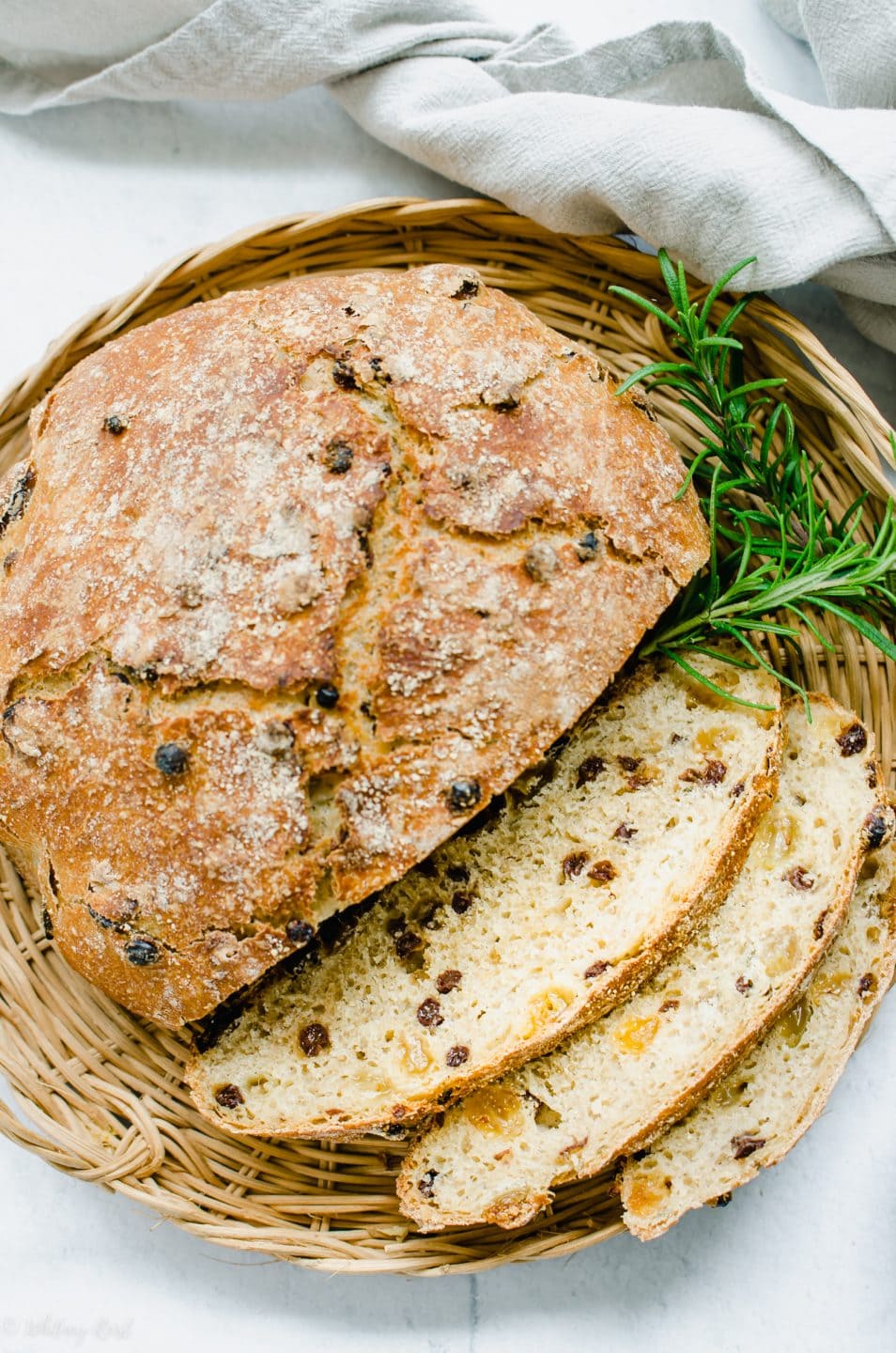 Instructions
Mix the dry ingredients with water and let it sit overnight - this bread recipe calls for an extended fermentation period, which will give it the tangy, yeasty flavor that you get from delicious French-style bakery loaves.
While making this bread does require some advanced planning for the overnight rise, it could not be simpler to make. Just stir a few ingredients together and then let the dough do its thing. The next morning, your dough will have doubled in size and have tiny dots in the surface like in the picture below: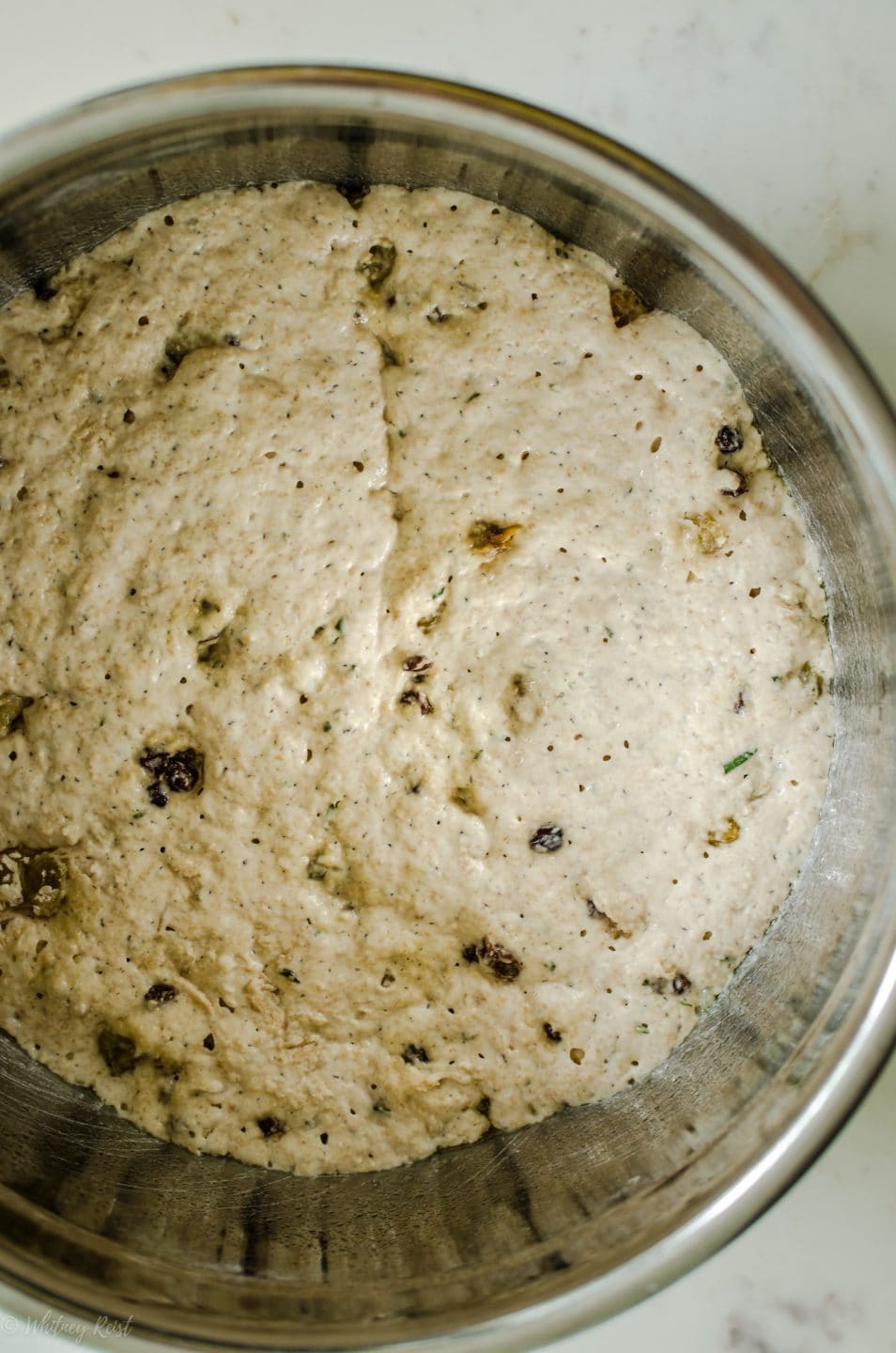 Knead a bit of flour into the dough to help shape it into a ball, then let it rise again - while this is "no-knead" bread, the dough mixture can tend to be a bit wet and sticky the next morning after the rise, especially if there is a lot of humidity in the air.
I find it helpful to knead ¼-1/3 cup of additional flour into it for about a minute or so, just to help shape it into a ball. Then place the ball on a cotton tea towel dusted with cornmeal and let it rise again in a bowl. The towel makes it easy to transfer the risen loaf into the preheated Dutch oven.
Bake the bread in a hot Dutch oven - during the last part of the bread rise, you will preheat a Dutch oven with the lid on to get it nice and hot.
Dutch ovens are made from enameled cast iron, which evenly distributes heat up the sides and through the lid of the cookware. This creates a hot, humid environment for the bread loaf, which helps with rising in the oven and yields a crusty, golden-brown exterior.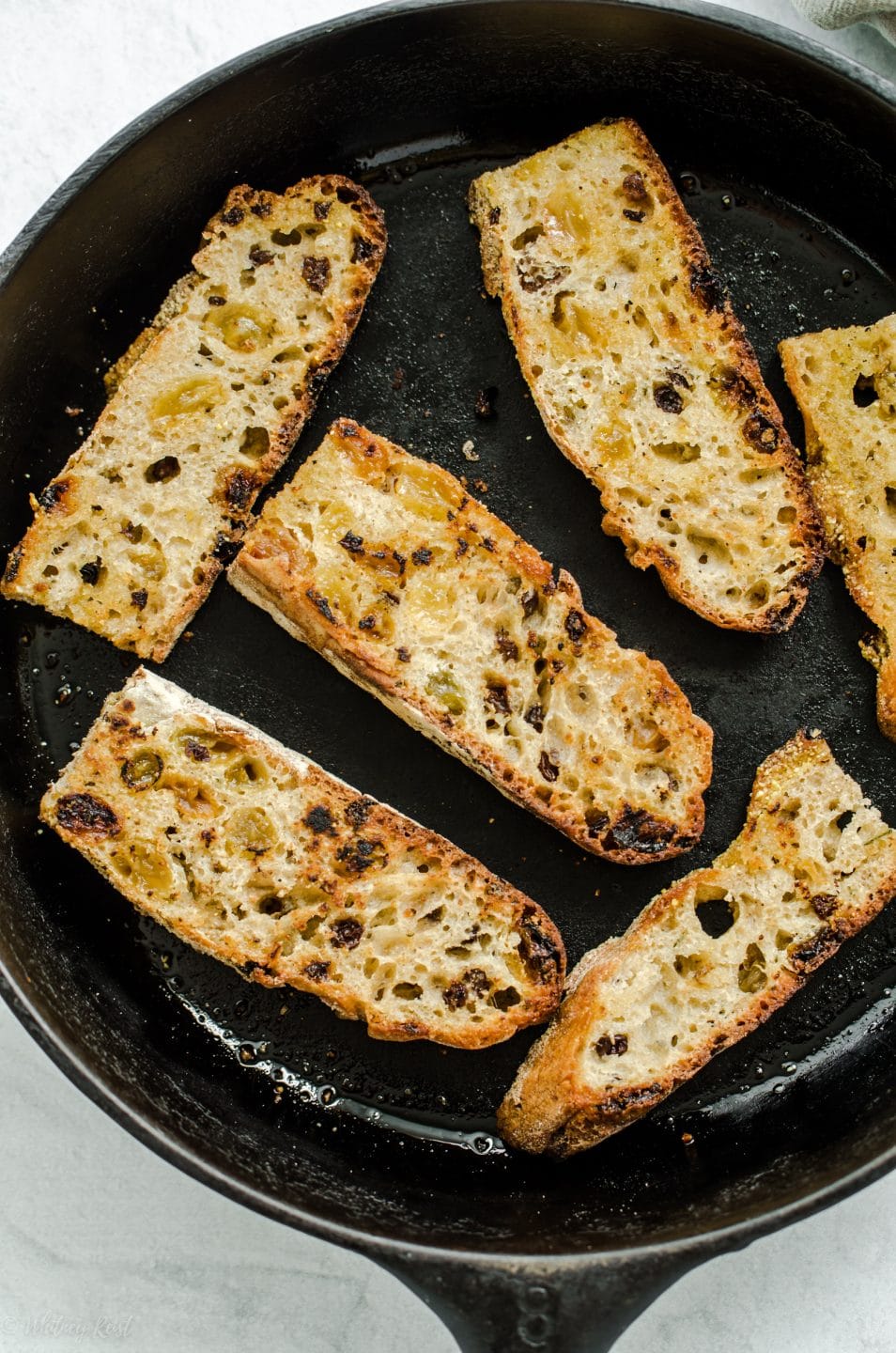 Serving suggestions
Are you ready to try this Dutch Oven Rosemary Raisin Bread? I'm so excited for you to try this recipe. Once you get the chance to make it, please let me know how it turns out for you! Leave a comment and rate the recipe below. This will help me with the creation of future recipes! 
I'd also love to feature your creation in my monthly newsletter so you can upload a photo to Instagram or Twitter with the tag @sweetcayenne5 to be featured!
Recipe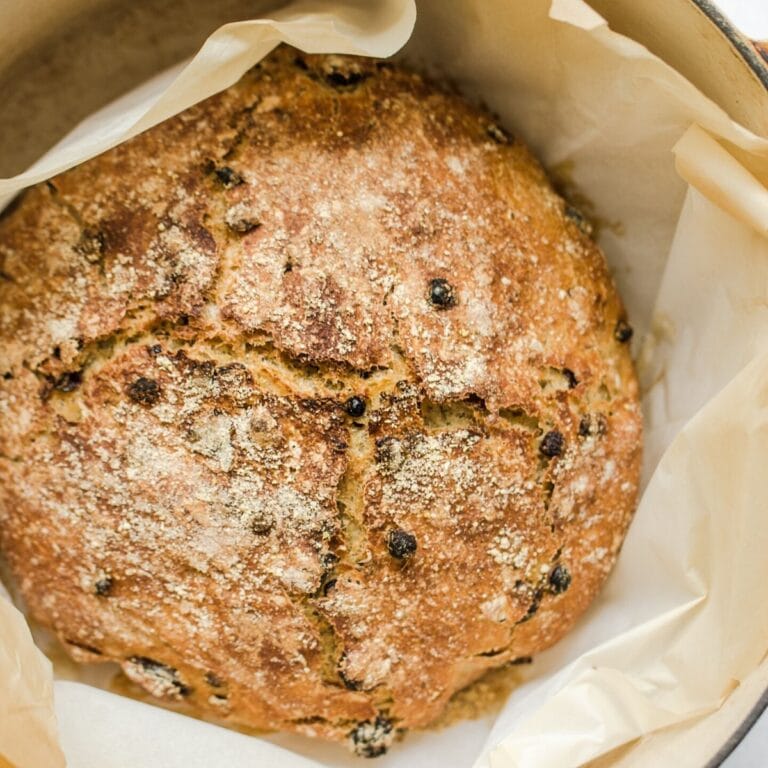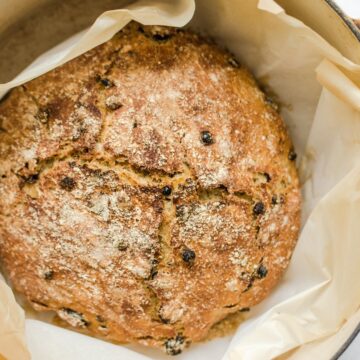 Dutch Oven Rosemary Raisin Bread
This no-knead rosemary raisin bread recipe is made in a Dutch oven. If you've ever wanted to know how to make bread at home, this is a good recipe to start with.
Print
Pin
Rate
Ingredients
1 ½

cups

all-purpose flour

1 ½

cups

whole white wheat flour

½

teaspoon

active dry yeast (not quick-rise)

1

teaspoon

Kosher salt

2

teaspoons

chopped fresh rosemary

1 ¼

cups

room temperature or lukewarm water

¾

cup

golden raisins

¼

cup

dried currants

Cornmeal, as needed
Instructions
Day 1:
Combine the flours, yeast, salt, and rosemary in a large bowl by stirring with a wooden spoon. Add the water and stir until the dry ingredients are well-moistened and a shaggy, sticky dough has formed. Use a rubber spatula to fold in the raisins and currants. Transfer the dough to a clean bowl coated with cooking spray.

Cover the top of the bowl with plastic wrap. Let the dough sit at room temperature (about 70 degrees F) for 12-18 hours. After a minimum of 12 hours the surface will become dotted with bubbles - that's a sign that ingredients are fermenting and flavor is developing!
Day 2
Generously coat a sheet of parchment paper with cornmeal or flour. Gently and quickly shape the dough into a ball with floured hands. I like to knead about a ¼-⅓ cup of flour into the dough for a minute or two if it is very wet to help shape it into a ball. Place seam-side-down onto the center of the parchment paper.

Dust the top of the dough with more cornmeal/flour and place the paper with the dough in a large bowl and let it rise until the dough has doubled in size and does not quickly spring back when you poke at it. This should take 1 ½-2 hours.

Thirty minutes before the dough is ready, place a 2 ¾-quart up to a 5 quart cast iron pot/Dutch oven in the oven and preheat the oven to 450°F.

Once your oven is preheated, carefully remove the pot from the oven. Place the parchment paper with the risen loaf into the center of the Dutch oven. Cover with the lid and bake for 20 minutes, then uncover and bake an additional 20-30 minutes until the boule is golden brown all over and sounds hollow when you tap it with a wooden spoon. Your kitchen will smell absolutely amazing!

Remove the pot from the oven and transfer to a wire rack to cool for 15 minutes. Carefully remove the bread from the pot and let cool completely on a wire rack before slicing. You will then have one 1 pound bread loaf to enjoy!

Store the bread well-wrapped at room temperature for up to 5 days, or wrap tightly and freeze for up to 3 months.
Serving:
1
slice
|
Calories:
119
kcal
|
Carbohydrates:
26.7
g
|
Protein:
3
g
|
Fat:
0.4
g
|
Saturated Fat:
0.1
g
|
Sodium:
234
mg
|
Potassium:
132
mg
|
Fiber:
1.6
g
|
Sugar:
6.9
g
|
Calcium:
10
mg
|
Iron:
1.3
mg
Similar recipes to enjoy: