These easy Red Lobster Cheddar Bay Biscuits are made from scratch, require NO rolling and cutting, and are, dare I say, BETTER than the restaurant favorite! They are perfect with any favorite seafood dinner and are always a hit with family and friends.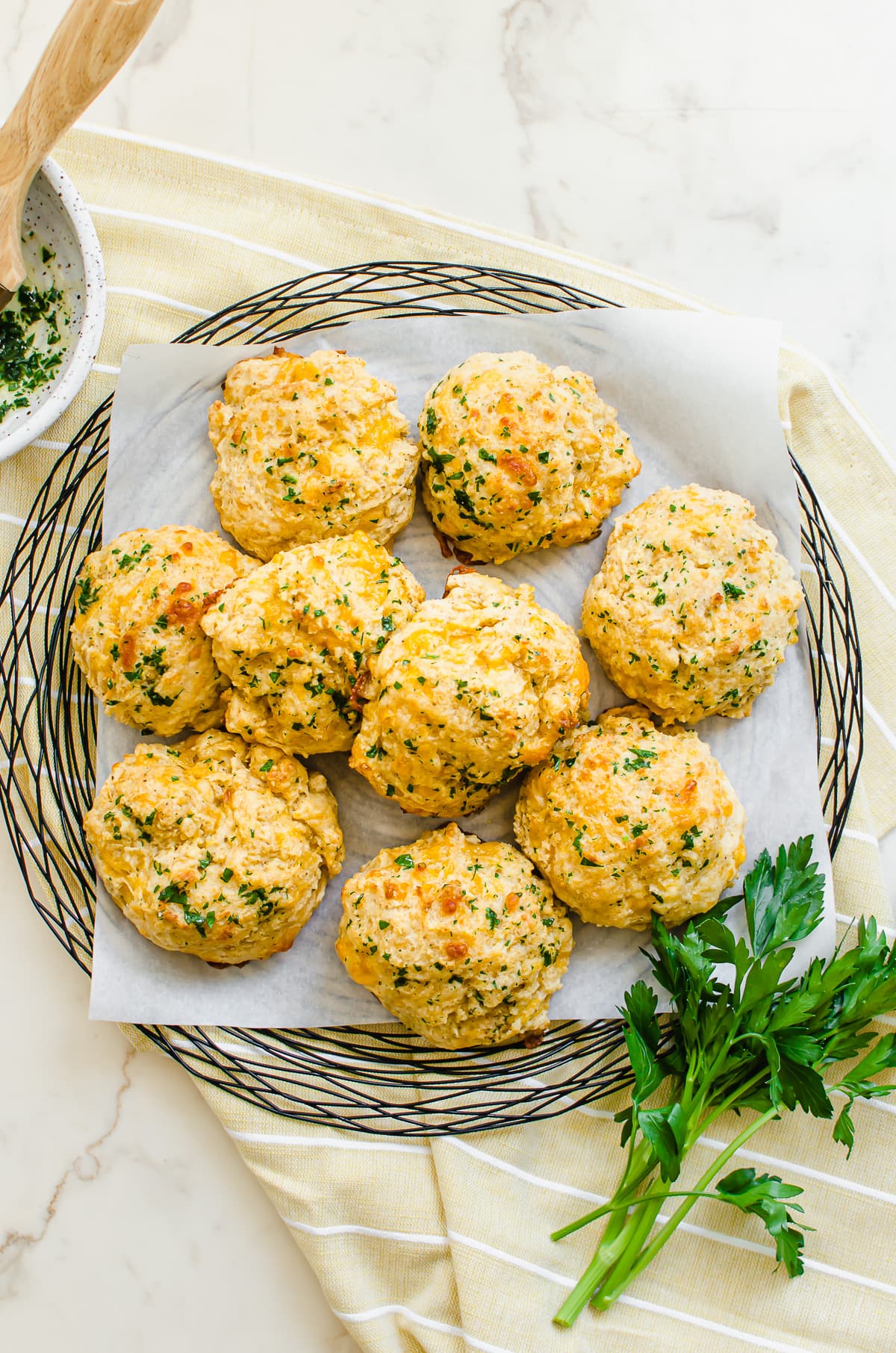 Jump to:
About the recipe
If you've been following Sweet Cayenne for a while, you know I love a good drop biscuit! My Cinnamon Drop Biscuits and buttermilk drop biscuits with Smooth and Silky Chocolate Gravy seem to always be on the menu in my kitchen.
With summer in full swing and Grilled Shrimp Boil Packs being a dinner I can't get enough of, I knew I had to create a savory version of my favorite biscuit. A good copycat Red Lobster Cheddar Bay Biscuit seemed like the perfect fit!
I remember enjoying Red Lobster biscuits SO much as a kid - I would literally gorge myself on them and barely tough my meal. What made Red Lobster biscuits so good was that unmistakeable sea-salty flavor and the light, fluffy texture when served piping hot.
My version of this famous biscuit is a simple, made-from-scratch buttermilk drop biscuit dough laced with flavor from Old Bay seasoning, garlic, cayenne, sharp cheddar, LOTS of fresh parsley or dill, and of course, butter! It's just as easy as using Bisquik mix but tastes WAY better. Let's make some!
Video
Ingredients
The ingredients for making copycat Red Lobster cheddar bay biscuits are simple and likely to already be in your pantry and fridge. Don't sell yourself short by using a premade mix - a fresh, homemade biscuit dough will have WAY more flavor with fresh and dried spices.
It doesn't take much more time than using a mix - so trust me on this one!
Dry ingredients: all-purpose flour, baking powder, baking soda, salt, Old Bay seasoning, garlic powder, cayenne pepper.
Refrigerated ingredients: butter, low-fat buttermilk, cheddar cheese.
Fresh ingredients: dill and/or parsley.
Instructions
Step 1: Melt some butter, cool it a bit, then stir it into buttermilk. It will form clumps, and this will lead to a flaky biscuit!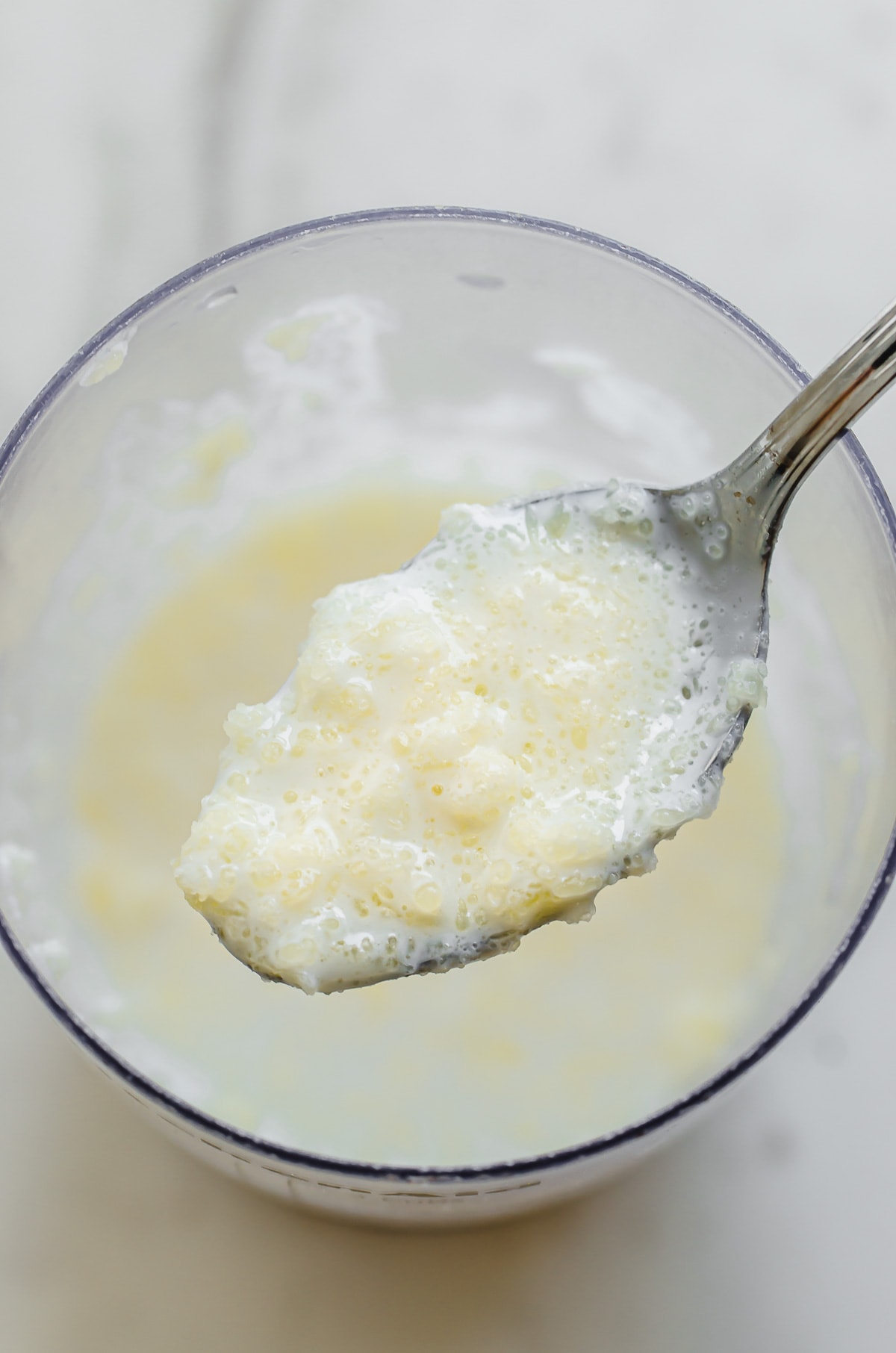 Step 2: Mix the flour with the other dry ingredients and seasonings.
Step 3: Fold the buttermilk mixture and grated cheese into the flour mixture. Add some fresh dill here too, if you like.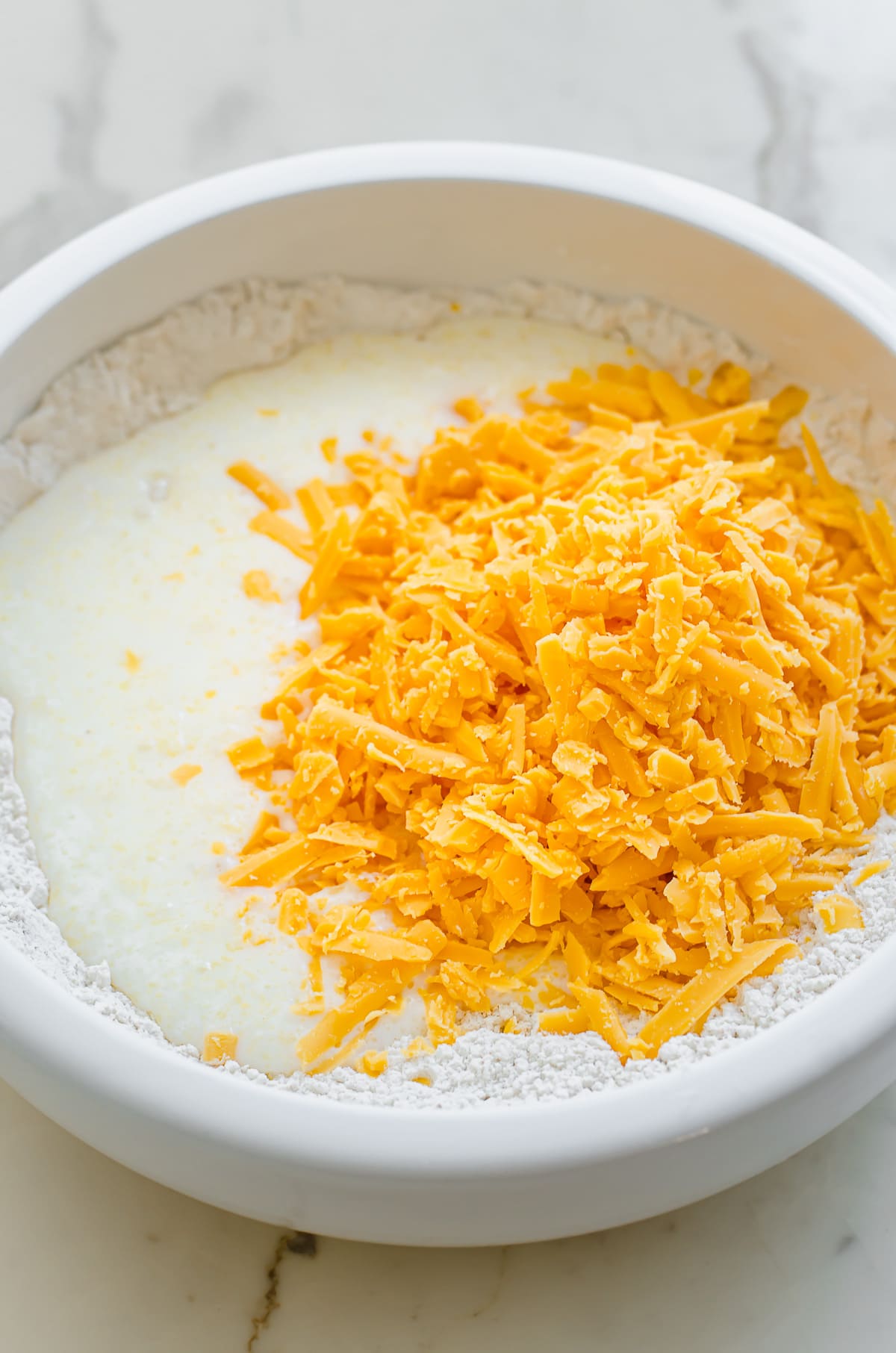 Step 4: Gently fold everything together until a soft dough forms. Be careful not to overmix, or the biscuits will be tough.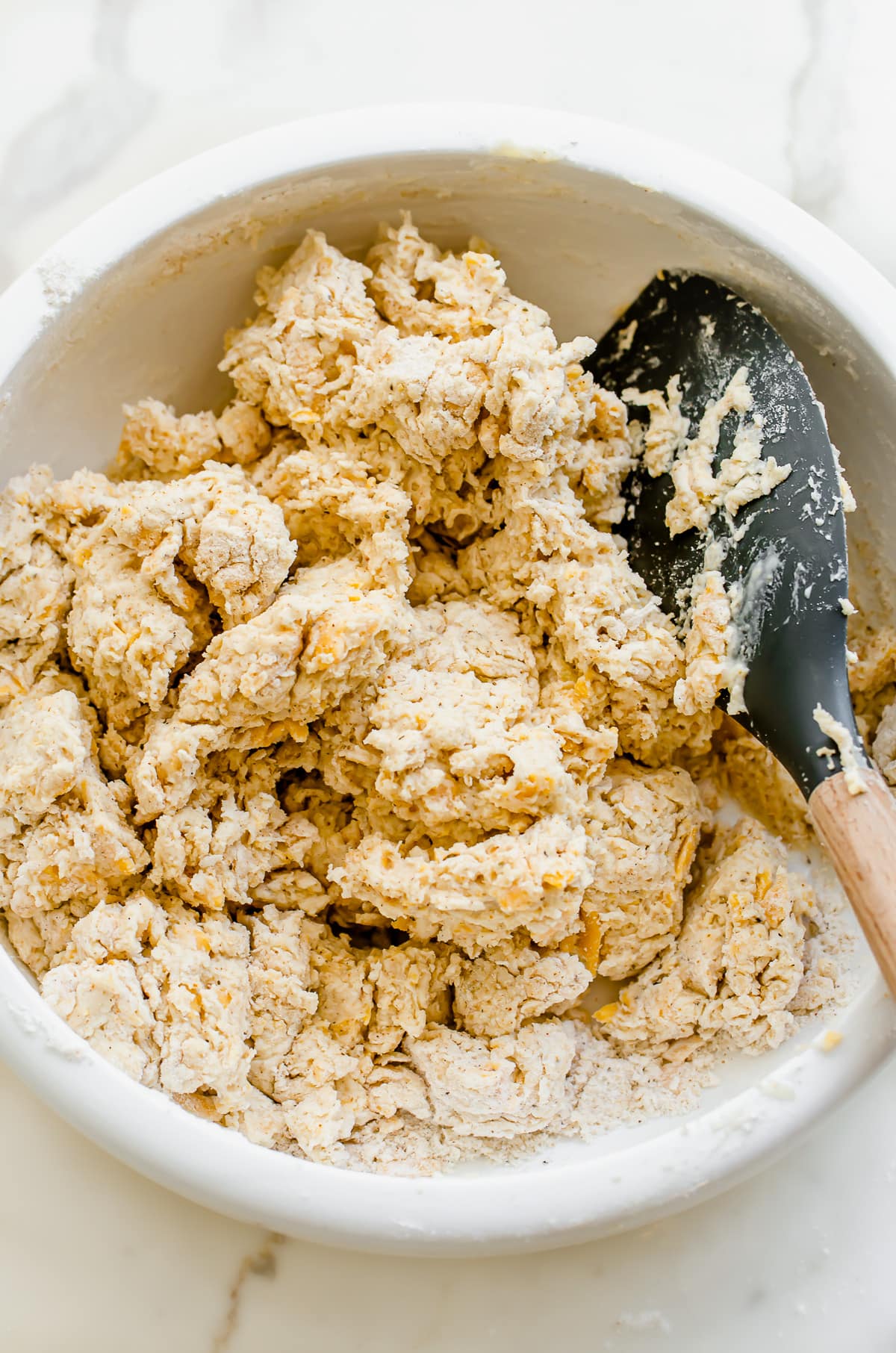 Step 5: Use an ice cream or cookie dough scoop to drop the biscuit dough onto a baking sheet lined with parchment paper.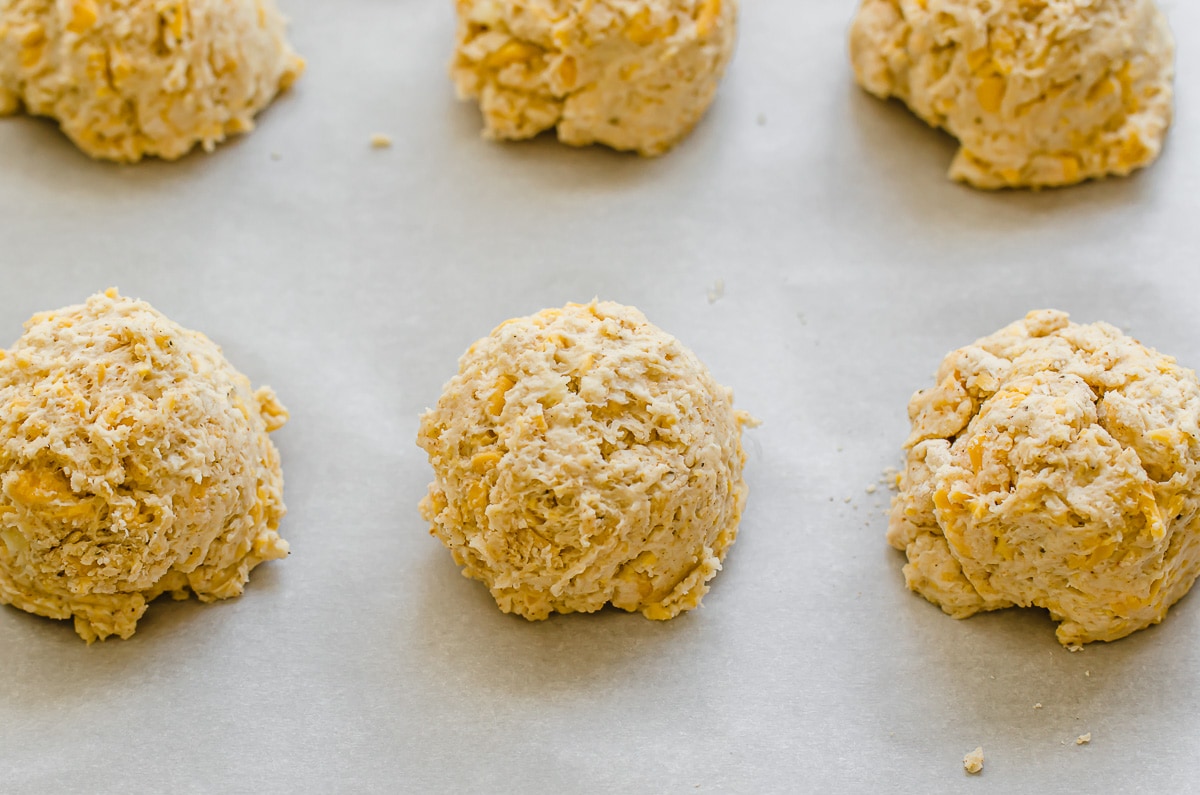 Step 6: Bake the biscuits until golden and cooked through at 450°F. It should take 12-15 minutes. While they bake, mix together some melted butter, garlic powder, salt, and chopped dill or parsley.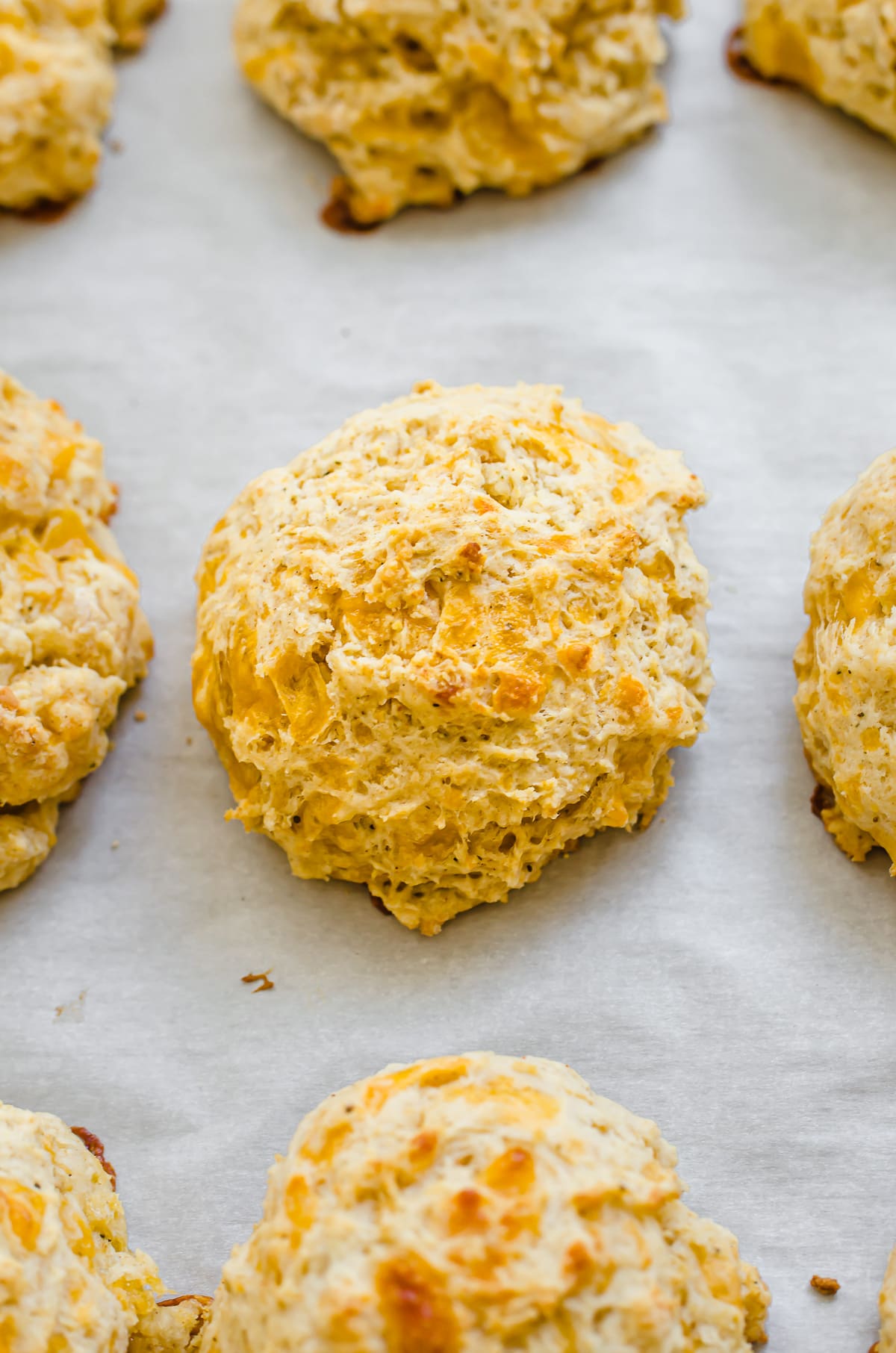 Step 7: Brush the butter sauce on top of the hot biscuits after they come out of the oven. Serve while the biscuits are warm!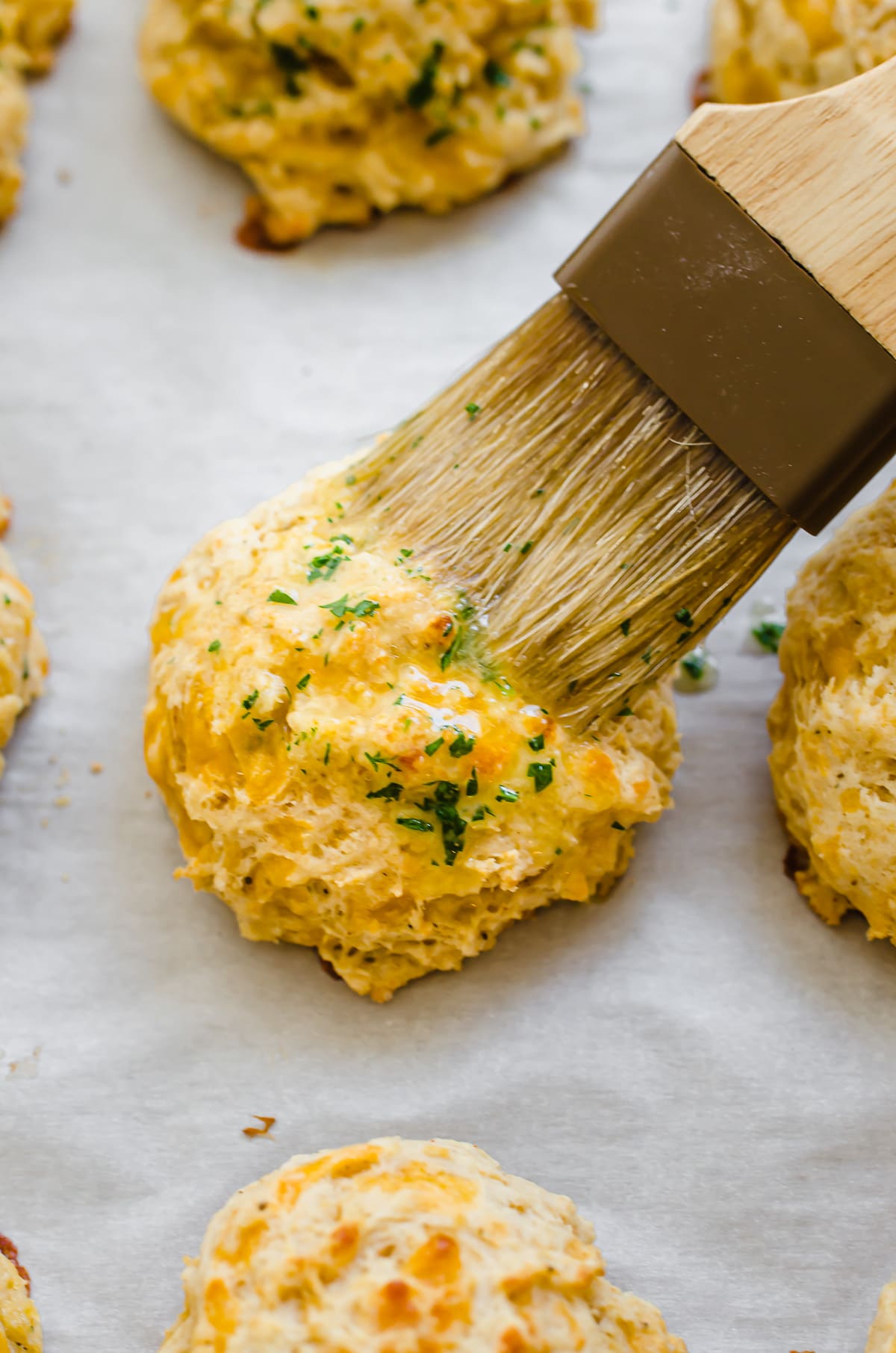 Top tips
If you have trouble getting the butter to clump in the buttermilk, it's likely because the butter is still too warm. Put the mixture in the freezer for 10 minutes, then stir again. You should have some small clumps now!
To make these biscuits lower in fat, I sometimes use a mixture of half butter and half Earth balance without noticing much of a difference. I also melt Smart Balance butter for the topping many times, and it's delicious!
Don't try make the biscuit dough ahead of time, as I have founds the biscuits do not rise as well. You can mix the dry ingredients ahead, and add the cold ingredients when you are ready to make.
Substitute the Old Bay seasoning with any seafood seasoning if you do not have any. Feel free to increase the cayenne pepper to ¼ teaspoon for more heat, or add a tablespoon of hot sauce to the buttermilk mixture.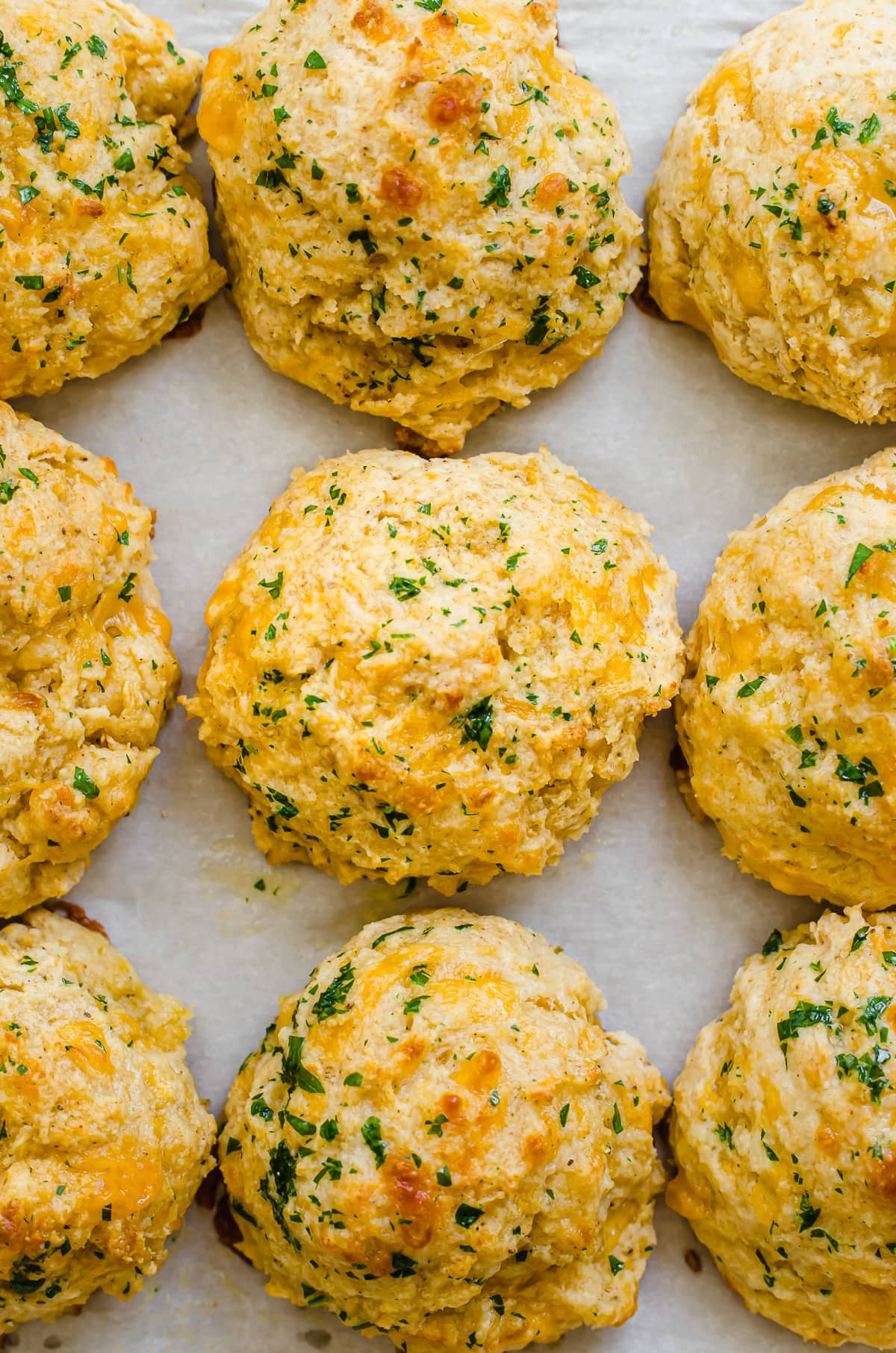 Serving suggestions
Below are some common questions people have when it comes to Cheddar Bay Biscuits:
Do cheddar bay biscuits need to be refrigerated?
IF you have any leftovers (and that is rare), you can keep the biscuits fresh by storing them in an airtight container in the fridge. They should be refrigerated because of the cheese and butter topping, and will be good up to 3 days.
What do you serve with Cheddar Bay Biscuits?
These biscuits are delicious with any of the following seafood recipes:
Can you reheat cheddar bay biscuits?
Cheddar bay biscuits reheat amazingly well! Simply preheat the oven to 375°F and heat for 10-12 minutes until they are hot and slightly crisp on the outside.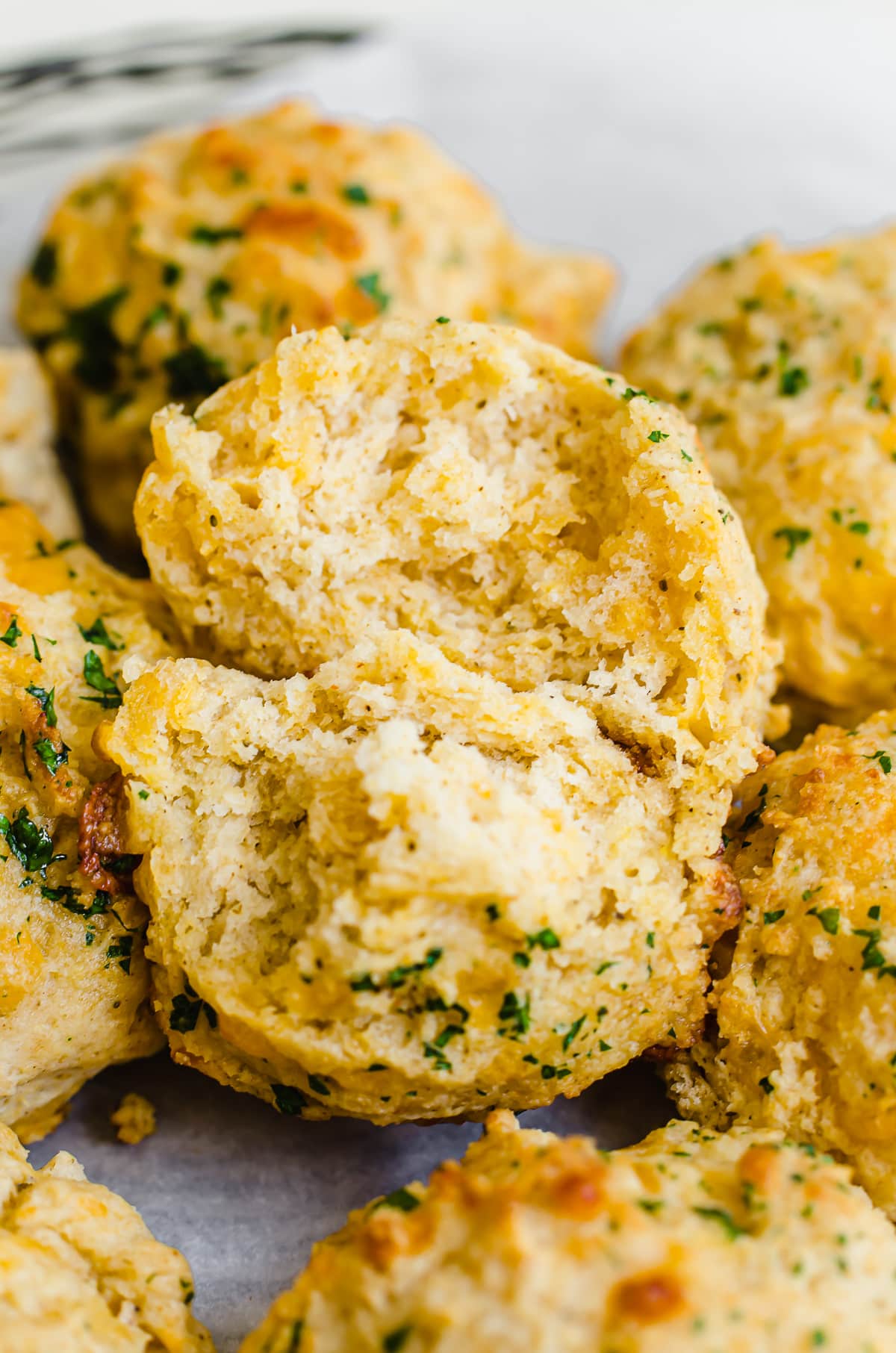 Are you ready to make these Red Lobster Cheddar Bay Biscuits? I'm so excited for you to try this recipe. Once you get the chance to make it, please let me know how it turns out for you!
Similar recipes to enjoy:
 have several delicious variations of this biscuit recipe that I think you will absolutely love!
Turkey and Drop Biscuit Dumplings (Instant Pot or Stovetop) - Think chicken and dumplings with a few of the ingredients changed. This warm, savory turkey and dumplings recipe is perfect for the fall and winter.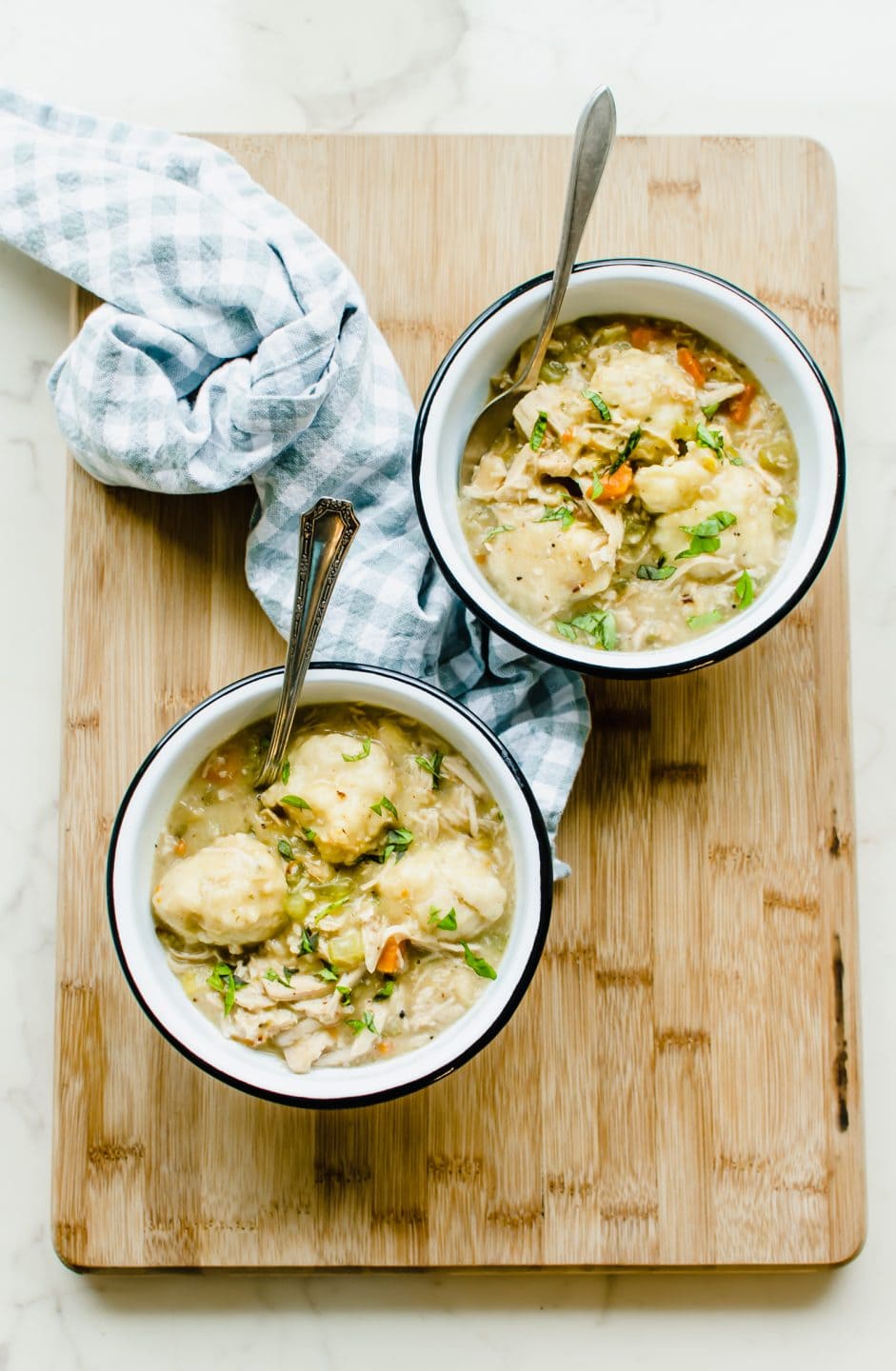 Mini Turkey Pot Pies with Drop Biscuit Topping - These mini turkey pot pies with drop biscuit topping are my favorite thing to make with leftover Thanksgiving turkey!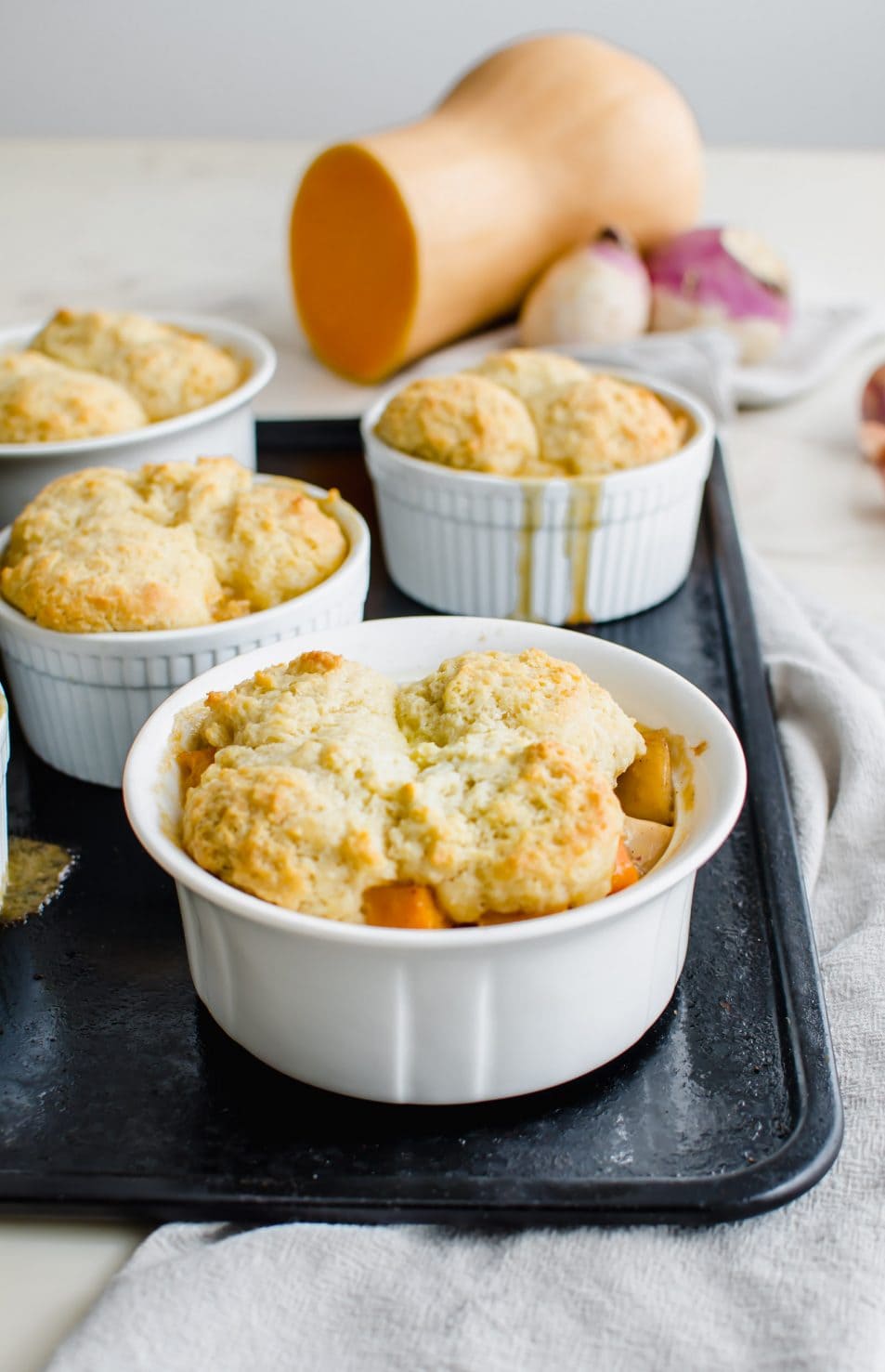 Cinnamon Biscuits with Vanilla Icing - This dreamy cinnamon biscuits recipe with vanilla icing is a Bojangles copycat that tastes better than the original! They are ready in under 30 minutes and no rolling is required!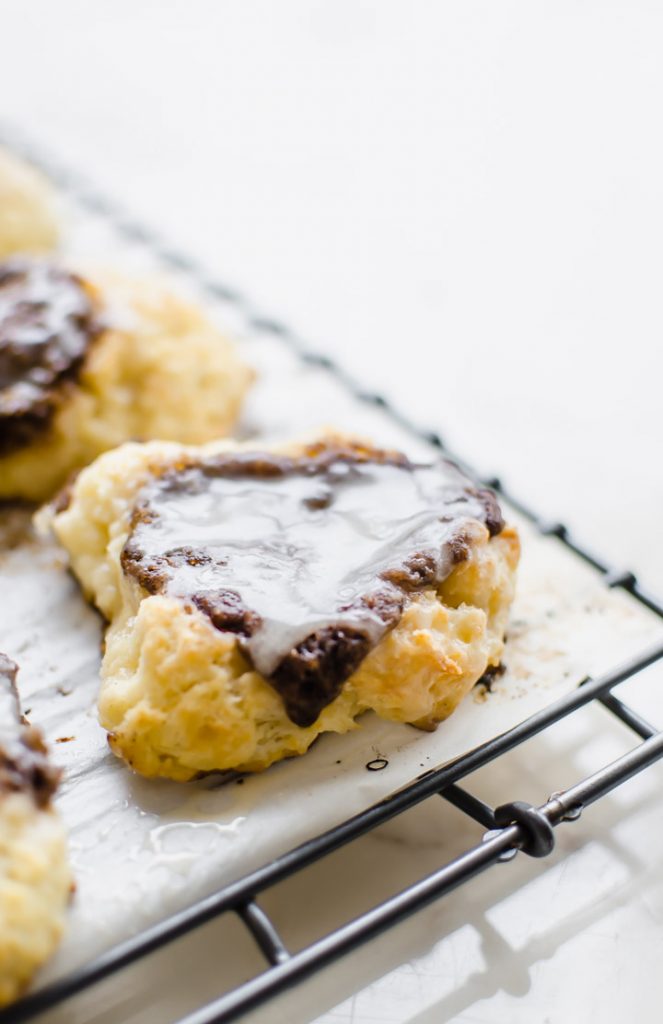 Smooth and Silky Chocolate Gravy with Buttermilk Drop Biscuits - Deep Chocolate Gravy perfect for topping homemade biscuits. This recipe has been a favorite in my family for decades!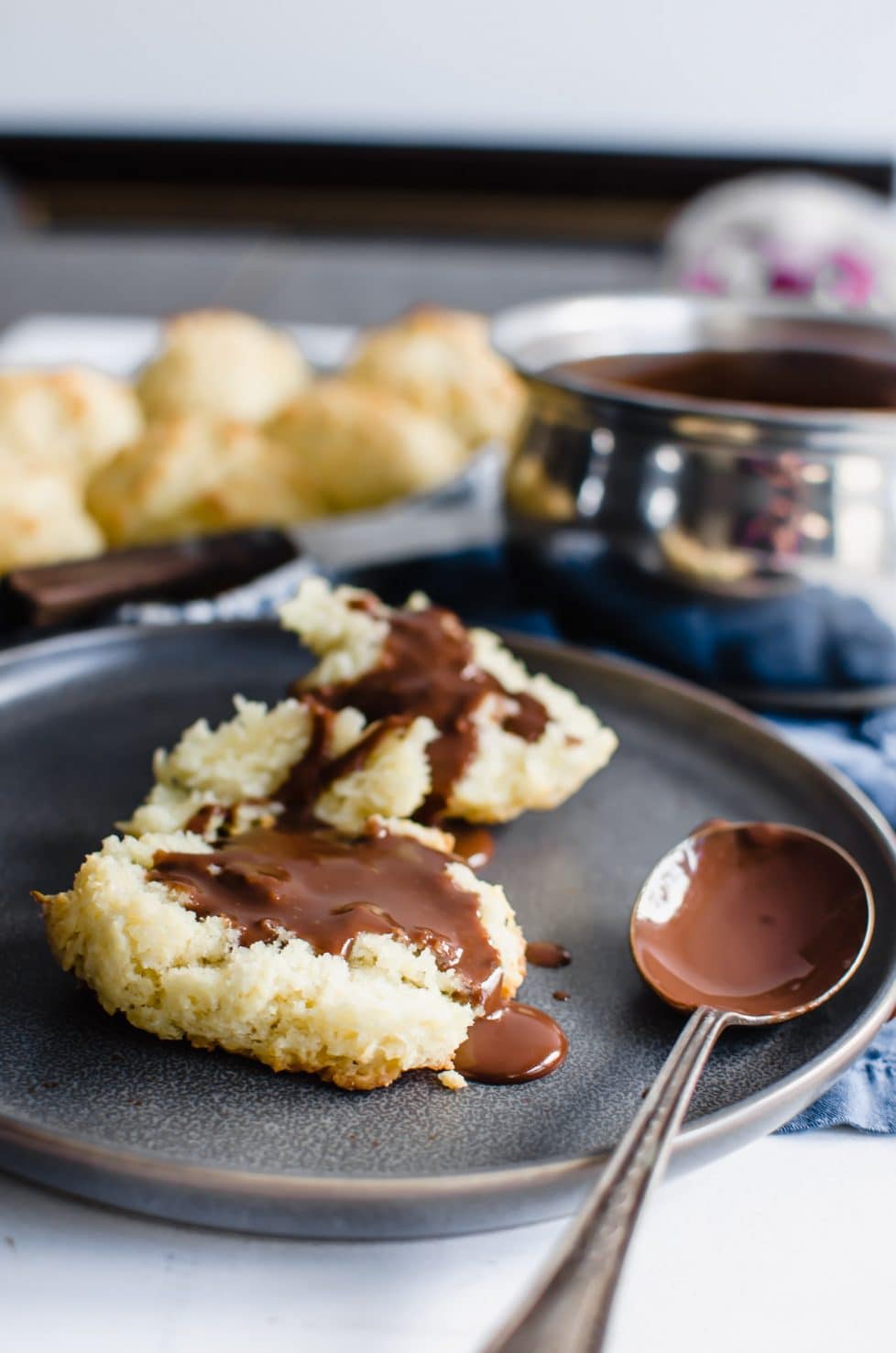 Leave a comment and rate the recipe below. This will help me with the creation of future recipes!
I'd also love to feature your creation in my monthly newsletter, so you can upload a photo to Instagram or Twitter with the tag @sweetcayenne5 to be featured!
Recipe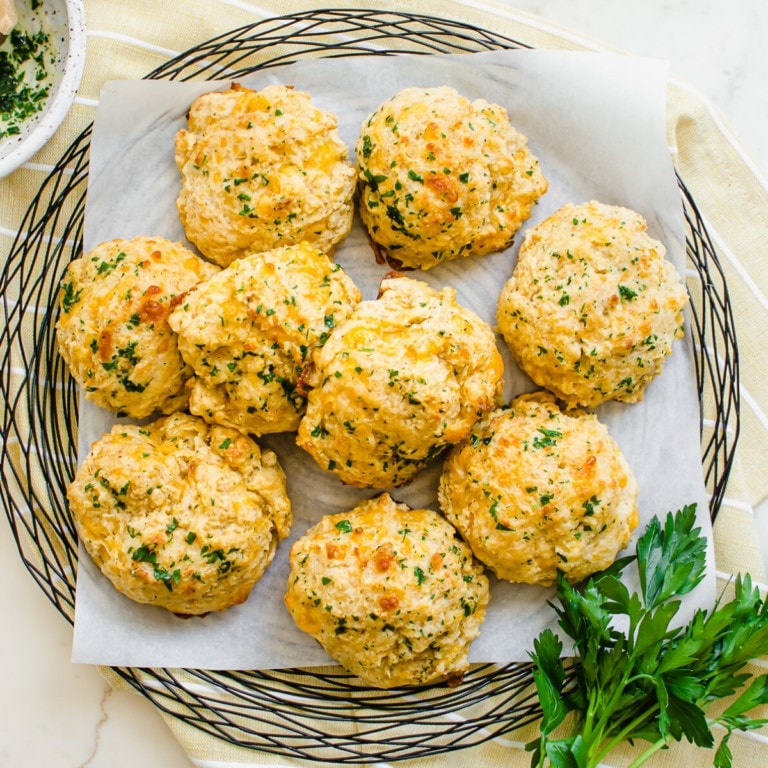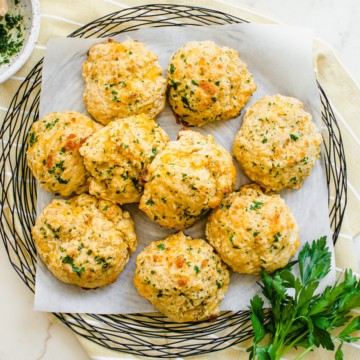 Red Lobster Cheddar Bay Biscuits
These easy Red Lobster Cheddar Bay Biscuits are made from scratch, require NO rolling and cutting, and are, dare I say, BETTER than the restaurant favorite! They are perfect with any favorite seafood dinner and are always a hit with family and friends.
Print
Pin
Rate
Ingredients
6

tablespoons

salted butter, melted and cooled slightly for 5 minutes

2

cups

all-purpose flour

2 ½

teaspoons

baking powder

½

teaspoon

baking soda

1

teaspoon

granulated sugar

2

teaspoons

Old Bay seasoning

½

teaspoon

garlic powder

⅛

teaspoon

ground cayenne pepper

1

cup

cold low-fat buttermilk

1 ½

cups

grated extra-sharp cheddar cheese

Optional: 2 teaspoons finely-chopped fresh dill
For the topping:
3

tablespoons

butter, melted

½

teaspoon

garlic powder

1//4

teaspoon

salt

2

tablespoons

finely-chopped fresh parsley OR fresh dill
Instructions
Preheat oven to 450℉. Line a baking sheet with parchment paper and set aside

In a medium bowl, whisk together the flour, baking powder, baking soda, sugar, Old Bay, garlic, and cayenne.

Add the melted butter to the buttermilk and let stand for 2 minutes. Stir to combine until small clumps form into the mixture.

Add the clumped buttermilk mixture to the flour mixture. Use a rubber spatula to lightly fold the ingredients together until just combined. Be careful not to overmix. Carefully fold in the grated cheese and dill, if using.

Use a 4-ounce dough scoop or a ⅓ cup measuring cup to drop the dough into the prepared pan, placing the dough mounds about ½'' apart. You should have 9-10 biscuits.

Bake the biscuits for 12-15 minutes until the biscuits are set and the edges are golden brown.

While the biscuits are baking, combine the melted butter for the topping, garlic powder, salt, and parsley or dill.
Serving:
1
biscuit
|
Calories:
294
kcal
|
Carbohydrates:
24.1
g
|
Protein:
8.6
g
|
Fat:
18.3
g
|
Saturated Fat:
11.5
g
|
Cholesterol:
51
mg
|
Sodium:
570
mg
Similar recipes to enjoy: