This dreamy cinnamon biscuits recipe with vanilla icing is a Bojangles copycat that tastes better than the original! These easy drop biscuits are one of my favorite lazy weekend treats when I want something indulgent and delicious with minimal effort. They are ready in under 30 minutes and no rolling is required!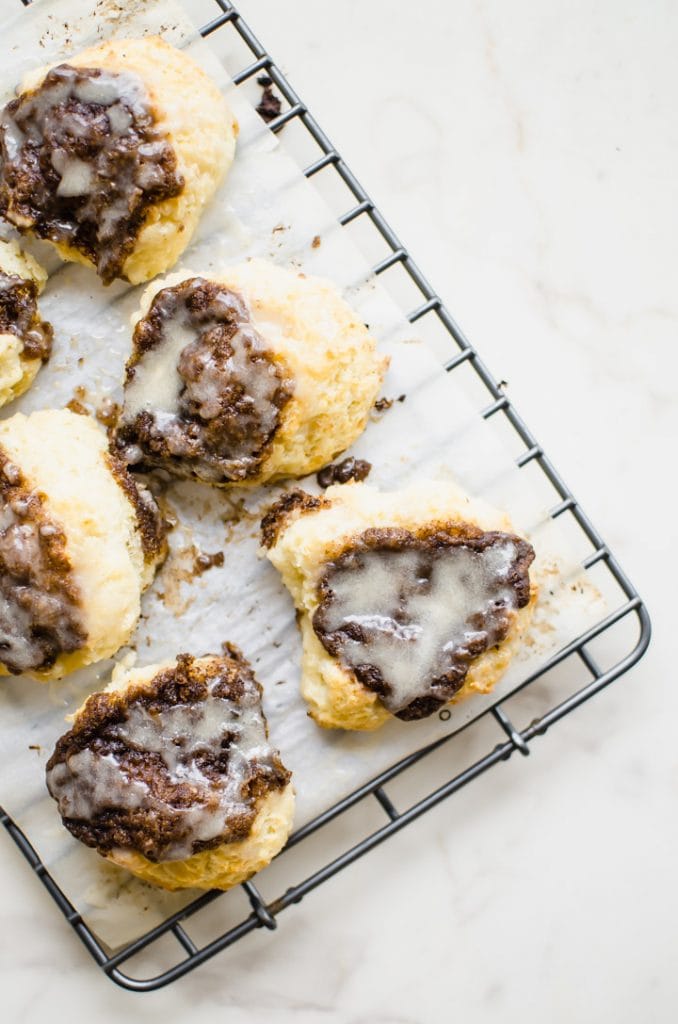 Jump to:
About the recipe
This recipe for cinnamon biscuits with vanilla icing is probably the food that I make most often from this blog. It's a breakfast treat that's easy enough to make on a lazy weekend morning, and indulgent enough to serve to company for brunch.
This recipe was inspired by two things that have played significant roles in my life:
Bojangle's cinnamon biscuits - growing up, my parents loved to treat my siblings and me to hot cinnamon biscuits from Bojangle's on a Saturday morning from time to time. We LOVED those biscuits, and to this day, I remember exactly what they tasted like.
I wanted to figure out a way to make my own copycat version of Bojangle's cinnamon biscuits to enjoy at home. I'm happy to report that these are a close copycat - maybe with less butter, but still delectable!
Cook's Illustrated Best Drop Biscuit recipe - their method of making biscuits changed my life. Truth be told, I've never been a good biscuit maker and often found that my biscuits would be too wet or too dry and crumbly. I don't like the messiness of rolling them out and cutting them either.
This recipe changes all of that - you don't have to roll out or cut, and the technique for adding melted butter to the buttermilk instead of cutting cold butter into flour is pure genius. Buttery, light, flaky biscuits every time without fail. That's my jam!
Video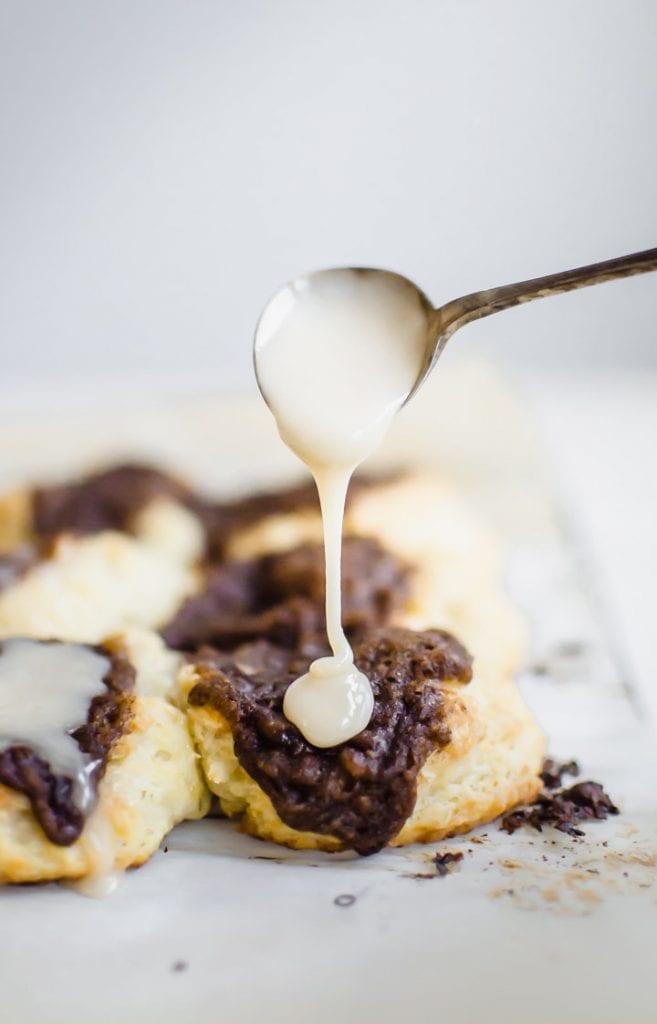 Ingredient Notes
For the drop biscuits:
Flour - I typically use all-purpose flour for these biscuits, but for a whole wheat version, I recommend using white whole wheat flour.
Buttermilk - low-fat buttermilk is what I use and the biscuits are still incredibly tender.
Butter - the recipe calls for unsalted, but if you have salted butter, reduce the salt in the biscuit batter to ¼ of a teaspoon.
For the cinnamon filling:
Brown sugar - I like the deep flavor of dark brown sugar in this recipe, but light brown sugar will be fine as well.
Cinnamon - if you want a really intense cinnamon flavor, try using Saigon/Vietnamese cinnamon in this recipe.
For the glaze:
Half and half is typically the liquid I use, but you can substitute whole milk or cream if that's what you have on hand.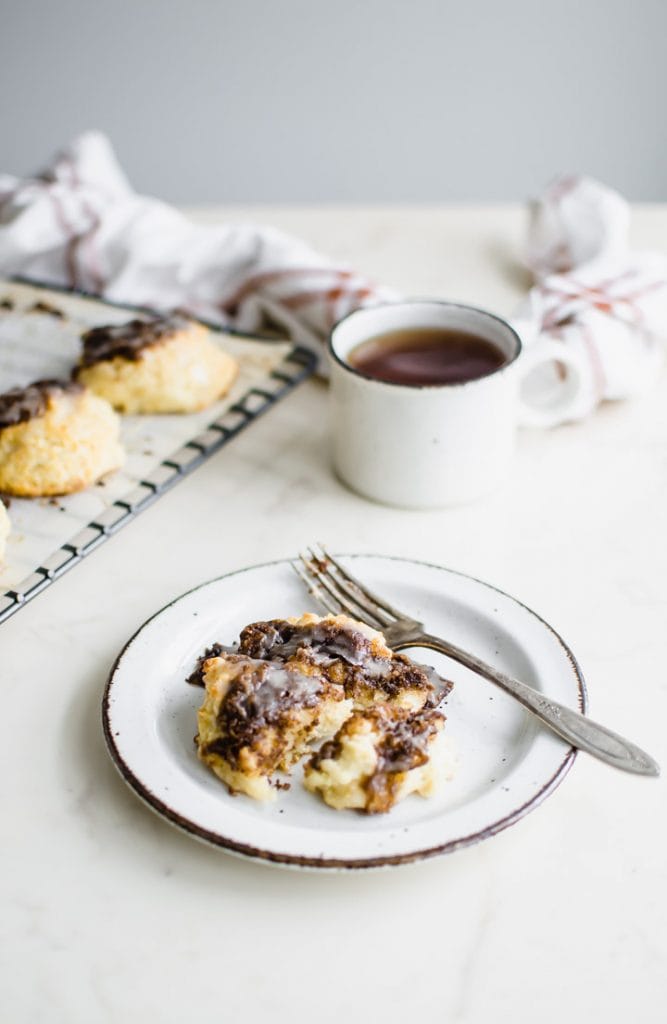 Instructions
Mix the dry ingredients - combine the flour, baking powder, soda, sugar, and salt.
Mix the wet ingredients - add the melted butter to the buttermilk. Let it sit for a few minutes to form clumps. If you have trouble getting it to clump, stir it for about 30 seconds and let it sit for 2-3 more minutes.
Add the wet to the dry ingredients - you'll fold everything together gently until a dough forms.
Drop the biscuits - I use a ⅓ cup dough scoop for this.
Make the brown sugar topping - stir together brown sugar, melted butter, and cinnamon together in a bowl. It will look like wet sand.
Spoon topping onto biscuits - each biscuit will get about 2 teaspoons of brown sugar topping.
Bake and make the glaze - while the biscuits bake, whisk together a quick glaze of powdered sugar, vanilla, and half & half.
Enjoy while hot!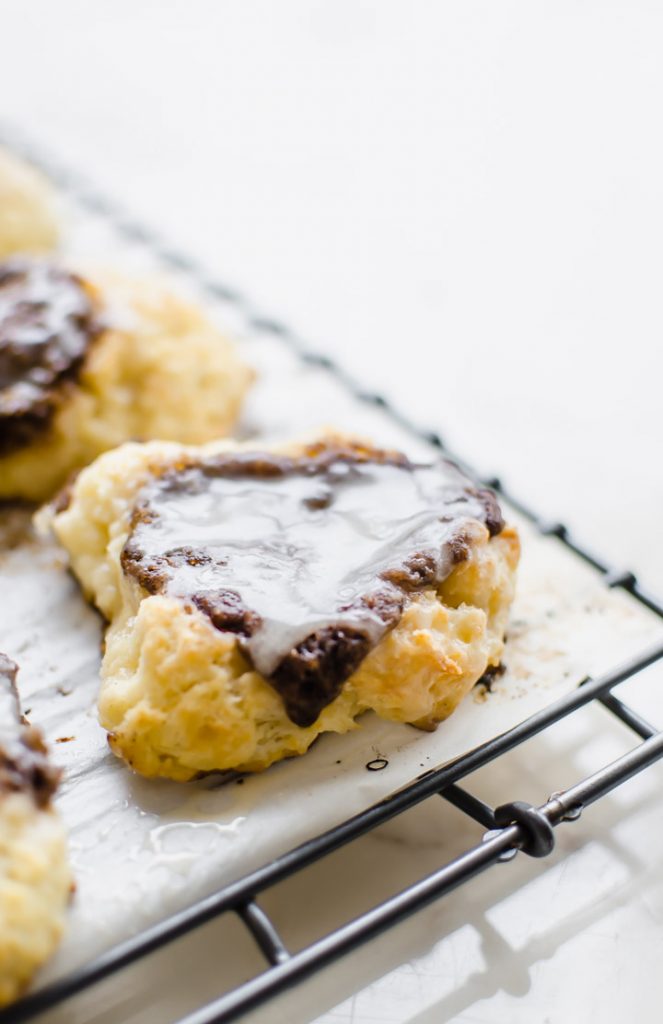 FAQ
What if my buttermilk does not clump?
The recipe calls for you to add still-warm melted butter to the buttermilk so that it forms clumps. It likely won't do this right away, so let the melted butter sit in the buttermilk for 2-3 minutes before you stir it.

If the butter is too hot, it will not clump. Place the butter + buttermilk in the freezer for 10 minutes and then stir to form clumps.
Why didn't my cinnamon drop biscuits rise?
When drop biscuits don't rise, it's either because your oven temperature is not hot enough or because your baking powder is old. Biscuits rise best at 550°F, so use a digital thermometer probe or oven thermometer to check the accuracy of your oven.

To see if your baking powder is still active, pour about ¼ cup of boiling water over a ½ teaspoon of baking powder. If it bubbles, you are good to go! If not, you need a fresh container.
Can you reheat cinnamon biscuits?
These cinnamon biscuits actually reheat very well! Either microwave for 15-20 seconds or heat them in the oven at 375°F for 6-7 minutes. I like to reserve some extra glaze for spooning over reheated biscuits to make them look freshly baked!
Can you freeze cinnamon biscuits for baking later?
Unfortunately due to their texture, drop biscuits do not freeze very well. It's best to make these fresh the day that you plan to eat them! Although you could freeze the baked biscuits for later and still have a decent texture when thawed, these cinnamon biscuits are best on the day that you bake them.
What should I bake drop biscuits on?
You can bake these on a parchment paper-lined baking sheet as you would scones, or you can bake them in a greased pie or casserole dish like cinnamon rolls.
Possible modifications
Reduce the butter - I have made these successfully reducing the butter in the biscuits from 8 tablespoon to 5 tablespoon without noticing too much of a difference.
Replace all-purpose flour with white whole wheat flour - doing this will give the biscuits a nice nutty flavor. They will still be very light and fluffy!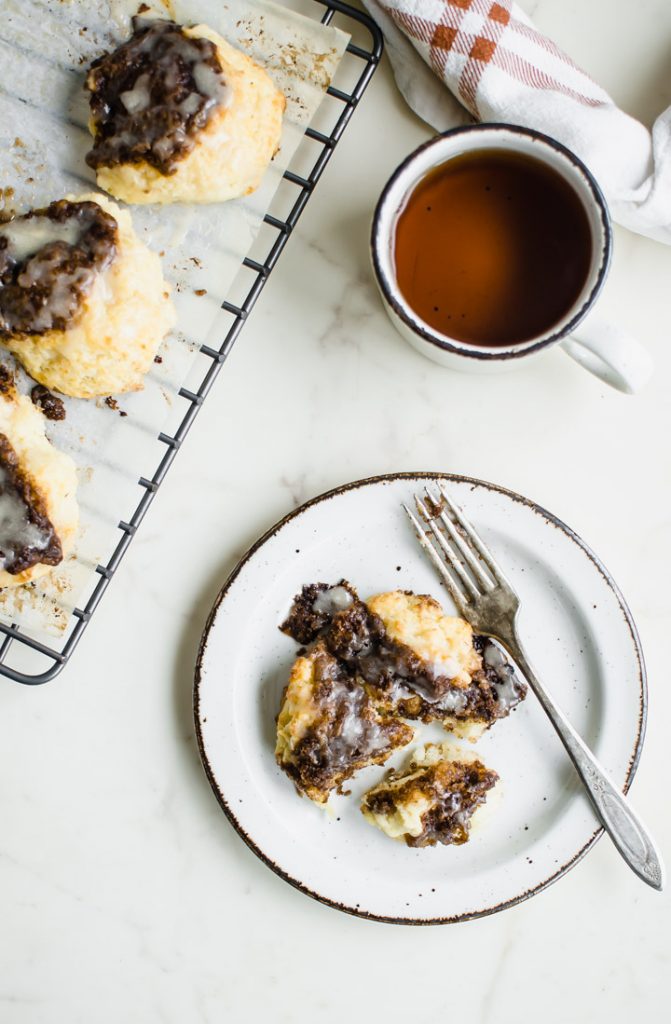 Similar recipes to enjoy:
I have several delicious variations of this biscuit recipe that I think you will absolutely love!
Red Lobster Cheddar Bay Biscuits - These easy Red Lobster Cheddar Bay Biscuits are made from scratch, require NO rolling and cutting, and are, dare I say, BETTER than the restaurant favorite! They are perfect with any favorite seafood dinner and are always a hit with family and friends.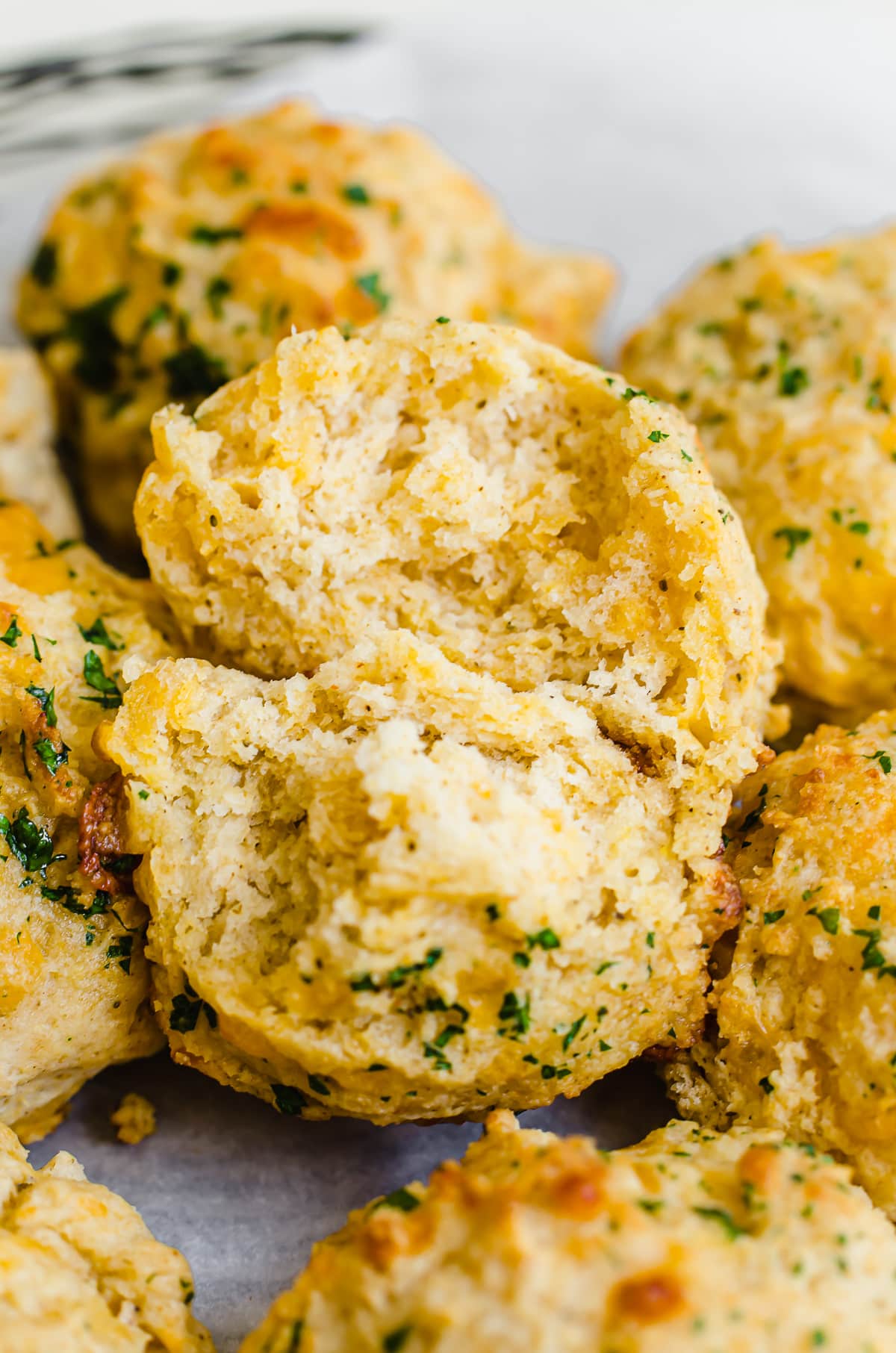 Turkey and Drop Biscuit Dumplings (Instant Pot or Stovetop) - Think chicken and dumplings with a few of the ingredients changed. This warm, savory turkey and dumplings recipe is perfect for the fall and winter.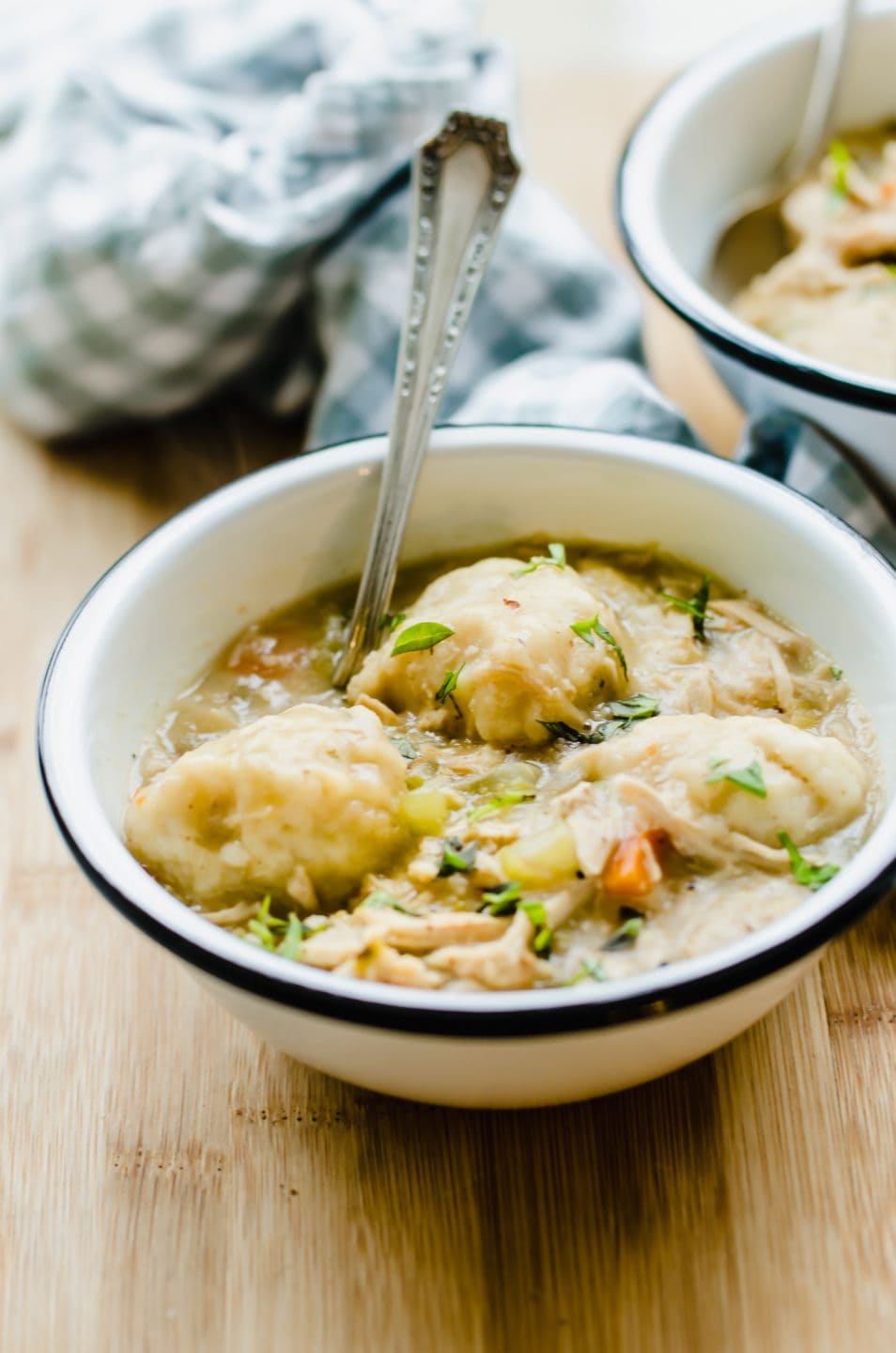 Mini Turkey Pot Pies with Drop Biscuit Topping - These mini turkey pot pies with drop biscuit topping are my favorite thing to make with leftover Thanksgiving turkey!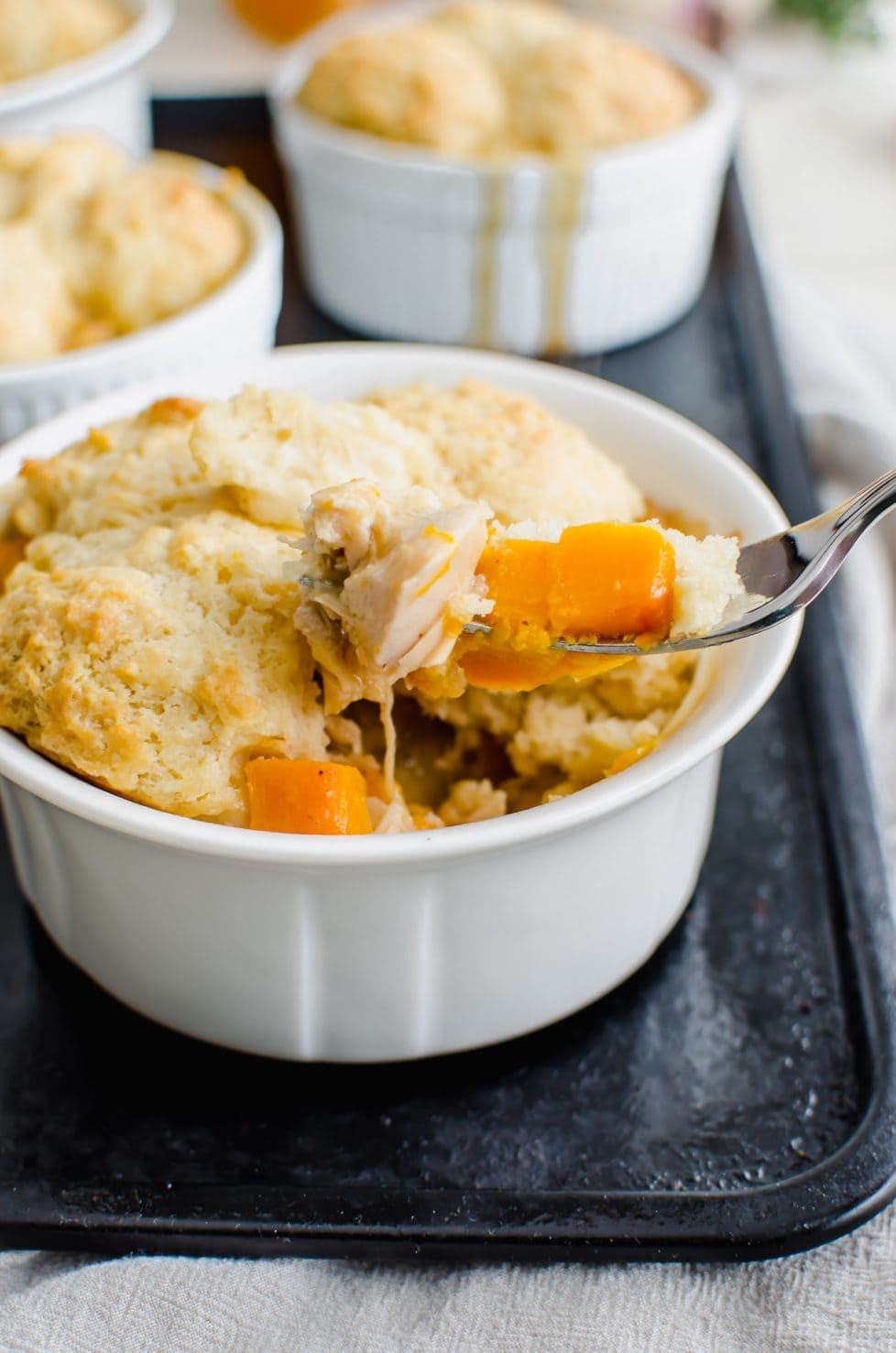 Smooth and Silky Chocolate Gravy with Buttermilk Drop Biscuits - Deep Chocolate Gravy perfect for topping homemade biscuits. This recipe has been a favorite in my family for decades!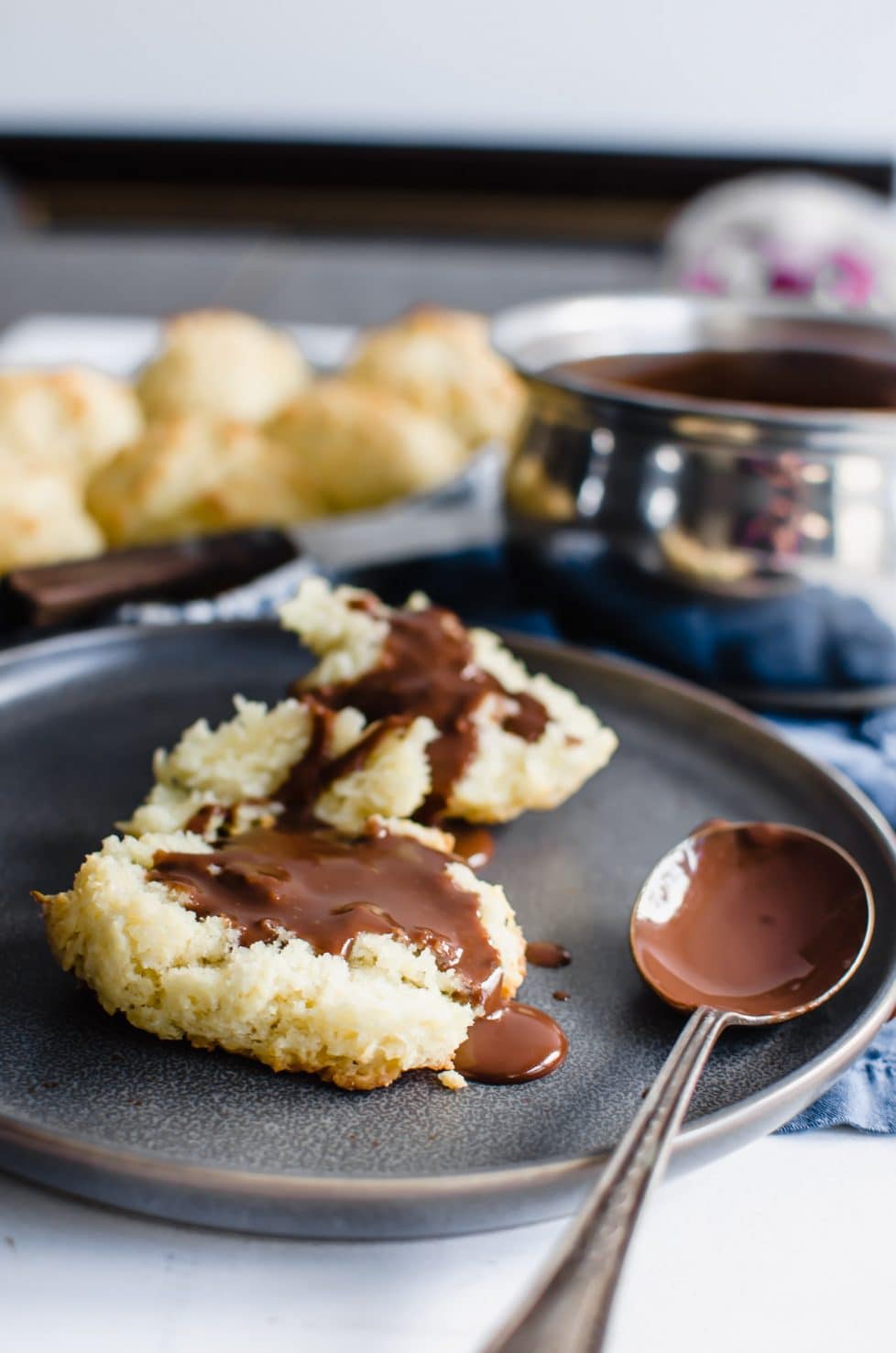 Are you ready to make these cinnamon drop biscuits? I'm so excited for you to try this recipe! Once you get the chance to make it, please let me know how it turns out for you! Leave a comment and rate the recipe below. This will help me with the creation of future recipes! I'd also love to feature your creation in my monthly newsletter, so you can upload a photo to Instagram or Twitter with the tag @sweetcayenne5 to be featured!
Recipe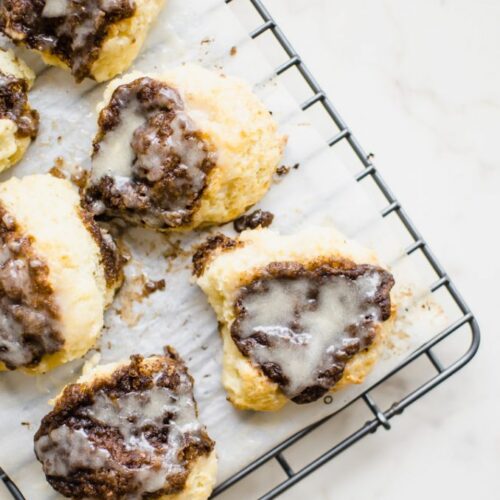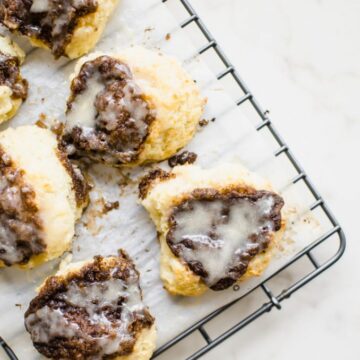 Cinnamon Biscuits with Vanilla Icing
This dreamy cinnamon biscuits recipe with vanilla icing is a Bojangles copycat that tastes better than the original! They are ready in under 30 minutes and no rolling is required!
Print
Pin
Rate
Ingredients
For the drop biscuits:
2

cups

all-purpose flour

2

teaspoons

baking powder

½

teaspoon

baking soda

1

tablespoon

granulated sugar

½

teaspoon

table salt

8

tablespoons

unsalted butter, melted and cooled slightly for 2 minutes

1

cup

cold buttermilk
For the cinnamon filling:
2

tablespoons

unsalted butter, melted and cooled slightly for 5 minutes

⅓

cup

dark brown sugar

2

teaspoons

ground cinnamon
For the eggnog glaze:
½

cup

powdered sugar

1-2

tablespoons

half and half, more as needed

(substitute w/ eggnog, coffee, or apple cider)

1

teaspoon

vanilla extract

(omit if using eggnog or apple cider)
Instructions
Preheat oven to 450℉. Grease a deep dish pie pan or 9 x 9 square baking pan or pie dish with cooking spray or line a baking sheet with parchment paper. Set aside.

In a medium bowl, whisk together the flour, baking powder, baking soda, sugar, and salt.

Add the melted butter to the buttermilk and let stand for 2 minutes. Stir to combine until small clumps form into the mixture.

Add the clumped buttermilk mixture to the flour mixture. Use a rubber spatula to lightly fold the ingredients together until just combined. Be careful not to overmix.

Use a 3-ounce dough scoop or a ⅓ cup measuring cup to drop the dough into the prepared pan or baking sheet, placing the dough mounds about ½'' apart. You should have 9-10 biscuits.

In a small bowl, stir together the 2 tablespoons melted butter, brown sugar, and cinnamon. Drop about 1 teaspoon of this mixture into the center of each biscuit mound, using the back of a spoon to gently press into the dough.

Bake the biscuits for 12-15 minutes until the biscuits are set and the edges are golden brown. Remove from oven and set aside while you make the glaze.

In a small bowl, combine the powdered sugar, half and half, and vanilla by stirring with a whisk. Add more half and half as needed until the glaze is the consistency of honey.

Drizzle the glaze on top of the still hot biscuits. Serve warm!
Notes
Biscuits are delicious reheated - place on a baking sheet in a 375°F oven and reheat for 8 minutes. Store them in an airtight container in the refrigerator for up to 3 days. 
Serving:
1
biscuit
|
Calories:
274
kcal
|
Carbohydrates:
35.3
g
|
Protein:
3.9
g
|
Fat:
13.3
g
|
Saturated Fat:
8.3
g
|
Cholesterol:
35
mg
|
Sodium:
250
mg
|
Potassium:
84
mg
|
Fiber:
1
g
|
Sugar:
13.6
g
|
Calcium:
490
mg
Looking for more yummy baked goods? Try these!