If it were up to me, every weekend would involve a hot pan of Sweet Potato Cinnamon Rolls. These have been my favorite "special breakfast" seen I was a teenager!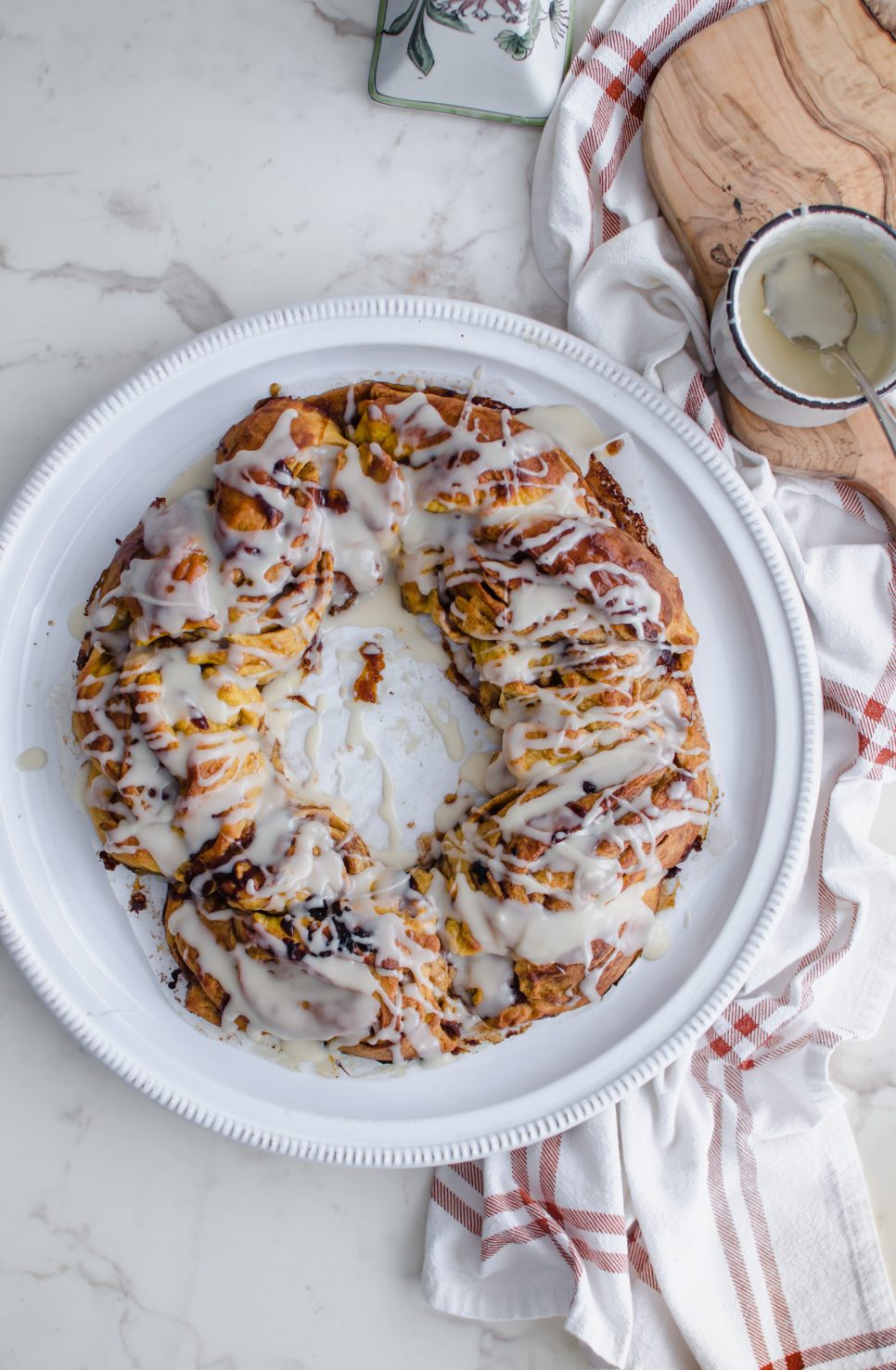 When I was in high school, one of my favorite pastimes was looking through the Southern Living magazines my mom received in the mail each month. I'd flag all of the recipes that sounded tasty to me, then mom and I would compare what had made it onto our lists. We would then plan to try a few of the recipes together, and many made it onto our list of "family favorites" that we still cook for everyone over a decade later!
One of our very favorites from the "family favorites" list is Sweet Potato Cinnamon Rolls. It was a contest winner from a Southern Living reader submission the year that we discovered it, and it definitely won our family over! Mom and I modified it a bit to suit our family's taste - omitting the nuts for food allergies, substituting half the white flour for whole wheat, and leaving out the orange zest because none of us have ever been of a fan of orange-flavored sweets. We also preferred to top ours with swirls of cream cheese frosting instead of the corn syrup glaze the recipe calls for.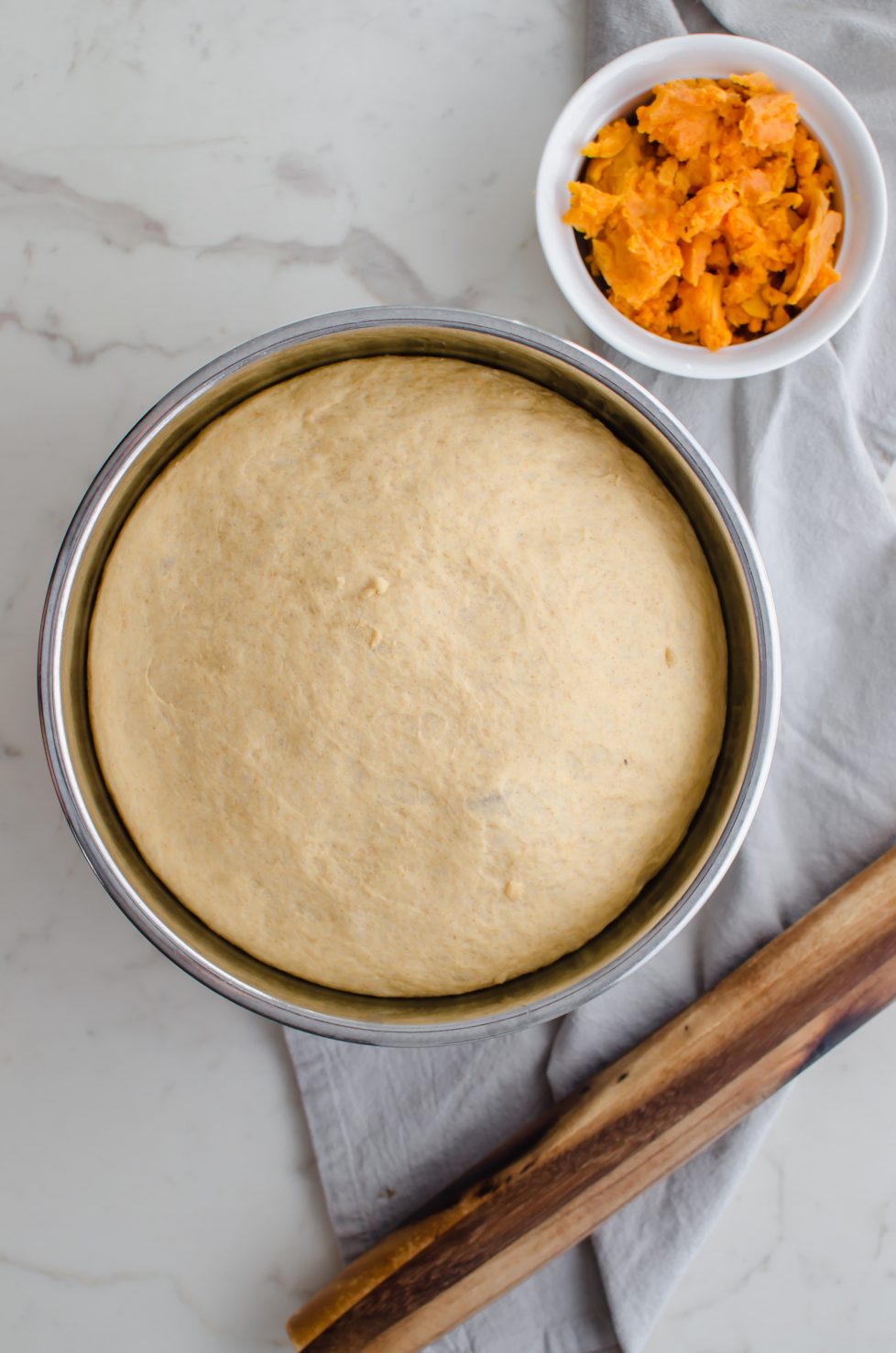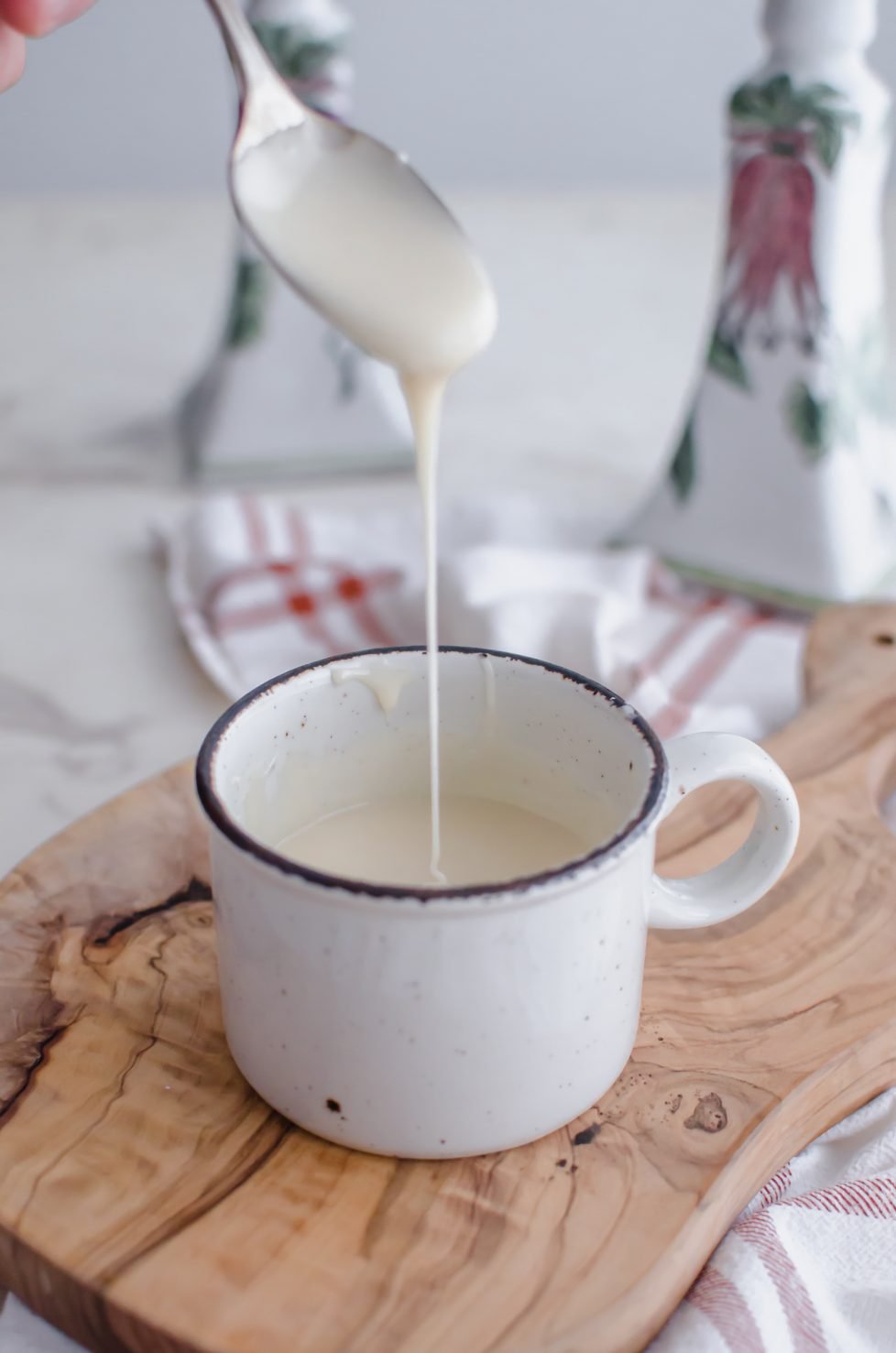 Tips for Making Sweet Potato Cinnamon Rolls
Change up the topping:
These days, I alternate between a cream cheese frosting and a maple syrup glaze - it just depends on what I'm in the mood for! If you really want to be over-the-top about things, you could do bacon bits on top of the maple glaze. I'm sure no one would complain!
Now, please hear me out on this: if you are serving this to picky eaters, please DO NOT tell them there is sweet potato in the cinnamon rolls! I'll never forget the day that mom served these to some kids who had slept over for my little sister's birthday party - once they heard there was sweet potato in the rolls, they wouldn't eat them! No matter how good they tasted. But take my word for it, you cannot tell there is sweet potato in the dough. The starch from the potato actually serves to make the dough really soft, tender and moist. It is the most pliable and easy-to-work-with dough I've ever made; perfect for beginner cinnamon roll makers!
Make ahead or freeze for later:
If you're going to go to the trouble of making cinnamon rolls from scratch, you might as well make a recipe that yields a lot of cinnamon rolls. The yield for this recipe is 24 rolls (!!!), which is wonderful because you can freeze unbaked rolls to have any weekend you like! I typically make three pans of eight rolls each. I'll bake a pan fresh the next morning, and freeze the other two pans for later. It's so nice to have them on hand at a minute's notice!
Play with the shape:
For this post, I played around with making half of my dough into rolls and used the other half to make this braided ring. While it turned out to have a kind of rustic-messy look, I loved how the ring looked once it was glazed and think it would be a pretty presentation for a holiday brunch. I've included instructions for making the ring in the notes section of the recipe!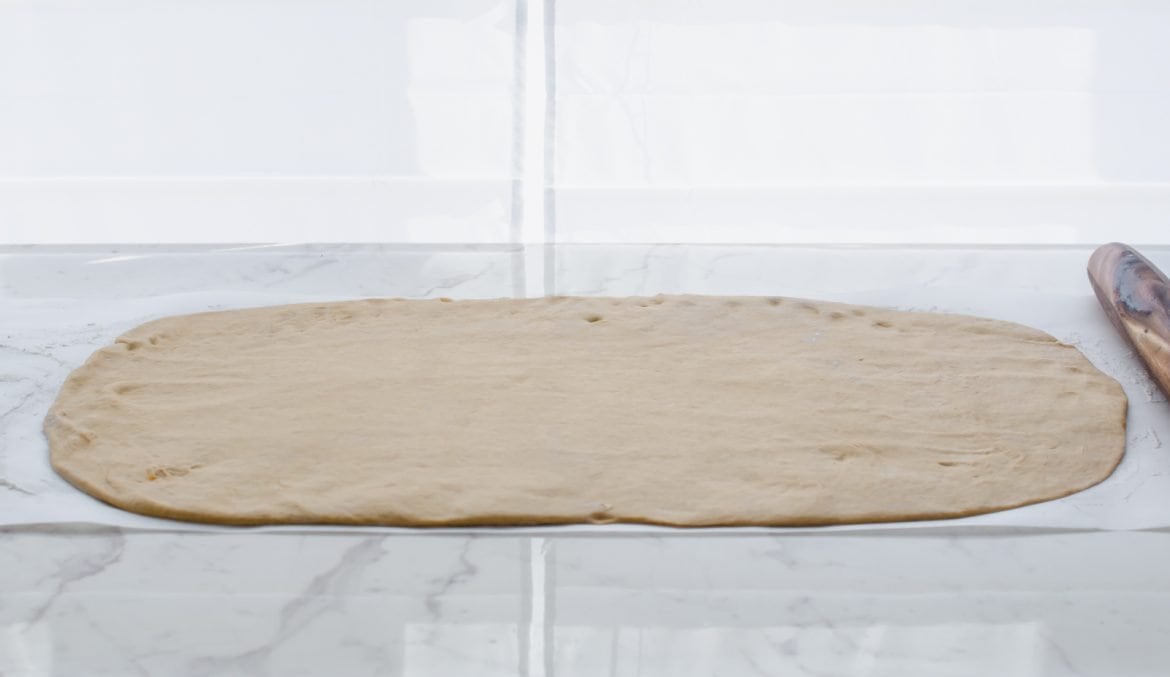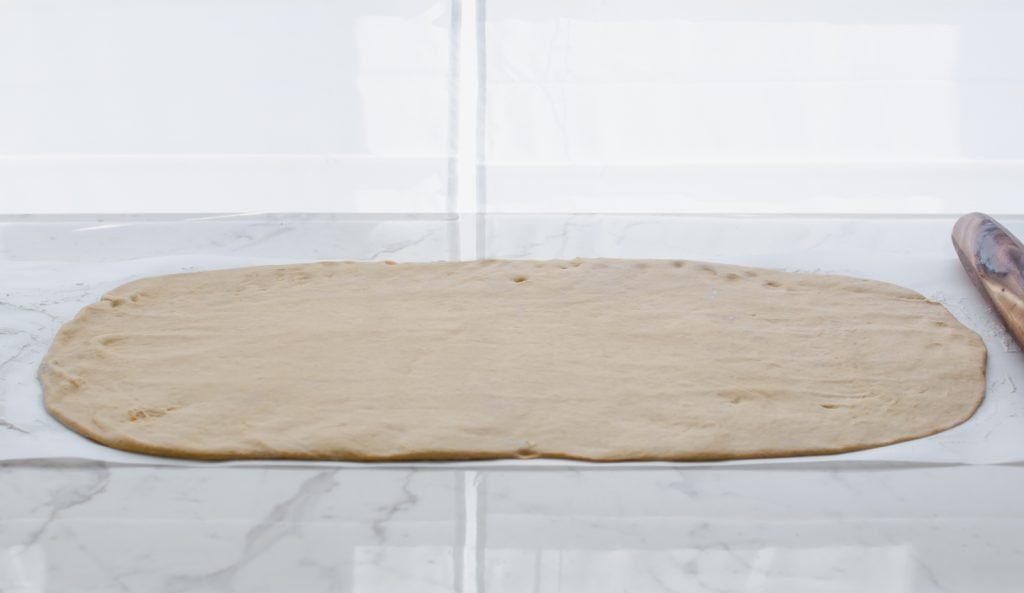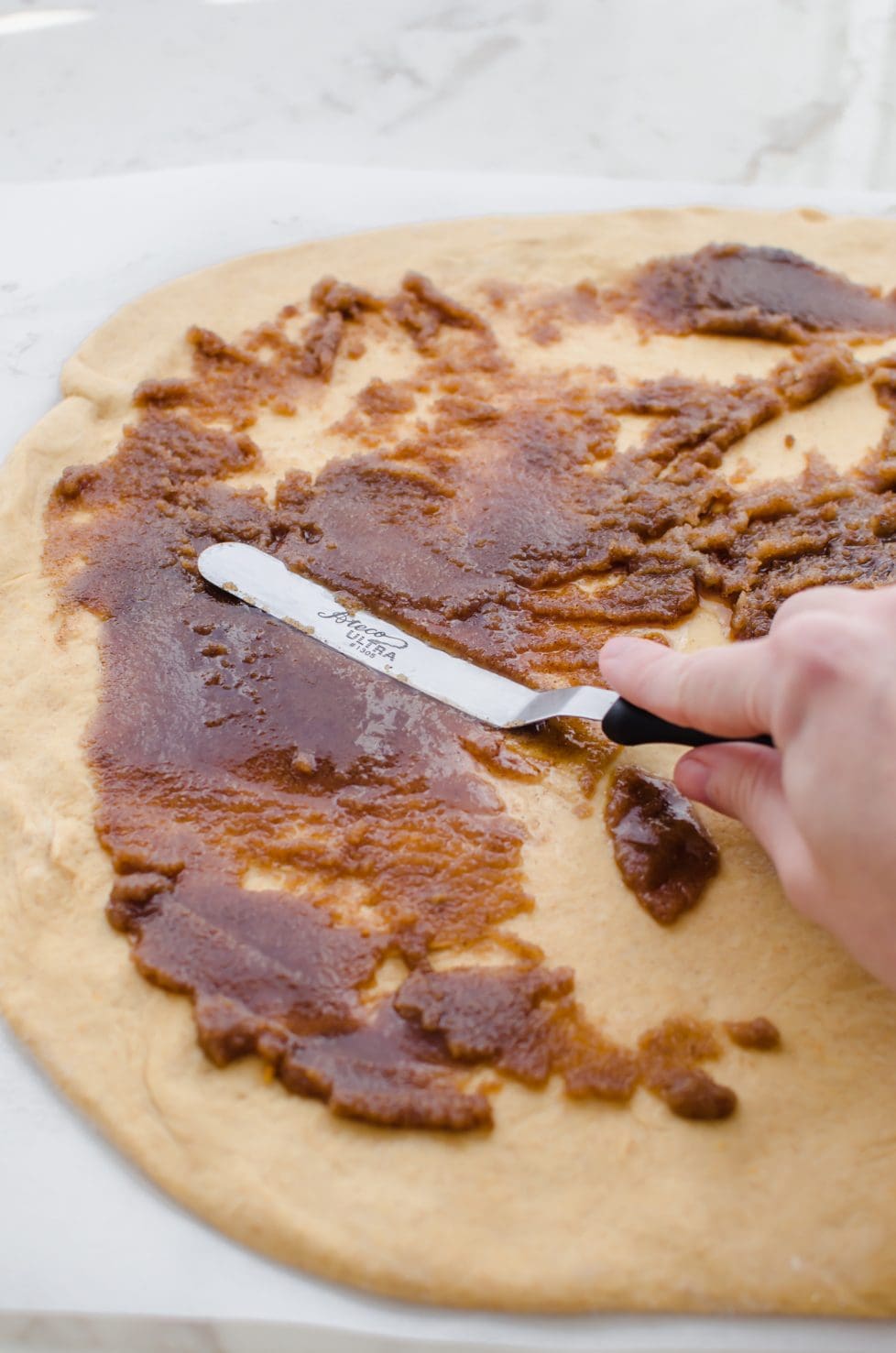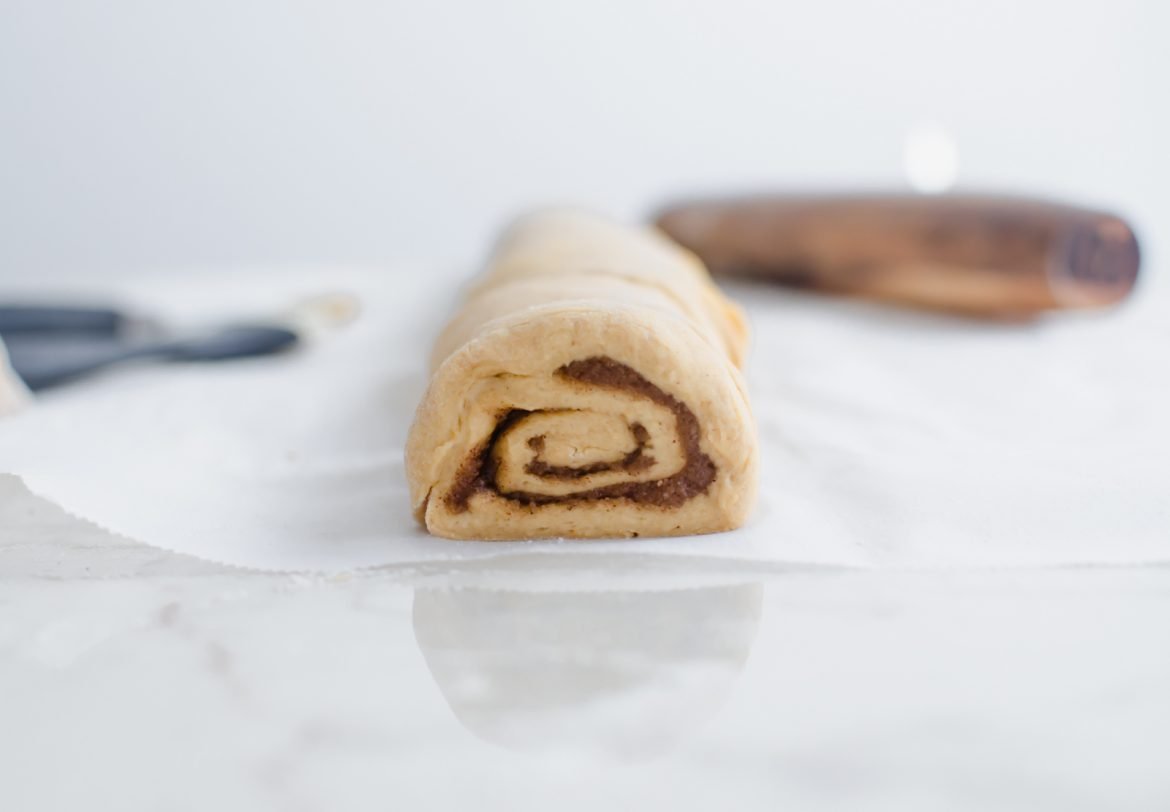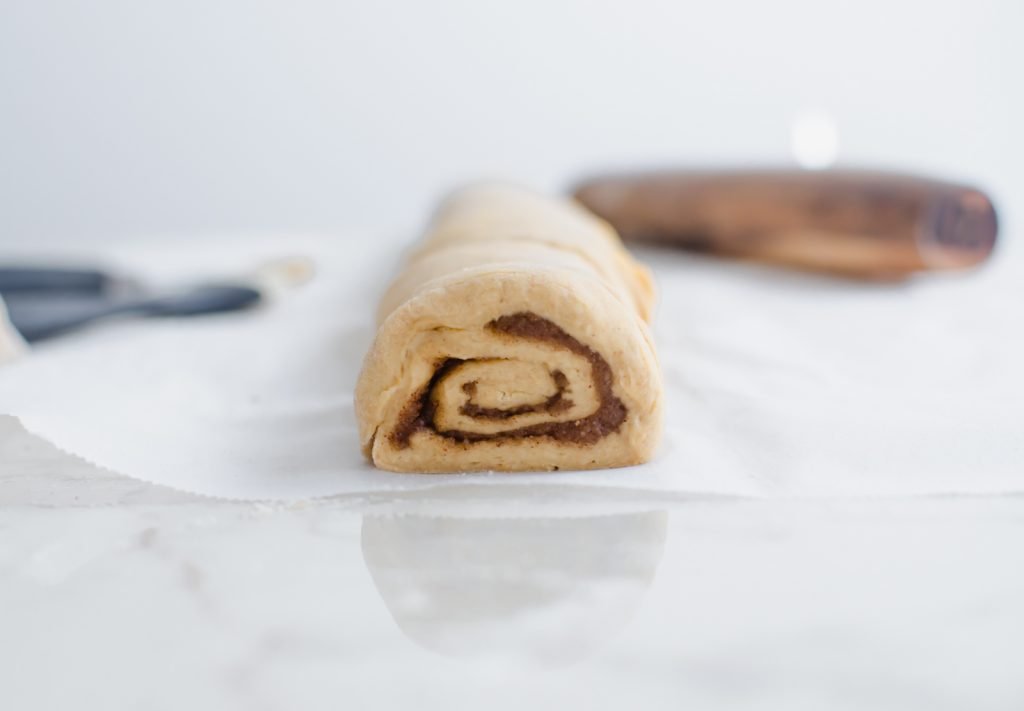 Tools You'll Need for Making Sweet Potato Cinnamon Rolls
Below are the tools that I use to make this recipe:
Are you ready to get make these Swee Potato Cinnamon Rolls? Good! I'm so excited for you to try this recipe. Once you get the chance to make it, please let me know how it turns out for you! Leave a comment and rate the recipe below. This will help me with the creation of future recipes! I'd also love to feature your creation in my monthly newsletter, so you can upload a photo to Instagram or Twitter with the tag @sweetcayenne5 to be featured!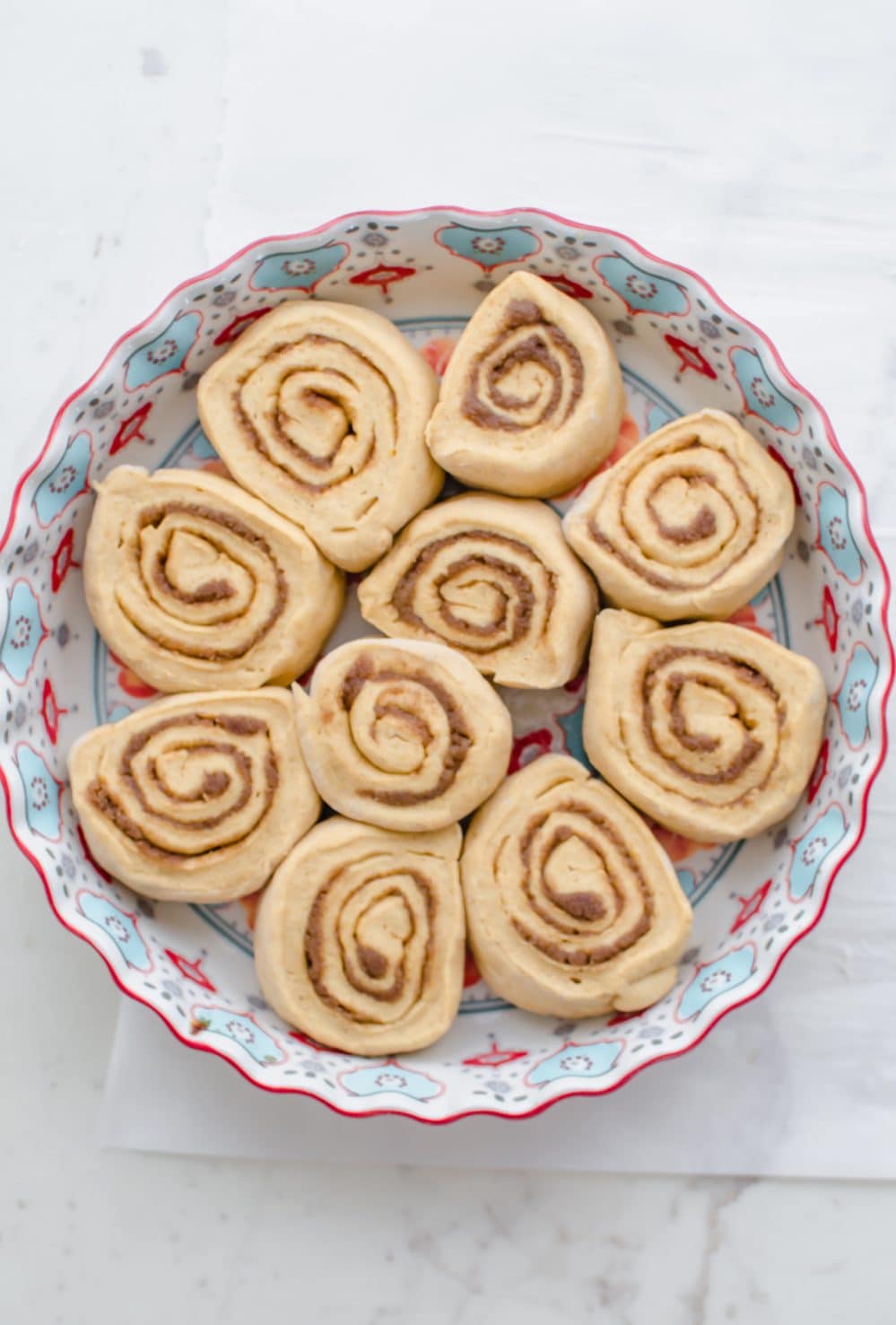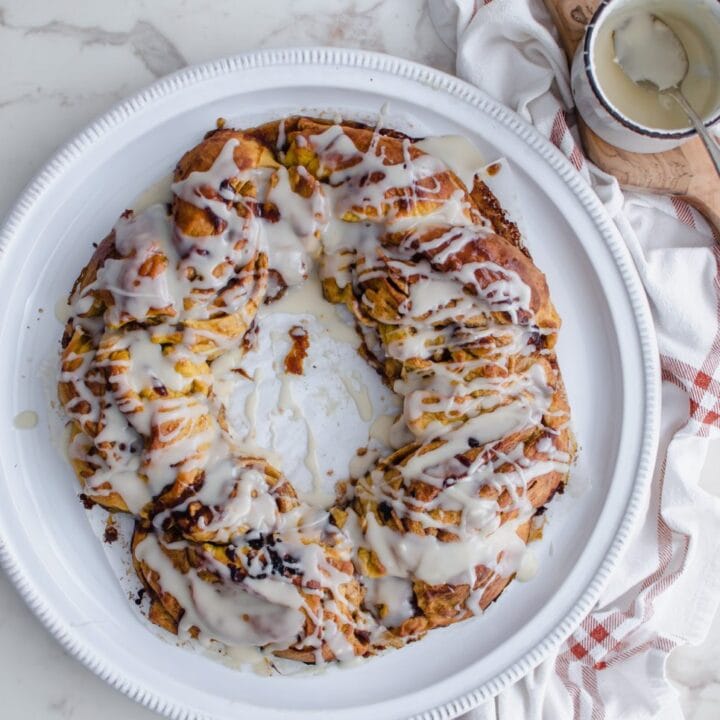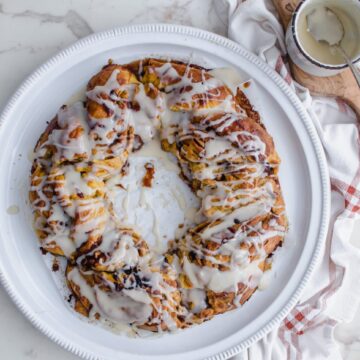 Sweet Potato Cinnamon Rolls
A cinnamon roll made with sweet potatoes and in a ring conformation. This tasty breakfast recipe will delight your tastebuds.
Print
Pin
Rate
Ingredients
For the dough:
2

(1/4 ounce)

packages active dry yeast (or 4 1/2 teaspoons)

½

cup

warm water (100-110℉)

2

tablespoons

granulated sugar

5 ½

cups

all purpose flour, divided (recommend: King Arthur brand)

1

cup

cooked and mashed sweet potato

1

large

egg, lightly beaten

1

cup

buttermilk (I use low fat)

¼

cup

melted butter, cooled slightly

1 ½

teaspoons

salt

1

teaspoon

baking soda
For the filling:
¾

cup

melted butter, cooled slightly

2

cups

dark brown sugar

2

tablespoons

ground cinnamon
Maple glaze option (amount is for ⅓ of the recipe, or 8 rolls)
1

cup

powdered sugar, sifted

¼

cup

maple syrup

1-3

tablespoons

half and half
Cream cheese frosting option (amount is for ⅓ of the recipe, or 8 rolls)
3

ounces

cream cheese, softened to room temperature

3

tablespoons

butter, softened to room temperature

1

teaspoon

vanilla extract

1 ½

cups

powdered sugar, sifted
Instructions
For the dough:
In the bowl of a stand mixer fitted with the paddle attachment, add the yeast, water, and granulated sugar. Mix on low for about 10 seconds to combine. Let the mixture sit for 5 minutes.

Add ½ cup of the flour, then mix on low speed just to combine.

Add the sweet potato, egg, buttermilk, melted butter, salt, and baking soda. Mix on low speed to combine, about 2 minutes, scraping down the sides of the bowl as needed.

Add 4 cups of flour and mix on low speed until a loose dough ball forms.

Replace the paddle attachment with the dough hook, scrape down the sides of the bowl, and add the last cup of flour. Knead on medium speed for 5 minutes until a smooth mound forms. The dough will be very soft and sticky.

Transfer the dough to a clean bowl coated with cooking spray. Place the bowl in a warm, draft-free area and cover loosely with plastic wrap or a tea towel. Let rise until doubled in size, which should take about one hour. While the dough rises, prepare the filling.
For the filling:
In a medium bowl, combine the melted butter, brown sugar, and cinnamon by stirring with a whisk. Set aside at room temperature until ready to use.

Rolling out the dough:

Once the dough has doubled in size, punch it down and transfer to a well-floured surface. Use a floured rolling pin to roll the dough out into a rectangle that is 3 feet long and 18 inches wide.

Spoon the filling over the rectangle, leaving a 1-inch border on all sides, and use an offset spatula to spread and smooth the filling out.

Starting from one of the long ends, roll the dough towards the opposite width end, tucking in dough and filling as you roll. Use your hands to gently shape the dough into a log that is even in size from end-to-end once it is rolled.

Use a serrated knife to cut the dough into 24 rounds.
To bake:
Place however many rolls you'd like to bake right away or the next day in a greased baking dish. Cover loosely with plastic wrap and place the dish on the stovetop and preheat your oven to 400℉. Alternatively, chill the pans of rolls in the fridge overnight. Then proceed by placing the pans on the stovetop while the oven preheats.

Let the rolls rise for 30 minutes on the stovetop while the oven preheats.

Bake the rolls for 10 minutes. Remove from heat, and spoon any filling that has leaked out over the tops of the rolls. Return the pan to the oven and bake an additional 8-10 minutes until the rolls are light golden brown and a toothpick inserted into the center of dough comes out clean. Remove from oven and cool for 5 minutes while you make the topping.
Topping the rolls:
While the baked rolls cool slightly, make your topping.

For the maple glaze, combine the powdered sugar and maple syrup in a medium bowl by stirring with a whisk. Add half and half as needed until the glaze reaches a thick, pourable consistency. Drizzle over the warm rolls.

For the cream cheese frosting, place the softened cream cheese and butter in the bowl of a mixer fitted with the paddle attachment. Combine on medium speed until creamy, about 2 minutes. Add the vanilla extract and powdered sugar. Mix on low speed to combine. Increase speed to medium and mix another 1 ½ minutes until creamy and smooth. Spread on warm cinnamon rolls.
Notes
This recipe yields 24 round cinnamon rolls. You can divide the unbaked rolls amongst however many pans you like. I like to divide the rolls into 3 pie plates, with 8 rolls in each.
To make a wreath: I used the technique in this video to make my wreath with HALF of the dough. I used the other half to make traditional cinnamon rolls and froze them for later. 
To freeze: simply cover the unbaked rolls in a greased baking dish with a layer of plastic wrap, followed by a layer of foil. OR freeze on layers of parchment paper in an airtight container, then remove rolls as you need them and place in a greased baking dish to thaw. Use within 3 months.
To bake from frozen: place the frozen pan of rolls in the fridge to thaw overnight. The next morning, let the rolls sit on a warm stovetop for 1 hour prior to baking. Preheat your oven about 30 minutes before the rolls are baked. To make a braided ring:
Substituting pumpkin for sweet potato: yes, you can do this! Simply add an additional 1/2 cup of flour, and know that the final dough will be a bit stickier than it is when made with sweet potato. 
Nutrition information (using maple glaze for topping)
Serving:
1
roll
|
Calories:
318
kcal
|
Carbohydrates:
57
g
|
Protein:
4
g
|
Fat:
8.6
g
|
Saturated Fat:
5.2
g
|
Cholesterol:
2.9
mg
|
Sodium:
276
mg
|
Potassium:
138
mg
|
Fiber:
1.5
g
|
Sugar:
32.5
g
|
Calcium:
43
mg
|
Iron:
2
mg
Pin this, pretty please!