This Southern Tomato Tart recipe bakes heirloom tomatoes into an easy, all-butter tart dough with a pimento cheese filling. It's a perfect brunch recipe to make for guests in the late summer months!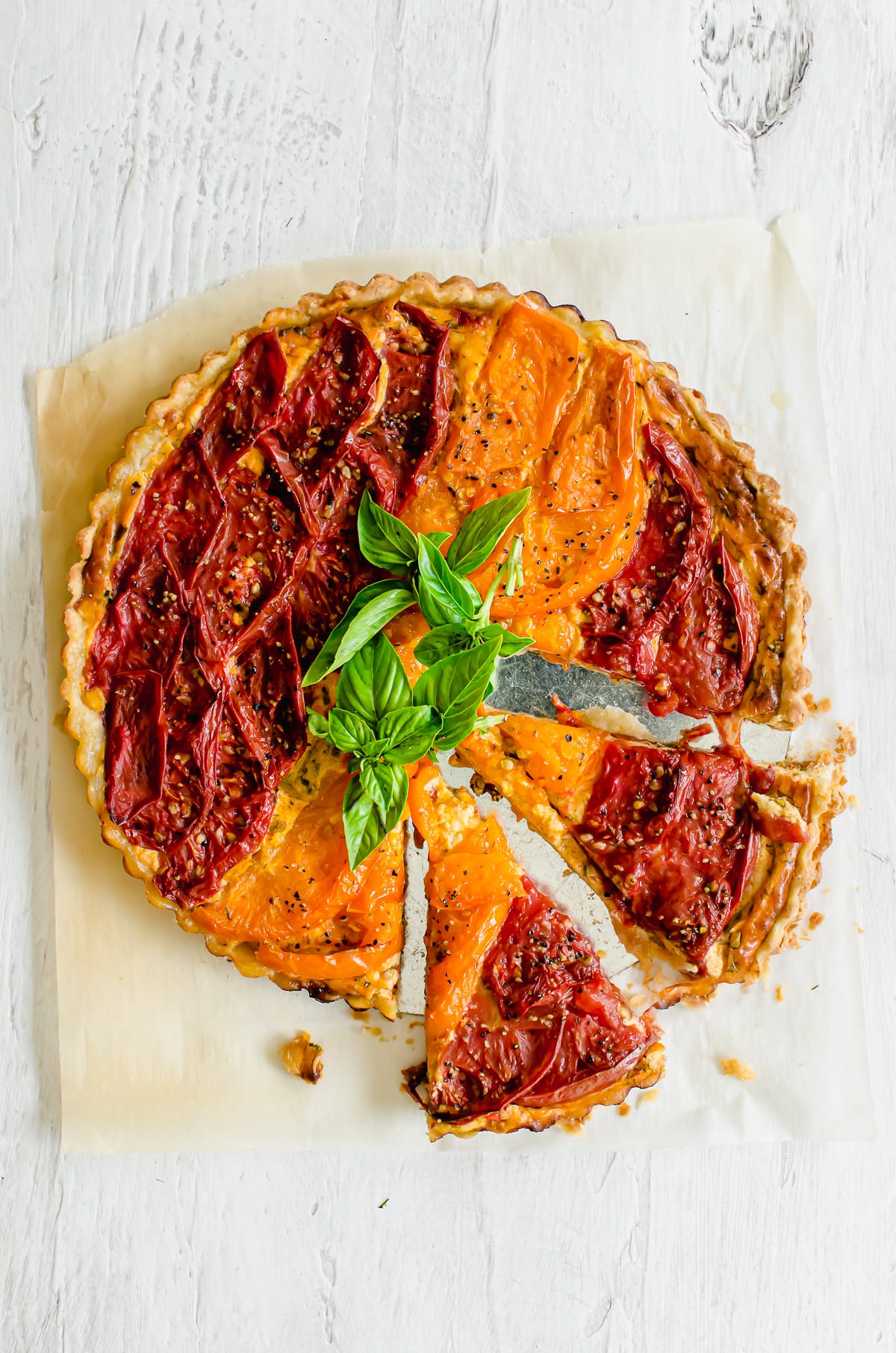 Jump to:
About the recipe
If you're looking for a classy and sophisticated way to use up some fresh summer or heirloom tomatoes, I have the PERFECT recipe for you: a tomato tart!
But trust me, when I say "classy and sophisticated," I do NOT mean complicated and time-consuming. A tomato tart is neither of those! While you do need to make a tart dough ahead of time, the process is simple, and your tart can be assembled fairly quickly.
This Southern Tomato Tart recipe is made truly "southern" by baking the tomato slices into a pimento cheese base. Sharp cheddar flavor + buttery tart dough + the mild sweetness of tomatoes = the most amazing flavor combination!
Using store-bought pimento cheese is 100% A-OK and highly recommended (Aldi's is BOMB) - you are making your own tart dough, after all! The tart is perfect for enjoying as part of a weekend brunch, or as a dinner entree with a fresh green salad. Let's make one!
Ingredients
Flour, sugar, baking powder, fine sea salt for the tart dough
Butter, cream, and ice water for the tart dough (I have also used Earth Balance Vegan Butter as a substitute to reduce fat)
Low acid or heirloom tomatoes, about 3 medium
Pimento cheese (I highly recommend Aldi's jalapeno version)
Dijon mustard
Egg
Fresh basil and dill
Olive oil
Coarse ground pepper
Instructions
Step 1: Make the tart dough. I like to do this up to one day ahead to properly chill the dough and make for less work on the day I bake my tart. You can make the dough using a stand mixer or a handheld mixer.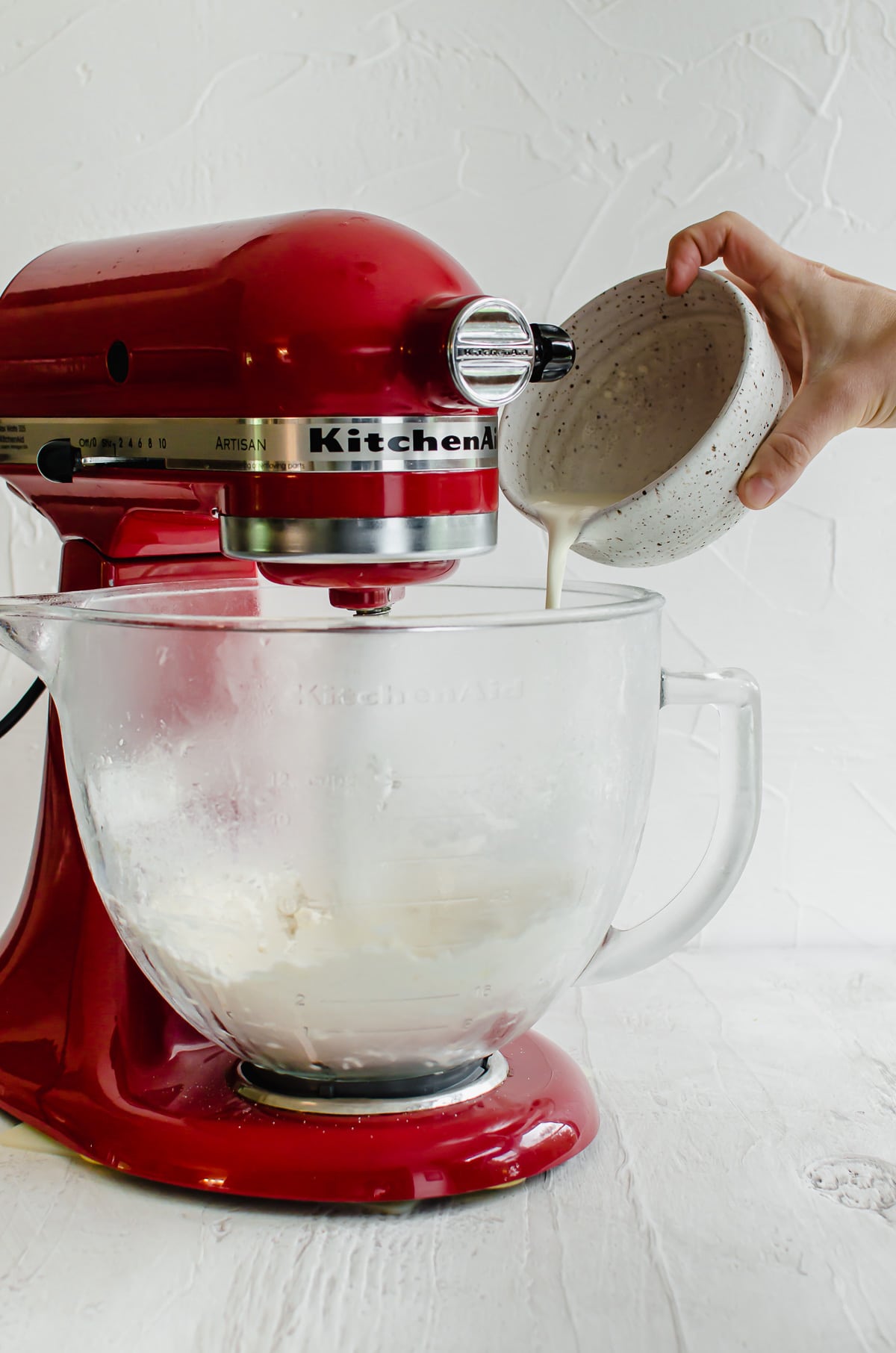 Step 2: Drain the tomatoes. Place the slices in a single layer in a colander, sprinkle with salt, and let sit for 30 minutes. This will draw some of the moisture out of the tomatoes.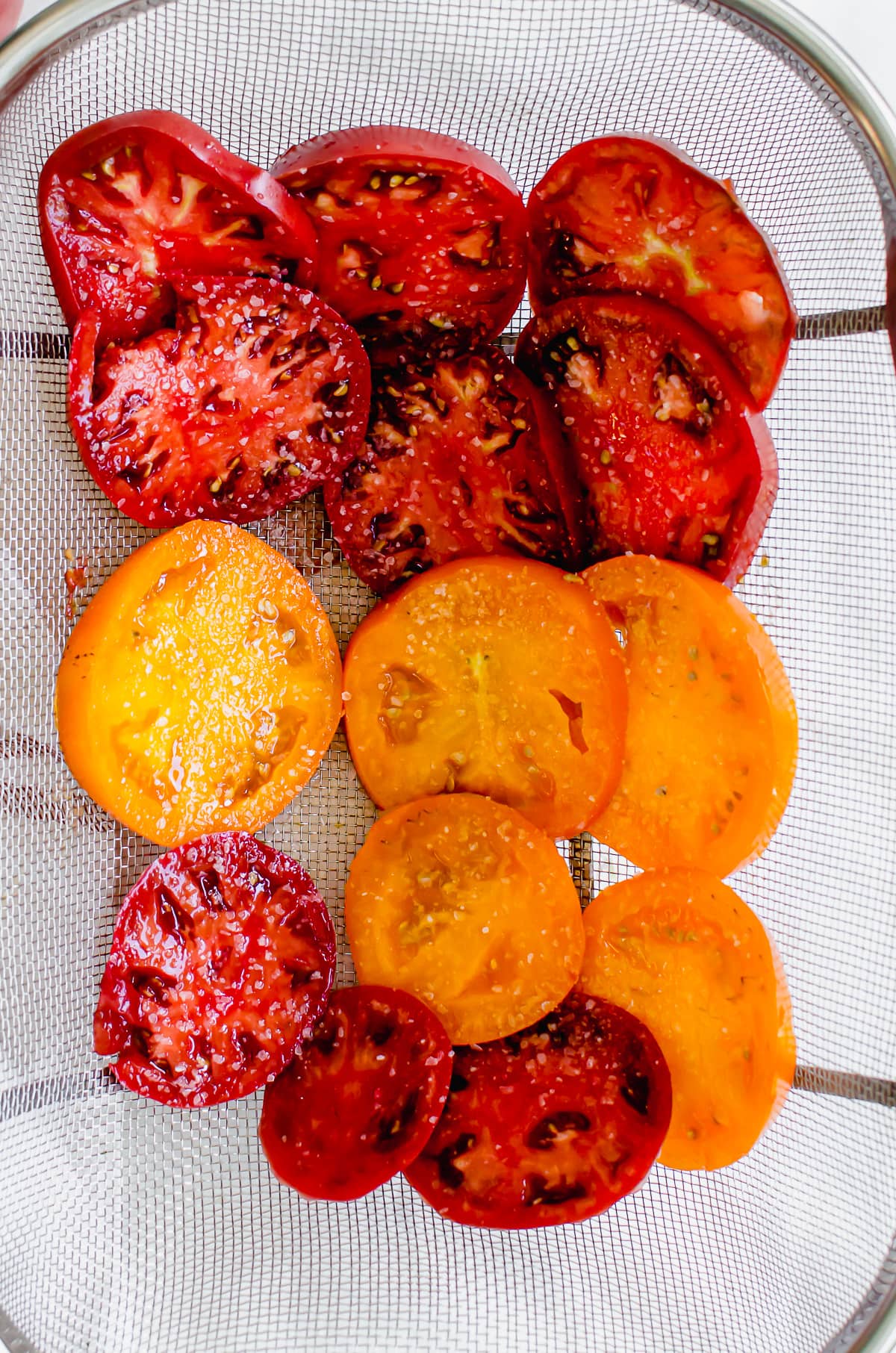 Step 3: Roll out your tart dough. I like to use the rolling pin to cut the dough overhang by rolling the pin over the tart pin, as shown below. Once the dough is fitted in a tart pan, put it back in the freezer to chill until you are ready to fill it. You'll need a 9-10 inch tart pan for this.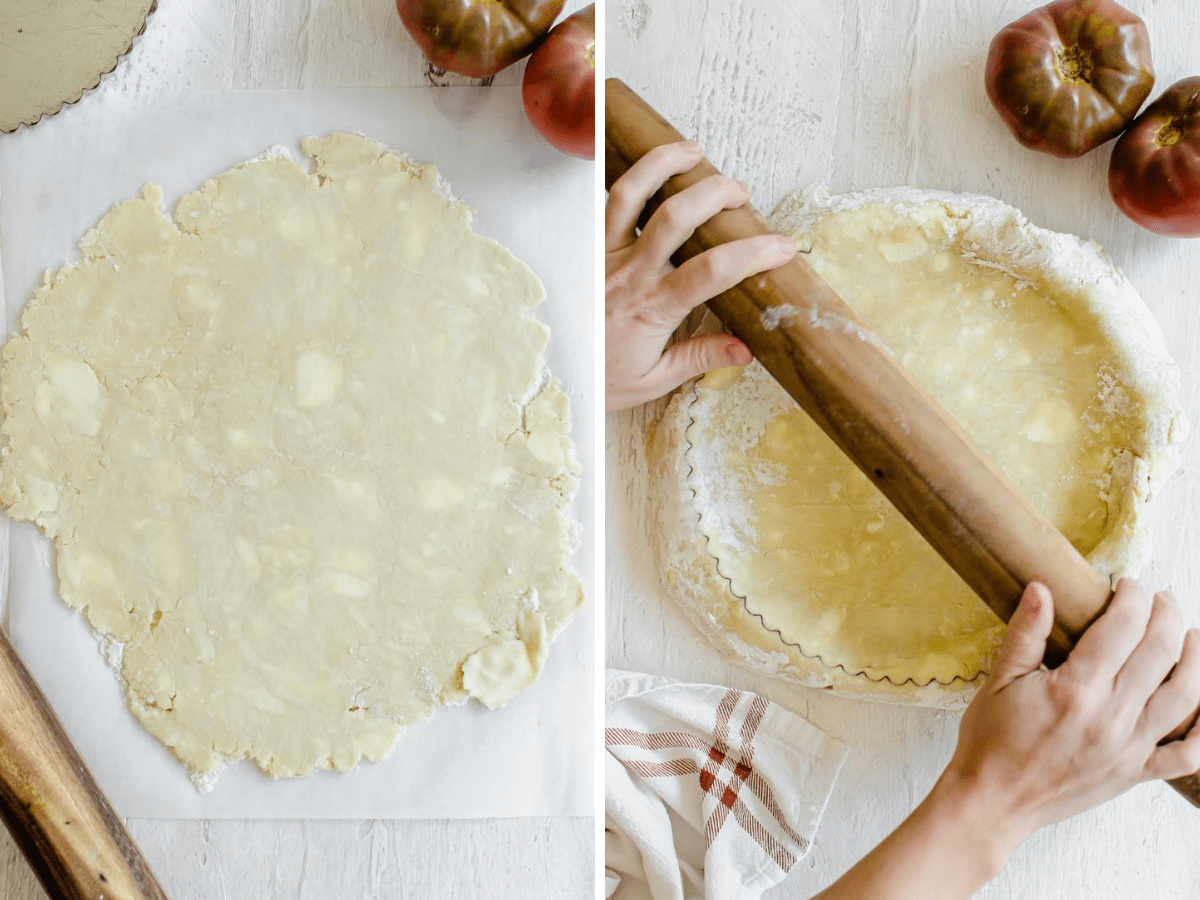 Step 4: Make your pimento cheese filling. Just fold together the pimento cheese, egg, Dijon, and fresh herbs in a bowl.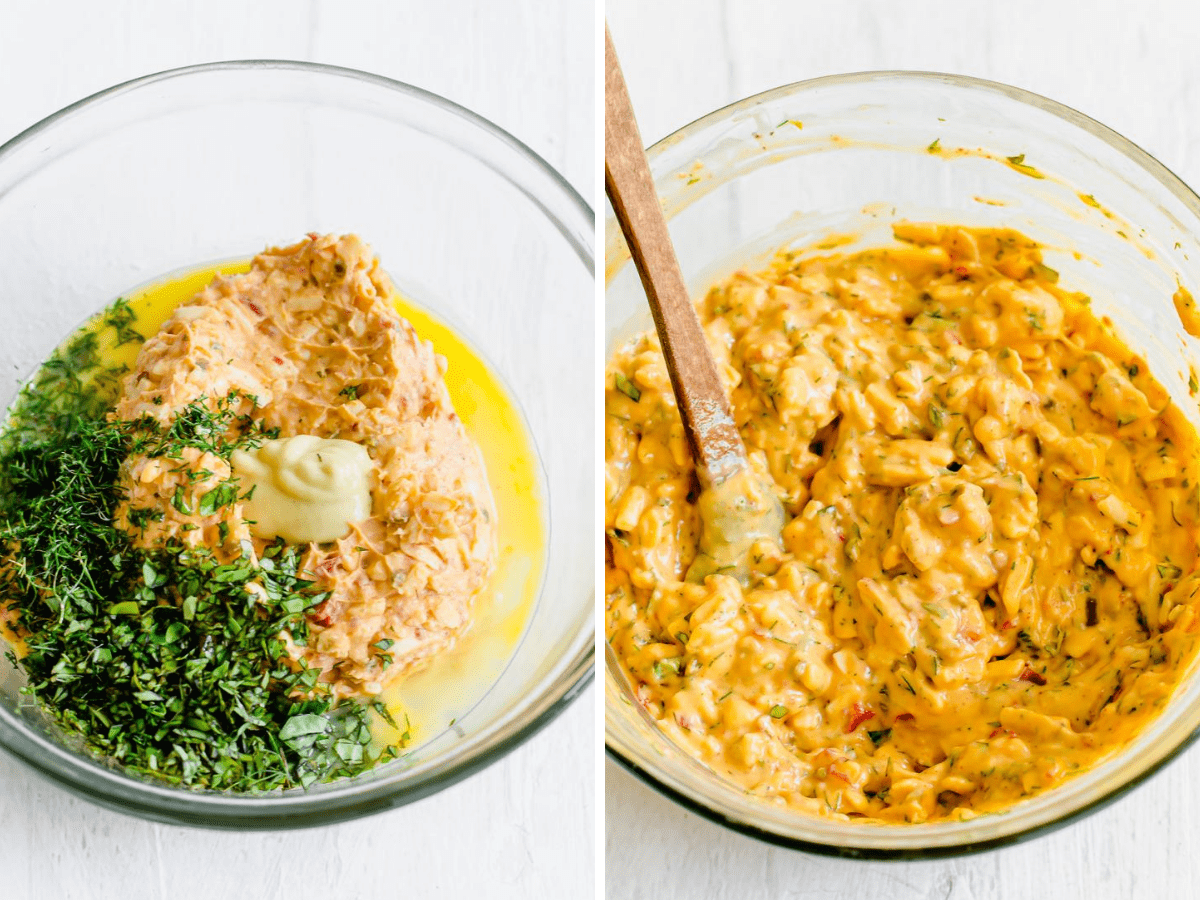 Step 5: Fill and bake your tart. Sprinkle a little flour into the bottom of the tart pan. Spread the pimento cheese filling on top. Blot each tomato with a paper towel, then add it to the top of the cheese filling in any design you like. Brush the tomatoes with bit of olive oil, sprinkle the top with pepper, then bake!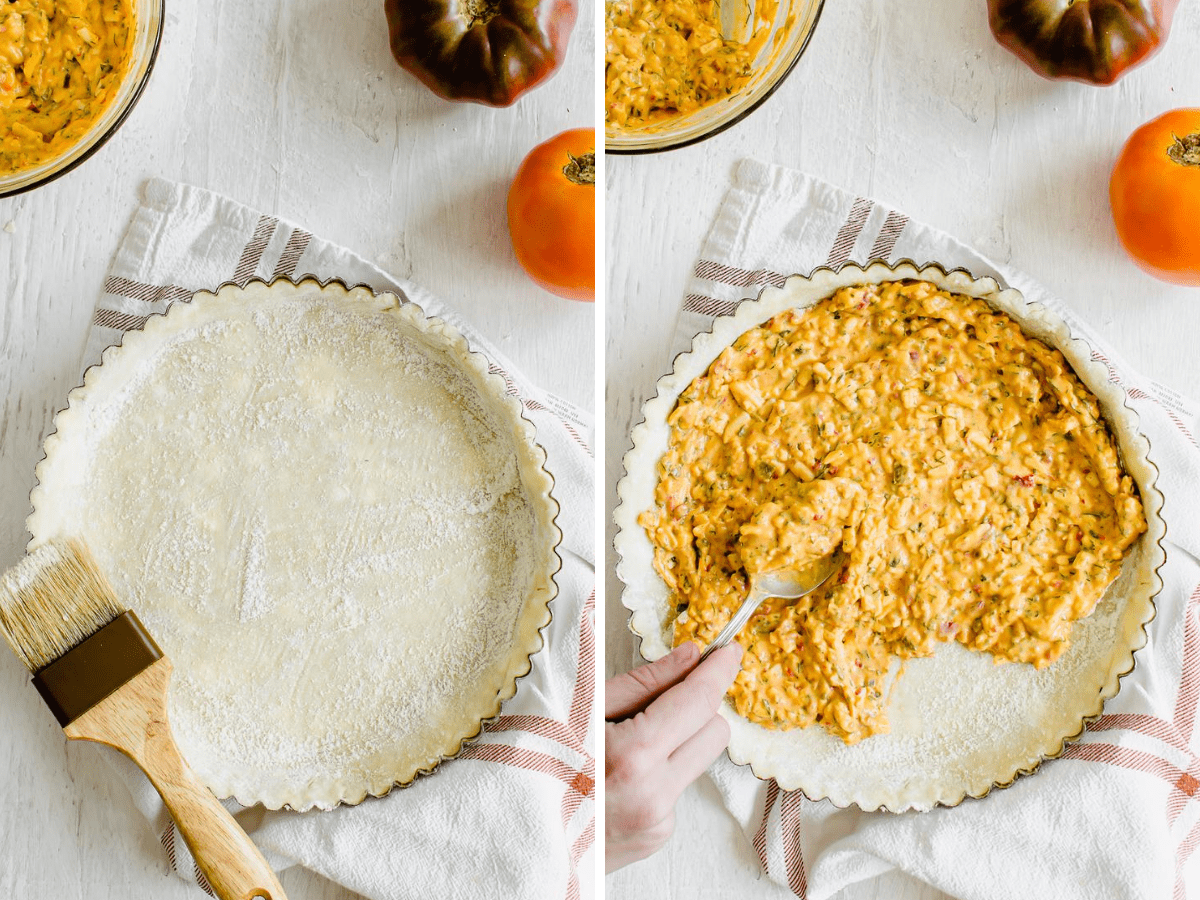 Top tips
Below are some of my best tips for making this Southern Tomato Tart, as well as some answers to commonly asked questions!
How do you keep a tomato tart from being runny?
The best way to keep a tomato tart from being runny is to sweat the tomatoes a bit before adding them to the tart. I place my tomatoes in a single layer in a straining basket or bowl, sprinkle some salt on top, and let them sit for 30 minutes. Next, blot each slice thoroughly with paper towels before adding it to the tart. This should decrease the moisture quite a bit!
Can you make a tomato tart in advance?
If you need to make your tomato tart a couple hours in advance and reheat it for serving, that is totally doable! Just place the cooled tart on a baking sheet and heat at 375°F for 20 minutes or so until is heated through.
Should you refrigerate a tomato tart?
Since this tomato tart recipe contains egg and dairy, you will want to refrigerate it once it has cooled to room temperature. For proper food safety, do not leave the tomato tart sitting out for more than 2 hours. If you have made it in advance, refrigerate it once it cools to room temp and then reheat it when ready to serve.
How do you reheat a tomato tart?
Once you've refrigerated your leftovers, the tart is very easy to reheat! Just cut however many slices you'd like to serve, place on a parchment-lined baking sheet, and reheat at 375°F for 15-20 minutes until the crust is crisp and filling hot. You can do this for up to 3 days after making the tart. After 3 days, it begins to get a bit soggy.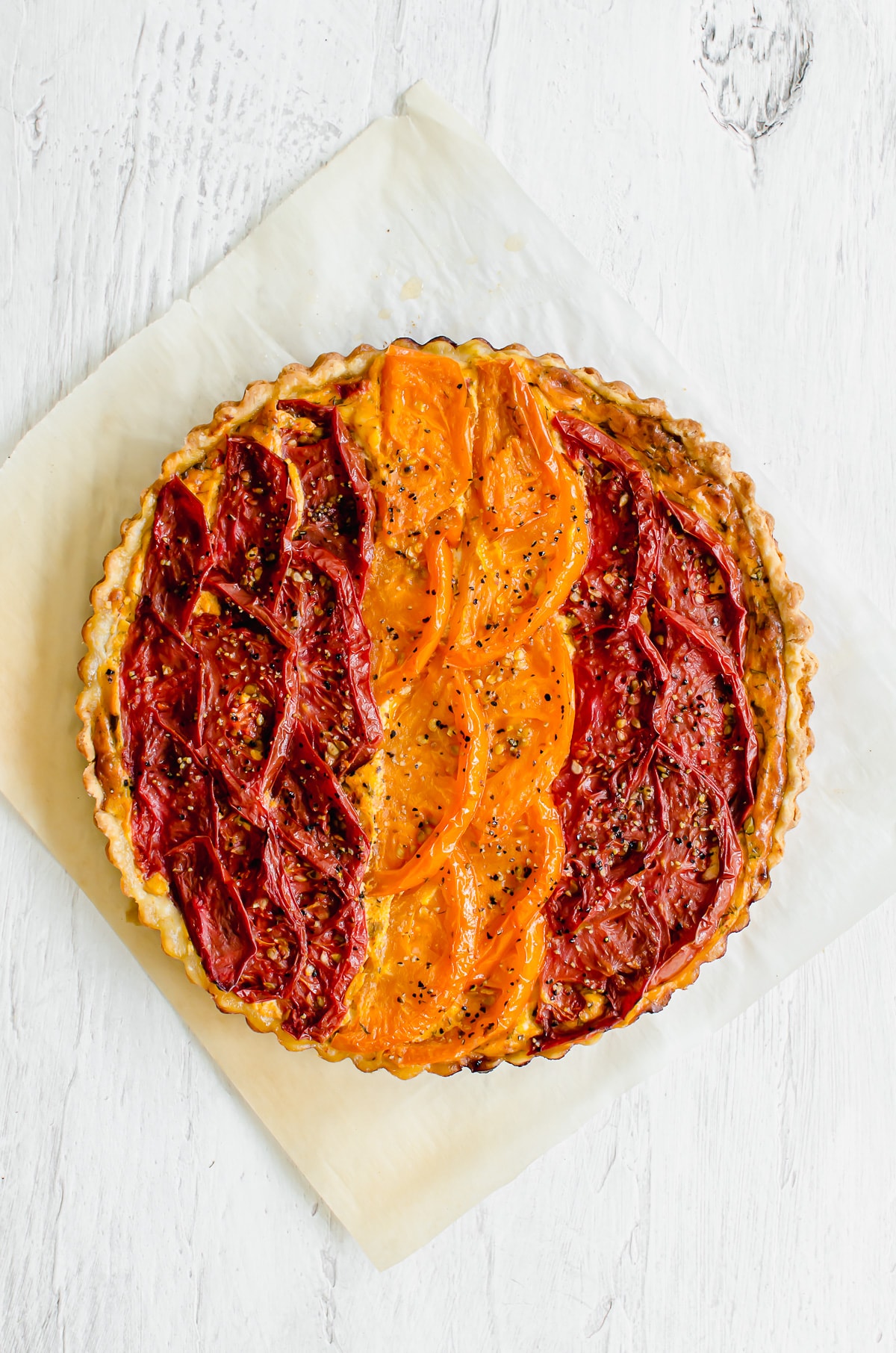 Serving suggestions
I think this tomato tart recipe makes for a delicious brunch option, or a dinner entree with a light salad. If you are making it for brunch, it would be amazing served alongside this Sweet Tea Granita with Lemon Syrup.
Try this Everyday Springtime Salad (good anytime of year) or this Simple Kale Salad to serve on the side. A roasted veggie would also be a great option, like this Simple Roasted Okra or Simply Perfect Roasted Asparagus.
Similar recipes
If you like this summer tomato recipe, I think you'll love my recipes for Oven-Fried Green Tomatoes, BLT Panzanella Salad, and Roasted Corn and Summer Tomato Salad!
Are you ready to make this Southern Tomato Tart? I'm so excited for you to try this recipe. Once you get the chance to make it, please let me know how it turns out for you!
Leave a comment and rate the recipe below. This will help me with the creation of future recipes!
I'd also love to feature your creation in my monthly newsletter, so you can upload a photo to Instagram with the tag @sweetcayenne5 to be featured! Quick and easy recipe videos are available on my YouTube channel, and lots of menu inspiration on my Pinterest boards.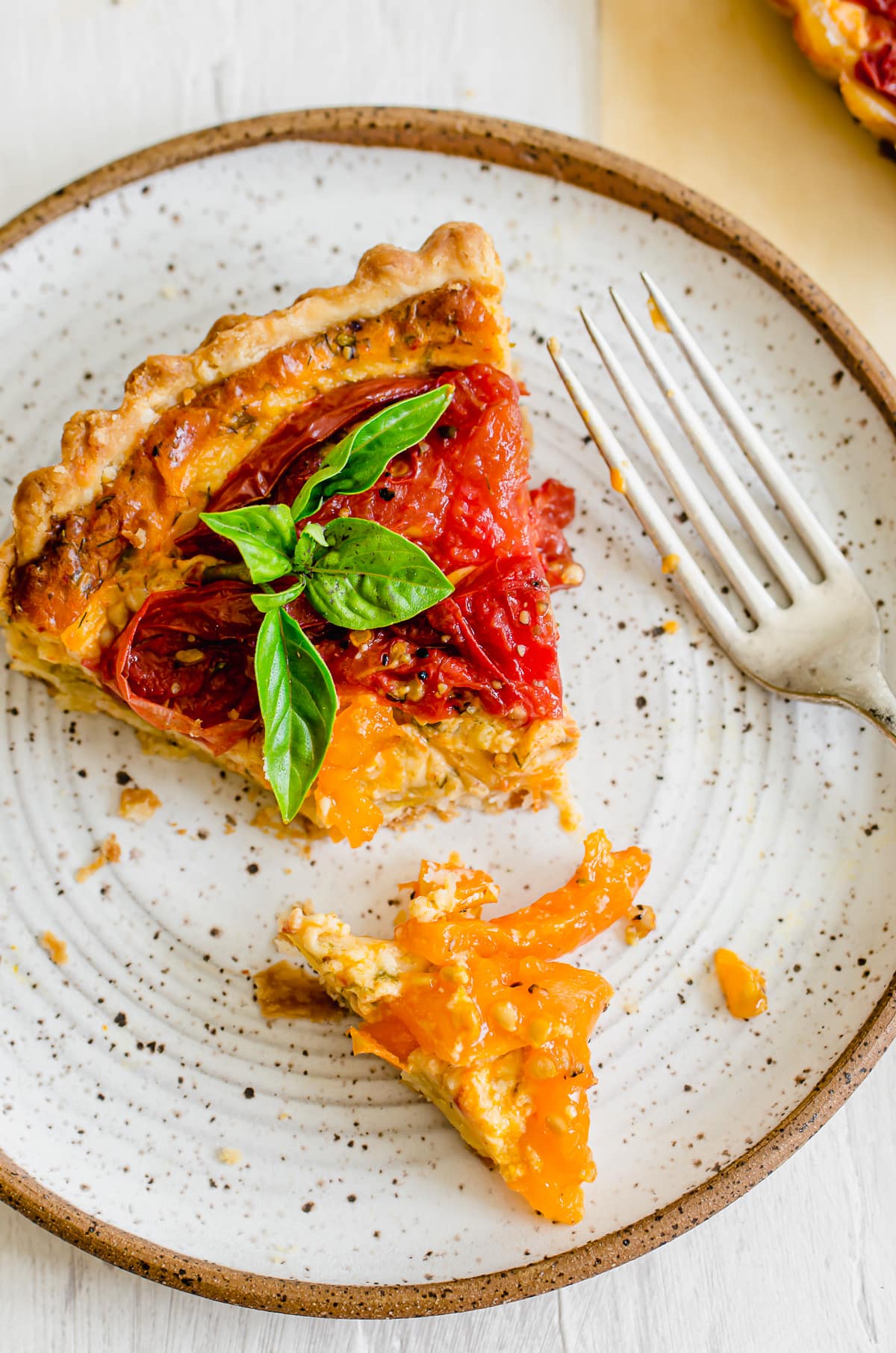 Recipe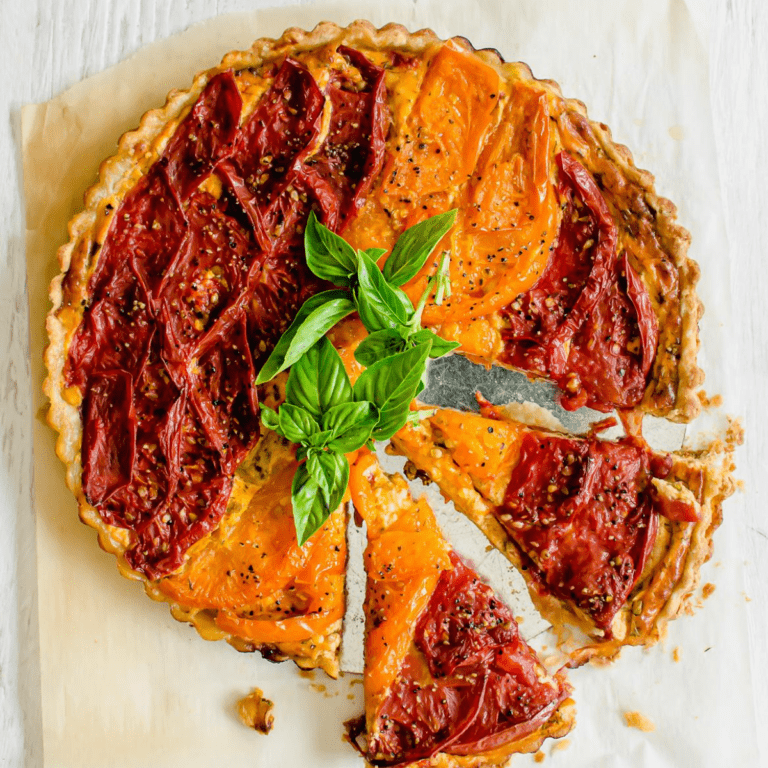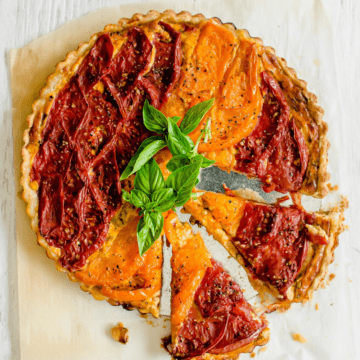 Southern Tomato Tart
This Southern Tomato Tart recipe bakes heirloom tomatoes into an easy, all-butter tart dough with a pimento cheese filling. The tart dough recipe is Aaron's Tart Dough from the Salt, Fat, Acid, Heat cookbook.
Print
Pin
Rate
Ingredients
Tart dough:
1 ⅔

cup

all-purpose flour, plus more for dusting

1

teaspoon

granulated sugar

¼

teaspoon

baking powder

½

teaspoon

fine sea salt

8

tablespoons

unsalted butter, cut into ½ cubes

6

tablespoons

heavy cream

2-4

tablespoons

ice water
Tart filling:
3

medium

tomatoes (about 1 pound), cut ¼-½ thick slices (I recommend heirloom or a low-acid tomato)

Salt for sprinkling

1

cup

prepared pimento cheese (I recommend the Jalapeno Pimento Cheese from Aldi)

1

teaspoon

Dijon mustard

1

large

egg, lightly beaten

2

tablespoons

minced fresh basil

1

tablespoon

minced fresh dill

Olive oil

Coarse ground pepper
Instructions
The day before:
In the bowl of a stand mixer (or using a handheld mixer), whisk together the flour, sugar, baking powder, and salt. Place the bowl and the paddle attachment in the freezer, along with a dish of the butter cubes for 20 minutes. Place the heavy cream and ice water in the fridge during this time.

Remove the bowl of dry ingredients to the mixer stand fitted with the chilled paddle attachment. Turn the speed to low, and slowly start to add in the butter cubes. Increase speed to medium-low and mix for 1-2 minutes until the butter chunks are about the size of broken walnuts.

Add the heavy cream to the dough and mix on low for about 30 seconds. The dough should bind up a bit, but still have shaggy parts. If it looks really dry, add a tablespoon of ice water. Get a chunk of dough in your hand and squeeze it. If it crumbles easily, add another tablespoon of water. If it holds together or just breaks into a few large chunks, it is done.

Flip the dough onto a large sheet of plastic wrap. It will look like a mess, but don't touch it. Use the ends of the plastic wrap to nudge everything together into a disc. Tightly twist the plastic around the dough, pressing it further into a disc, and refrigerate overnight.
The day of:
Layer tomatoes in a colander, sprinkle with salt, and set them aside to drain for 30 minutes. Meanwhile, preheat the oven to 425°F. Line a baking sheet with parchment paper and set aside.

Place the disk of tart dough on a piece of parchment paper dusted with flour. Dust the top of the dough with a bit of flour, flour a rolling pin, and start to roll the dough out until a 9-inch tart pan can fit on top with about an inch of dough extending from the edge of the pan.

Carefully place the dough into the tart pan, and use your fingers to press it lightly yet securely into the sides of the pan. Roll your rolling pin over the top of the tart pan to cut off any overhang of dough. Place the pan in the freezer until ready to fill.

In a medium bowl, combine the pimento cheese, Dijon, egg, basil, and dill. Fold together thoroughly with a spoon or rubber spatula.

Sprinkle 2 tablespoons of flour into the bottom of the prepared tart pan with the dough. Spread the pimento cheese mixture over that.

Pat the tomatoes dry with paper towels, then arrange them in a pattern on top of the pimento cheese. Brush or spray a little olive oil on top (about a teaspoon), then sprinkle the tomatoes with coarse pepper (about a ½ teaspoon).

Place the tart on the prepared baking sheet, then bake for 15 minutes. Rotate the tart a quarter turn, then reduce heat to 400°F and bake for 15 minutes more. Rotate the tart another quarter turn, then reduce to 375°F and bake for another 15-20 minutes until the filling is bubbly and the tart crust is golden brown. If the crust browns too quickly, lay a piece of foil on top and continue baking.

Remove from the oven and let cool on a wire rack for 30-45 minutes before removing the tart pan ring, slicing, and serving.

Leftover tart can be stored in the fridge for up to 3 days. Reheat in a 375°F oven on a piece of parchment paper on a pan for 15-20 minutes.
Serving:
1
slice
|
Calories:
316
kcal
|
Carbohydrates:
18.9
g
|
Protein:
6.6
g
|
Fat:
23.7
g
|
Saturated Fat:
12.1
g
|
Cholesterol:
71
mg
|
Sodium:
336
mg
|
Potassium:
127
mg
|
Fiber:
1
g
|
Sugar:
1.5
g
|
Calcium:
98
mg