Roasted Asparagus is my FAVORITE springtime veggies - I love to serve it as a simple side as often as possible!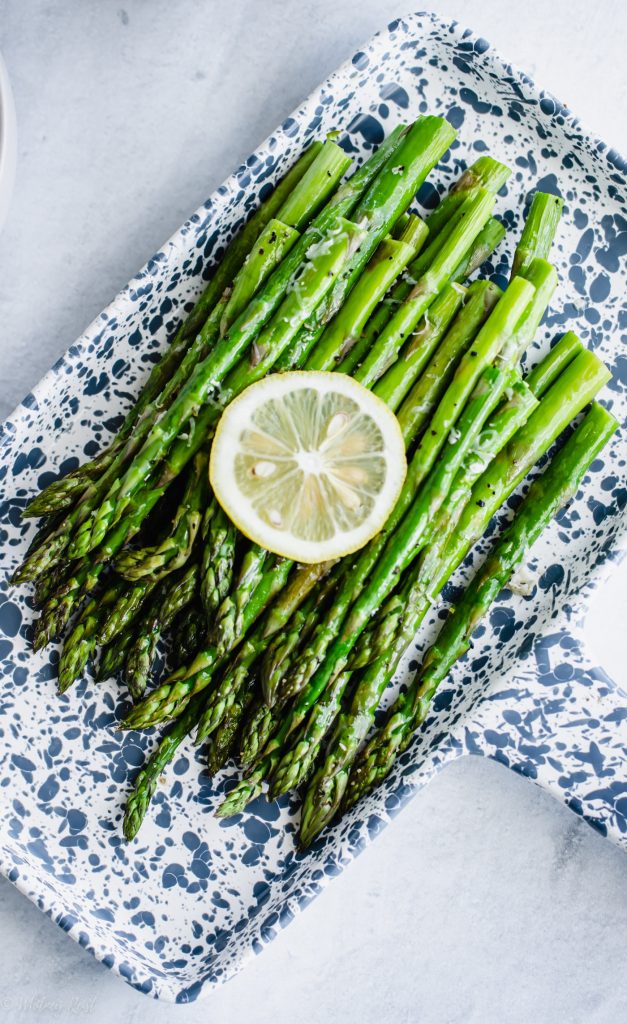 Is there really any tastier spring veggie than tender, buttery asparagus? Nowadays, you can buy asparagus year-round. But when it's in season in the springtime, it tastes SO much better than any other time of year. The flavor is sweeter, the texture is more tender, and the color is more vibrant. And of course, the price is better, too!
Asparagus is one of my favorite - if not my all-time favorite - vegetables. I love to shave it and serve it raw in a salad, dice it into rounds as a pizza topping, stir-fry it, pickle it, put it in quiches and fritattas, and blanch it lightly for serving as a crudite. It's such a versatile produce option that you really can't go wrong however you choose to prepare it! But there's just something extra special about a simple pan of roasted asparagus. A quick stint in the oven at a high temperature brings the natural sugars from the inside of the stalk to the outside, the stalk gets perfectly tender, and the richness of a bit of olive oil brings out buttery flavor notes. I just love it!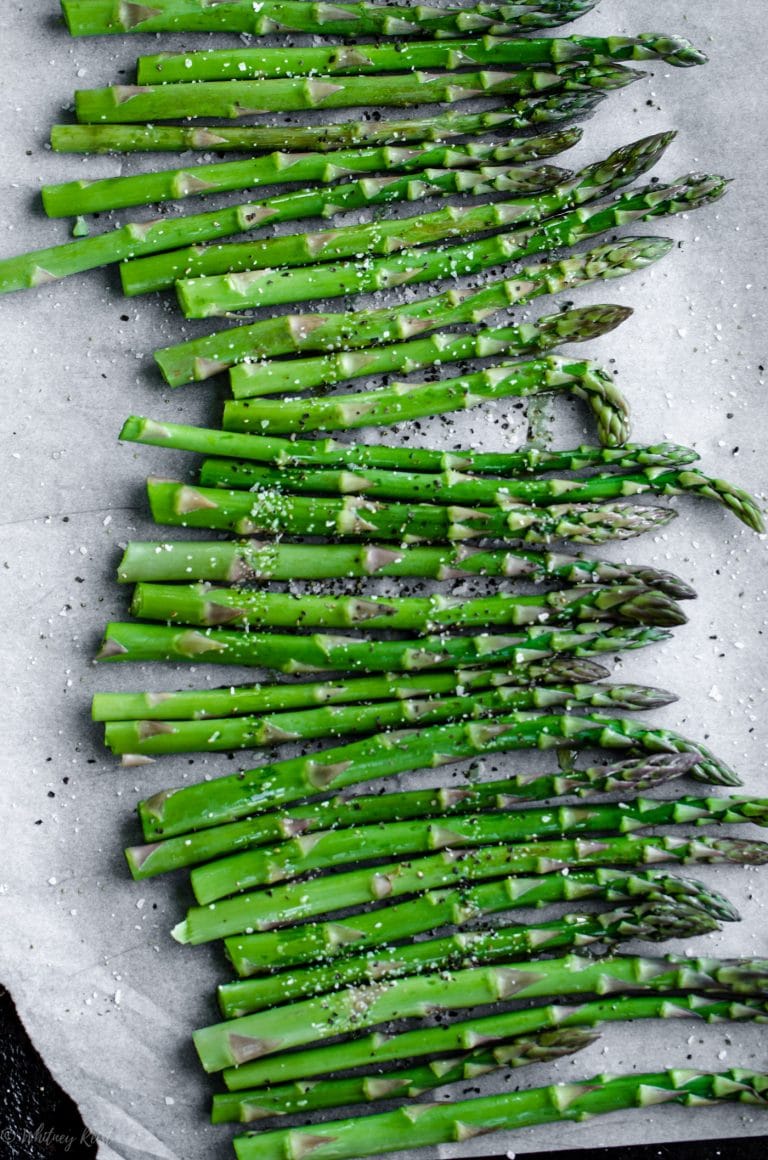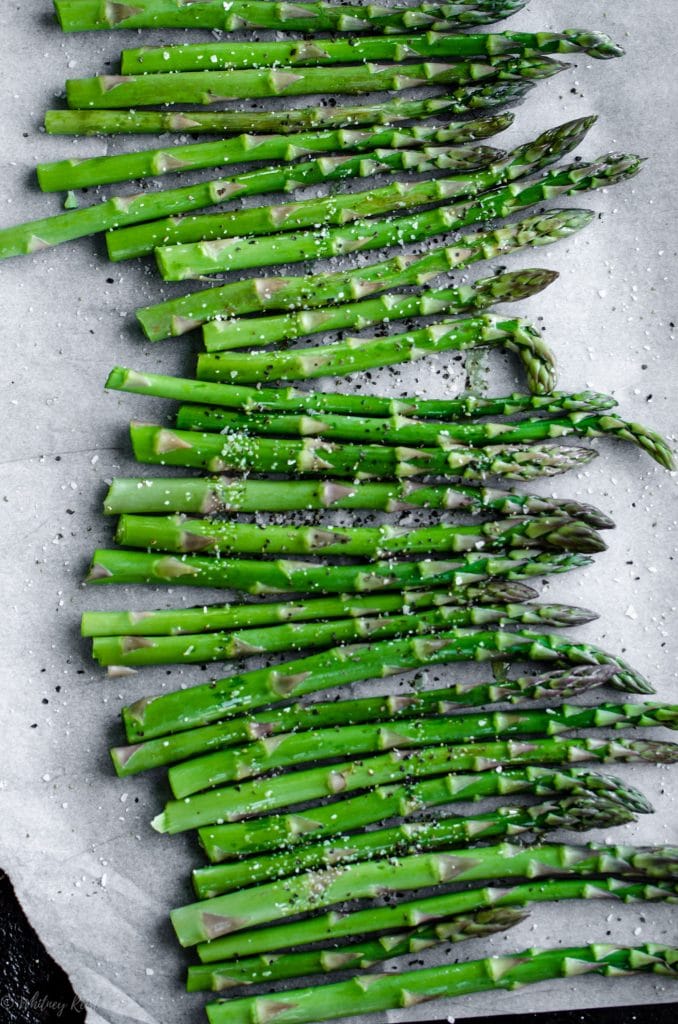 Tips
Choose wisely - choose stalks that are firm and look as fresh as possible. They should be completely dry and not have any wilted spots or leaves. The thickness you choose really depends on your preference and how you plan to cook the asparagus. Thicker stems lend themselves well to grilling, medium-thickness is great for blanching and serving as crudite or roasting, and really thin, tender stalks are best for quick-cooking methods like stir-frying and roasting. Thick stems may benefit from peeling tough leaf points on the outside, but medium and thin stalks are tender enough to not require any peeling.
Smart storage - to extend the shelf life of stalks, I like to cut off the bottom 1-1 ½ inches of a bunch of asparagus with the rubber band still on. Next, I fill a ramekin or small bowl with about 2 inches of water. I stand the bunch of asparagus up in the water, cover loosely with the plastic produce bag I purchased the stalks in, and then refrigerate until ready to use. It's good to change the water out when cloudy, and your asparagus should keep for about a week when stored this way. Just be sure to wash the stalks thoroughly before cooking!
Test often during cooking - when roasting asparagus, it's easy to overcook the stalks, as one minute can be enough to send them from being perfectly cooked to overcooked. I recommend starting with 6 minutes, and then checking for tenderness every minute or so after that.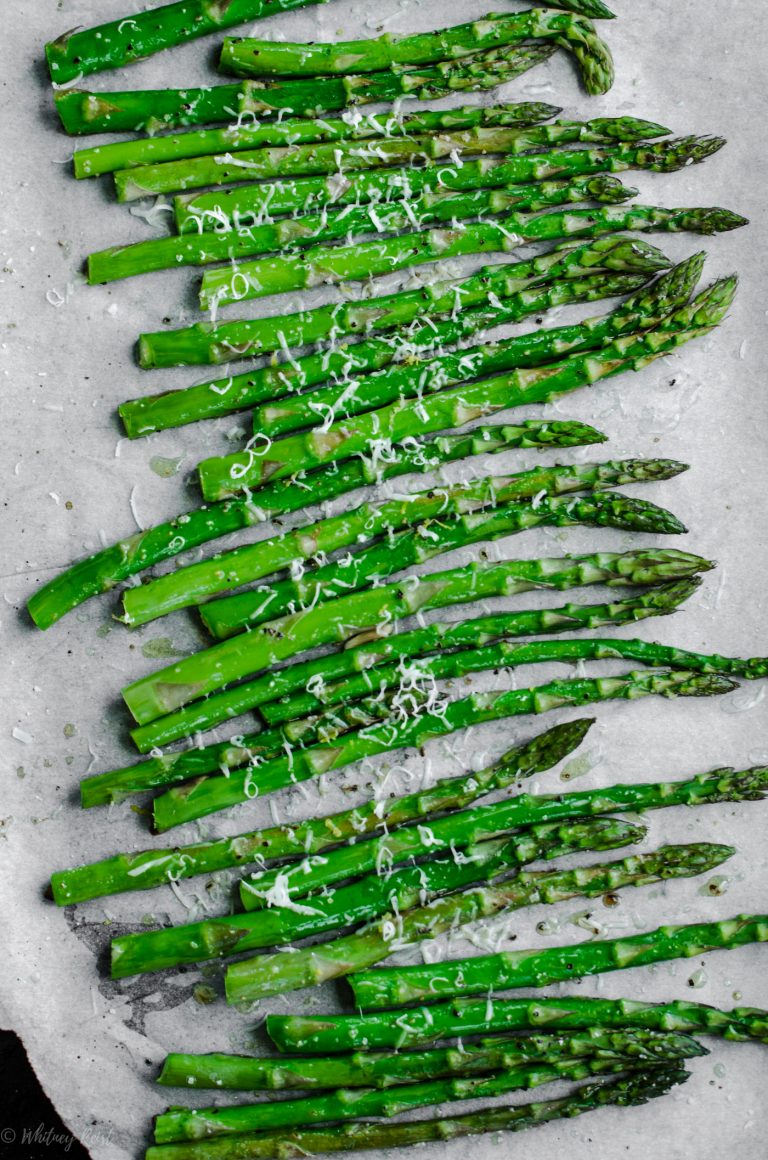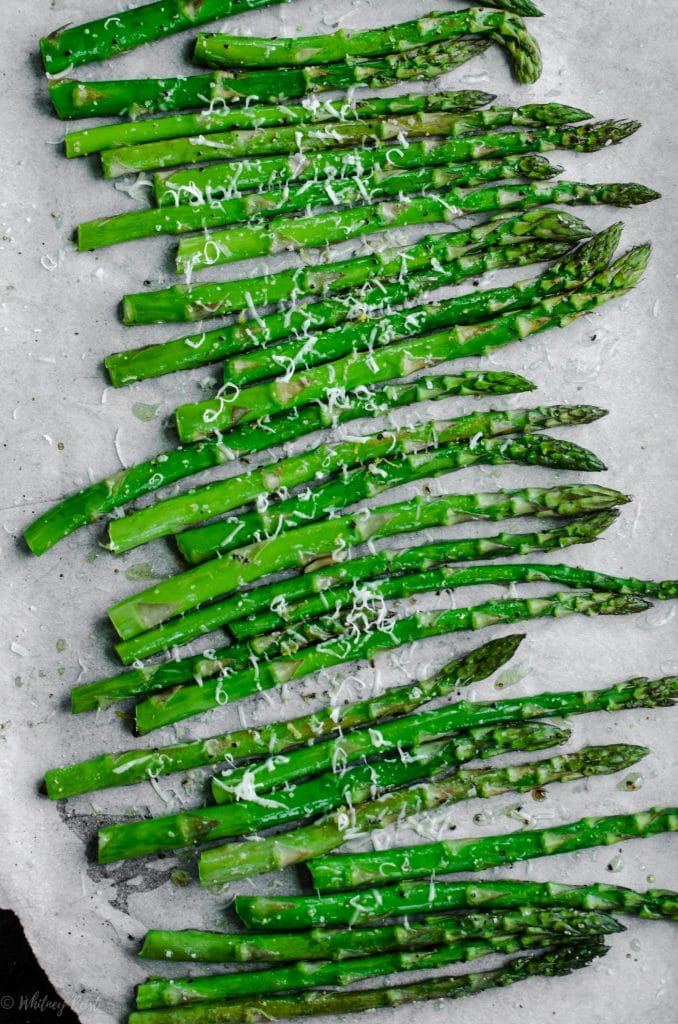 Pair with
Asparagus is such a versatile and easy side dish that goes with just about anything! But for a special spring treat, I'm pairing this roasted asparagus with two additional recipes this week on the blog to give you a complete menu - so stay tuned for that! In the meantime, here are some great recipe options that would be delicious with a pan of this Simply Perfect Roasted Asparagus!
These asparagus perfectly with my spring dinner party menu of lemon risotto, lamb chops, and this fresh lime tart with blackberry sauce - enjoy!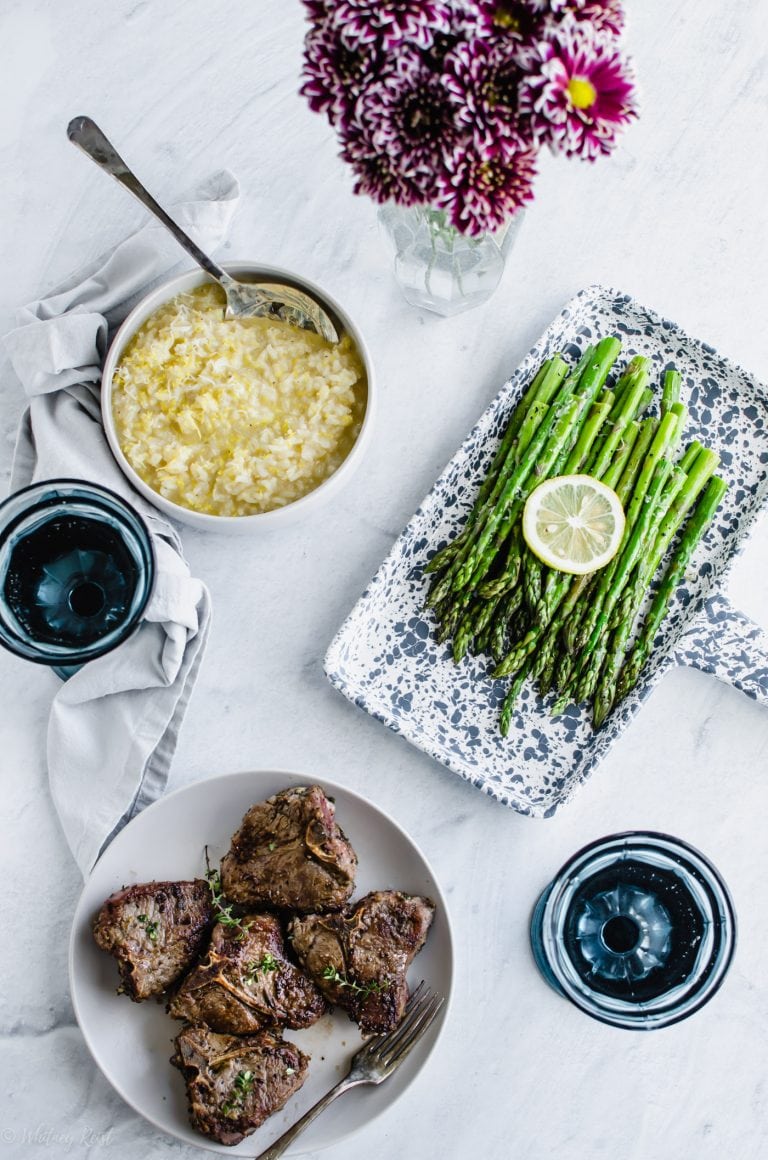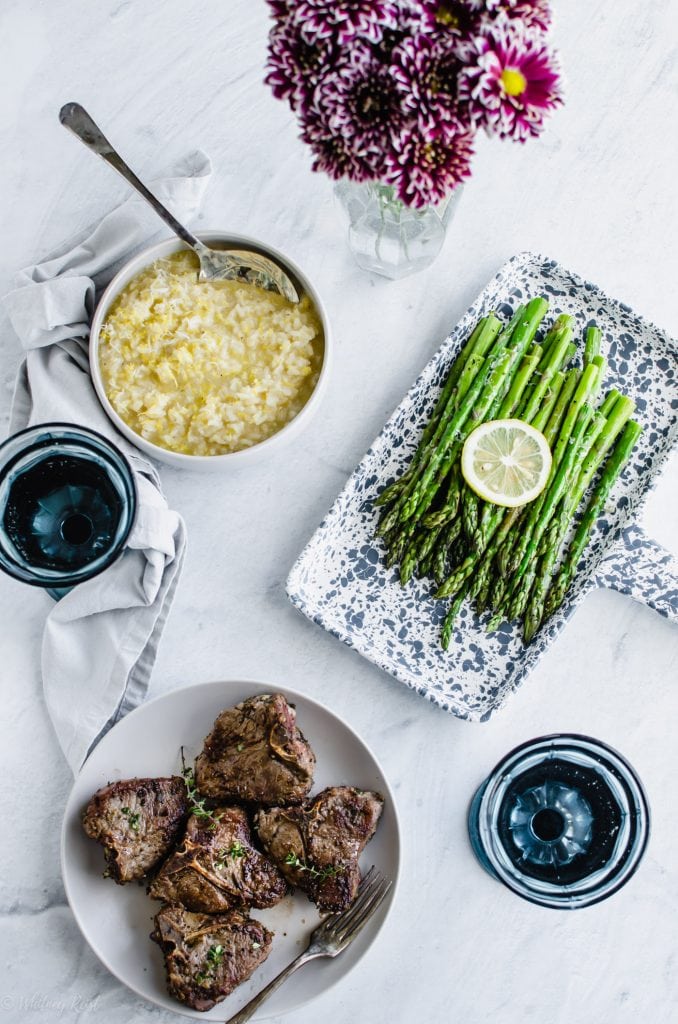 Are you ready to try this simply perfect roasted asparagus? I'm so excited for you to try this recipe! Once you get the chance to make it, please let me know how it turns out for you!
Leave a comment and rate the recipe below. This will help me with the creation of future recipes!
I'd also love to feature your creation in my weekly newsletter, so you can upload a photo to Instagram with the tag @sweetcayenne5 to be featured! Quick and easy recipe videos are available on my YouTube channel, and lots of menu inspiration on my Pinterest boards.
Recipe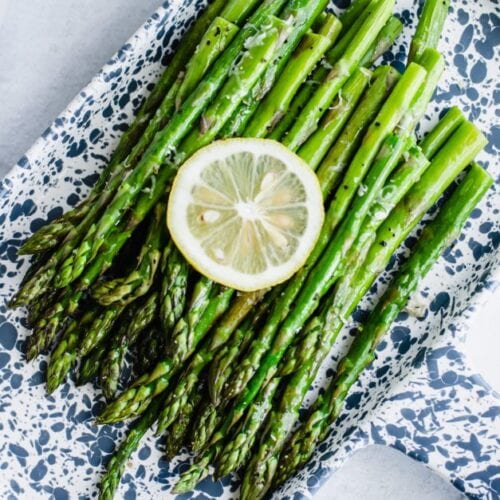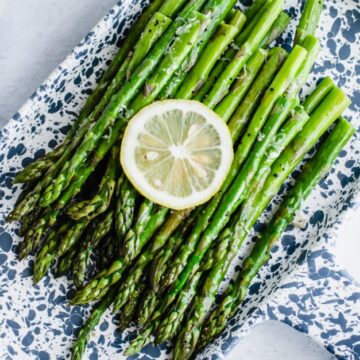 Perfect Roasted Asparagus
Roasted Asparagus is my FAVORITE springtime veggies - I love to serve it as a simple side as often as possible! The recipe uses less than 5 ingredients.
Print
Pin
Rate
Ingredients
1.25

pounds

fresh asparagus, trimmed (cut off about 2 inches off the woodiest part of the stalk)

1

tablespoon

olive oil

¾

teaspoon

coarse Kosher salt

½

teaspoon

freshly cracked black pepper

½

of a large lemon, zest and juice

¼

cup

freshly grated Parmesan cheese
Instructions
Preheat oven to 400℉. Line a baking sheet with parchment paper. Place the asparagus on the baking sheet. Drizzle the olive oil on top, then sprinkle with salt and pepper. Toss to coat.

Roast the asparagus for 7-8 minutes until tender but still slightly crunchy. The asparagus should be bright green and the stalks will only bend slightly (signs of overcooking include an olive green color and limp, floppy stalks). Remove from heat and sprinkle on the lemon zest, juice, and grated Parmesan. Toss to coat and serve immediately. Enjoy!
Notes
Note: if serving this with the pan seared lamb chops menu, roast the asparagus once the lamb chops are removed from the oven and resting on the stovetop.
Serving:
1
cup
|
Calories:
82
kcal
|
Carbohydrates:
5.9
g
|
Protein:
5.4
g
|
Fat:
5.2
g
|
Saturated Fat:
1.6
g
|
Cholesterol:
5
mg
|
Sodium:
188
mg
|
Potassium:
290
mg
|
Fiber:
3.1
g
|
Sugar:
2.7
g
|
Calcium:
80
mg
|
Iron:
3.1
mg
Pin this, pretty please!