Pan-Seared Tuscan Lamb Chops are my new go-to for dinner parties and special meals at home when I want something a little fancy! If you haven't tried Lamb Chops that needs to change today.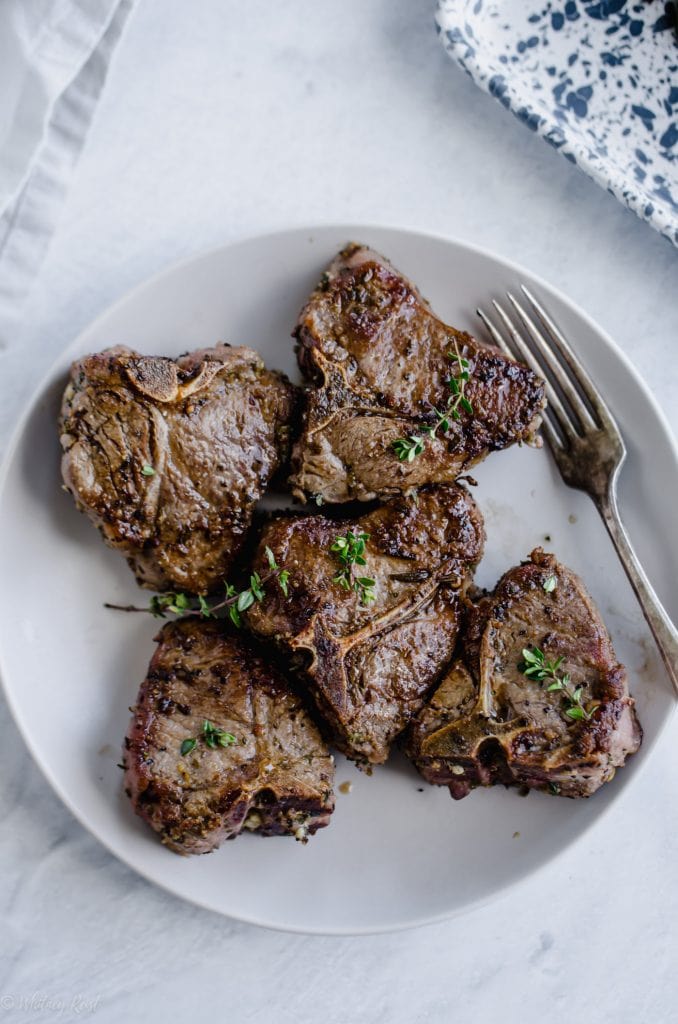 Jump to:
When Ryan and I were visiting his family for Christmas in TX this past year, his mom made the most incredible lamb chops for dinner one night. They tasted so fabulous and we all felt like we were eating something from a fancy restaurant - the chops were tender, juicy, and exploding with flavor! Of course I had to know where she got them and how they were cooked so I could try and make them at home. So first things first and much to my delight, she bought the lamb chops from Costco! We've had a Costco membership for a year now and find the best quality meats and seafood there. And sure enough, the next time we visited the one in Nashville, the lamb chops were there just as Ryan's mom described.
She assured me that the cooking process was simple - just some basic seasoning of salt and pepper, pan searing in some olive oil, and finishing them off in the oven. I was so excited and couldn't wait to try it for myself. I knew the most challenging aspect would be avoiding overcooking, so of course I had my meat thermometer at the ready for my first attempt. I had made lamb dishes in the past - mostly with ground lamp or the really thin "lollipop-style" lamb chops. But these lamb loin chops were pretty thick - about 1 ½ - 2 inches each, so I had to be careful. Read on to see exactly how I prepared them...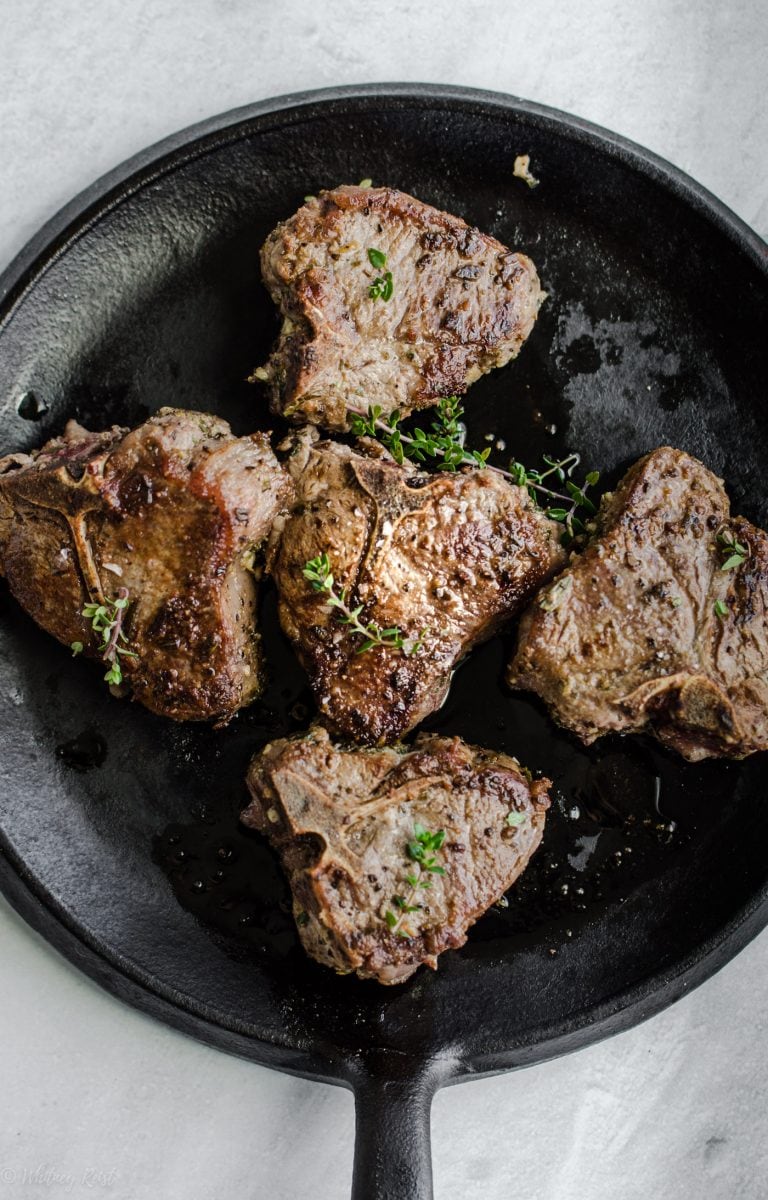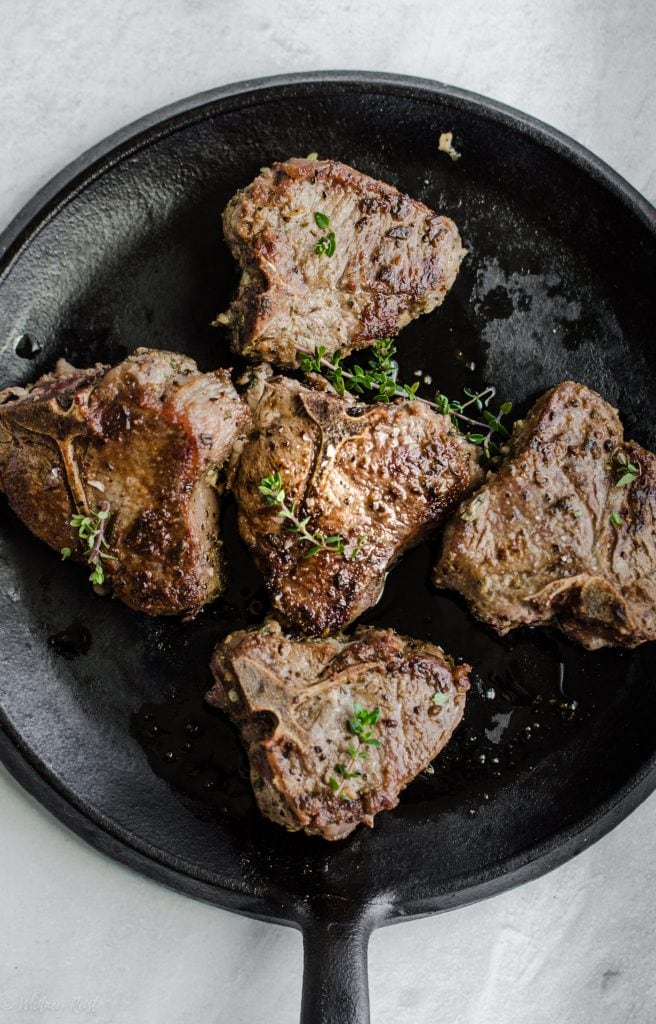 Ingredients
Lamb loin chops - for this recipe, I purchased about 2 pounds worth of lamb loin chops from Costco. There is a bone in the center of the chop, and each is about 1 ½ - 2 inches in thickness. Plan to serve 2 chops per person, and 3 for those with hearty appetites.
Olive oil - a clean, grassy olive oil is a great base for a lamb marinade, as it complements the unique flavor of lamb. And this is a recipe for TUSCAN lamb chops, so olive oil is a must!
Dijon mustard - a dab of Dijon in the marinade provides a hint of acidity that cuts through the richness of the lamb and enhances the flavor of the herbs. You won't taste the Dijon in the final dish, but it helps balance the overall flavor.
Fresh garlic, rosemary, thyme, and lemon zest - aromatic garlic, woodsey rosemary and thyme, and fresh lemon zest are commonly used together in Italian cooking and provide so much depth of flavor in a marinade. I always have these items on hand!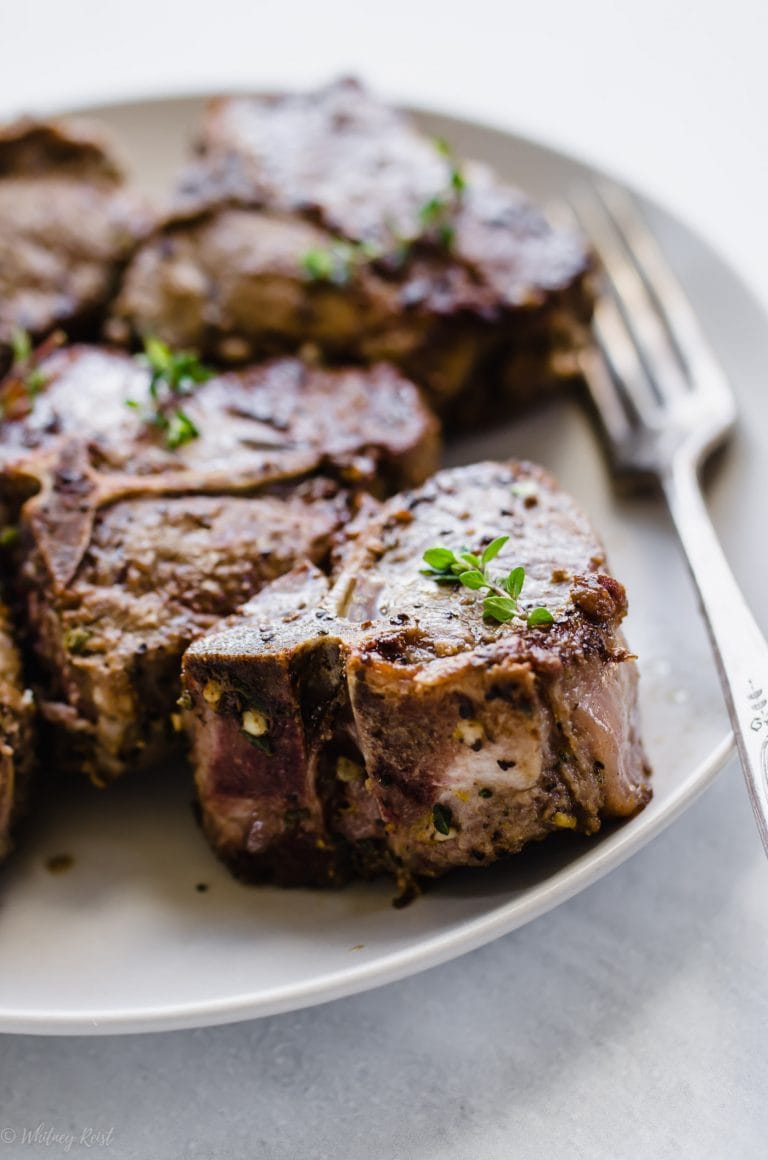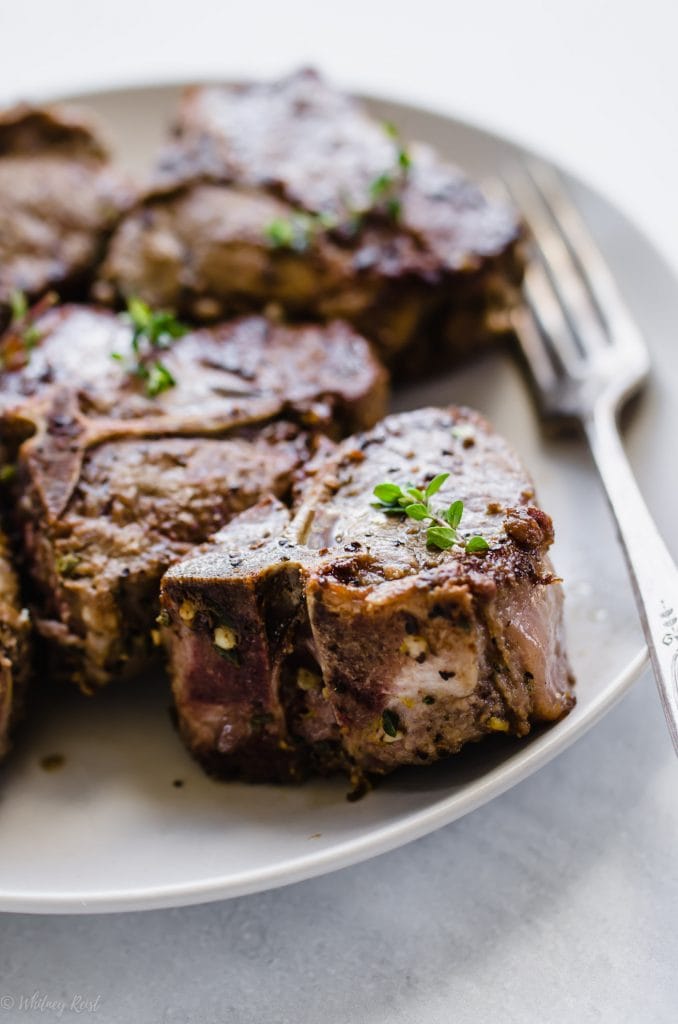 Instructions
Use a heavy-bottomed pan that is oven-safe - you want something that conducts heat evenly and can be transfered from the stovetop to oven. I love cast iron for this, and would recommend a good old-fashioned cast iron skillet or an enameled cast iron skillet or grill pan.
Combine butter and olive oil for searing - I love the way that the combo of butter and olive oil tastes on seared meats. It provides such a nice, golden-brown crust, and the flavor is incredible! I like to baste this mixture on the chops once I flip them to sear the other side.
Keep track of time - it's very crucial to set a timer so you can keep track of how long you sear the chops on each side, and how long they are in the oven. I recommend no more than 2 minutes per side, then a range of 4-6 minutes in the oven.
Make use of the stovetop and oven - when I worked in restaurants as part of my culinary training, the chef-favored way of cooking steaks or chops was to give them a quick sear on the cooktop and then finish them off at a high temperature in the oven. Thick meats tend to be raw in the center and overcooked on the outside when cooked on the stovetop for the entire time. Finishing them in the oven provides more even heat that circulates around the meat.
Use a meat thermometer - for the perfectly-cooked, medium-rare chop, you want the internal temperature to be 132 -135 degrees F when you remove it from heat. The only way to ensure it's cooked perfectly is to check the temperature as you time the chops in the oven. I like to stack two lamb chops together before inserting the probe so that I get a more accurate reading. Continue cooking in increments of 2 minutes until you reach the desired temperature.
Let them rest before cutting - 5-10 minutes of resting under loosely-tented foil allows the juices to redistribute throughout the muscle fibers of the chop. This ensures the juice won't all come out onto the plate when you cut the chop and that the meat stays moist throughout the thickness of the cut.
Keep these tips in mind when cooking your lamb chops and you are sure to have an amazingly tender and flavorful dish that will certainly impress your guests and loved ones!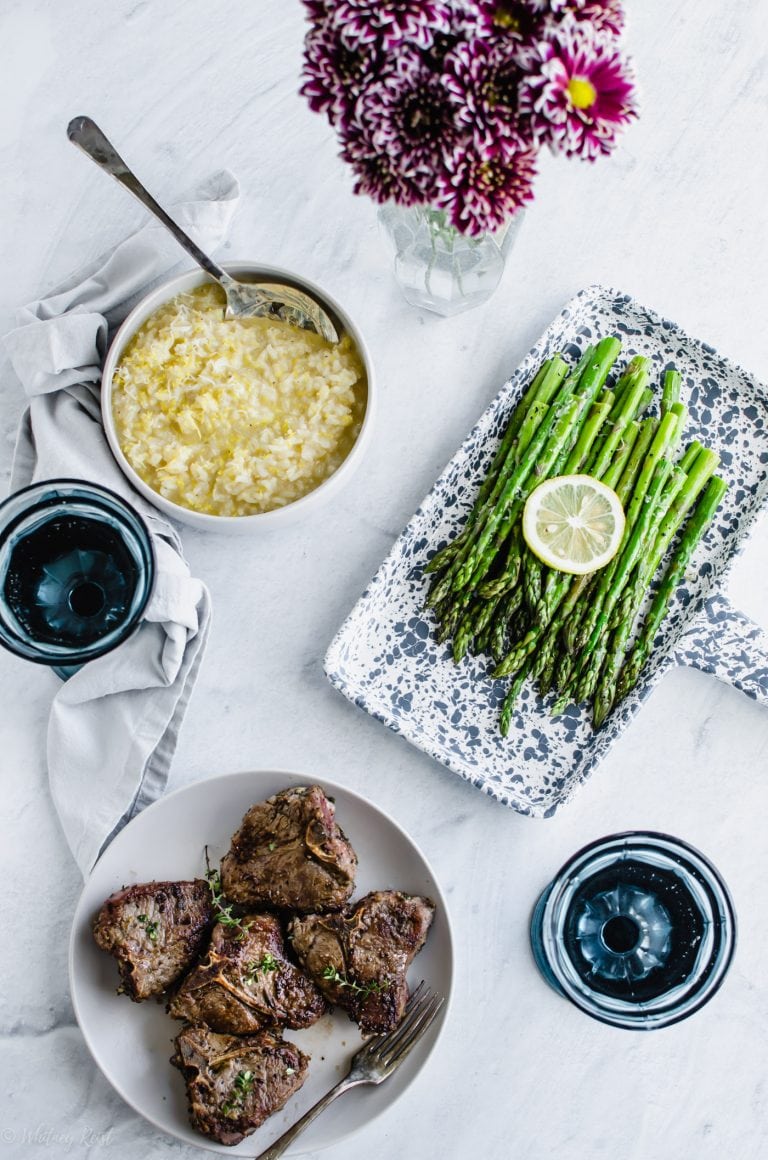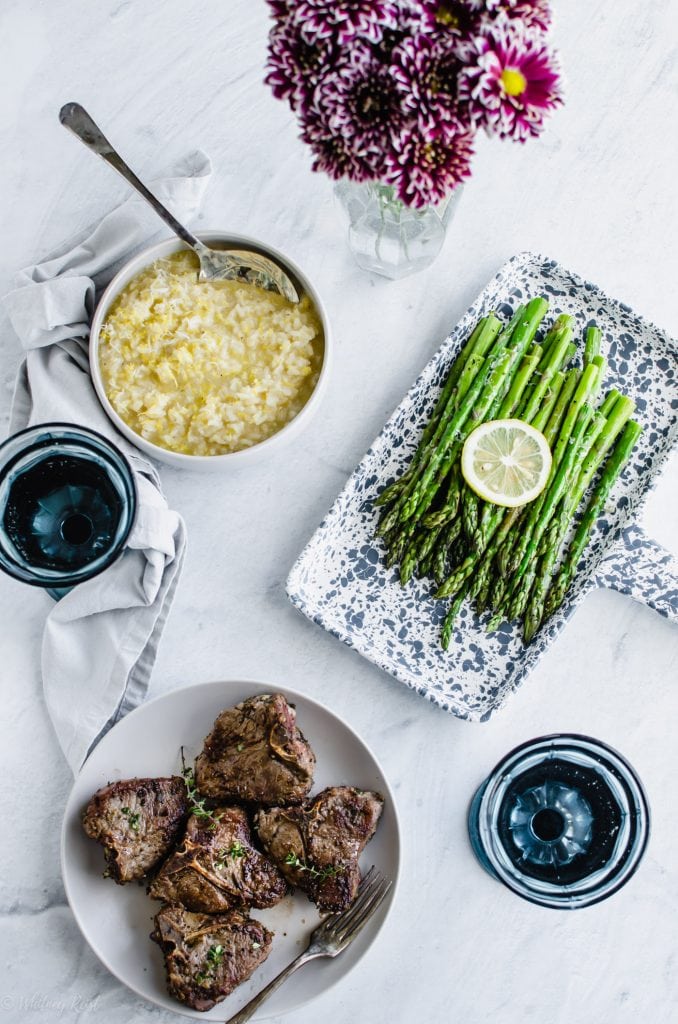 Similar recipes
These lamb chops pair perfectly with my spring dinner party menu of roasted asparagus, lemon risotto, and this fresh lime tart with blackberry sauce - enjoy!
Are you ready to try these Pan-Seared Tuscan Lamb Chops? I'm so excited for you to try this recipe. Once you get the chance to make it, please let me know how it turns out for you!
Leave a comment and rate the recipe below. This will help me with the creation of future recipes!
I'd also love to feature your creation in my weekly newsletter, so you can upload a photo to Instagram with the tag @sweetcayenne5 to be featured! Quick and easy recipe videos are available on my YouTube channel, and lots of menu inspiration on my Pinterest boards.
Recipe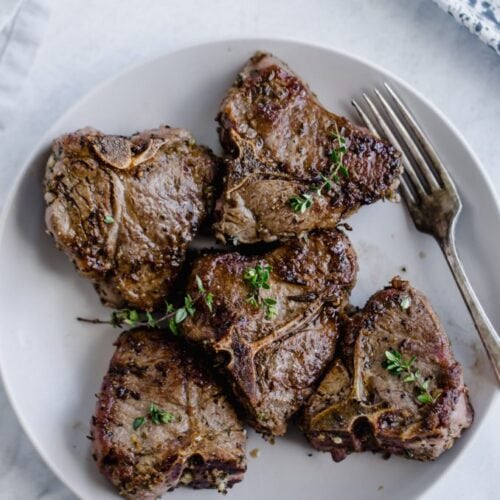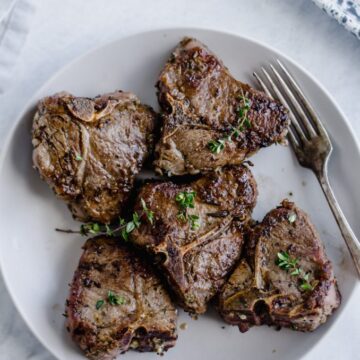 Pan-Seared Tuscan Lamb Chops
Lamb chops lightly season for an excellent high-protein meal. The recipe is gluten-free and low-carb.
Print
Pin
Rate
Ingredients
2

teaspoons

minced garlic

1

teaspoon

dijon mustard

4

tablespoons

olive oil, divided

1

teaspoon

minced fresh thyme

2

teaspoons

minced fresh rosemary

1

tablespoon

lemon zest (from 1 small lemon)

½

teaspoon

Kosher salt, plus more for pan-searing

½

teaspoon

black pepper, plus more for pan-searing

1.25

pounds

lamb loin chops (about 6 chops; 1 ½-2 inches thick)

1

tablespoon

butter
Instructions
In a shallow dish, combine the garlic, mustard, 3 tablespoons olive oil, herbs, and ½ teaspoon each of salt and pepper. Add the lamb chops and massage the mixture into both sides of each chop. Cover and marinate in the refrigerator for a minimum of one hour and up to 8 hours. Try to flip the chops halfway to ensure even flavor throughout.

A half hour prior to cooking, let the chops sit out at room temperature for 15 minutes. Preheat the oven to 425℉. Pat the chops dry with a paper towel, then season both sides of each chop with coarse salt and pepper.

Preheat a cast iron skillet over medium high heat. Add the butter and remaining tablespoon of olive oil. Sear the lamb chops for exactly two minutes on each side. Use a spoon to baste the chops with the butter and oil from the pan once you flip them. Transfer the hot skillet to the oven and continue cooking for 4-6 minutes for medium rare or a thermometer inserted into the center of two chops stacked together reads 135℉.

Cover loosely with foil and let the chops rest for 5-10 minutes before serving hot.
Serving:
2
chops
|
Calories:
277
kcal
|
Carbohydrates:
0.9
g
|
Protein:
24.1
g
|
Fat:
19.5
g
|
Saturated Fat:
6
g
|
Cholesterol:
87
mg
|
Potassium:
300
mg
|
Fiber:
0.2
g
|
Iron:
2.2
mg
Pin this, pretty please!