This juicy and flavorful Balsamic Flat Iron Steak Sandwich recipe with Grilled Peaches is simple to prepare and perfect for a laid-back dinner on the grill.
Disclosure statement: For this blog post, I've partnered with Beefitarian™ as part of the Burgers and Beats contest to support the Nashville Food Project. This post is sponsored by Beefitarian™ but the content and opinions expressed here are my own."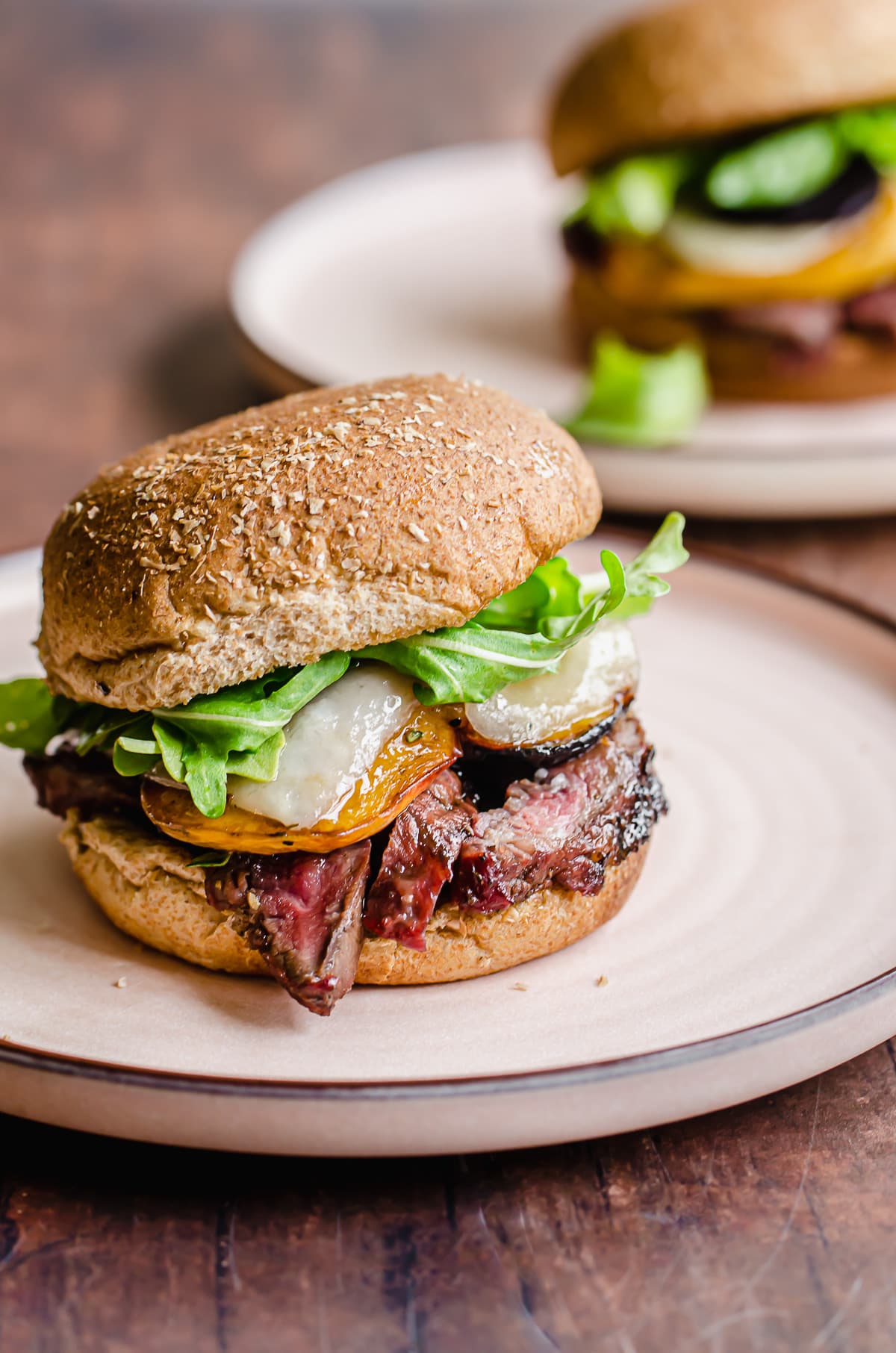 Jump to:
Video
About the Recipe
If you're in search of something delicious to throw on the grill, look no further than this succulent steak sandwich recipe filled with tender strips of balsamic marinated flat iron steak and fresh summer peaches.
This recipe was inspired by two of my favorite things about living near Nashville: peaches from The Peach Truck and country music! More specifically, Lauren Alaina's song "Georgia Peaches." Summer nights can't get any better when you are grilling delicious peaches while listening to a peach-inspired song!
Beefitarian is all about the beef, and making burgers made with cuts of beef other than ground meat is a great way to inspire creativity and build confidence with cooking beef. Some of the cuts of beef I have enjoyed experimenting with in the past include sirloin roast cooked in the Instant Pot for Korean beef wraps, shredded chuck roast for BBQ sandwiches, and thinly-sliced flat iron steak for sliders!
I am thrilled to have created this steak sandwich recipe in partnership with Beefitarian as part of the Burgers and Beats Contest to support The Nashville Food Project.
All of the burgers will be entered into a contest on www.beefitarian.com, where you can VOTE for the best burger recipe from July 20 - 30th!
For every vote, Beefitarian will donate $1 up to $10,000 to The Nashville Food Project.
***UPDATE July 31st, 2020 - I actually won the contest! Thanks everyone for your votes. I really appreciate everyone for getting involved and helping The Nashville Food Project raise money for a great cause.
Sounds like fun, right? So let's talk beef for a bit!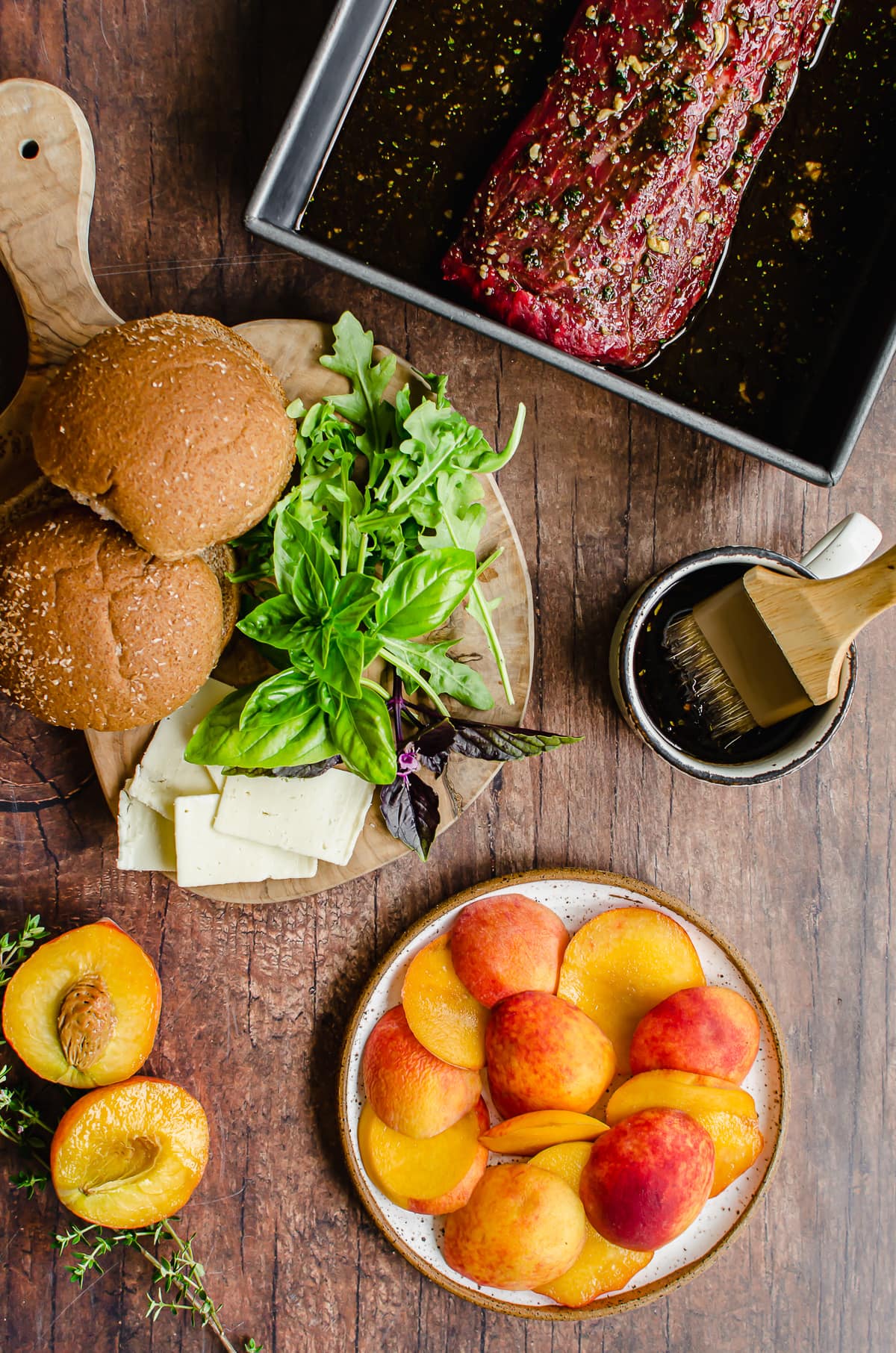 Ingredients
You don't need many ingredients to make beef taste as amazing as steak you would order at a high-end restaurant. With just a few simple ingredients and chef-tested techniques, you can have the confidence to prepare any cut of beef!
For this steak sandwich recipe, we are using one of my favorite beef cuts - Flat Iron Steak. This is an affordable yet incredibly tender and flavorful cut of beef that's easy to find in any grocery store!
Not only is flat iron steak delicious, tender, and easy on the wallet, it's an amazing source of high-quality, lean protein that's rich in nutrients like vitamins b12, niacin, iron, and zinc. That satisfies the dietitian AND chef in me!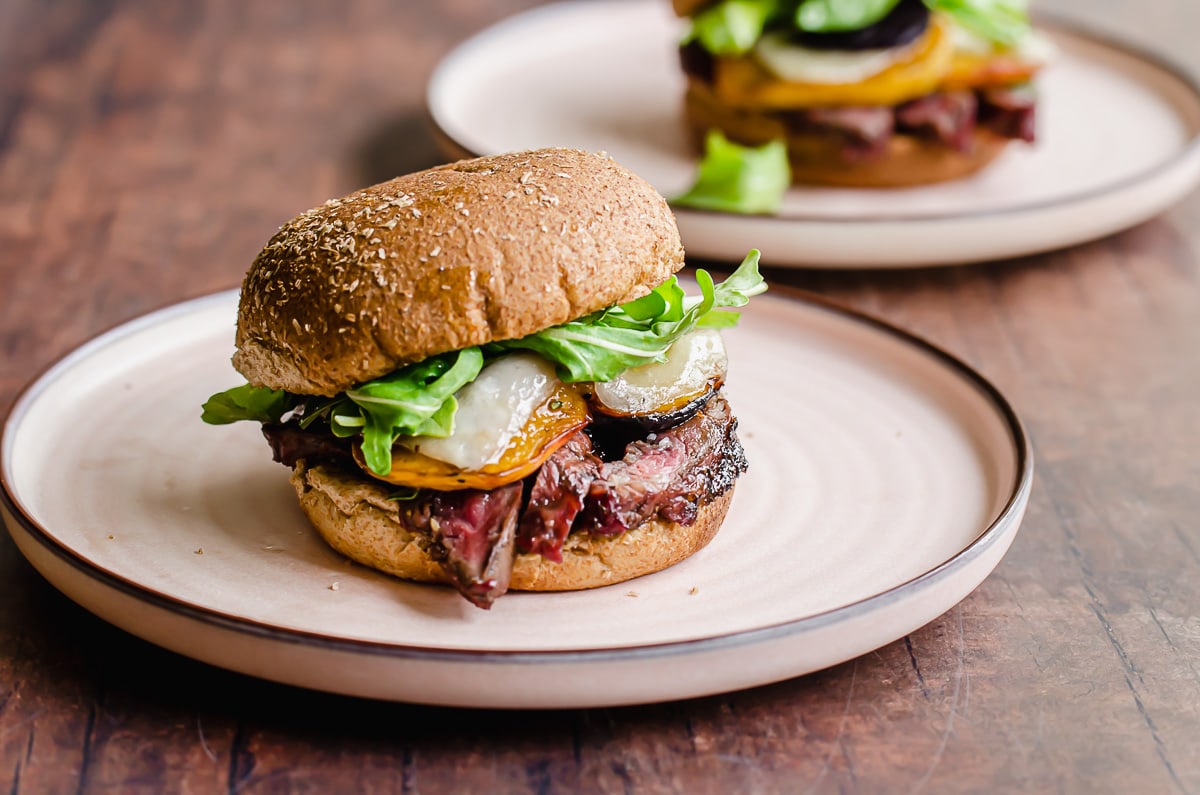 Other ingredients that are delicious with this steak sandwich:
Balsamic marinade and glaze - we will use the same pantry staples to make a marinade for the steak and a glaze for the peaches.
Coarse Kosher salt - a must for properly seasoning any cut of beef!
Buns - I love a good whole grain bun for this recipe, or a brioche bun to make it extra special.
Fresh peaches - these will be sliced thinly and grilled to jammy perfection.
Havarti cheese - a current fav that melts beautifully and tastes great with fruit.
Fresh arugula - the peppery notes taste delicious with beef.
Fresh basil - because it's summer, and every dish needs a good dose of herbs!
Instructions
Step 1: Salt the beef one day ahead. I'm currently reading the book Salt, Fat, Acid, Heat, by chef Samin Nosrat. The biggest lesson learned? Salt your meat ahead of time! Just sprinkle on some salt on all sides, then let the beef hang out in the fridge overnight. It will add so much flavor and tenderness!
Step 2: Marinate the beef. Whisk together a few ingredients in a bowl, then pour it over the salted beef. Let the flavors meld together in the fridge for 2 hours.
Step 3: Make a simple balsamic glaze. It will only take 10 minutes, and you'll have an amazing, finger-licking sauce to spoon over the steak and peaches.
Step 4: Grill the steak and peaches over medium-high heat. See the recipe below for specific details. No grill? Use a cast-iron skillet! You'll cook the steak for about the same amount of time. The peaches can go under the broiler for 3-4 minutes while the steak rests.
Step 5: Slice your steak as thinly as possible, then stack it high on a toasted bun with peaches and all the fixings!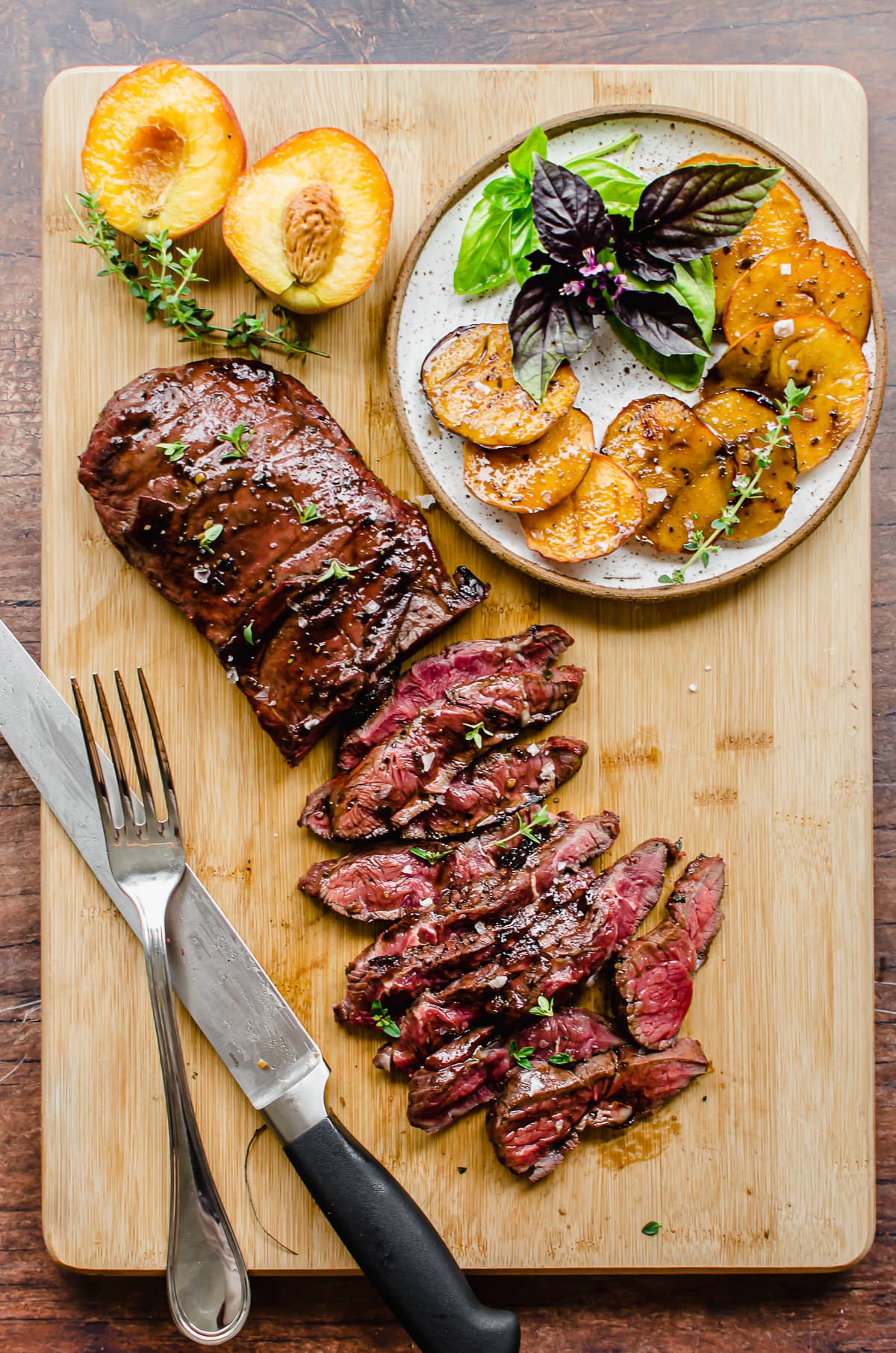 Possible Modifications
Skip the pre-salt - forget to salt your beef the night before? No problem! Just add 1 tablespoon of Kosher salt to the marinade ingredients and continue with the recipe.
Need to use up leftover steak? This recipe is perfect for that! Thinly slice any leftover steak while it's still cold from the fridge. Saute it in a hot cast-iron skillet for 3-4 minutes until it's heated through. Serve it as a sandwich with the balsamic glaze and peaches.
Use a different cut:
Substitute flank or skirt steak for flat iron steak and increase the marinade time from 12-24 hours.
Turn this recipe into a kabob - use marinated 1-inch cubes of top sirloin steak and thread it onto skewers with fresh peach, bell pepper, and onion. Grill for 3-4 minutes per side over medium-high heat.
As you can see, the versatility of beef is what makes being a Beefitarian so easy AND delicious!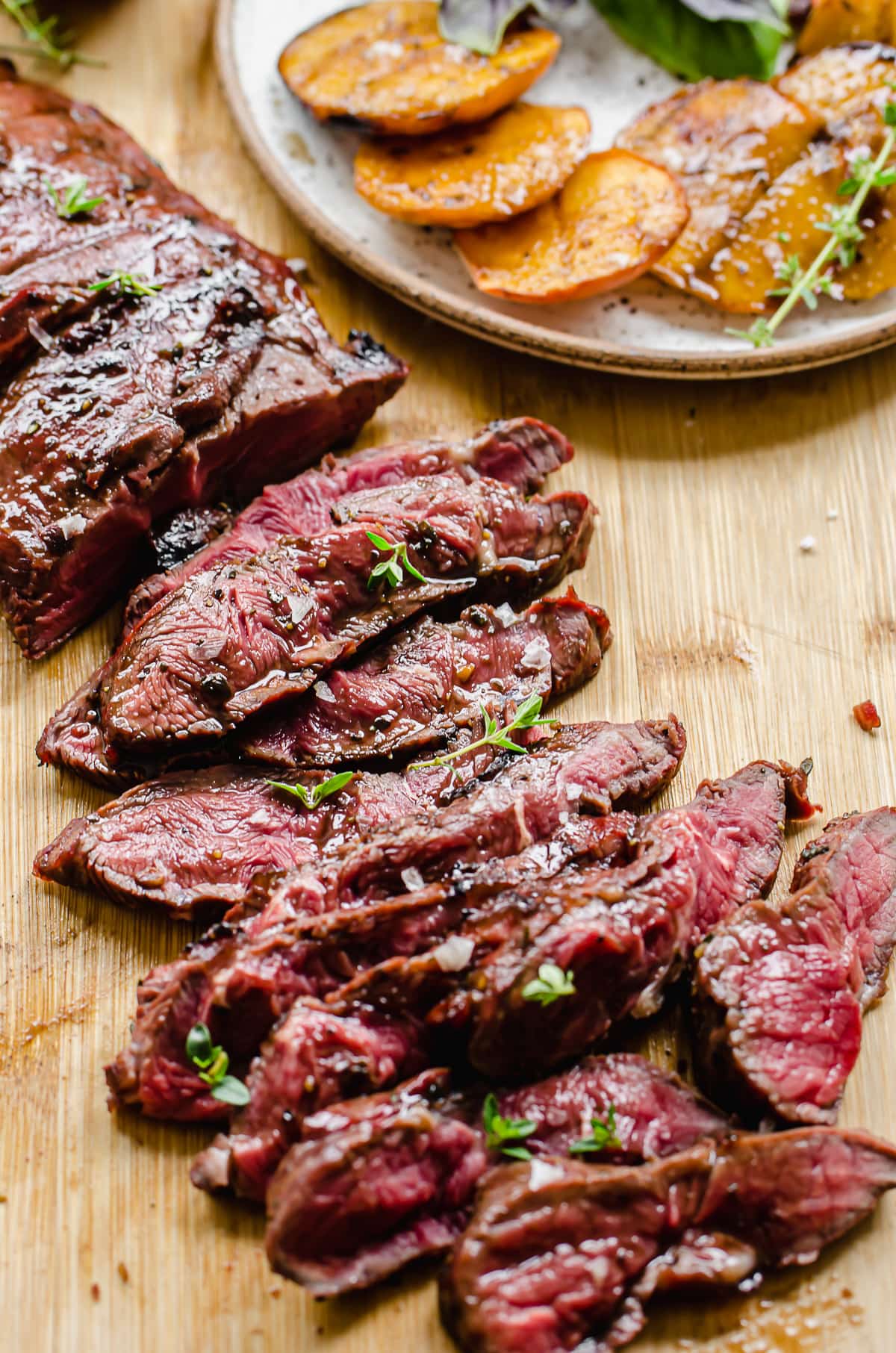 Other Delicious Beef Recipes
Are you ready to make this Balsamic Flat Iron Steak Sandwich with Grilled Peaches? I can't wait for you to try it!
And don't forget to head over to www.beefitarian.com, where you can VOTE for the best burger recipe from July 20 - 30thin support of The Nashville Food Project!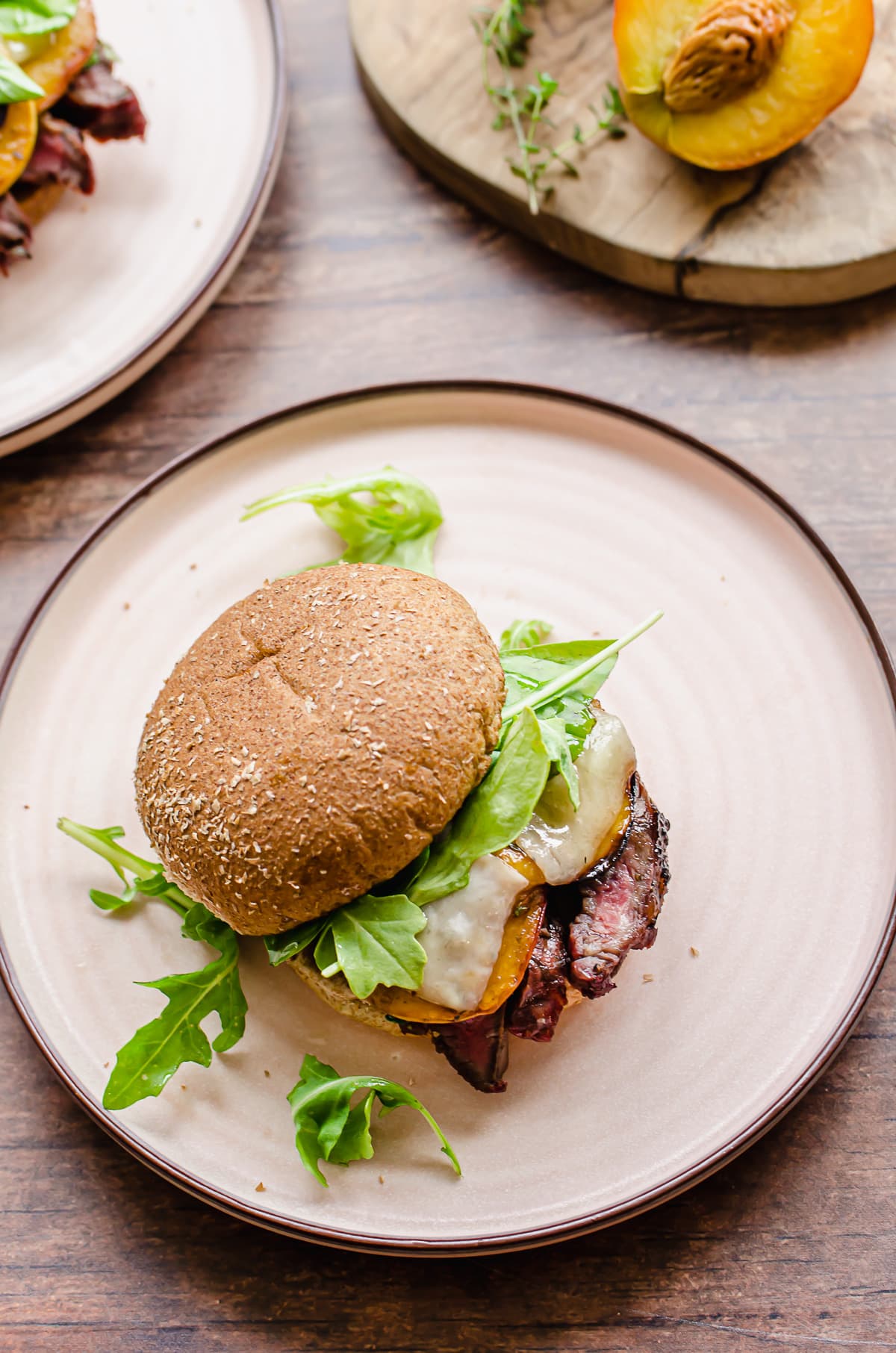 Recipe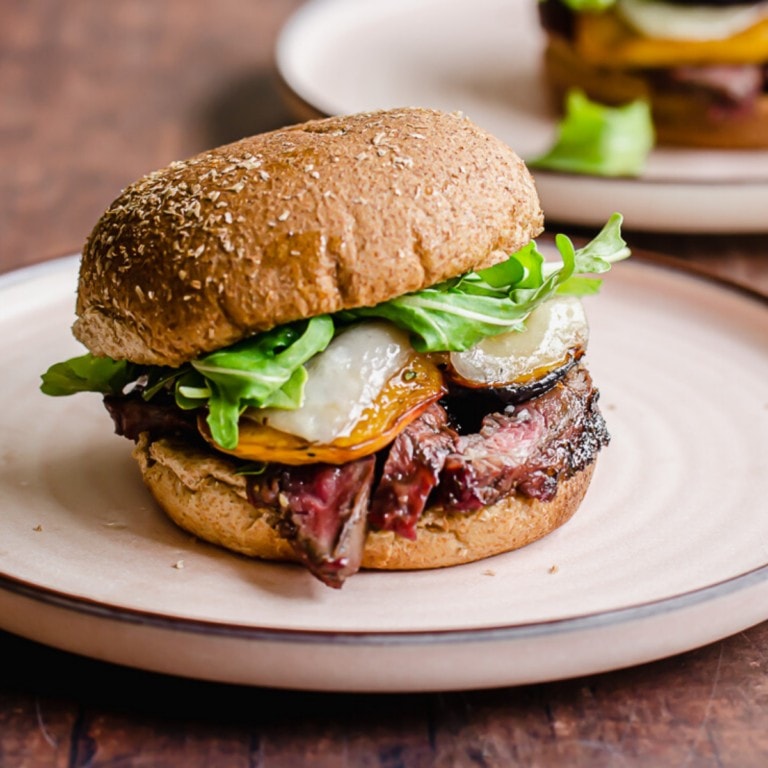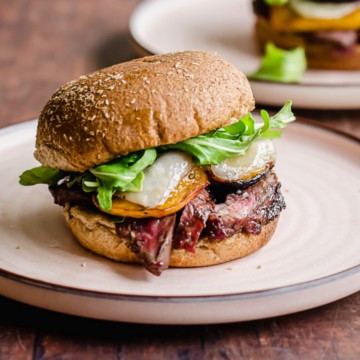 Balsamic Flat Iron Steak Sandwich with Grilled Peaches
This juicy and flavorful Balsamic Flat Iron Steak Sandwich recipe with Grilled Peaches is simple to prepare and perfect for a laid-back dinner on the grill.
Print
Pin
Rate
Ingredients
For the steak:
1.5

pounds

flat iron steak

Kosher salt

¼

cup

olive oil

¼

cup

balsamic vinegar

2

tablespoons

honey

1

tablespoon

fresh thyme, finely chopped

1

tablespoon

dijon mustard

1

tablespoon

minced garlic

½

teaspoon

pepper
For the peaches:
3

large

peaches, sliced into ¼'' rounds

¼

cup

balsamic vinegar

2

tablespoons

honey

2

tablespoons

salted butter

1

teaspoon

fresh thyme, finely chopped

½

teaspoon

coarse black pepper

¼

teaspoon

Kosher salt

Pinch

red pepper flakes
Burger assembly:
Thin slices of havarti cheese, about 12 total

Buns

Fresh basil leaves (optional)

Arugula
Instructions
The night before:
Place the steak on a wire cooling rack fitted inside of a baking pan. Season the steak on all sides with Kosher salt. Place in the fridge to age, uncovered, for a minimum of 8 hours and up to 24 hours.
The day of:
Combine the ingredients for the marinade in a small bowl: olive oil, balsamic vinegar, honey, thyme, Dijon, garlic, and pepper. Pour over the steak. Let marinate for 2 hours.

Preheat a grill to medium-high heat (425°F). While the grill heats, prepare the balsamic sauce for the peaches.

In a small saucepan, combine the balsamic vinegar, honey, butter, thyme, pepper, salt, and red pepper flakes. Bring to a boil over medium heat. Reduce heat to medium-low and simmer vigorously (not a full boil), stirring often, for 4 minutes. Remove from heat.

Once the grill is heated, remove the steak from the marinade. Grill for 4-5 minutes on each side or until the internal temperature is 125°F for medium-rare, 135°F for medium, or 145°F for well-done. Let the steak rest for 10 minutes before slicing against the grain into thin strips.

While the steak rests, grill the peaches for 2 minutes. Flip and grill for 2 minutes more after brushing the balsamic glaze on the side with grill marks. Remove from grill and transfer to a serving plate.

Serve the thinly-sliced steak on a toasted burger bun topped with thinly-sliced havarti, grilled peaches, extra balsamic sauce, fresh basil, and arugula. Enjoy!
Serving:
1
Burger
|
Calories:
224
kcal
|
Carbohydrates:
10.8
g
|
Protein:
13.5
g
|
Fat:
15
g
|
Saturated Fat:
6
g
|
Cholesterol:
330
mg
|
Sodium:
94
mg
|
Potassium:
1.5
mg
|
Fiber:
0.4
g
|
Sugar:
3.5
g
|
Calcium:
12.5
mg
|
Iron:
0.3
mg
Similar recipes to enjoy: