This Mushroom Swiss Smash Burger is a blended burger recipe you can make in a cast iron skillet - it's perfect for those who don't have a grill and is super easy to make!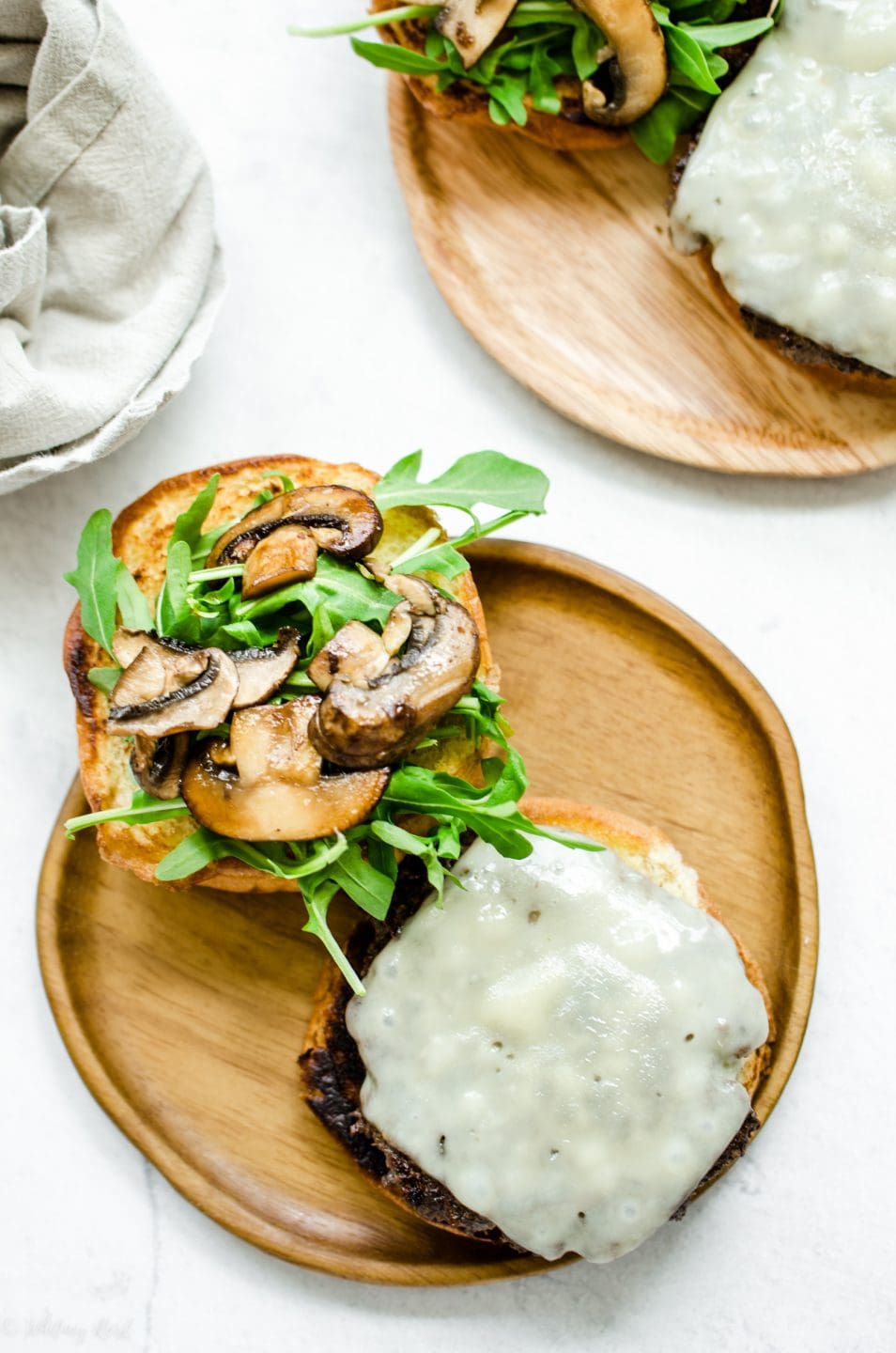 It's time for a new addition to my blended burger family! Remember when I told you about the blended burger in my post on the Best Homemade Hamburger? I love those SO much. Basically, a blended burger is one that combines chopped mushrooms + ground meat to make a delicious and nutritious blend for your favorite burger, taco, meatloaf, meatball, and other ground meat recipes! To be considered a "blend," mushrooms need to make up a minimum of 25% of the mixture. Not only does this add tons of flavor and keep the meat nice and juicy, it's a nutrition power up that is easy and affordable!
Today's recipe is all about the SMASH burger. I'm sure you are familiar with these.....because this is how burgers are made at many of our favorite fast food restaurants! Think Shake Shack, In-And-Out, Smashburger, Freddy's.....the list goes on and it's making me hungry. Basically, a smash burger is an easy type of burger you can make in your kitchen WITHOUT a grill. Which is a totally necessary recipe to have, because there are so many of us who don't have grills! You can make a smash burger in any type of heavy-bottomed skillet, but my favorite kind is a cast iron skillet. Ready to learn how to make one? Here's what you need to know...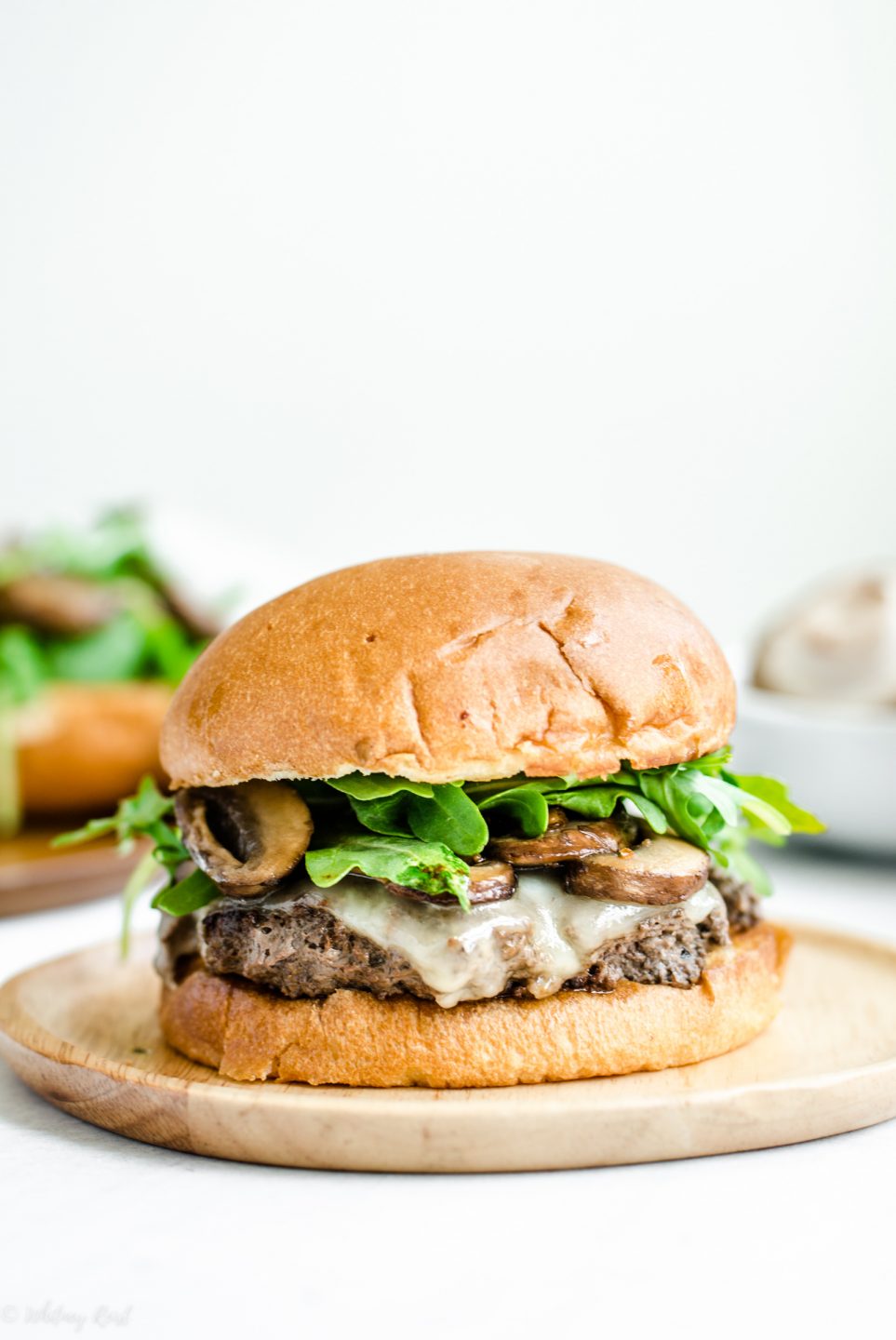 Tips for Making Smashburgers
Use light hand when blending your meat mixture - the key to making a tender and juicy burger is not to overwork the ground beef. Use light strokes to fold in the mushrooms and seasonings into the ground beef.
Divide the meat into loose mounds - once the beef mixture is ready, use a 4-ounce scoop or clean hands to divide into four shaggy/loose mounds. The shaggier the mound, the better, as you will have nice brown bits that form around the outside of the patty as it cooks.
Cook with cast iron - a well-seasoned, preheated cast iron skillet is a great substitute for a grill when you want to cook delicious burgers and steaks. And you can cook with cast iron any time of year in any weather!
Use a sturdy spatuala for smashing - a good offset metal spatula should get the job done nicely. Use a firm pressure when you smash - you want the end result to be about 1/2 inch thick Don't worry about smashing all of the juices out. You only smash on one side and the mushrooms keep the meat mixture nice and juicy.
Melty cheese is a must! I used baby Swiss for this recipe so I wouldn't be dealing with the large holes in regular Swiss. Other great options include pepper Jack, Colby Jack, thinly-sliced cheddar, or old-school American. The cheese is place on the patty once it's flipped to the second side so it has plenty of time to melt.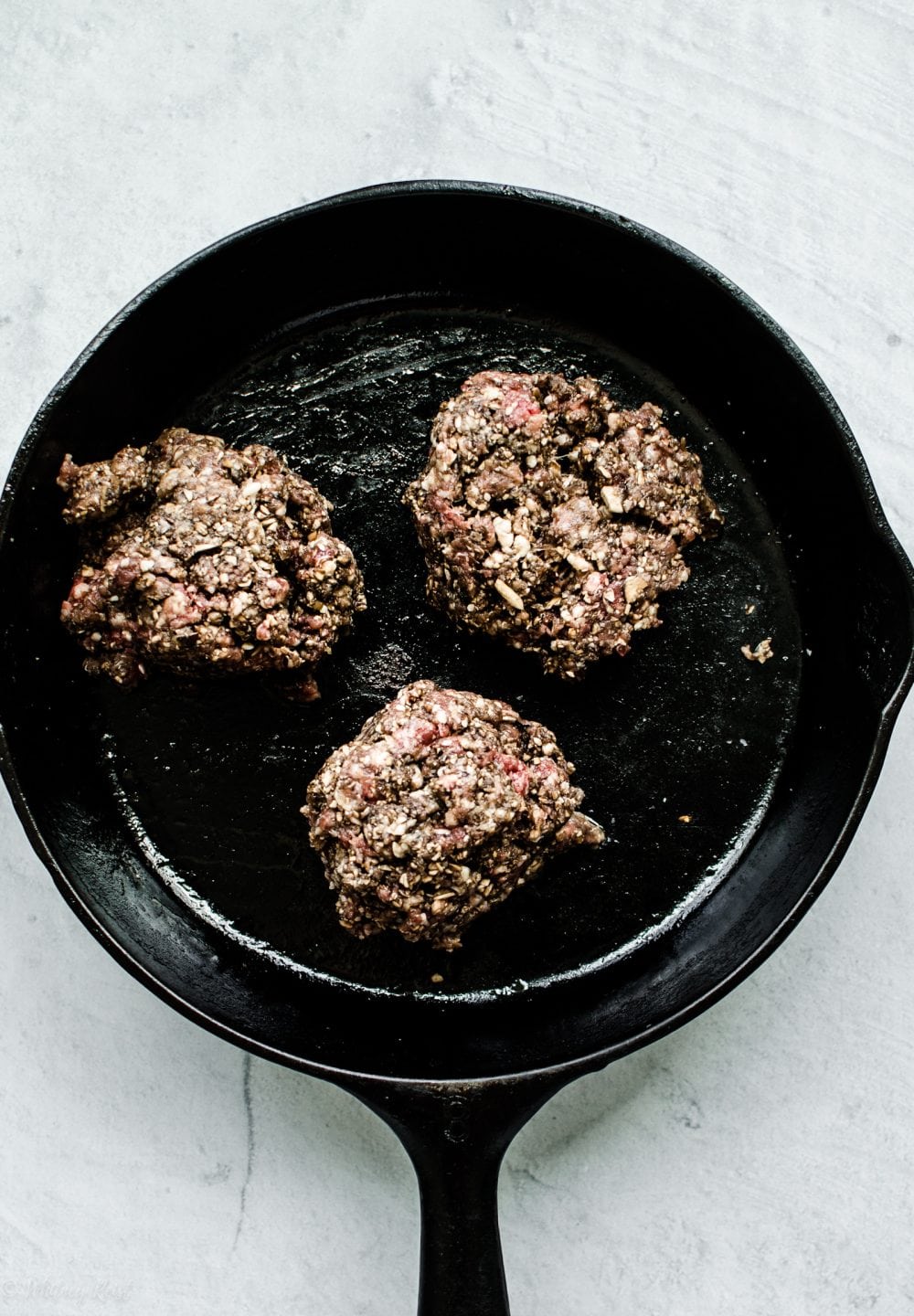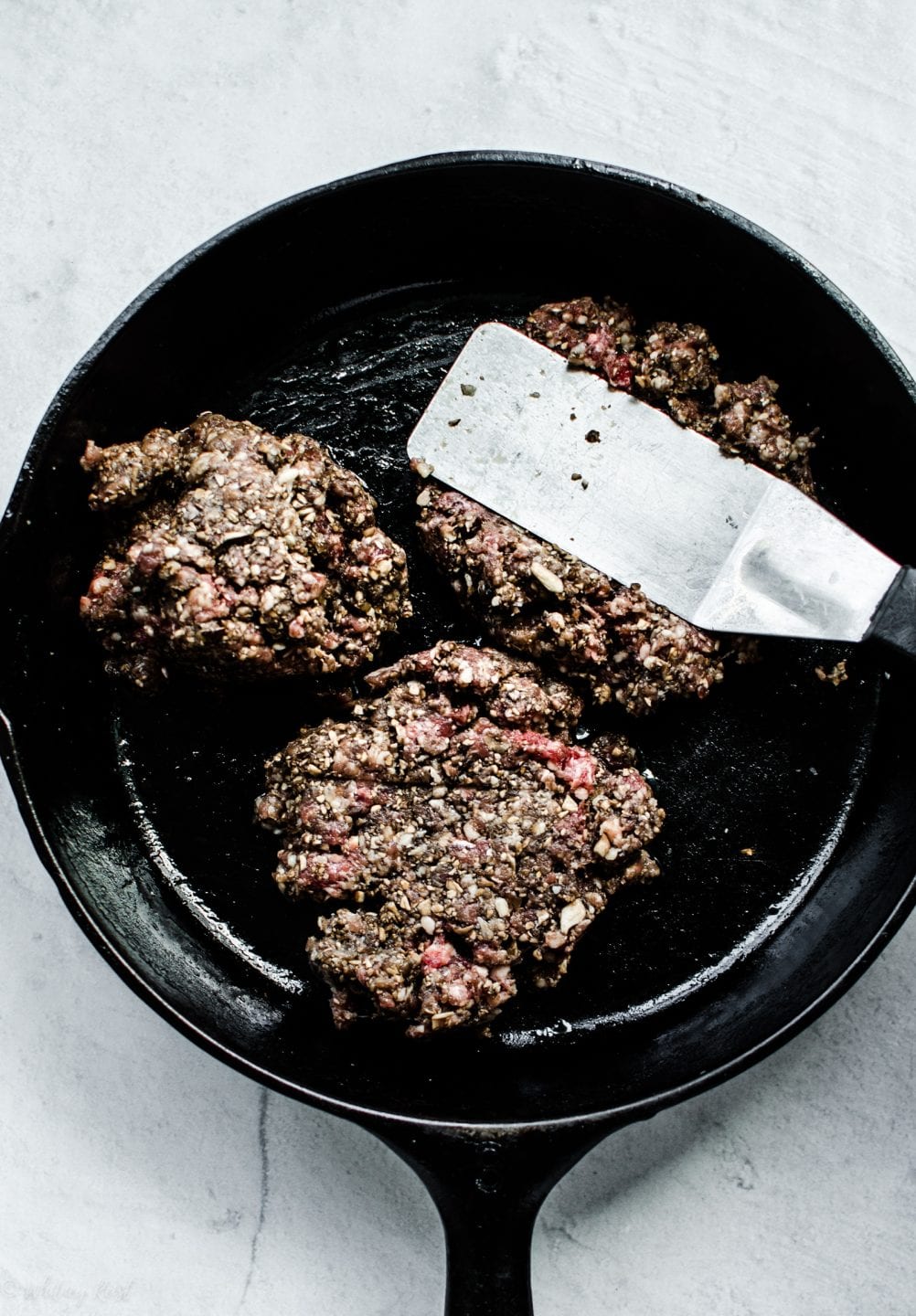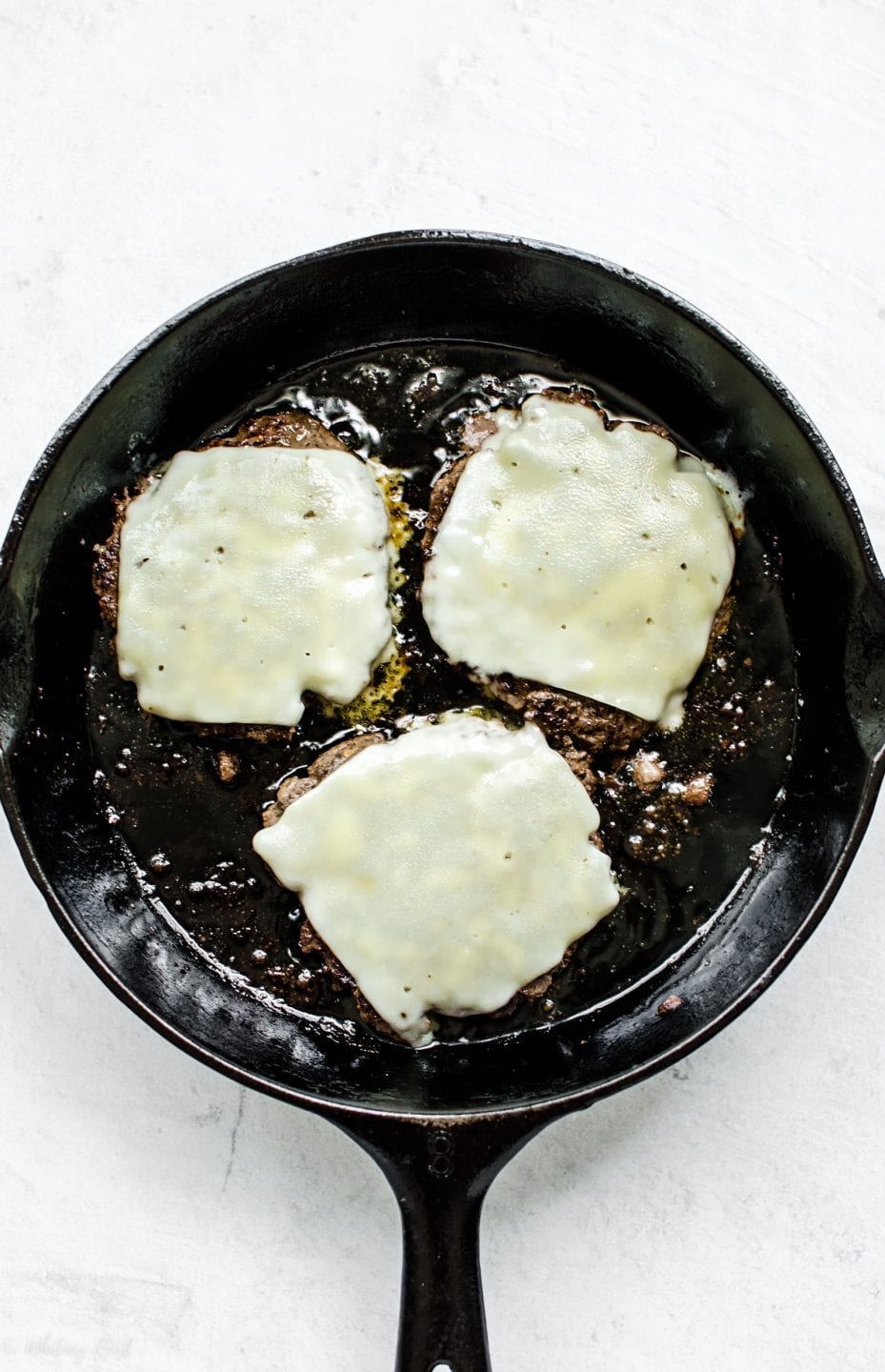 Ingredients for Mushroom Swiss Smashburger
Lean ground beef - try and buy a mixture that is 90/10 or 93/7 lean ground beef. The ground mushrooms that are added to the beef not only increase the volume of your burger mixture, but help retain juices while cooking.
Mushrooms - any blend of mushrooms will work for this recipe! White button, baby bella, crimini, portabella - all are great options! Be sure to wipe the mushrooms clean with a damp paper towel as opposed to running them under water. This will keep them from getting soggy and help them brown better. The mushrooms you add to your ground beef should be chopped to the consistency of ground meat.
Seasonings - I like to enhace the flavor of the beef with some worcestershire sauce and Montreal steak seasoning. Feel free to use the seasonings that sound good to you!
Cheese - baby Swiss cheese has smaller holes, which I find easy to work with when melting the cheese on top of a burger patty.
Brioche Buns - I love a good brioche bun! It's buttery, rich, and oh-so-delicious.
Arugula - these type of green lends a nice peppery bite to the burger and complements the mushrooms really well.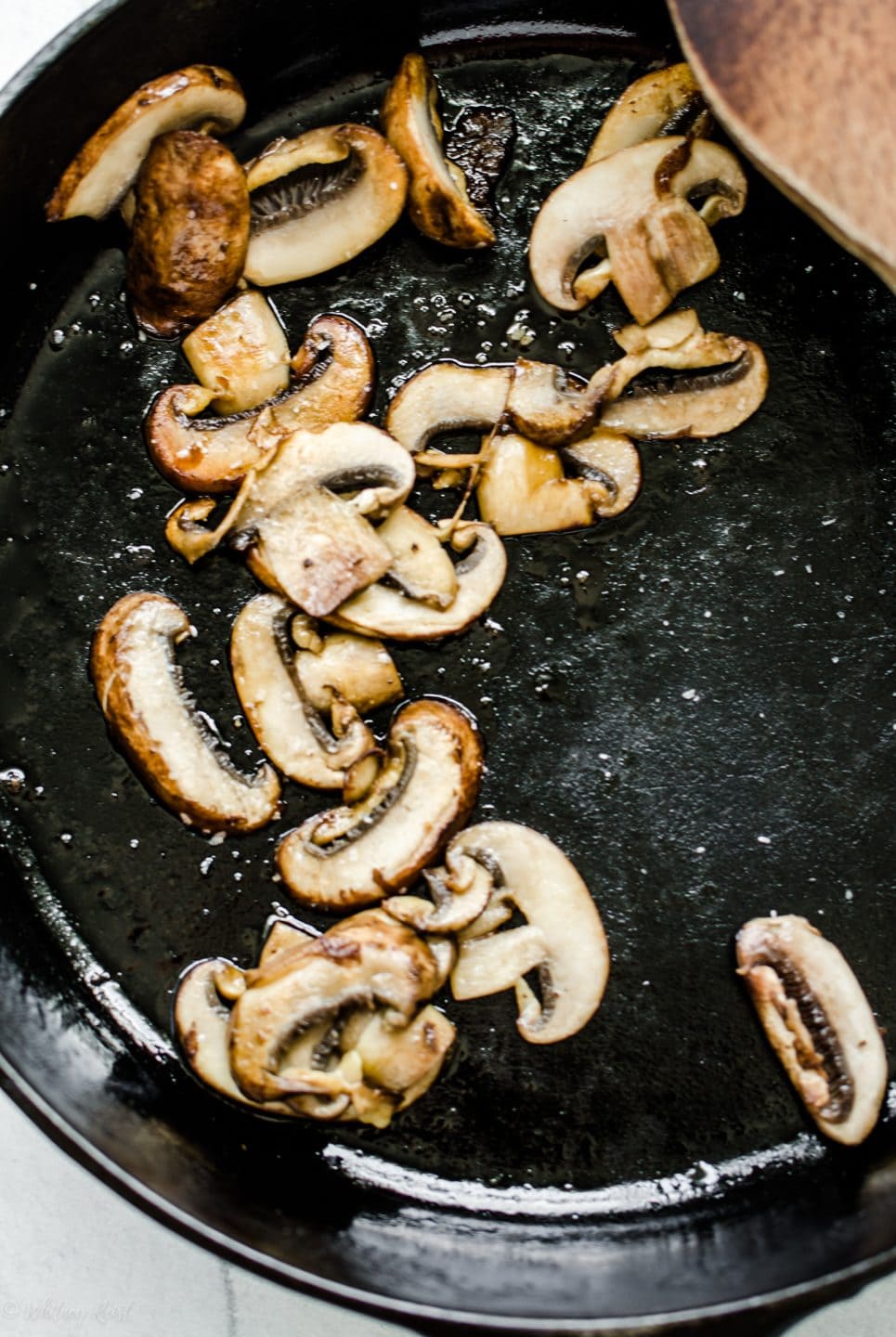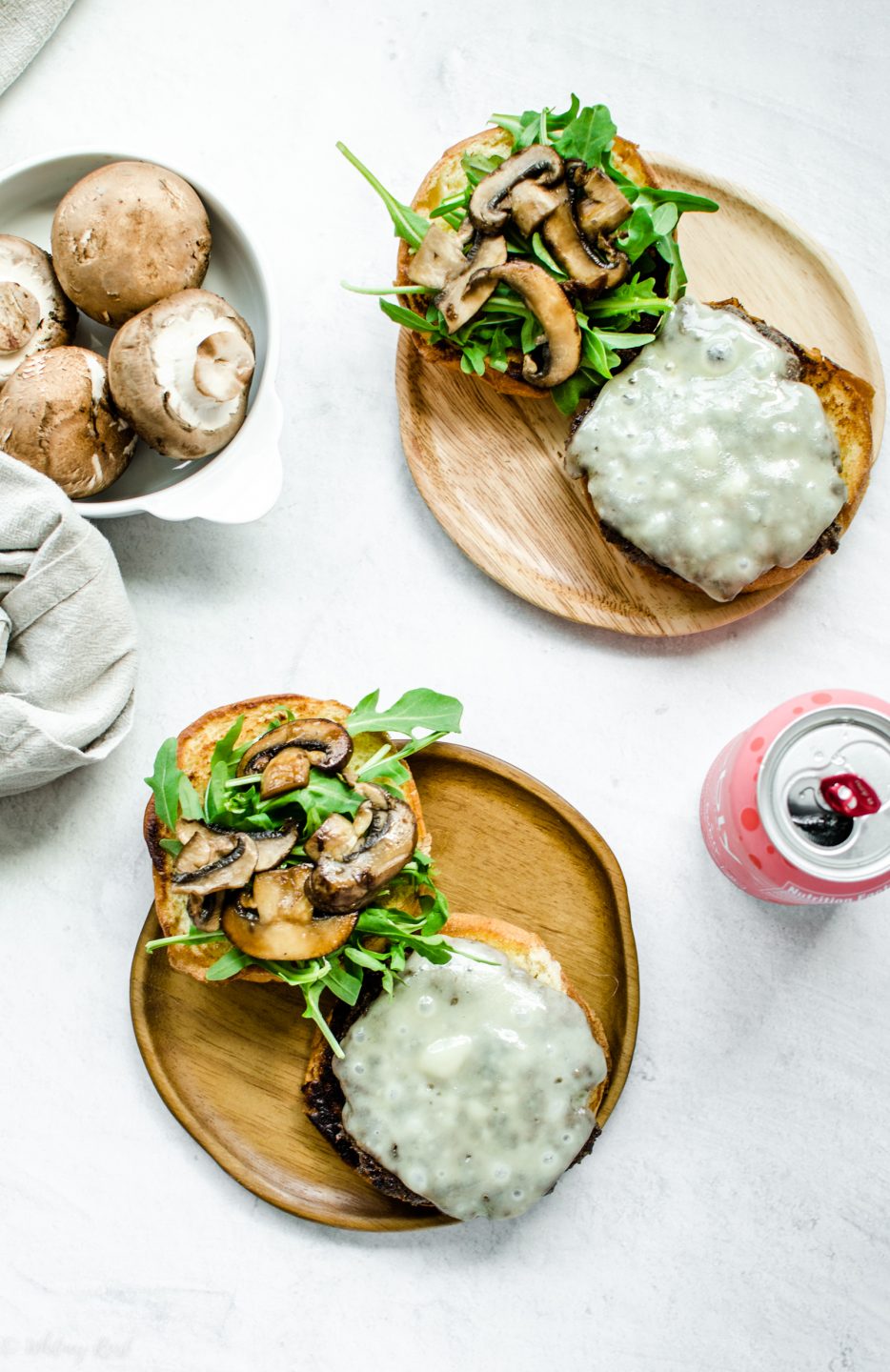 Are you ready to try these Mushroom Swiss Smashburger? I'm so excited for you to try this recipe. Once you get the chance to make it, please let me know how it turns out for you! Leave a comment and rate the recipe below. This will help me with the creation of future recipes! I'd also love to feature your creation in my monthly newsletter, so you can upload a photo to Instagram or Twitter with the tag @sweetcayenne5 to be featured!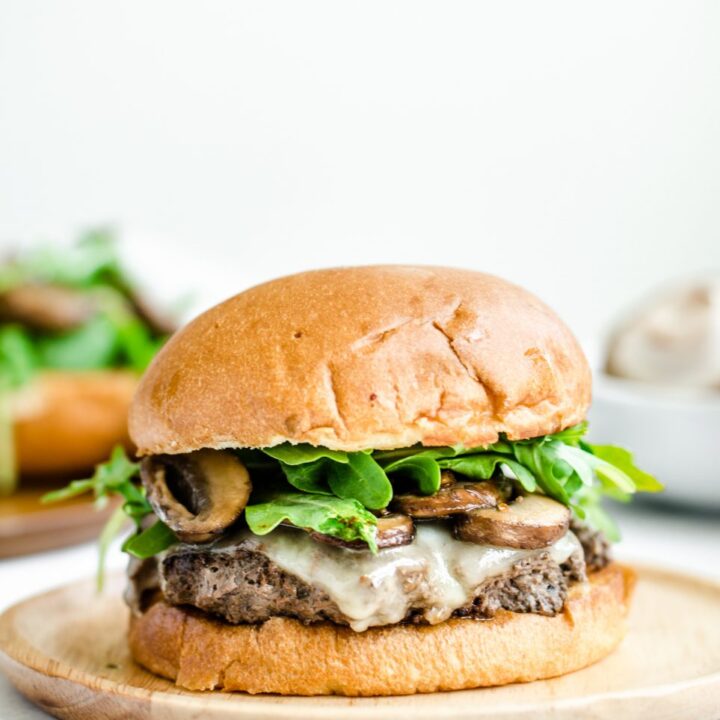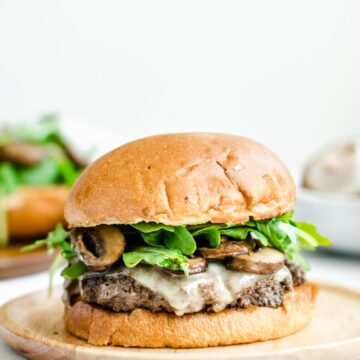 Mushroom Swiss Smash Burgers
A blended burger recipe you can make in a cast iron skillet - no need for a grill to make a delicious burger!
Print
Pin
Rate
Ingredients
For the burges:
6

ounces

baby bella mushrooms

1

tablespoon

Montreal steak seasoning

1

tablespoon

worcestershire sauce

½

teaspoon

black pepper

1

pound

lean ground beef (93/7)

Olive oil and butter

4

brioche hamburger buns

4

slices

Swiss cheese

Arugula
For the mushrooms:
1

tablespoons

olive oil

1

tablespoon

butter

6

ounces

bella mushrooms, wiped clean with a damp paper towel and sliced

1

tablespoon

finely minced shallots

½

teaspoon

fresh thyme, finely minced

1

tablespoon

worcestershire sauce

1

teaspoon

hot sauce

Salt and pepper to taste
Instructions
For the smashburgers:
Wipe mushrooms clean with a damp paper towel. Place in a food processor and pulse in 2 second increments 8-10 times until finely chopped, scraping down the sides of the bowl as needed. The mushrooms should look like minced garlic.

Transfer the mushrooms to a large bowl. Add the steak seasoning, worcestershire sauce, and black pepper. Stir to combine. Add the ground beef and gently fold the ingredients together with a rubber spatula. Carefully divide the mixture into four loose mounds - each should be about the size of a baseball. Try to handle the meat as little as possible - the shaggier/looser the mixture, the better! Set aside.

Heat a cast iron skillet over medium-low heat. Add a drizzle of olive oil and a dab of butter. Toast the burger buns face side down in this mixture for about 2 minutes until golden brown. Transfer to a plate.

Return the skillet to medium heat. Add the sliced mushrooms and shallots, along with a drizzle of olive oil and a dab of butter. Saute until the mixture is golden brown. Add the fresh thyme, worcestershire, hot sauce, and salt and pepper to taste. Stir to heat through, about 2 minutes. Transfer to a bowl and cover with foil to keep warm.

Wipe the skillet dry with a paper towel (as needeand return to medium heat. Add a drizzle of oil. Carefully transfer two mound of the beef mixture to the sillet. Smash each mound firmly with a metal spatula to a thickness of about ½ inch. Cook for 3 minutes on each side until golden brown and crisp around the edges (internal temperature should reach 155 °F for medium-well). Once you flip the patty to the second side, add a slice of Swiss cheese to melt. Transfer to a plate and tent with foil. Repeat this process with the other two mounds of beef.

To assemble the burgers, place a smashburger patty on a toasted bun. Top with some of the mushroom mixture and fresh arugula. Enjoy hot!
Serving:
1
burger
|
Calories:
654
kcal
|
Carbohydrates:
41.7
g
|
Protein:
49.3
g
|
Fat:
31.3
g
|
Saturated Fat:
14
g
|
Cholesterol:
148
mg
|
Sodium:
1138
mg
|
Potassium:
819
mg
|
Fiber:
1
g
|
Sugar:
9.1
g
|
Calcium:
271
mg
|
Iron:
26
mg
Pin this, pretty please!