In celebration of National Jerky Day (June 12th), I've partnered with the North American Meat Institute, a contractor to Beef Checkoff to create this beef jerky snacking board! Thank you to NAMI for sponsoring this post on behalf of the Beef Checkoff.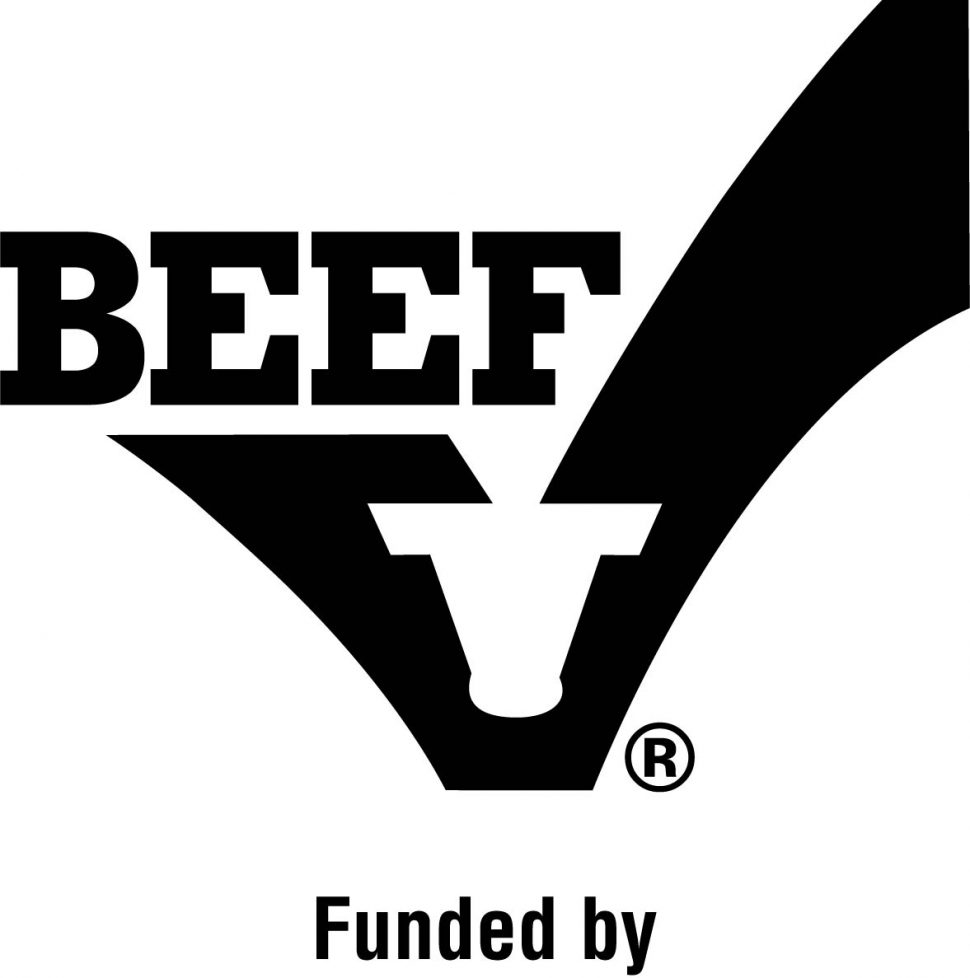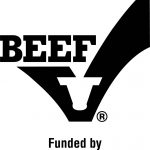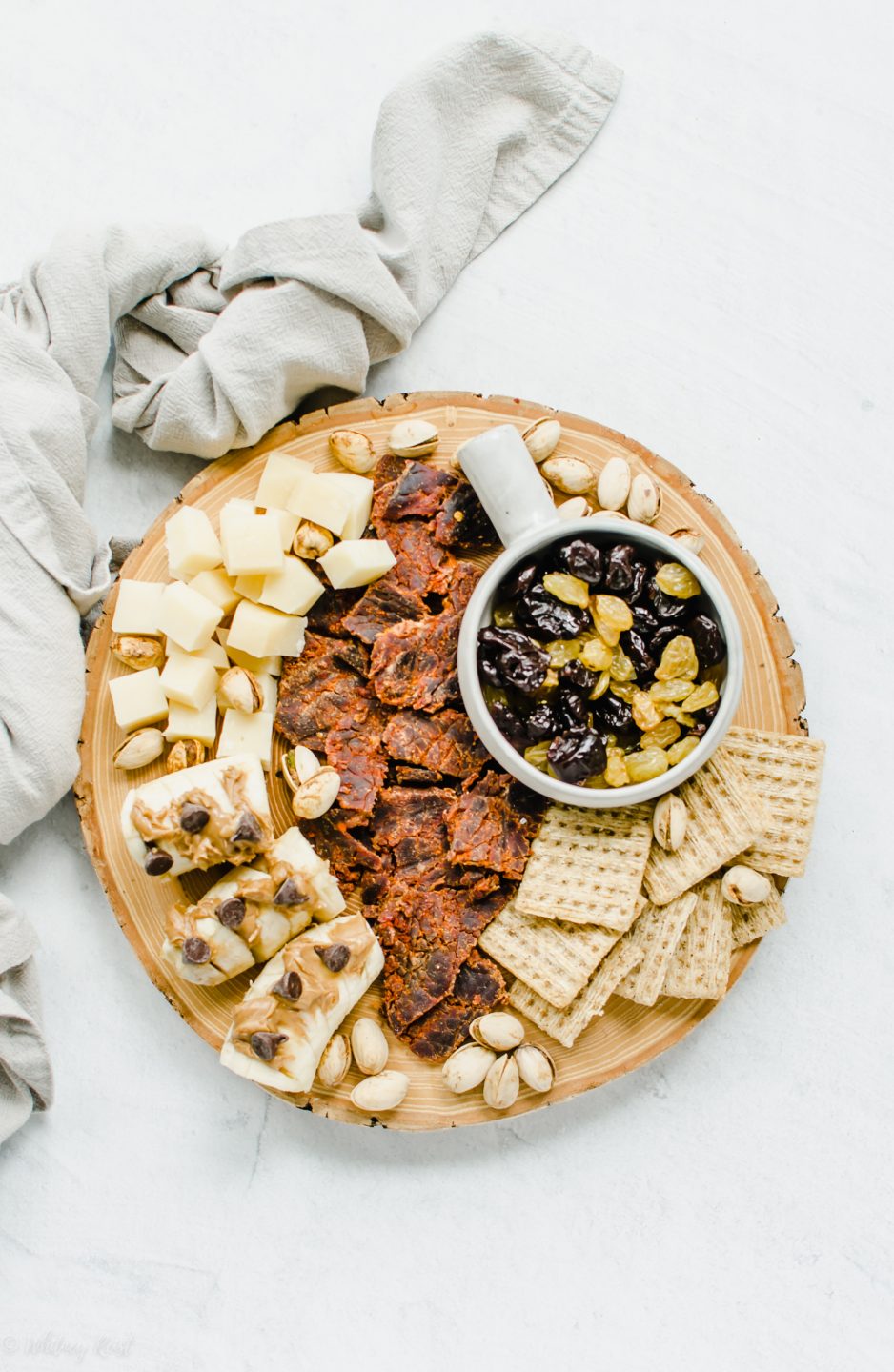 It's time for another grazing board, my friends! I've been trying to create one of these per month because you all seem to love them so much. And I really love making them! This month's grazing board is centered around one of my favorite snacks: beef jerky. Both Ryan and I are big fans of beef jerky, and it is one of our go-to choices for recovery after a long hike, workout, or day of work in the yard. He has always stocked it for athletes as part of his role as a performance dietitian. As a culinary dietitian, I enjoy putting it on charcuterie boards and party platters. And really, why not? There is so much to love about the flavor, texture, and nutrition profile!
Beef Jerky Nutrition
If you want your body to be a performance powerhouse - or you just want plenty of strength and energy to get through the demands of the day - you've got to give it proper fuel! Beef jerky is a great option because it's a convenient, satisfying, and nutrient-dense food that can easily be enjoyed on the go. When you are trying to achieve balance in your diet, it's easy to include beef jerky, as one ounce has around 80 calories and 14 grams of protein - that happens to be HALF the calories and TWICE AS MUCH protein as a standard two tablespoon serving of peanut butter. Talk about nutrition bang for your buck! It is also a great source of iron and zinc, both of which happen to be easily absorbed and utilized for nourishment when consumed from animal food sources.
Also, when it comes to choosing a beef jerky, you have SO many options. It's easy to make a choice based on your health goals and nutrition values; whether it be finding a low-sodium option, beef jerky made from lean cuts of beef, and even jerky that has been certified as organic, grass-fed, nitrate and nitrite free, or Kosher. You can purchase beef jerky at different price points, buy jerky flavored with delicious spices, and even find options that are packaged in convenient individual serving packets. There really is something for everyone!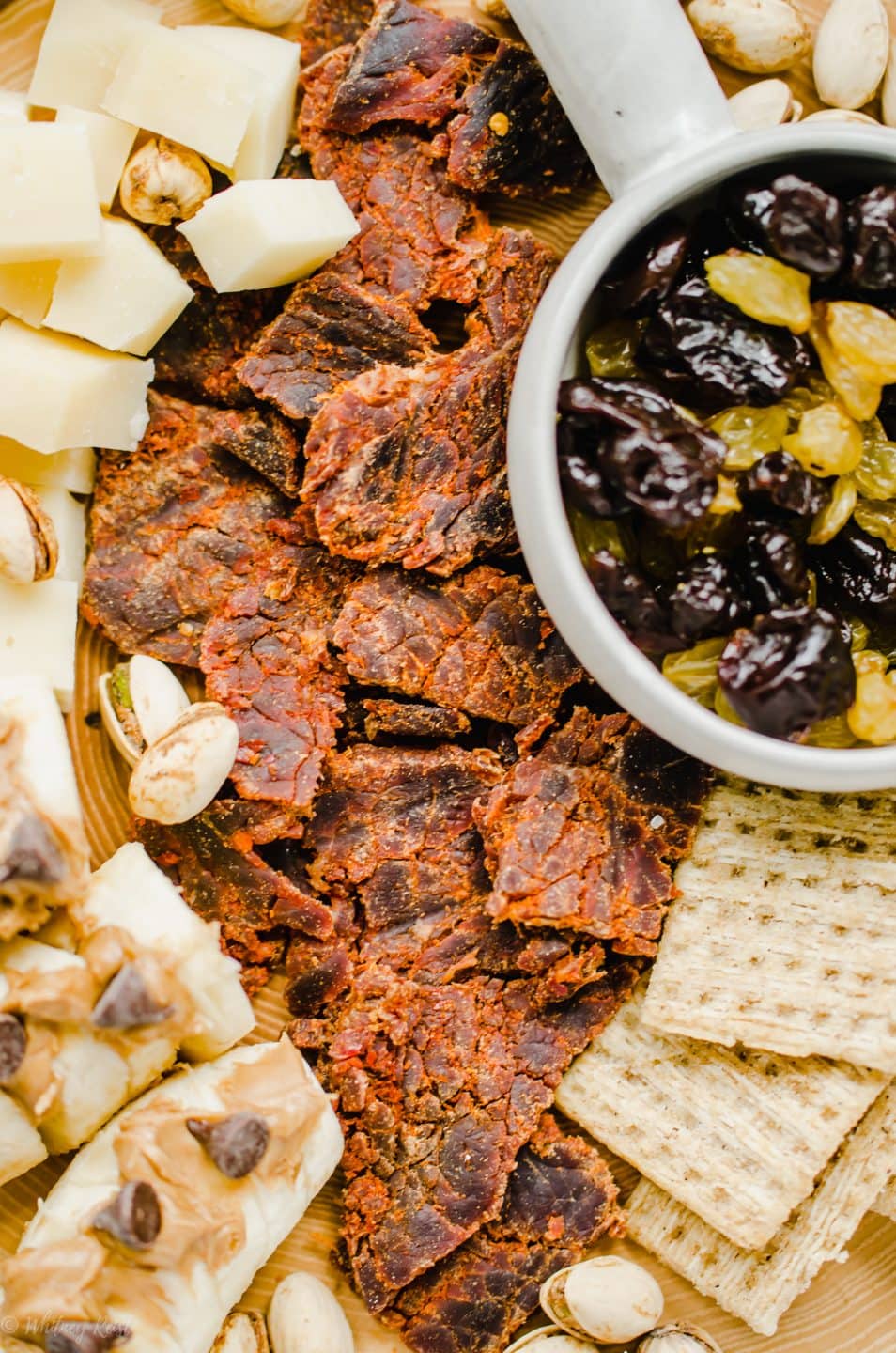 Beef Jerky Snacking Board Ingredients
When putting this tasty snack board together, I chose easy-to-pack ingredients that I've often seen provided to athletes after games, workouts, or competitive events. There's something for everyone to choose from here, and each ingredient has a unique nutrition benefit.
Beef jerky

- this is the ingredient that will provide the bulk of the protein on the board and a delicious savory flavor.

Cheese cubes

- calcium is so important for bone density in performance, so it's a must! It also tastes great with the jerky and crackers. I like to buy a block of cheese and slice it into 1'' cubes to save money, but you could also do string cheeses cut in half for convenience.

Pistachios

- these nuts are a good source of protein and 

fiber. They will contribute to feeling full and satisfied after lots of activity. 

Tart cherries and golden raisins - dried fruit is a great source of carbohydrate for workout recovery, and adds a naturally sweet option to a snack board. Tart cherries may help aid muscle soreness (source), which makes them a great item to include.
Bananas with nut butter and chocolate chips

- this is another great carb option, plus a source of healthy fat from the peanut butter. A few chocolate chips makes the board fun and inviting!

Shredded wheat crackers -

these are a good source of fiber that pairs so well with the jerky and cheese!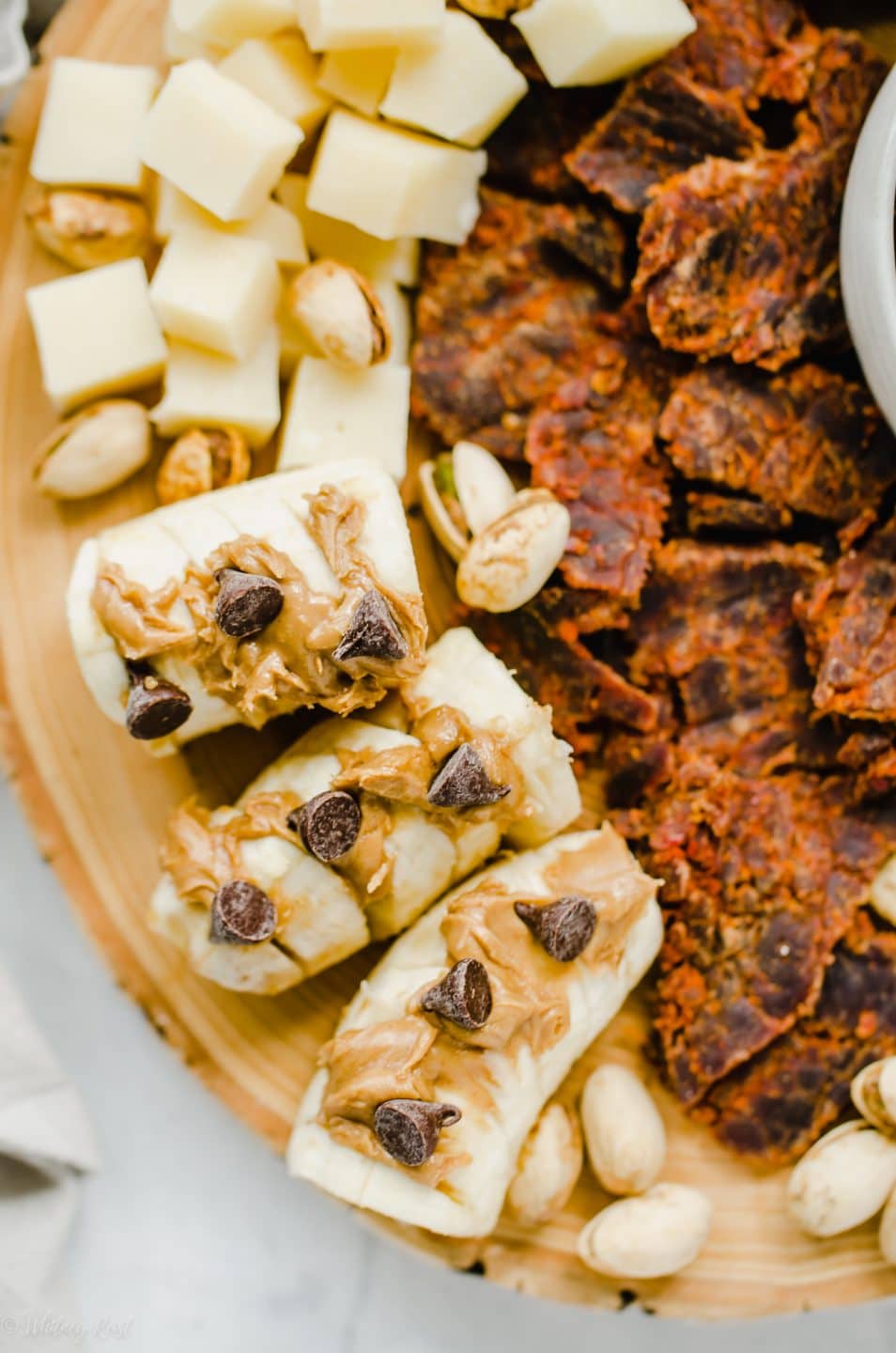 Serving Suggestions
This snacking board would be a great option to serve on any of the following occasions:
After a summer softball or soccer game

At a campsite or during a hike

During a long day of work outside

On a road trip as it's easy to pack

As a snack on-the-go when you don't have time for a meal

And I'm sure you can think of many others ways to enjoy it - let me know how you would serve it in the comments below!
Are you ready to try this beef jerky snack board? I'm so excited for you to try this recipe. Once you get the chance to make it, please let me know how it turns out for you! Leave a comment and rate the recipe below. This will help me with the creation of future recipes! I'd also love to feature your creation in my monthly newsletter, so you can upload a photo to Instagram or Twitter with the tag @sweetcayenne5 to be featured!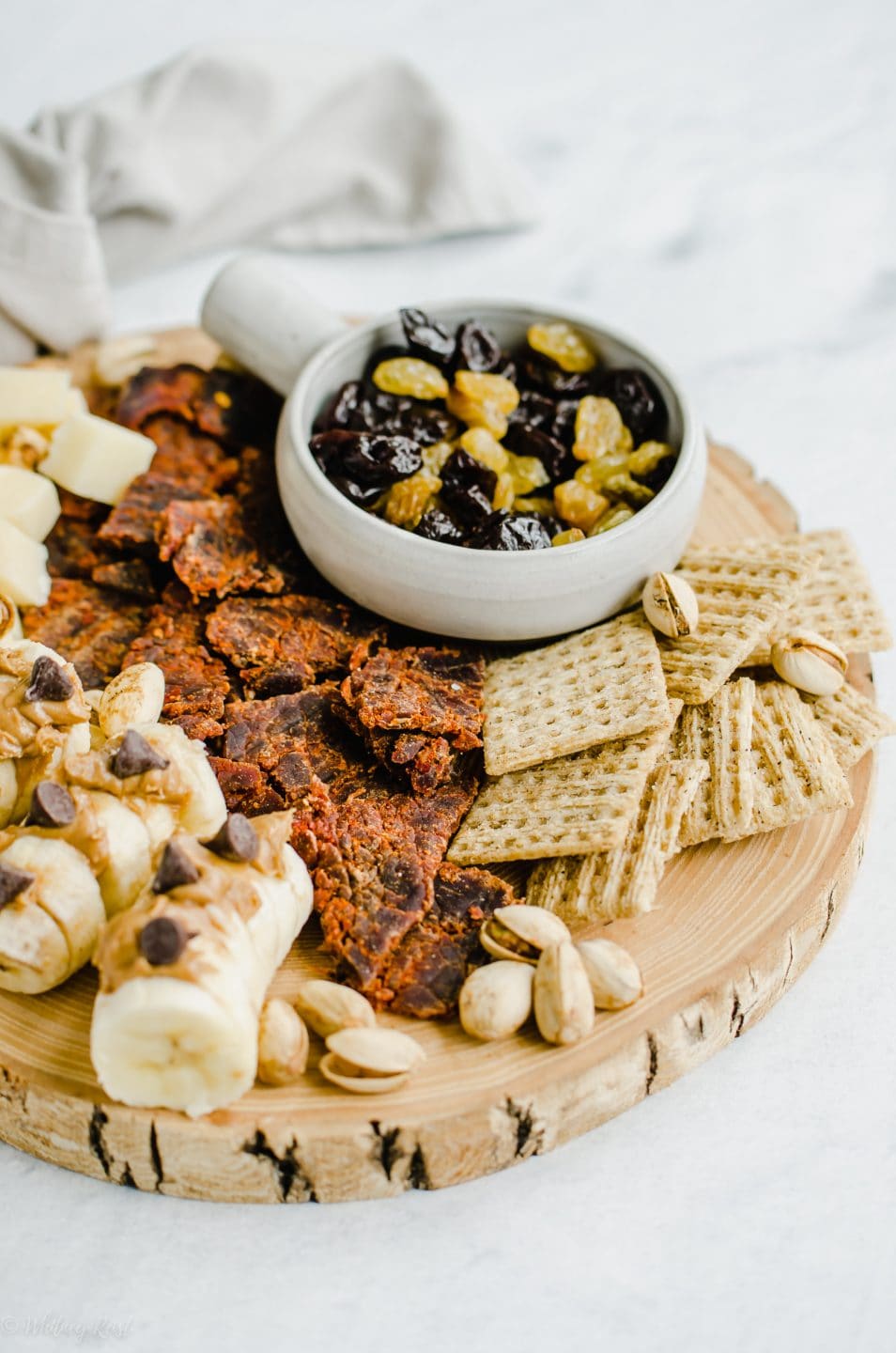 Recipe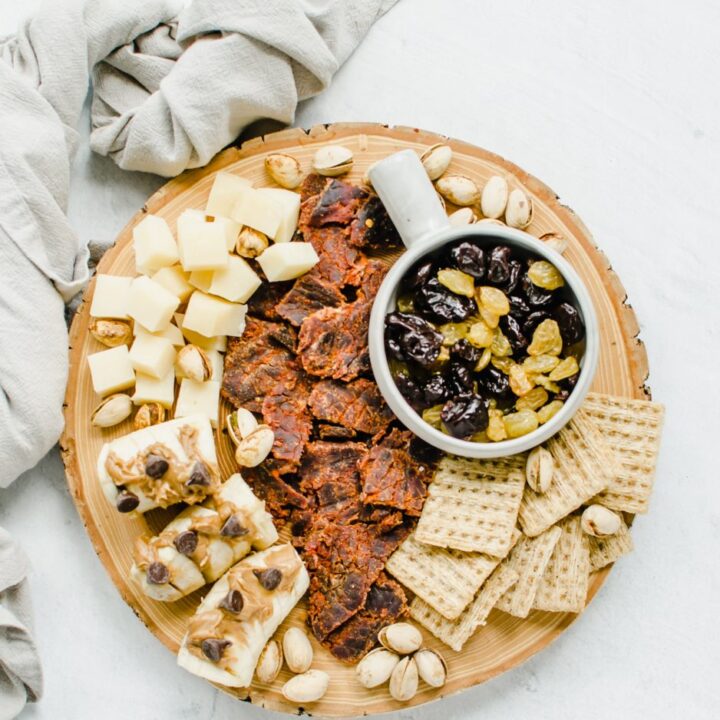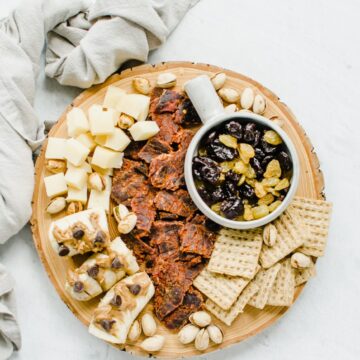 Beef Jerky Snack Board
This beef jerky board combines beef jerky with a variety of cheeses, crackers, snacks, and fruits. The prep-time for this recipe is very quick.
Print
Pin
Rate
Ingredients
Bananas, cut into thirds, allow for ⅓ banana per person

Peanut or nut butter of choice, allow for 1 teaspoon per third of banana

Chocolate chips, allow for 3-4 chips per ⅓ of banana

Beef jerky, allow for 1 ounce per person

White cheddar cheese, cut into 1'' cubes, allow for ½ ounce per person

Pistachios in the shell, allow for 2 tablespoons per person

Dried tart cherries and golden raisins - allow for 2 tablespoons per person

Shredded-wheat type crackers, allow for 5-6 crackers per person
Instructions
Spread a teaspoon of peanut butter on each third of the banana. Top with 3-4 chocolate chips per piece.

Place the dried fruit in a small serving bowl.

Arrange the ingredients, including the bowl of dried fruit and bananas, on the serving board or platter of your choice. Serve and enjoy!
Notes
These ingredients are easy to transport in individual containers inside of a cooler and assembled onto a board once you are ready to serve!
Serving:
1
Serving
|
Calories:
557
kcal
|
Carbohydrates:
58
g
|
Protein:
21
g
|
Fat:
28
g
|
Saturated Fat:
12.9
g
|
Cholesterol:
33
mg
|
Sodium:
997
mg
|
Potassium:
514
mg
|
Fiber:
7.8
g
|
Sugar:
25.8
g
|
Calcium:
165
mg
|
Iron:
4
mg