This easy recipe for Chocolate-Dipped Frozen Banana Pops is the best way to use bananas before they get too ripe. Freeze a banana, then dip it in a homemade chocolate hazelnut magic shell!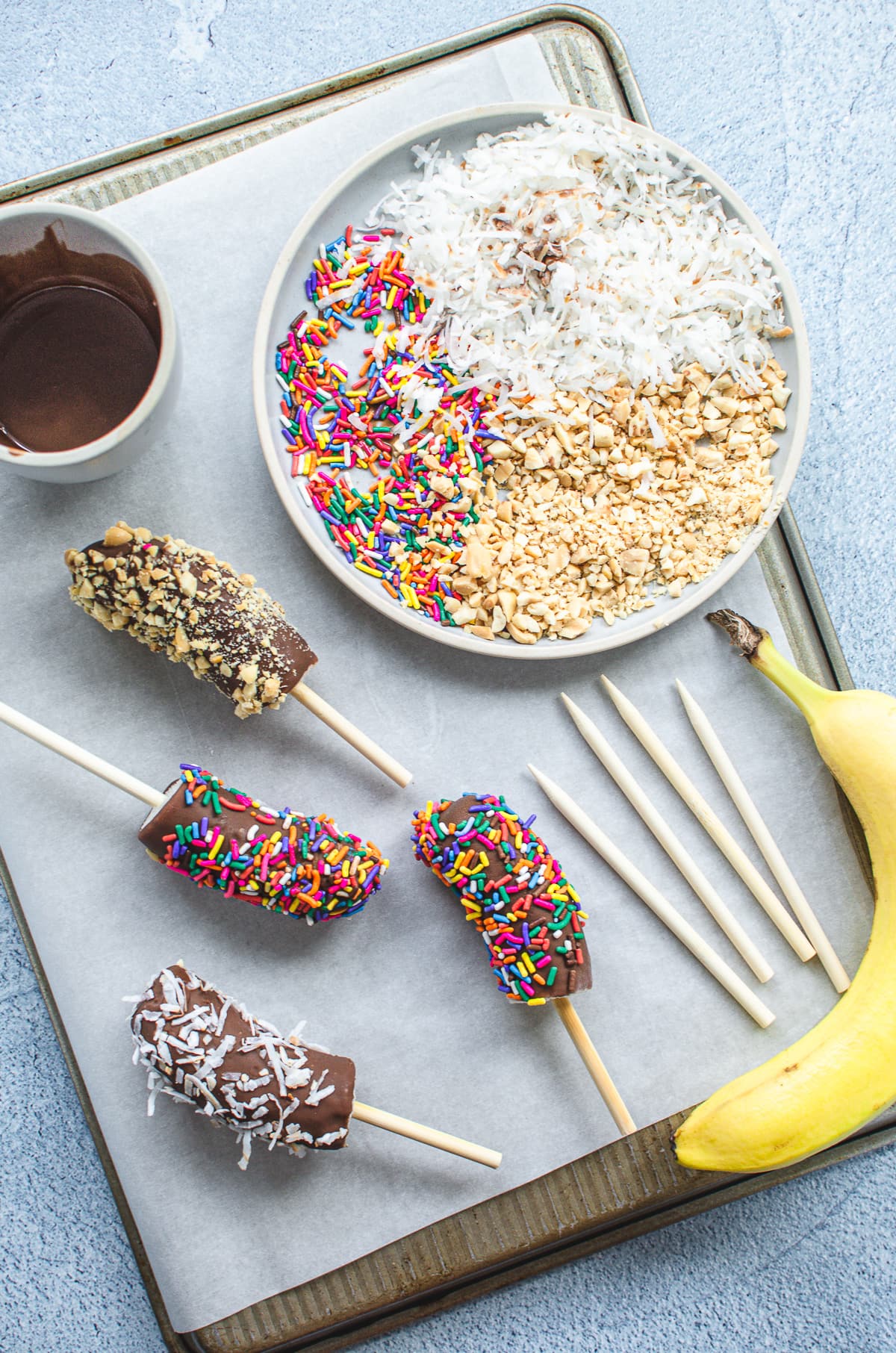 Jump to:
About the recipe
For nine summers of my life, I spent a good bit of time working at a local soft-serve ice cream stand owned by some friends from our church. Custard Corner was my very first job at 14 years of age, and the fun memories I have of working there with best friends and even family members could probably fill a novel!
One of my favorite Custard Corner treats were the frozen bananas dipped in a delicious chocolate coating that hardened into a crunchy shell. I had never had a chocolate-dipped banana before visiting Custard Corner, and it became a treat I would enjoy for years to come.
If you've ever wondered "what can you do with frozen bananas?", then let me introduce you to my favorite frozen banana recipe: Chocolate-Dipped Frozen Banana Pops!
This recipe features banana halves frozen onto a wooden popsicle stick, then dipped in a simple mixture of chocolate hazelnut spread melted with some coconut oil. That melty, chocolately combination magically hardens onto the frozen bananas like a store-bought magic shell, but it is MUCH tastier!
Video
Ingredients
Fresh bananas - you want to use bananas at the level of ripeness you enjoy eating them at. For me, that's perfectly yellow with no brown spots.
Wooden sticks - use wooden popsicle sticks or cake pop sticks.
Chocolate hazelnut spread - any brand will work!
Optional crunchy toppings: toasted coconut flakes, chopped peanuts, and sprinkles are all delicious additions!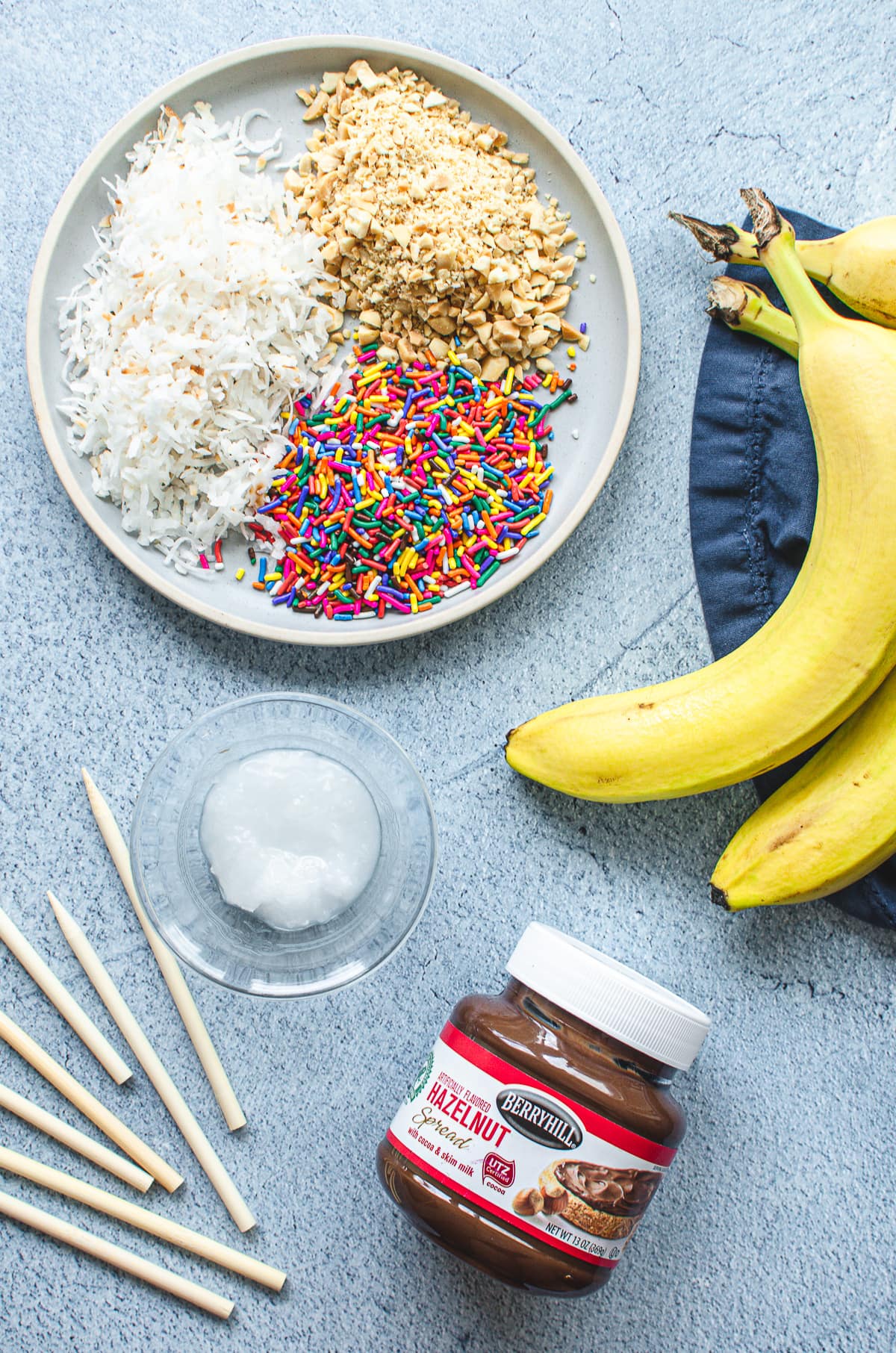 Instructions
Cut whole, unpeeled bananas in half.
Insert a wooden stick into the flat part of the unpeeled banana.
Peel the banana, then place the bananas on a plate or tray lined with wax paper.
Freeze the bananas until solid, about 6-8 hours.
Once the bananas are frozen, gently melt the chocolate hazelnut spread and coconut oil together in the microwave.
Dip the frozen bananas into the chocolate shell mixture. Let it drip until just set, then roll the banana in the desired topping.
You can enjoy the dipped banana right away, or store it in the freezer for up to 1 week for optimum freshness.
Top tips
Below are some of my best tips for making frozen banana pops, as well as some answers to commonly asked questions about them!
Do frozen bananas turn brown?
No, unpeeled bananas will not turn brown once frozen. This is good news, because you can freeze as many banana pops as you want before dipping them. Store them in an airtight, freezer-safe bag for up to 6 months for optimal taste and freshness.
Can you eat frozen bananas?
Yes, you can eat frozen bananas right out of the freezer! However, if you have any tooth sensitivity or chewing difficulty, let your frozen banana sit out at room temperature for 5 minutes or so to soften it slightly.
Can you store dipped frozen bananas or should you dip the bananas when ready to eat?
You can dip all of your frozen bananas in the magic shell and freeze them again so they are ready to eat, or you can dip them as you'd like to enjoy one. The choice is up to you! That's what makes this recipe so easy and convenient.
Can I use any version of Nutella for this recipe?
Yes! Any brand of chocolate nut spread should work. So far, I have used Nutella, Aldi's chocolate hazelnut spread, and Trader Joe's Chocolate Almond Spread with wonderful results.
Can I use a different type of oil for the magic shell?
No. Coconut oil is semi-solid at room temperature and solid when chilled, which is what makes it harden onto the frozen bananas.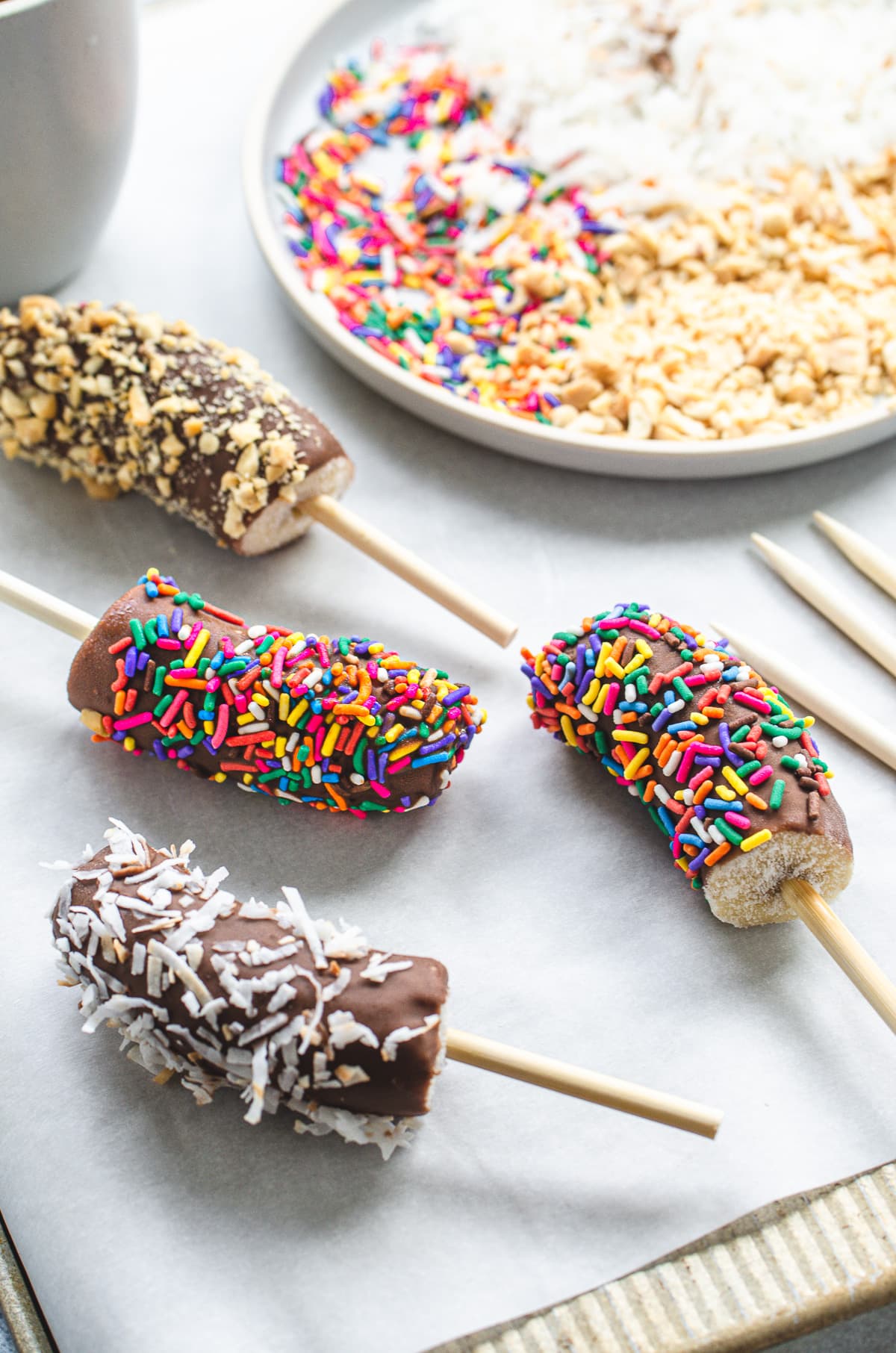 Modifications
Make varying sizes - depending on who these frozen bananas are for and how large your bananas are, you can cut the bananas into quarters, thirds, halves, or use whole bananas to dip. The smaller the banana pop, the easier it will be to dip, and the smaller sizes are great for little kids.
Make frozen banana bites or coins - if you'd rather have a bite-sized treat, slice the bananas into coins, freeze until hardened, then drizzle the magic shell on top.
You can dip the bananas into any of the suggested toppings below while the Nutella magic shell is still damp - be sure to work quickly!
Sprinkles
Chopped nuts (my favorite are peanuts, pistachios, and pecans!
Coconut flakes
Mini chocolate chips
Freeze-dried berries, ground to a fine powder
Any type of chopped candy
Pop rocks
Similar recipes
For more refreshing frozen goodness, be sure to check out my recipes for Watermelon Mango Floats, Mango Granita with Sweet Chile Milk, and Cucumber Lime Granita!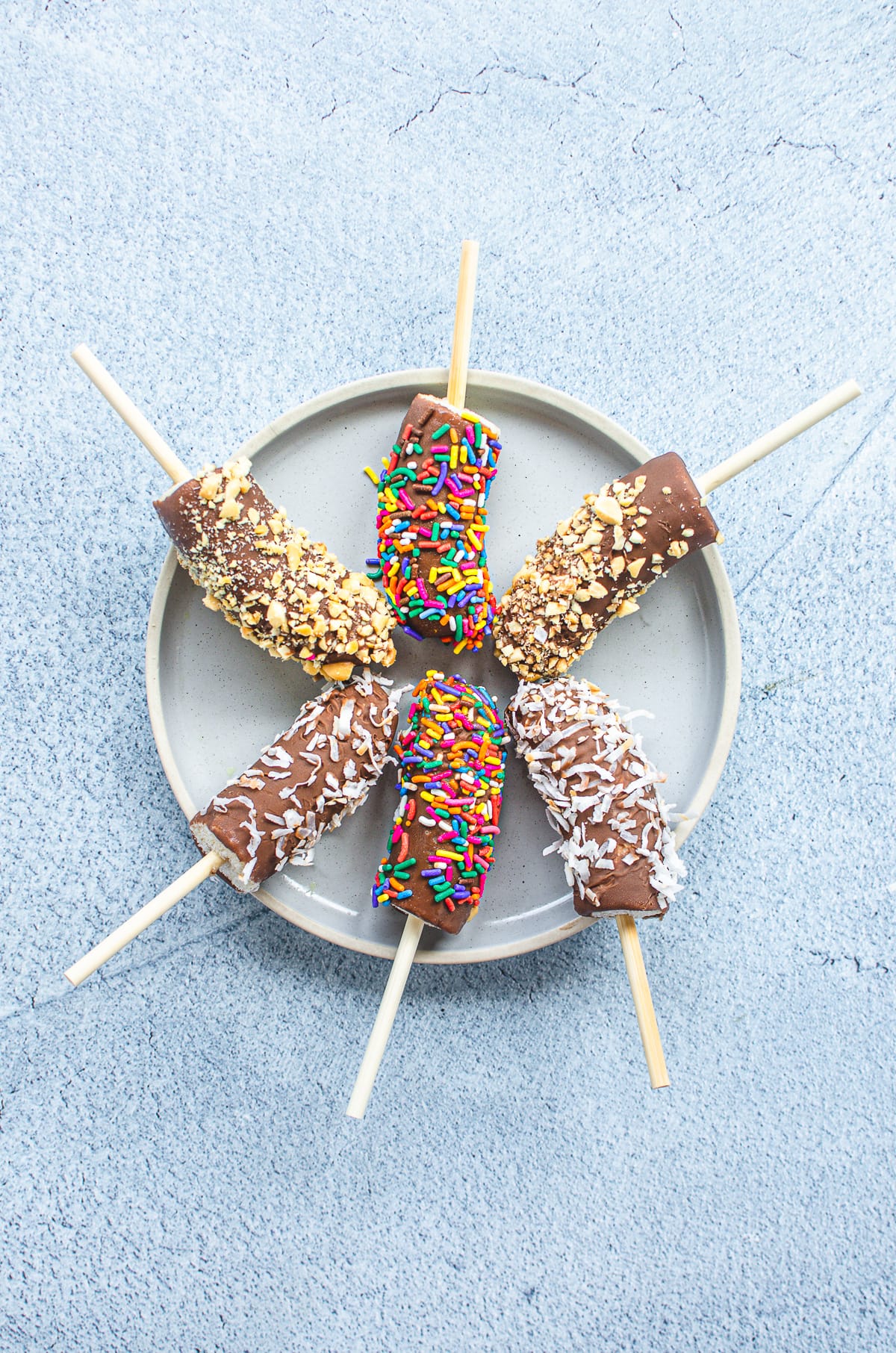 Are you ready to make these Chocolate-Dipped Frozen Bananas? I'm so excited for you to try this recipe. Once you get the chance to make it, please let me know how it turns out for you!
Leave a comment and rate the recipe below. This will help me with the creation of future recipes!
I'd also love to feature your creation in my weekly newsletter, so you can upload a photo to Instagram with the tag @sweetcayenne5 to be featured! Quick and easy recipe videos are available on my YouTube channel, and lots of menu inspiration on my Pinterest boards.
Recipe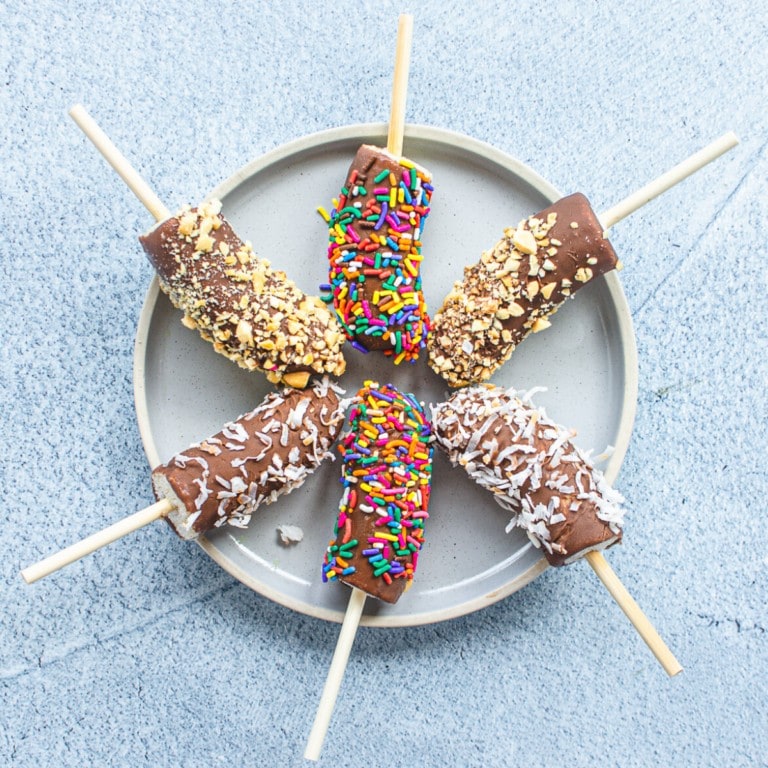 Chocolate-Dipped Frozen Bananas
Frozen bananas are a cool and refreshing summertime treat, and these get an extra special coating of homemade Nutella magic shell.
Print
Pin
Rate
Ingredients
3

large

bananas, just ripe and ready to eat

⅓

cup

chocolate-hazelnut spread

2

tablespoons

coconut oil

Optional: assortment of sprinkles, chopped nuts or toasted coconut

chopped nuts or toasted coconut
Instructions
For bananas:
Cut bananas in half width-wise to make six halves. Leave the peel on while you insert the wooden sticks into the bottom of each half, then remove the peel carefully.

Place the bananas on a plate or tray lined with wax paper, then freeze until solid, about 6-8 hours.
For Magic Shell:
Place coconut oil and chocolate spread in a microwave-safe bowl and heat for 30 seconds. Stir vigorously until the two are combined, microwaving in additional 10 second increments until a dipping consistency is reached.
For dipped bananas:
Dip frozen bananas into the slightly warm chocolate mixture, holding for about 10 seconds until dry. If you are dipping in candy, dip in candy immediately after dipping in chocolate before it dries.

If not serving bananas immediately, place in an airtight container lined with wax paper and keep frozen for up to 1 week. Undipped bananas can be stored in a freezer safe bag up to 6 months and dipped as needed.
Notes
Homemade Nutella magic shell will keep for 2 weeks when stored at room temperature in an airtight container.  Simply warm for about 10 seconds in the microwave to get a dipping consistency.
Serving:
1
banana pop
|
Calories:
180
kcal
|
Carbohydrates:
26
g
|
Protein:
1.8
g
|
Fat:
8.2
g
|
Saturated Fat:
7.6
g
|
Sodium:
10
mg
|
Potassium:
277
mg
|
Fiber:
2.6
g
|
Sugar:
18.7
g