This summery mango granita is just what the doctor ordered for a hot day - cool, icy and refreshing with a kick from a drizzle of sweet chile milk!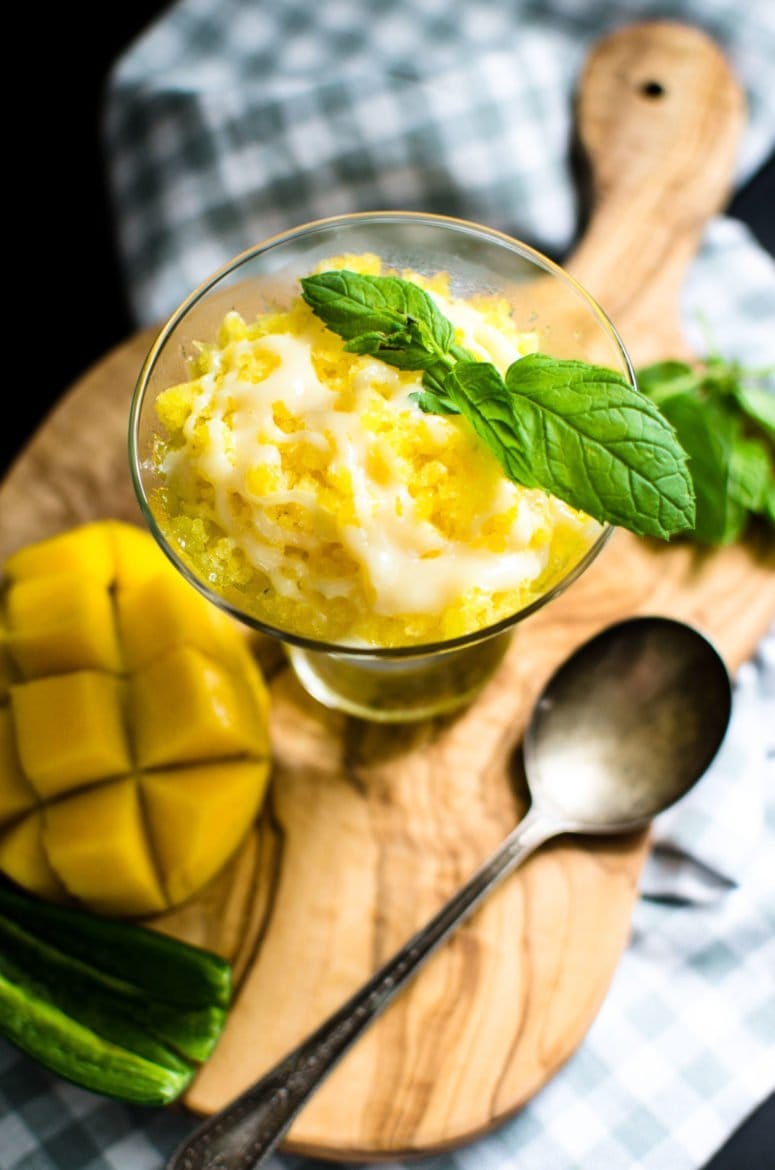 Columbia gave me a week of grace weather-wise after three week in Italy - an entire 7 days of 80-something degrees. It was heavenly. I planted more flowers. And then it got HOT. And HUMID. And I started to get a fierce hankering for a snow cone. Because ice cream and 95 degree weather just aren't friends - it melts too fast. I have a thing with melted ice cream. But snow cones, that's a different story. They cool you off right away and it's not a big deal if things get a little slushy. But, as life would have it, there really isn't a good place to get snow cones in Columbia. Not the light, melt-in-your-mouth kind. That's where a light, fluffy, HOMEMADE fruit granita comes in and saves the day!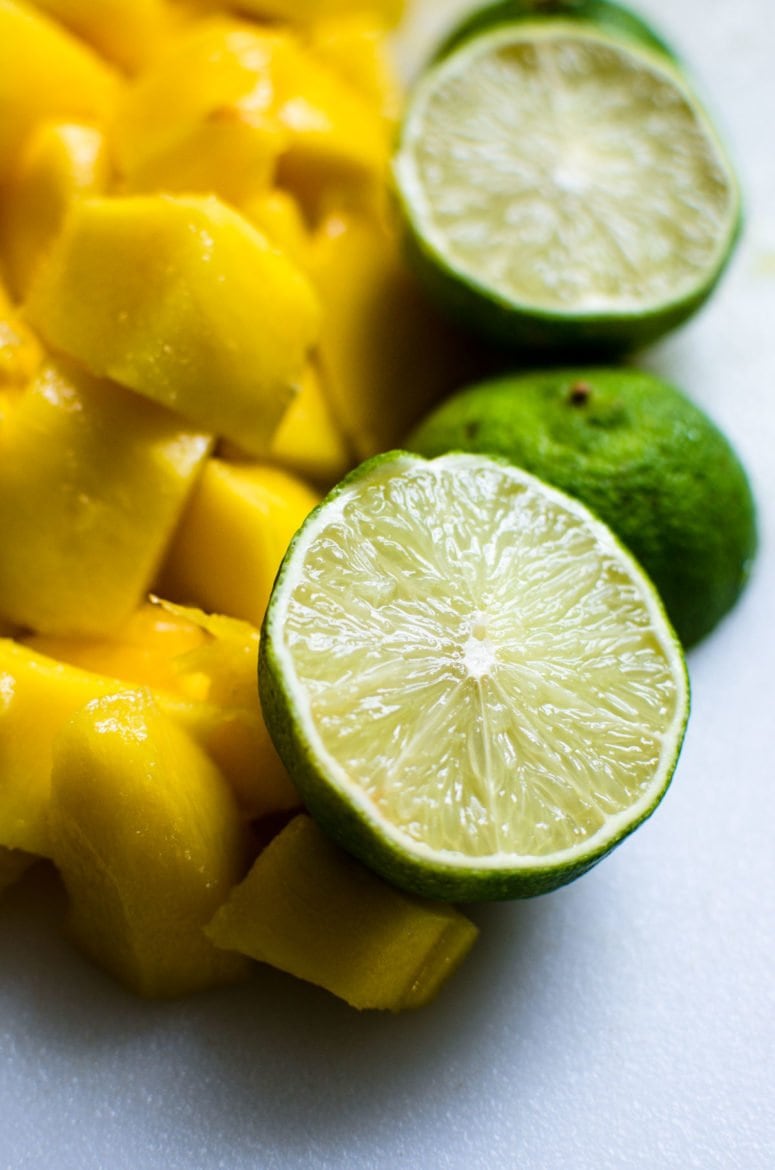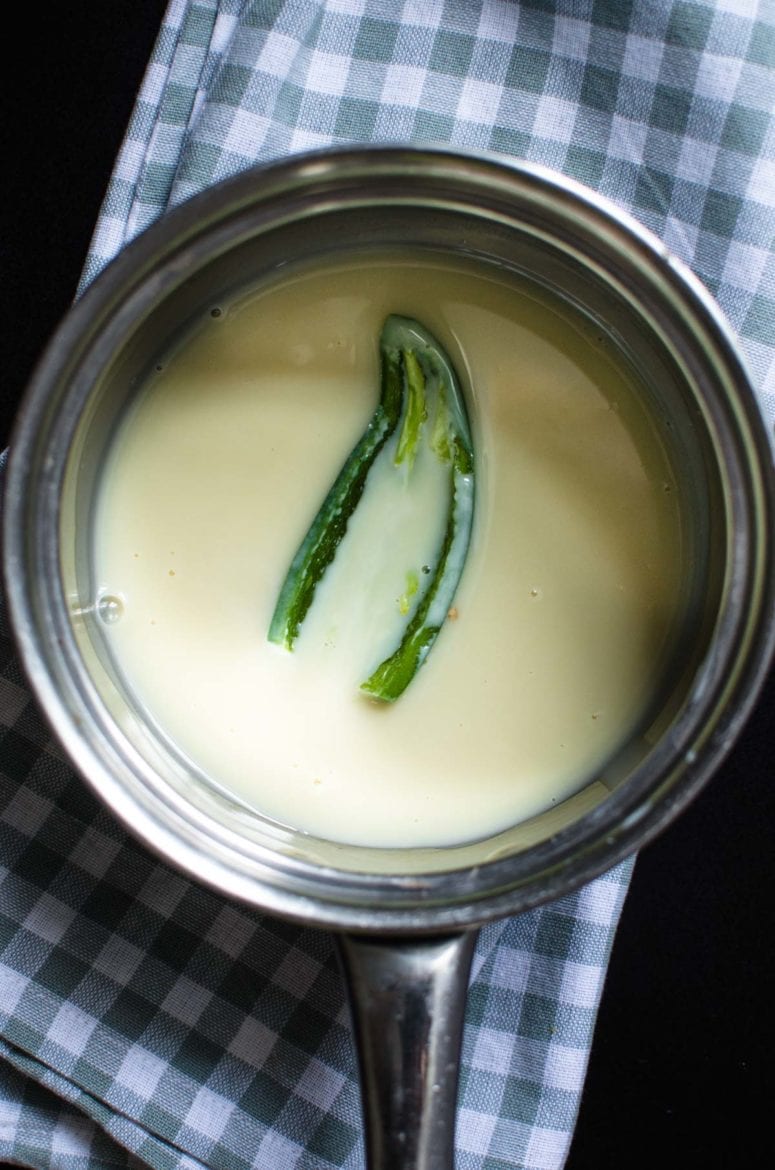 Granitas are the perfect fruit-filled, frozen treat to get you through the sweaty drippy heat of summertime. They're so simple and easy to make - but my favorite thing about them is that it's a great way to use up fruit that you can't seem to wash/chop/eat fast enough. Pineapples. Mangoes. Watermelon. Cantaloupe. Berries. Even cucumbers and tomatoes could have a place at the table here. Any of these items are perfect to blend up into juice, flavor with fresh herbs/spices, and freeze into scraped granules of icy, fluffy goodness. Really the only work involved here is the scraping. But your kid/boyfriend/buddy/significant other could do that. Just set a timer to go off every hour or so, and scrape the juice as it freezes (this keeps it from freezing into one big mass). If you are working in the yard that day, it's a good excuse to come inside and cool off for a second or two!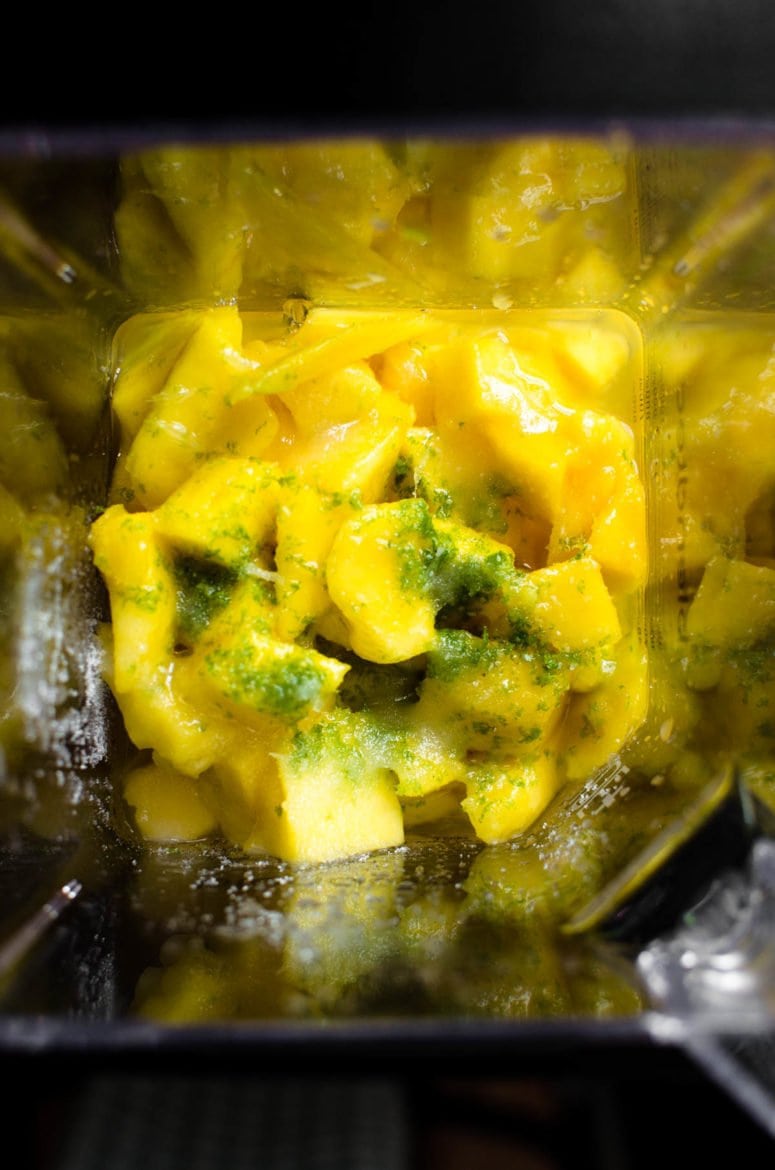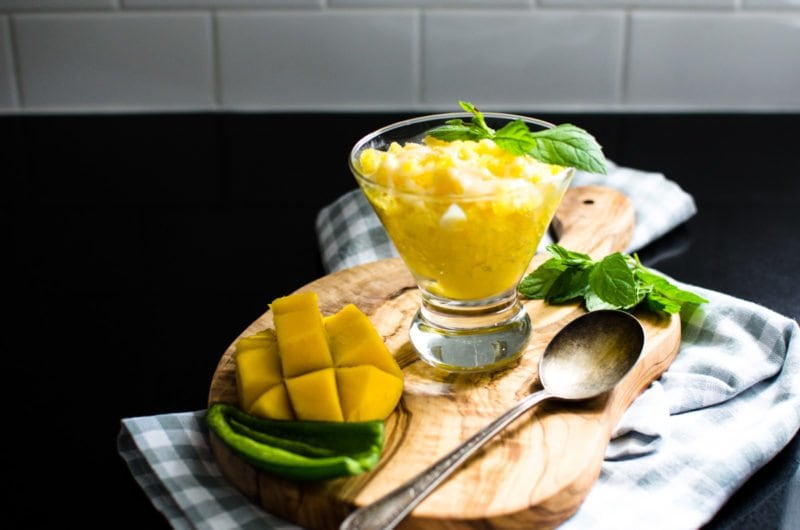 For this recipe, I'm adding a twist by drizzling the mango granita with a super special homemade topping: jalapeno-infused sweetened condensed milk! It adds a touch of heat, creaminess, and overall perfection when you swirl it into the fluffy ice. Hatch chiles would be a SUPERB option for infusing the milk with, if you are lucky enough to find them at a grocer near you come late July/early August. I'll definitely be making this again come that time!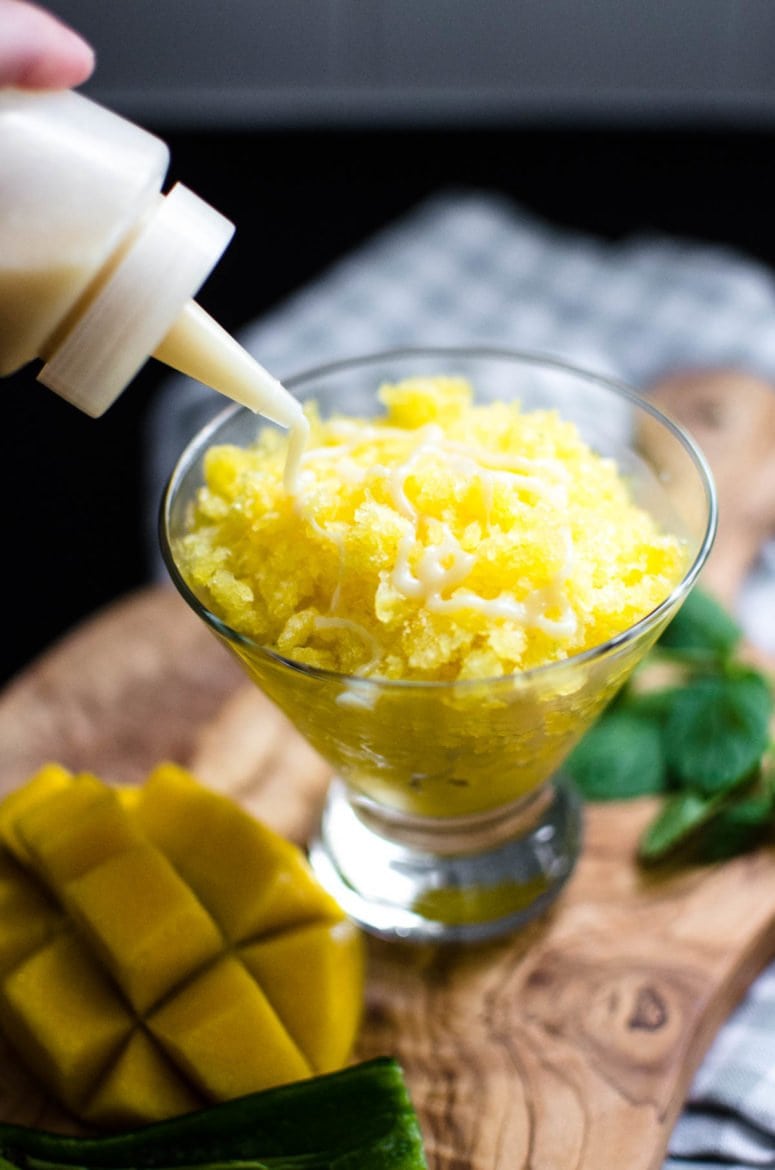 Did you make this Mango Granita? If so, I'd love to hear how it turned out for you! Leave a comment below or upload a photo to Instagram or Twitter with the tag @sweetcayenne5. You can also follow my newsletter or catch me on Pinterest.
Recipe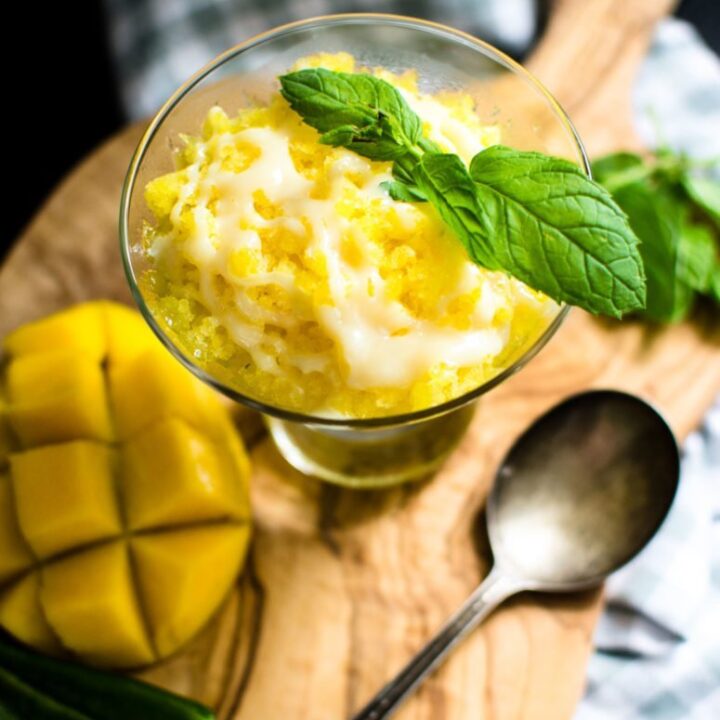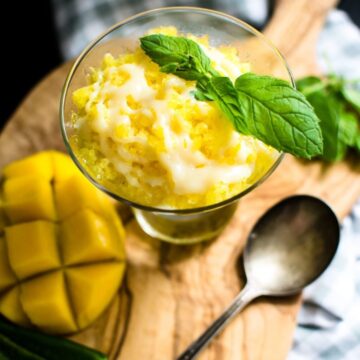 Summery Mango Granita with Sweet Chile Milk
This recipe for summery mango granita with sweet chile milk is the perfect frozen dessert to serve on a hot day. It's light, sweet, refreshing and packs a unique punch of flavor!
Print
Pin
Rate
Ingredients
4

cups

fresh mango

cubed ((about 4 mangoes))

2

whole limes

the zest and juice

1

cup

water

¼

cup

cane sugar

½

cup

sweetened condensed milk

½

jalapeno

seeded

8

sprigs fresh mint

(optional)
Instructions
In a blender, combine the mango, lime zest and juice, water, and sugar. Blend into a juice and transfer to a 13 x 9 cake pan or glass dish. Cover with foil and place in the freezer for 1 hour.

While the granita is freezing, combine the sweetened condensed milk and ½ jalapeno in a saucepan and place over low heat. Allow the pepper to steep in the milk for 15 minutes, swirling the pan occasionally. DO NOT allow the mixture to boil, as the milk will get too thick and become gloppy. Remove from heat and strain the pepper from the milk. Place the milk in the fridge to cool.*

After the granita mixture has chilled for an hour, remove from the freezer. Use a fork to scrape the frozen parts of the mixture into small granules. The mixture will freeze on the sides and bottom of the pan first, so be sure to incorporate the frozen bits into the more liquid center of the pan. Repeat this process every hour for 4-6 hours until the entire pan is scraped into small, fluffy granules.

Spoon the granita into serving dishes and top each with 2 tablespoons of the sweet chile milk. Garnish with a sprig of mint and enjoy right away!
Notes
*Store leftover sweet chile milk in the fridge. Let it sit out at room temperature for 10 minutes before spooning onto the granita. The granita will keep in the freezer for up to two weeks in it's fluffy granular form. If parts of it freeze solid, allow the pan to sit at room temperature for 5 minutes or so to soften up a bit, then use a fork to scrape any hard bits into granules and to fluff the entire mixture before serving.
Serving:
1
Serving
|
Calories:
140
kcal
|
Carbohydrates:
30.8
g
|
Protein:
2.3
g
|
Fat:
2
g
|
Saturated Fat:
1.1
g
|
Cholesterol:
7
mg
|
Sodium:
26
mg
|
Potassium:
229
mg
|
Fiber:
1.8
g
|
Sugar:
28.2
g
|
Calcium:
70
mg