Ok, let's just leave all pre-conceived notions + expectations about hot chocolate - and dairy-free hot chocolate in particular - at the end of this sentence. Because this rich and luxurious version is going to knock your socks off!
And before we go any further, we are going to start calling this dairy-free hot chocolate "sipping chocolate." Because let's face it, it is SO rich and eyeball-rolling delicious that 1. You're not going to be able to drink much without getting a tummyache and 2. you're going to want to slowly sip and savor this exquisite drink. Let me say it a little differently: this drink is a DESSERT. A special-occasion/holiday-time/drink it 1-2 times per year kind of dessert. Something we can look forward to drinking all year long!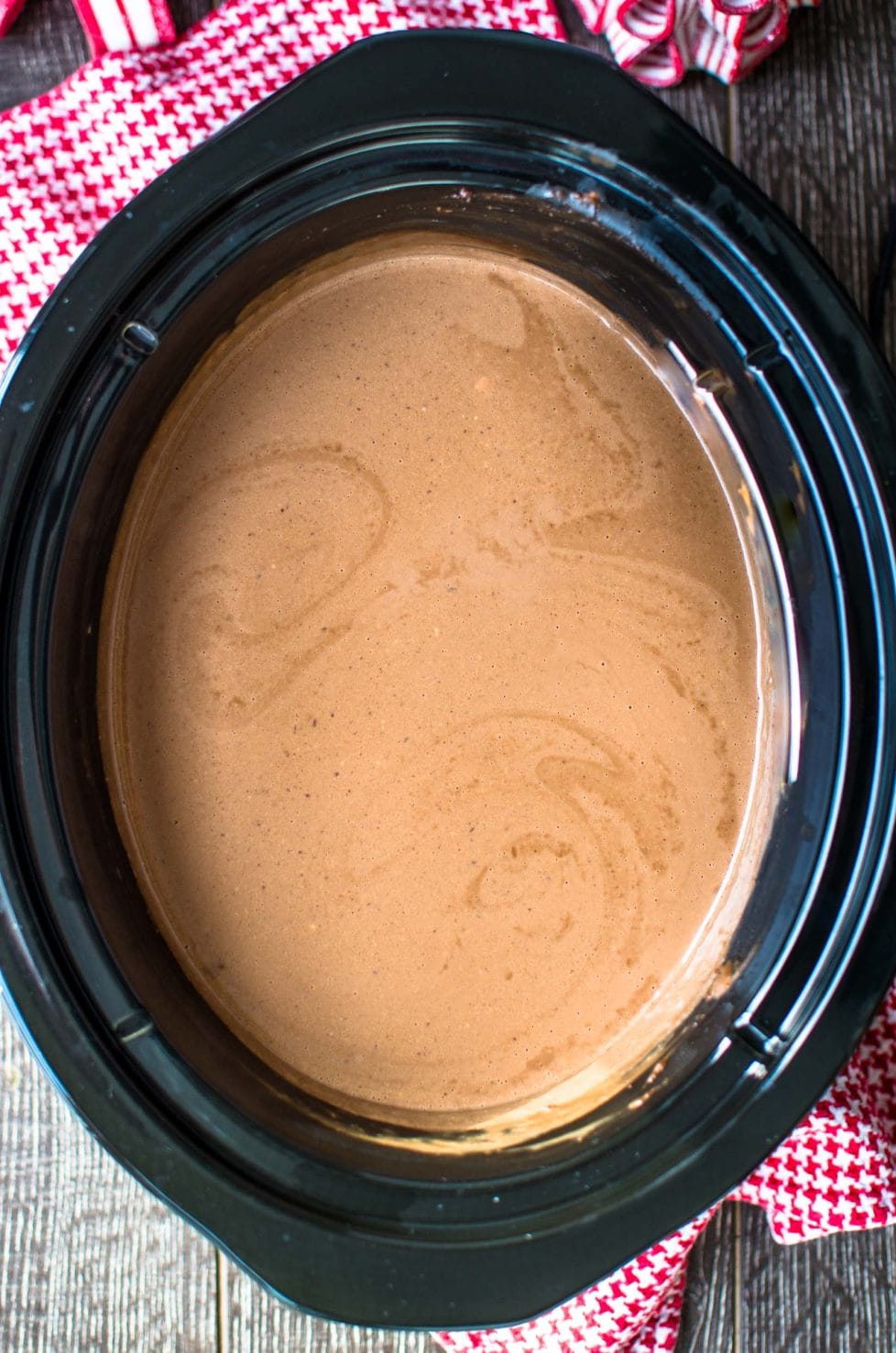 Now that we've determined that this is the ULTIMATE hot chocolate - ahem, "sipping chocolate" recipe that you need to try ASAP, let me give you more good news: you can make it in the slow cooker. Enough for everyone at your party to have a taste. Go ahead and double the recipe if the size of your guest list demands it - it will turn out just fine!
And because it's the season of giving - I'm giving this recipe to all of my dairy-free friends + family members and feeling really good about it. I typically don't care for anything dairy-free that's typically made with dairy. Cashew cheese? No thank you. Soy ice cream? Not so much. Nut milk? Ick. But for whatever reason - this dairy-free version of sipping chocolate tastes as good as the real deal that I typically will make for parties. Winning! Below are the all-star cast of characters you are going to need to make it: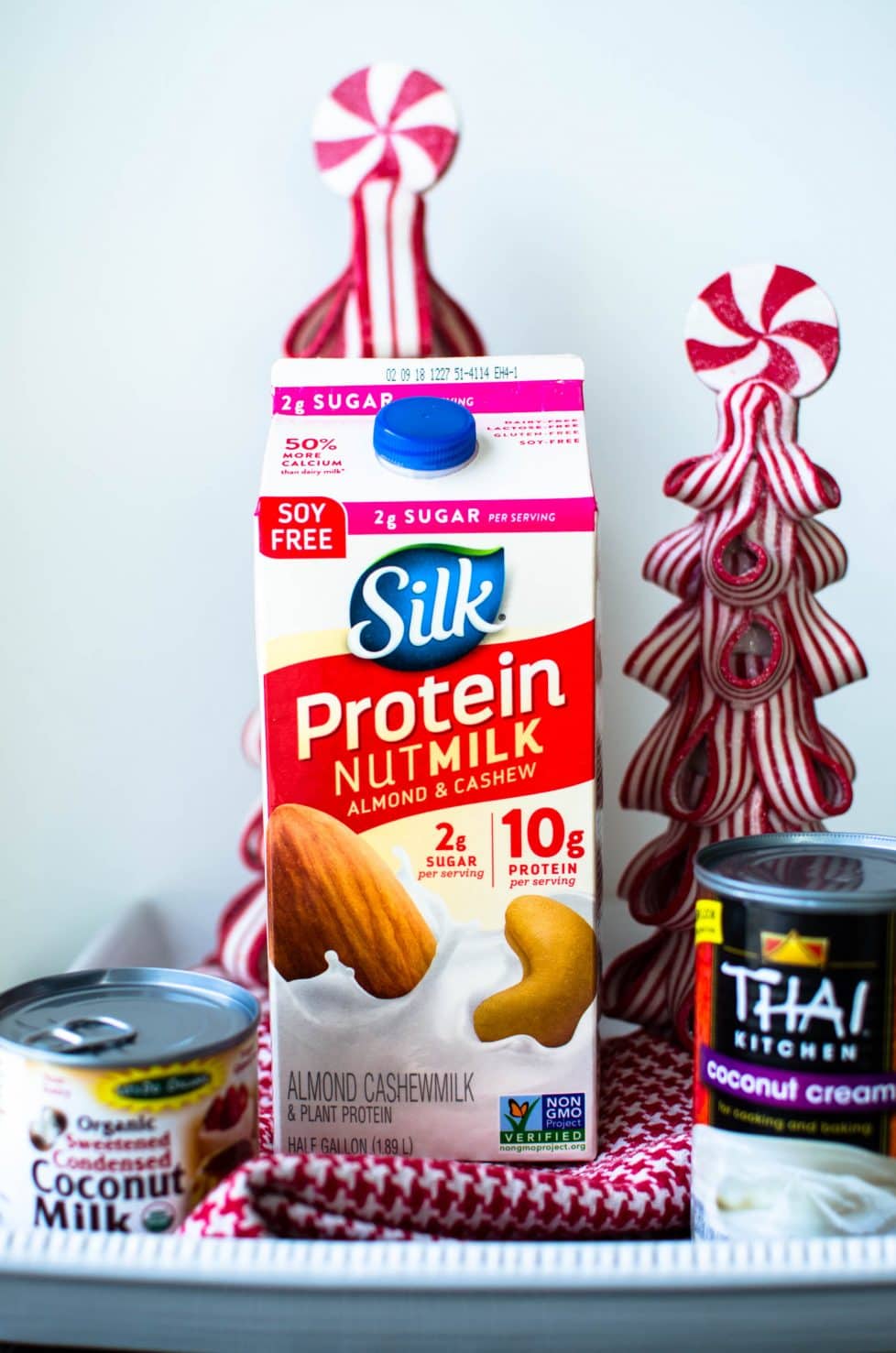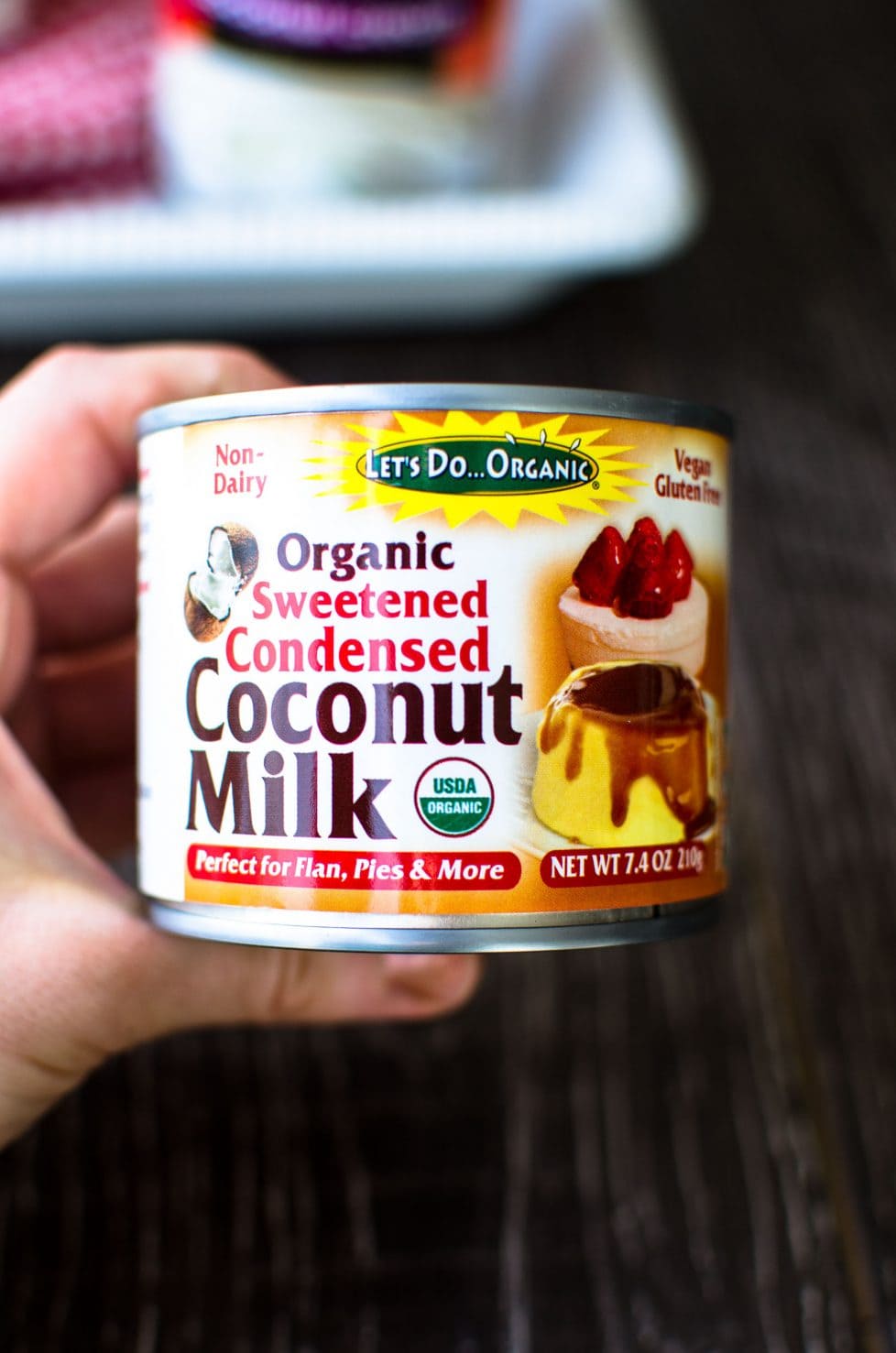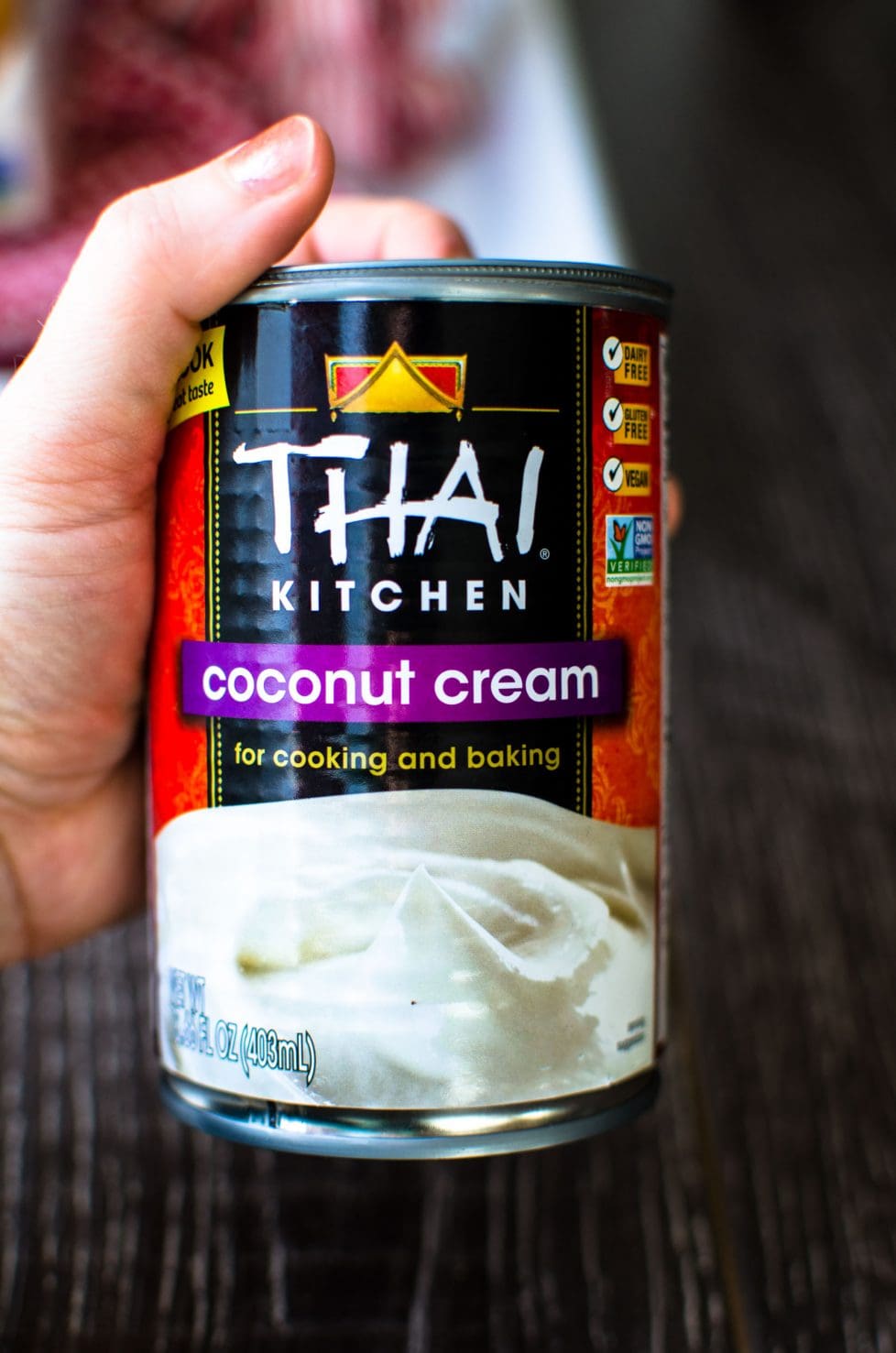 Are you convinced yet? Are you ready to make this stuff to serve at your gingerbread house gathering or cookie exchange or brunch with Santa? Then I will leave you to it, my friends! Enjoy, and please let me know if you try it! I'd be DELIGHTED to see a picture of your sipping chocolate - just upload it to Instagram or Twitter with the tag @sweetcaynne5!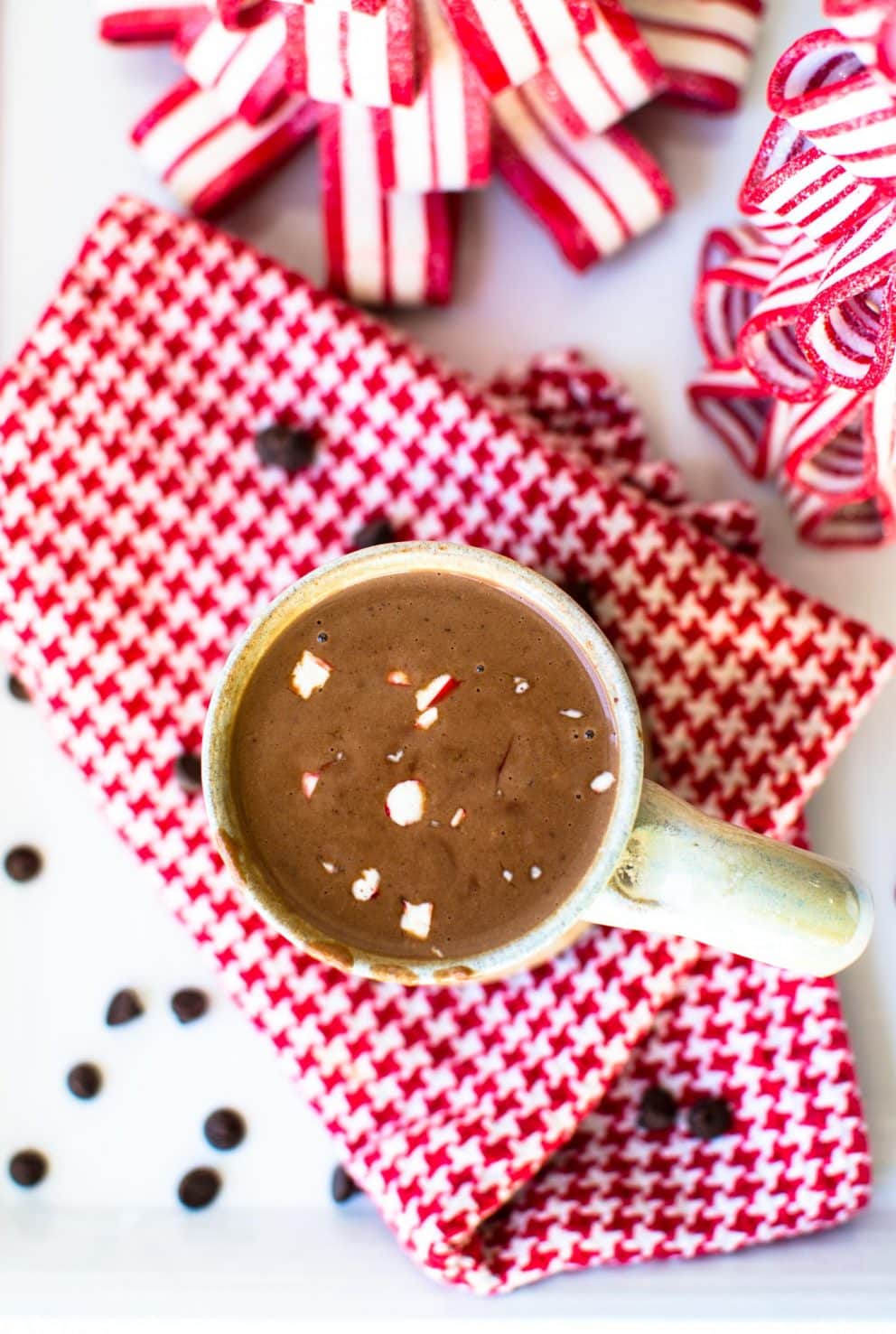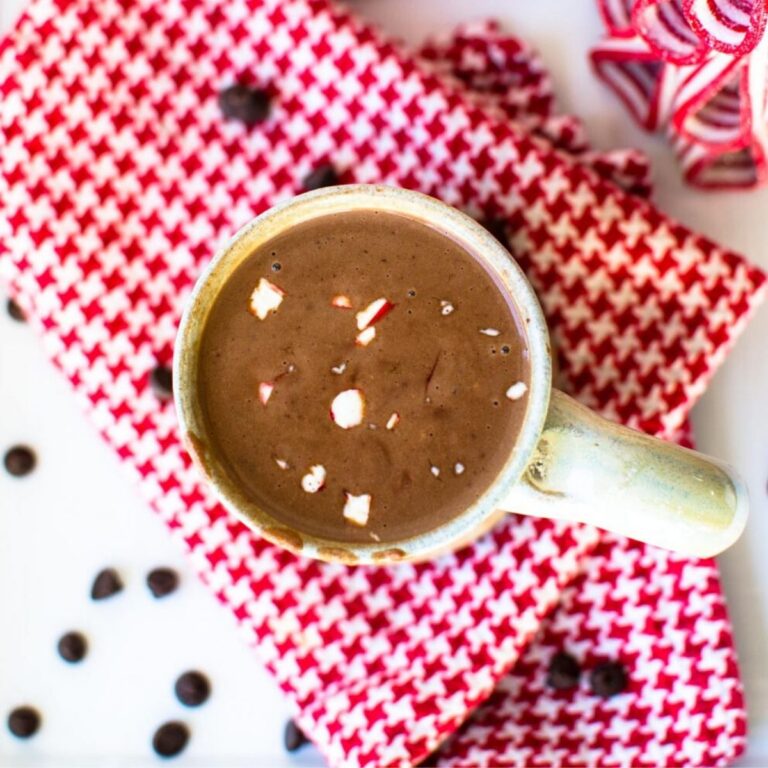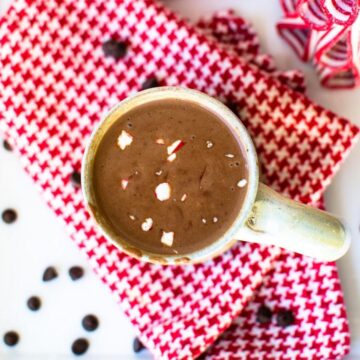 Ingredients
For Dairy-Free:
One

12 ounce

package semi-sweet or dark chocolate chips (recommend Guittard, Scharffen Berger, or Enjoy Life)

One

14.5 ounce

can coconut cream (NOT coconut milk)

One

7.4 ounce

can of coconut sweetened condensed milk

**

6

cups

of Silk Protein Almond + Cashew Nutmilk
For Regular:
One

12 ounce

package good quality semi-sweet or dark chocolate chips (recommend Guittard, Scharffen Berger, or Ghirardelli)

1 ½

cups

heavy whipping cream

One

14 ounce

can sweetened condensed milk

6

cups

1-2% milk
Instructions
Combine all ingredients in a slow cooker. Heat on low heat for 2 hours, stirring every 30 minutes. Serve once all ingredients are thoroughly combined and heated through.

Serving suggestions: serve with crushed peppermint, a candy cane, mini marshmallows, a sprinkle of cinnamon or espresso powder, a shot of espresso, a shot of peppermint, orange, irish cream, or coffee liqueur, or over a scoop of ice cream!
Notes
Sipping chocolate may be cooled and stored for later use up to 1 week. I recommend straining it for storage and reheating individual servings gently over low heat on the stove top. You can also reheat larger quantities in the slow cooker on low, stirring often! 
**If you can't find canned coconut sweetened condensed milk, use this recipe to make your own!