This recipe for Spiced Tea is a Southern tradition and has been enjoyed in my family for literally decades. Black tea is infused with the flavors of orange, pineapple, cinnamon, and cloves which makes for the coziest winter and holiday beverage!
As an Amazon Associate, I earn from qualifying purchases.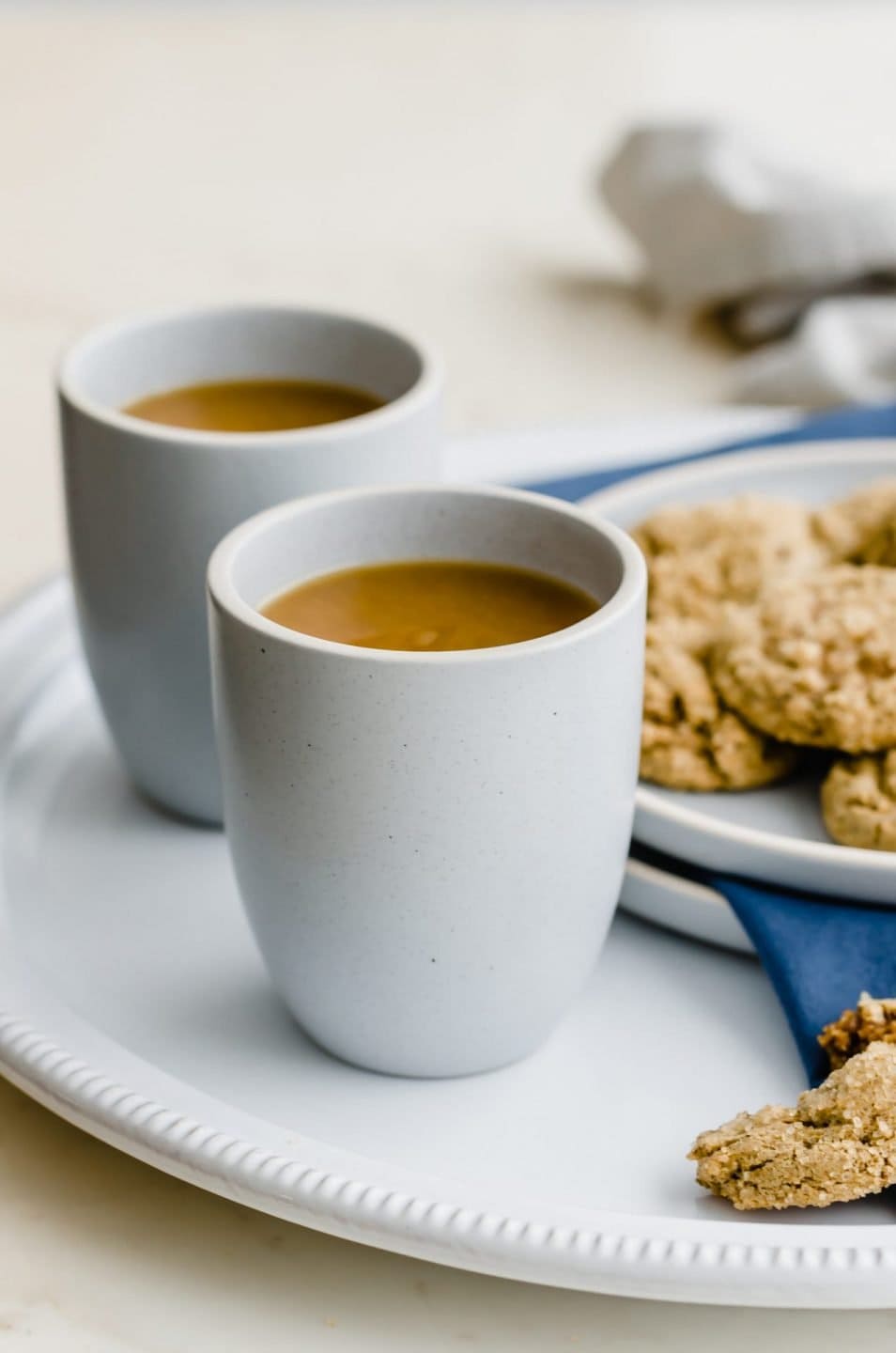 I've never been a fan of winter. I dread colds, cracked skin, chapped lips, skidding on the streets, wet and muddy shoes, cancellation of activities...the list goes on. Simmering stews, spiced tea, bubble baths with the space heater cranked up and a good Netflix binge are what makes it bearable. PARTICULARLY spiced tea. This spicy, citrus-filled cup of comfort is a cherished recipe from passed down by my sweet Nana. In our family, its perpetually on the menu all winter long. I'm actually enjoying a cup as I write this post...
Spiced tea has gotten me through many winter doldrums - it's all I want when I'm sick or have a cold. It's comforted me through many late nights of studying during my school years. It helps get me through cold afternoon slumps when grey skies tempt me to just crawl into bed and sleep. This is the treat I take to friends when they or sick or need cheering up. You NEED spiced tea in your life. And it's a BIG deal that I'm sharing the recipe on this blog today. Secret family recipes beg to be kept quiet, but I can't help but find joy in knowing that this drink can bring you comfort in the way it has comforted me!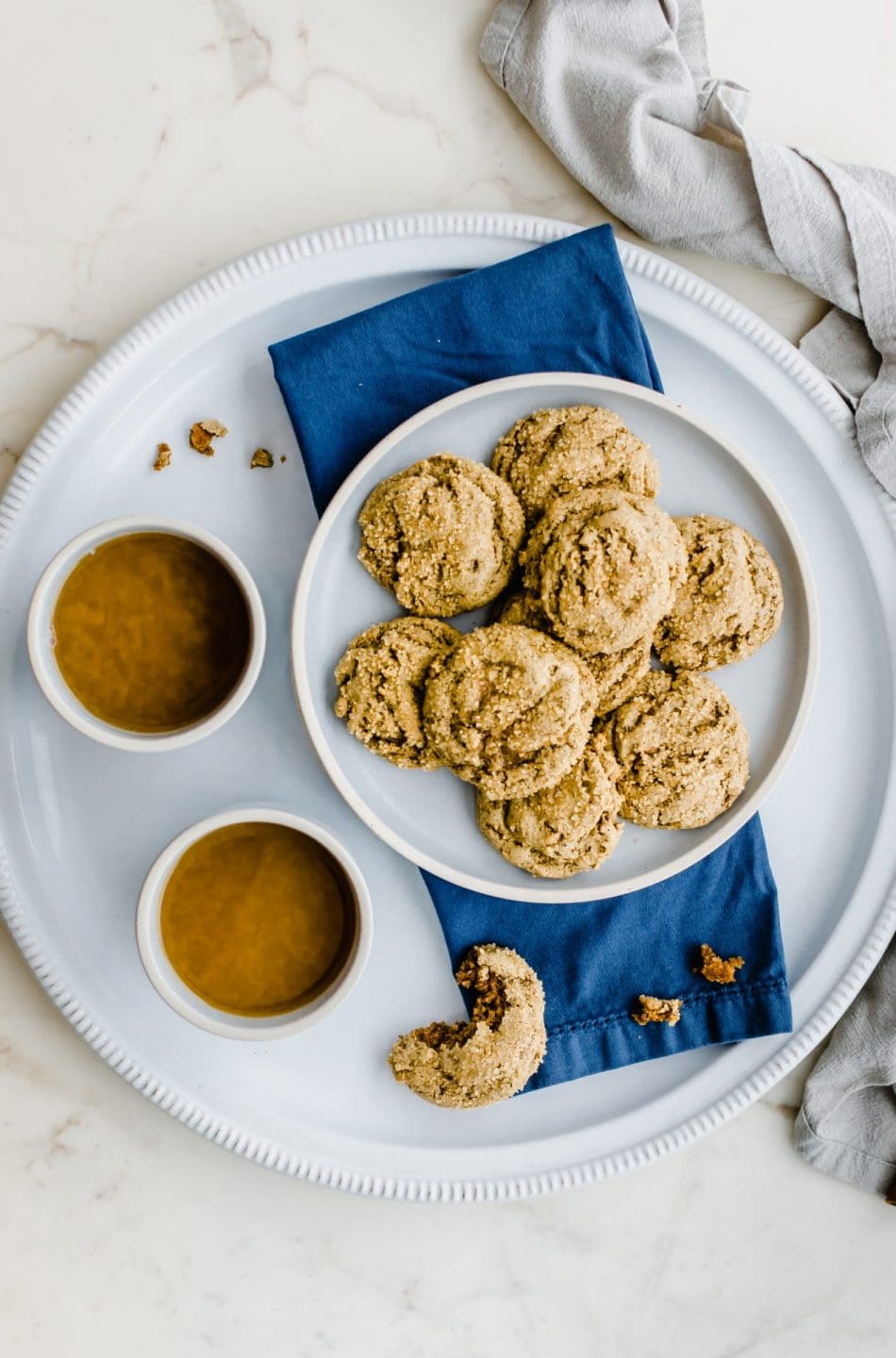 Spiced Tea Ingredients
Now let's just go ahead and acknowledge that there are a couple of variations of spiced tea that you will find served in the South. Some recipes call for making it from completely powdered ingredients - powdered tea, powdered lemonade, powdered orange Tang, and ground spices. This way you can mix it all up and divide it into jars for gifting. You'll also find variations in the amount of sugar used, some recipes call for lemon, orange, and pineapple juice, and of course, different amounts of spices. But this is the recipe MY Nana and mom have been making for years, and the one our family loves the most! If you've ever been to a Christmas party at my parent's house or been blessed by my mom's hospitality during the holidays, you've probably had her spiced tea. She loves to divide it into Mason jars and take it to people - and everyone loves her for it! Here's what you will need:
Black tea bags - I prefer Lipton for the best flavor. Decaf will do if you need it and plan to drink this a lot in the evening (which I think is the best!).
Frozen orange juice concentrate and frozen pineapple juice concentrate - I prefer to buy the pulp-free orange juice. If you can't find the frozen pineapple juice concentrate, use 3 cups of the canned Dole pineapple juice.
Whole cinnamon sticks - I use ones that are about 3-inches long.
Whole cloves - you will need a teaspoon and a spice ball or loose tea ball to put them in.
Sweetener - my preference is to use 1 cup of raw sugar or demerara sugar for this recipe because of the deeper flavor notes in those sweeteners. I've made it with Splenda before and it tasted just fine. You could also try making it with Swerve sweetener, which I know many people are enjoying these days. If you'd like to naturally sweeten, I'd recommend starting with ½ a cup of honey or maple syrup, depending on the flavor notes you'd like. Tinker around with it and make it your own!
Water - I've got two options for the amount of water in the recipe below, depending on how strong you'd like the tea to be!
Ingredient amounts/instructions listed in the recipe below.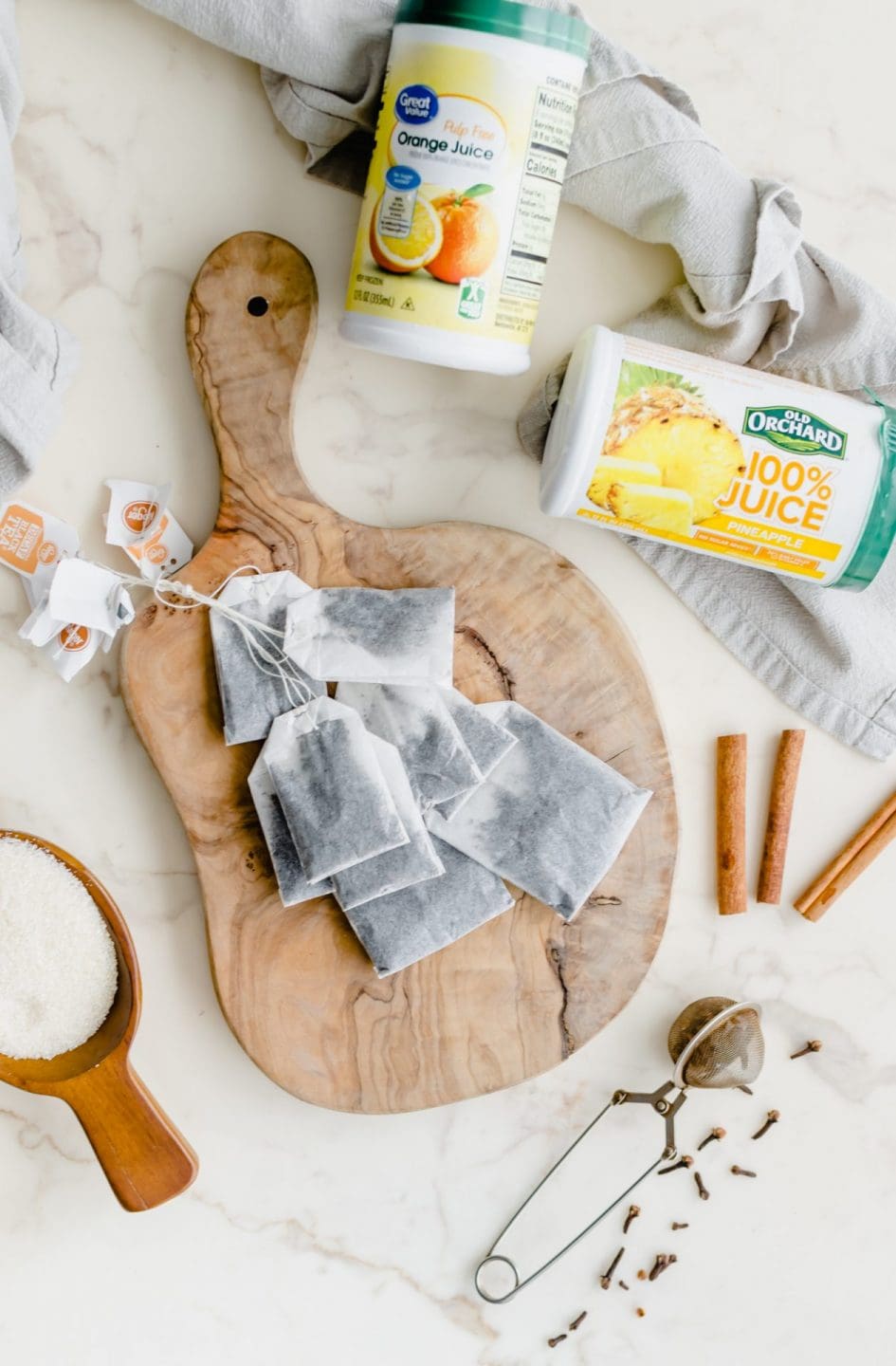 How to Make Spiced Tea
Set out orange and pineapple juice on the stovetop - they will thaw somewhat while you make the tea!
Boil some water - you will need a really large pot for this, like a stockpot.
Add the tea bags and spices, then simmer - reduce the heat and simmer the tea and spices with the lid on for 20 minutes.
Remove tea bags and spices and discard or compost.
Stir in the juices and sweetener - keep the burner on low or medium-low so everything dissolves and incorporates nicely. The juices will still be slightly frozen but will thaw quickly when stirred into the hot tea.
Heat to warm, serve, or chill for up to 2 weeks. This also freezes beautifully! It's nice to ladle the tea into Mason jars and take it to a neighbor or friend as well 🙂
Complete instructions are found in the recipe below. 
Are you ready to make some Spiced Tea? I'm so excited for you to try this recipe. Once you get the chance to make it, please let me know how it turns out for you! Leave a comment and rate the recipe below. This will help me with the creation of future recipes! I'd also love to feature your creation in my monthly newsletter, so you can upload a photo to Instagram or Twitter with the tag @sweetcayenne5 to be featured!
*PLEASE rate and comment on the recipe if you make it! This helps my SEO - THANKS!*
Recipe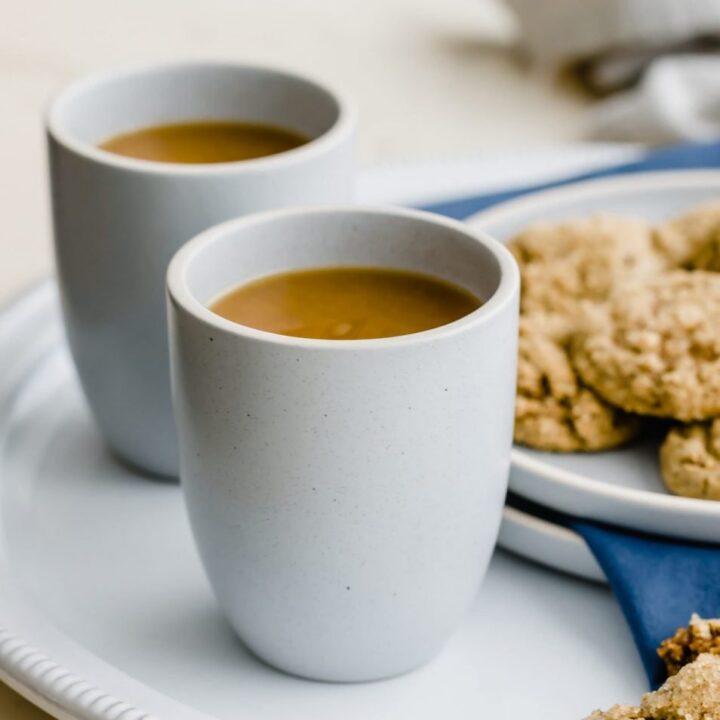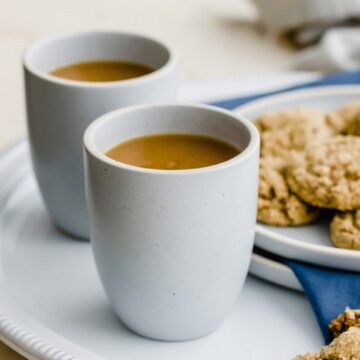 Spiced Tea
Spiced Tea is one of my favorite family recipes that I love to make when the weather is just too cold to bear! It's my favorite comfort when I have a cold, the winter blues, or just want to be cozy!
Print
Pin
Rate
Ingredients
1

(12-ounce)

container frozen orange juice concentrate

1

(12-ounce)

container frozen pineapple juice concentrate

5

quarts

(20 cups) water

10

single-serving

black tea bags (such as Lipton)

4

(3-inch)

cinnamon sticks

1 ½

teaspoons

whole cloves, placed into a spice or loose tea ball

1

cup

raw sugar or demerara sugar
Instructions
Place the frozen juices on a plate or tea towel on or near the stovetop (be careful not to touch any burners that are on).

Add the water to a large stockpot and bring to a boil. Once the water is boiling, add the tea bags, cinnamon sticks, and spice ball of cloves. Reduce heat to a simmer over medium-low and cover. Simmer for 20 minutes.

Remove the lid from pot and using a slotted spoon, remove the tea bags, cinnamon sticks, and spice ball.

Keeping the tea warm over low heat, stir in the thawed juice concentrates and sugar. Stir over low heat for about 10 minutes or until desired drinking temperature is reached OR cool the tea before placing in the refrigerator for up to 2 weeks and reheating individual servings as needed.
Notes
Freeze spice tea for up to 6 months. Thaw in the refrigerator overnight before reheating.
Serving:
1
Cup
|
Calories:
74
kcal
|
Carbohydrates:
19
g
|
Protein:
0.3
g
|
Fat:
0.1
g
|
Sodium:
5
mg
|
Potassium:
132
mg
|
Fiber:
0.1
g
|
Sugar:
17.1
g
|
Calcium:
8
mg
Pin this, pretty please!