This fresh lemonade recipe is simple to make and is sweetened with a garden-fresh jalapeño simple syrup. I love to make it with peppers from my garden and enjoy it after a hot day of yard work!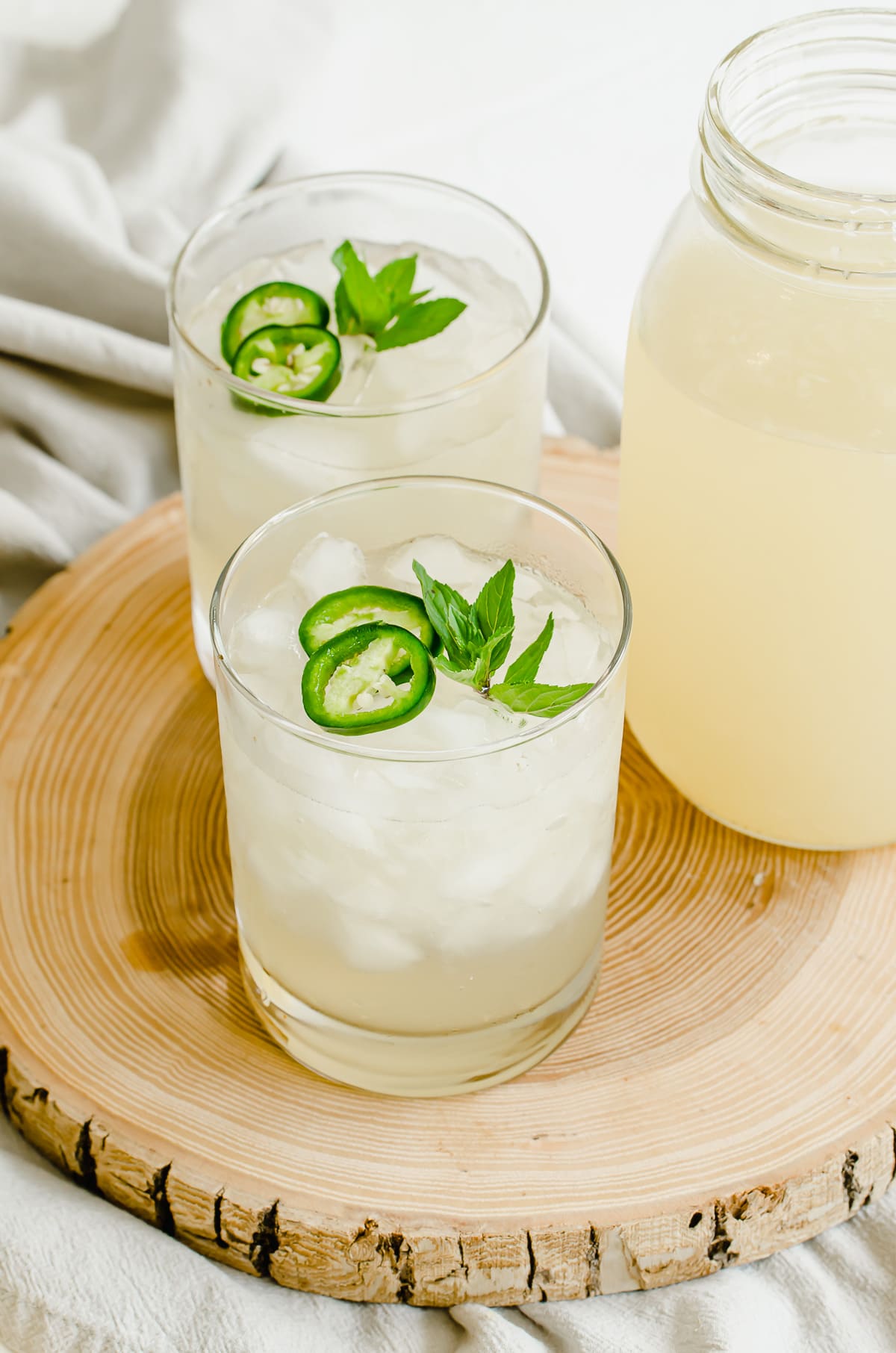 Jump to:
About the recipe
One of my favorite things to do during the hotter months in TN is to make fresh lemonade and cold brew iced tea. Ryan and I have a HUGE yard that we seem to always be doing work in, and one of the best treats during those sweaty hours is to enjoy some lemonade afterward!
This summer, I've had a lot of fun experimenting with different types of lemonade, depending on the produce and herbs that were in season. I love doing a mash-up of my favorite flavors - from strawberry to peach lemonade, watermelon, mango, mint, basil - and now this jalapeño version with pepper straight from our garden.
It's so rewarding when the fruits of your labor actually become something that can nourish you during your work - it's like we've come full circle! Whether you are making this lemonade for a homemade stand, Labor Day weekend, or just because, you are sure to enjoy how amazingly refreshing it is and the ability to customize it for your own taste preferences. Let's make some!
Ingredients
Fresh lemons - I think Sunkist lemons have the best flavor
Filtered water - so your lemonade tastes clean and pure
Sugar - options for pure cane sugar, honey, and a sugar alternative are provided in the recipe card
Fresh jalapeños
Fine grain sea salt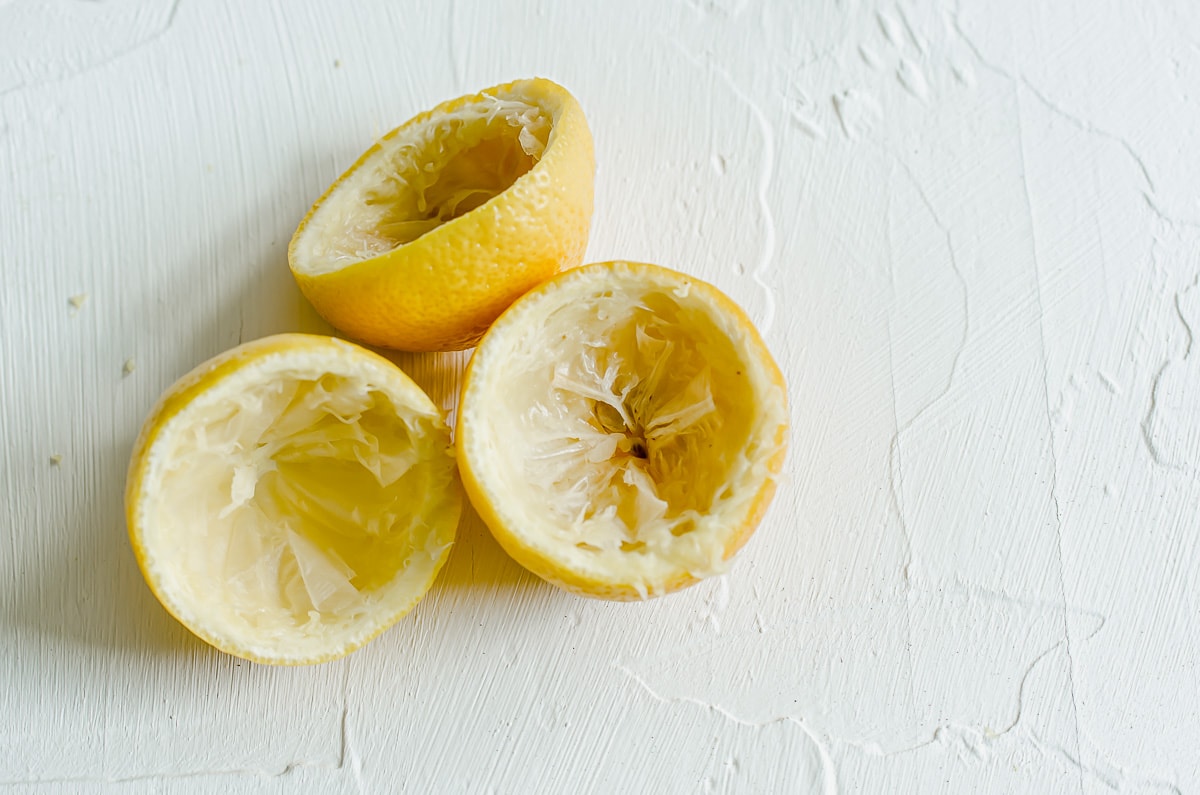 Instructions
Making lemonade from scratch could not be simpler - just mix lemon juice with water and sugar, right? Well, that's almost it - but I've got a few tips that help you make the BEST homemade lemonade:
Step 1: Make the jalapeño simple syrup. Dissolve your sugar in water in a saucepan over medium heat. Stir in the jalapeños, remove from heat, and let them steep for 30 minutes. Strain the syrup after steeping.
Step 2: Juice your lemons. I love pulp in my lemonade, so I like to use a hand squeezer to juice my lemons. If you want pulp-free lemonade, juice the lemons through a fine-mesh strainer.
Step 3: Stir it all together. Combine the lemon juice, filtered water, simple syrup, and salt, stirring well for about 2 minutes until everything is incorporated and dissolved. Chill the lemonade for at least 4 hours, then serve it over ice to further dilute it.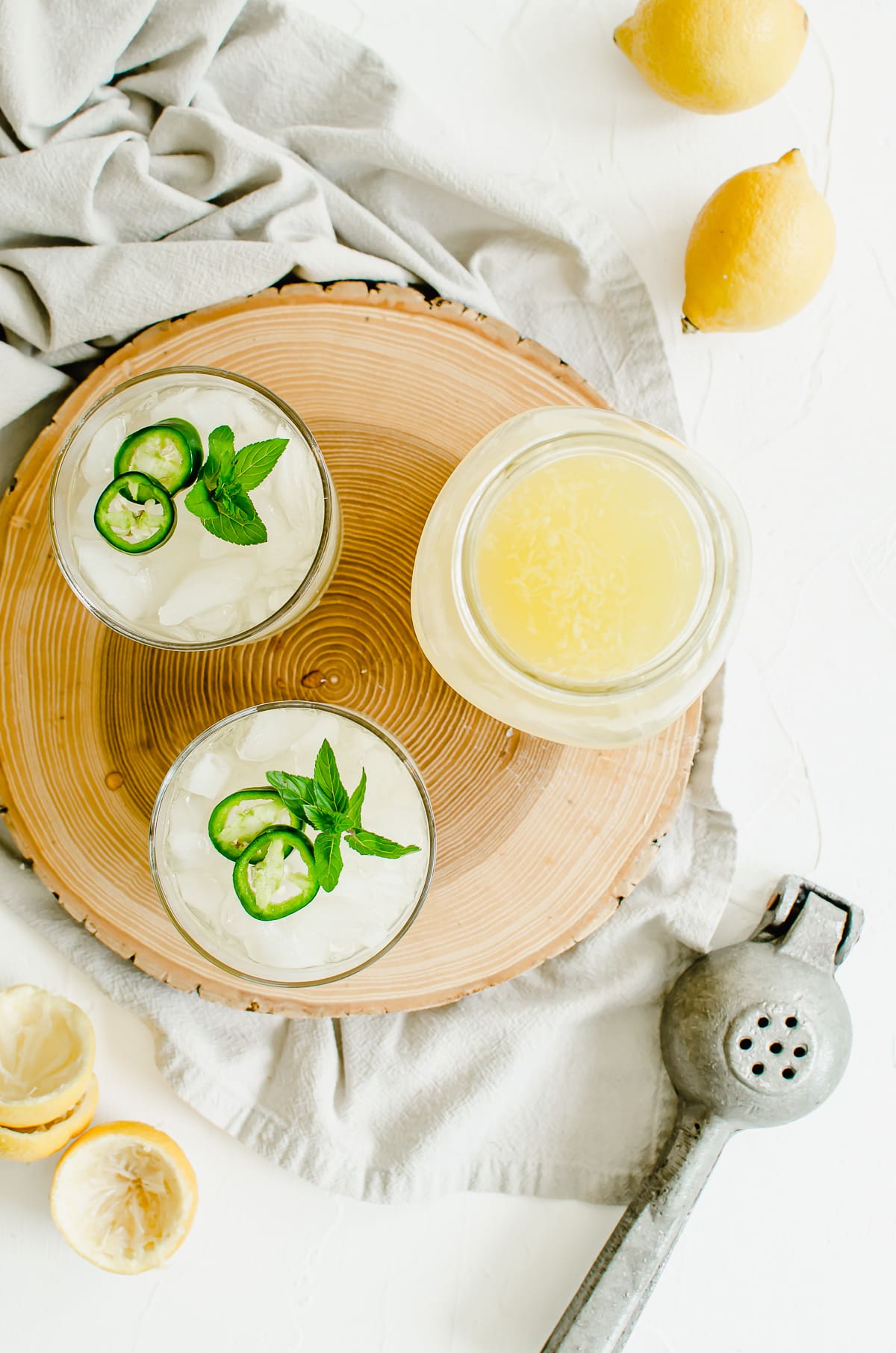 Top tips
Below are some of my best tips for making this fresh lemonade recipe, as well as some answers to commonly asked questions!
Will sugar dissolve in lemonade?
It will if you stir it long enough! Although this recipe calls for a simple syrup to sweeten the lemonade, my fresh peach lemonade stirs the sugar right into the lemonade. The key is in stirring it long enough - about 2 minutes - and the sugar will dissolve eventually.
Is homemade lemonade good for you?
Lemons are high in vitamin C and have a good amount of other vitamins and minerals, making lemonade a nutrient-rich beverage. However, if you are trying to limit refined sugars in your diet or need a low-carb option, I suggest making the lemonade with an alternative sweetener, like Splenda or Stevia.
How long will homemade lemonade last?
Lemonade made with fresh lemons tastes best within 3 days. That's why I like to make it in small batches. This recipe makes 6 servings, but can easily be doubled or tripled to serve a crowd.
You can also make a double batch of the lemon juice mixed with the simple syrup and freeze it as a concentrate, adding water to it once thawed (be sure to double the amounts for ALL the ingredients).
Can I use bottled lemon juice for homemade lemonade?
Technically yes, but I would advise against using bottled lemon juice to make lemonade. The flavor is just not the same and can be somewhat flat. Trust me and do yourself a favor by juicing fresh lemons - it is 110% worth it!
How to choose good lemons:
I think Sunkist lemons are the juiciest and have the best floral flavor. Choose lemons that have a soft skin to the touch - this indicates a juicy lemon. You should be able to feel the fruit underneath the skin. Avoid lemons that have thick or hard skins.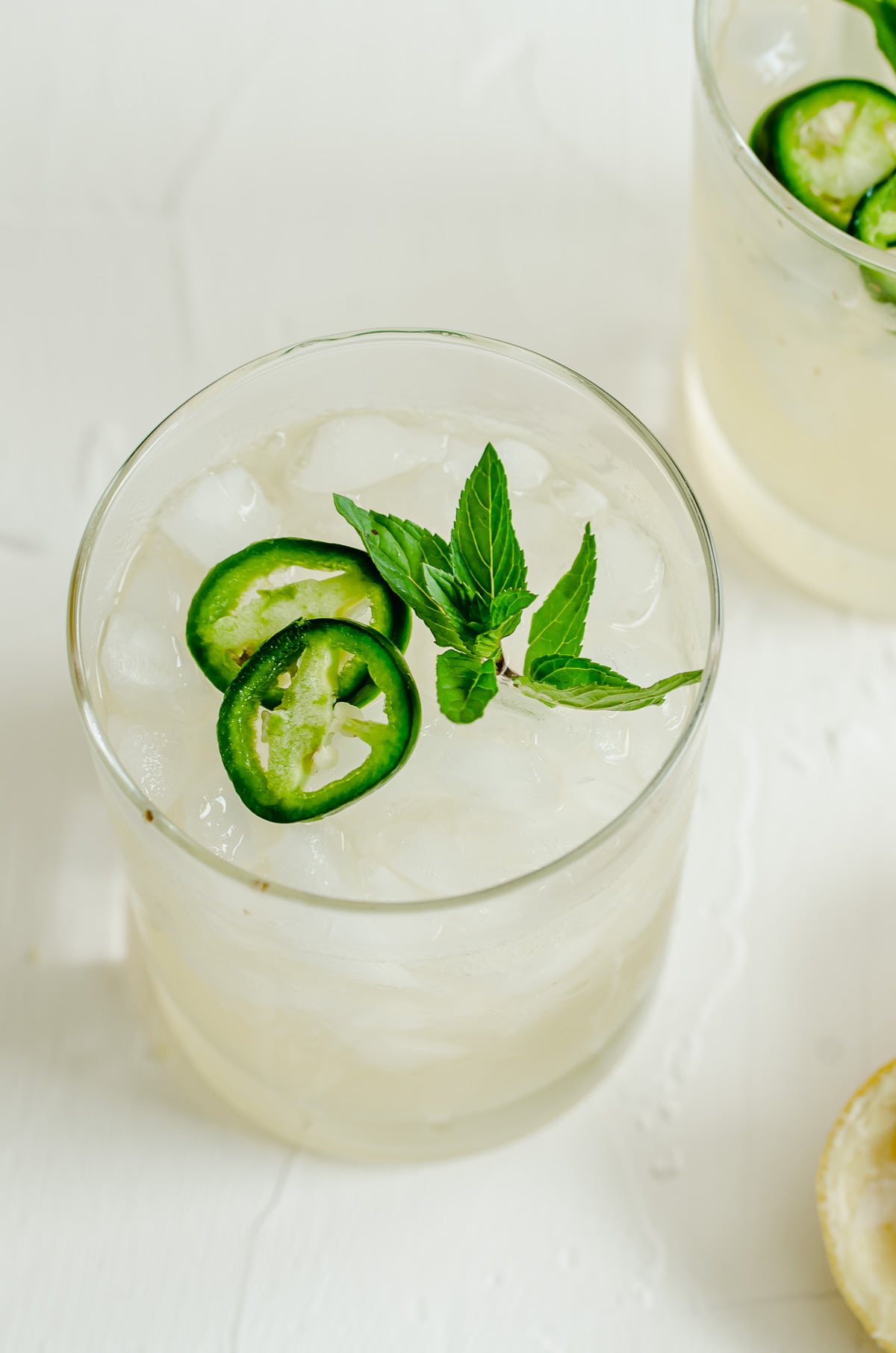 Possible modifications
I think this homemade lemonade tastes so good because of the hint of spice and saltiness in it. It's a great way to replenish your electrolytes after you've been sweating a lot and really makes an excellent thirst quencher. There are a few ways to modify it, depending on your needs and tastes:
Make the lemon flavor more intense: add 1-2 tablespoons of lemon zest to the simple syrup when you add the chopped jalapeño.
Sweeten with honey: replace the sugar in the syrup with equal parts honey.
Make it sugar-free: replace the sugar in the syrup with 1 cup of Splenda (my preference) or Stevia.
Add lime: replace half of the lemon juice with fresh lime juice for a lemon-limeade.
Make spicier lemonade: if you want a really spicy lemonade like the Jalapeño Limeade at Trader Joes, I suggest adding a jalapeño powder to taste. Be careful though - this stuff is hot!
Serving suggestions
You can repurpose the lemon rinds from this recipe to make a lemon syrup and serve it on top of Sweet Tea Granita. This jalapeño lemonade would taste delicious served alongside any of the following recipes: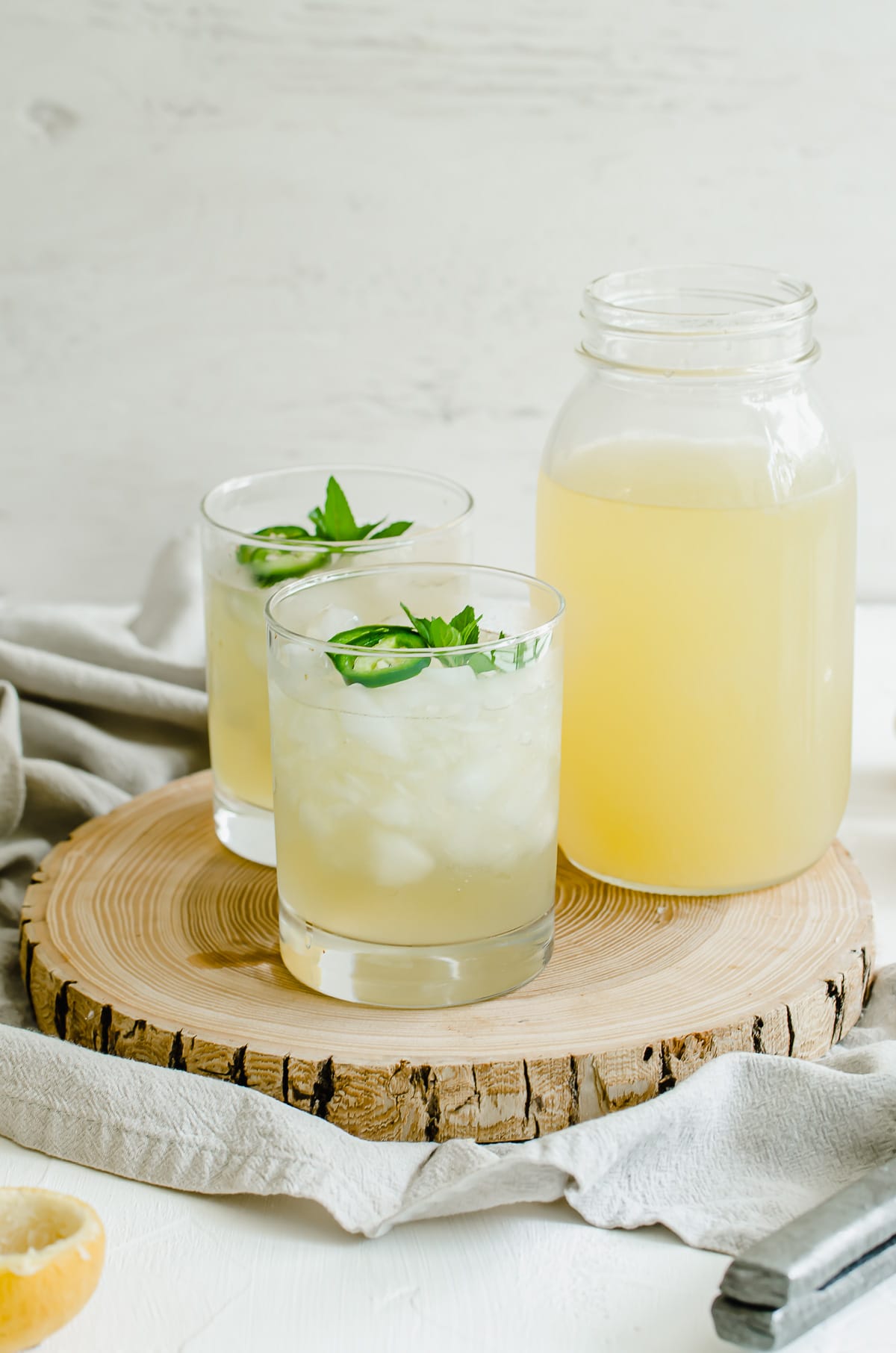 Similar recipes
For another take on homemade lemonade, be sure to check out my Fresh Peach Lemonade, and any of the drink recipes below:
Are you ready to make this Fresh Jalapeño Lemonade? I'm so excited for you to try this recipe. Once you get the chance to make it, please let me know how it turns out for you!
Leave a comment and rate the recipe below. This will help me with the creation of future recipes!
I'd also love to feature your creation in my weekly newsletter, so you can upload a photo to Instagram with the tag @sweetcayenne5 to be featured! Quick and easy recipe videos are available on my YouTube channel, and lots of menu inspiration on my Pinterest boards.
Recipe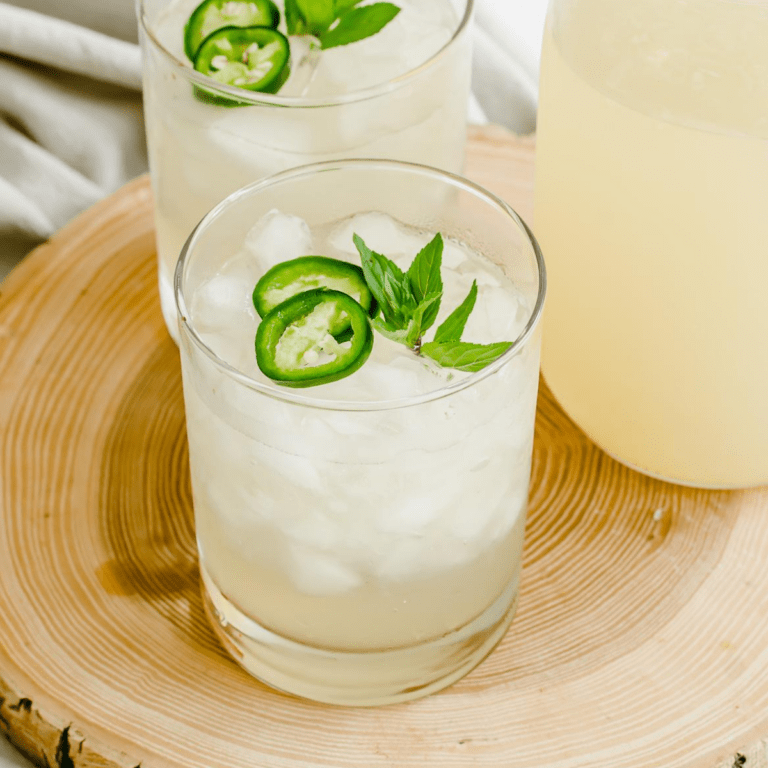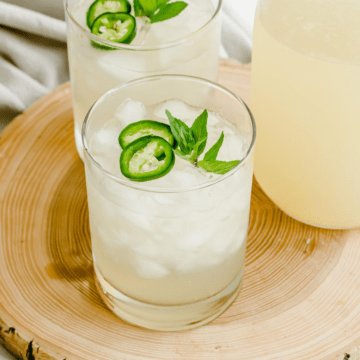 Fresh Jalapeño Lemonade
This fresh lemonade recipe is simple to make and is sweetened with a garden-fresh jalapeño simple syrup.
Print
Pin
Rate
Ingredients
1

cup

water

1

cup

sugar (alternatively use 1 cup honey, or 1 cup Splenda or Stevia)

2

large

jalapeños, seeded and chopped (chop the ribs); about ⅓ cup

1 ½

cups

freshly-squeezed lemon juice (about 6-8 lemons)

4

cups

cold, filtered water

¾

teaspoon

fine grain sea salt
Instructions
Combine the water and sugar in a saucepan. Heat over medium, stirring occasionally, until sugar dissolves. Stir in jalapeño. Cover and let sit for 30 minutes, then strain the peppers from the syrup.

While the syrup is steeping, combine the lemon juice, water, salt, and jalapeño syrup in a pitcher. Stir until the salt dissolves, about 2 minutes. If you are adding jalapeño powder, add this to taste, stirring thoroughly to dissolve.

Chill for at least 4 hours before serving over ice to further dilute it. Enjoy within 3 days!
Notes
Please use caution when chopping jalapeños. Avoid touching your face or eye area before washing hands thoroughly with soap. Wearing gloves while chopping any type of chile is highly recommended to avoid irritation.
Nutrition information is calculated using 1 cup of pure cane sugar. 
Serving:
1
cup
|
Calories:
141
kcal
|
Carbohydrates:
34.9
g
|
Protein:
0.6
g
|
Fat:
0.5
g
|
Saturated Fat:
0.5
g
|
Sodium:
303
mg
|
Potassium:
86
mg
|
Fiber:
0.4
g
|
Sugar:
34.8
g