Today we are going to cook a Chile Citrus-Roasted Pork Tenderloin that looks and tastes fancy but could not be easier to make! Seriously - make this on a busy night and have delicious leftovers the next day!
Video
Here's a video showing exactly how I made this easy roasted pork tenderloin:
My dad has always been a master at making pork tenderloin. Rubbed with his special spice blend, grilled pork tenderloin served with white barbecue sauce has been one of his "signature dishes" for as long as I can remember! This is one of his "back pocket" or "company's coming" recipes that I love to enjoy whenever I go home to visit but have never made an attempt to make on my own - primarily because I have not had access to a grill up until last year! But that all is going to change very soon - I'm determined to become a grill master, just like dad!
This Chile Citrus-Rubbed Pork Tenderloin is a recipe that I began making for my personal chef clients several years ago. It reminds me a lot of dad's special pork tenderloin and has been a favorite "back pocket" recipe for me when I've wanted a restaurant-worthy pork dish to serve that was easy and consistently delicious with minimal effort! The citrus chile rub is easy to put together - you can even make extra to save as a chicken marinade later on in the week. And pork tenderloin is such a delicious option for lean protein - I think it often gets overlooked or just forgotten about. But we are changing it today with this flavor-packed recipe that begs to be a part of Taco Tuesday or your next fiesta-style dinner!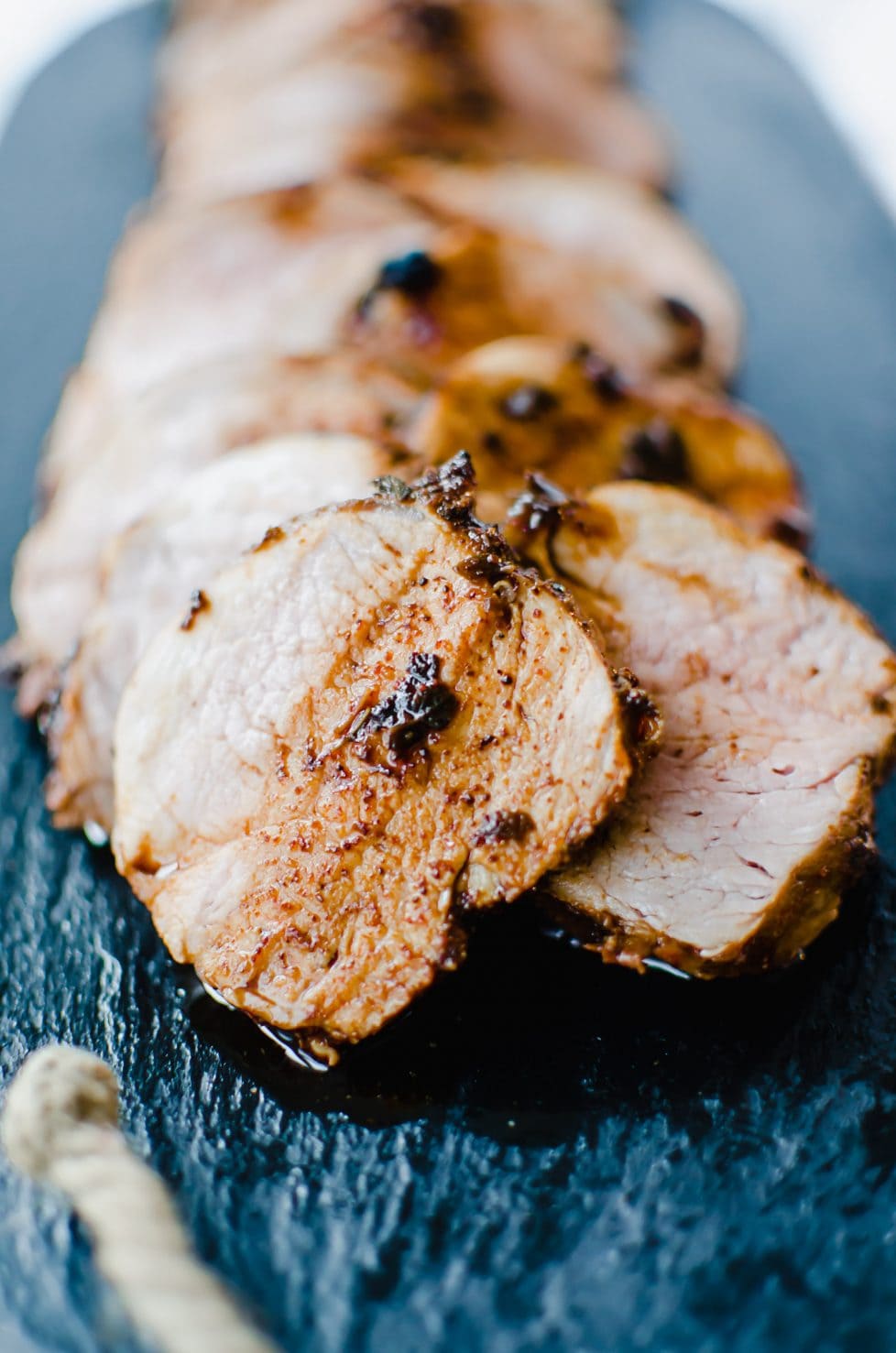 I love to make this pork tenderloin year-round and serve it as part of a bean and rice bowl, in tacos, quesadillas, and breakfast burritos, or on top of a salad loaded with all my favorite Mexican ingredients. It's a great "meal prep" option and I often will make double just for the purpose of serving it different ways throughout the week. The leftovers are delicious served cold but can also be reheated with a quick sear in a hot skillet.
Definitely, give this a try if you are in search of an easy weeknight protein option that is sure to be a crowd-pleaser! Let me know what you think in the comments below OR upload a pic to Instagram or Twitter with the tag @sweetcayenne5. I love getting recipe feedback from my readers!
If you like this Citrus-Chile Rubbed Pork Tenderloin, check out these Fish Taco Bowls with Plantain Rice and Pineapple Salsa or this Cucumber Lime Granita! For dessert try this Back Pocket Chocolate Cake.
Ingredients
2

tablespoons

ancho chile powder

2

tablespoons

dark brown sugar

1

tablespoon

Mexican oregano

(regular is fine too)

1

teaspoon

cumin

1

teaspoon

minced garlic

1

teaspoon

salt

½

teaspoon

black pepper

3-4

tablespoons

freshly squeezed grapefruit juice

1

(2-3 pound)

pork tenderloin (or two 1-pound tenderloins)

1

tablespoon

olive oil
Instructions
Preheat oven to 450℉. Line a baking sheet with parchment paper or foil and set aside.

In a small bowl, combine the chile powder, brown sugar, oregano, cumin, garlic, salt, and pepper. Add 3 tablespoons of grapefruit juice and stir to combine to form a paste that is the consistency of peanut butter. Add the additional grapefruit juice as needed to reach the desired consistency.

Place the pork tenderloin on the prepared baking sheet and pat dry with paper towels. Spoon the grapefruit rub on all sides of the tenderloin and use a basting brush to evenly coat the pork in the rub. Drizzle the olive oil on the top of the pork and use the basting brush to coat the top and sides of the meat.

Roast the pork for 25-35 minutes (depending on the size of your tenderloin) or until the internal temperature of the center of the pork reaches 145-150℉. Remove the pork from the oven and tent with foil. Let the pork rest for 10 minutes. Slice into thin rounds and serve while hot!
Video
Notes
This sliced pork is delicious with beans and rice, or warm tortillas, or on a salad with grapefruit and avocados! We love to meal prep two tenderloins and serve it in all of the above ways over the course of 2-3 days. The pork is delicious served cold or we reheat the slices in a skillet on medium heat for about 90 seconds per side.