We are easing into the New Year with a SIMPLE and EASY recipe that you can set and forget in your slow cooker - hello Apple Cider Pork!
I don't know about you, but healthy, easy, recipes that come together quickly and taste like comfort food are what get me through the doldrums of the January - March months. Eating healthy is a goal for sure, but listening to my cravings for warm, comforting, cozy meals makes cooking in the colder months so much more enjoyable. When it's under 20 degrees outside, a salad just isn't satisfying to me like a steaming hot plate of food that will feel warm in my belly! It's during this time of year that my slow cooker, braiser, and Dutch oven become the kitchen workhorses - the spiralizer, salad spinner, and smoothie blender will have their time when it gets a bit warmer!
This slow cooker apple cider pork was inspired by a sponsored trip that I took to tour a pork farm in Minnesota back in the fall. It was a fun and insightful look into the farm life and all that goes into raising hogs to produce lean and flavorful pork products in the most sustainable and conscientious way possible. I was so encouraged to learn about the commitment these pork producers had to research and innovation so that their animals are well cared-for and the process of raising them becomes more sustainable.
Below are a few photos of my time there, along with several other registered dietitians. We were introduced to new ideas for preparing lean cuts of pork in flavorful, eye-catching ways, had some delicious food, were treated to a cooking and meat fabrication class, and a behind-the-scenes look into the pig barns!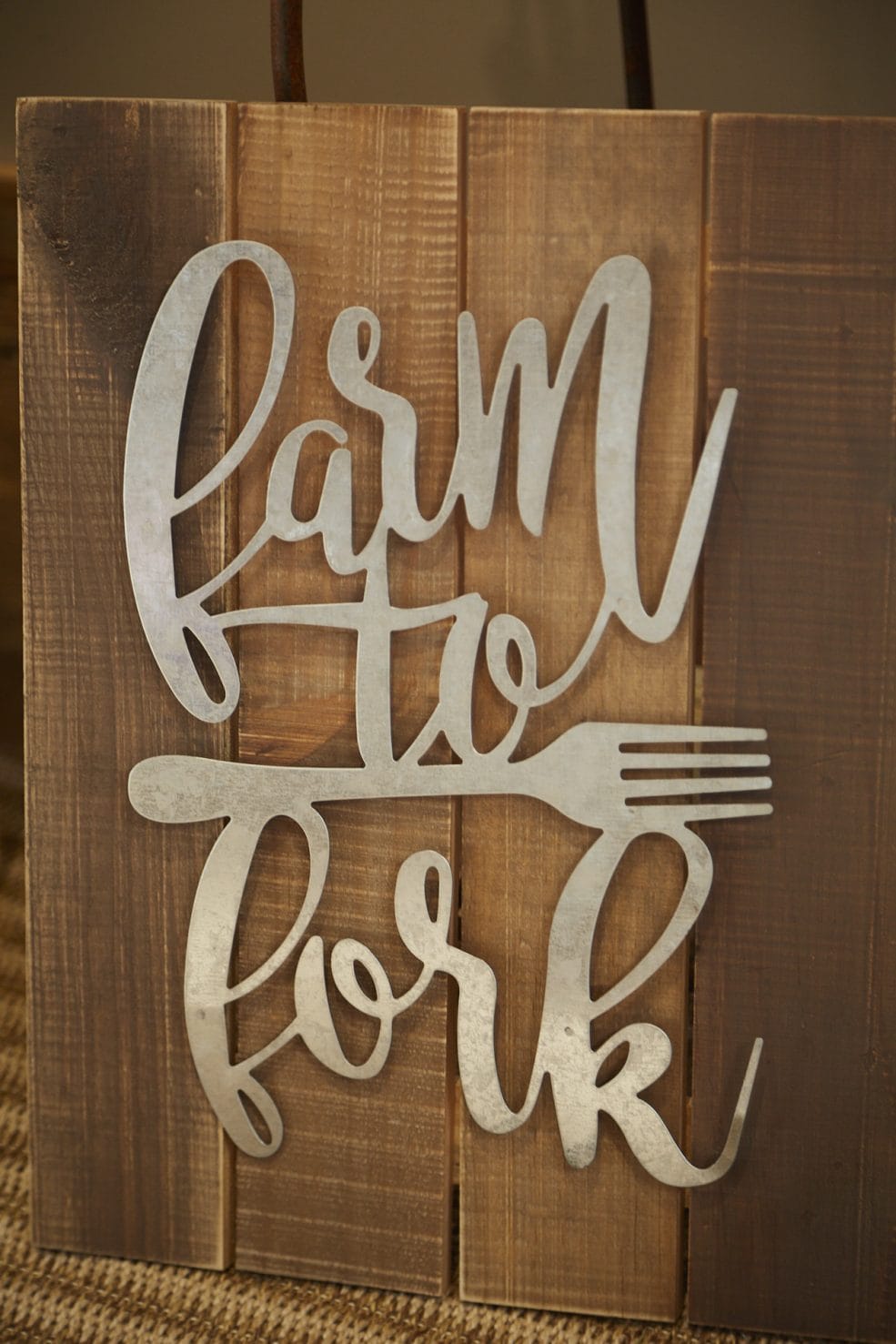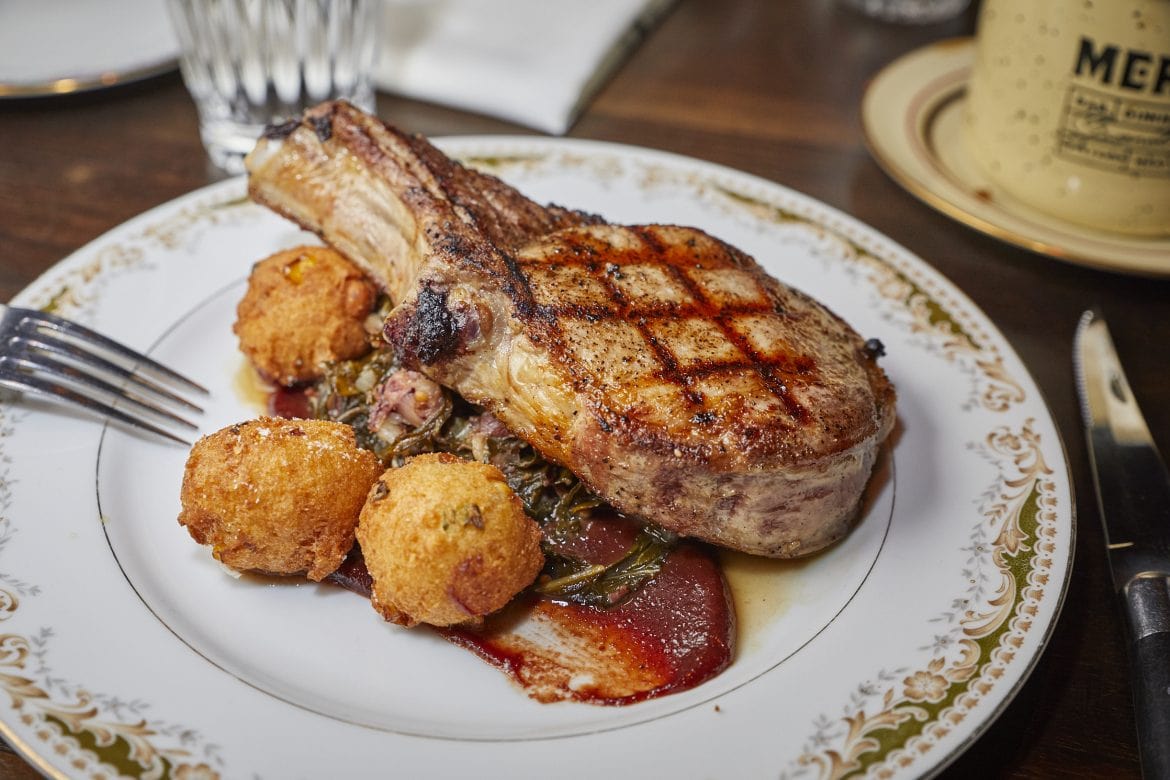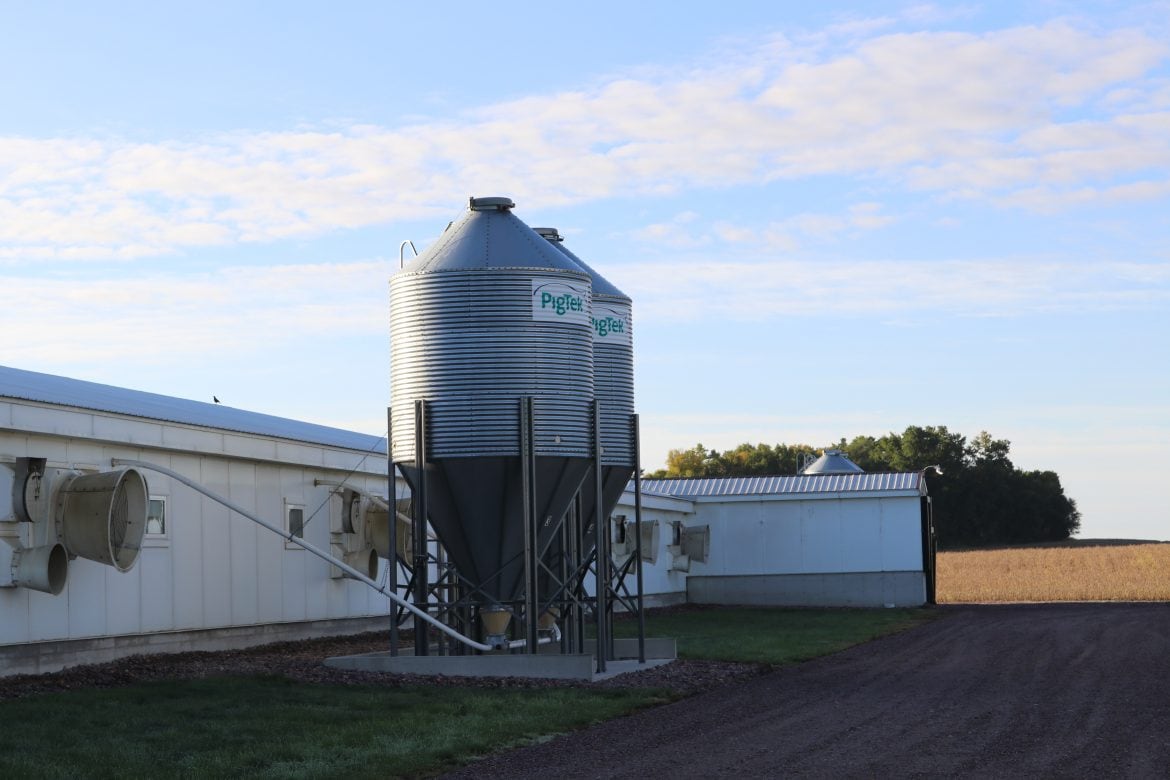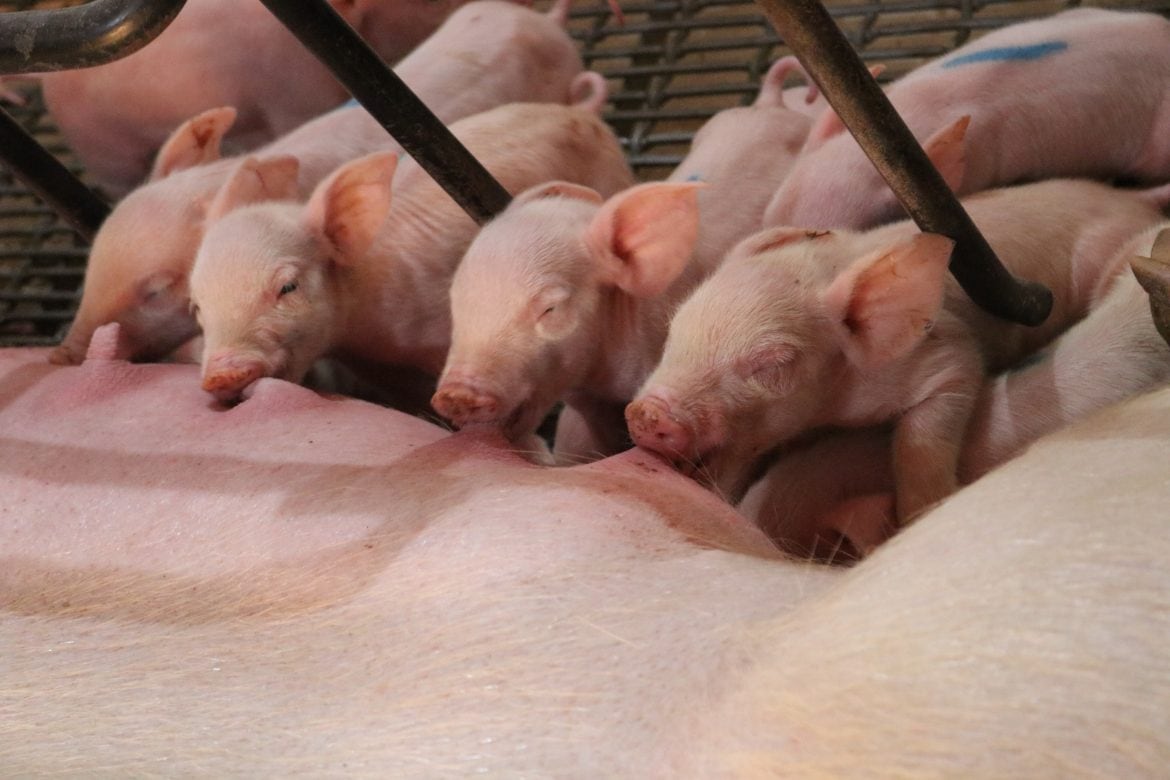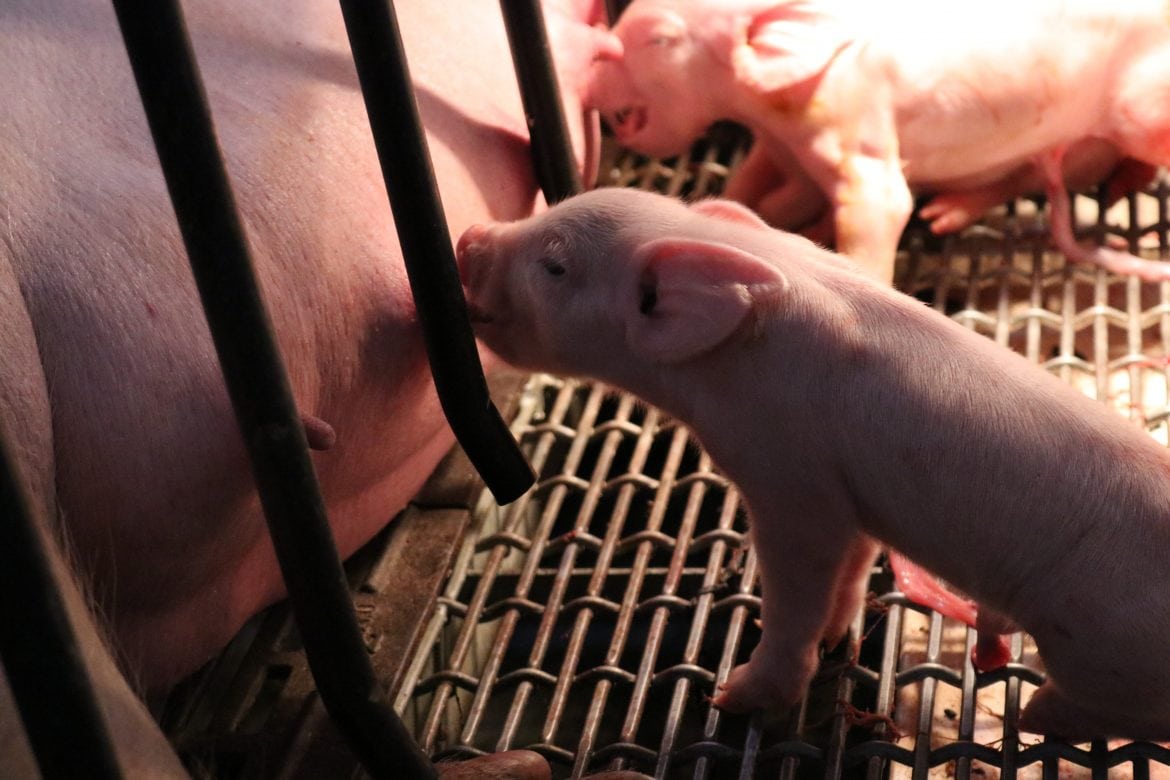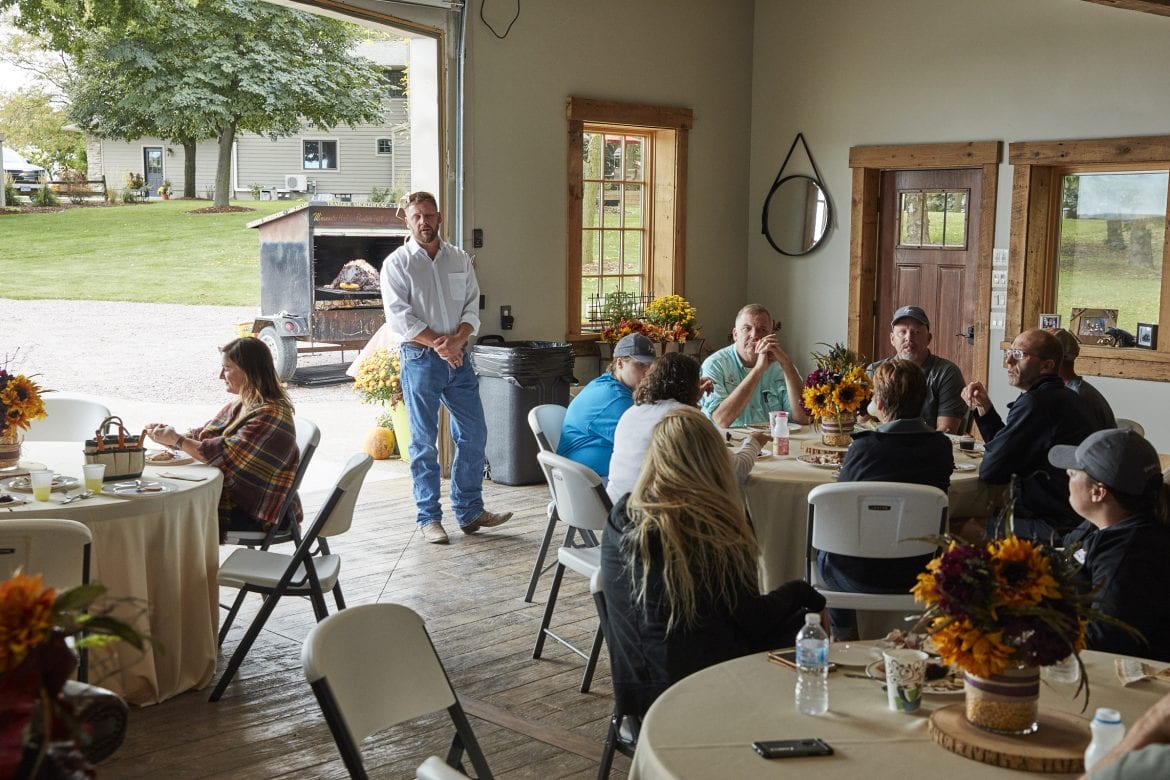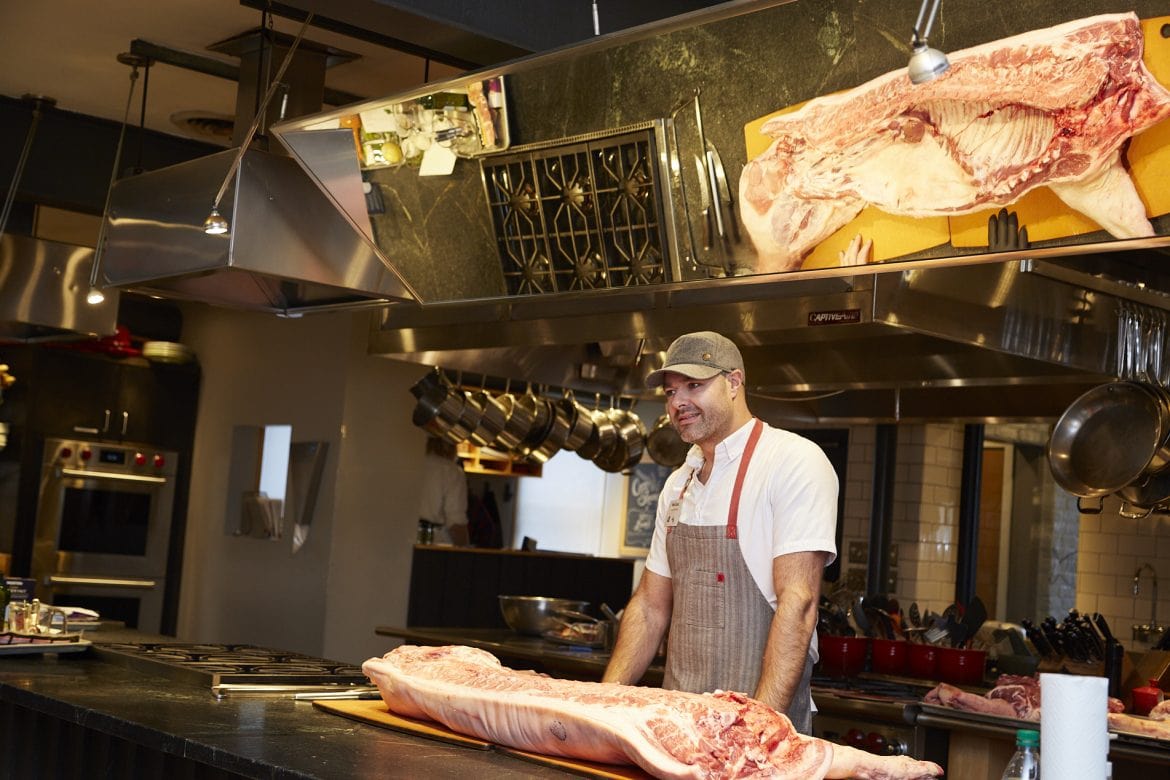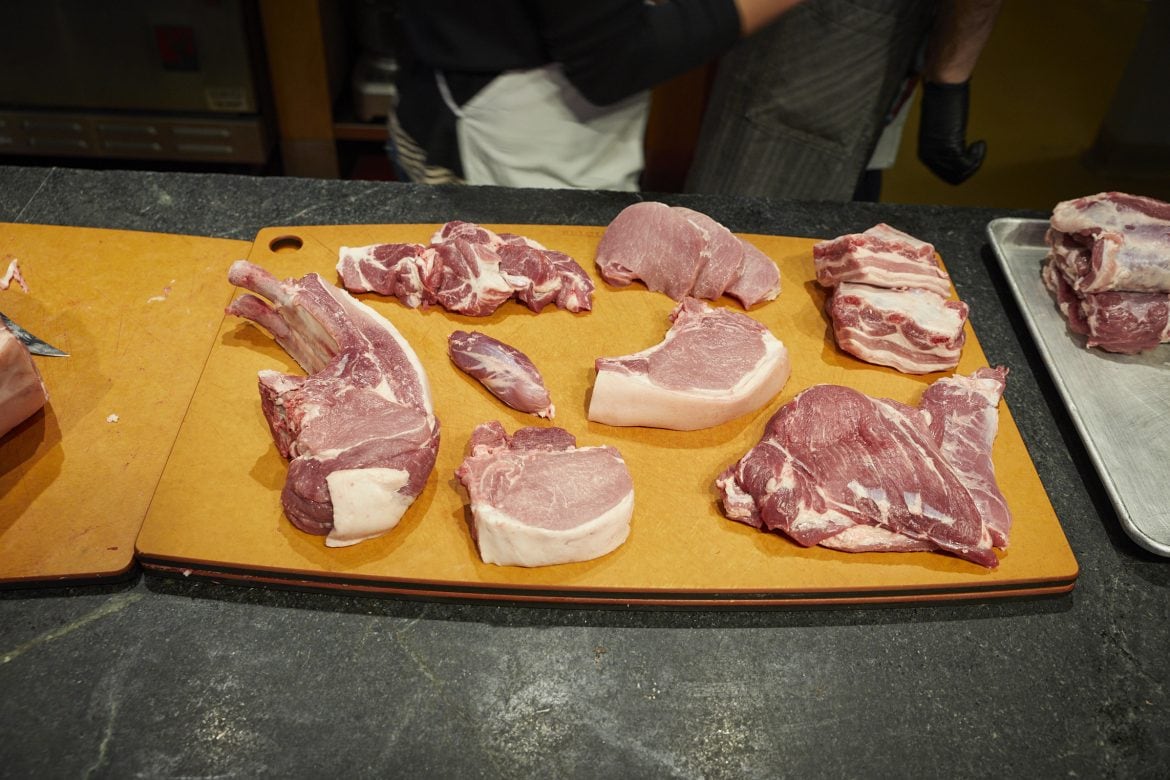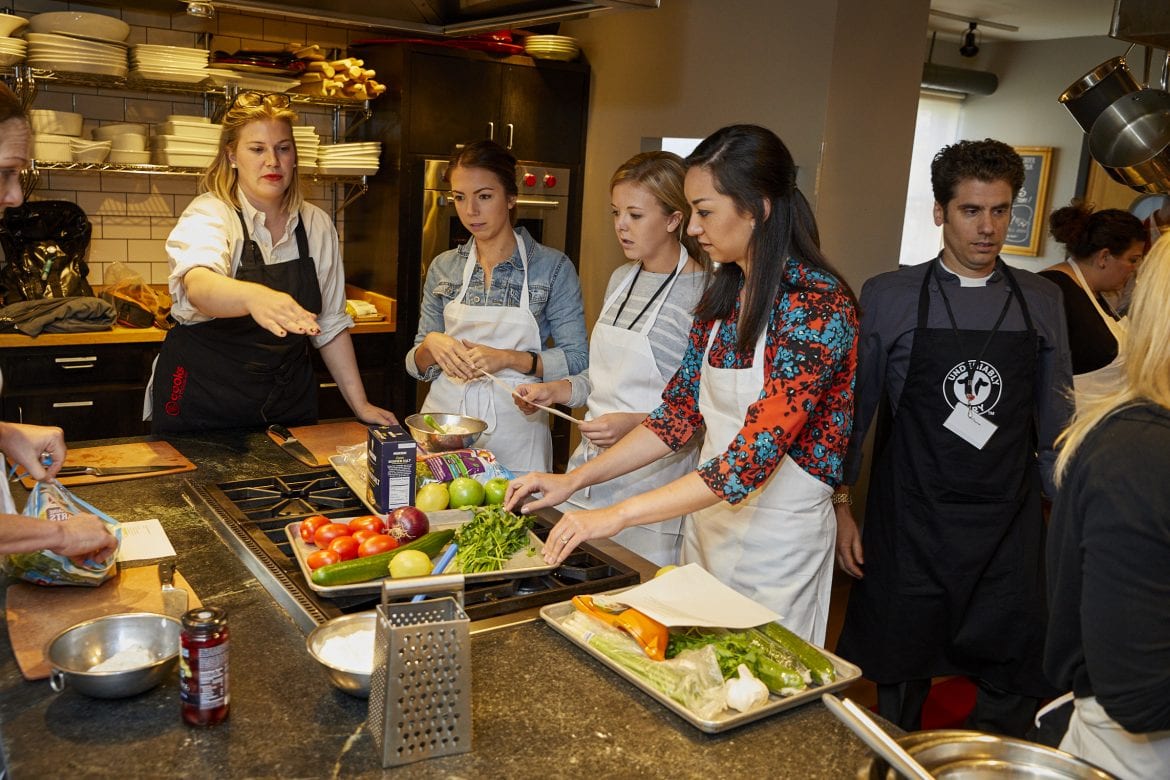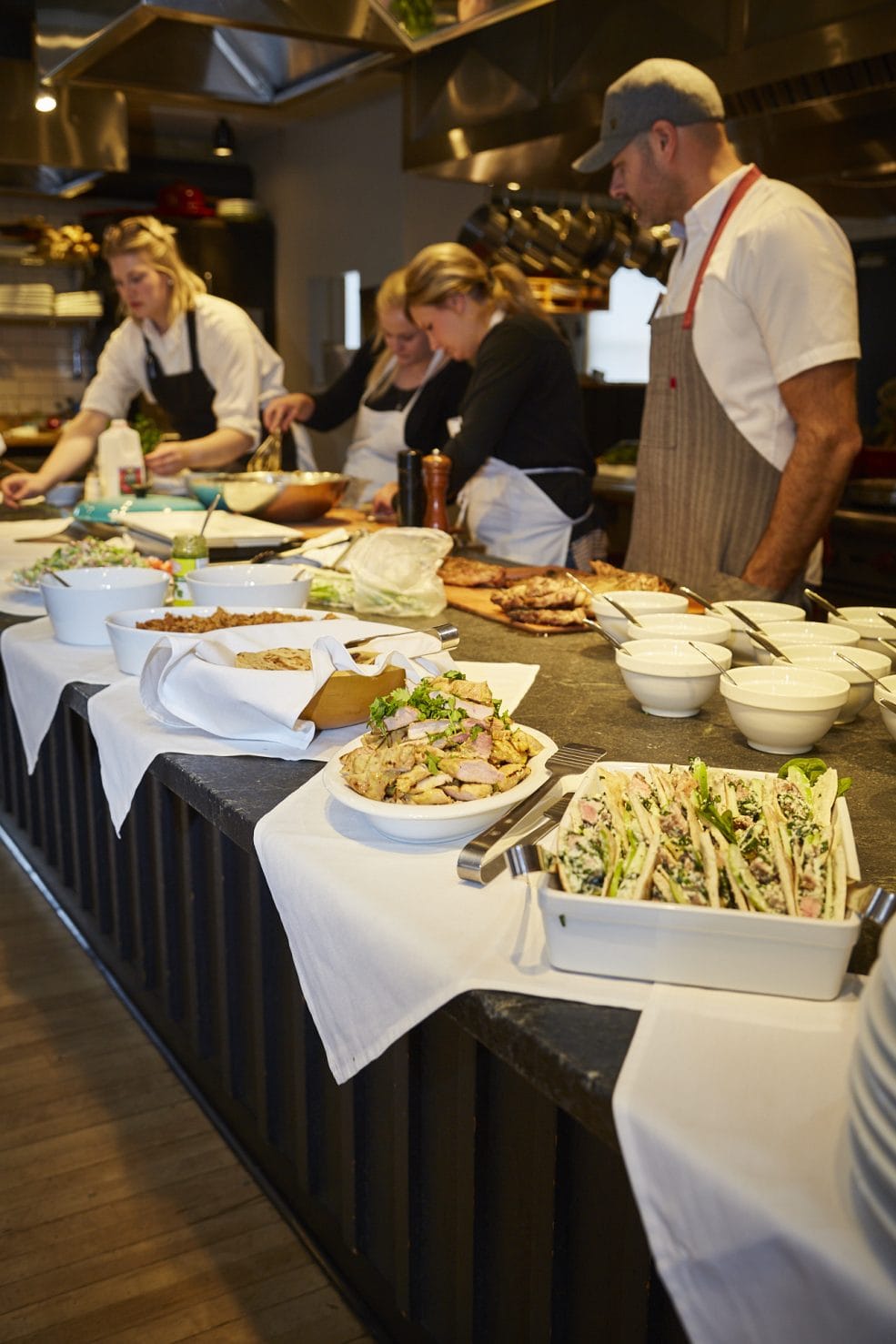 My past experience with cooking pork has been to use pork shoulders/butts for moist-heat cooking methods like stewing, slow cooking, and braising. I've always reserved dry-heat cooking, like roasting, grilling, and stir-frying for the leaner cuts like pork loin roast and pork tenderloin. However, with some experimentation, I've been pleasantly surprised to learn that a pork loin roast or a pork tenderloin cooks beautifully well in the slow cooker. It is extremely flavorful and tender - you will not miss the extra fat from a pork shoulder at all!
With this recipe, you can use either two pork tenderloins or a whole pork loin roast. It makes quite a bit, but I found that it made great leftovers. I even froze individual portions of the leftovers for meals that we had between holiday travels and it was delicious that way as well!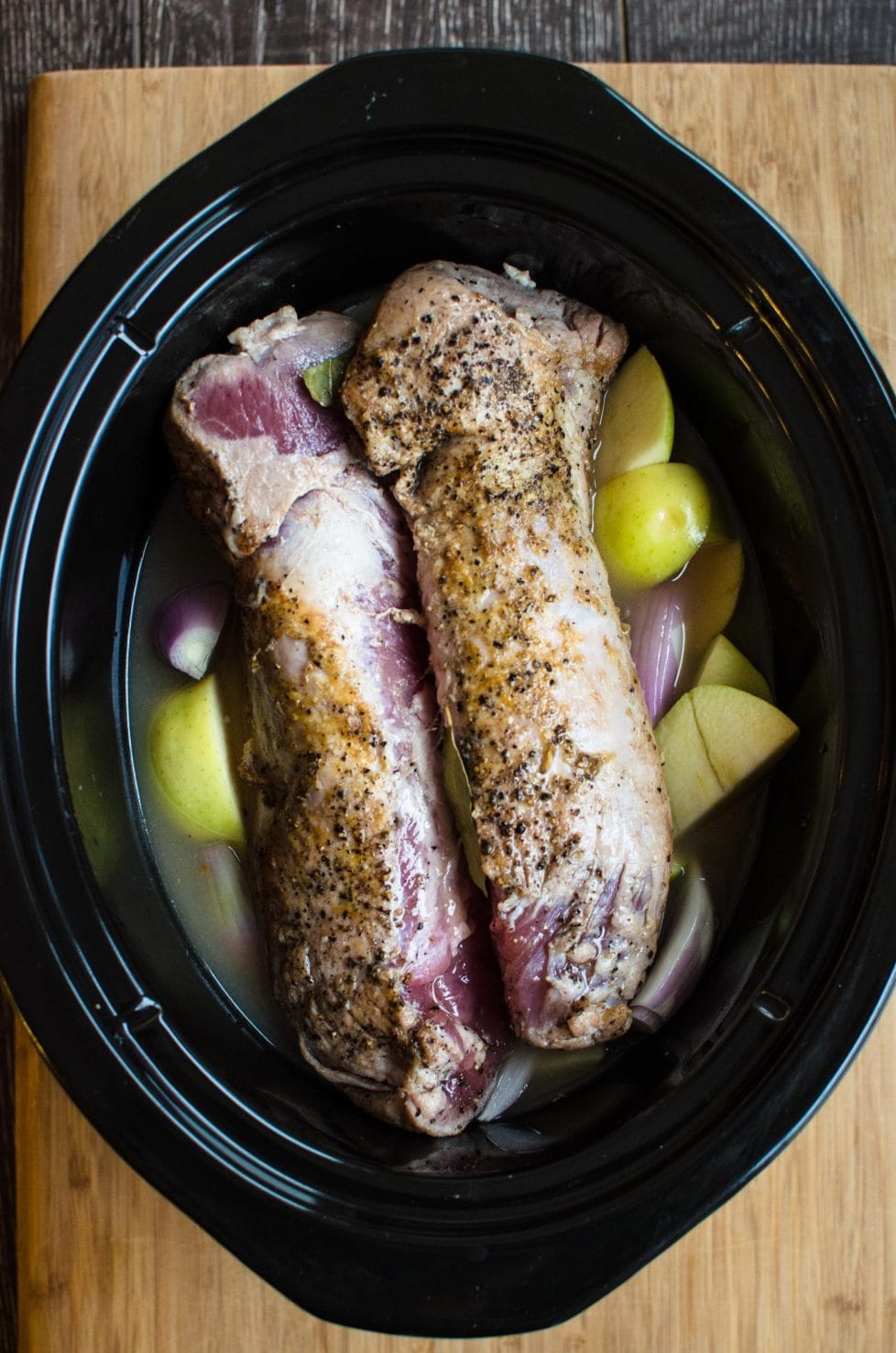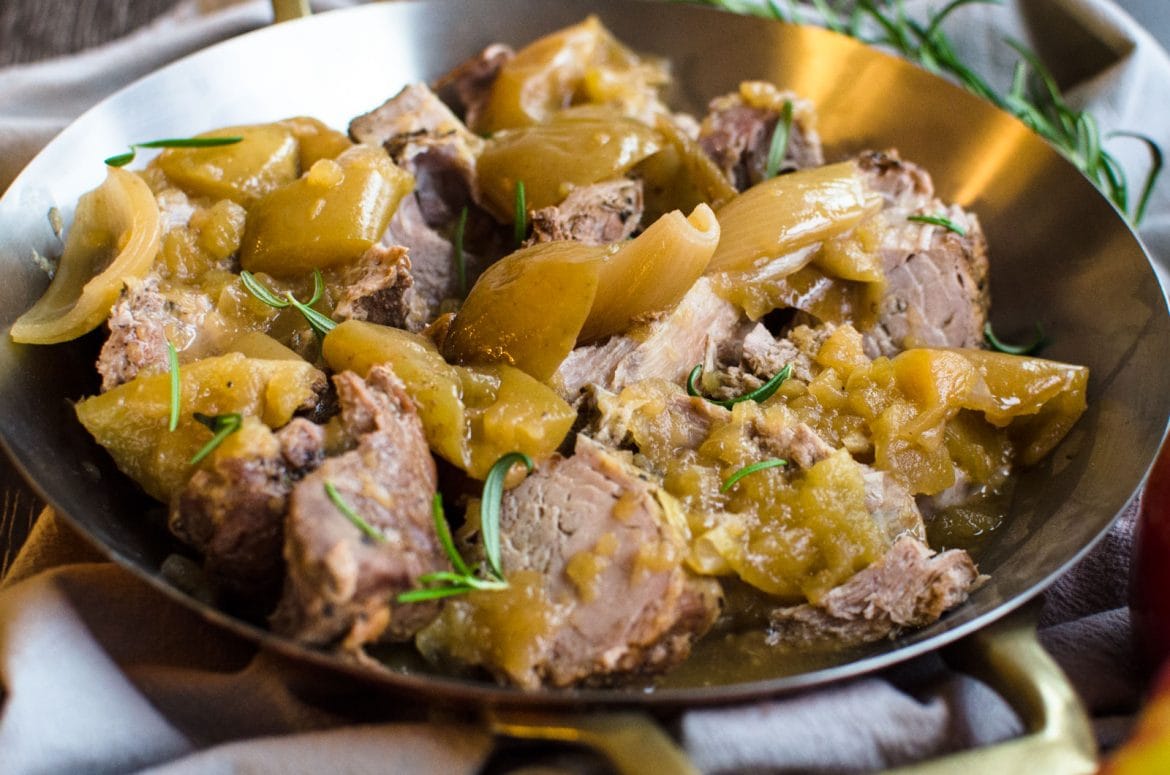 I hope you get the chance to try this Slow Cooker Apple Cider Pork on a cold night this winter - it is such a cozy and comforting (yet healthy!) meal to feed yourself and your loved ones! Please let me know if you try it in the comments below, or tag a photo on Instagram or Twitter with the tag @sweetcayenne5.
Come back later this week to get a recipe for a simple side dish that I LOVE to serve with this pork. In the meantime, check out this other favorite slow cooker recipe - I think you will really enjoy these Shredded Zesty Italian Beef Subs!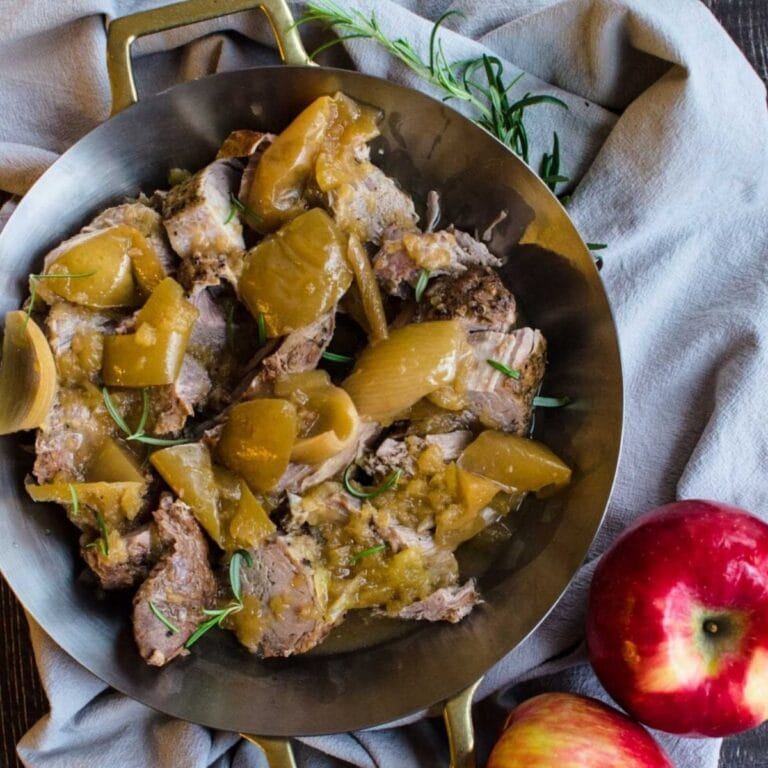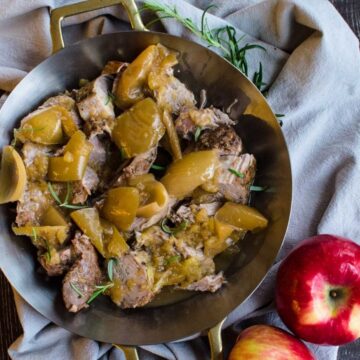 Ingredients
Kosher salt and coarse ground pepper

One

whole

3 pound pork loin roast

(or two 1-2 pound pork tenderloins)

3

tablespoons

olive oil

3

large

honeycrisp apples

cored and cut into quarters

2

whole

shallots

peeled and cut into quarters

3

cups

apple cider

1

whole

bay leaf

3-4

sprigs

fresh thyme

optional

1

cup

chicken stock

1

tablespoon

cornstarch
Instructions
Sprinkle all sides of the pork loin roast liberally with salt and pepper.

Heat a large, heavy-bottomed skillet over medium-high heat. Add the olive oil, and swirl the pan to coat the bottom. Sear the pork roast on all sides (1-2 minutes per side).

Place the apples and shallots in the bottom of a 5-7 quart slow cooker. Add the seared pork loin roast on top.

Pour the apple cider into the slow cooker. Add the bay leaf and fresh thyme sprigs.

Cover and cook on low for 6-8 hours or on high for 3-4 hours until pork is tender and can be easily sliced.

Before the last 30 minutes of cooking, whisk together the chicken stock and cornstarch to form a slurry. Add this to the slow cooker and cook for an additional 30 minutes. This will thicken up the liquid to form a nice sauce.

Slice the pork loin roast and serve with apples, shallots and the juices spooned over the top.