This cozy Slow Cooker Apple Cider Pork is a delicious and simple pork loin recipe that is perfect for the fall and winter season. It's a great make-ahead and freezer-friendly option that the whole family will love!
Jump to:
About the recipe
I don't know about you, but healthy, easy, recipes that come together quickly and taste like comfort food are what get me through the doldrums of the winter months! Eating healthy is a goal for sure, but listening to my cravings for warm, comforting, cozy meals makes cooking in the colder months so much more enjoyable.
When it's below 30 degrees outside, a salad just isn't satisfying to me like a steaming hot plate of food that will feel warm in my belly! It's during this time of year that my slow cooker, braiser, and Dutch oven become the kitchen workhorses - the spiralizer, salad spinner, and smoothie blender will have their time when it gets a bit warmer!
Pork loin roasts are one of my favorite things to make in the slow cooker during the fall and winter months. They are unbelievably tender, flavorful, and make for the most satisfying meal! This apple cider pork loin roast is a perfect fall or winter braise that will warm you from the inside out - let's make some!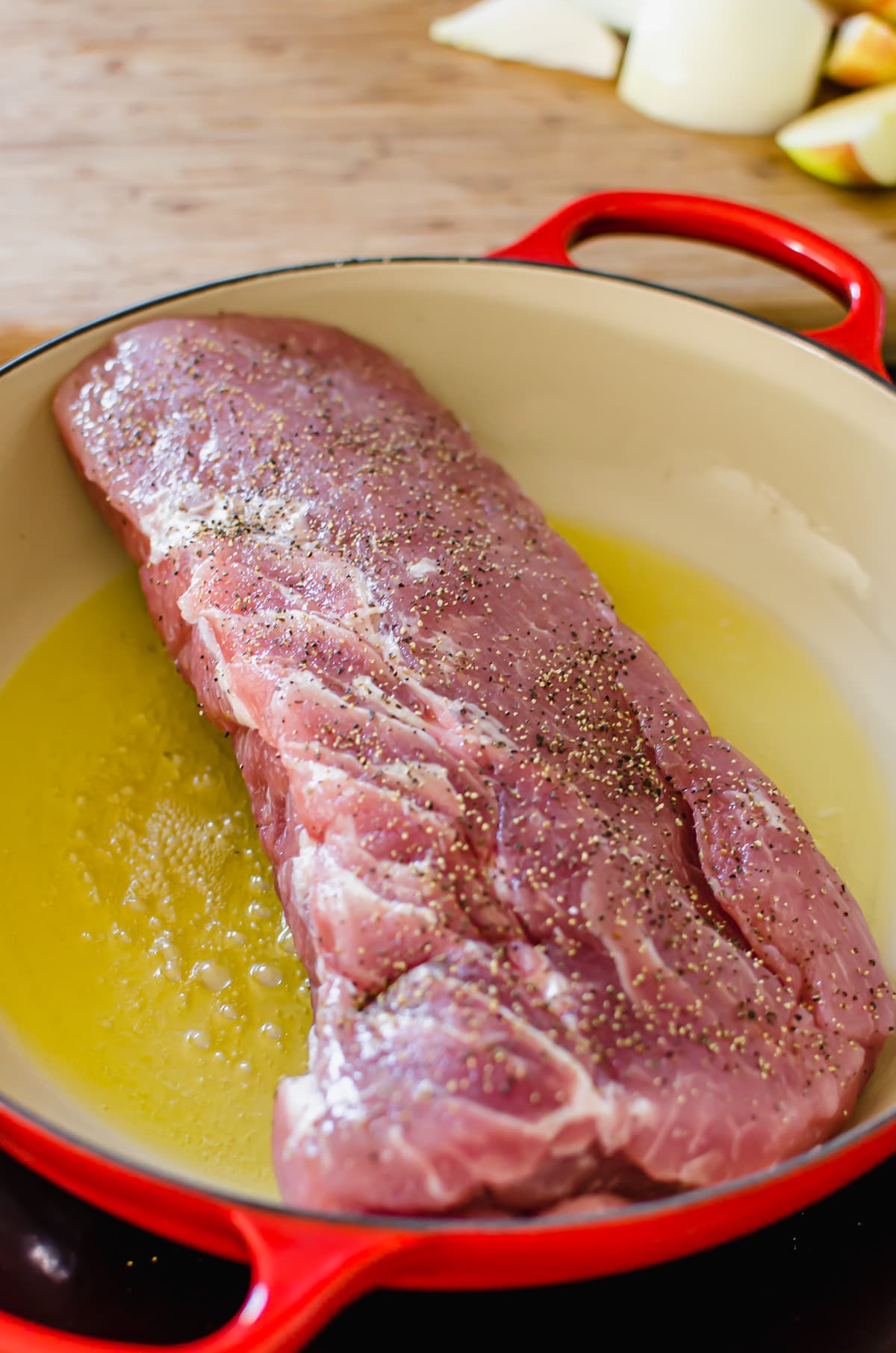 Ingredients
Coarse Kosher salt and black pepper
Pork loin roast or pork tenderloin
Olive oil
Butter
Shallots
Honeycrisp apples
Fresh apple cider
Bay leaf
Fresh thyme sprigs
Chicken or beef stock
Cornstarch
Instructions
Step 1: The night before, season the pork on all sides with Kosher salt. Let the meat rest, uncovered, in the fridge for 12-24 hours. This will make the pork incredibly juicy, tender, and flavorful.
Step 2: Season the pork with pepper, then sear it in olive oil and butter on all sides. Transfer it to the slow cooker. Sauté the apples and shallots a bit in the pan, then deglaze it with the apple cider. Transfer all of this to the pork in the slow cooker, then add the bay leaf, thyme, and some butter.
Step 3: Cook the pork on LOW for 4-5 hours or on HIGH for 3 hours (2-3 hours on LOW/1-2 hours on HIGH for pork tenderloin) until the pork reaches an internal temperature of 145°F.
Step 4: Make a gravy by thickening the juices from the slow cooker with a cornstarch/chicken stock mixture. Serve the thickened sauce with the sliced pork and apples. Enjoy!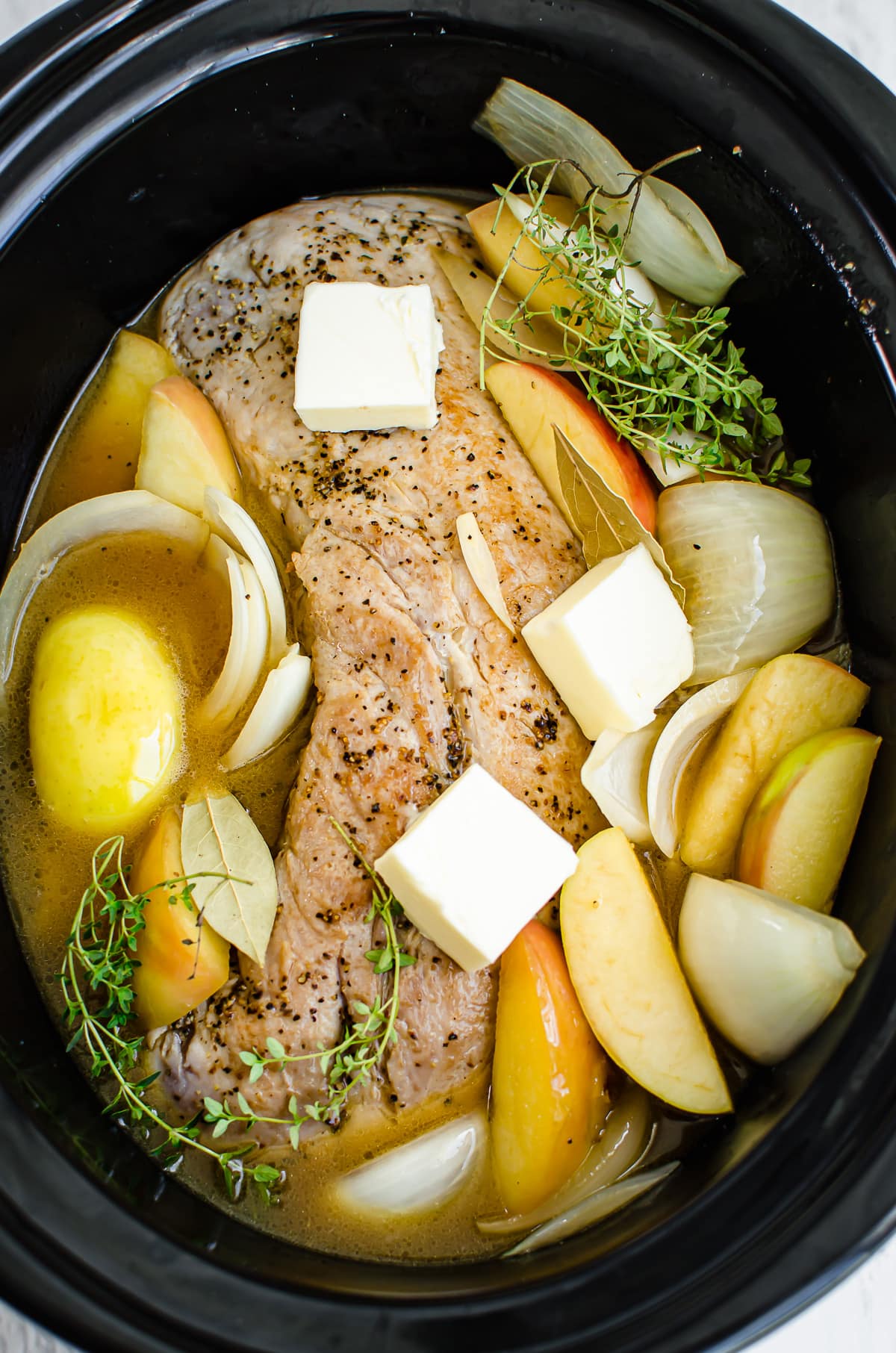 Top tips
Below are some of my best tips for making this slow cooker apple cider pork, as well as some answers to commonly asked questions!
Can you put raw pork in a slow cooker?
While it is perfectly fine to put raw pork or any raw meat in a slow cooker, your pork will have much more flavor if you sear it on all sides beforehand, then transfer the pan juices to the slow cooker with the meat. I highly recommend to NOT skip this step!
Can you overcook pork in a slow cooker?
Believe it or not, it's actually very easy to overcook pork and other meats in a slow cooker! You can recognize overcooked meat by it's tough and rubbery texture.
To avoid this, check the internal temperature of your pork at the minimum cooking time, and cook it to an internal temperature of 145°F. This is the safe internal temperature for pork recommended by the USDA.
Does meat need to be submerged in a slow cooker?
The leaner a cut of meat is, the more important it is for it to be submerged in the cooking liquid of the slow cooker to keep it from being tough and stringy. Pork loin is fairly lean and can be cooked just partially submerged in a slow cooker. Pork tenderloin is leaner and thus will benefit from almost being covered by the cooking liquid.
Can I make this recipe gluten or dairy free?
As written, this recipe is gluten-free. You can make it dairy-free by using a vegan butter like Earth Balance in place of the regular butter.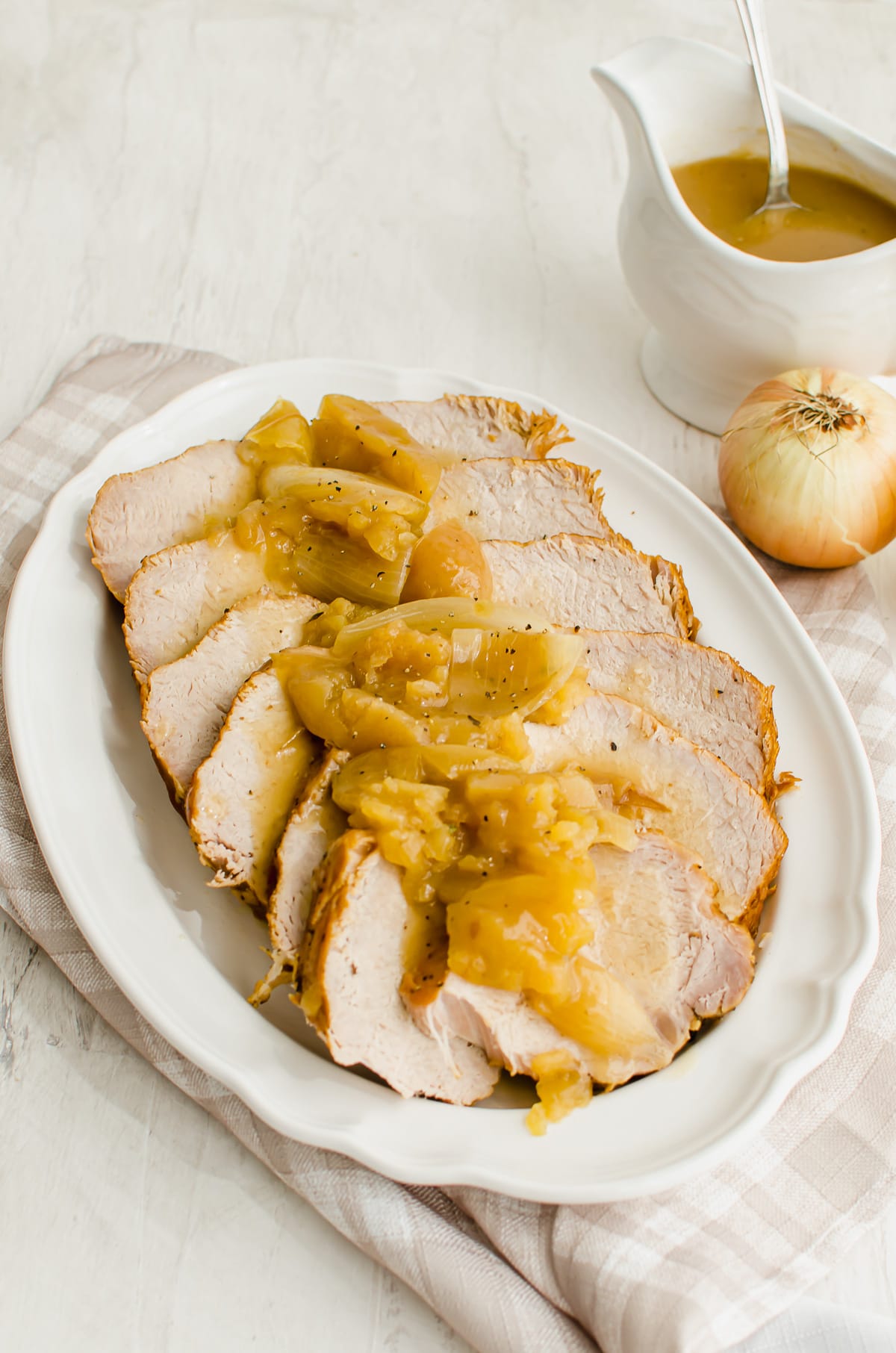 Serving suggestions
This pork is delicious with many types of sides. Some of my favorite fall and winter side dishes that are great with pork include the following:
Similar recipes
If you are in search of more cozy slow cooker recipes, be sure to check out this Slow Cooker Turkey Breast, Italian Beef Sandwiches, and Red Beans and Rice!
Are you ready to make this slow cooker pork loin? I'm so excited for you to try this recipe. Once you get the chance to make it, please let me know how it turns out for you!
Leave a comment and rate the recipe below. This will help me with the creation of future recipes!
I'd also love to feature your creation in my weekly newsletter, so you can upload a photo to Instagram with the tag @sweetcayenne5 to be featured! Quick and easy recipe videos are available on my YouTube channel, and lots of menu inspiration on my Pinterest boards.
Recipe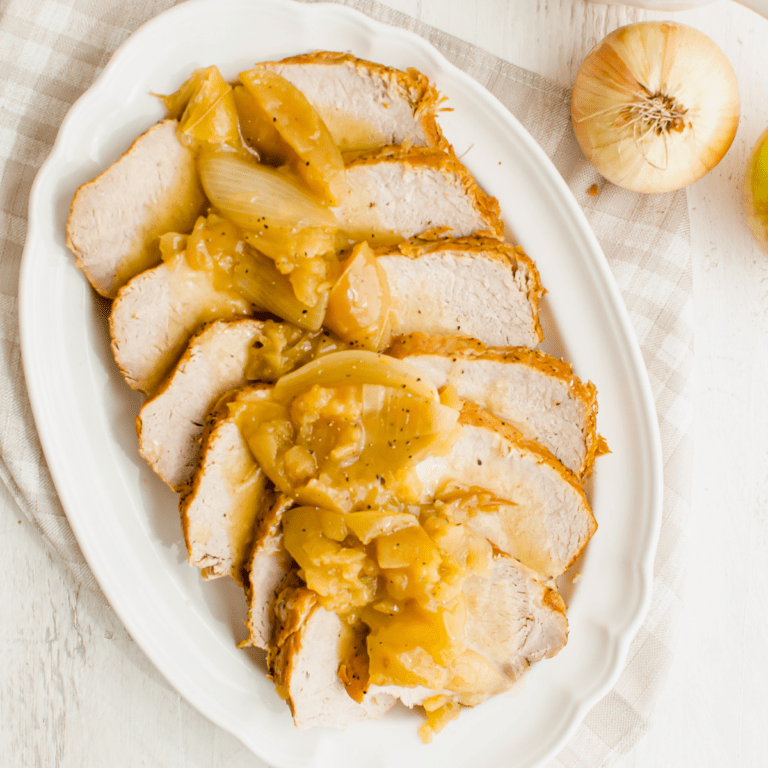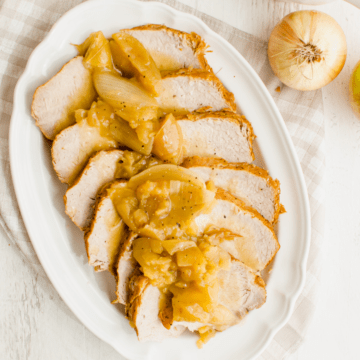 Slow Cooker Apple Cider Pork Loin
This cozy Slow Cooker Apple Cider Pork is a delicious and simple pork loin recipe that is perfect for the fall and winter season. It's a great make-ahead and freezer-friendly option that the whole family will love!
Print
Pin
Rate
Ingredients
Kosher salt and coarse ground pepper

One

4-5

pound pork loin roast

2

tablespoons

olive oil

4

tablespoons

butter, divded

2

whole

shallots, chopped (or 1 medium onion, quartered)

2

large

honeycrisp apples, cored and cut into quarters

2

cups

fresh apple cider

2

whole

bay leaves

4

sprigs

fresh thyme

½

cup

chicken or beef stock

2

tablespoons

cornstarch
Instructions
The day before:
Pat the pork dry with paper towels. Sprinkle all sides of the pork loin with coarse Kosher salt. Let the pork sit in the fridge, uncovered, for a minimum of 12 hours and up to 24 hours.
The day of:
Remove the pork from the fridge. Sprinkle all sides with freshly cracked black pepper. Heat a large cast iron skillet or Dutch over medium heat.

Add the olive oil and 1 tablespoon of butter to the skillet. Saute all sides of the pork until it is golden brown all over, about 2 minutes per side. Transfer the pork to the slow cooker and reduce the stove heat to low.

Add the shallots and apples to the skillet, and saute over low to medium-low heat for 3-4 minutes just to get a little color on them and slightly tenderize them. Add the apple cider to the skillet and use a wooden spoon to scrape up any brown bits on the bottom.

Transfer the apples, shallots, and all the pan juices to the slow cooker by pouring over top of the pork loin or tenderloins. Add the bay leaf, thyme sprigs, and the remaining 3 tablespoons of butter.

Cover and cook on LOW for 2-3 hours until the pork reaches an internal temperature of 145°F. Check the temperature at the 2-hour mark, then again every 20 minutes.

Carefully ladle the juices from the slow cooker into a medium saucepan. Remove the bay leaf and thyme sprigs. In a small bowl, whisk together the chicken/beef stock and cornstarch. Add the cornstarch mixture to the saucepan and bring the mixture to a boil over medium-high heat. Reduce heat to a simmer and cook until thickened, about 3 minutes, then add salt and pepper to taste.

Slice the pork and place it on a serving dish with the apples. Spoon the thickend gravy over the top. Serve while warm.
Notes
Leftover sliced pork and gravy can be frozen in ready-to-eat portions in freezer-safe quart-sized bags or glass container for up to 3 months. Thaw in the refrigerator overnight, then microwave for 2-3 minutes on high to reheat (internal temperature must reach 165°F) or place in a covered baking dish and heat at 400°F for 15-20 minutes. 
Serving:
6
ounces
|
Calories:
495
kcal
|
Carbohydrates:
24
g
|
Protein:
49.2
g
|
Fat:
22
g
|
Saturated Fat:
6.8
g
|
Cholesterol:
138
mg
|
Sodium:
1070
mg
|
Potassium:
938
mg
|
Fiber:
2.1
g
|
Sugar:
18.9
g
|
Calcium:
41
mg
|
Iron:
3
mg