This recipe for roasted potatoes yields super crispy roasted potatoes that are flavored with garlic and herb-infused olive oil. These roasted potatoes make for a perfectly irresistible side dish that goes with just about anything!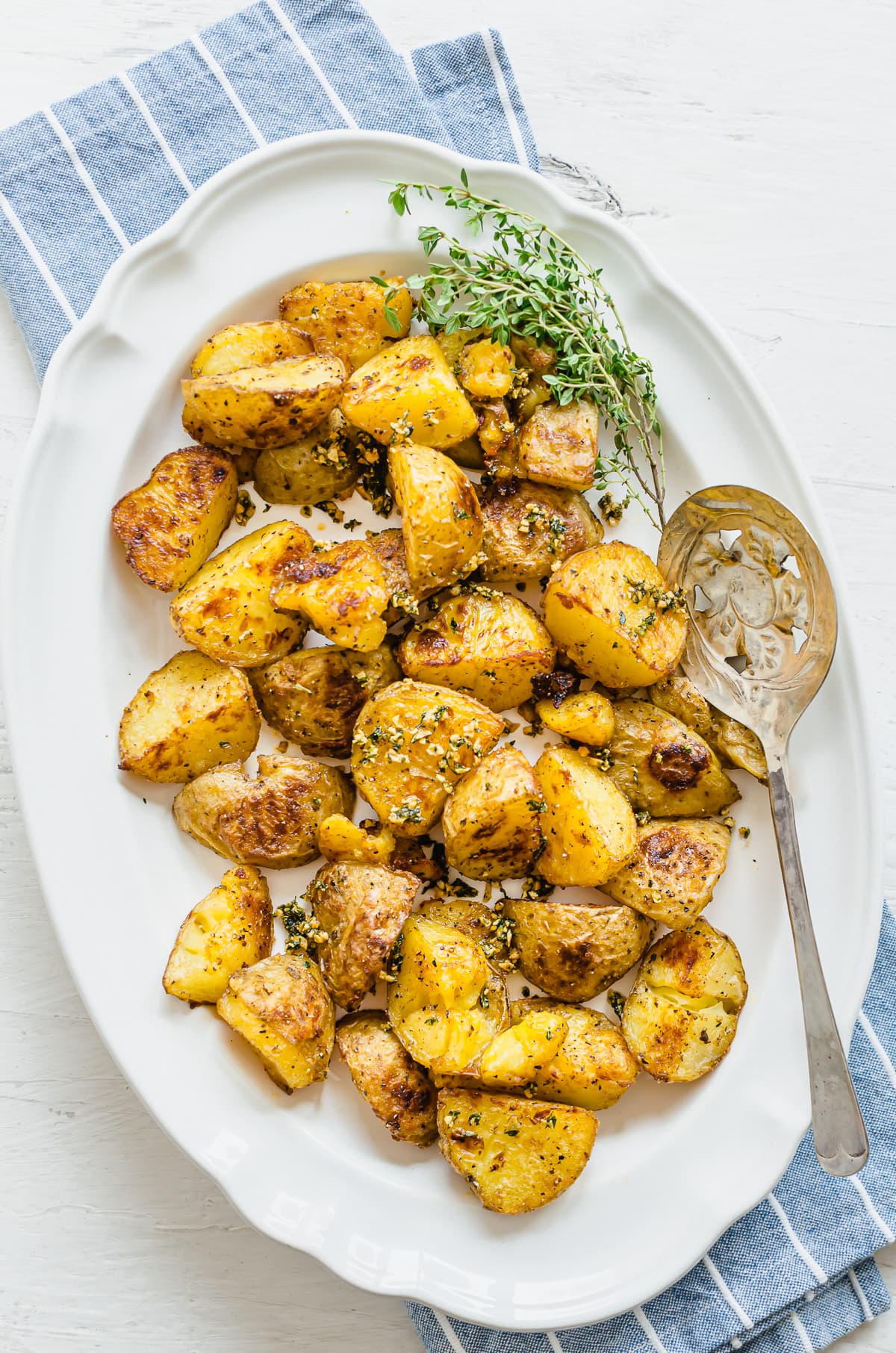 Jump to:
About the recipe
Confession: I've been roasting potatoes the wrong way...I guess for as long as I've been roasting them!
That may be a little dramatic, and I'm sure everyone can agree that there are many "good" ways to about roasting potatoes. However, I've recently discovered a GREAT way to make roast potatoes extra crispy. One that's as close to a French fry as you're going to get without any actually frying action.
It all started like this: I was enjoying my Saturday morning pancakes while watching an episode of Ina Garten on the Food Network. It was a special guest episode with Emily Blunt and Lin Manuel Miranda to promote Mary Poppins Returns.
In the episode, Emily showed Ina the "English" way to properly roast a potato - a way that involved boiling potatoes and roughing up the edges before roasting. Next, Emily tossed the potatoes in hot oil before roasting them in the oven. What resulted was the most perfectly golden, crispy exterior and a super-soft, creamy interior of a potato situation that looked like pure perfection! I was sold just by looking at them!
I've done a lot of research since watching this episode, and have taken a few tips from Serious Eats to make this more simplified roasted potato recipe that I know you are just going to love!
Video
Ingredients
Yukon Gold potatoes
Olive oil
Fresh rosemary and thyme
Garlic
Seasoned salt
Black pepper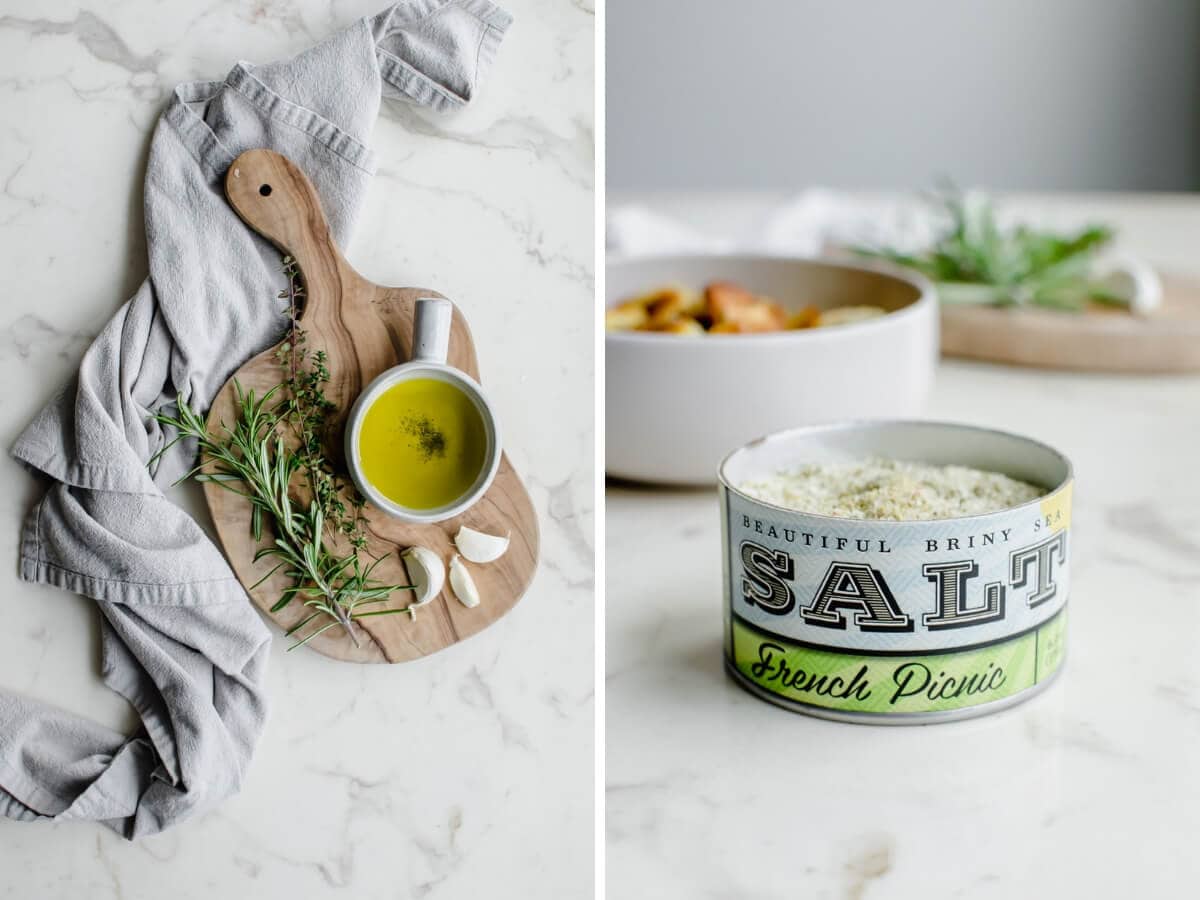 Instructions
Step 1: Steam the potatoes in the microwave until they are just fork-tender. They should not be falling apart when you prick them with a fork. Let them cool for 5 minutes or so before tossing them in a bowl to roughen up the edges.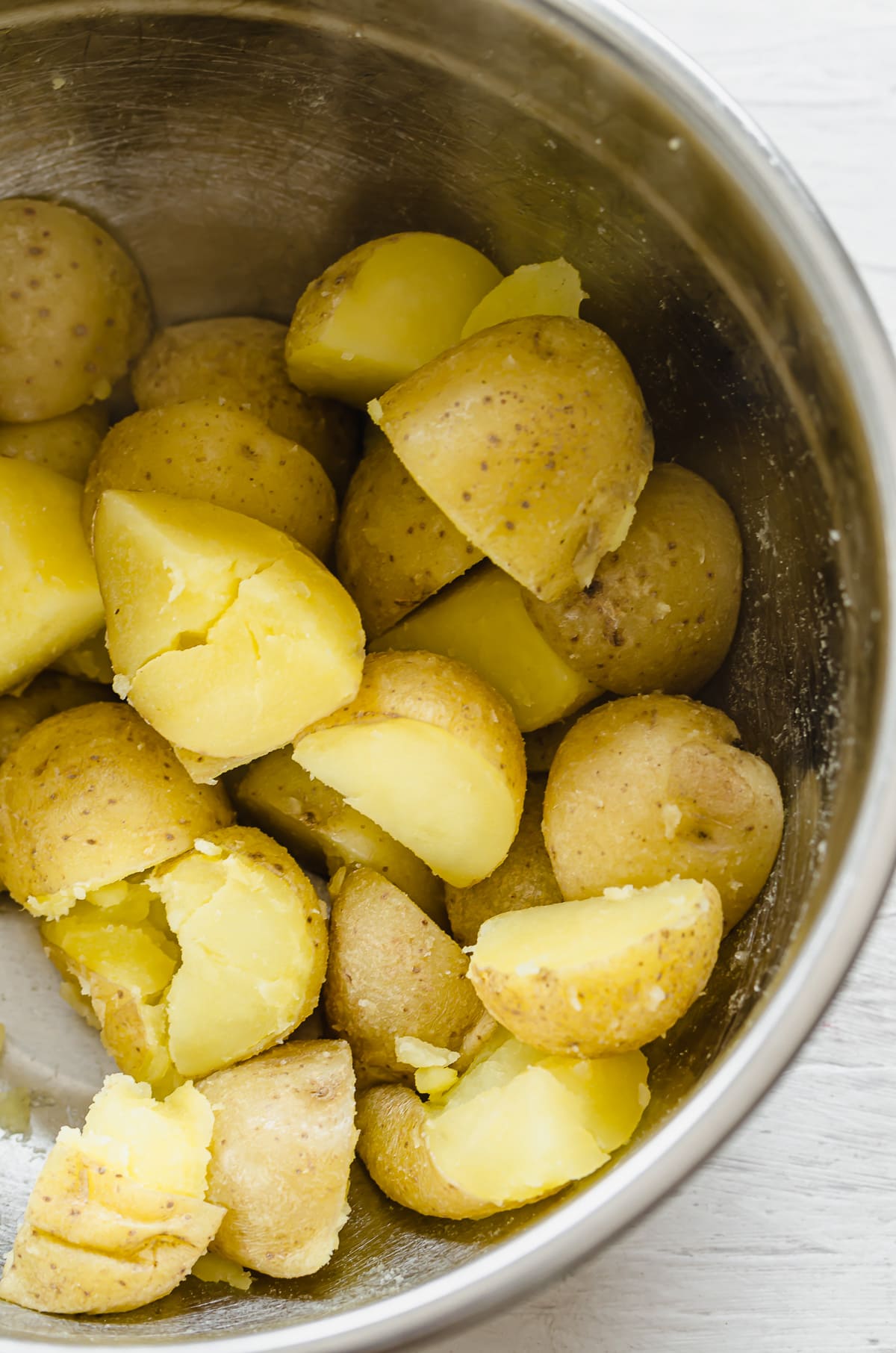 Step 2: Make a garlic and herb-infused olive oil to roast the potatoes in. Strain the oil and save the remaining garlic and herbs for garnishing the potatoes later.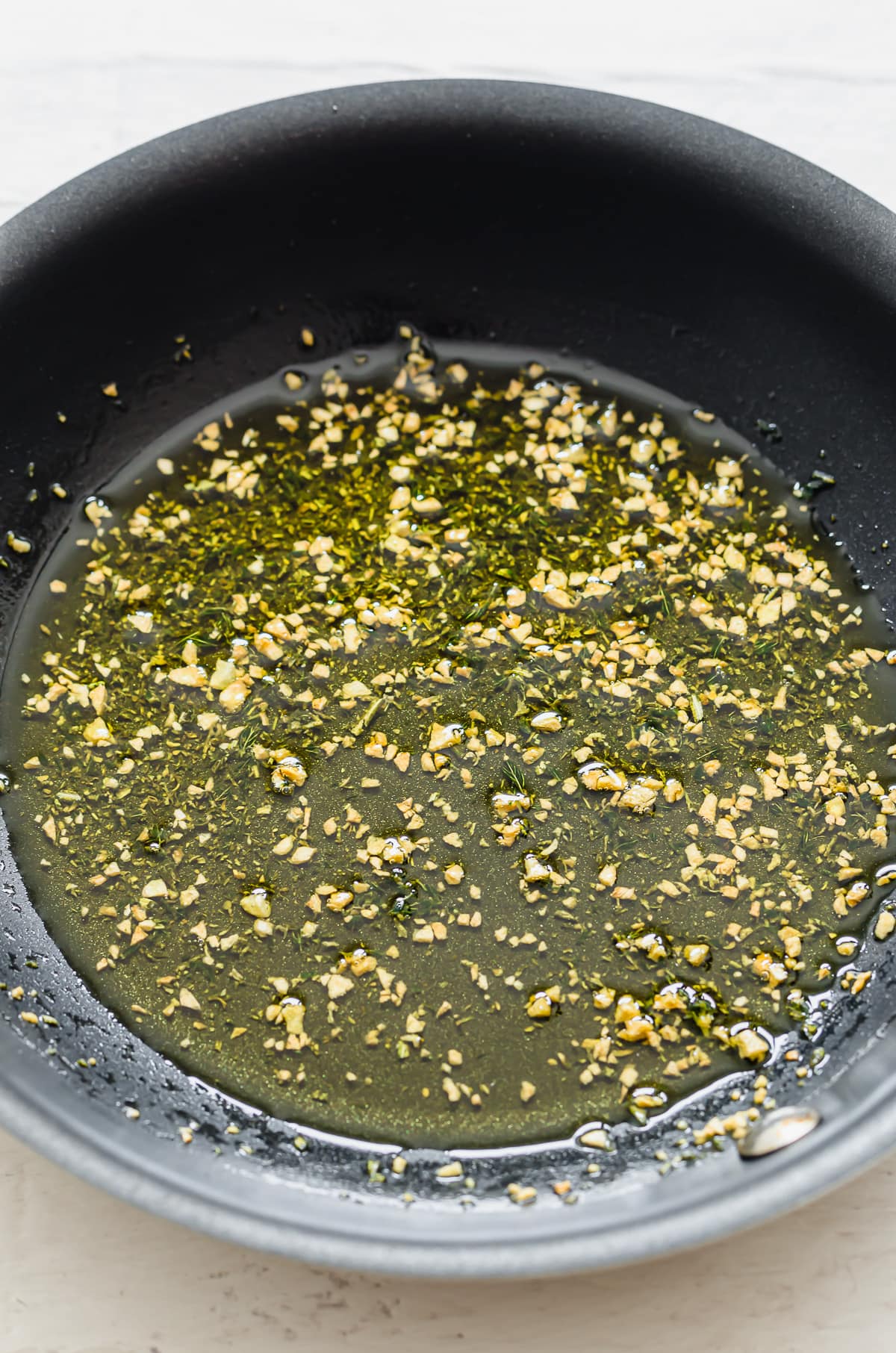 Step 3: Toss the potatoes in the oil, season with salt and pepper, then roast them at 450°F for 30-40 minutes until they are golden-brown and crispy. Serve them with the reserved garlic and herbs and enjoy while they are hot!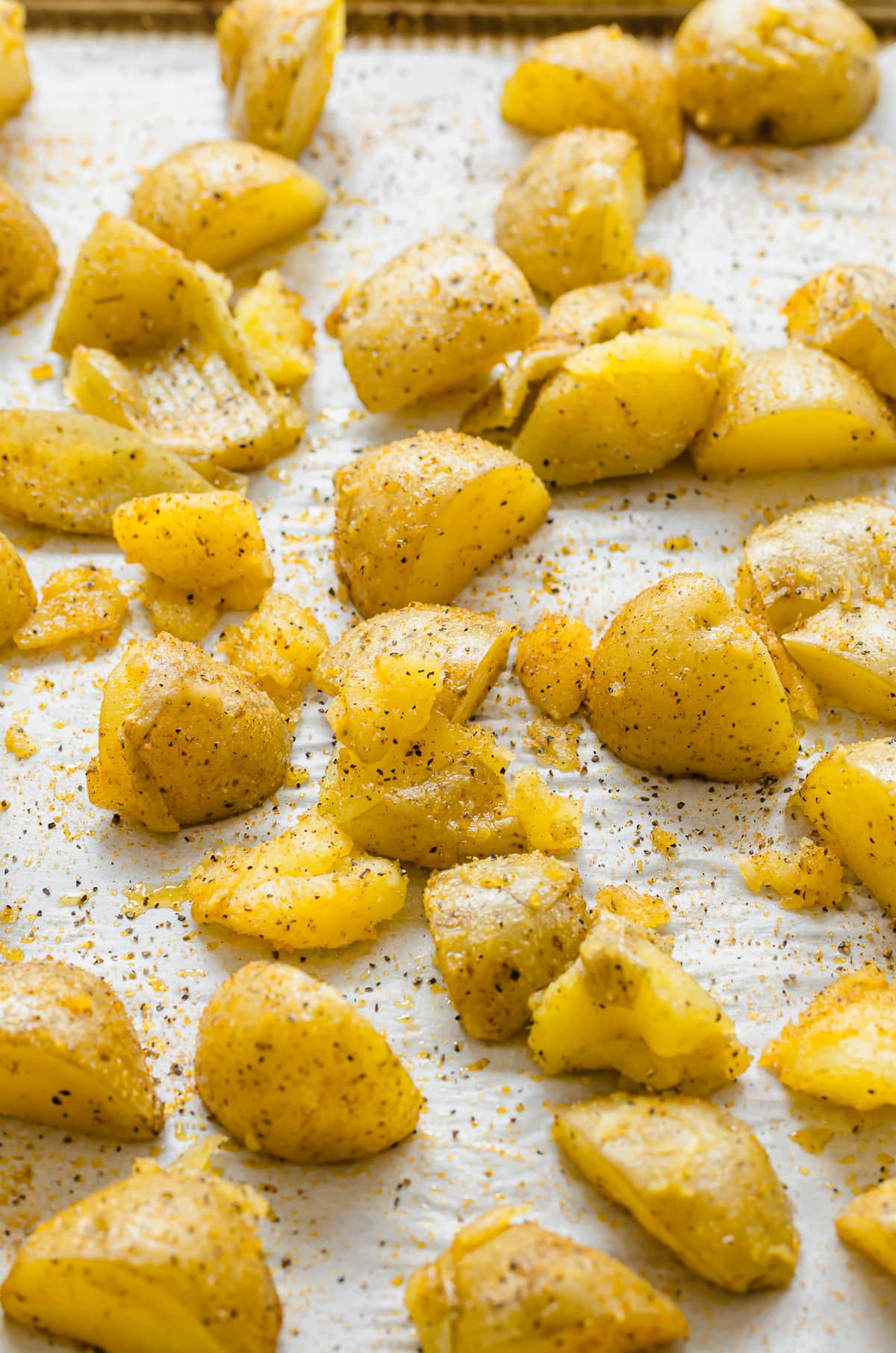 Top tips
Below are some of my best tips for making these roasted mushrooms, as well as some answers to commonly asked questions!
Why are my roast potatoes not crispy?
Roasted potatoes that don't get crispy could be the result of a few factors. First of all, your oven temperature may not be hot enough. I recommend roasting them at temperature range of 425°F-450°F to get them nice and crispy. You also want to avoid overcrowding your pan. If the potatoes are touching and crammed in the pan, it will create a lot of steam and prevent them from getting crispy.
Which potato is best for roasting?
Russet or Yukon Gold potatoes have the perfect balance of wax and starch for roasting, and they yield the crispiest roasted potatoes. Red potatoes have a low amount of starch, but will not get very crisp. Because of the high sugar/starch content of sweet potatoes, it is hard to get them very crisp with roasting as well.
Which is the best oil for roasting potatoes?
Olive oil is my oil of choice for roasting potatoes and other vegetables because it yields a delicious flavor and has such a great nutrition profile. I think roasting vegetables in olive oil is a great way to incorporate this healthy fat into your diet!
Should I boil potatoes before roasting?
Yes, boiling or steaming your potatoes is a GREAT thing to do before roasting, as it allows you to roast the potato at a higher temperature and ensure the inside is perfectly cooked with a crispy exterior.
Without boiling or steaming ahead of time, the outside of your potatoes will cook faster than the inside at higher temperatures. This will yield a potato that is crisp on the outside but underdone on the inside.
I prefer to steam my potatoes in the microwave over boiling, as it is faster, less messy, and allows me to skip the step of drying the potato after boiling.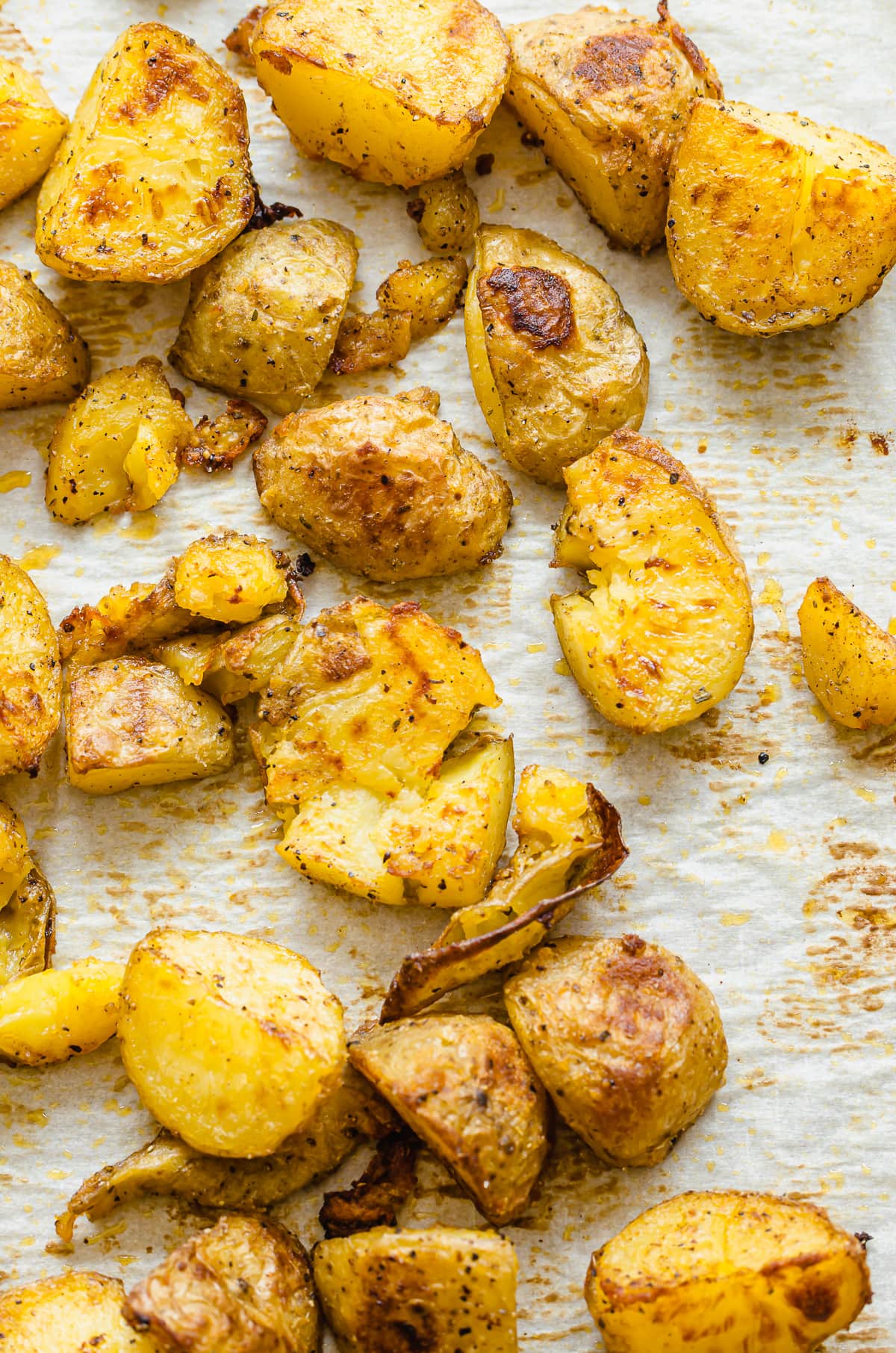 Serving suggestions
Although these would be DELISH served at breakfast/brunch with your favorite egg dish, there are some great Sweet Cayenne recipes that would be great to pair with these crispy roasted potatoes! I'd recommend: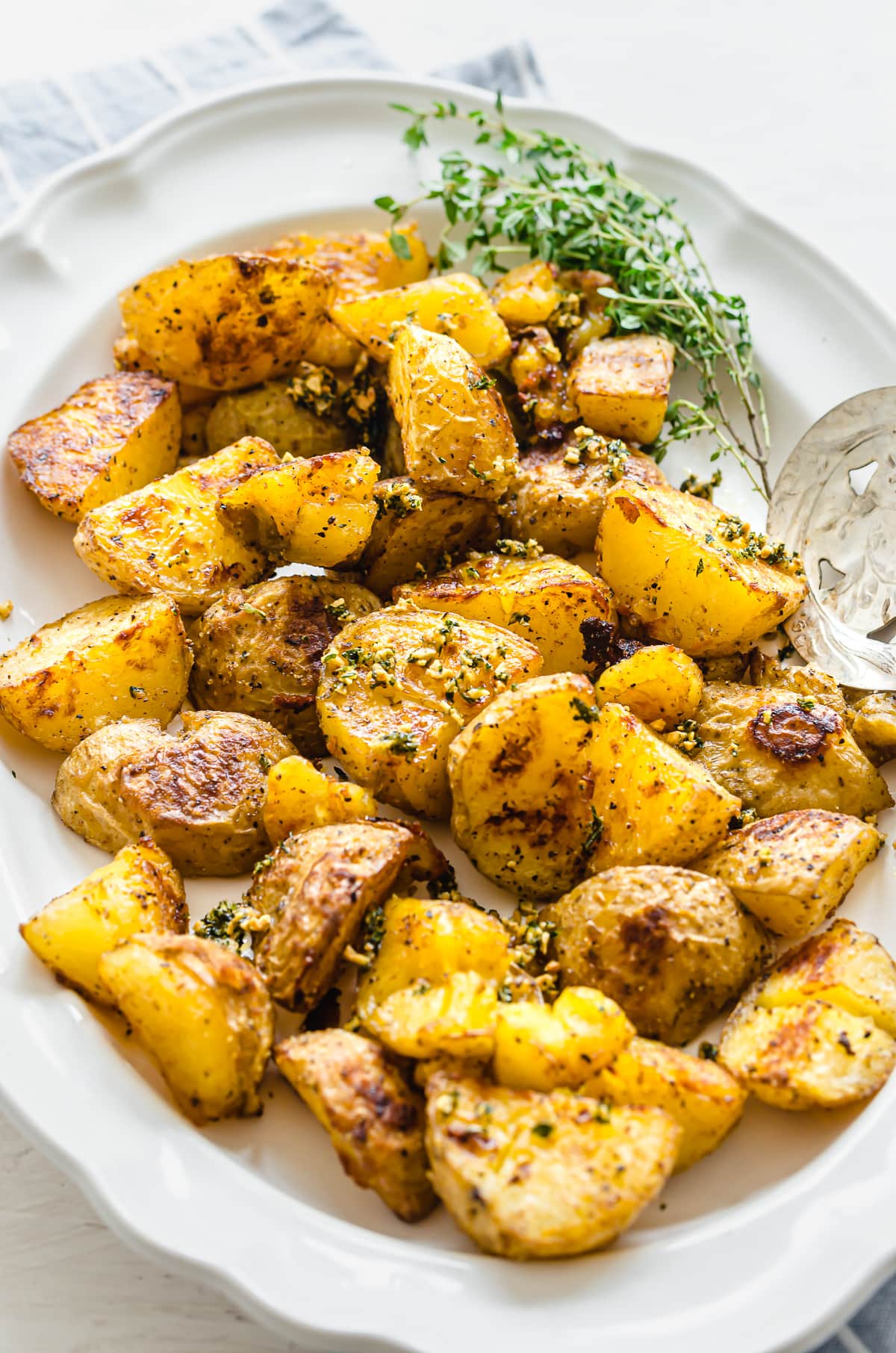 Similar recipes
If you love this roasted potato recipe, be sure to check out these Parmesan Herb Duchess Potatoes and Roasted Sesame Sweet Potatoes!
Are you ready to get make these deliciously creamy + crispy roasted potatoes? I'm so excited for you to try this recipe. Once you get the chance to make it, please let me know how it turns out for you! Leave a comment and rate the recipe below. This will help me with the creation of future recipes!
I'd also love to feature your creation in my weekly newsletter, so you can upload a photo to Instagram with the tag @sweetcayenne5 to be featured! Quick and easy recipe videos are available on my YouTube channel, and lots of menu inspiration on my Pinterest boards.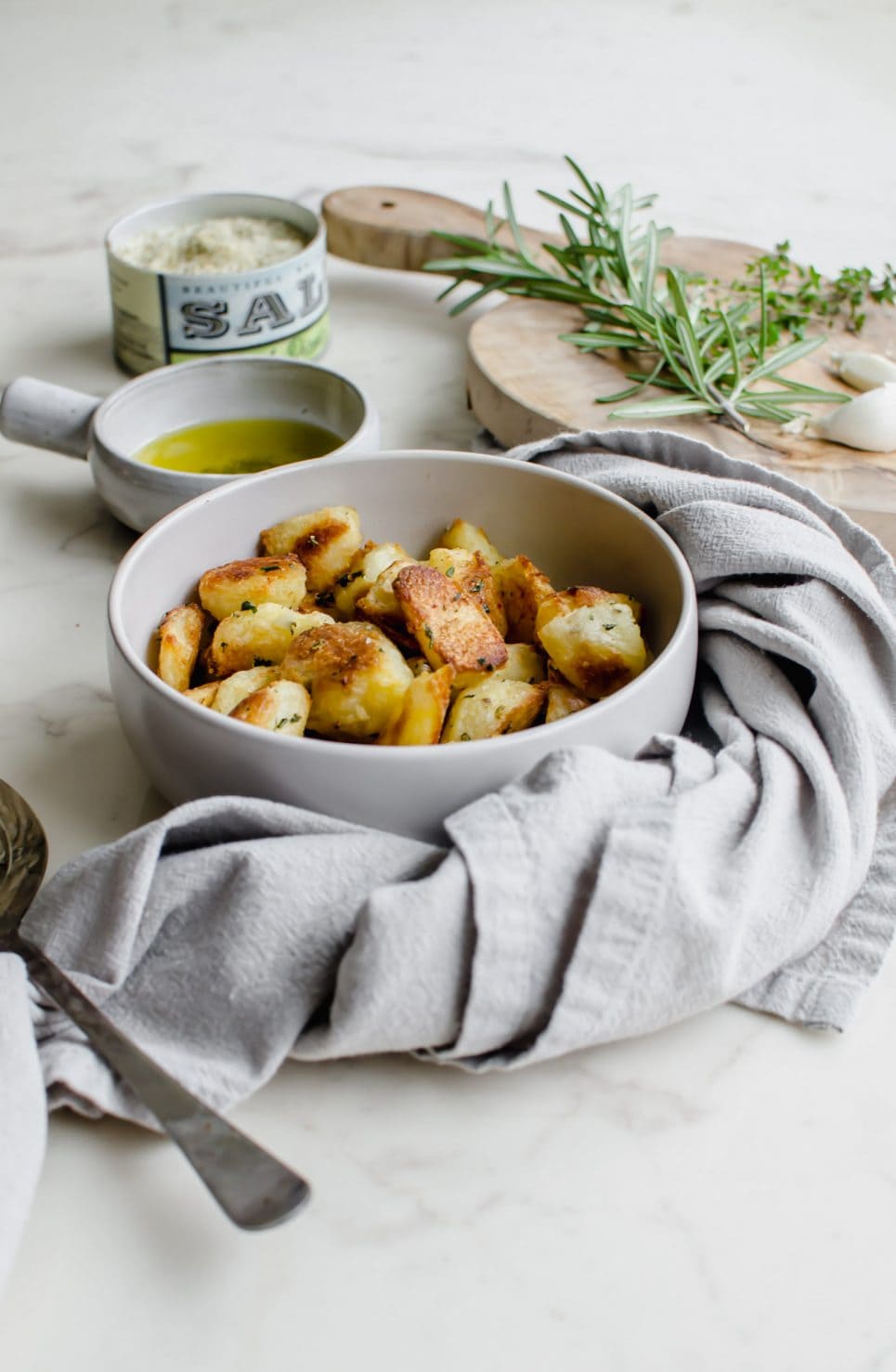 Recipe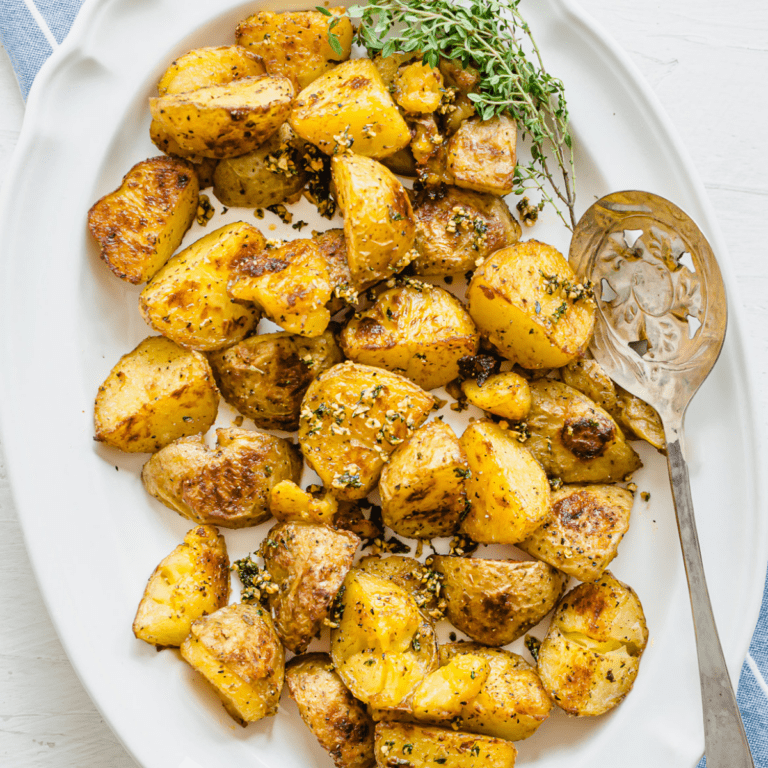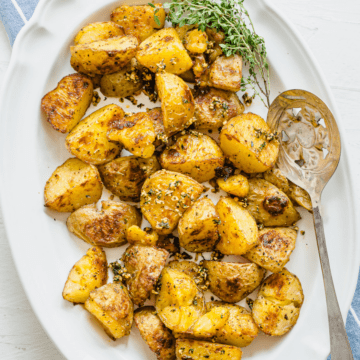 Crispy Roasted Potatoes with Garlic and Herbs
This recipe for roasted potatoes yields super crispy roasted potatoes that are flavored with garlic and herb-infused olive oil. These roasted potatoes make for a perfectly irresistible side dish that goes with just about anything!
Print
Pin
Rate
Ingredients
2

pounds

Russet or Yukon Gold potatoes, cut into 2-inch pieces

¼

cup

olive oil

1

tablespoon

fresh rosemary, finely minced

2

teaspoons

fresh thyme, finely minced

3

cloves

peeled garlic, finely minced

Seasoned salt OR Kosher salt, to taste

Freshly-cracked black pepper, to taste
Instructions
Preheat your oven to 450°F. Line a baking sheet with parchment paper and set aside.

Place the potato pieces in a microwave-safe dish or plate. Cover and steam for 8 minutes or until they are just fork-tender. Uncover the potatoes and let them cool for 5 minutes.

While the potatoes steam, combine the oil, rosemary, thyme, and garlic in a small saucepan. Heat over medium until the oil starts to smoke. Remove from heat and strain the oil with a fine mesh strainer. Set the oil aside and reserve the herb and garlic mixture.

Transfer the steamed potatoes to a large bowl. Give the bowl several good shakes to toss the potatoes round and roughen up the edges. Cover the bowl as you shake it, if needed, to keep them from spilling out.

Place the potatoes on a baking sheet lined with parchment paper. Drizzle the reserved olive oil over the potatoes. Sprinkle on seasoned salt or salt and black pepper to taste (I use about 2 teaspoons of salt and a teaspoon of pepper).

Roast for 20 minutes, remove from the oven to flip the potatoes, then roast an additional 10-20 minutes until golden brown and crispy. Toss the potatoes with reserved herbs and garlic, and serve right away.
Serving:
1
serving
|
Calories:
212
kcal
|
Carbohydrates:
28.5
g
|
Protein:
3.1
g
|
Fat:
10.3
g
|
Saturated Fat:
1.5
g
|
Sodium:
602
mg
|
Potassium:
739
mg
|
Fiber:
4.4
g
|
Sugar:
2.1
g
|
Calcium:
17
mg
|
Iron:
1
mg