This Sesame Roasted Broccoli recipe is an easy and delicious way to cook broccoli that picky eaters will love! It's a simple healthy side dish that goes with just about everything.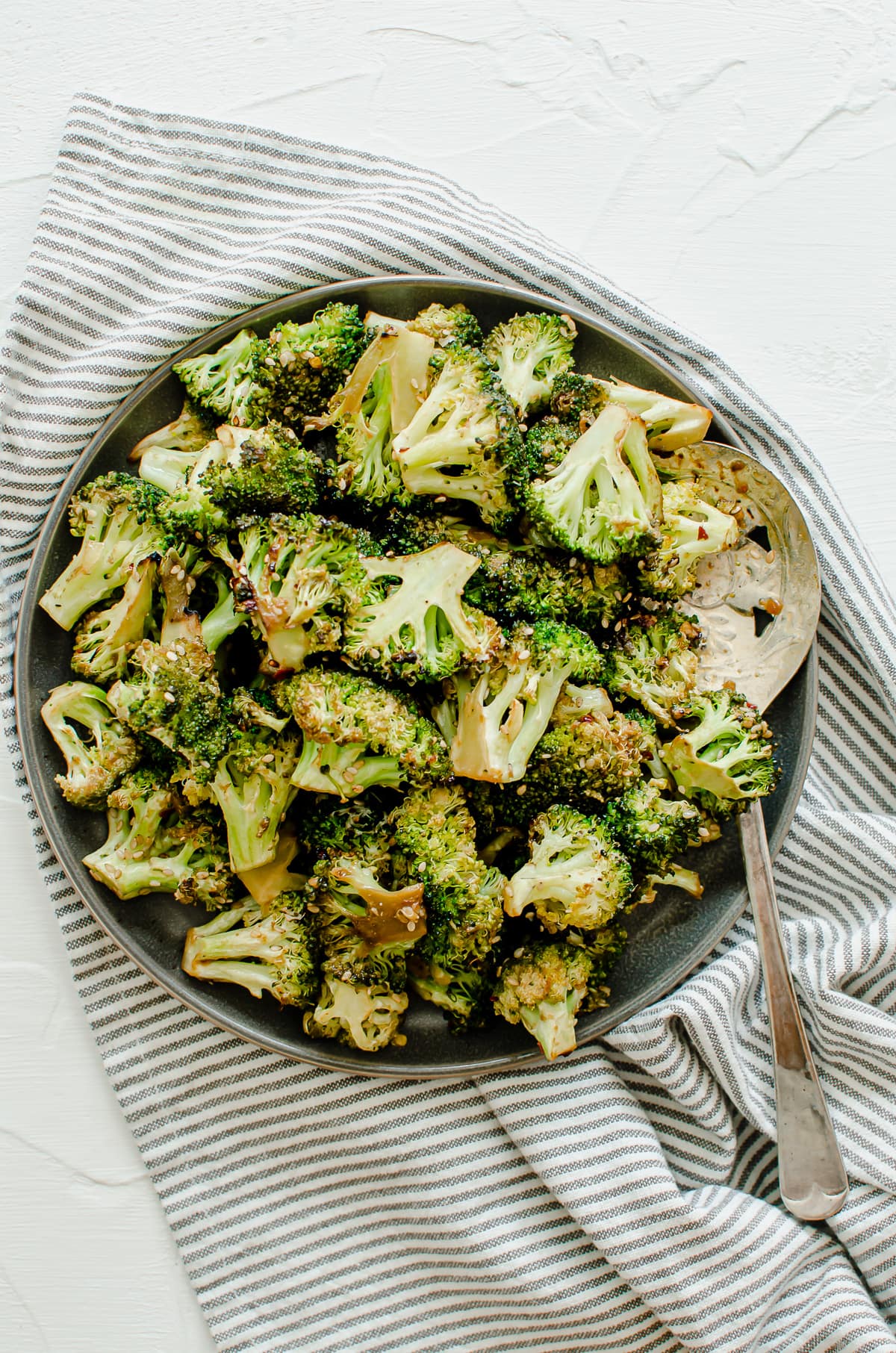 Jump to:
About the recipe
Roasted broccoli is a great side dish for many reasons. First of all, it's so easy to make and goes with just about anything! Also, roasting broccoli seems to be the best way to prepare the veggie in a way that picky eaters will enjoy.
Whether it's the crispy edges or the sweet, nutty flavors that develop when the broccoli is cooked at high heat, this cooking method is a sure-fire way to enjoy eating this veggie and get all the nutritional benefits from it on a regular basis.
And even though it kind of stinks up the house when you roast it, it's totally worth it because the broccoli is just so delicious! Just burn your favorite candle for a while afterward. My all-time favorite candle is the Capri Blue Volcano, in case you are in search of a good one!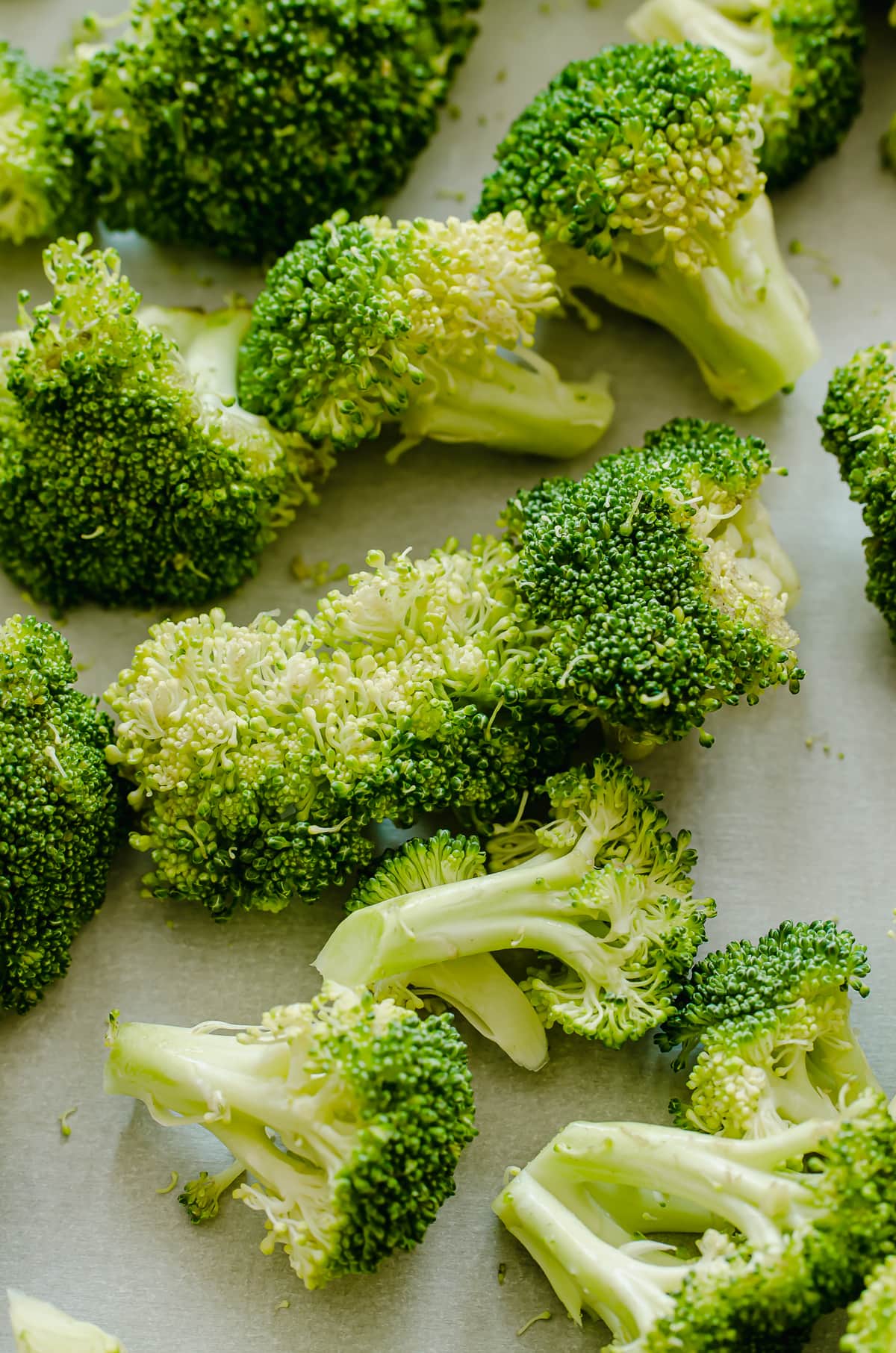 Ingredients
Fresh broccoli
Neutral oil, like avocado, grapeseed, or canola
Sesame oil
Low-sodium soy sauce, or tamari for gluten-free diets
White miso
Red pepper flakes
Freshly-grated Parmesan cheese
Instructions
Step 1: Cut the broccoli into similarly-sized florets with flat sides. This will help them get nice crispy edges.
Step 2: Combine the ingredients for the sauce in a small bowl with a whisk.
Step 3: Place the florets on a parchment-lined baking sheet. Drizzle the sauce all over the florets, then toss to evenly coat. Alternatively, you can add the sauce to the florets in a bowl before placing them on the baking sheet if you feel this is easier to coat them. Grate Parmesan cheese all over the florets and sprinkle with sesame seeds before baking.
Step 4: Roast the florets at 425°F for 15-20 minutes, tossing halfway, until they are tender with crispy edges. Serve immediately while hot.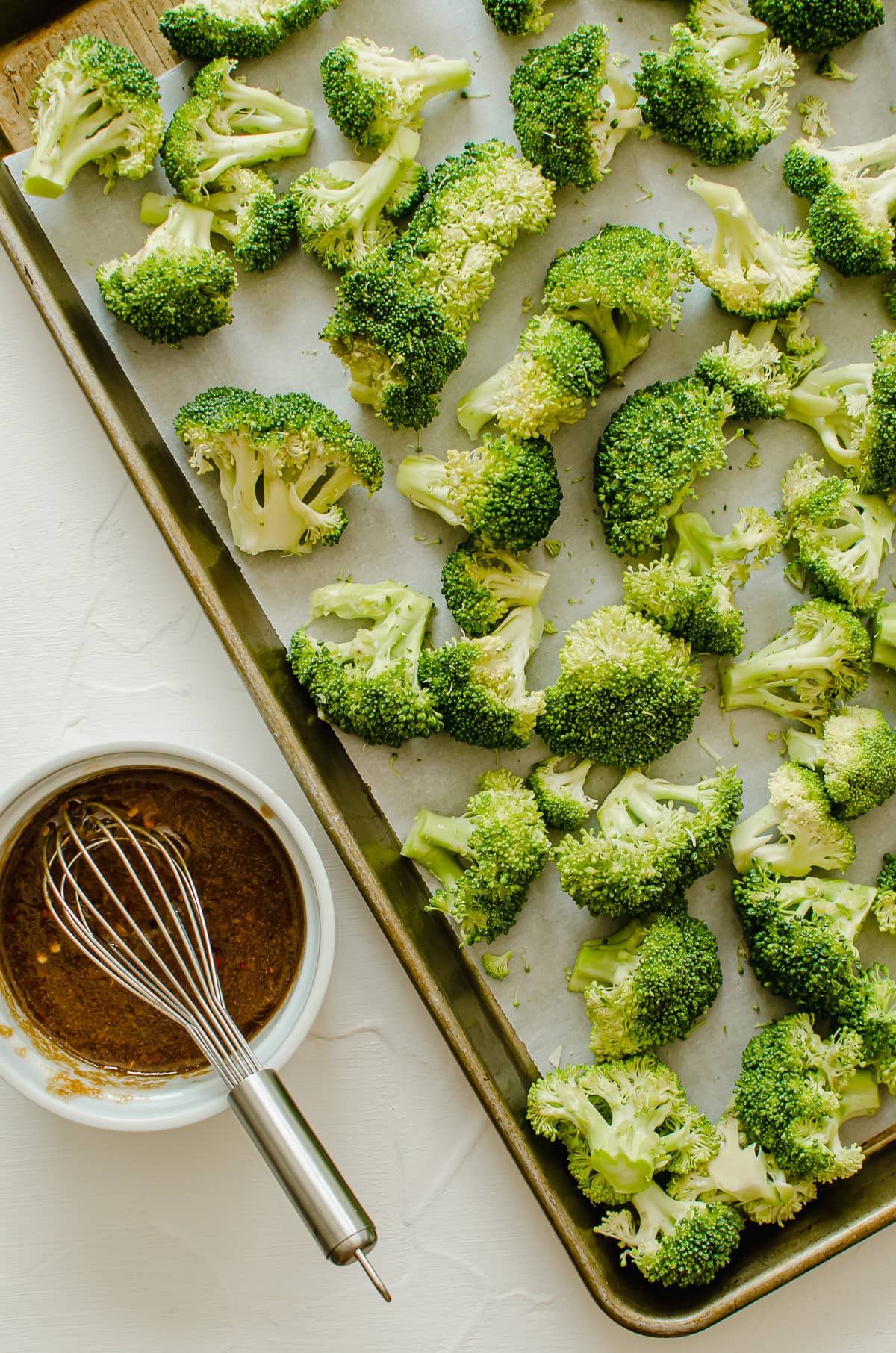 Top tips
Do you wash broccoli before roasting?
Just like with any vegetable, it is important to wash the broccoli crowns with water before cooking. You will want to dry the broccoli thoroughly before roasting, which you can do with a clean dishcloth or a salad spinner for florets.
How do you get roasted broccoli to be crispy?
There are several little things you can do when roasting broccoli to ensure it is as crispy as possible!
Preheat your baking sheet for 10 minutes before adding the broccoli to it.
Cut the broccoli into florets with flat sides so that there is more surface area touching the roasting pan.
Do not overcrowd the pan - you will want to add just enough broccoli to the pan to ensure that none of the pieces touch or overlap. If the pan is too crowded, the broccoli will steam instead of roast and get caramelized.
Roast the broccoli at a high temperature - 425°F is a great temperature for roasting most vegetables!
Is it better to roast or steam broccoli?
Whether you roast broccoli or steam it, both cooking methods are great methods for cooking the vegetable because they are simple and fast. Whichever method helps you get more broccoli or vegetables in your diet, that is the one you should use, because eating more veggies is better than eating no veggies!
Does roasting broccoli destroy the nutrients?
It is true that all high-heat forms of cooking, like grilling, roasting, and boiling, can destroy some nutrients in broccoli. However, broccoli is so high in vitamins and minerals that it still has great nutritional value after cooking. It's smart to eat broccoli in a variety of ways to get the most value - raw, steamed, and roasted!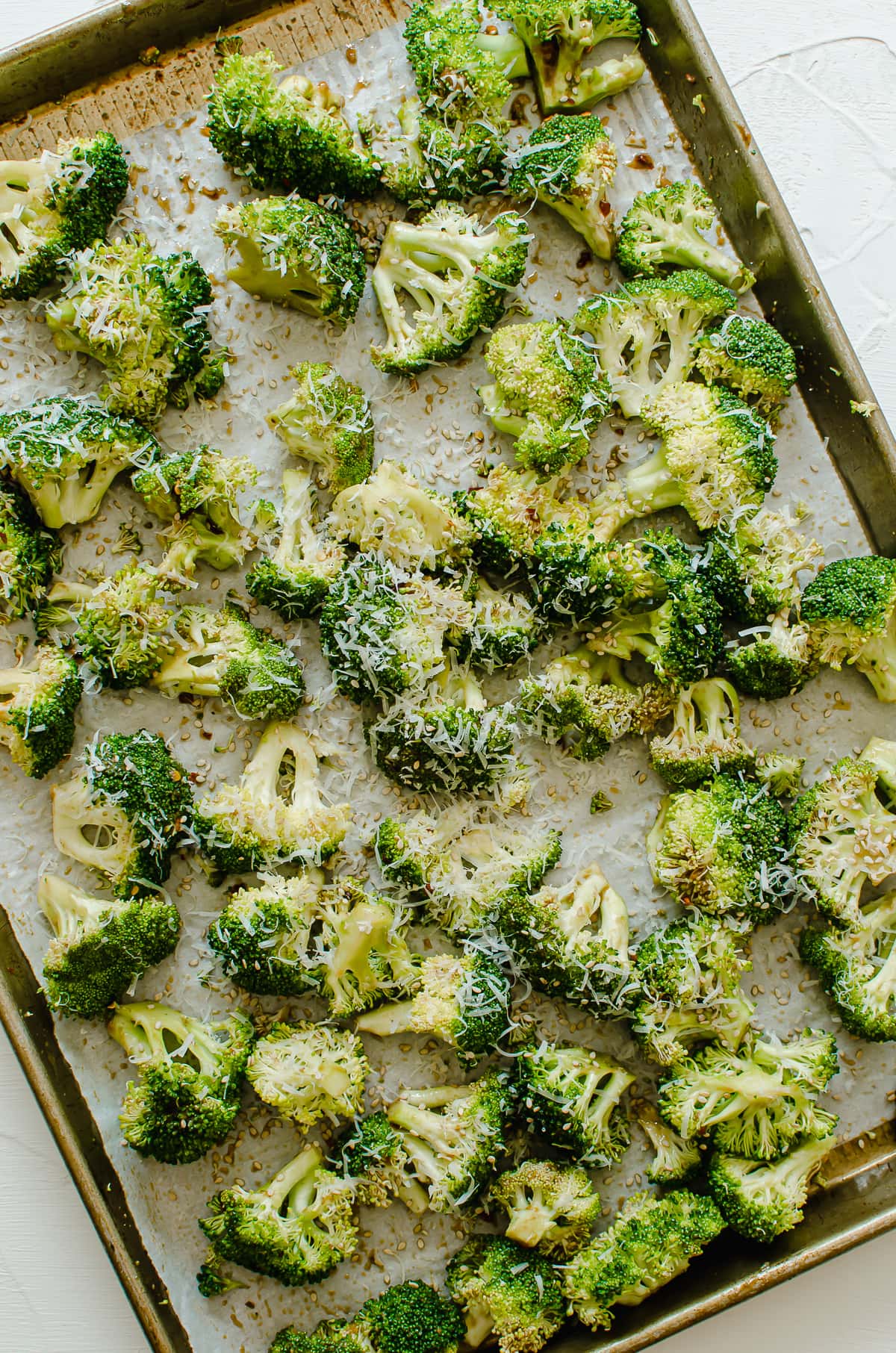 Serving suggestions
Sesame roasted broccoli is an easy side dish that goes with just about anything! The best way to make it more versatile is to vary the seasonings and flavor to make it match the other dishes you are serving. Some of my favorite variations are below:
Salt and pepper - roasted broccoli is great with just a healthy drizzle of quality olive oil, coarse Kosher salt, and freshly-cracked black pepper!
Lemon Parmesan - add freshly squeezed lemon juice to Parmesan roasted broccoli once it is cooked.
Everything Bagel - I love to add this everything bagel seasoning blend to broccoli before roasting with some olive oil.
Buffalo cheddar - blend some buffalo sauce with the oil before tossing broccoli in it. Roast the broccoli, then sprinkle on some powdered cheddar cheese or nutritional yeast before serving.
Pine nut and prosciutto - toss some pine nuts and pieces of prosciutto with the broccoli before roasting. Both will get nice and crispy, and add tons of flavor to the broccoli.
And once you roast your broccoli, it's perfect for tossing into pasta dishes, grain bowls, salads, using as a taco filling, or a pizza topping!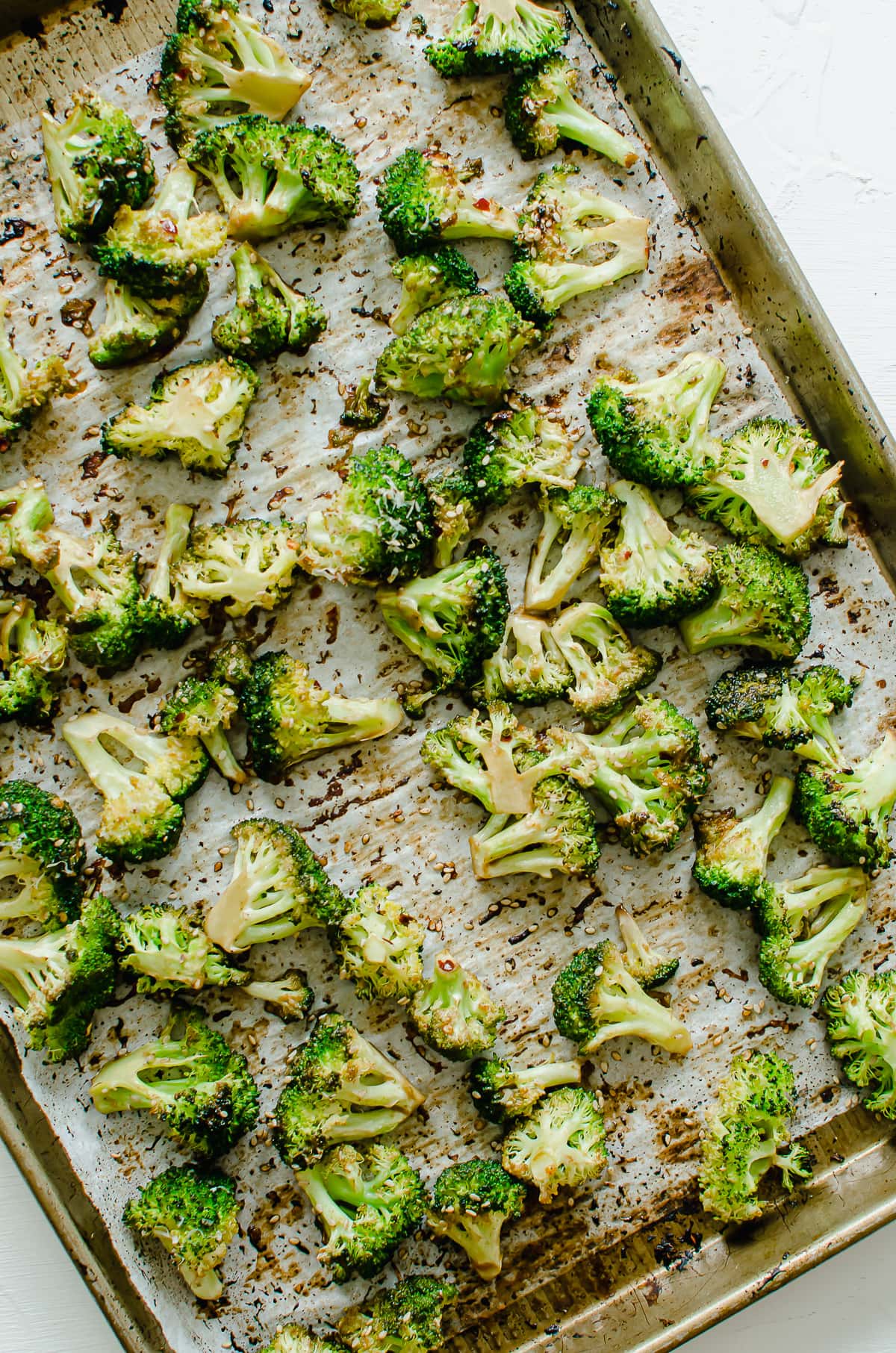 Similar recipes
If you are on the hunt for more simple and easy side dishes, I think you will love these Crispy Kale Chips, Crispy Roasted Brussels Sprouts, Simple Roasted Okra, and Simply Perfect Roasted Asparagus!
Are you ready to make this Sesame Roasted Broccoli? I'm so excited for you to try this recipe. Once you get the chance to make it, please let me know how it turns out for you!
Leave a comment and rate the recipe below. This will help me with the creation of future recipes!
I'd also love to feature your creation in my weekly newsletter, so you can upload a photo to Instagram with the tag @sweetcayenne5 to be featured! Quick and easy recipe videos are available on my YouTube channel, and lots of menu inspiration on my Pinterest boards.
Recipe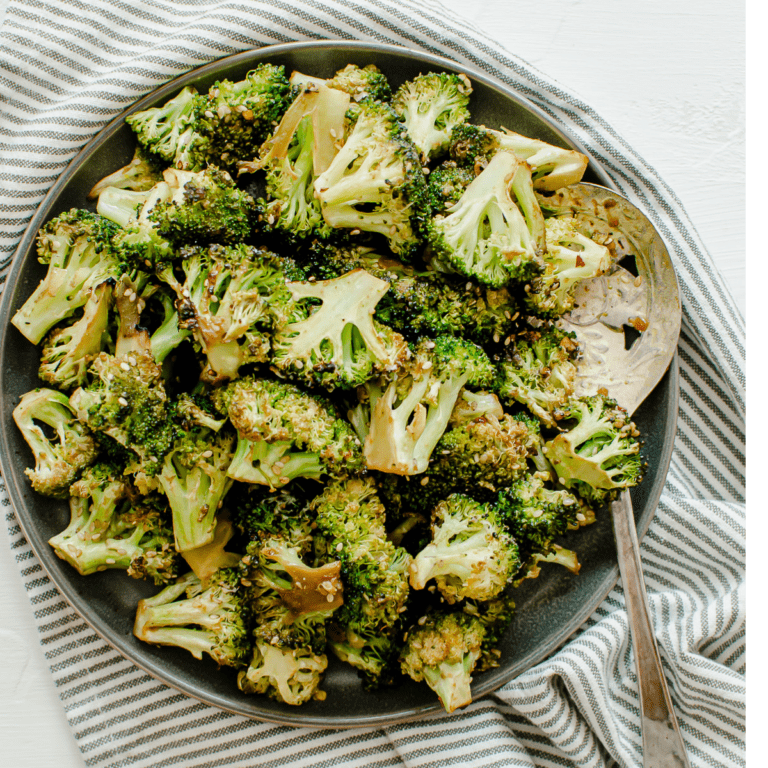 Sesame Roasted Broccoli
This Sesame Roasted Broccoli recipe is an easy and delicious way to cook broccoli that picky eaters will love! It's a fast and easy side.
Print
Pin
Rate
Ingredients
2

heads

broccoli, cut into small florets with flat sides (about 5-6 cups)

2

tablespoons

avocado oil

1

tablespoon

toasted sesame oil

1

tablespoon

reduced-sodium soy sauce (use tamari for gluten-free

1

tablespoon

white miso paste

½

teaspoon

red pepper flakes (optional)

1

tablespoon

sesame seeds

Freshly-grated Parmesan cheese
Instructions
Preheat oven to 425°F. Place a sheet pan inside the oven while it is heating.

In a large bowl whisk together the avocado and sesame oils, soy sauce, miso paste, and red pepper flakes. Add the broccoli florets and toss to combine.

Carefully remove the sheet pan from the oven. Place a sheet of parchment paper on it (for easy cleanup), then add the sauce-coated broccoli. Working quickly, sprinkle the sesame seeds on top and freshly grate some Parmesan all over the broccoli.

Roast the broccoli for 15-18 minutes, tossing halfway, until the florets are tender with crispy edges. Serve immediately while hot!
Calories:
142
kcal
|
Carbohydrates:
11.5
g
|
Protein:
9.1
g
|
Fat:
8
g
|
Saturated Fat:
2.7
g
|
Cholesterol:
10
mg
|
Sodium:
486
mg
|
Potassium:
471
mg
|
Fiber:
4.1
g
|
Sugar:
2.7
g