This recipe for Crispy Roasted Brussels Sprouts with Parmesan and Honey Glaze is my new favorite way to serve Brussels Sprouts - it tastes fancy but could not be more simple!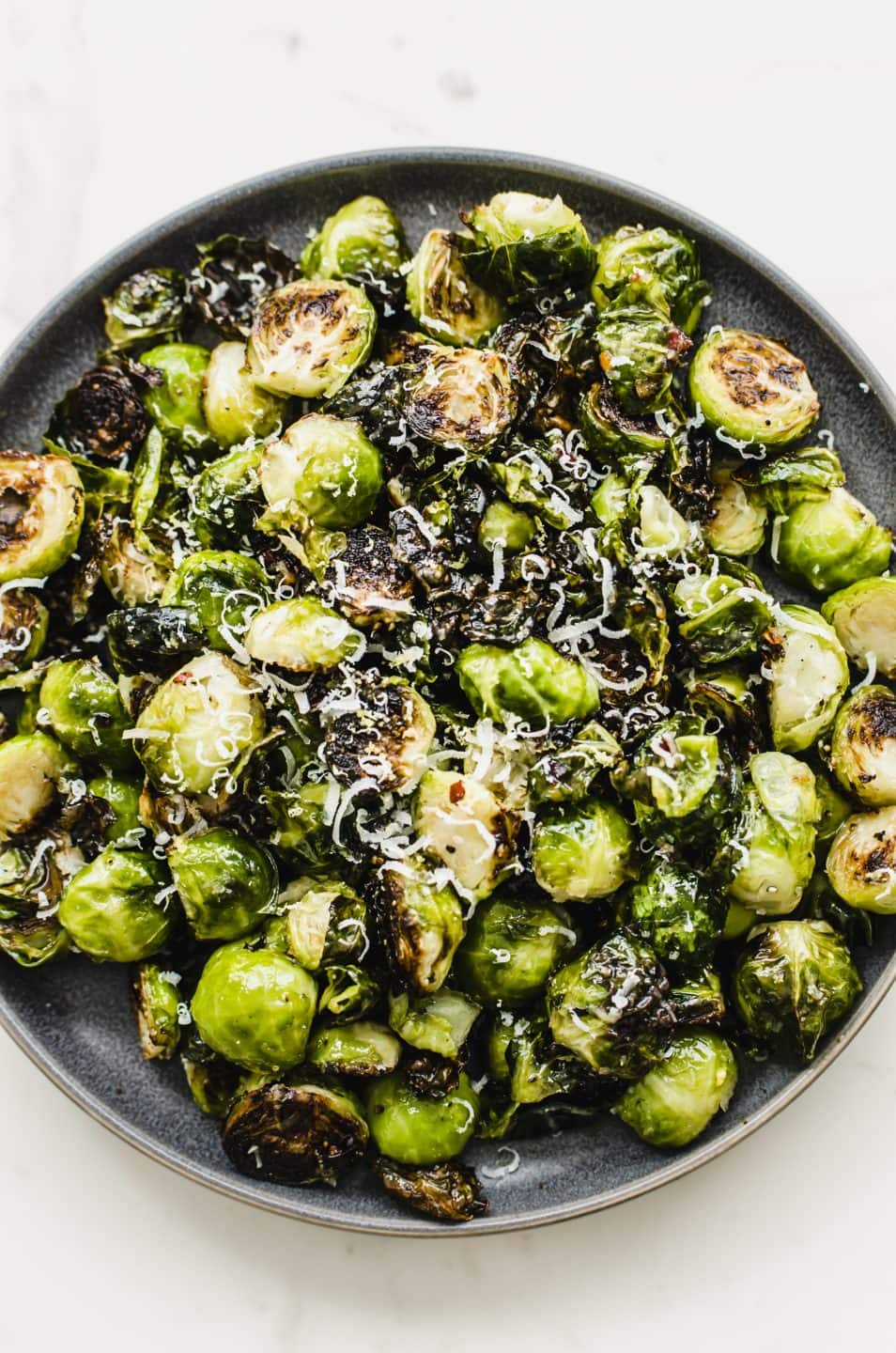 I've recently been on the hunt for a cooking technique that would make roasted brussels sprouts more crispy. Not necessarily a dry crispy, but a crispy exterior with a tender interior. The only way I've ever been able to achieve this is to fry them. That's a perfectly acceptable technique, but I figured if I could have crispy sprouts and skip the frying, I would much prefer that situation!
After a little searching, I stumbled on a jewel of a recipe from Bon Appetit that used the technique of preheating your baking sheet before roasting the brussels sprouts. Their sprouts were tossed in a honey vinegar glaze once they were crispy and looked just like what I was envisioning. So I bought some sprouts and gave the technique a try. And you know what? It worked! BA is always coming in clutch. I've tweaked the recipe for topping some and can't wait to share this recipe with you today - I'll be making it again and again throughout the fall and winter season!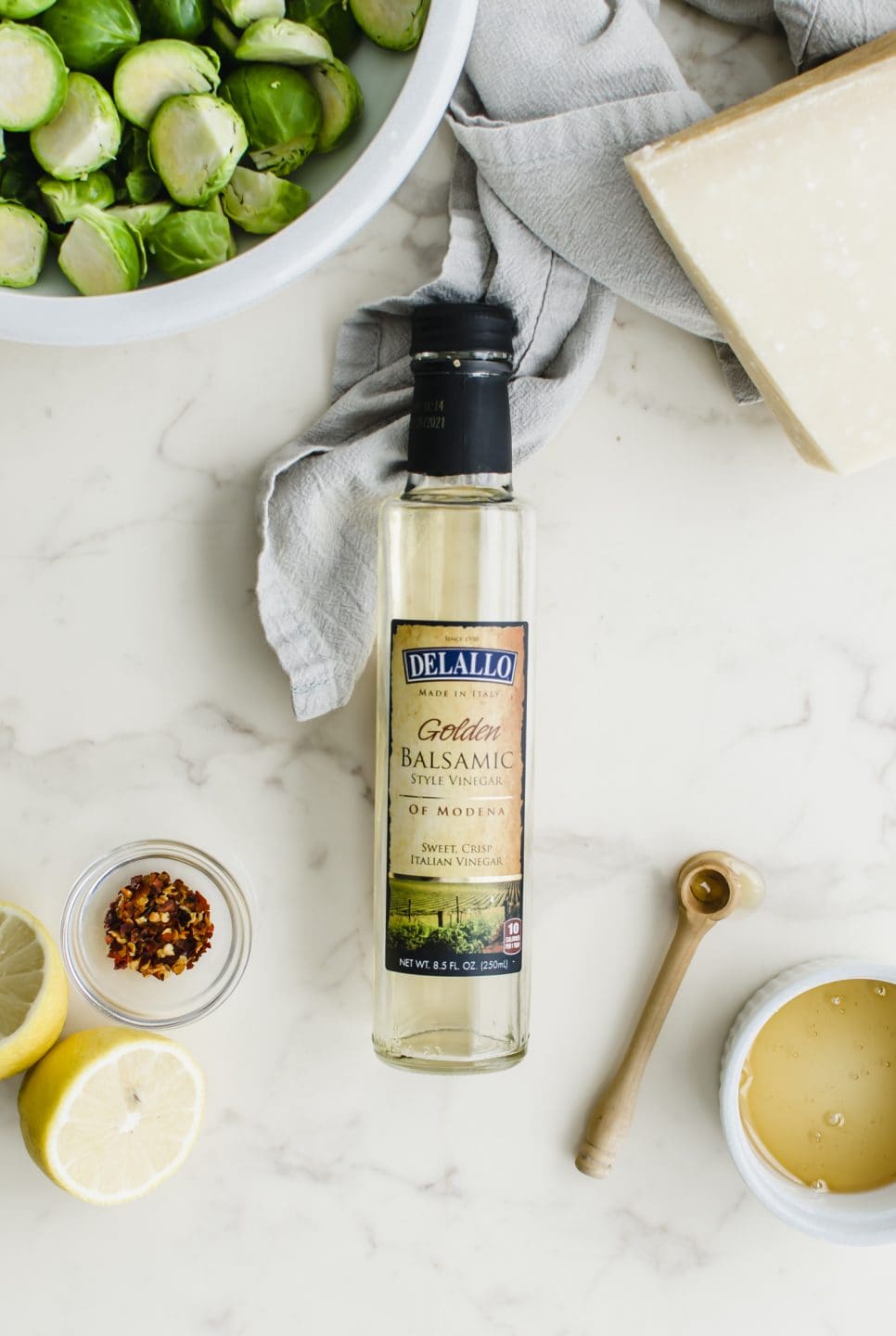 Ingredients
Small-Medium Sized Brussels Sprouts - I say this because larger sprouts can tend to be tough, and it's really difficult to get them cooked through without overcooking the outside. The small-medium size will also have a nuttier, more concentrated flavor.
Olive Oil - to get the sprouts nice and crispy, we will use a bit more oil than is typical for roasted veggies. But extra virgin olive oil is rich in healthy fats and nutrients, so a little bit more is just fine!
Coarse Salt and Pepper - I like to use coarse seasonings on my veggies because it sticks to the surface area of the cut produce and makes a nice crust. Coarse ground Kosher salt and freshly cracked black peppercorns are essentials in my pantry.
Honey - the honey gets heat and mixed with other seasonings, making a rich and saucy glaze that is just irresistible to me! Feel free to substitute with maple syrup if needed.
White Balsamic Vinegar - I love using white balsamic for the mild, delicate flavor. But I also love to use it when I want to avoid coloring whatever food I'd like to put regular balsamic in. Delallo's White Balsamic Vinegar is a favorite and is fairly simple to fine! Substitute with white wine vinegar or champagne vinegar if needed.
Crushed Red Pepper Flakes - to balance the flavor and add a hint of heat.
Butter - to make the honey vinegar glaze nice and rich, we will mount it with a little bit of butter right before glazing the sprouts.
Lemon Zest - just a little bit will go a long way in adding a hint of freshness and mild acidity to the finished dish.
Parmesan - nutty, salty Parmesan tastes so rich and indulgent on top of the hot Brussels Sprouts. Everything is better with freshly-grated Parm, don't you think???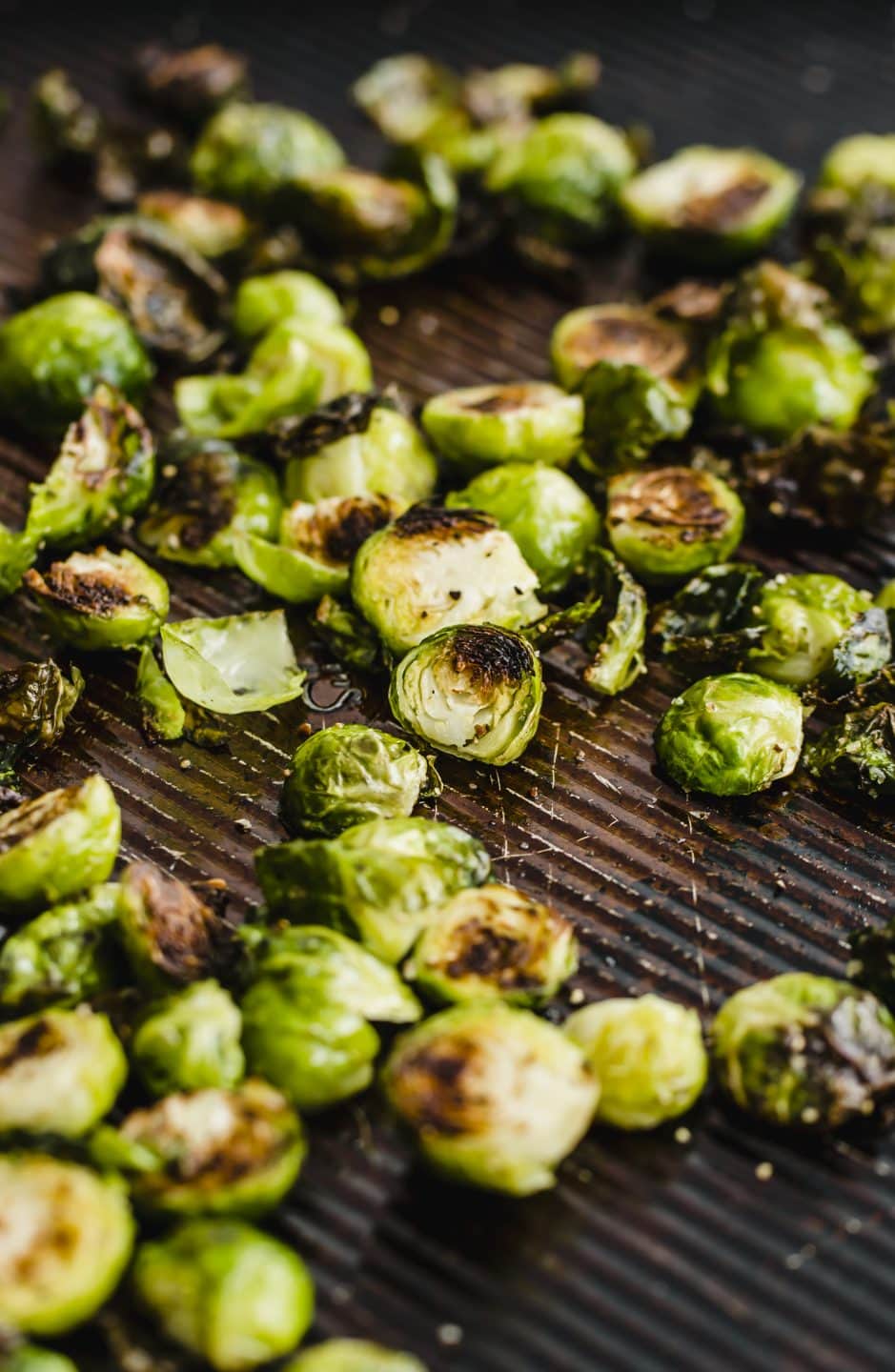 Instructions
Preheat a baking sheet - use a nice rimmed sheet pan and place it in the lower third of your oven. Let it get hot while the oven preheats to 450 degrees F.
Roast the brussels sprouts - you will want to coat the sprouts in olive oil, salt, and pepper before quickly (and carefully) placing them cut-side-down onto the baking sheet. The sheet pan will be hot, so be careful as you place the sprouts on it!
Make the honey glaze - while the sprouts are roasting, you can make the honey vinegar glaze in a small saucepan on the stovetop. Avoid adding the butter until just before serving, as it may separate from the vinegar if you leave it sitting on the stovetop.
Toss the sprouts in the sauce - the sprouts will be nice and crispy, and adding the glaze will add a nice sticky element to the vegetable.
Finish with lemon zest and Parmesan - the heat from the brussels sprouts will make the lemon zest fragrant and melt the Parmesan, making the finished dish look and smell amazing!
Serve hot!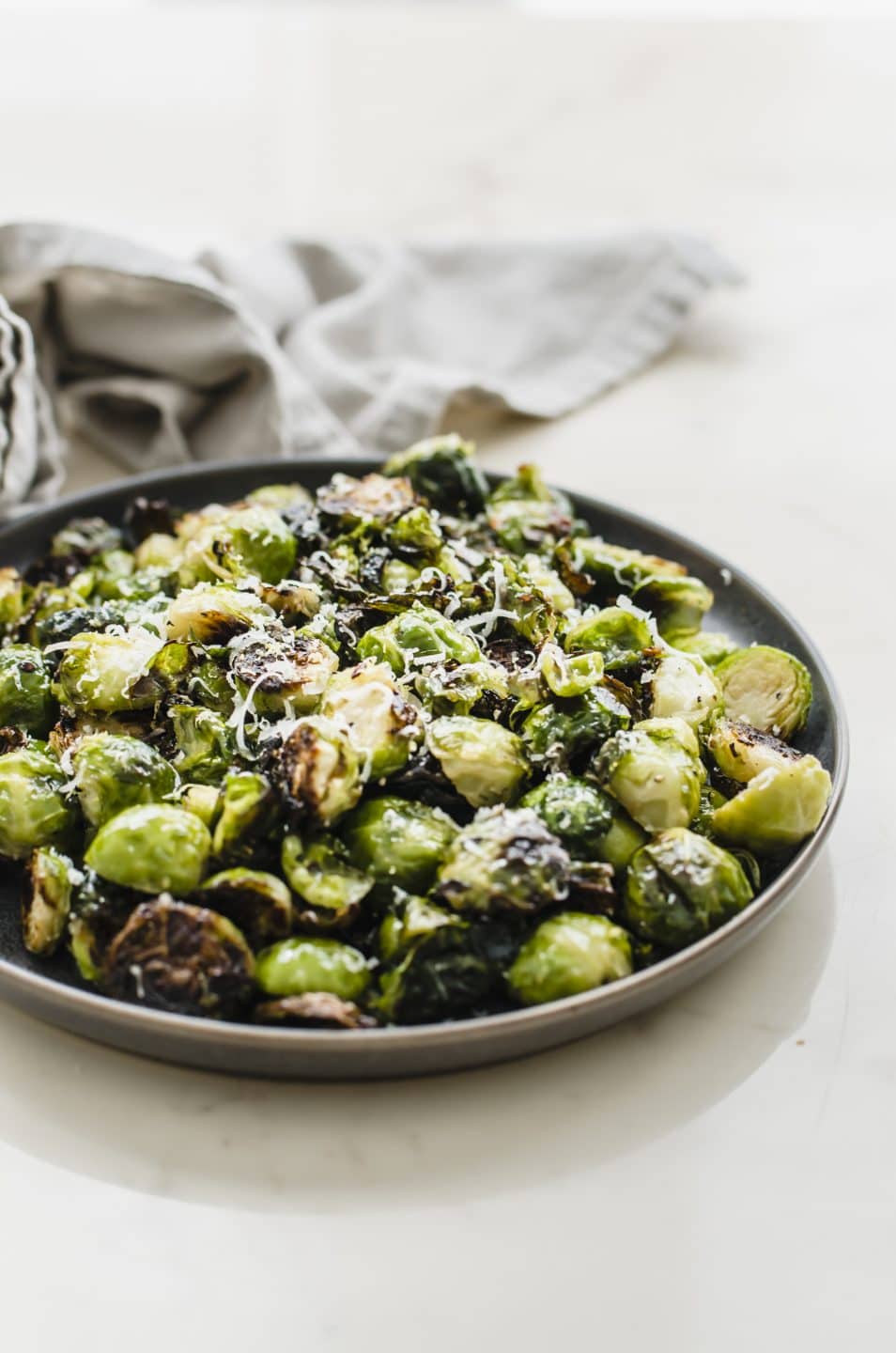 Serve with
Below are some recipes from the blog that I think would be fantastic with these sprouts as the side dish!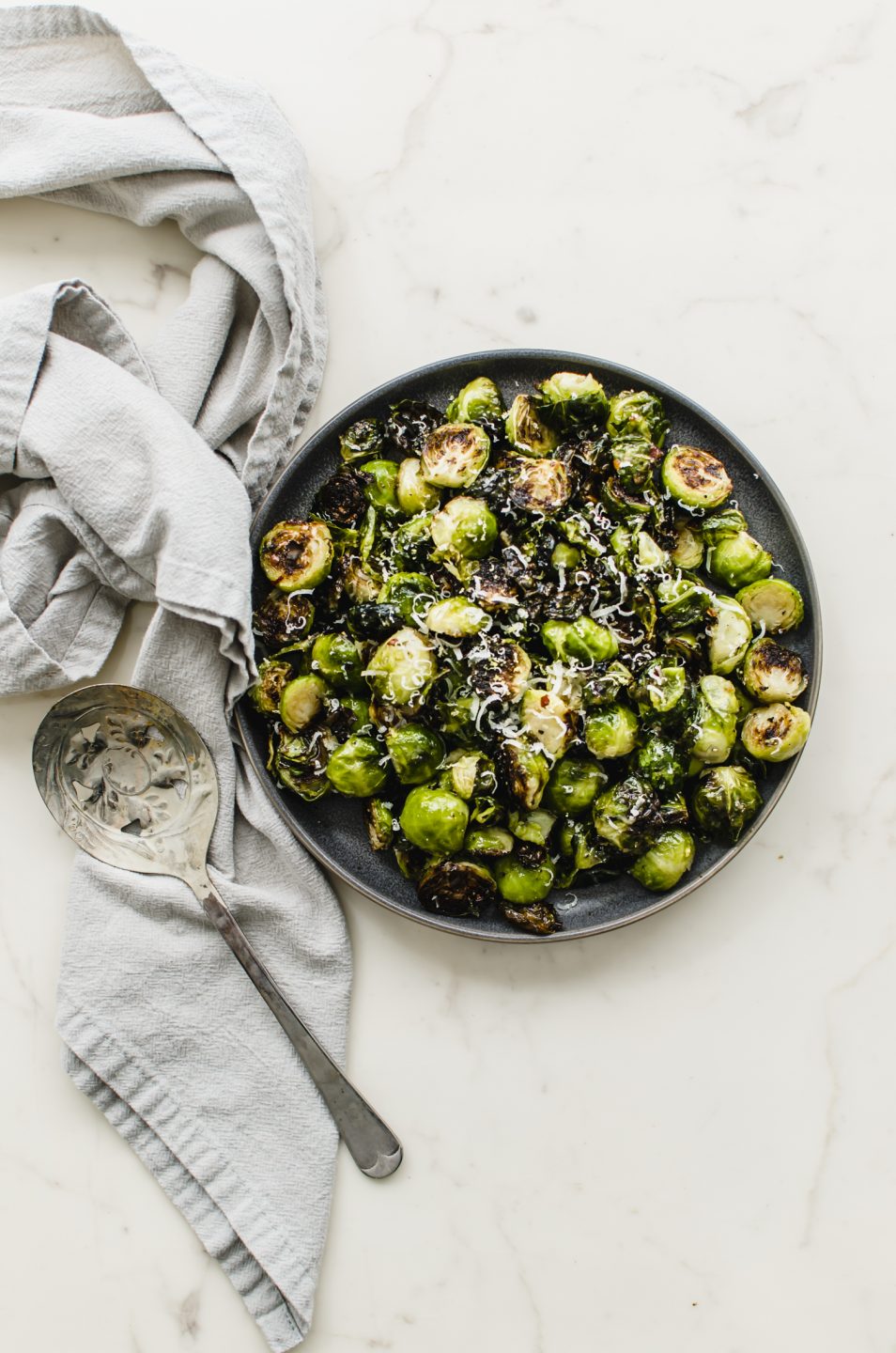 Are you ready to make these Crispy Roasted Brussels Sprouts? I'm so excited for you to try this recipe. Once you get the chance to make it, please let me know how it turns out for you!
Leave a comment and rate the recipe below. This will help me with the creation of future recipes!
I'd also love to feature your creation in my weekly newsletter, so you can upload a photo to Instagram with the tag @sweetcayenne5 to be featured! Quick and easy recipe videos are available on my YouTube channel, and lots of menu inspiration on my Pinterest boards.
Recipe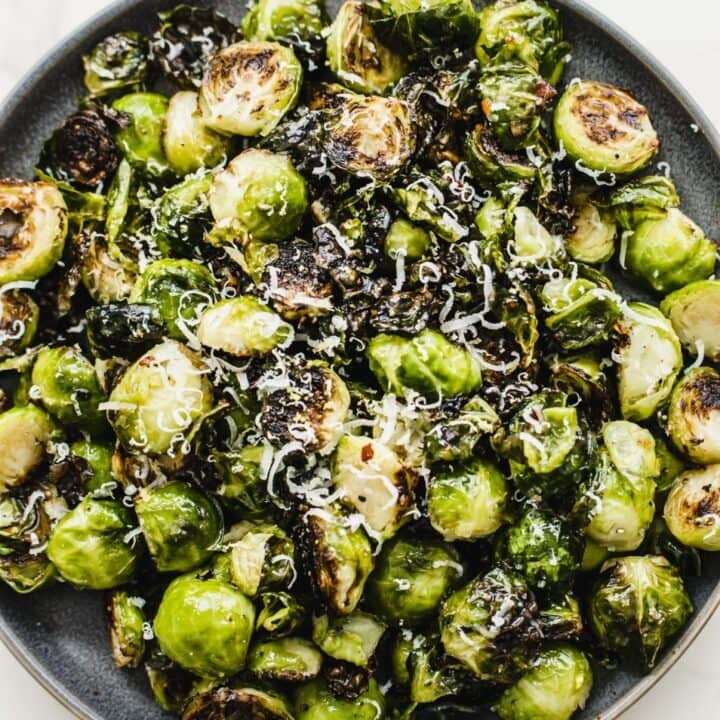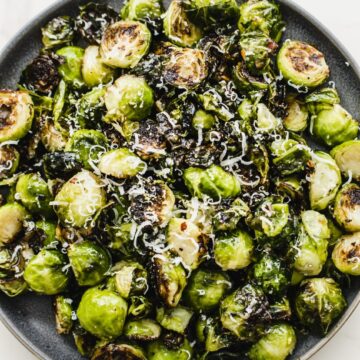 Crispy Roasted Brussels Sprouts
This recipe for crispy roasted Brussels sprouts is the perfect way to cook the sprouts. They are crispy on the outside, tender on the inside, and coated in a rich honey glaze and topped with Parmesan.
Print
Pin
Rate
Ingredients
For the Brussels sprouts:
2

pounds

small-medium sized brussels sprouts, trimmed and halved

¼

cup

extra virgin olive oil

Coarse ground kosher salt

Freshly-cracked black pepper
For the glaze:
2

tablespoons

honey

2

tablespoons

white balsamic vinegar

½

teaspoon

crushed red pepper flakes (optional)

2

tablespoons

butter
Finishing:
1

teaspoon

lemon zest, grated on a Microplane

Freshly-grated Parmesan cheese
Instructions
For the Brussels Sprouts:
Place a rimmed sheet pan in the lower third of the oven. Preheat oven to 450℉.

Place the brussels sprouts in a large bowl. Add the olive oil, and sprinkle with salt and pepper. Toss to coat the sprouts thoroughly.

Carefully remove the hot baking sheet from the oven and place the brussels sprouts flat/cut side down on the baking sheet (using tongs may help with this). Roast the sprouts for 15-20 minutes until they are crispy on the outside and tender (to the degree that you prefer) on the inside.
For the glaze:
Place the honey in a small saucepan or skillet. Bring to a simmer over medium heat. Reduce heat to medium-low and cook until the honey smells nutty and fragrant, about 3-4 minutes. It will look slightly darker and foam a bit, but do not let it become burnt. Remove from heat and stir in the vinegar and red pepper flakes. It will bubble up, but stir continuously until incorporated. Return the pan to medium-low heat and add the butter. Heat, stirring constantly, until the glaze is glossy and slightly thickened.

Remove the glaze from heat and add to the hot brussels sprouts, tossing to combine. Transfer to a serving plate or platter, and then sprinkle the top with the lemon zest and freshly grated Parmesan cheese (add as much as you like!).
Serving:
1
Serving
|
Calories:
148
kcal
|
Carbohydrates:
14.8
g
|
Protein:
4.2
g
|
Fat:
9.8
g
|
Saturated Fat:
3
g
|
Cholesterol:
8
mg
|
Sodium:
932
mg
|
Potassium:
451
mg
|
Fiber:
4.3
g
|
Sugar:
6.8
g
|
Calcium:
49
mg
|
Iron:
1
mg